Patricia from the lovely blog Colors Dekor ordered us to stop being lazy and do the tag, so here goes.
What's a perfect styling for you?
Styling is personal! It varies from person to person, home to home, and within the same home (for me at least) from room to room. For me a home needs to be built up slowly, grow with time and reflect the personality of its inhabitants .. so the styling would have to be an eclectic mix of the old and the new, the practical and the frivolous, pictures, memories, beautiful fabrics (oh yea!) and LOVE! I pick up a piece, or do up a look only if I LOVE it, if my family is comfortable with it..that's what matters, that's the perfect styling!
via
And as an afterthought – orange pretty much finds its place in all the interior styling I have done!

On what do you spend most of your money?
I buy a lot of stuff off ebay, and I love to buy gifts – that pretty much finds me broke at the end of every month!
What's your favorite song at this moment?
It's a song my daughter is wanting to hear over and over again! Aerosmith's I don't wanna miss a thing! You will find everyone in my home singing along whenever this one's played! We loove it! Watch the video here!
Which excellences do you think you have?
Hmmm 🙂 I think I am a Jane of trades – I write (boring ol' stuff like marketing collateral and the feedback I get is that my clients like it), I love interiors (my family will vouch for that), I can bake yummy puffs, I can play Bach and Beethoven on the piano 🙂
via

..and what are your failings?
There are so many – where do I start? I love orange (or is that a weakness?). On a more serious note – I get too lost in work, I can't multi task, I don't eat healthy as often as I should and I don't workout as often as I should, I don't keep in touch with people as much I should, and the list goes on and one….oh come on, I am human!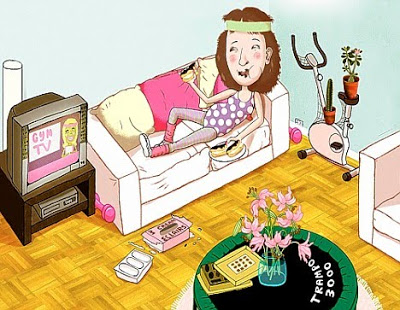 ..and I can so relate to this pic! 😉
….hmm that called for a lot of introspection! I enjoyed doing this little exercise, and I am sure you will too.


I am tagging Kanika from ..and another.. (I had an enjoyable morning with her btw…we went to a local handmade paper factory)
Prachi from Purplehomes
Deepa of Lifestyle Coutures
Rekha of The Interior Perspective


Actually I tag all of you who are reading this and have their own blogs.Over to you ladies!