It was a boring Saturday for me. Everyone was out in the sun, but I was waiting for an important email, and didn't dare move from the comp. To while away my time, I started looking at Facebook posts when suddenly I saw a pic that drew my attention. It depicted what looked like a post party scene – there they were, 4 males, sprawled on a beautiful bed in distressed green, in a very charming bedroom. While the males were interesting, my decor blogger's instinct honed in, and I took in the beauty of the room. The bedroom is featured above, and I have taken care to keep it male-free, because ahem! all of you may not have the same restraining powers as me 🙂 I quickly realized that I didn't know these people, and the only reason it was showing on my timeline was because my friend had commented on it. I lost no time contacting her, and to make the story short, here we are, with a complete tour of this home! 🙂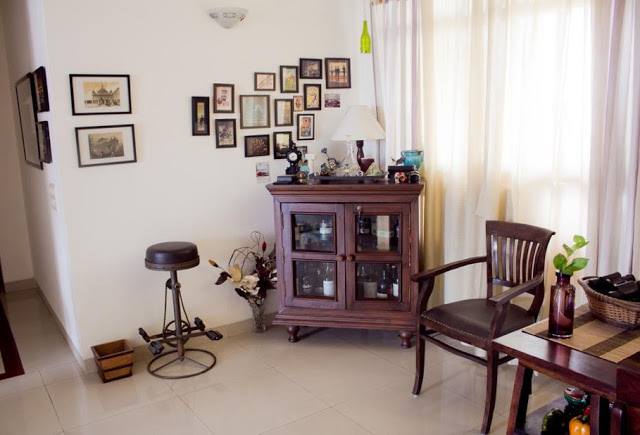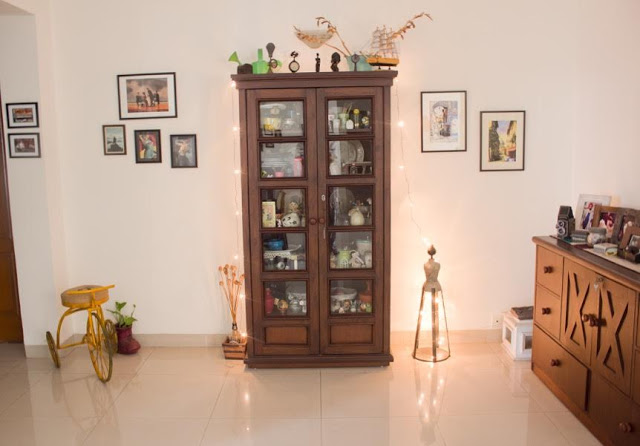 Lagan Budhwar, the smart, talented owner of this home is a freelance photographer, and she owns a home decor accessories brand called 'aलग' which she runs along with sis-in-law Amika Kler.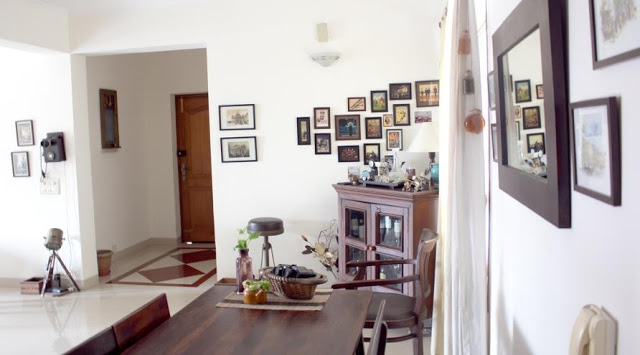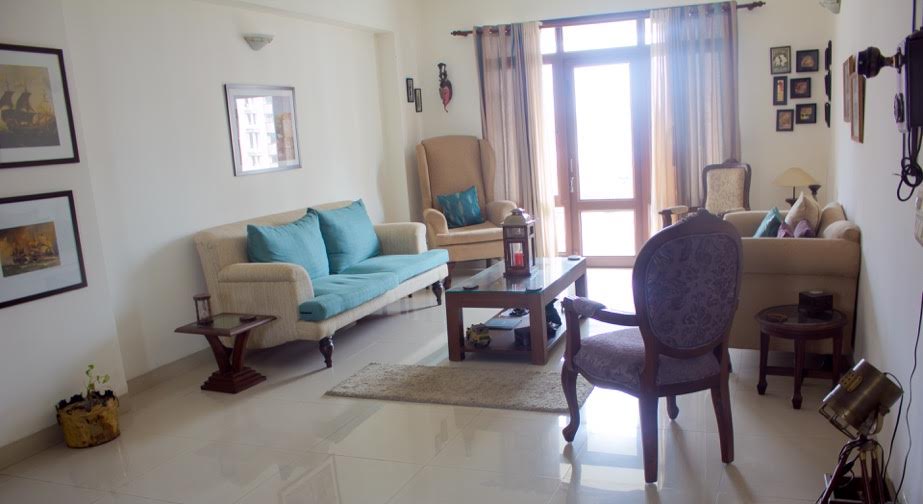 Here's Lagan introducing herself and telling us more about her work, her design style and her decor mantras.
"My husband Gurpratap and I, currently live in a rented apartment in Gurgaon. Our home is constantly evolving. I buy things and then decide what to do with them. In fact I still consider most of the house 'work in progress' because there's so much more I want to do. But there are always limitations when you're renting. Nonetheless, there is loads on the agenda :)"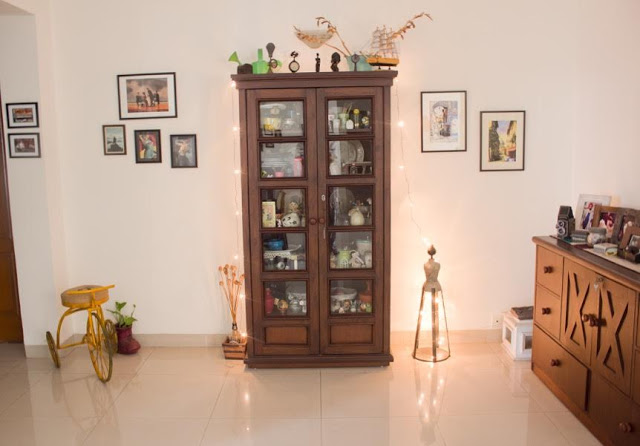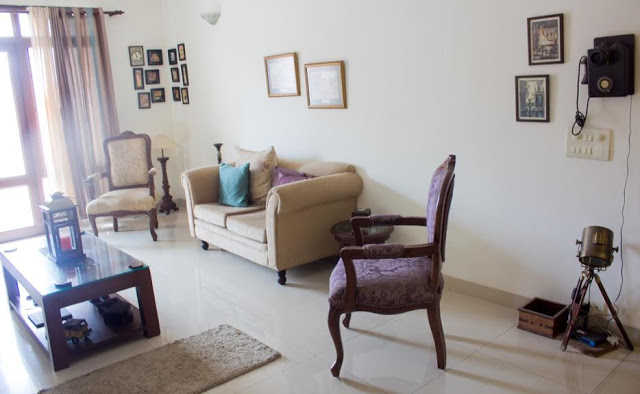 I've actually fallen into all this under very opportune circumstances and by frequent motivational pushing by friends, family and my husband. I always had a knack for photography and interiors, and always wanted to do something creative, but never had the confidence and to be honest I'm generally very lazy 🙂 I left my job in HR when my husband got posted to Calcutta and that's when I started exploring these passions further.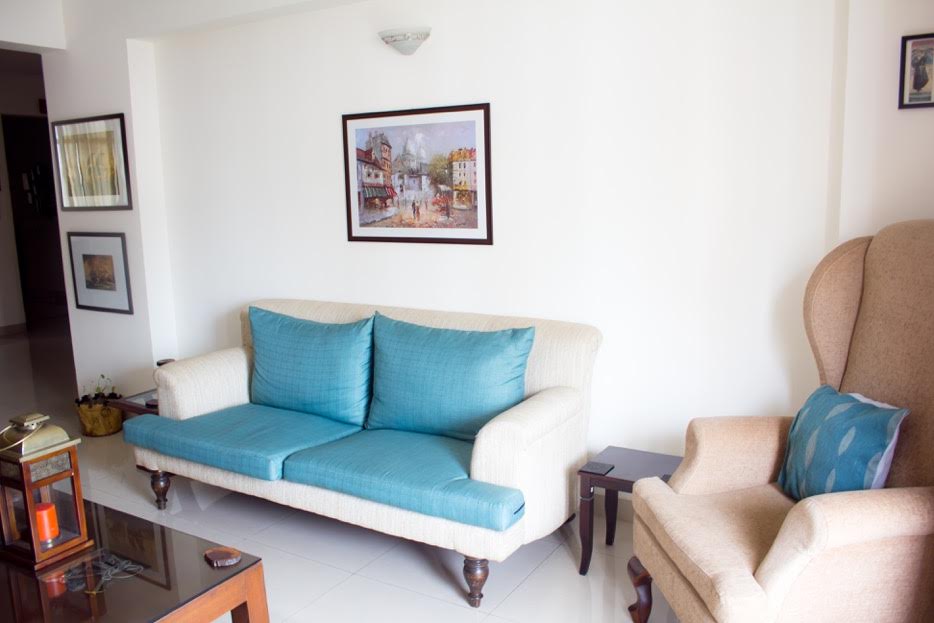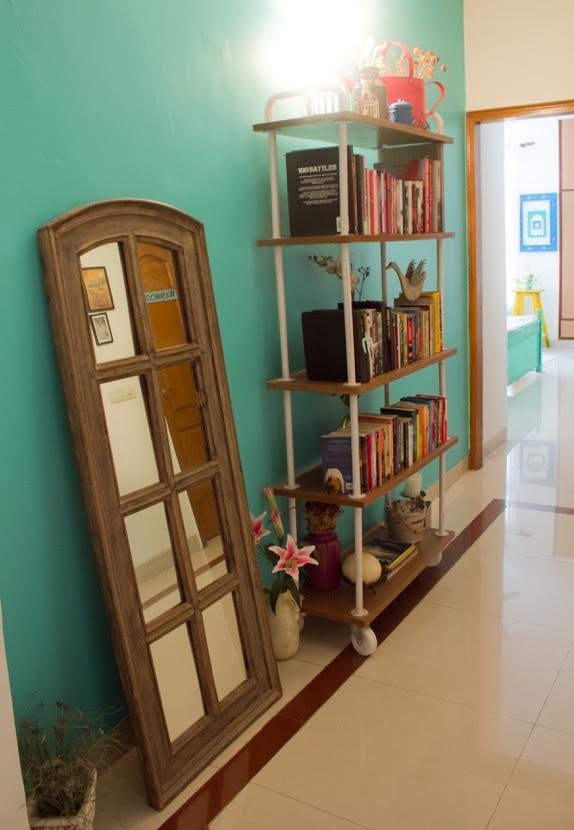 Here's a bookshelf that Lagan made more or less by herself with the help
of a carpenter. She collected different material from different vendors.
She painted it herself. The mirror is actually an old door frame, now re-purposed.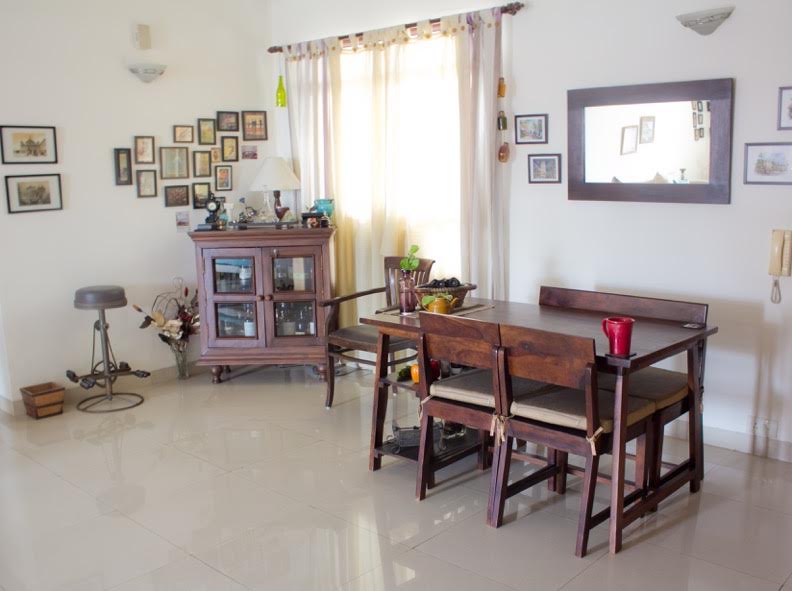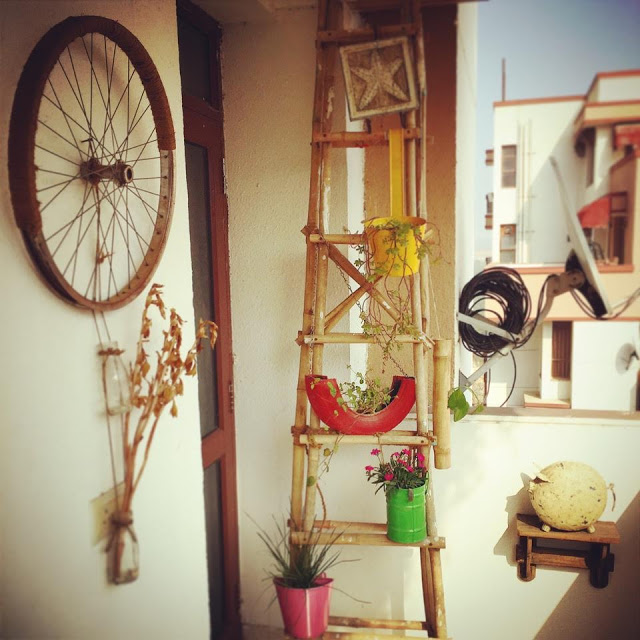 The garden bears Lagan's stamp, with its beautiful mix of DIY and quirky finds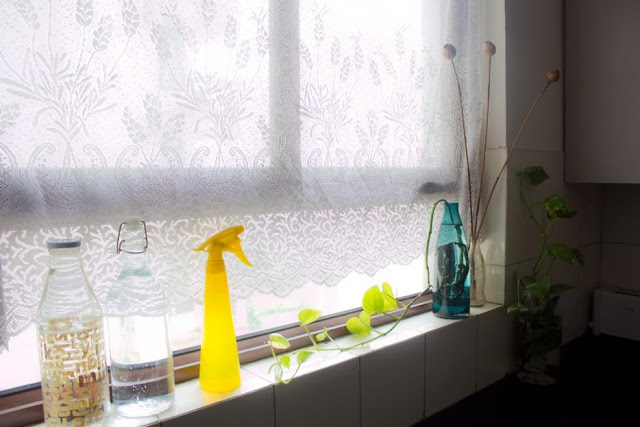 Oh! Where did this load of cuteness come from? Bourbon is one of two dogs owned by Lagan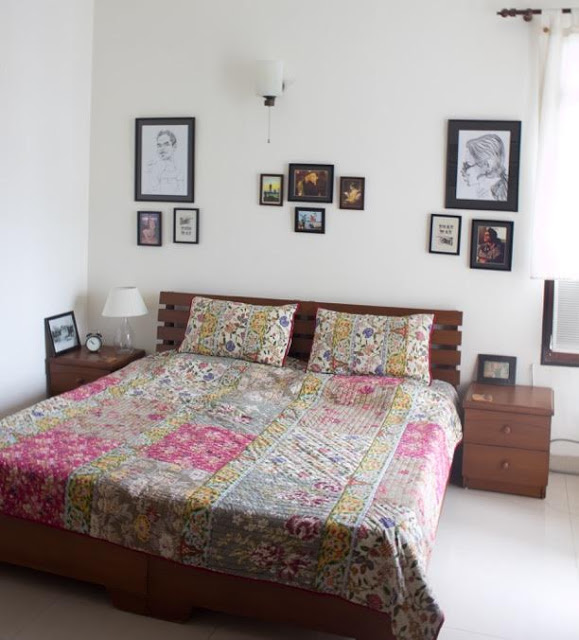 The master bedroom is the simplest room of the house because its still work in progress, says Lagan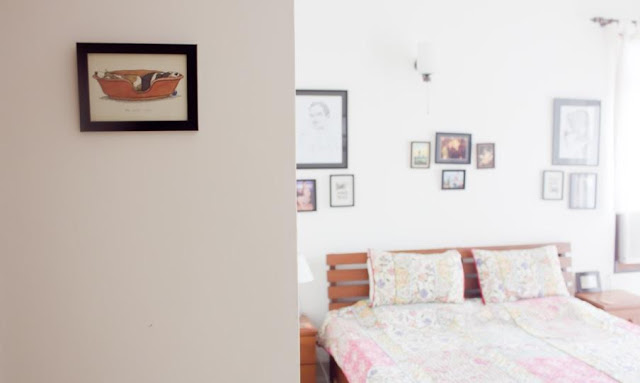 The interest in decor has been there since childhood and I think it stemmed from the fact that my mom always had stunning decor. Be it an accommodation called 'Two rooms' in army lingo or a big colonial bungalow (my dad was in the Army), her home interiors were impeccable. Whatever my dad's rank or salary might have been, she managed to set up a gorgeous house in the given budget. When people go abroad they shop mostly for clothes and all, but my mom would bring back beautiful lamps, fabrics and decorative items 🙂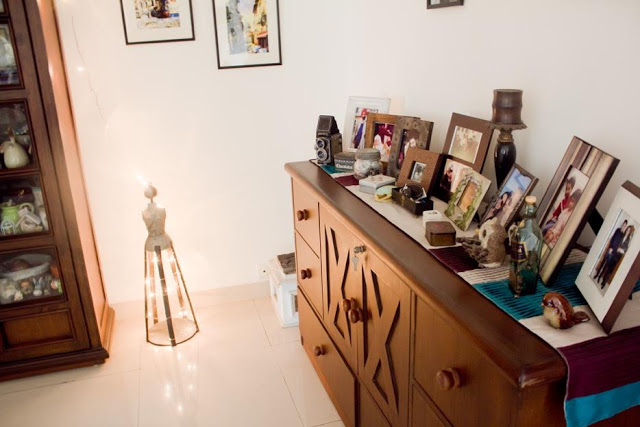 She always gave me the freedom to do up my room whenever we moved to a new house (and we moved around a lot!), even though her taste and mine differs quite a bit. Since I couldn't experiment with the furniture because my room invariably was also the guest room, my main canvas was the walls. That's the first thing I can remember about doing up my rooms, that the walls had to be packed and every wall had a story to tell. I used to make collages, sketch, paint and put up the photographs that I had taken (mostly of my friends back then).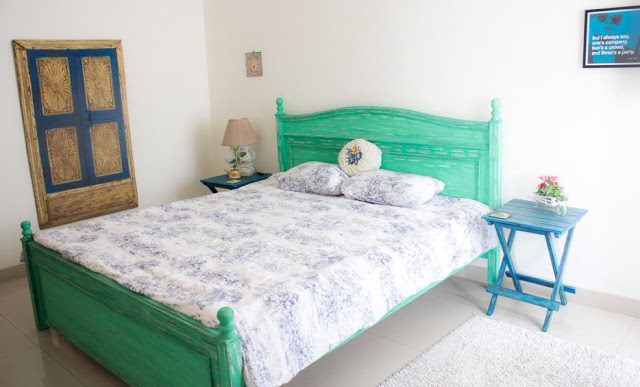 Lagan commissioned the painting of the furniture for this gorgeous guest room to her carpenter. However, he messed up the distressed look so badly, that she had to do an extensive repair job, and finally managed to get this look!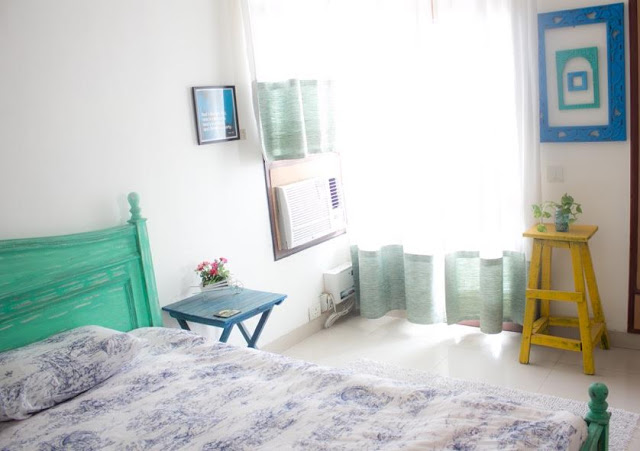 My taste in decor is vintage eclectic. I'm drawn to and crazy about everything old and rustic 🙂 I love colours and vintage postcards. I also love travelling! To the effect that if I don't take a trip in every 3-6 months an alarm starts to go off. While travelling I've collected a lot of stuff (since I was 18 I think) and my house is a museum in terms of varied items signifying something or the other about our lives as a couple. I've incorporated my husband's interest like sailing and flying, my memories from childhood, our love for movies, our travels and my love for money plants. There is literally a little garden on my fridge 🙂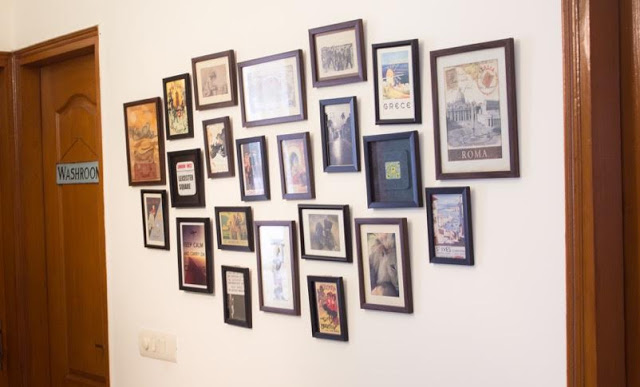 The travel wall in the lobby which was last updated two years ago.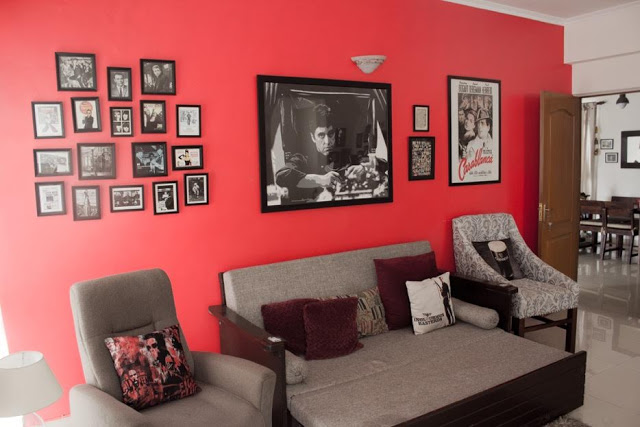 The TV room cum second guest room with pull out bed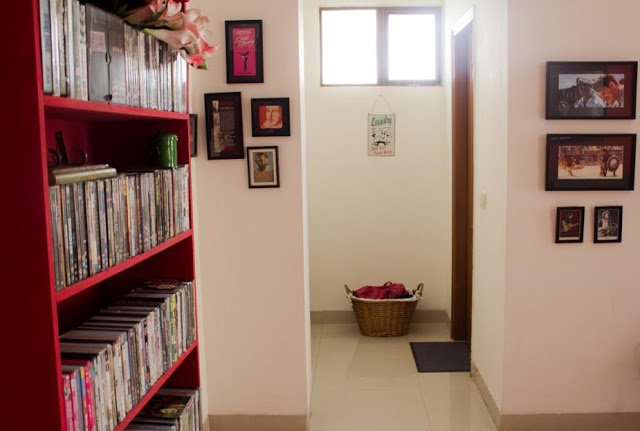 Thank you Lagan, it was lovely having you over. And you dear readers will be glad to hear that Lagan has also done up her mother in law's home and it will soon be showcased here!
Key takeaways from Lagan's style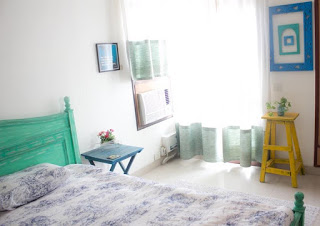 Upcycle, re-create, innovate and keep the charm while you do it
Handpick pieces, don't go to the regular stores. Walk around in the old markets.
One person's trash is truly another's treasure. The yellow stool that you see in the guest room is actually an old stool that the painters left behind when they finished her painting job. Lagan painted it yellow and there it is, bursting with new life and enhancing the decor.
It's your home – so personal touches are very important. The travel wall in Lagan's lobby is a wonderful example. Instead of the usual souvenirs, she updates the wall with a picture of every country she visits.
All images courtesy Lagan Budhwar