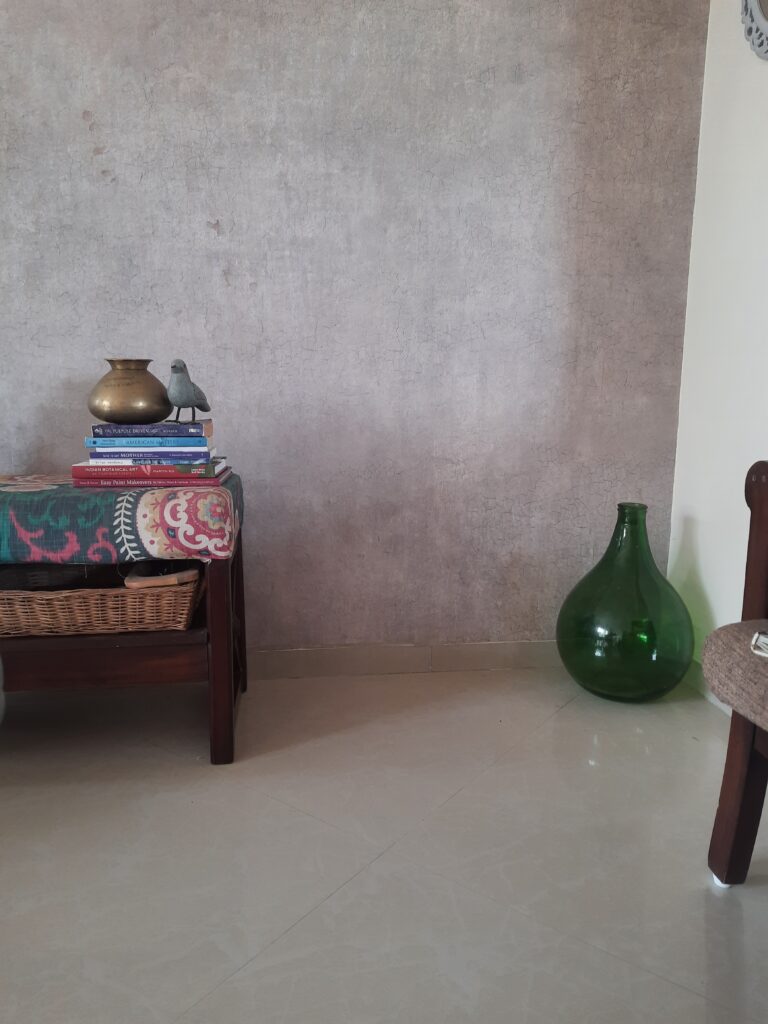 THE DEMIJOHN POST
   everything you wanted to know
                but didn't know who to ask!
Have you ever wished to buy glass bottles, but always been afraid of recieving damaged products? We assure you that you will get your products without a scratch, and money back if it arrives broken!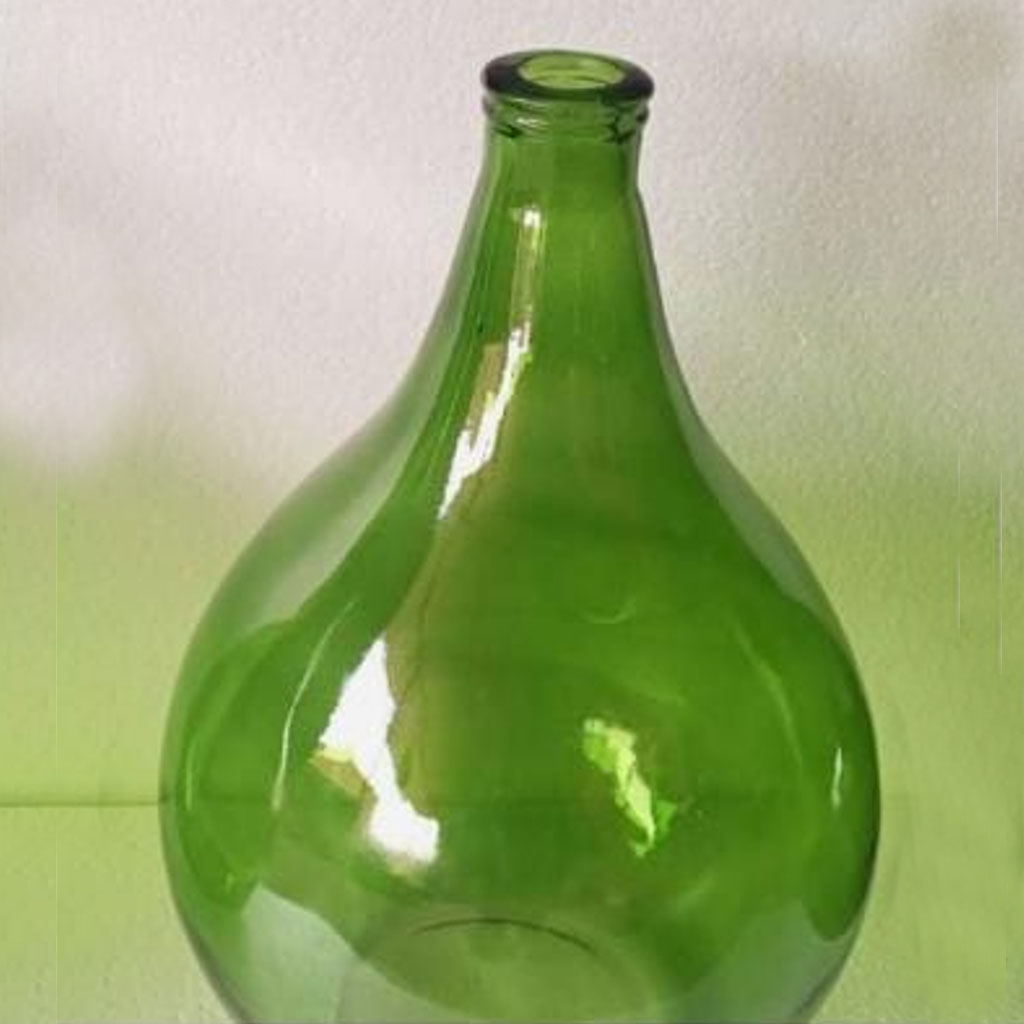 I recently brought out a collection of demijohns in 3 different colours. The response was great. All sold out, with zero breakage or shipping mishaps. I am so proud of my team, and I really want to share the back story.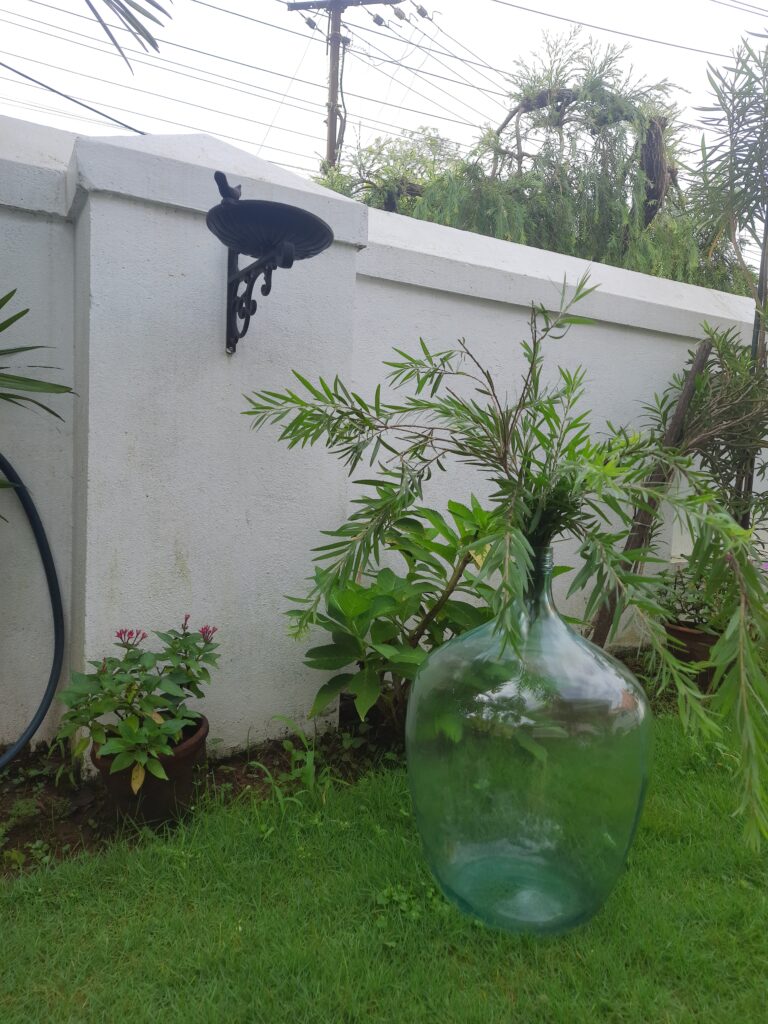 WE FIRST CONCENTRATED ON A FOOL-PROOF WAY TO SHIP THE DEMIJOHNS
Though the time from manufacturing to sell-out happened quickly, that was only possible because we started preparing for this last year. We prepared well by first figuring out a zero-breakage packaging, and then tying up with a reliable Delhivery partner to standardize shipping rates across India.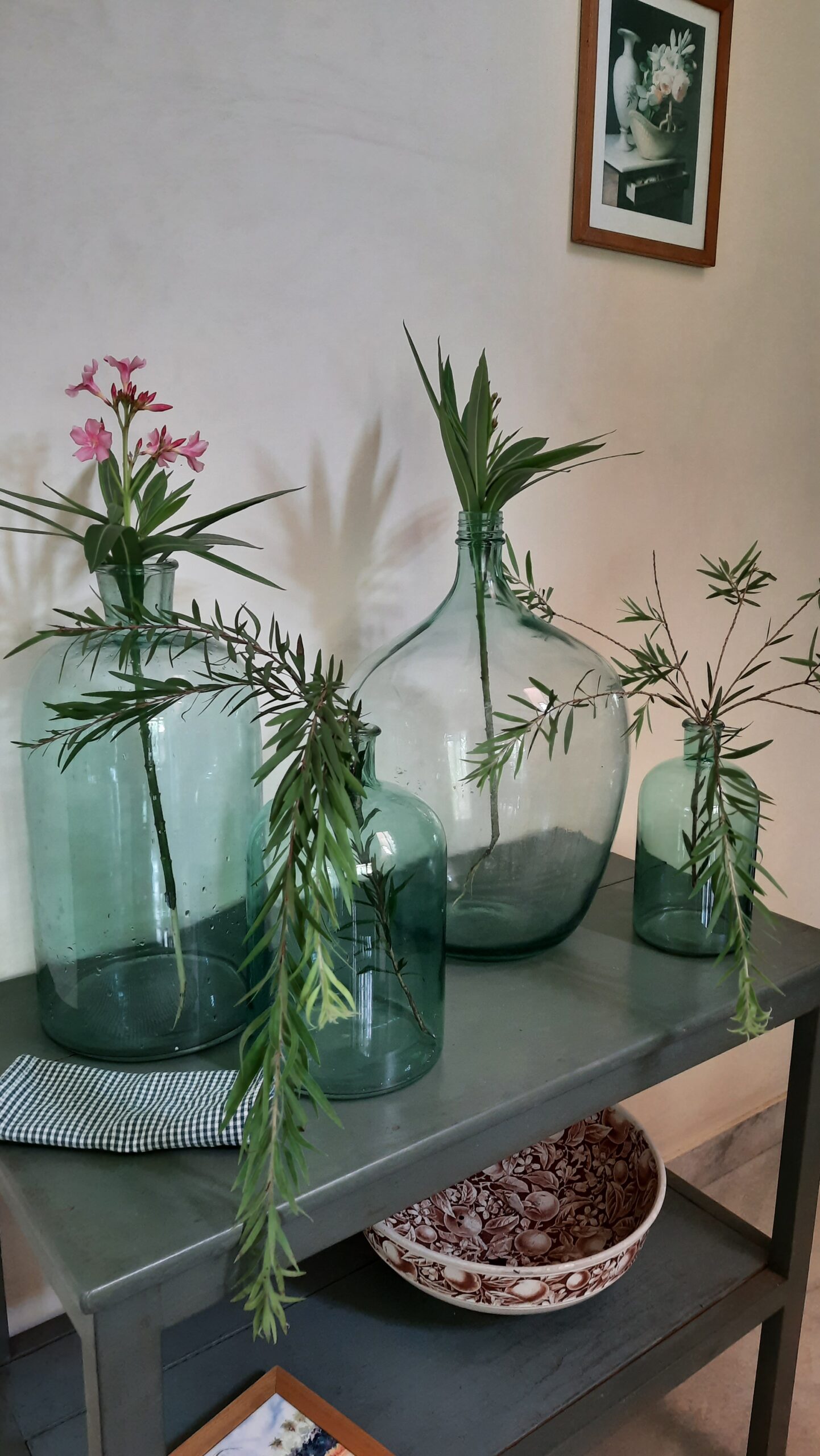 Last year, we tested the packaging of glass bottles. We used the set of 3 demijohns pictured above, 10 sets in all, dispatched to customers across India. Let me add that we drop test packaged them, but we sent them by the worst courier service, well-known for the way they mishandled packaging by just throwing them. We got orders from different parts of the country, and it was perfect to test the packaging. All 10 sets reached safely, 0 damages. We are bringing out this set of 3 bottles again, do connect to purchase.
WHAT IS A DEMIJOHN?
A demijohn is a large glass bottle. They are often confused with apothecary bottles. Demijohns are simply large bottles used to ferment wine and other liquids in the olden days. The small mouth, slightly long neck, and beautiful round body shapes – usually taller than 15 inches, are some of the characteristics of demijohns. They are also known as carboys, and are very popular as decor elements. Though initially a part of French countryside decor, they are now popular across decorating styles. The image below is proof of that.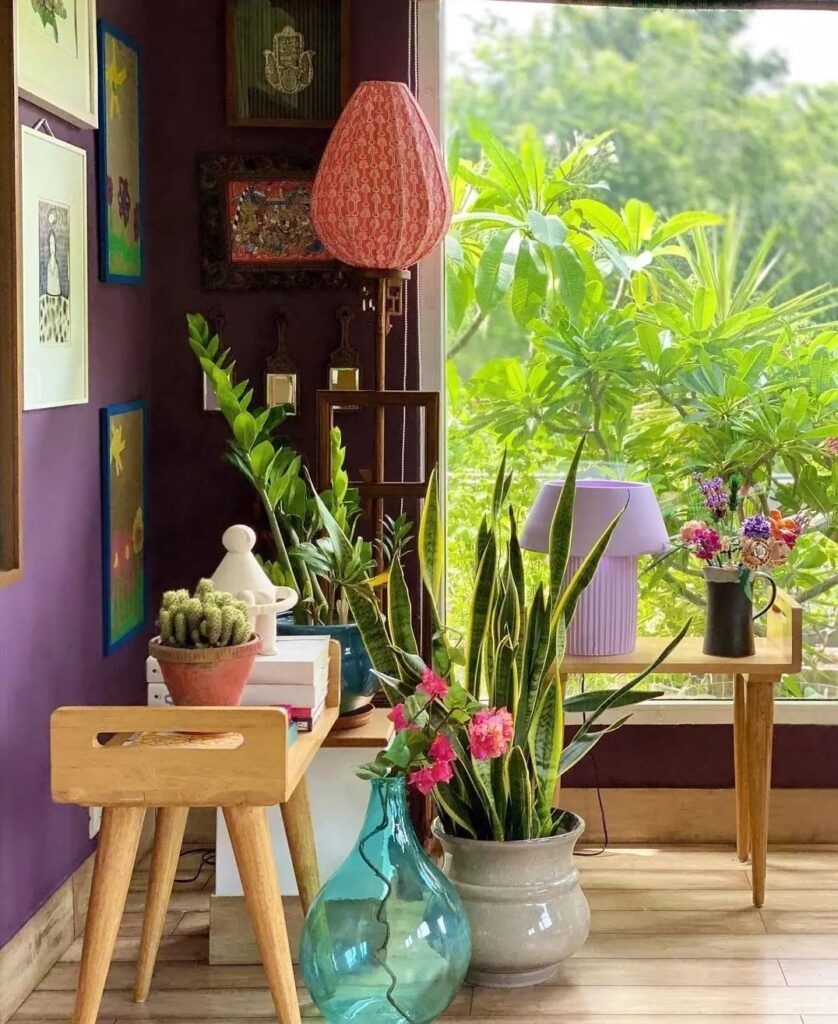 Mangalore-based architect Gulshan Roy, a self-confessed fan of Sri Lankan architect Geoffrey Bawa, has used our demijohns in his office. It is located in an old tiled Mangalorean home, carefully restored by Roy. Roy's keen eye for aesthetics and design is evident in the space. We were happy that our demijohns – all 3 colours found a place in this old building. Here are some images. Stay tuned for more images of this lovely office on my Instagram page, this June 2022.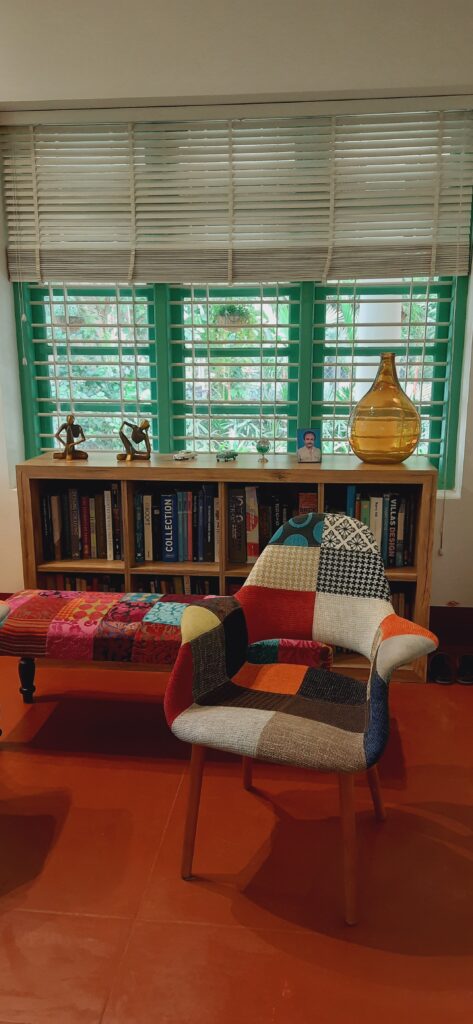 If these are re-created, how does an original demijohn look?
Below is an original antique demijohn belonging to my mum. It's really really old, but the exact date is not known. It is easily more than 100 years old. We relied heavily on the ratio of these dimensions to make ours, and it is only fitting that we feature the ïnspiration"here.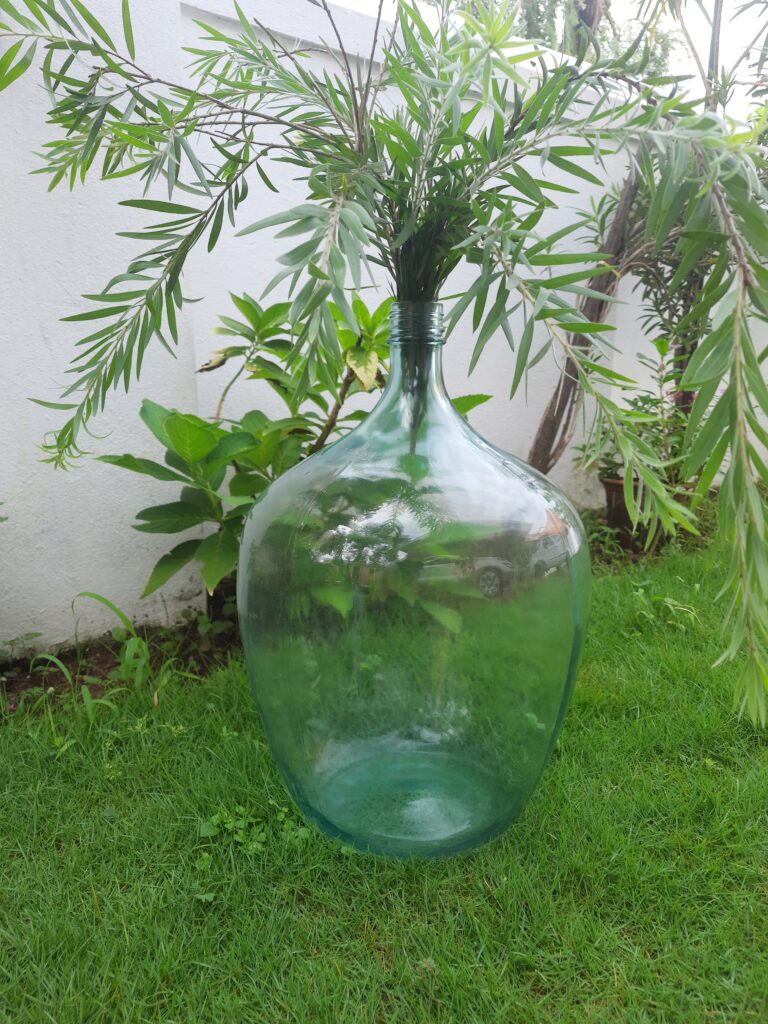 How to display demijohns
Let's explore some really lovely ways to display demijohns.
In a cluster with other bottles
Arrange your demijohn in a cluster with other bottles. Here, I have paired it with other bottles in a similar shade, and it makes a pretty picture in this vintage vignetter in my mum's home.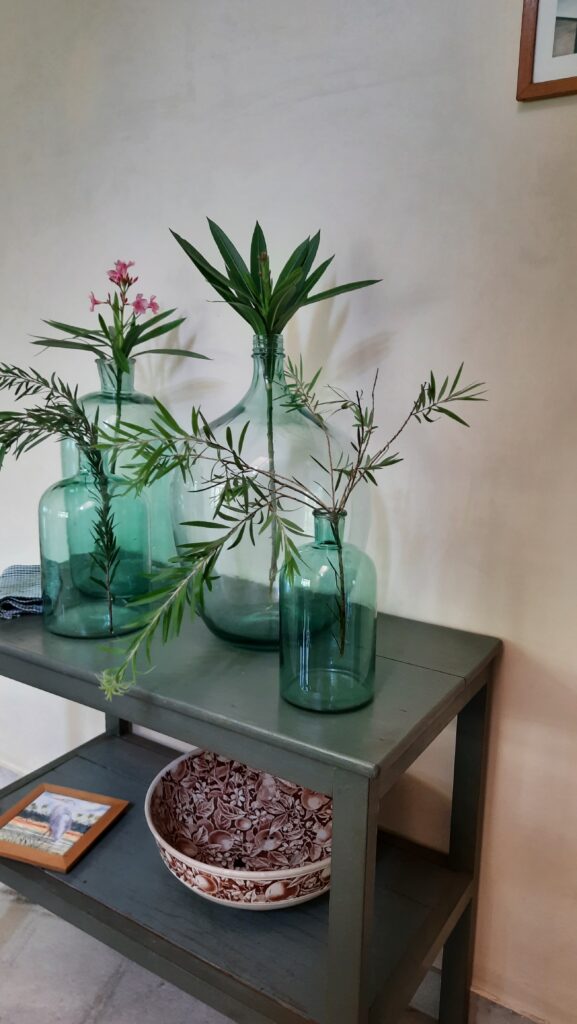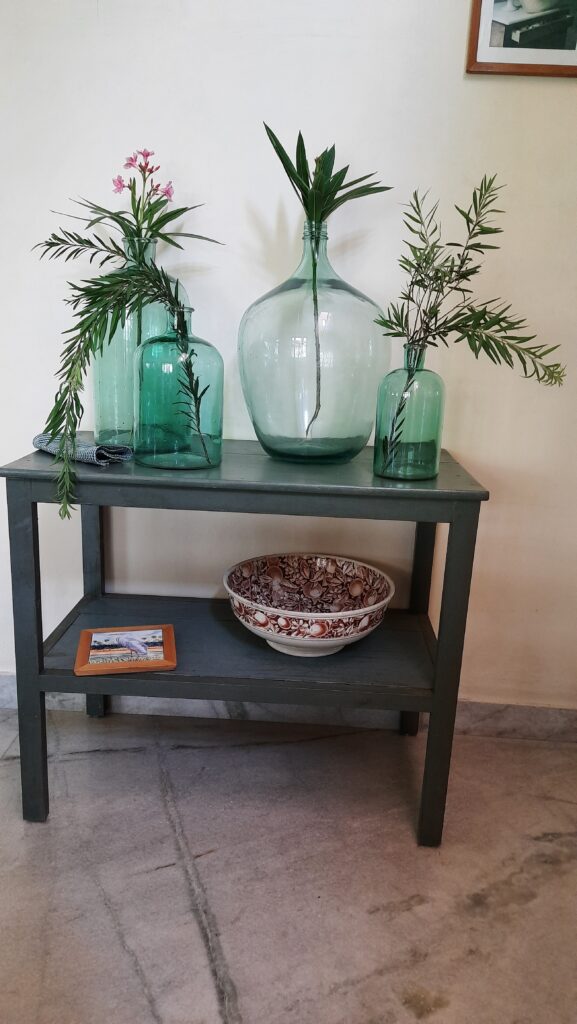 Place your demijohn next to a larger piece of furniture
Placing items at different heights is an age old styling game. It helps to add visual interest to your space, as your eyes rest at different heights when taking in the beauty of the whole room.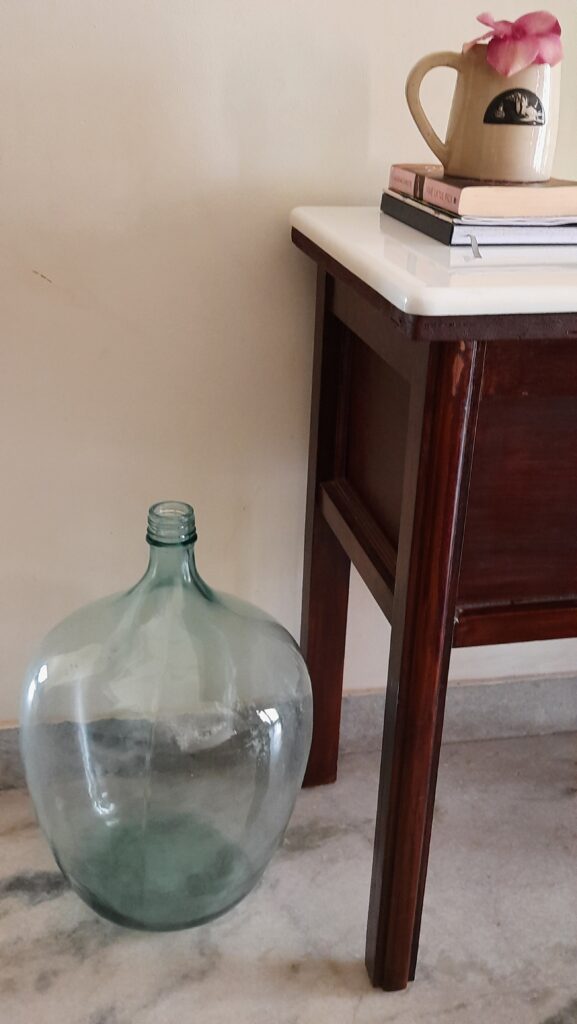 Reflecting sunlight
The best spot for a demijohn is where it can catch sun rays, and do what all glass products do. Shine and make everything look lovelier.
In a garden
If you own a demijohn and are planning an afternoon soiree in the garden, I highly recommend that you bring your demijohn outdoors where it can add to the decor.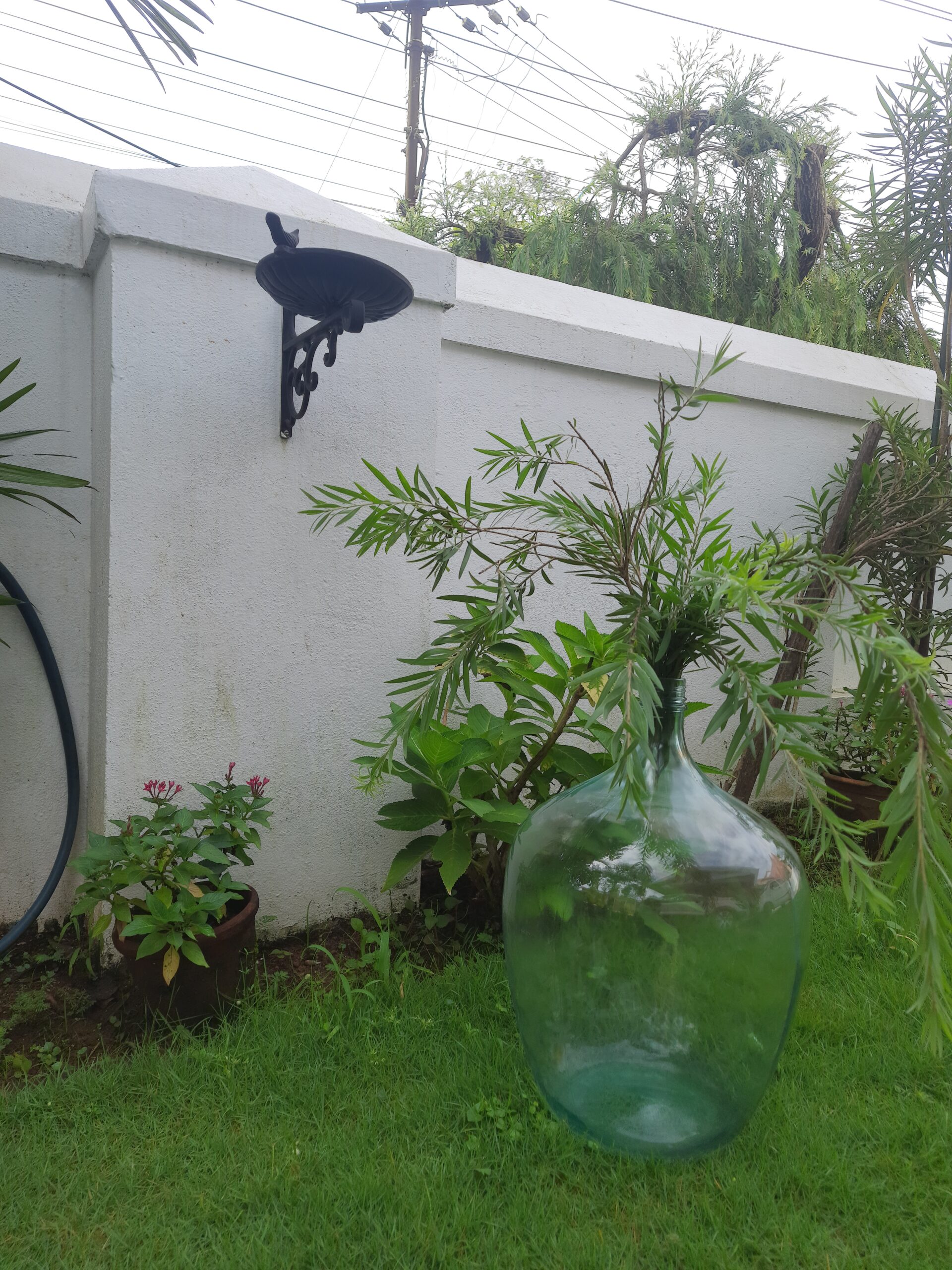 A demijohn in your kitchen
If you like a clean, clutter-free counter that gets cleared as soon as the cooking is done, a demijohn will look really amazing.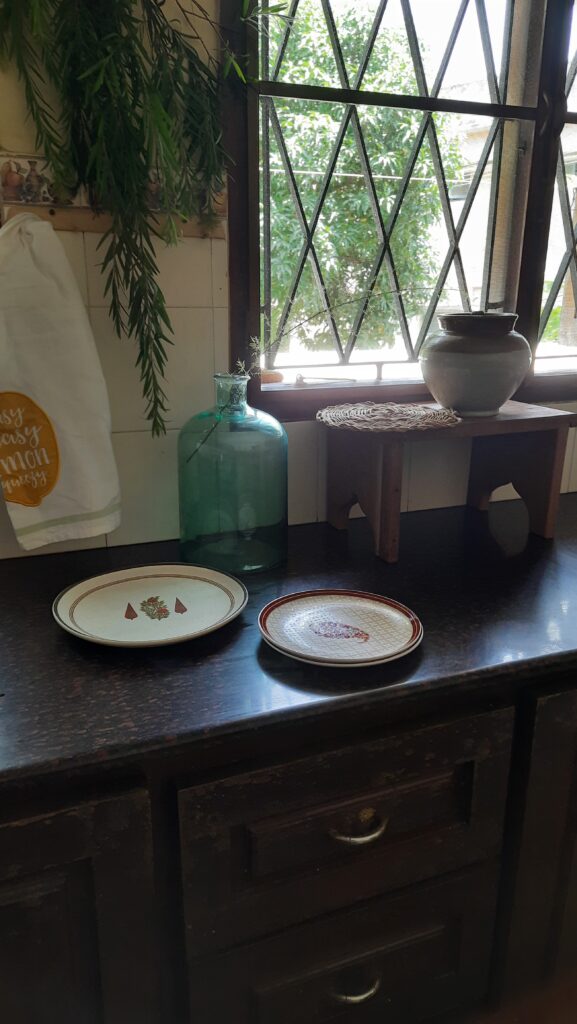 A demijohn in your living spaces.
Demijohns look great anywhere. The bedroom, the living room,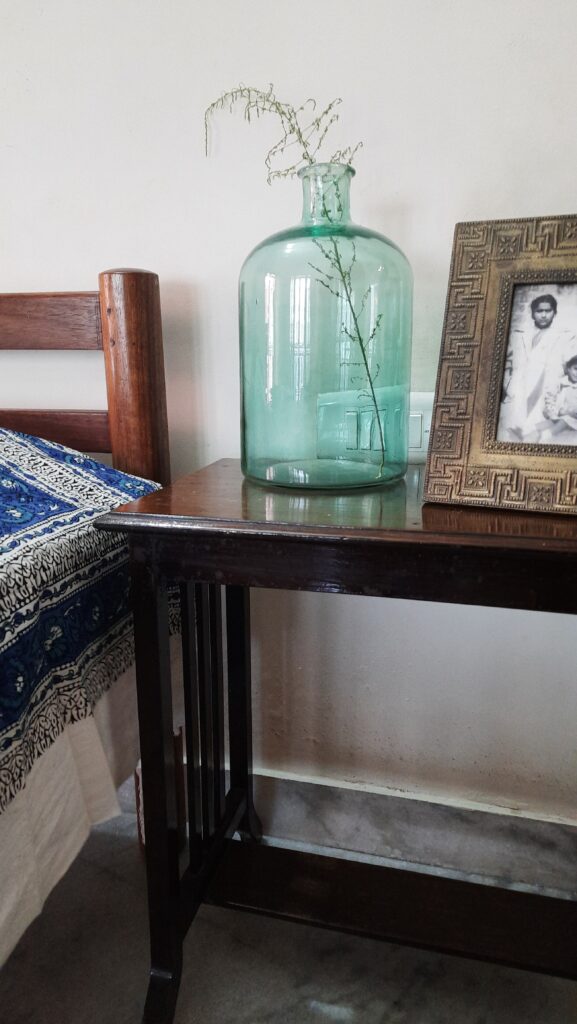 How to buy a demijohn in India?
When we checked last, we were the only ones in this country making new demijohns. Our last edition got sold out. There are a couple of pieces that I kept as buffer for family, so in case anyone wants blue demijohns get in touch with me. If you are in Pune, and need a blue demijohn, you can pick it up from my home. We are also making the large blue bottles pictured below, and these will be ready shortly. Connect with me to order.
www.thekeybunch.in has the demijohns and large bottles listed, so you could directly shop from there.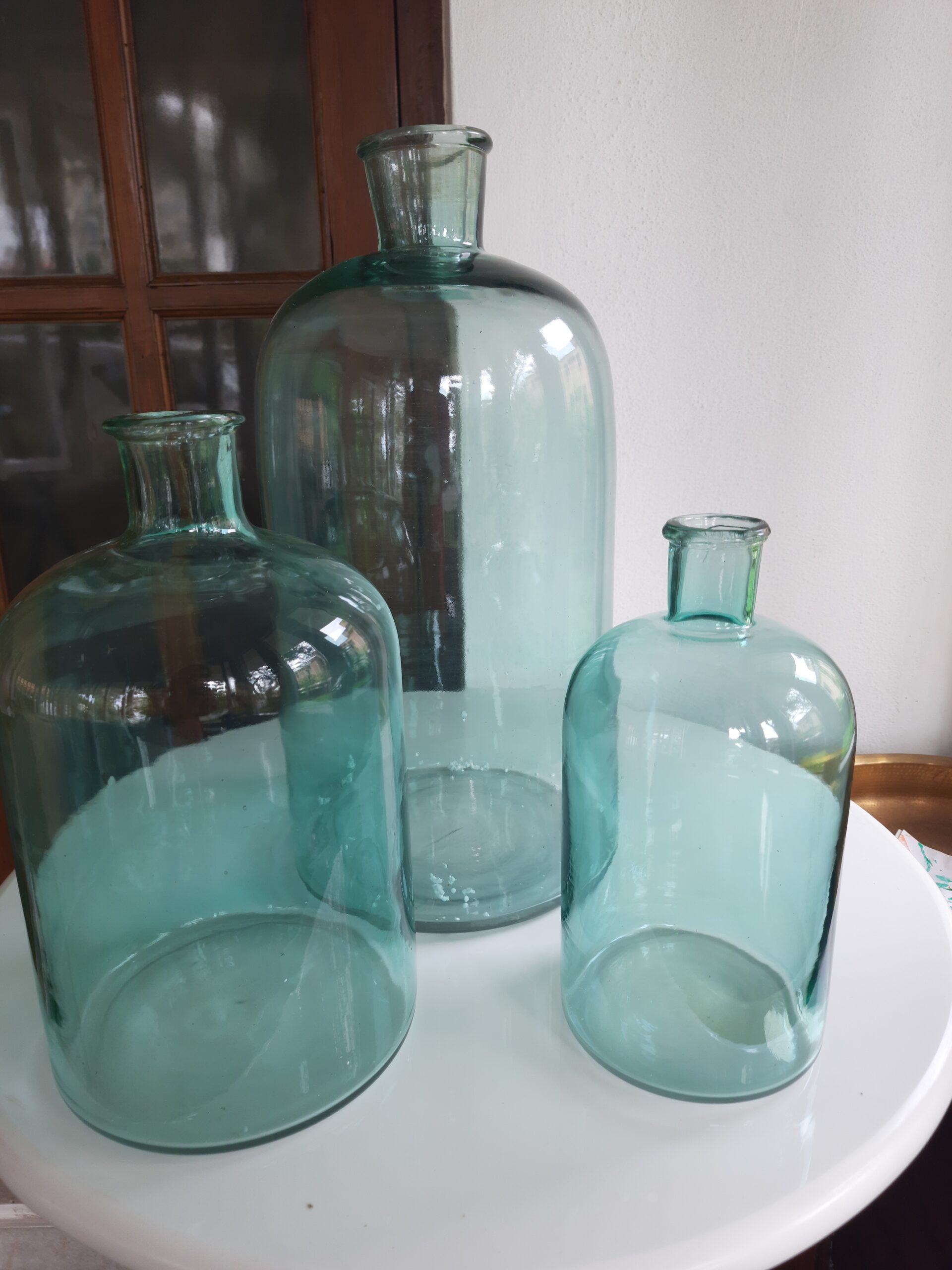 Have you bought a glass item from us?
We would love to have photographs so that we can feature them on our blog! Also look out for other glass products from our brand, like glass pumpkins in November, and lanterns for Diwali!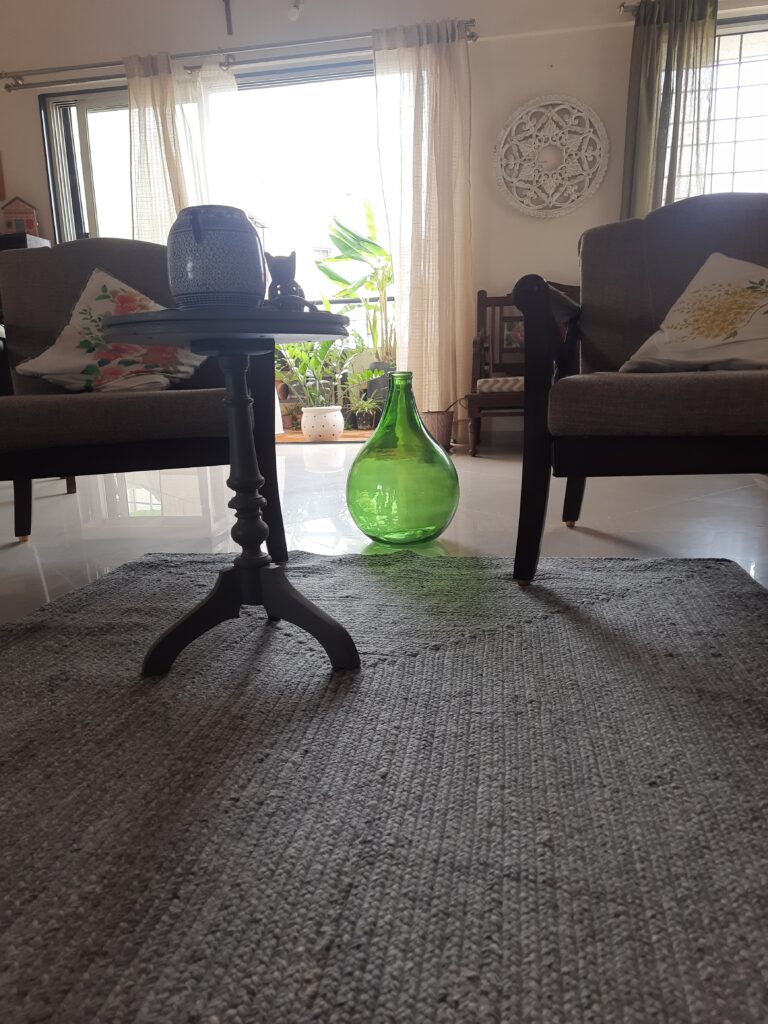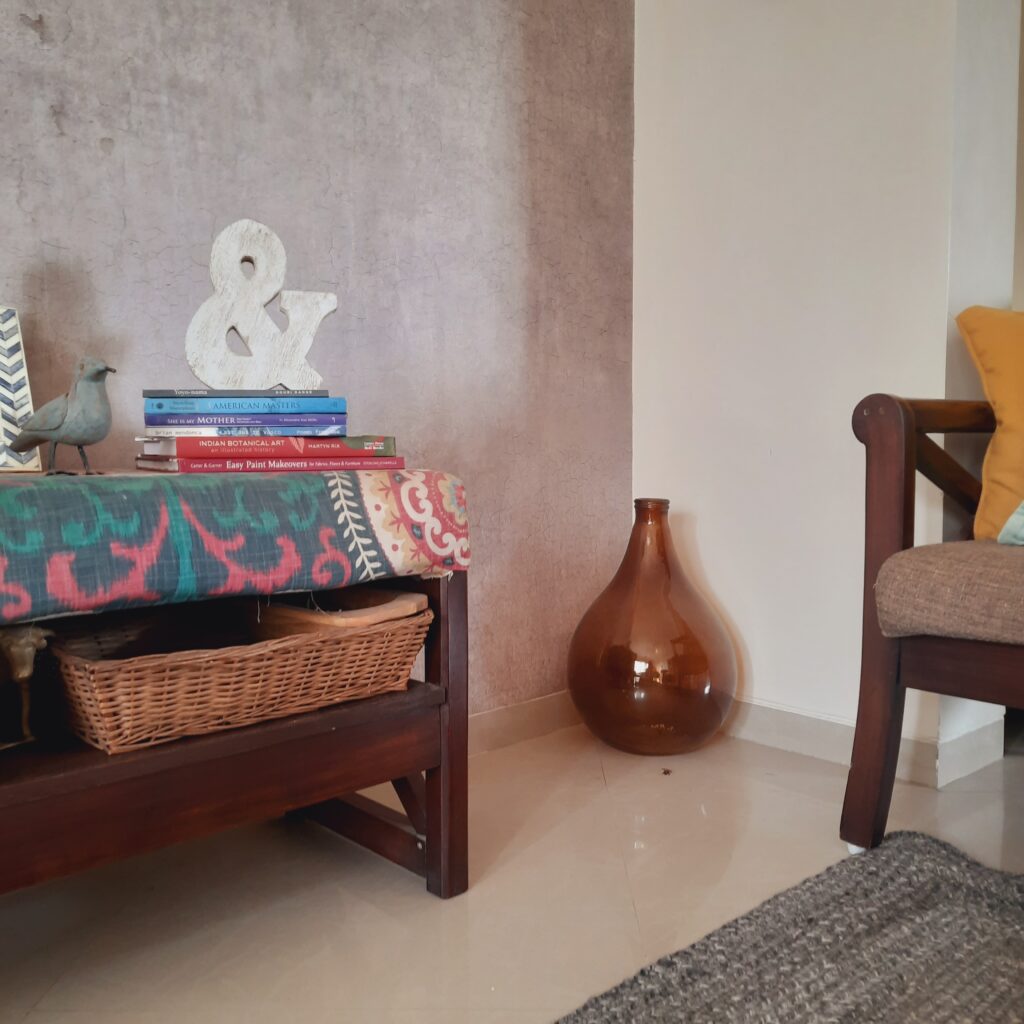 Head to our Pinterest board where we have all these Demijohn images already pinned!
Also head to our board of Demijohn inspiration images from around the world.