Do you change your decor every season? In South India, with more or less humid/hot weather throughout the year, not many feel the need to change their home decor as the seasons change. But I think it's a wonderful idea to do so! And, here is picture-proof about how lovely and refreshing your home can look, decked up for summer! Have a look at Deepa and Sriram's Bangalore home this summer 2013, and get some valuable tips on getting
your
summer look right!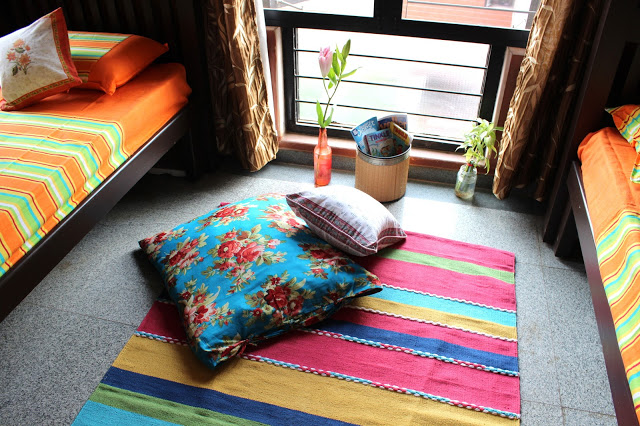 Vibrant summer colors liven up this room, and lift our spirits too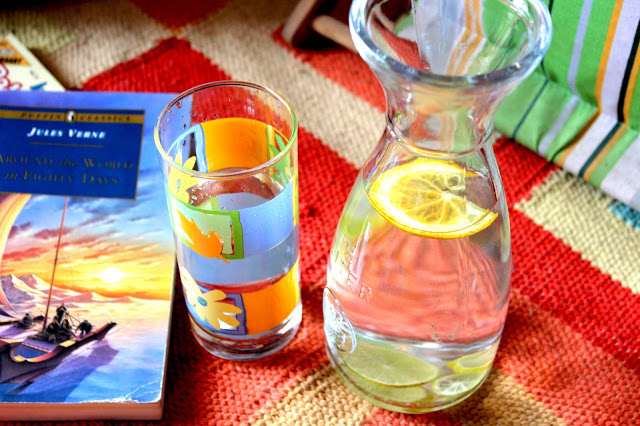 Color everything – even your refreshments and tableware!
Set the mood right from the entrance way – a bright yellow pot,
and colorful accessories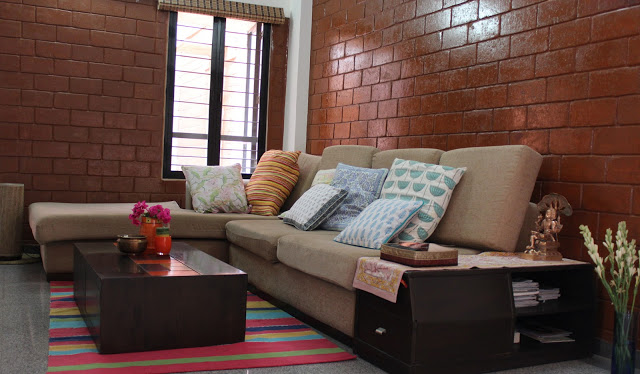 Cushions with bright motifs, splashes of color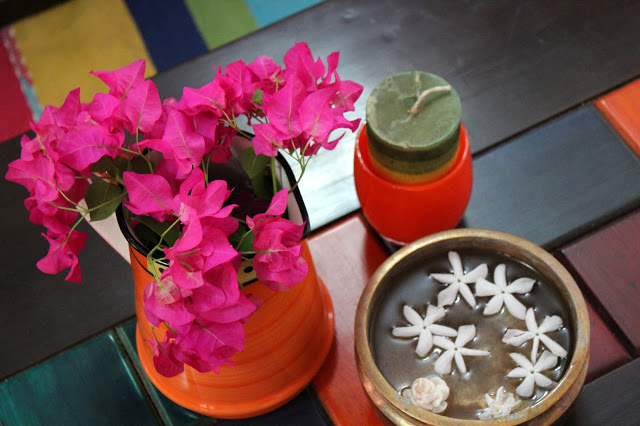 Feel fresh everywhere you look – add color and ambience with
miniature urlis, colorful vases and scented candles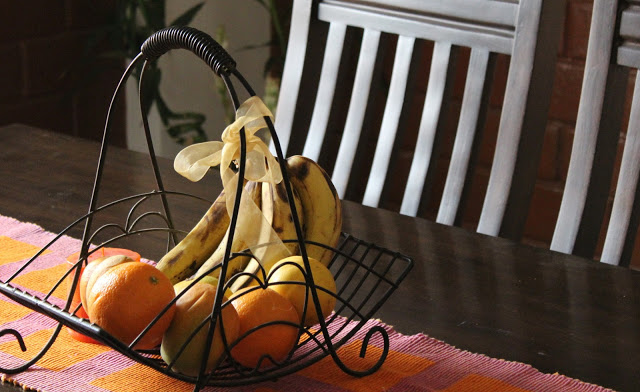 Add some drama: dress up even everyday things like fruit stands!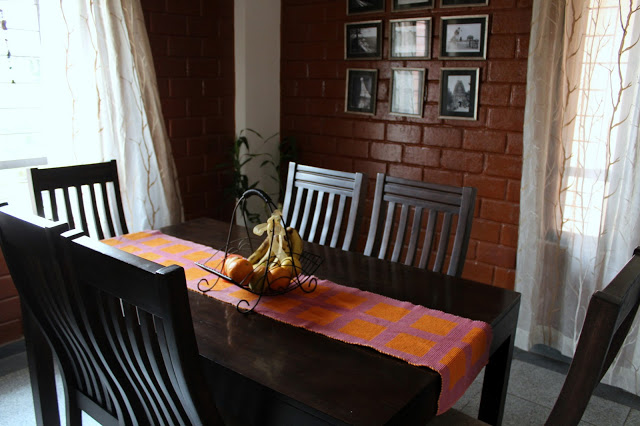 In summer, sheer curtains in muslin, with the windows open guarantee
that cool, lazy, curtain-swaying dance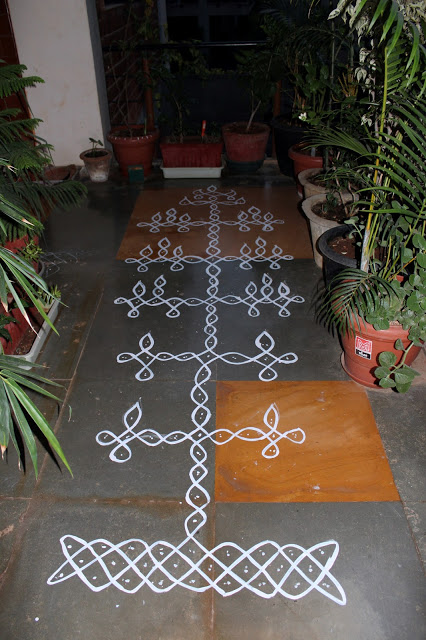 A festive looking rangoli to add some charm
to the entranceway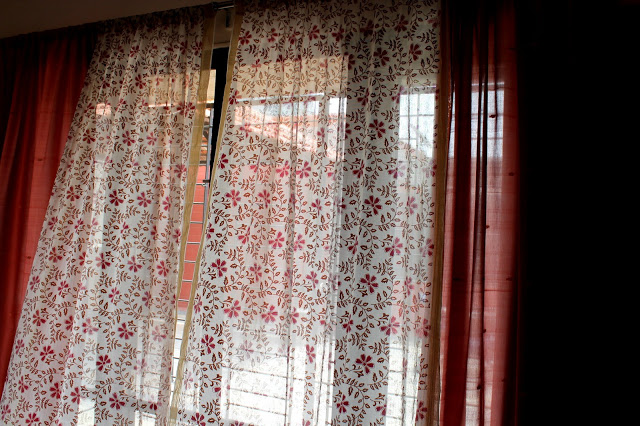 Flowery summer designs on gently swaying curtains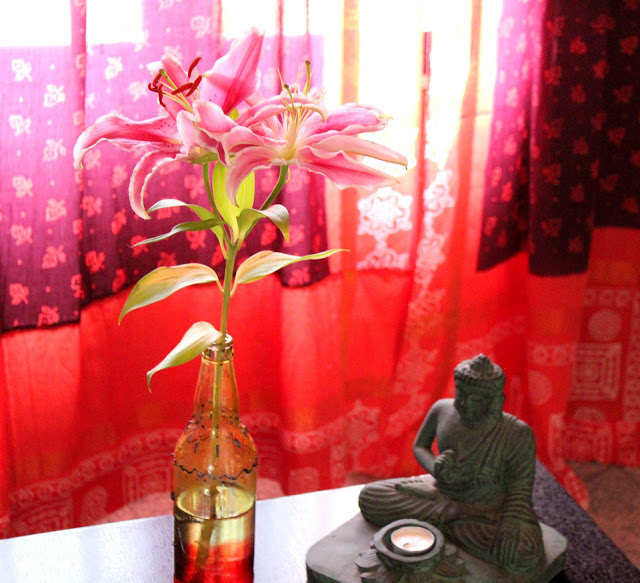 Focal points can be easily put together with simple accessories
and flowers from the garden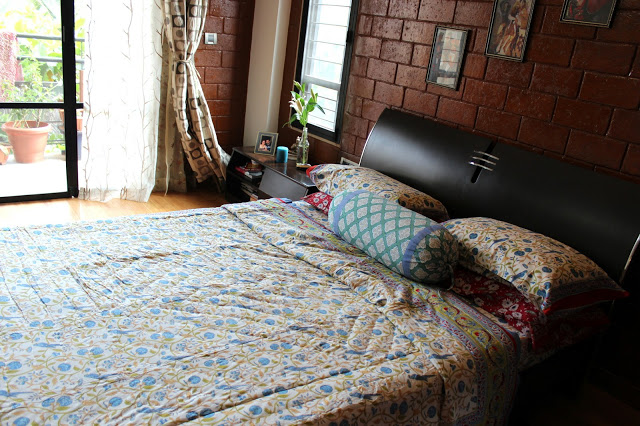 Bring summer right into your bedroom with light and cool bedclothes,
white sheers on the windows and earthy wall tones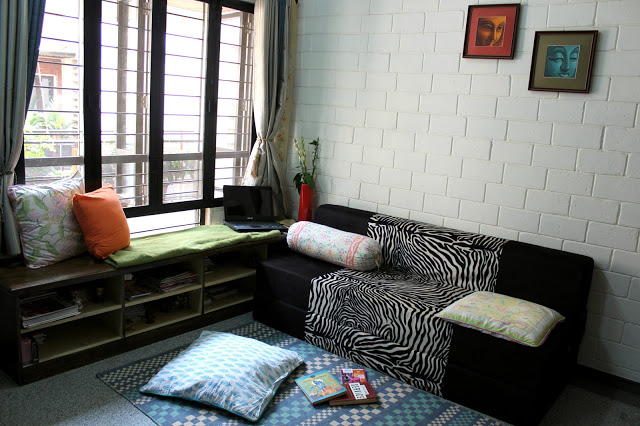 Animal prints, and summery cushion covers in the study cum guest room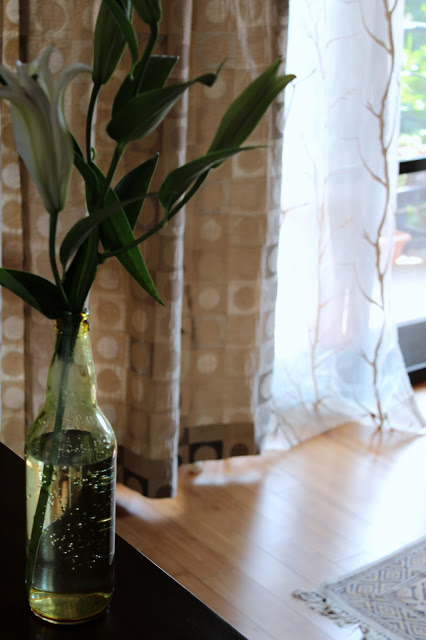 An upcycled beer bottle with fresh cuttings from the garden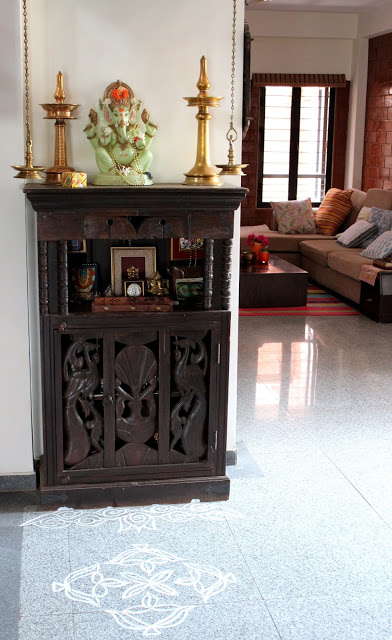 A Book shelf is used as a puja stand brightened with a
colorful diety and brass accessories;
a hand painted rangoli done by a friend
Info you would love to know about Deepa and Sriram's home
Deepa and Sriram's home is a part of an eco friendly housing complex which is called TZED – Zero Emission Development. Here's what they say~
Right from Borewells for water, to Reverse Osmosis treatment, Solar heated water, and recycled water for all plants and gardens, this is a place we absolutely love! We tried our best to follow the guiding principles of the Builders, when doing up our home.
1) We did not replace the natural Granite flooring.
2) We only changed the laminate wooden flooring into Solid Wooden Bamboo flooring.
3) All our furniture is from plantation Rubber wood and plantation teak only.
4) We decided to avoid Vitrified tiles which are heated at high temperatures, as we didn't want to add to global warming.
5) We wanted to do up our house in such a way, that every light, every fitting will earn its keep therefore – No "Decor" lights, No Spot lights.
6) Our theme is simple and Asian Indian with an old Country / Rustic feel to it and no wastage.
7) Every room has Brick walls provided by the builder which is made from the ground breaking earth. We decided NOT to plaster it. 8) We used Non VOc paints, water based Enamel (lead free) as against oil based enamels and Water based Polyurithene coating has been done for all the rubberwood furniture as against solvent thinnable melamine.
9) We love our home and have now started our little herb garden and fragrant flower patch.
10) Curios and decor are Asian Indian and things we bought on our various travels.
Design and execution of this lovely home was done by Jyotika Baleri of Destination Design.
Wasn't that impressive? A big thanks to Deepa and Sriram for sharing their home pics on this blog. Have you changed your decor this summer? If so, send us the pics and we would love to show them to the readers of this blog.
Also, many thanks to all those who sent in suggestions to Priya's query (while Rekha and I were away on vacation) about how to best hang her unique Ganesha art work.