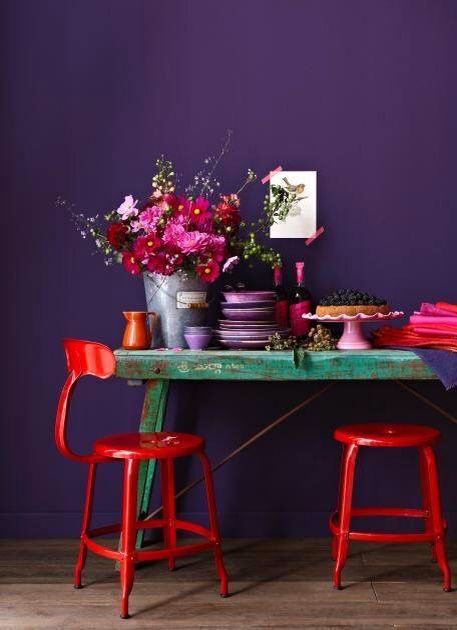 The colour of the year according to my husband, is badly named! He says Ultraviolet is invisible, so technically, it cannot be a colour. That's the way his brain is wired… and I have to often explain the obvious to him. Sigh! Ultra Violet, get it? The nirvana of violet – the purple with a halo on it – etc.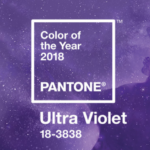 Well, at first look I hated this year's colour of the year. I found it too loud, in my face, and I am just not a purple decor person, or so I thought. For when I started exploring this colour more, I realised that it's a kick-ass statement colour, and that's why this post is coming so late after the colour was announced (last year). 🙂 It took a while for me to warm up to it. And here I am with some loose guidelines about decorating with UltraViolet.
Walls
Statement walls are so out (in my book), and therefore if you want UltraViolet on your walls, you will have to either think of painting the whole room in this colour or highlighting the windows in it. We will talk about wall decor later.

pic via

Coming to option 1 – painting the entire room UtlraViolet – unconventional, but doable. Here are ways to actually rock this idea.

A. Opt to do this in a smaller room, unless you are doing up in the luxe style. This is against convention which is all for avoiding big colours in smaller rooms. However, I say this colour would be too overwhelming in a large room, across all four walls. In smaller rooms on the other hand, you can really make the space come alive – with yellow contrast accessories – for instance, paint windows yellow, or use a tall yellow cupboard. Decorate the rest of the room boho. Or, you could tone everything down in white.

PC Binisha Ajmera featured on Good Homes Insta feed

I was going to give you a different picture, but just this morning I saw this gorgeous UltraViolet home on the Good Homes' Instagram feed.

B. Only paint the windows UltraViolet
What a stunner this is! Set against colours like deep grey, mustard, light blue and even bottle green, and white, this colour will make your windows hotly stylish! I think I meant to say stylishly hot, but after 3 months spent decorating a home in Chennai, a city that is hotly stylish through the year, that's what I want to say 🙂

Pic via

In both cases you will need to set off the room with beautiful accessories too. In Option A go minimal if you like, but you can also go all out boho. A comfy couch, a stacked bookcase, and a floral or geometric rug can enhance the cosy feel of the room.

Ceilings
I will make this one real quick with one stunning picture from thedecorista.com that will drive the point home!

For a desi take on this, pair an Ultraviolet ceiling, with simple wooden sofas and a light purple upholstery, and do away with the animal print. Instead use an Indian handicraft rug with hints of black, white and yellow on it.
Accessories Furnishings and Furniture
Ah! My pet decorating tools. My style involves adding lots of colour through accessories and furniture while leaving the walls neutral. And UltraViolet lends itself beautifully to these areas. Check these examples out.

A. I love the Ombre design in this room. UltraViolet bed linen juxtaposed against a distressed light purple wall!

B. Tall furniture element Add a tall cabinet, cupboard or even a ladder shelf in UltraViolet in an otherwise neutral room for a stunning outcome!

pic via

C. Rock your ancestral home by covering your couches with a bandhni Ultraviolet bolster cover. Another shade of purple next to Ultraviolet really adds drama.

This image is from a 2014 Christmas visit to Mangalore, and the home and antique day bed belong to my dear A. Barbara. The colonial style home is more than 100 years old.

D. Just flowers
I love to forage, and these Crepe Myrtle flowers were hard work. Over a fence, into a school, right up to the caretaker's home, and an encounter with a barking dog. Luckily it ended well, with the dog and me parting as friends, and I walked home happily with a bunch of these beauties. Well, that's just the story. The point is, get yourself some purple flowers to easily bring the ultraviolet style into your living room. As usual, yellow, geometrics and wood are great accompaniments to Ultraviolet!

E. Small Details like these lovely Ultraviolet door knobs can also make your home stylish!

pic via

F. Bold purple furniture
This dining table is calling out to me. See what I mean?

pic via

G. Keep it ultra simple with an ultraviolet throw
I love this image of Khyati Trehan working in her chic living room, with an ultraviolet throw draped casually over her feet. Goes to show, that even a touch of Ultraviolet can make a style statement.

Pic Khyati Trehan

Which of these ultraviolet updates are you thinking of?
Contact me for a designing or styling package. I would be happy to incorporate Ultraviolet into your colour palette and design a room or corner for you! And, you get discounts for room updates like paints, kitchens, bathrooms, tiles, and furniture when we design your space for you! Call us to know more 9881741792