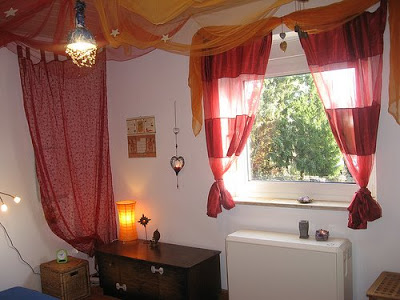 Pic courtesy: the eternal voyageur
I have been receiving a lot of queries from friends overseas about decorating their homes in the Indian style. Most of them have been to India, and collected a few beautiful pieces, but are at a loss as to how to integrate them into their existing decor. Others simply love Indian stuff, and own quite a bit of it, but don't really know how to do the displays.
My friend, the eternal voyageur on Flickr has spent some years in India, and she loves the stuff she saw there. She has very kindly shared tips and photographs of her Indian style home.
When she recently set up her home in Germany, she didn't want it to look like a conventional German home. She says, "I find myself attracted by the traditional Indian aesthetics. I also love the mind-boggling variety of styles, and the fact that most of the stuff is still either hand-made or produced on a small scale." Read her tips below
Helpful tips on sourcing stuff for the Indian look I brought back quite a few things for me when I got back from India. However, I also sourced my stuff from various other places
My favorites are original Indian items bought from the local flea market. You get a lot of ex-hippies selling their stuff! I also think that buying second-hand stuff is ecological *smug grin*
Some stuff I got off e-bay (I have a saved search with key words like Indian, oriental, Bollywood, Nepal, etc., and I religiously scan through it twice a week.
The rest of the stuff is from local stores. Recently Indian decorations are in fashion in Germany, so there is plenty of Indian-style accessories in the stores. However, it is not easy to find stuff that does not look like a cheap third-rate imitation.
Some of the stuff I have here is made or decorated myself.
I didn't buy anything from online stores with Indian stuff, because I know how much the stuff originally costs in India, and comparing to that most of it is just way to expensive (even including shipping costs").
Weren't those great tips?
The best way to start is to focus on just one room in your home. Your living room is the best bet, or if your existing decor is too Western, try decorating a corner. If you want to play safe, try decorating the guest bedroom or a spare bedroom.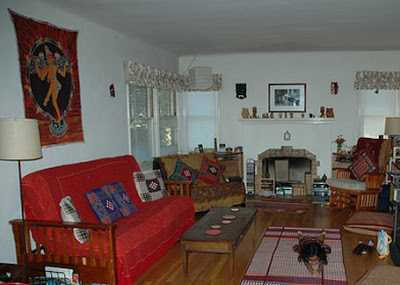 Pic courtesy: Kaberi Kar Gupta
For a room corner
Try picking a corner that has a window because it will take care of a huge chunk of your decorating worries. Why? Windows mean large lengths of Indian fabric, and this can instantly lend the Indian look to any space.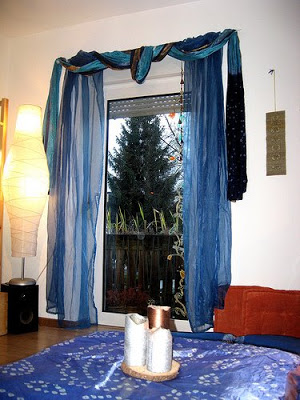 Pic courtesy: the eternal voyageur
Have you brought back a lamp or lantern from India? Lamps provide the right lighting required for your corner. They decorate and enhance your corner at the same time. Have you got a collection of Indian art?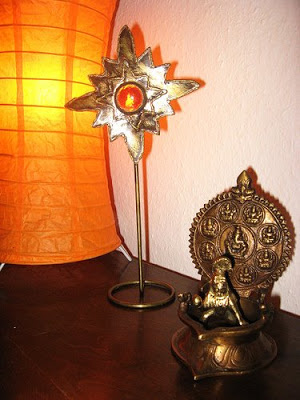 Pic courtesy: the eternal voyageur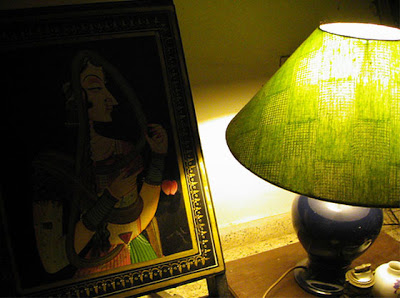 Picture courtesy: kamerakrazy
Do you have an Indian painting? Perhaps a wall hanging? Well you can put it up on the adjacent wall.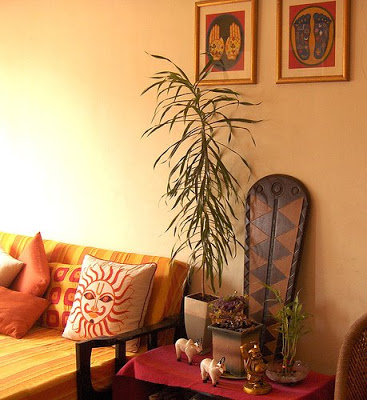 Picture courtesy: nairvee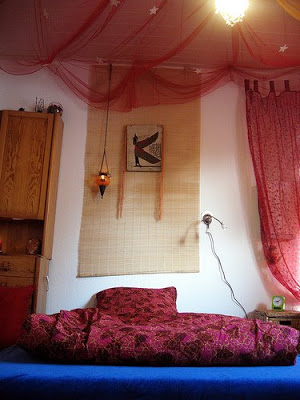 Pic courtesy: the eternal voyageur
If you have small collectibles, arrange them on a table. An inexpensive way to add depth to your Indian corner is to display a collection of brass vessels or urns.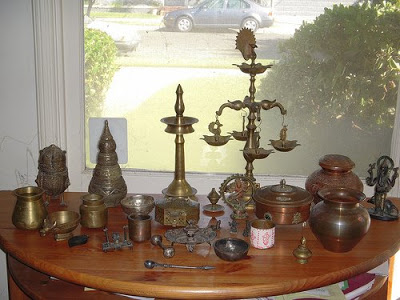 Pic courtesy: Kaberi Kar Gupta
Finally, think about low seating ideas. The diwan is an integral part of Indian decor. You could also try poufs, an Indian carpet strewn with cushions (that contrast or match the lamp and the curtains). This will make your corner look really authentic.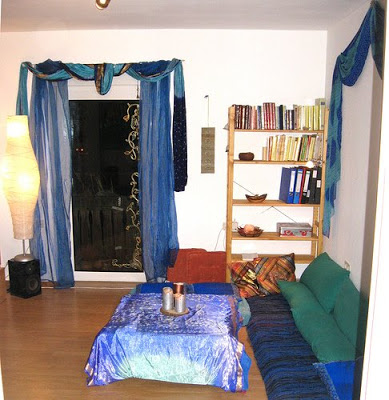 Pic courtesy: the eternal voyageur
Some tips on choosing fabrics. Fabrics are really the key to the whole look. Invest well in the right colors. Opt for 2 kinds of fabrics – silk, raw silk, and similar rich fabrics for the winters, and cotton or linen for the summers. For curtains simply hunt online for saris. You will need 2 saris for large windows, or 1 sari for a small one. In the pic above, a sari has been used to drape the table, saris are on the French window, and another matching sari is draped above the seating arrangement.
For summer curtains you could also opt for inexpensive sheers in Indian colors. Make sure your curtains are single colored, and match with little other pieces like cushions or throws to add continuity to the decor.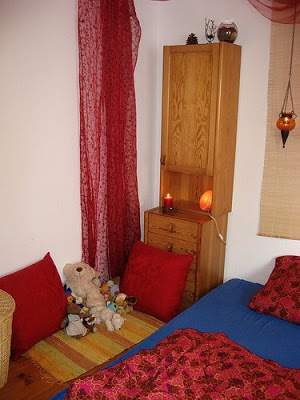 Pic courtesy: the eternal voyageur
Hope you have fun doing up your personal spaces. 🙂 Watch out for a guide on Indian Rangoli designs. They are an excellent way to color up your home especially if you are thinking of an Indian theme party.