I know I'm not the only one with visions of carts in my living room.
I love the romance of a real, life size cart as part of my decor, to decorate
as I please. I so want one…and I go crazy each time I think of the possibilities.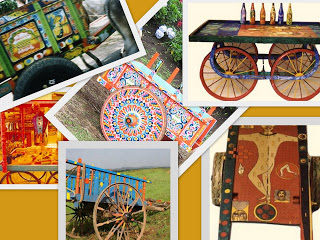 Cart possibilities (click image for enlarged version)
Image courtesy: Either or, ArtQuest and Google Search
These inspirational images make me wonder if I should
use the cart as a dining table, or a bar?
Perhaps with the right safety features, it can be a child's bed,
a library or a display piece? Painted in bright Indian kitschy colors,
won't it look super in my Bollywood corner?
Have you decorated with carts? Have you any ideas?
Let me know…I would love to hear from you!