Note to readers – This post is lengthy. The first half covers the book review, and the latter half features some pictures from the book. If you are in a hurry, feel free to hop on to the pictures. But do come back again and read the review:)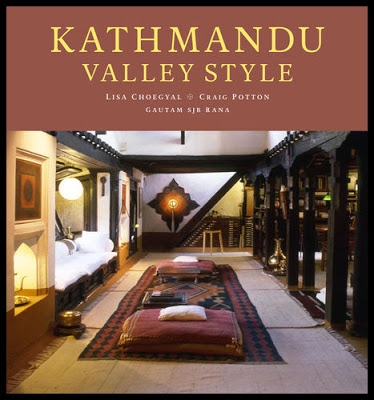 Here is a book that makes me want to drop everything and catch a flight to Nepal, now! Kathmandu Valley Style, a coffee table edition, brings out the best of Kathmandu's rich heritage architecture, and some really enjoyable restoration projects. It also features the best of noveau Kathmandu style – modern homes that have taken care to carry forward the rich architectural and aesthetic features of old Kathmandu.
Kathmandu Valley Style
has been co-authored by Lisa Choegyal – a long-time Nepal resident and author of several books on Nepal, acclaimed Newzealand-based photographer Craig Potton and Gautam SJB Rana – an arbiter of the Nepal style,, and creator of Baber Mahal Revisited (an ambitious private restoration project in the Rana style of architecture).
I know my readers would want me to talk less about the book, and see more pictures. Well, in a few minutes. This is a review, remember? 🙂
The book has pictures and information of over 40 historic and new buildings, most of them never before photographed or published. I found that quite impressive. When I first opened Kathmandu Valley Style
, I thought the rather long introduction (running into many pages) rather unnecessary, but as I read along, I realized the book would have been truly incomplete without this information on Nepal's culture, ethnicity, and the influence of dynasties that ruled the country. In fact, I found myself going back to those first few pages even as I read the rest of the book. For those of us who are neophytes in Nepali history and architecture, it serves as a good reference section, right inside the book! The reader will be astounded by the beauty of the Valley, and the mosaic of architectural legacies that co-exist, handed down by various dynasties. Be prepared to be utterly, completely delighted by the fact that many expatriates have endeared themselves to Nepali preservation and restoration work – in fact, going so far as to making Nepal their permanent abodes (featured in the book as well).
The images, the homes, the restoration work are things that I loved! They are the essence of the book, and the authors have done very well in presenting them. The photography is superior, par excellence!
I don't really think the book lacked anything – it has been well researched and well presented. If anything, it covered so much of the Kathmandu style and architecture, that it left me hungry for the rest of Nepal.
Key Bunch Verdict: Inspiring!

Have a look at the Photographs ©2008 Craig Potton and Serindia Publications. I recommend that you click on the pictures for clearer images:)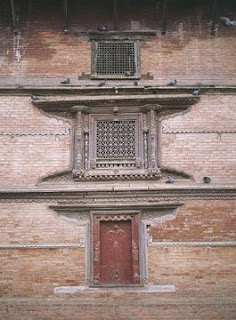 The inner courtyard of the mid-18th century Kumari Bahal.
Details of the carved windows and roof struts show
the complexity of construction and variety of design.
The next few pictures are of Kuthu Math. It dates back to 1748. It was restored by Austrian conservation architect Götz Hagmüller and his wife Ludmilla. They live in the top floors of the math. In their quarters, they have brought together traditional elements of historic Newar design adapted for modern living.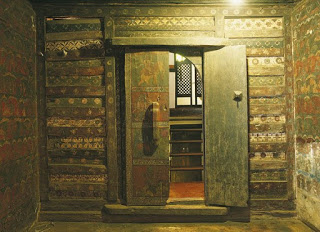 Kuthu Muth's most precious cultural treasure –
a painted room, which was once used as a reception area.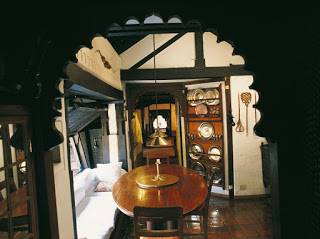 Kuthu Muth's kitchen – fine quality wood carving with traditional
brass plates and bowls. The floor tiles are terracotta, and when Hagmüller
couldn't find them, he designed an entire tile factory to produce them.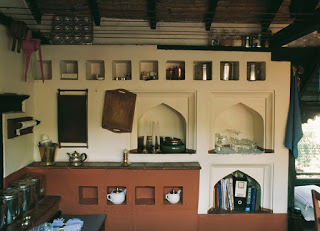 Hagmüller's kitchen features a montage of useful wall niches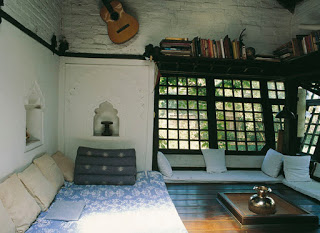 One of the bedrooms in the Hagmüller quarters of Kuthu Muth.
Latticed windows are a legacy of the Malla architecture.
A picture from the Yak and Yeti Hotel.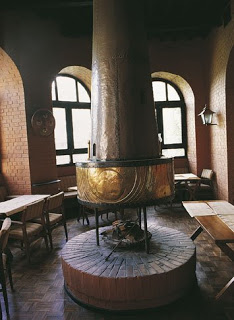 The copper fireplace is the center piece of the
Chimney Restaurant in Nepal's Yak and Yeti Hotel
Next, pictures from explorer and writer Ian Baker's home in Naxal. It is renowned for its wildly eclectic look, and memorable parties.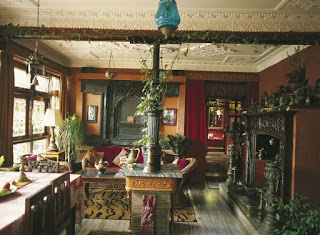 The living room has his collection of tantric art and Tibetan carpets
juxtaposed with Newar wood carvings,
Rana-style plaster ceilings and stained-glass windows.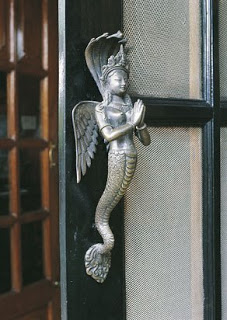 This bronze door handle of Naga Kannya has been newly
cast by Patan metalworkers, using the lost wax process.
The US-based Kathmandu Valley Preservation Trust has quite a portfolio of restoration projects throughout the Valley. The picture below is of a small apartment atop their office building in Nepal.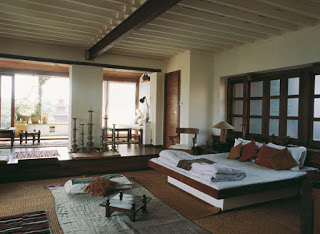 The elegant local style features low-level furnishings,
Newari printed blankets, and a beaten copper bathroom.
An art-lover and long-term resident of Nepal, Janet Rockwell built her Bansbari house on the footprint of an older cottage. She has mixed elements of her native California with Nepali traditional design.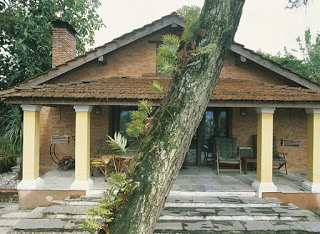 Flagstones along the steps and verandah of Janet's home.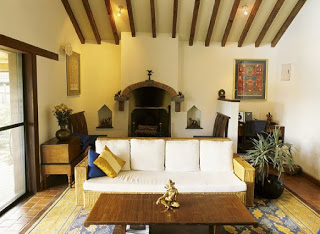 A terracotta tiled floor, and a hand-woven wool carpet, and paubha
paintings on either side of the fireplace.The living room is an interesting
mix of Nepali and American sitting room styles.
Vishnumathi House, the abode of co-author Lisa Choegyal is one of my favorites in this book.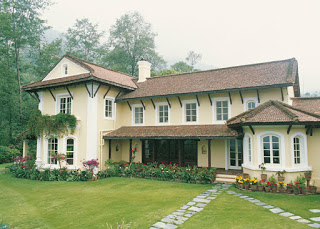 This home was designed to reflect elements of Newar architecture, but with Rana
and European design. It has been built using only traditional elements,
but the layout emulates a courtyard set in a meandering English garden!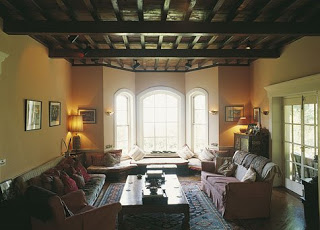 The drawing room contains a collection of Nepali paintings,
Tibetan furniture, Himalayan textiles and antique carpets.
My copy of 'Kathmandu Valley Style
' occupies pride of place on my coffee table. I find myself getting lost in its pages, and I just can't stop admiring some of those houses. I highly recommend it to those of you who are interested in South East Asian decor. You will find the pictures of the modern work in which old styles have been incorporated (to create an outstanding style statement) very inspiring.