If you wish to decorate your home in the Asian style, this is the book for you. It goes beyond the usual gaudy, much-hyped Asian themes, and presents ideas to recreate an original Asian feel. Tips include the right colors, the right curios to pick up on Asian trips, and excellent ways to present them. A book worth picking up, because you will read it once, then read it over and over again!
Decorating
Asia is one of the few decorating books that not only lives up to expectations, but goes beyond – to surprise, stun and delight the reader! The book is the brainchild of Tatjana Schantz Johnson, and she has collaborated with writer Marion Bravo-Bhasin and photographers Alan Lee and Edward Hendricks.
The book is all about decorating homes in the Asian style, and 'visits' most of Asia – with chapters dedicated to China, Singapore, India, Cambodia, Lao, Vietnam, Mongolia, Thailand, Japan, Philippines and Indonesia. The collaborators have managed to bring out the essence of each country's decor styles and put them together with helpful suggestions. In the book, they also 'bring out' colors for each Asian country, indeed a very handy hint for those who want to start somewhere in their attempts to decorate in this style!
An interesting aspect of the book is how unexpected the content all is. The section on India, for instance, skipped the predictable handicrafts, carved furniture and Tajmahal memorabilia ideas. Instead, it focused on the colors that naturally come across in India's everyday life – pictures depicting quiet country scenes, village women in colorful saris, red hot chillis arranged on a cool blue platter, the beauty of Bollywood posters, etc. Simple, yet unconventional ideas for wall paints, living room decor and creating unconventional India corners in your home (including redoing an old cupboard with Indian colors, and a stunning idea for a living room that doesn't scream India, yet portrays it in a gentle, dignified and harmonious manner).
Click on the image below to buy the book right now!
The book itself is anything but conventional. It is all about moving away from stereotypical decor ideas, and focuses on a more positive, modern way of integrating the styles of Asia into any home. It does not dictate, but gently nudges readers to think for themselves, and incorporate fresh new ideas for decorating their own homes. It is also a good idea to read this book, if you are traveling to an Asian country, because once you have read it, you will stay clear of the over-hyped souvenir shops, and look in smaller, more real places, for real pieces of decor to carry back with you.
When I look at the book very objective ly, it is difficult to say what it lacks. I found though that some countries seemed to have been better researched than others. The chapter on Singapore, for instance gave a lot of coverage to artist Ketna Patel's interpretations of this cosmopolitan land. Of course, this does encapsulate the essence of Singaporean style really well, but it left me disappointed.
All in all, it's a beautiful book, and I highly recommend it to anyone who is thinking of doing up their spaces in the Asian style.
Key Bunch Verdict:

Unique, thoroughly enjoyable!
Some of the pictures from the book follow, and this is an exclusive especially for The Keybunch readers.
All photos are courtesy Page One Publications, and cannot be distributed or reproduced without written consent from them.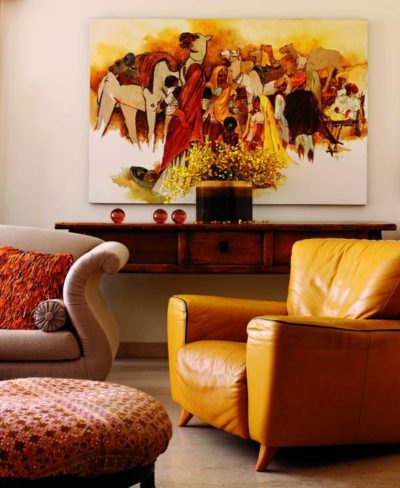 This contemporary desert toned seating area takes
its lead from the sandy, orange and yellow shades of
the Rajasthan scene depicted in the painting.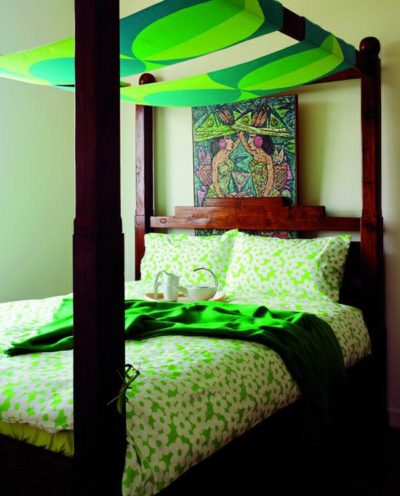 A teak four poster bed plays up its jungle allure with
vivid shades of green and uplifting prints.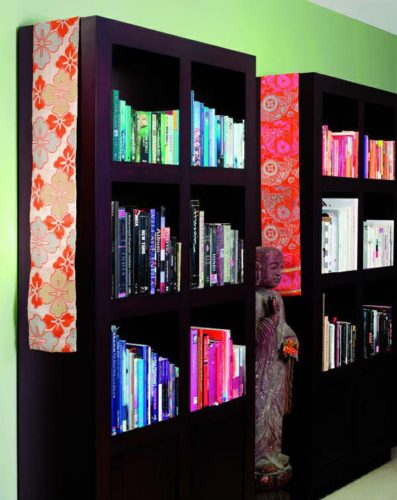 Beautiful textiles such as an Obi or Kimono belt can be
used to dress up a bookcase or a table.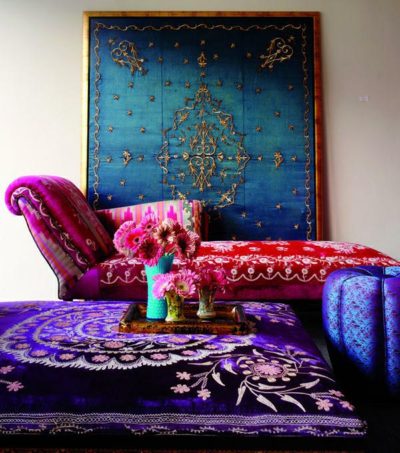 Moghul Luxe – Soft velvet, deep tones and an embroidery
art form that the Moghuls picked up from the Middle East.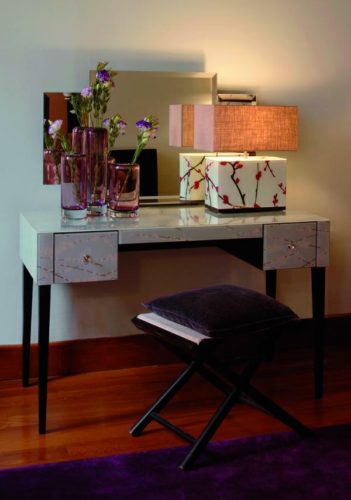 An old Ikebana printed glass vanity table and
glass table lamp by Knowles and Christou pays tribute
to the delicate beauty of a single branch and blossoms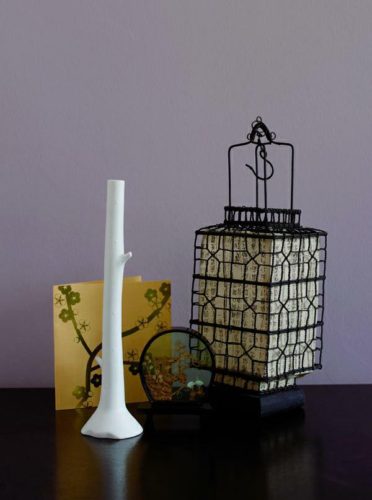 A delicate balance. Look for simple and subtle items
that will add a Japanese feel to your home.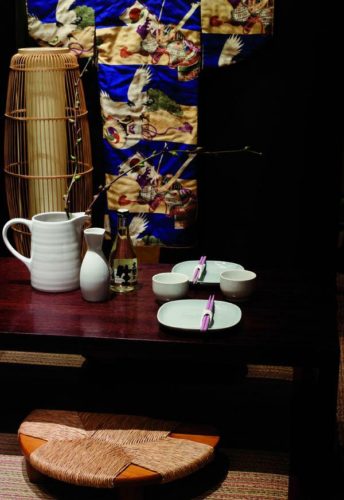 A simple table setting for two. For the Japanese,
presentation is everything when it comes to food.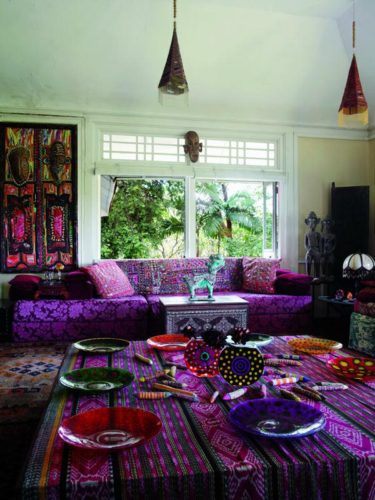 Maxi pattern living. Pattern on pattern on pattern works when
the colors are coherent such as this violet toned seating area.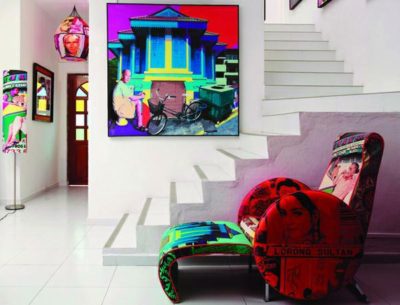 In Singapore, artist Ketna Patel's studio is a visual testament
on how to live with art. Lampshades and lounges are just a
few of the vehicles she uses to display her vivid
and eclectic collages of Asian life.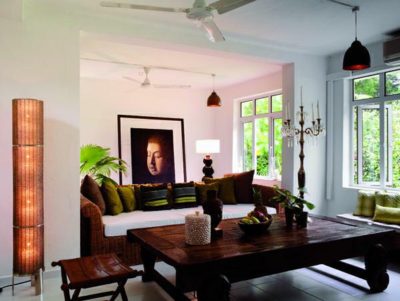 This light and airy contemporary living area also
evokes old world charm with its large,
dark furniture and Asian accents.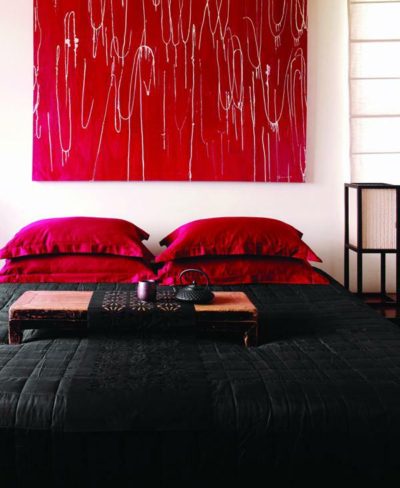 Simplicity, balance and color instantly ooze the
Chinese aesthetic in this bedroom.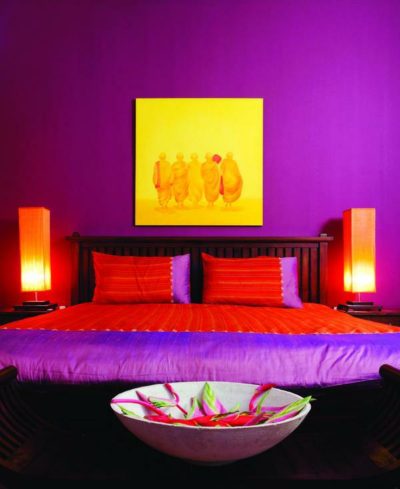 This bedroom balances out the bright tones with a simple
patterned bed spread, symmetry and the serene
vibe of the monk painting overhead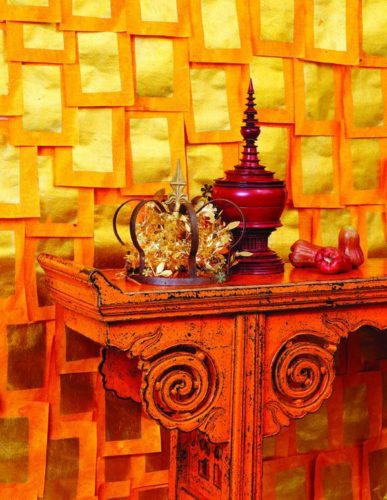 The orange colored altar table lends itself
beautifully for a unique display.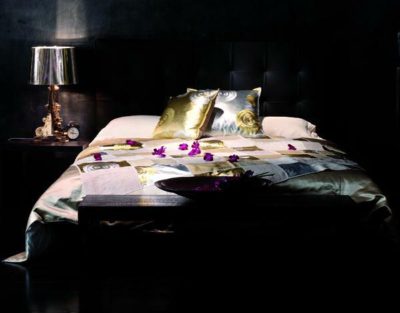 A little drama goes a long way in creating an
inviting and luxurious bedroom.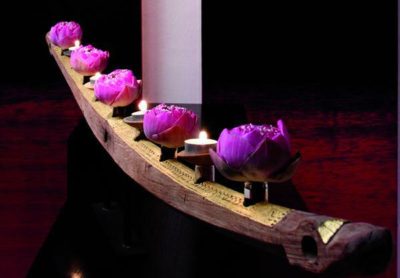 An old Thai cow pull gracefully comes into the home
when transformed into a votive and flower holder.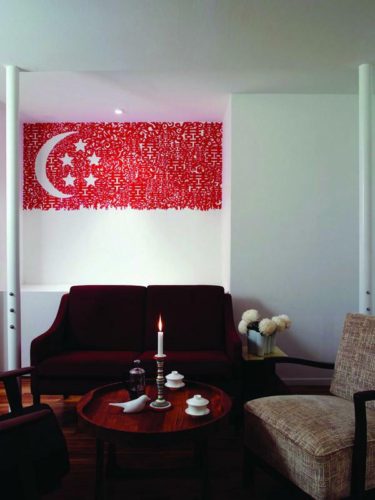 A sitting area from a room at the new Majestic Hotel in Singapore.
Artist Justin Lee's rendition of the national flag is actually
a montage of tropical flowers and the Chinese character "xi",
which represents double happiness.
Just another reminder that these images are not to be copied or reproduced without explicit permission from Page One Publications. The book has many more stunning images, and you can buy the book here