Mustard-colored distressed paint on the background wall, and recycled furniture placed in front of it – I fell for the poster without even reading it, and when I read it, I had to post about it here on my blog!
What am I talking about? This image – it took my breath away!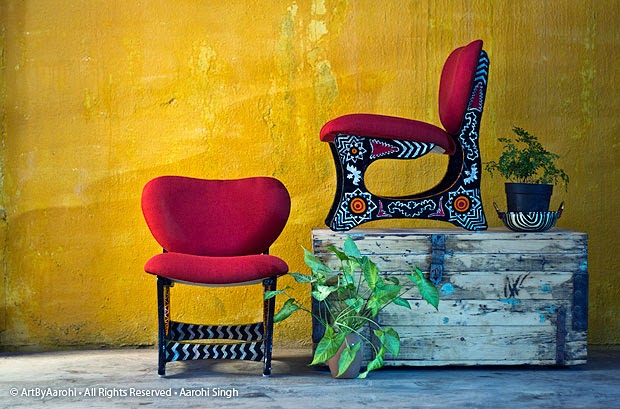 Aarohi Singh, of the painted tea-kettle and kitschy art stuff-fame has now brought out a range of upcycled, recycled furniture with her signature painted artwork on them! All the deets you need are on the poster at the bottom of this post, but I am also giving you a glimpse of what you will see at the launch. So go scroll-happy! 🙂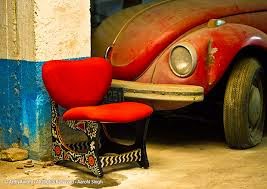 When I asked her how this line came about, Aarohi explained,
"The reason for reworking old pieces or upcycling especially for this range of furniture – 'My work is about connections. And the idea of using something already existing and infusing it with fresh perspective to enhance pre-existing memories on a given piece is really what dreams are made of for me. With each of these pieces that I rework I am looking to add a newer more contemporary dimension to an old weather-beaten piece. A box, a chair, a trunk. Something that has history in its very grain, the nuts and bolts, the handles that maybe broken because of the strain of carrying a lifetime of someone's personal belongings. I don't particularly like the term vintage to describe what I work with – 'covered in layers of history' seems a truer definition. It may have to do with the fact that I hold a Masters degree in History"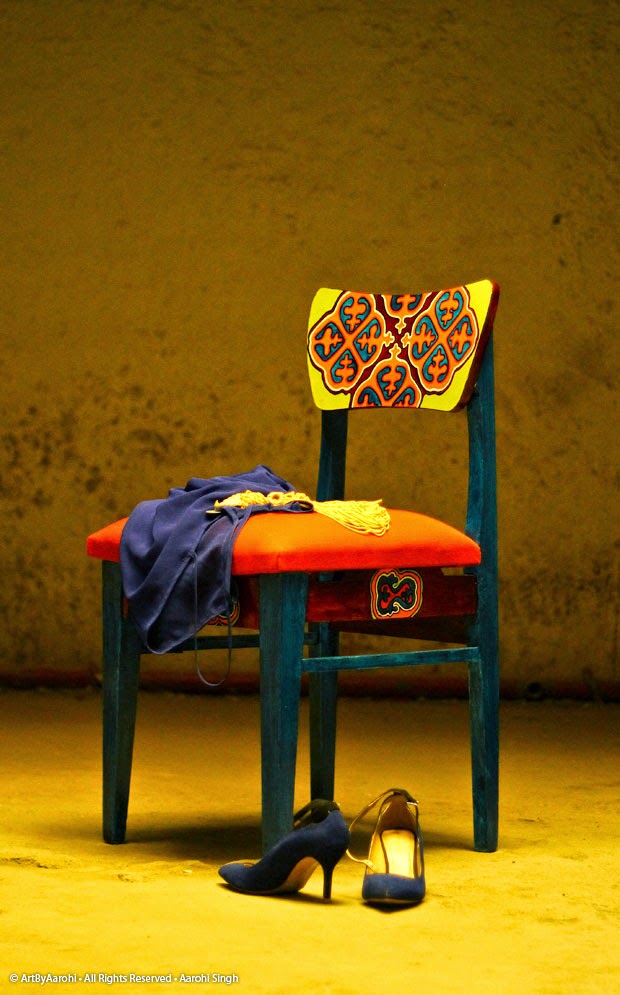 How beautiful does this ubiquitous dining chair look in its new avatar!
I so agree – this whole idea of enhancing old furniture with bright, modern colors makes me nod my head in agreement. I have just painted an old stool bright yellow, I love this style! 🙂 just look at that chair in the pic above!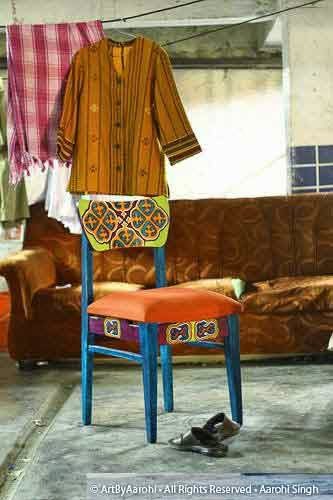 Do you like the drama in this pic? 🙂 The total desi feel of a home with a clothesline holding that bath towel, and clothes..the carelessly strewn chappals.. 🙂 pretty composition!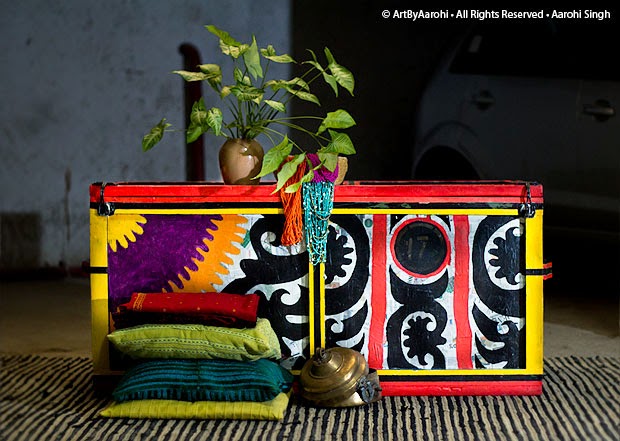 A Suzani trunk. Aarohi envisions this beautiful painted trunk as a coffee/center table or a trunk for storage at the foot of a double bed.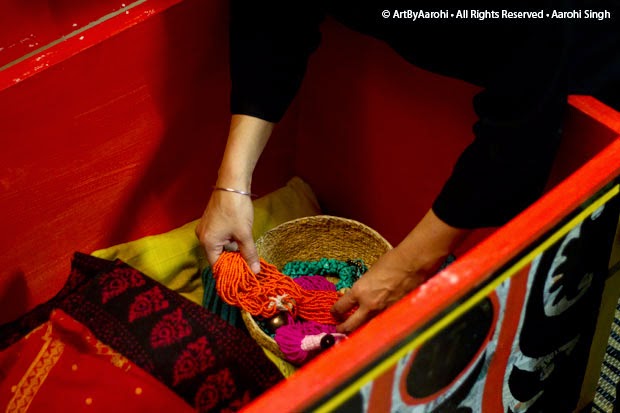 A peek into the spacious trunk!
And the inspiration?
Aarohi says, "Memories and stories are important to me. They connect. The lines and colour on a re worked piece may appear disjointed in terms of a theme sometimes but they are a true reflection of the idea or thought I may have had at the time I reworked a piece. Like everyone else, I am not uni dimensional, and with the information overload of all kinds of media being available 24/7, I find myself delving into nostalgia in an effort to stayed rooted. It is not done for market sensibilities but to reflect my thought. I believe that there is that one soul somewhere who will connect to the piece and it will find a home. One where it is lovingly looked after"
One soul? She's wrong there 🙂 I know what she means – this is the kind of thing that will appeal to a certain kind of people, but I have no doubt at all that this line will be all sold out!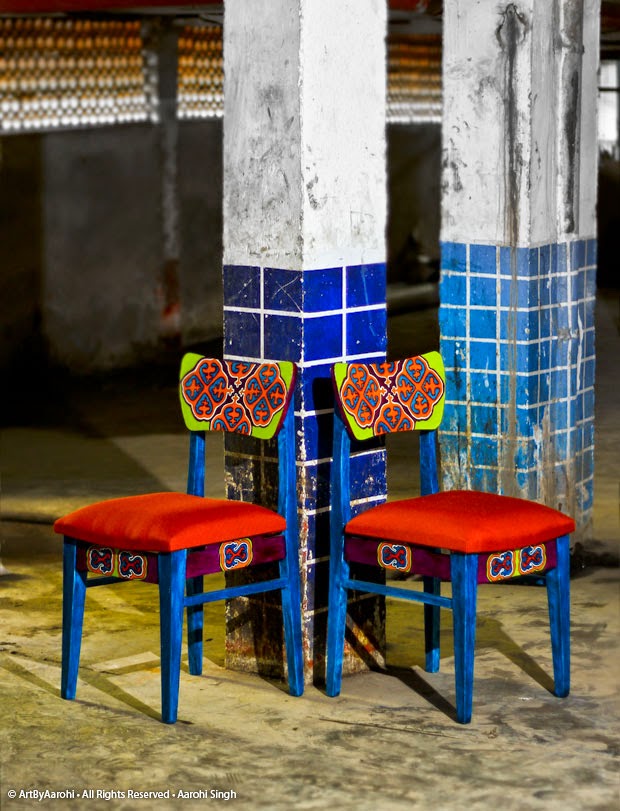 So all you Bangalore-people, save the date~ you don't want to miss this event!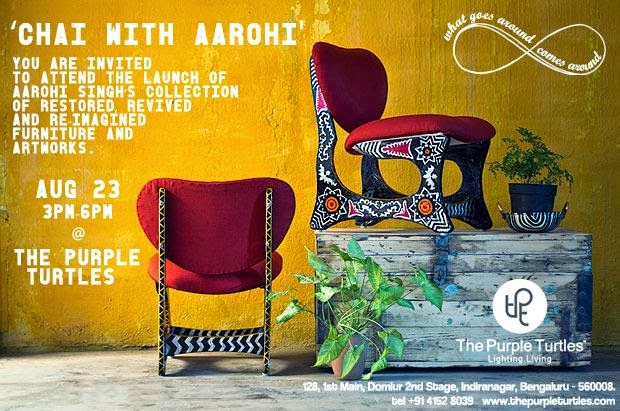 For more information, and to contact Aarohi, please click here.
All images in this post are courtesy Aarohi Singh. Please do not copy/republish/reuse without her permission.