Aradhana Anand is not afraid of experimenting with colors, textures and paints in her home, and her courage is often well-rewarded. This is a home tour of her New Delhi home, where she lives with her parents and sister. Aradhana returned to the family home after spending 6 years in Dubai and Singapore.
The house is a 4 bedroom 6000 square feet home, with 2 occupied bedrooms, 1 lounge, a drawing room, dining room, kitchen, utility room and basement, as well as a backyard and garden. Aradhana and her sister helped their mother decorate when they moved in in early 2007.
The lovely collections of art work, textiles, fabrics, furniture and accessories have been picked up from all over the world. Aradhana's dad travels extensively on work, and the rest of the family travels often too.
The drawing room, dining room, living room/lounge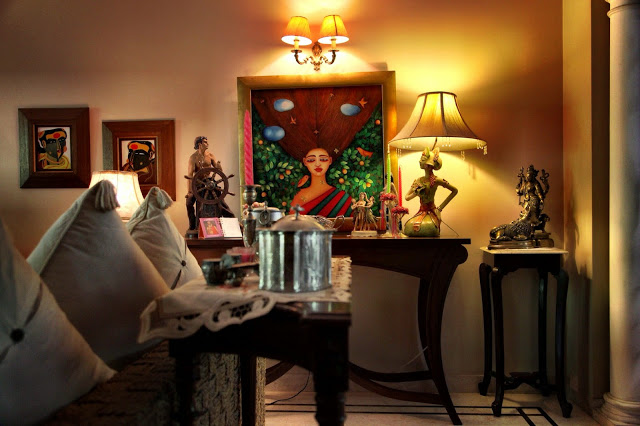 Thota Vaikuntam (the small pair in the wooden frame)
Shipra Bhattacharya (colourful painting behind the console)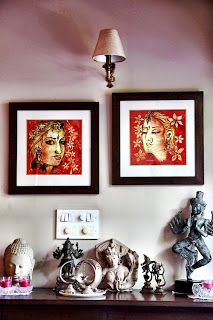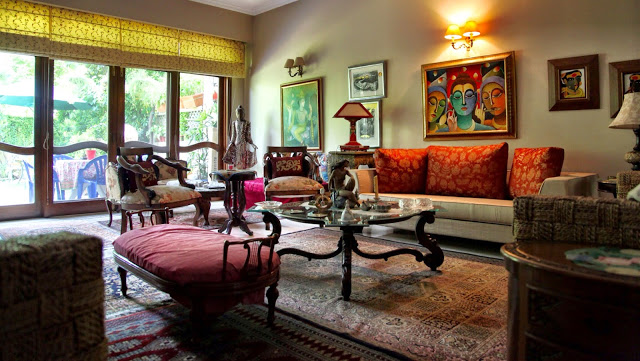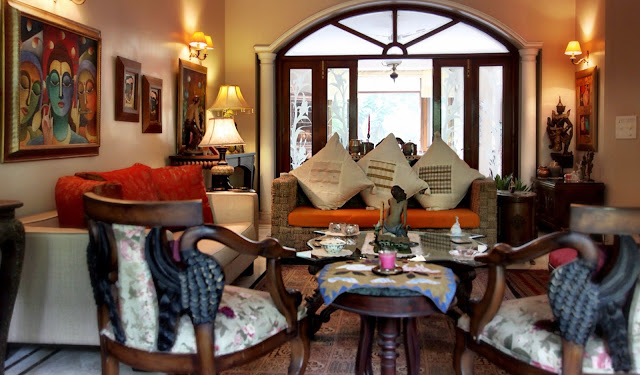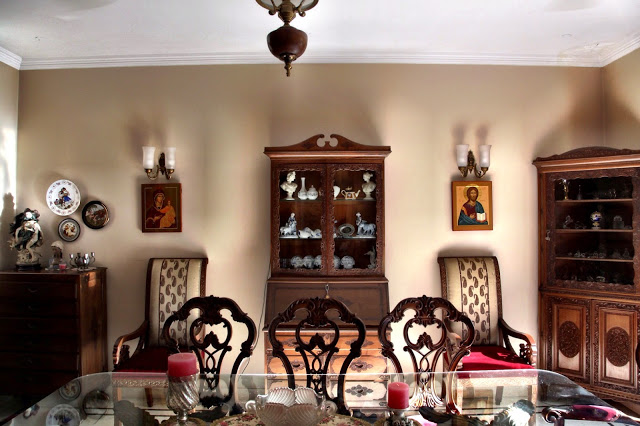 The dining table is custom made | the cabinets and
writing bureau that line the wall are Kashmiri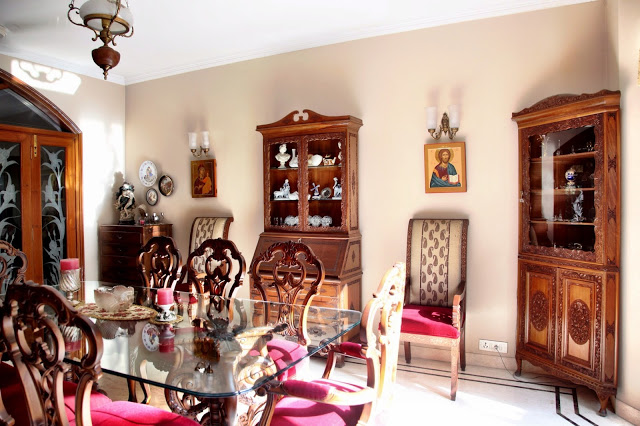 The plates are from Greece and Romania | The candleholder is silver |
Russian mosaics in gold from Moscow (on the wall) |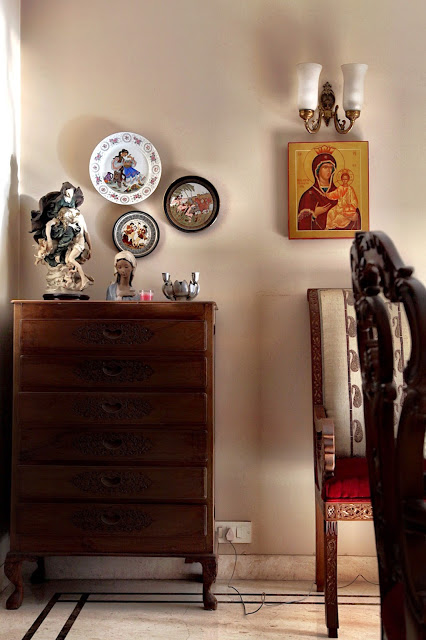 Christian religious artifacts decorate the dining room. The Madonna head is
by Lladro The Pieta is Italian (it's been with the family for a long time)
The lounge/living room is comfortably arranged, with beautiful art work, warm colors and a view of the greenery outside.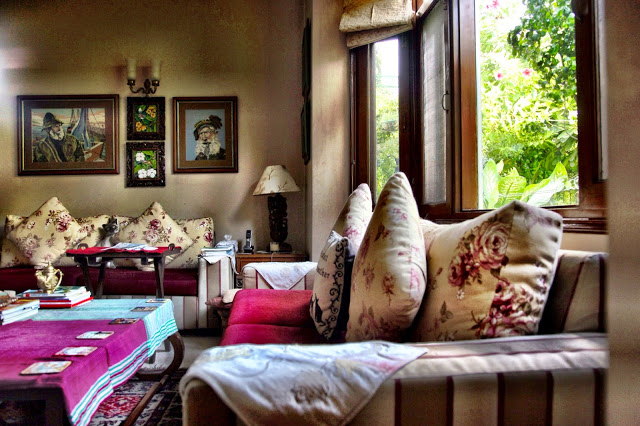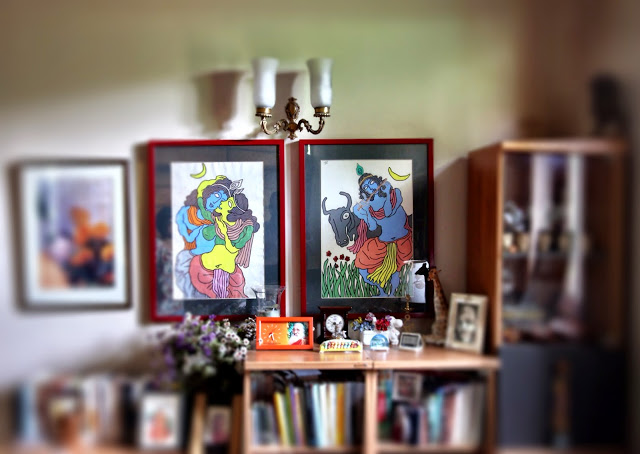 The garden is a natural retreat – lush green and a cool contrast to the warm colors indoors.
The stairway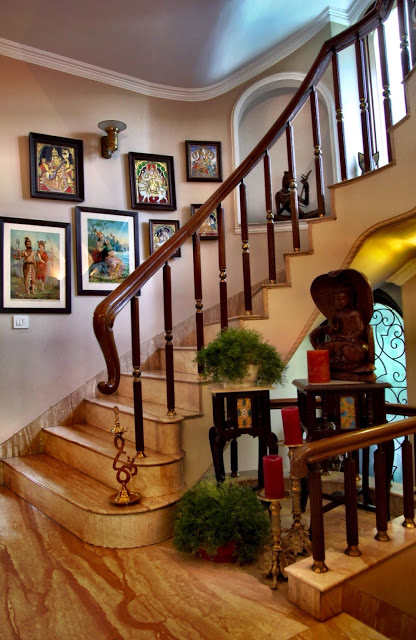 The stairway houses a collection of beautiful art work, including
Tanjore paintings and Raja Ravi Verma oleographs. I also loved the cluster of
candles, tables and greenery at the base
Aaradhana's bedroom
This is the room that is the most eclectic, and you can see I have saved the best for the last. The unique shade of grey on the walls you see here was carefully chosen, and Aradhana is thankful she has experimented, because she loves the way the color sets off everything from accessories to fabric and furniture styles.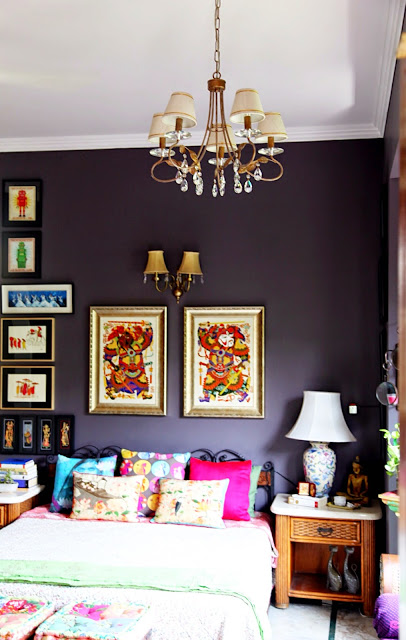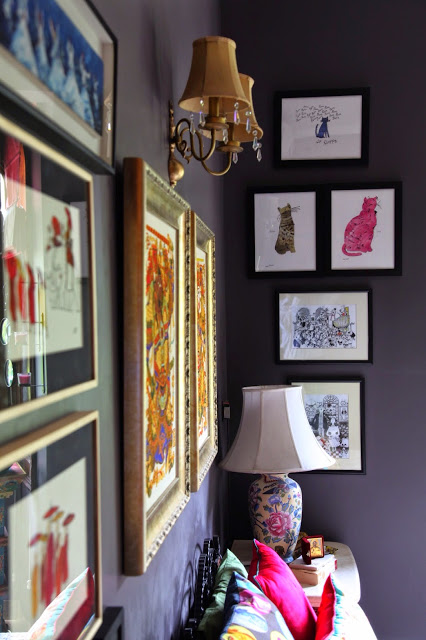 Aradhana is obviously a feline fan. Just look at the gorgeous artwork on the wall here.
She has a pet cat Snickers, and I bet you can spot her in a couple of the pics here.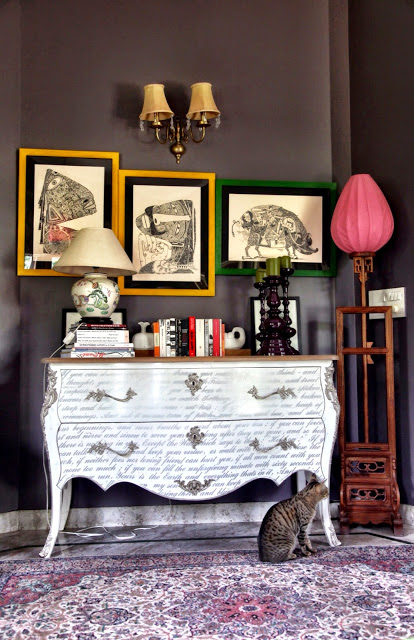 The paintings are by an Indian artist called Shishir Bhatt, you can see them more clearly in a later picture| Pink lamp is Chinese, bought at a thrift store in Singapore. The table lamp is Chinese as well and the whale bookends are by Jonathan Adler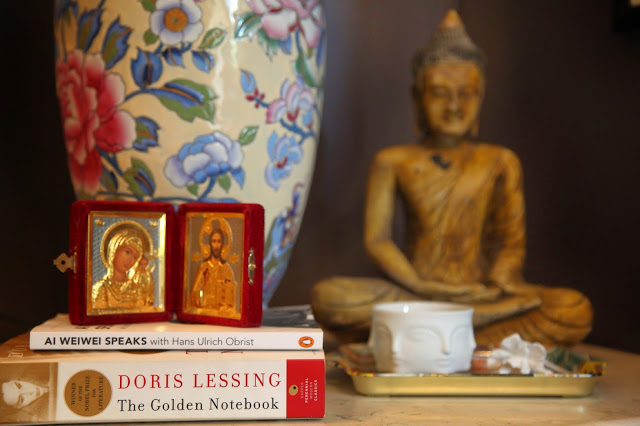 The buddha is from Siem Reap | the Russian Orthodox mosaic copies of Jesus and Mother Mary is from Russia | the little white pottery candle holder is by Jonathan Adler from his Muse collection | the lamp is porcelain from China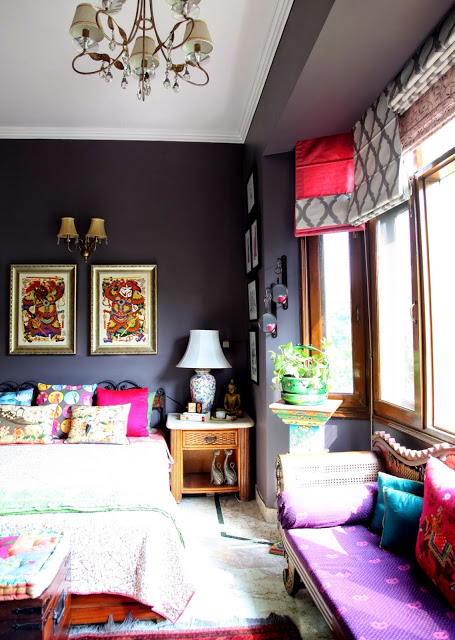 The wall art is from Singapore, China, Syria, Cambodia and Indonesia |
The blue plant stand is from Tibet.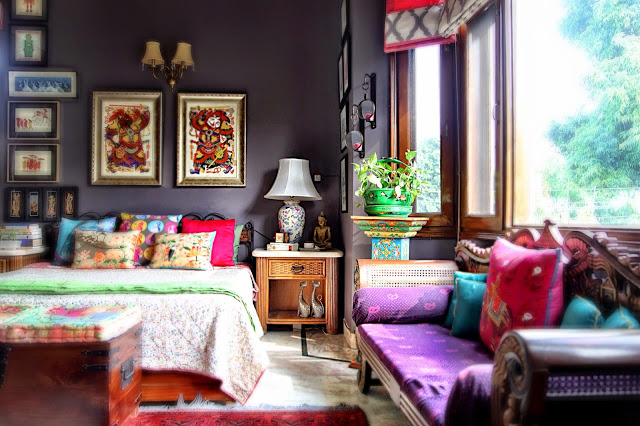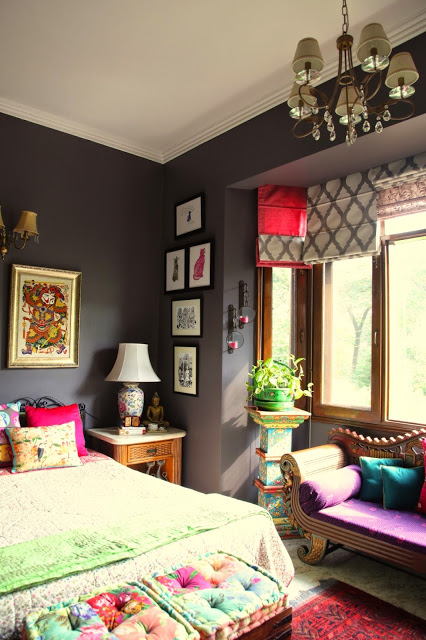 Aradhana has long since mulling over replacing the purple sofa with an upholstered chair, a project that was just completed last week. When she first mentioned her plans and asked me to hold this post until the chair was ready, I was a bit disappointed. I mean, look at that gorgeous sofa – how could anything else look as good there? But I was wrong. The chair looks fabulous – the style and colors have come together really well, and she also gets more space! Brilliant.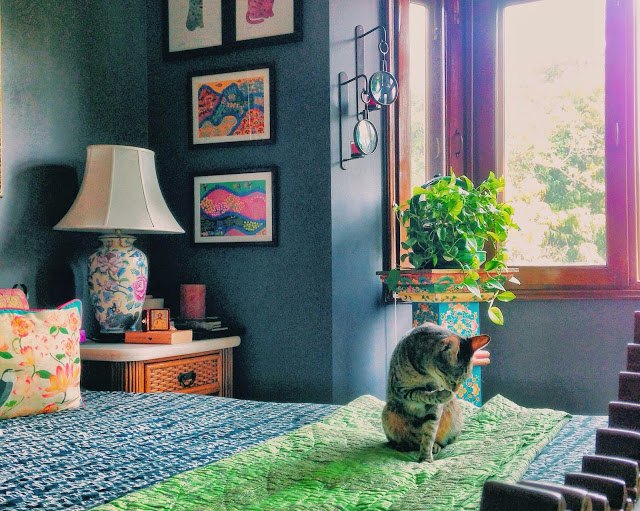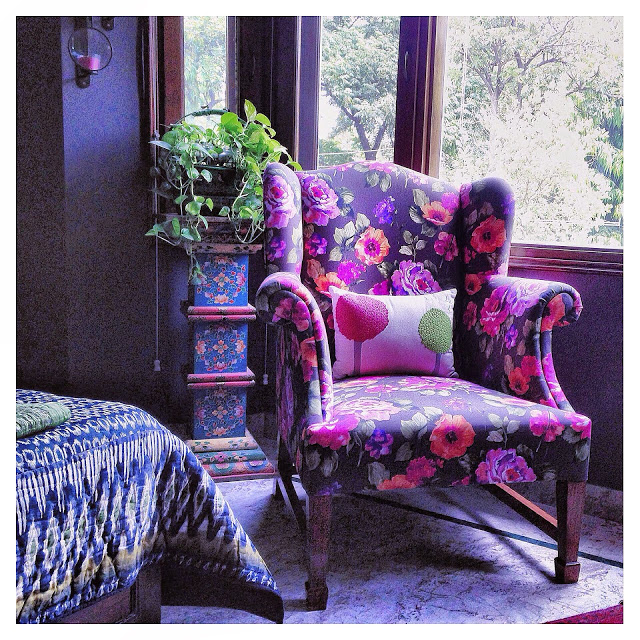 Aradhana is about to start her own practice of making chairs – classic forms with funky/modern upholstery and this chair is her first prototype. So you know who to contact if you are looking for a beautiful accent chair to liven up your home!
The takeaway
Aradhana's home is a classic example of a home owner who has dared to experiment, and come out successful. What exactly were her design rules, her guide when she started decorating? This is what she said when I asked her this,
"I don't have any particular design rules per se | I like to mix up the periods – classic with maybe the odd modern piece | I love colours especially coloured walls | I don't mind taking a risk | Everyone told me that dark grey would not work as a wall colour, it would make the room too dark and gloomy – it didn't".
Aradhana's home is refreshingly different, and I personally loved the fact that she has decorated with her heart, casting away traditional design rules, and mixing, matching and blending to her heart's content! Aradhana, thank you for walking us through your home, we loved it!
That's where you can contact her if you want to explore the possibility of ordering an accent chair for your home from her! 🙂