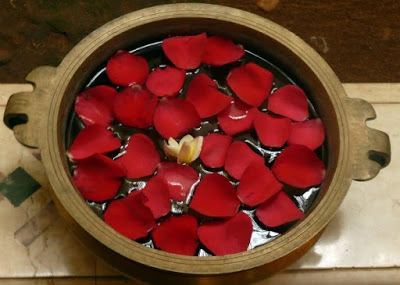 Floating flowers
It's that time of the year again – Spring is in the air in some parts of the globe, while for others the living is easy with summer time! So, how about celebrating the spirit and joy associated with spring and summer? Ugadi, Ramanavami, Baisakhi, Gudi Padwa, Bihu, Baisakhi…..so many festivals to celebrate the season!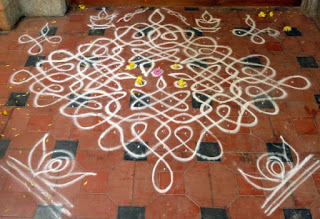 Rangoli for Ugadi
Down south, it's hard to resist the sweet fragrance of Mysore Mallige Hoova (Mysore Jasmine), Ugadi and Ramanavami décor comprising tender mango leaves thoran, sumptuous lunches spread on banana leaves and the flavors of raw mango, not to mention the bursting shades of watermelon pink.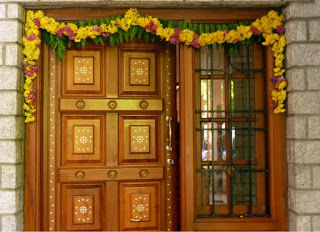 Entrance decked up with flowers and mango leaves thoran
Later in the month it will be time for Easter – when new life, resurrection and new beginnings are celebrated! Along with renewed spirits, it's time for sumptuous Easter meals, Easter egg hunts and Easter decor.
We have decided on a Spring-Summer Carnival theme to capture all these wonderful events and get the spirit going in the virtual world. What are you celebrating? The entries could be tablescapes, recipes, flower arrangements, décor ideas….just about anything associated with spring and summer!
My entry is the Ugadi decor done up today..For those who are celebrating their new year, here's wishing you all a fabulous year ahead.
Here's how you join in the party!
1. Do a "Spring Summer Decor' post on your blog. The post can be just about anything related to the Spring Summer theme as mentioned on the post. Please do not use images from other sources.
2. Then link back to this post as follows:
– Copy the 'permalink' from your post (in other words the URL of your post, not the URL of your blog).
– Add your 'permalink' to the 'inlinkz' at the bottom of this post.
3. Inspire and get inspired by leaving a comment on the participating blogs.. after all it's a party! 🙂
4. You can link in as many posts as you wish, the more the merrier.
5. If you don't have a blog, you can always email your pictures to me at [email protected] and I will post them here, as well as link back from the party page.