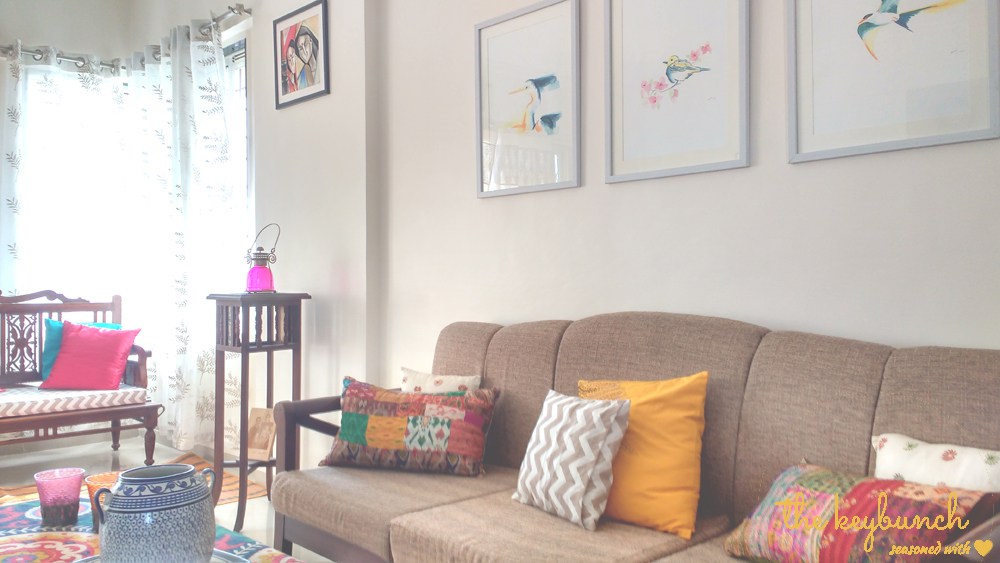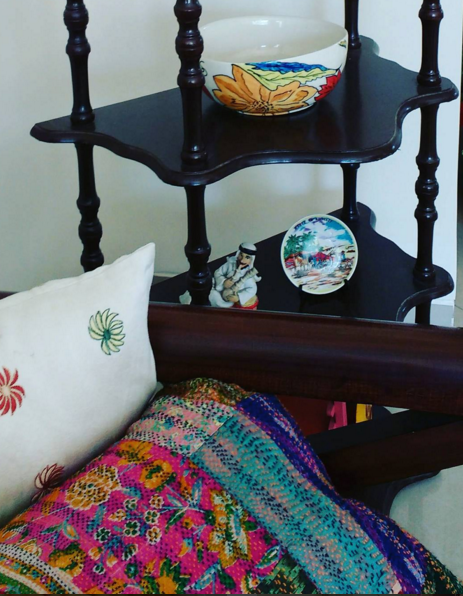 I recently posted pictures of my living room on Decor Drama (more about this group at the bottom of this post) and I was overwhelmed with the response. So I decided to delve more into the room for my readers' behalf, and try and share some tips with you.
My living room has grown over the years. From wedding gifts to family heirlooms, we have preserved, refurbished, upcycled and re-painted pieces to suit our needs. A part of us is in almost everything we own, and we have a story to tell about every piece, big and small!
Furniture: has been collected over the years, through our stays in Bangalore and Kuwait, and some others are recent additions bought locally in Pune, or online. My couches for instance, have been with us for approximately 9 years, and I didn't want to get rid of them. Let me tell you why. First of all, I love the old-world feel they offer, they are made of teak wood, and the burlap-coloured upholstery (I so wish it was burlap!) goes with practically every colour.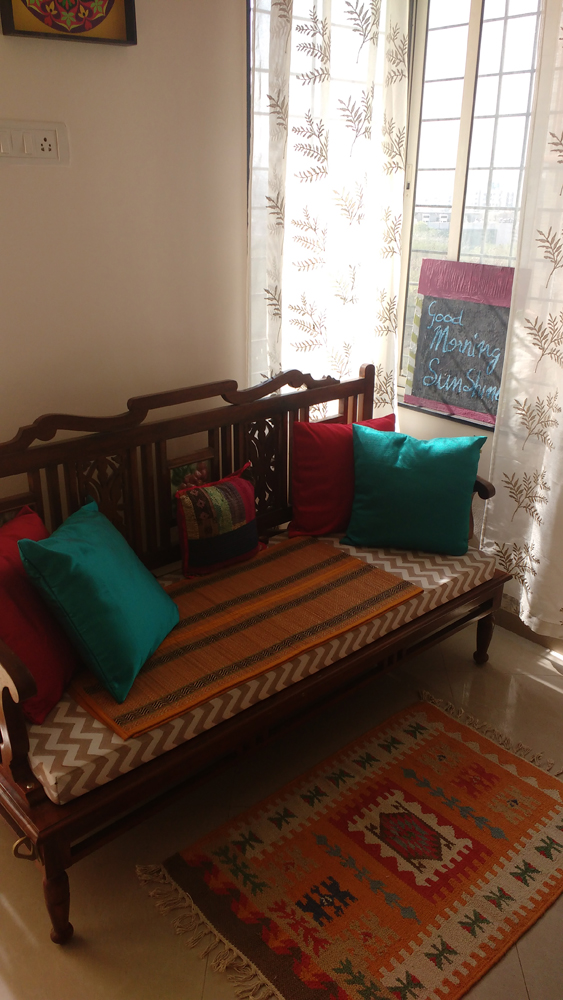 The most eye-catching piece of furniture I have is a bhavnagari jhoola that is the drama queen in my home, because I love the chevron print seat on it, and I love the fact that it sits there where the sun shines best, and can pull off any look with panache! 🙂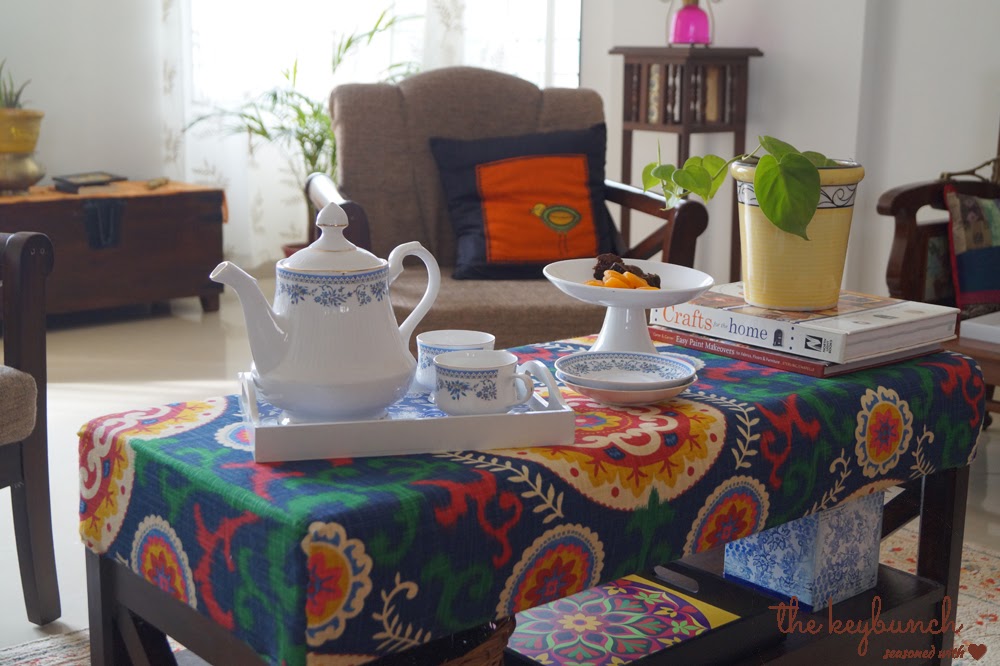 My upholstered coffee table actually started out as a match-with-my-sofas, glass-topped teak wood coffee table. I am so in love with Turkish and Moroccon fabrics, so I wanted to upholster something with Suzani, but the question was upholster what? Do I buy something new, do I upholster something I already owned? The glass-topped table was in storage, and just as I was taking it out to give it away, the brainwave struck! This is what I would upholster! So that's what I did. You can read the post on the coffee table here – > Upcycling: From Meh to Wow! My Coffee Table Makeover.
Curtains: window dressings make me go weak in the knees. In fact the most dramatic things in my living room for the longest time, were my FabIndia bright orange curtains. I love the fabric so much, that I have cut up the curtains into little runners and use them all over my home now. I got so many made, that I even gifted some to my friends 🙂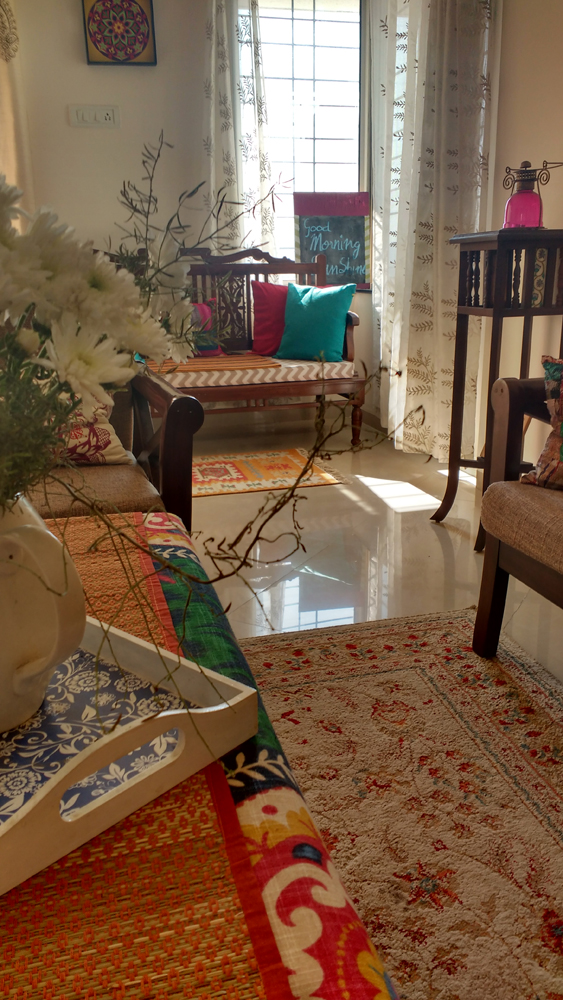 My current curtains were chosen on an amazing custom-maker's website, called customfurnish.com – you can read the post I wrote when I first bought them, here – Review: Custom-made curtains from CustomFurnish.com What do I look for when I buy curtains? – Colour and style come first, the fabric used and the GSM (the degree of transparency they offer) come second.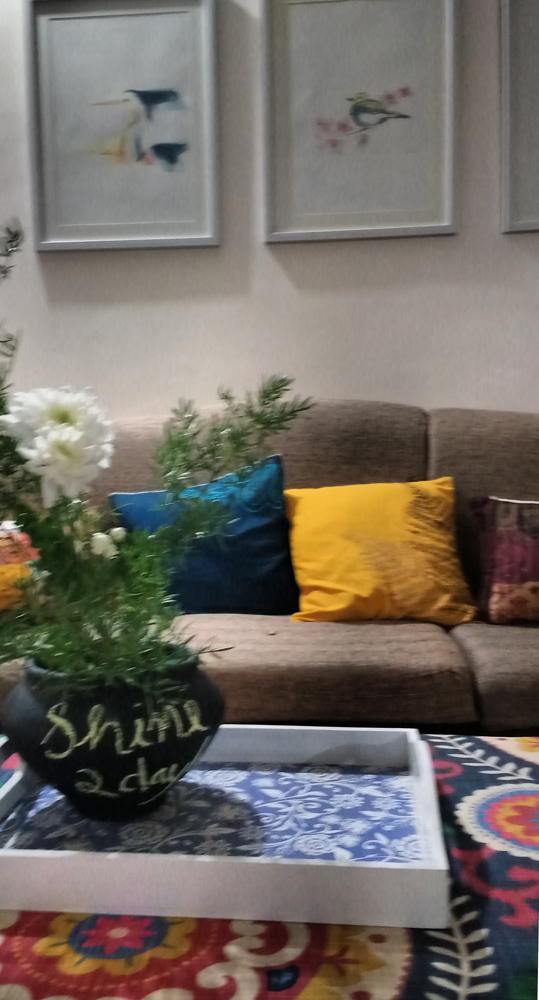 Cushions: They are one of the cheapest home decor accessories, and they can add so much character to a room. Plus they are easy to store. Why wouldn't I own tons and tons of them? 🙂 My current ones are a lovely mix of kantha patch work from Kanika Bhal to an aunty's hand-embroidered gifts, to odd pieces that I picked up at sales. I am never brand conscious with my cushions, and if I like something, I pick it up. If it doesn't really fit into my current living room style, I either use it in the bedroom, give it away (they make the most gorgeous presents too), or put it into storage.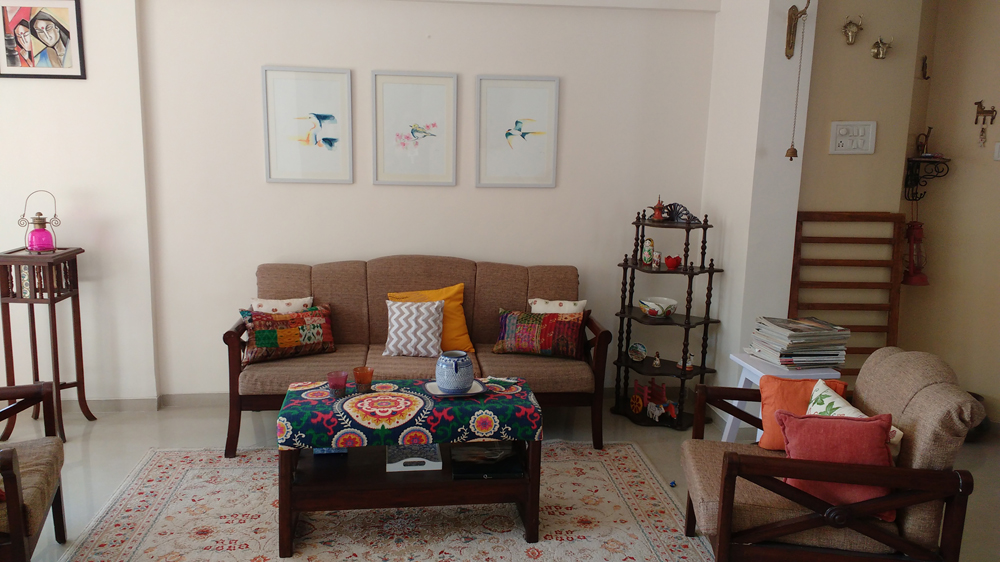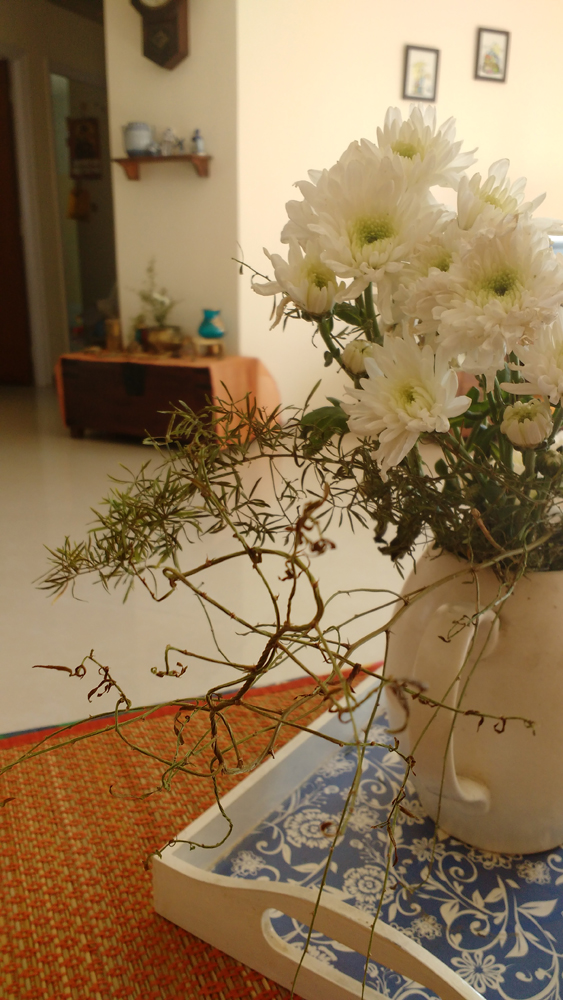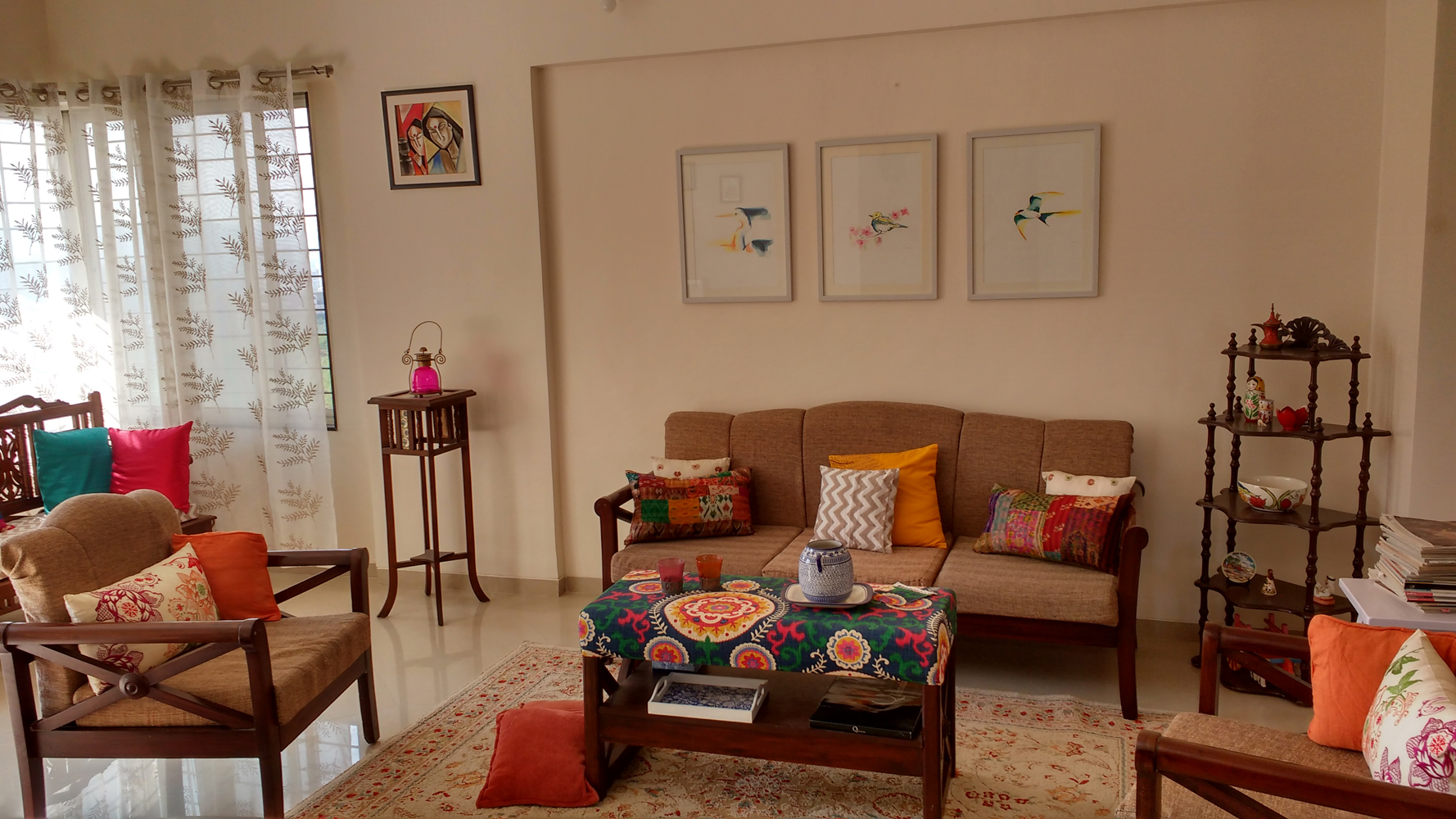 My rugs are from FabIndia (and all rather generous gifts from my first ever decor influencor – my mom), except the main one in the seating area that I carried back with me from Kuwait. It has probably outlived it's time, but I simply love the faded glory, and the slightly old-and-dusty look it gives to my home 🙂
My artwork in my current living room design includes 3 gorgeous paintings that I commissioned from Ruve Narang. This is the link to her Facebook page. The paintings "borrow" the colours of my upholstered coffee table, but they are so much more. Ruve is a wildlife photographer as well as an artist. She has clicked these birds during one of her numerous birding trips, and then drawn them for me. She has also worked a land, water and air theme into the paintings beautifully, and I so love her brilliance and creativity!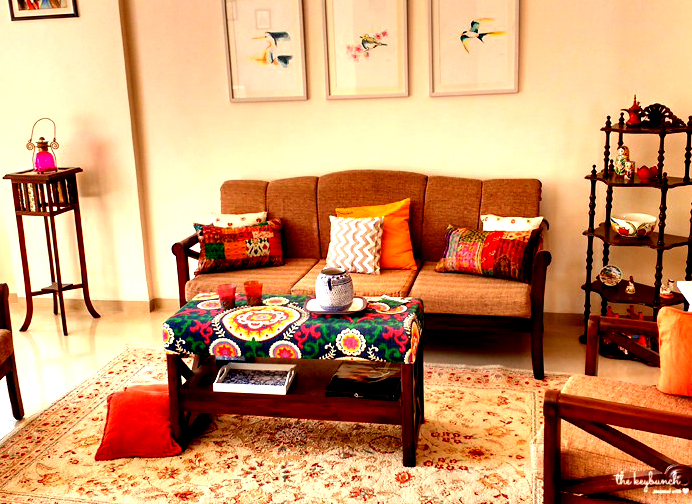 I also have a painting gifted by blogger and decorista Kamini Raghavan and a Dithi Mukherjee print that I won online, which I am infinitely proud of. I also have prints of Mario Miranda and local Pune cartoonist (and friend) Vikram Nandawani. I actually cut them up from a calendar he had given me, and got them framed. 🙂 I can be cheap too! And I would like to have him autograph them to get more value out of them! That's stretching the cheapness a bit, but I am going to try! *wink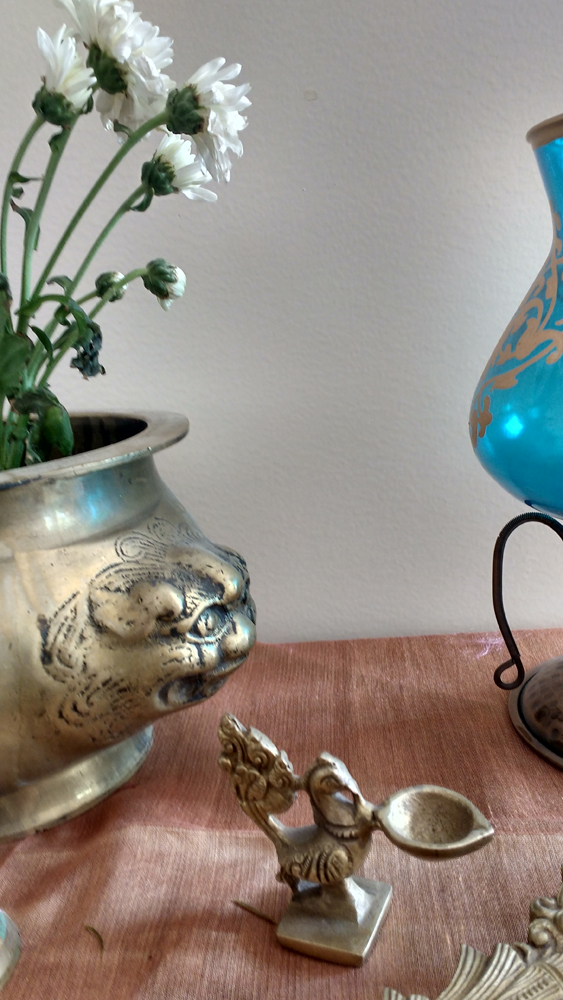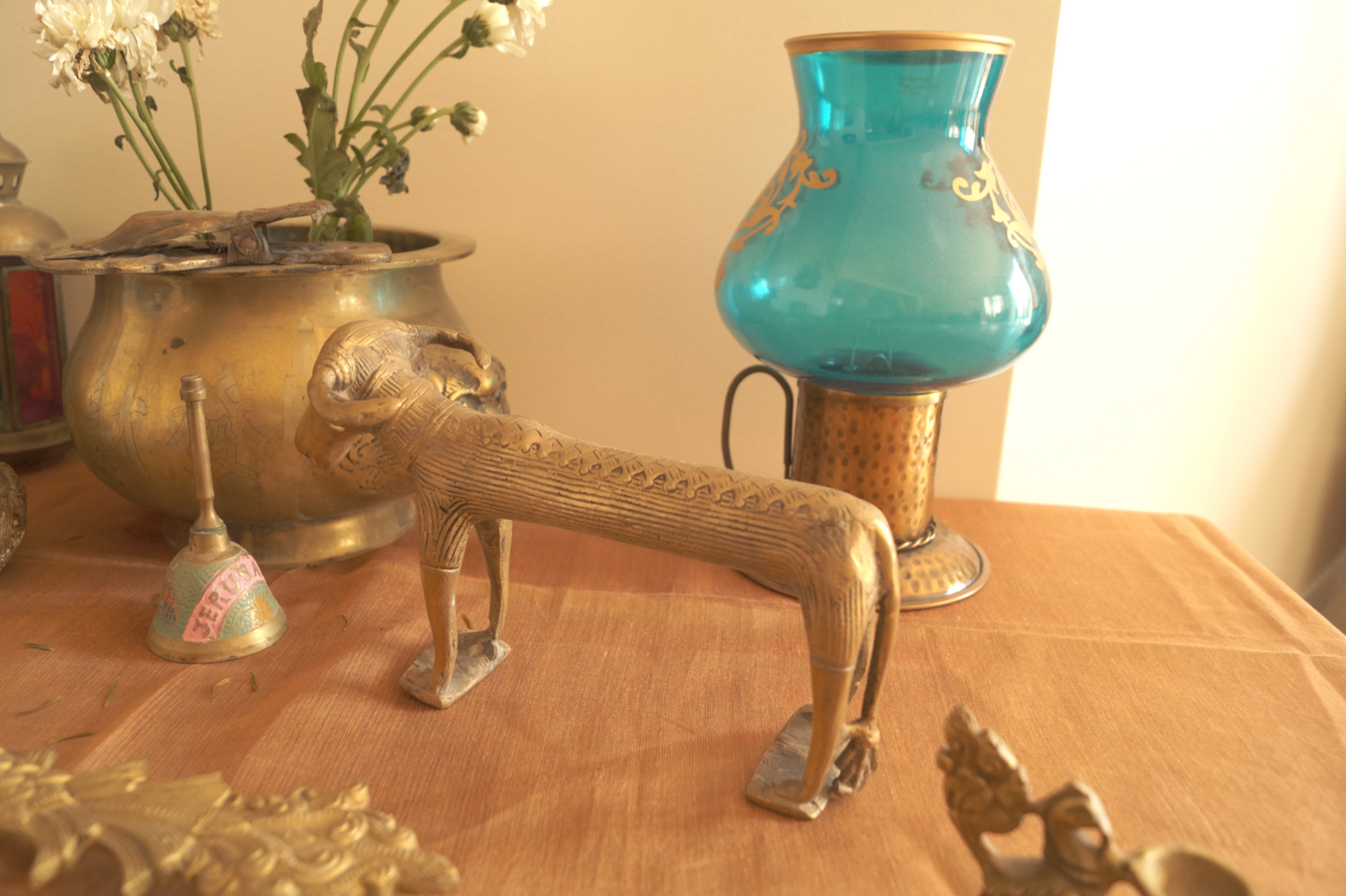 You will find a lot of brass ware in my home. I acquired it from the fleamarkets of Ahmedabad, the city markets of Pune, and some were gifts, others were bought online. I also recently picked up these brass animal heads from the Pune Dastkar exhibition, and I absolutely love them!
I have a small collection of Delft china and blue pottery. All bought by my husband and mom during trips to Delft. The exception is the big blue pottery vase that I bought online. Here they are under the antique clock I picked up from a small store in Bangalore's Frazer Town area.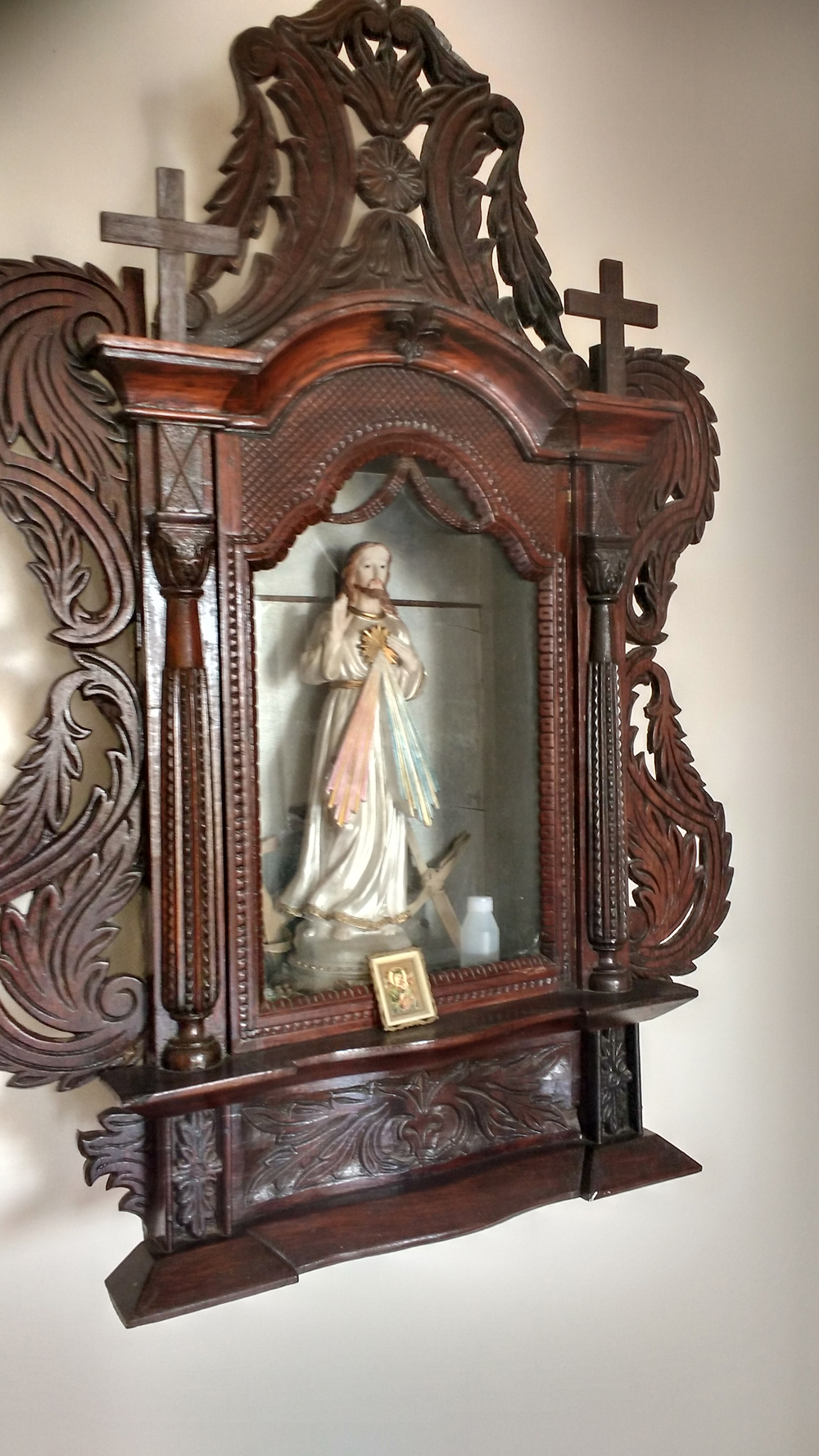 Antiques
I have an old family altar and the antique clock (featured above). I also have a Victorian side display stand, that I got at a sale in Kuwait. I am not sure how old it really is, but it's a lovely strong piece, and I really love the face that it can be dismantled!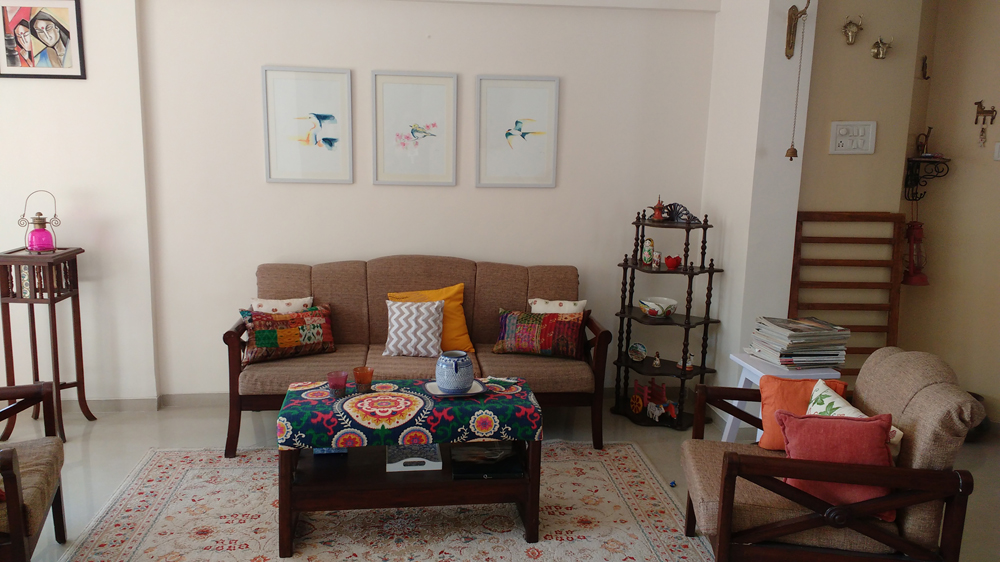 Colors
How did the colours come together? I started out with the things I had. I hate thro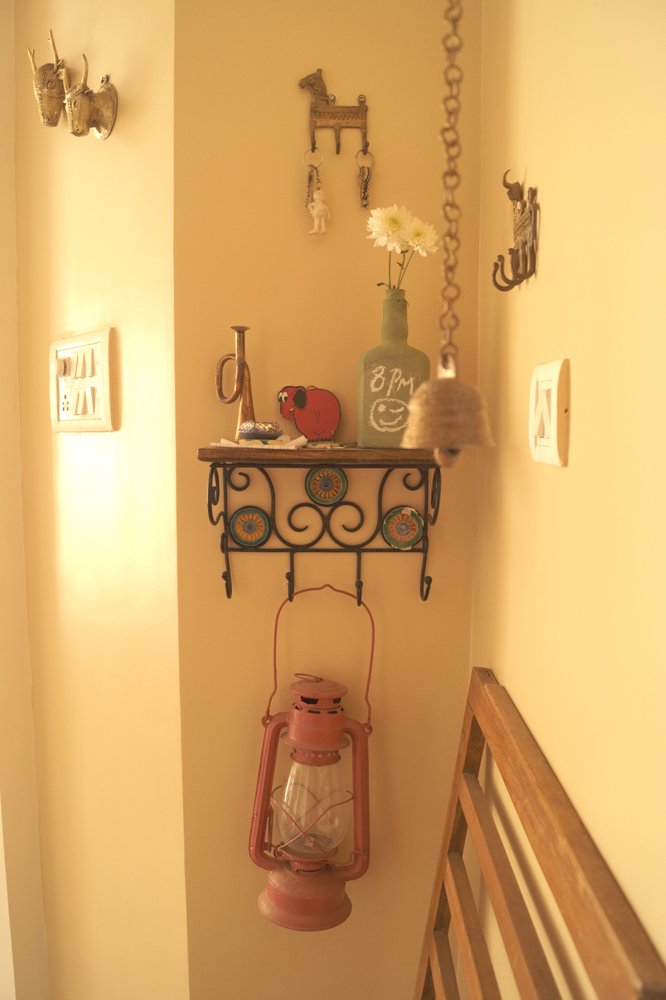 wing out things in good condition, so that was out of the question when I want to restyle my home. I started out with a lot of orange in my apartment living room. The curtains faded, but I was still using the orange cushions. When I zeroed in on the Suzani fabric (with the help of my readers on my Facebook page) the orange in it called out to me the most! But after the coffee-table makeover, I had to let go of my orange cushions, and that was a good thing – because I was finally free of the orange fetish! 🙂
The rest of the room slowly came together with colors borrowed from the fabric on the upholstery. I didn't spend hours hunting for things, they came to me so easily (for instance the flowered bowl on my side rack was a serendipitous find at a local fair).
The paint colour – since we love a lot of colours in our furnishings and accessories, we were keen on a neutral paint colour for the walls. The perfect choice was Asian Paints Shy-Iris because it was not stark white, but a lovely shade with tones of warmth in it. It brings out the colour in my room, brilliantly! It also gives me a lot of decorating freedom. The dining room facing the living room has an accent wall, and the corner at my entrance is painted in Asian Paints Royale Cold Coffee, another neutral colour.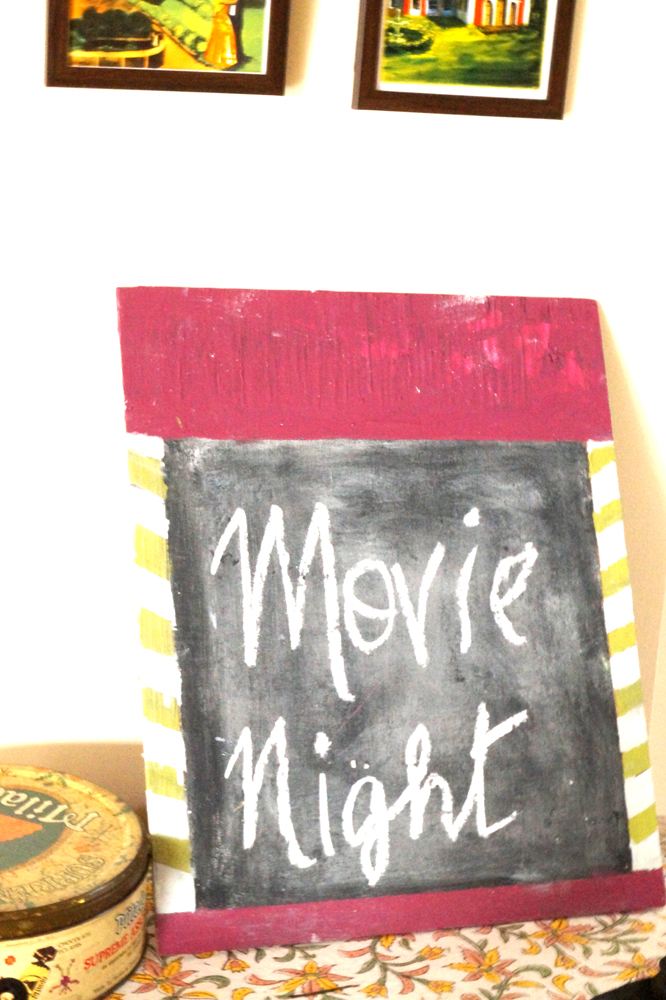 And finally,
My chalkboard crush – it all started when I experimented with the Pinterest recipes for chalkboard paint and they didn't work too well because everything is not easily available in India. I mixed and matched and stirred and powdered, and finally, found that magic ingredient that started making my chalkboard paints work – in any colour!
Also, this is an incredibly cost-effective formula to make, and I am so elated with the results, that after a few more trials, I plan to start selling chalkboards painted with custom colours using my own formula. Wish me luck!
Little tips from my stable
Do not spend a fortune on your home – homes need character, and that can certainly not be bought!
Start little collections – besides being great conversation starters, they add interest to your design, and personalize your home.
Play with colours – you never know what might work!
Carry a swatch of your living room colours every where with you. You never know when you may "find" something. It is easier to decide with the exact colour right there with you, rather than buy, then get disappointed at home when it doesn't match. If it's anything to you, I learnt this the hard way!
Make it practical – your family's comfort should always come first. What is the point of a beautiful home if your family can't enjoy it. So don't go overboard. I have a 4 year old and a 9 year old, which is why all most of my expensive breakables are packed away in storage, so that they can run around and have fun in their own home!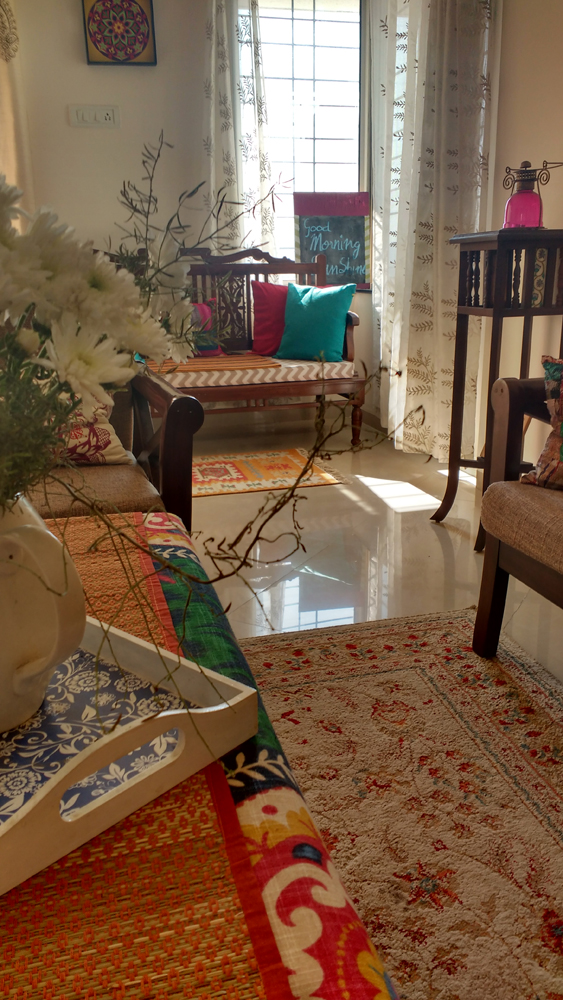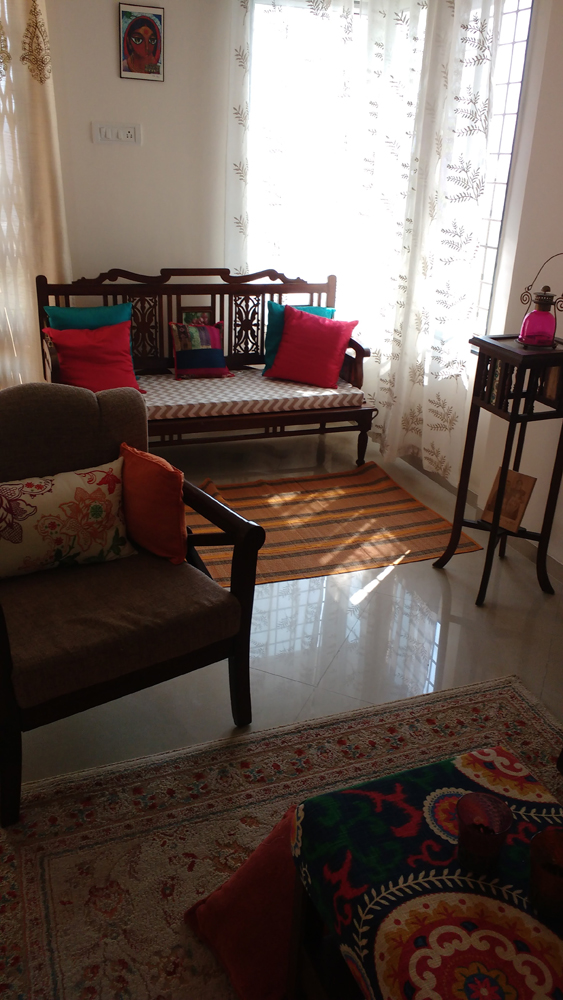 Enjoy decorating – every little decor touch has been an enjoyable journey. My home is still evolving, and it pleases me no end when the big names like Design Sponge reach out and tell me that they like my style! I get equal pleasure from the love and mails from newbie decorators and design enthusiasts who ask me for advice or tell me they like what I have done in my home! It is these little mails and love from my readers and friends that keep me going. Thank you!

Decor Drama is a Facebook community page for decor lovers that I founded in the last quarter of 2015. In just 3 months we are up to 700 members!
The main aim of this group is to share decor inspiration, ideas, and our own little homes and projects to help and inspire others. I love the energy, the inspiration and the posts in this group! Any decor lover (maker, manufacturer, home owner, crafter, DIYer) can join this group.
#IDIA and #IDIAwards I am nominated in the Asian Paints Indian Decor Influencer Awards (IDIA) by Social Samosa.com, and I am using this post as part of my entry.