1. Curved Sofa from Freedom Tree
Freedom Tree is a gorgeous online store with the most beautiful selection of retro-lush pieces I have seen in a while! This Curved Sofa certainly called out to me. One look at it and I was in la-la land dreaming about the possibilities of styling it! It's a great accent piece that I would recommend to anyone doing up their home at this moment!
Made of a teak wood frame, and high density foam and wadding, this is something that would last, and that's great, because I can think of more than one way to dress it up! Yes, I mean re-upholster it when you want a fresh palette in your home. It comes in two sizes – a 78 inch length, and a 68 inch length. And the best thing? It is available in more than one colour. All you have to do is call their designer up, and discuss your colours! I can already imagine it in a happy yellow chevron print! This piece is only deliverable to Mumbai and Goa. Well, I would gladly re-locate to own something like this!
To check out Freedom Tree's entire range (Psst…check their fabrics out too) of home decor products, visit their website.
2. Embroidered Hoops by The Yellow Kettle
Handmade rules the gifting world, at least for me it does. And when I spotted these really pretty hoops made by Archa Mary Chacko of The Yellow Kettle, with quaint designs embroidered on themm I had to include them in this list. I saw a lot of pretty designs, but what caught my eye really, were the music legend hoops. I would buy them in a heartbeat!
These music legend hoops are cross-stitch embroidered. And, they can always be re-purposed later as embellishments on pillow covers, a bag or or a patchwork quilt!
Visit The Yellow Kettle and connect with Archa on Facebook here.
3. Khaadi Stoles from Verry India's Virsa
I have been interacting a lot with Vikram Nandawani of Verry India over the last few days on some work, and in the process of getting to see everything he was up to at his recent trip to Dubai (work trip, he claims), I also got an update about the gorgeous and stylish Khaadi stoles that Verry India's handwoven brand Virsa has come out with. The promo pic said, "Khaadi is verry cool" And I so agree.
But wait a minute! Why is this stole in the home decor product list? Silly, it's because it would go really well draped on a gorgeous orange curved sofa!
Check out the Verry India page on Facebook here.
4. Professional dreamer Vinyl bookends from The Upcycle Project
The Upcycle Project takes quirky lifestyle and home decor products from non recyclable waste, and say that they put the "funk in junk". They have upcycled 450 kg of waste in the past one year and with your help they wish to expand this number. They are currently working with vinyl records and these book ends really caught my eye.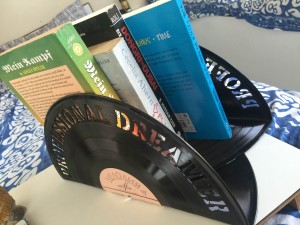 Ideal for the professional dreamer, this is a set of two vinyl records re-purposed into bookends. They look great in an office, as well as in a home study, and can be used to create a shelf almost anywhere. This feature on The Keybunch, is actually the exclusive launch for this product, so take a bow, dear readers.
If you have a teen in your life, or know someone who would enjoy these as a gift, do head to The Upcycle Project's website and make a purchase to help this worthy cause!
5. Pool cum Dining Table from Woodenstreet
Here I was, thinking I was innovative for painting a chessboard on my square dining table, but along comes Woodenstreet with this idea of a pool cum dining table. I mean who wouldn't want to lift away the sheesham-wood table top and find a pool table concealed there? So this product definitely caught my attention this week!
I love the dining bench it comes with, and guess what, all the pool-playing paraphernalia is hidden in there! For more details, visit their website.
So what caught your fancy this week? Introduce me to new makers, and if the products catch my eye, I will feature them here!