The "Caught my eye" series continues to be extremely popular on this blog. I have a lovely pick of products for you today, and without further ado, let's have a look them!
'Majesty' mixed media on canvas by Golden Trees
Vikashini Palanisamy who is based in Europe, is a gifted artist. Every one of her paintings is a masterpiece, and I particularly loved a gorgeous b&w zebra painting (that unfortunately got sold, so I can't feature it here!). But like I said, all her work is stunning, and a few pages into her catalogue, this lovely piece caught my eye! Titled "Majesty" it's a mixed media on canvas and it's from her PRISM series. It measures 60×80 cm.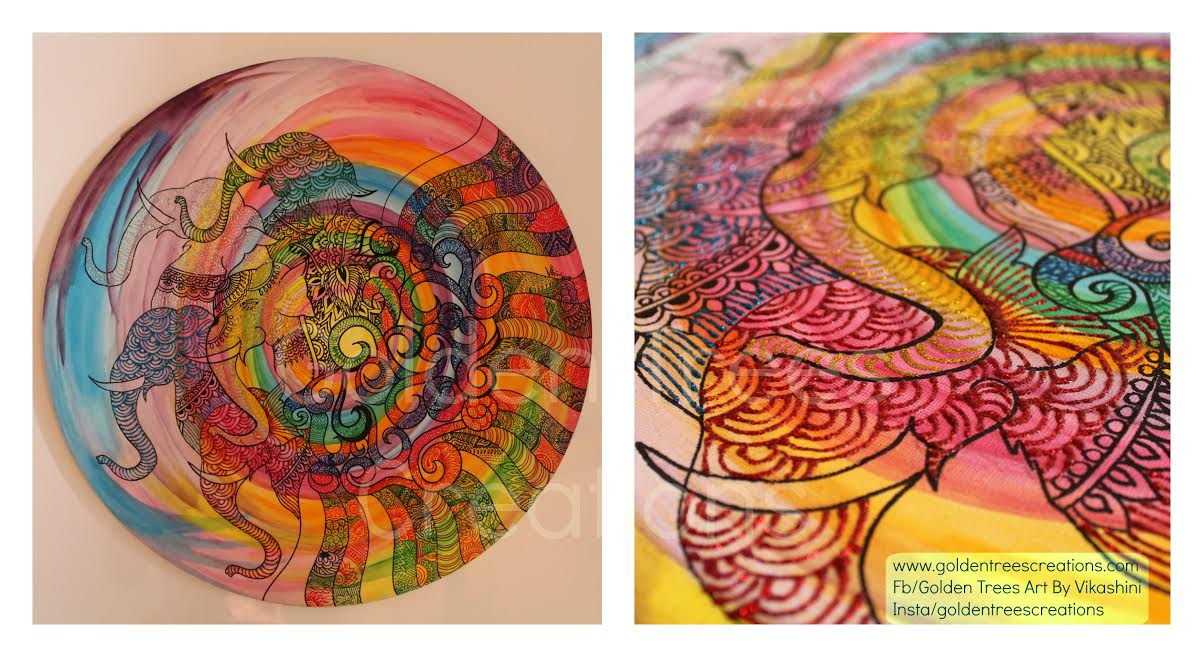 Connect with Vikashini on her Facebook page Golden Trees where you can see more of her stunning paintings!

Multi-color metal school of fish by Design Mint
Design Mint is run by a mom and daughter duo who design and manufacture their own brand of metal art. The interesting thing about their metal work is that their products are partly made from recycled metal scrap. They make the most amazing functional and multi use items that are handcrafted and sustainable.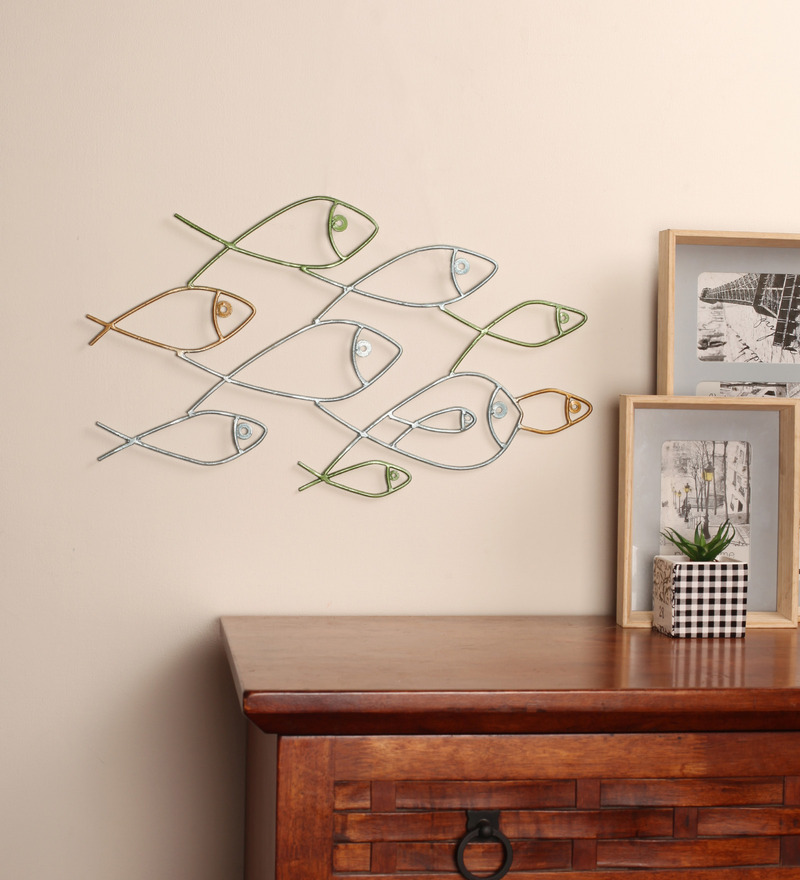 This 'school of fish' wall art caught my eye. The range on offer includes metal shelves, wall art, candlestands and custom pieces primarily in metal. Like them on Facebook to connect with them, and see the full range of their products!

Ethnic Indian wall decals from Kakshyaa Chitra
Wall decals are passé. So why am I featuring a company that makes wall decals? Amid the usual quotes and butterfly decals, this company offers really striking Ethnic Indian decals. Exactly what I wouldn't mind in my own home, say on the headboard of my bed, or a guest room wall! This particular decal caught my eye. They also have wall length warli and madhubani murals, pasileys and mandalas.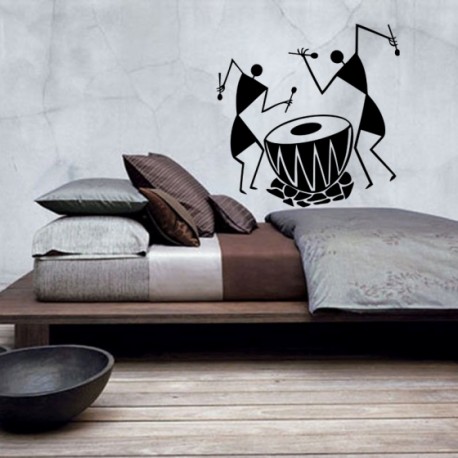 You could see the full range of their products on http://kcwalldecals.com

Little Holly armchairs from The Pink Chair
Arm chairs are stuff from fairy tales, and don't your kids know that? From the story of The Three Bears to Enid Blyton's The Wishing Chair, there is something magically appealing about arm chairs and kids' stories. Komal Sandhu's yet to be launched arm chairs for little boys and girls is no different. The Little Holly armchairs for girls caught my eye! It has been designed as heirloom pieces for children. This scaled down wingchair is ideal for a 3-7 years old child's cozy corner.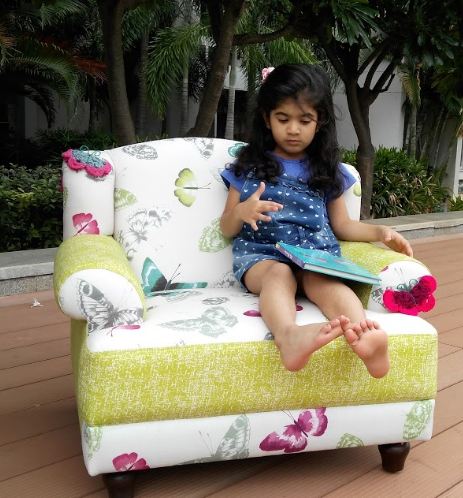 The chair is upholstered in two complementary fabrics with add on hand crafted appliqués. Choose from a range of upholstery choices for your little boy or little girl's armchair.Upholstered in a refreshing green fabric and a vibrant butterfly print fabric. Crocheted butterflies with bead highlights accentuate the playfulness of this armchair.
You can show your interest in these chairs at https://dekorizzle.com/little-holly

Festival-themed DIY models from CultMode
With the festival season just around the corner, this lovely brand caught my eye. Cultmode means Culture+Models. They have a series of 26 models for office and home decoration designed around festivals of India. They come as flatpacks, and can be assembled into a 3-d form. Says Rahul, the founder of Cult Mode, "Assembling models is intuitive, doesn't require any adhesive or tools, just snap and plug the pieces together."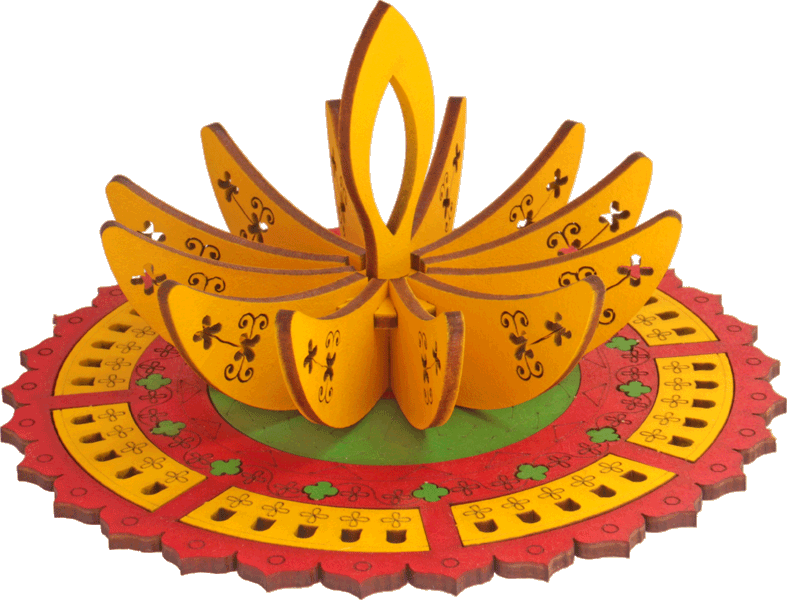 This diya-rangoli design caught my eye. I love the colours and the superior designing that graces these products. I think they will make a very good puja gift too! You could check their designs out at www.cultmode.in
Independence Day Sale!
And, we have a lovely 4-day Independence Day Sale at Decor Drama, a community page for decor lovers. Come over and see if anything catches your eye there!