I have a lovely list of products – new, fresh, handmade and colorful, to share with you this week. And it wasn't planned, but 3 of these makers are based in Chennai! 🙂 Here you go!
The Eclectic Room's newly launched Cushion Covers
Vineetha Naval has grown to be more than just another decor-world acquaintance for me. Last year, we were both struggling to launch our products and comparing notes with Vineetha became a regular thing. While my brand Style Radha launched earlier, Vineetha's The Eclectic Room had a lovely launch in Chennai in November this year.
The truth is, I love her products, not just because she is a friend. Her products use ethnic techniques but sport vibrant, modern designs. She is particular that her work is handmade by India's skilled artisans. And with all this, her designs are contemporary and stunning!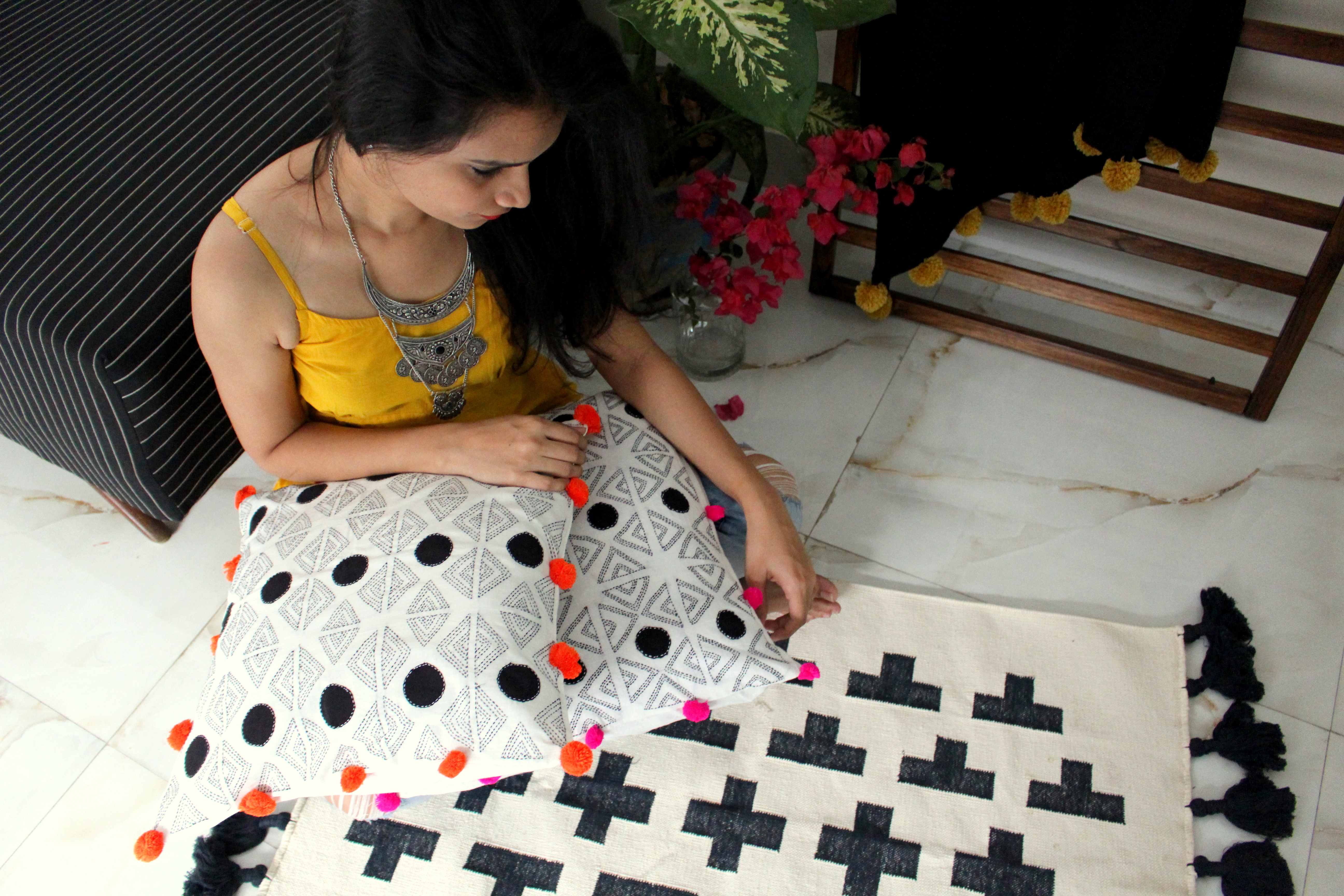 Connect with The Eclectic Room on their Facebook page where you can see more of her work, including the most gorgeous rugs!
Woodooz Lampshades
Somu and Preethi who own the Woodooz DIY blog, have branched out into lampshades. While I count them among my close friends, I am a genuine fan of their lampshades, and the proud owner of one of them! The designs are vibrant and beautiful, and I love the fact that Somu and Preethi are personally involved in the making of each and every lamp shade, from choosing the fabric, to assembling it. This hakoba kuril featured here is a lovely example of their use of Indian fabric and ethnic prints on their lampshades!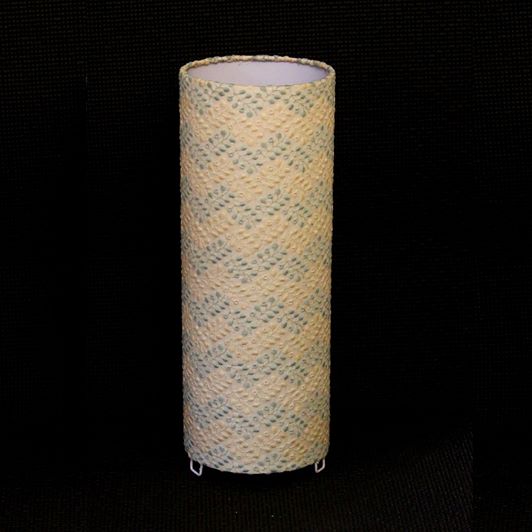 Like them on Facebook to connect with them, and see the full range of their products!
The Indian Weave
With a passion for textures and great craftmanship, Jean and Puneet have a lovely range of ethnic products. Born out of the love of travel, an eye for art and a need to explore, The Indian Weave is a label they founded in collaboration with India's finest artisans.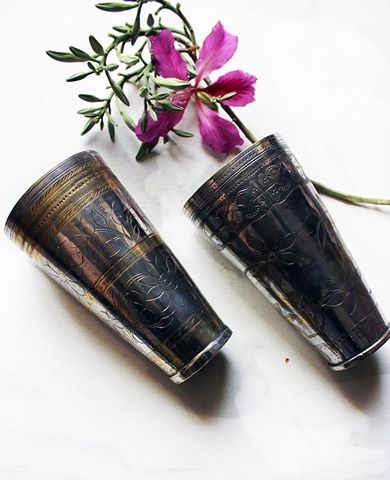 Each item is thoughtfully hand picked, ethically sourced and made with love in India. This set of brass lassi tumblers caught my eye.
You can connect with them on their Facebook page, and see more of their products including rugs, brassware, and kadhi cotton stoles.
Ira Block Print and Textures
Rajini Prabhakar started IRA in the year 2011 as an exclusive handblock print design studio. As a subscriber to her feeds, I have been treated to lovely block print images. Rajini has her own line of products including block printing on the best fabrics like tussar's, silk organza, silk and cotton block printed dupattas, raw silk salwars, tussar salwar sets and brush paint with block print. She also takes on custom block printing orders.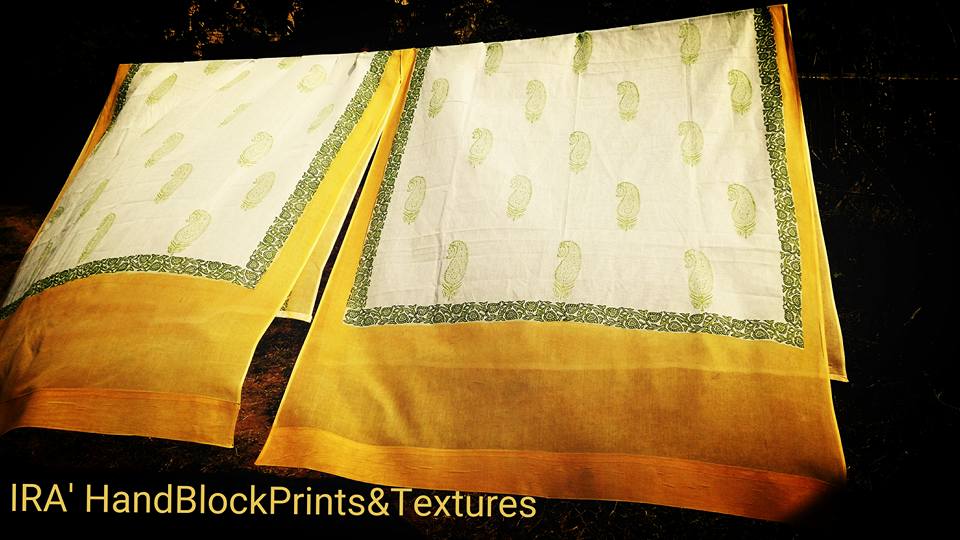 Ira is based in Bangalore. For the block prints, Ira uses eco-friendly and skin safe dyes, and fast azo free wet dyes for making colors.
To find out more, visit their Facebook page.
The Trunk Box
I am a home decor enthusiast, and while I love home furnishings, my heart really lies in furniture – old, repurposed and distressed, antique and worn 🙂 Interesting furniture sets my pulse racing, and that's what happened when I had a look at the products from The Trunk Box. They re-create furniture of the past era to suit the present, modern yet charming Antiques with interesting elements of design, and yet with the authenticity of each piece left intact!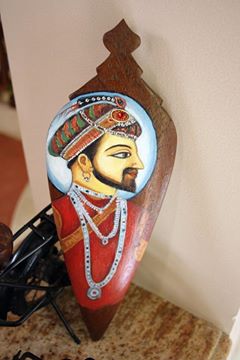 The Trunk Box brings together a combination of old/new look with an intuitive mix of vibrant accessories like brass, Jaipur tiles, colors, paints, stenciling and many more, to create one-off statement pieces. Founded by Arva, The Trunk Box is based in Chennai. You can connect with them on their Facebook page.
Do you know a lovely brand that we can feature here? Drop me a message on my Facebook page, and I will follow-up!