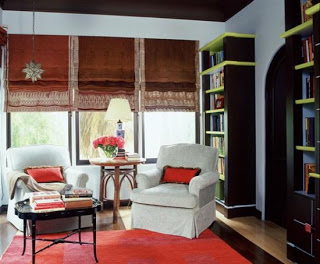 Take a look at this unusual window treatment by interior designer Mark Cutler. Don't you love the warmth and the cozy feel it adds to the decor?
It's the festive season and you must be bored of seeing the same ol' floral, stripes and solids on your windows. Why not chuck them out and look for fabrics with unusual textures and patterns to liven up your space.
It's time to bring out the Chanderis, Maheswaris, Tussars, Kanjeevarams, Brocades, Ikats that are lying in the closet unused. Transform them into beautiful furnishings by using them for your window treatment, cushion covers or as throws over center pieces and see the difference they make to your décor.
Now wait, if you don't have any of these, we'll show you where you can source them.
Cheerful colors brighten up any decor
Fabindia is one place you will definitely not return empty handed. Take a look at the drapes featured above and below and you'll know what I am talking about. Designed to suit contemporary décor, the furnishing will definitely set your abode apart.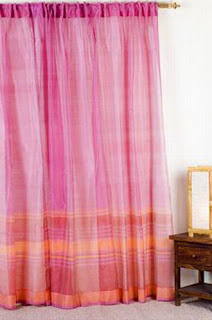 Pink gives a romantic touch to the decor
You can choose a couple of options and order them online from Saricurtain. Opt for drapes with simple lines for the everyday look or go in for a rich feel for the festive look. I love the rich drapes featured below.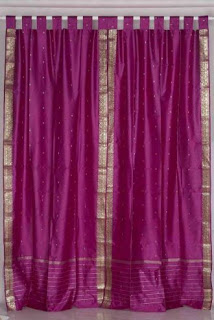 I love the rich and vibrant feel of this one
Bold enough to experiment with richer tones? Want something that reminds you of your grand mom and the festivities? You may like the brocade drapes from Indiapromotions featured below.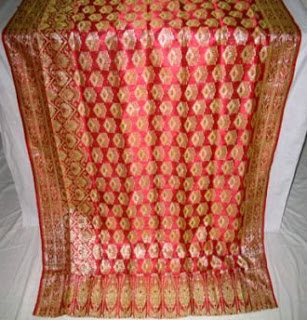 Reminds you of the weddings doesn't it?
Okay, now to see how a real home looks when you drape a saree curtain, check out the image below. This is an image I found on picassa.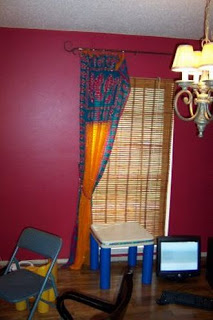 Convincing enough to give your decor a new look?
Have you used your unused fabrics in a creative way? Do you have any other decor ideas using recycled products? We would love to hear your views and comments.