How do architects live? How do they decorate their homes? We spoke to Swati Seraan; one of our fav architects. She has been associated with The Keybunch for years now. And she showed us around her penthouse. The lower floor has the dining, kitchen and living areas with two large balconies and two bedrooms. The upper floor has one large master bedroom along with family lounge and a large terrace.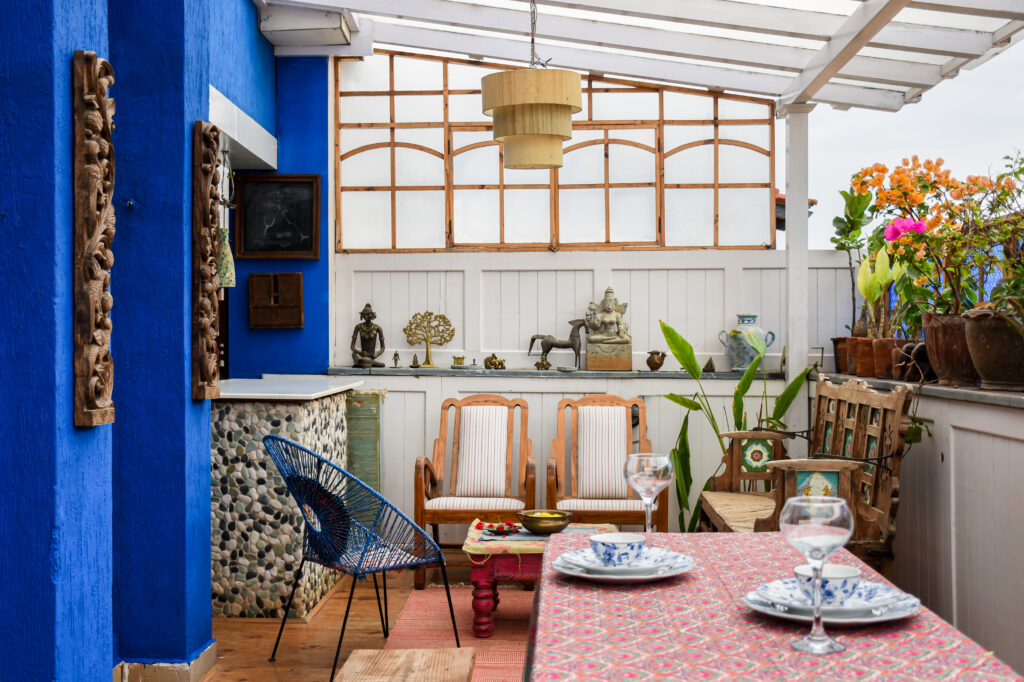 A long-time friend and professional associate, I have been an ardent fan of architect Swati Seraan's work for years now. I have also seen it evolve to the eclectic, global and contemporary vibes she now portrays through her designs. I love that she includes an antique or two in most of her projects. Over to Swati; she will walk you through her home, and talk about the elements that are most dear to her!
Swati takes over this blog!
Over a period of time, my home has turned into a home of collectibles. As soon as one steps in, it's like walking through the hallowed corridors of an art gallery curated with eccentric but extremely tasteful pieces.
The Living room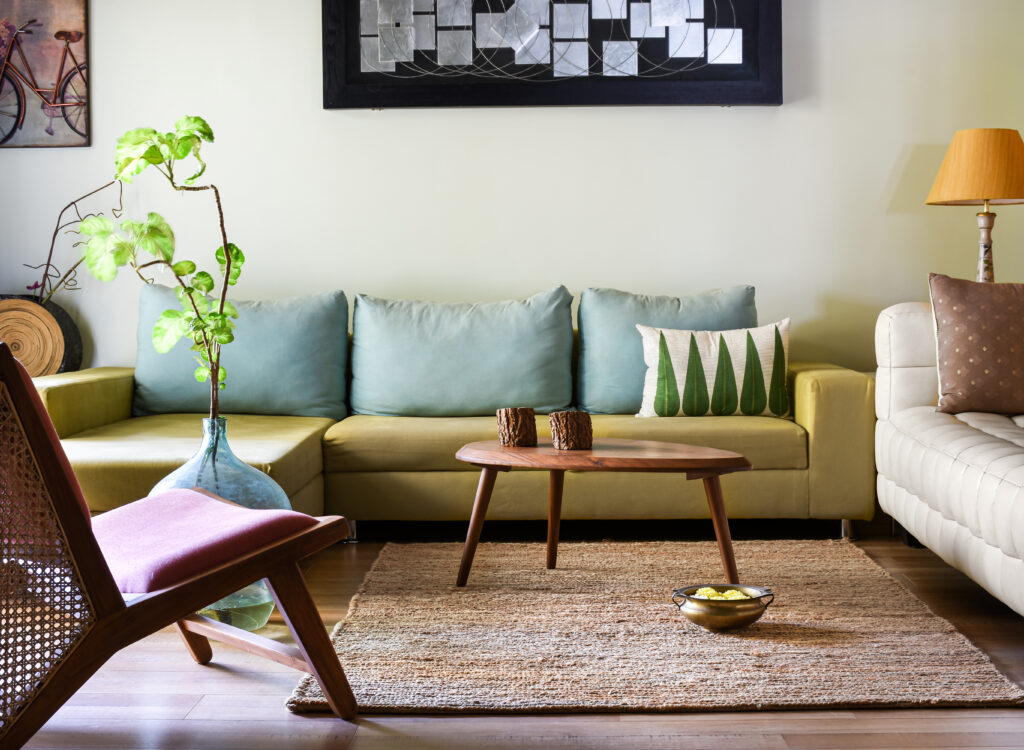 The Living room is a collection of old and new. There was a time when I loved modern décor. The black mural on wall hints of some of my mixed taste a decade ago. Today I have evolved into picking up only art collectibles. However having said that, I haven't let go some of my old collection. In fact, when I look at them, it narrates my story of evolution.
The rug in this frame is a jute one, from Humming Haus and the teak wood table is from Lap and Dado , my go-to furniture vendors when I source for projects. I trust their quality of work. The glass demijohn is an antique, and I love it specially because I can move it around wherever I want a green corner. Cushion covers is always a mix from various brands like Goodearth, Nicobar etc.
The dining area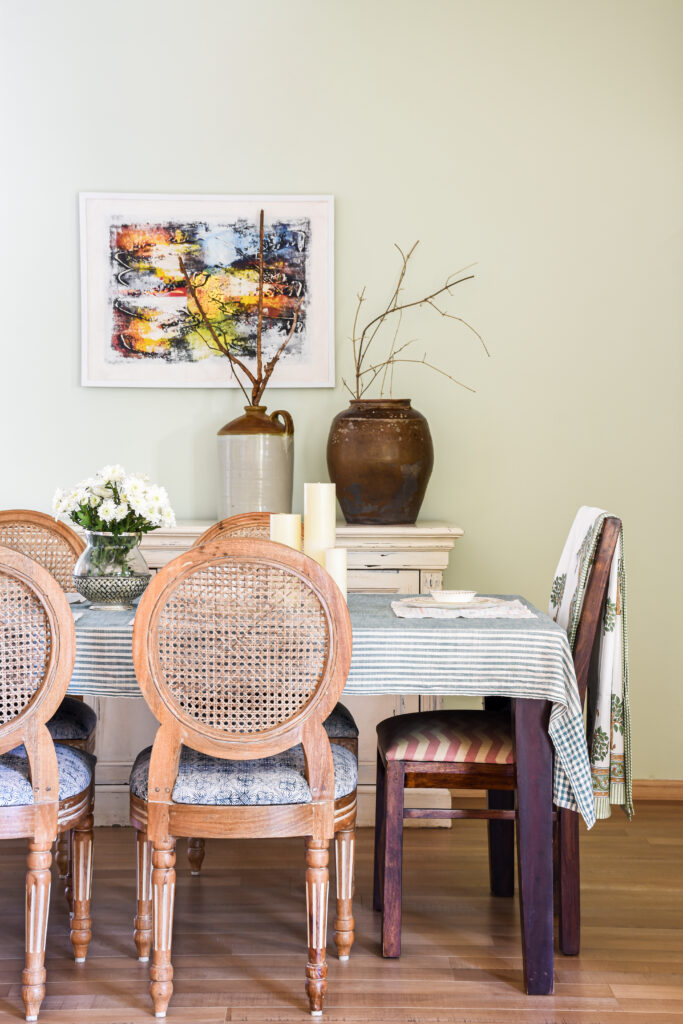 My dining is something that is fully functional and a visual delight. My dining space has large sideboard and huge glass cabinet that stores my crockery. I have a huge crockery collection and there is no way I can aesthetically organize it in a 9′ long crockery unit. This crockery cabinet was made about 14 years ago. A traditional style crockery unit speaks of the fact that I have loved old stuff from a very young age.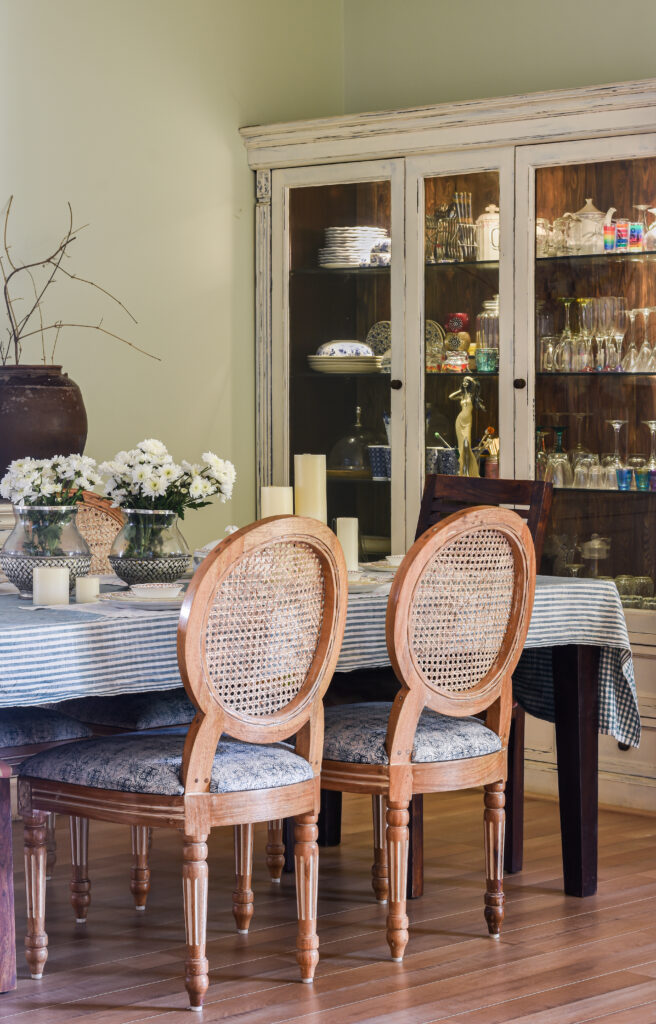 The staircase
The Staircase is a focal point because it is visible as soon as someone enters my home. It is right opposite the main entry.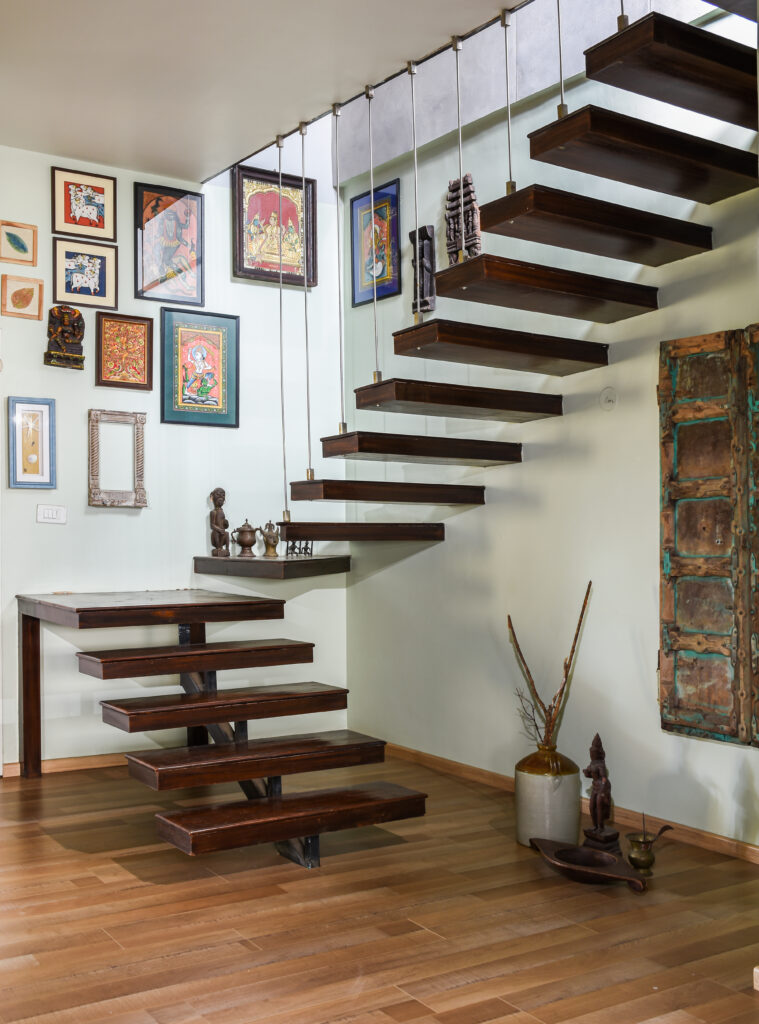 The staircase displays my art collection mostly acquired during my travels, as well as at local antique stores. The door on the wall leaves many people awestruck and is one of my best buys (from a junk store). This setup was done about a decade ago; however I have observed that GenZ is also picking up on this taste now a days.
A pastel-toned room for her daughter!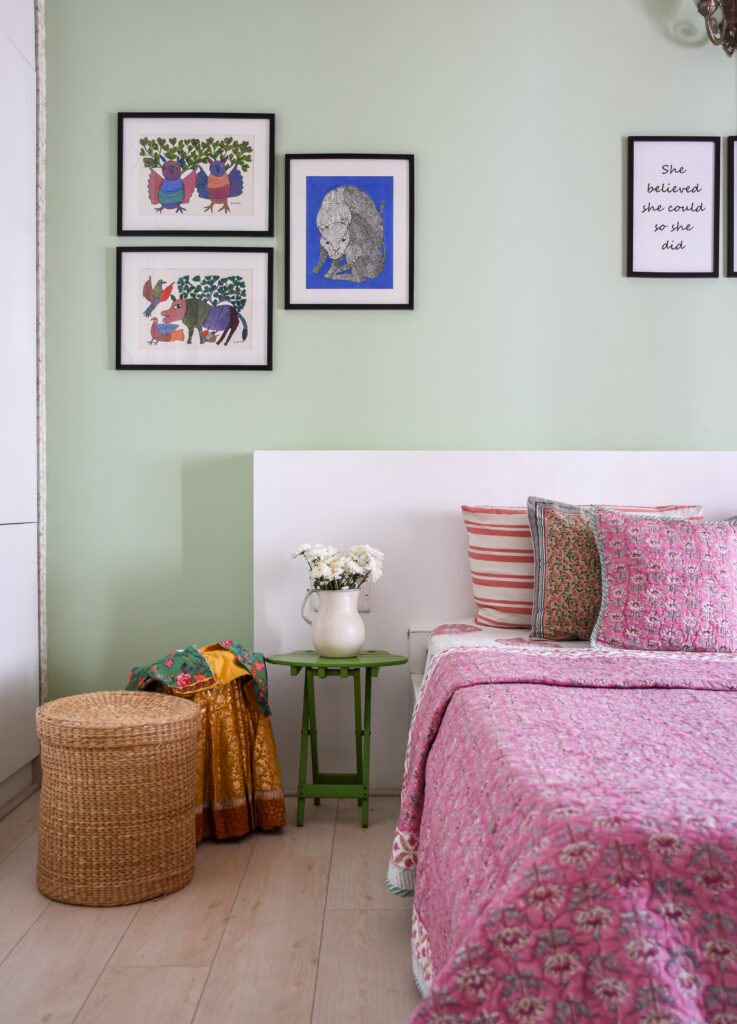 My daughter's room had to be something that reflects my love and style.
It was used as guest bedroom before her birth and was designed in earthy. I lifted the decor of the room by using wall papers and prints after she turned 8.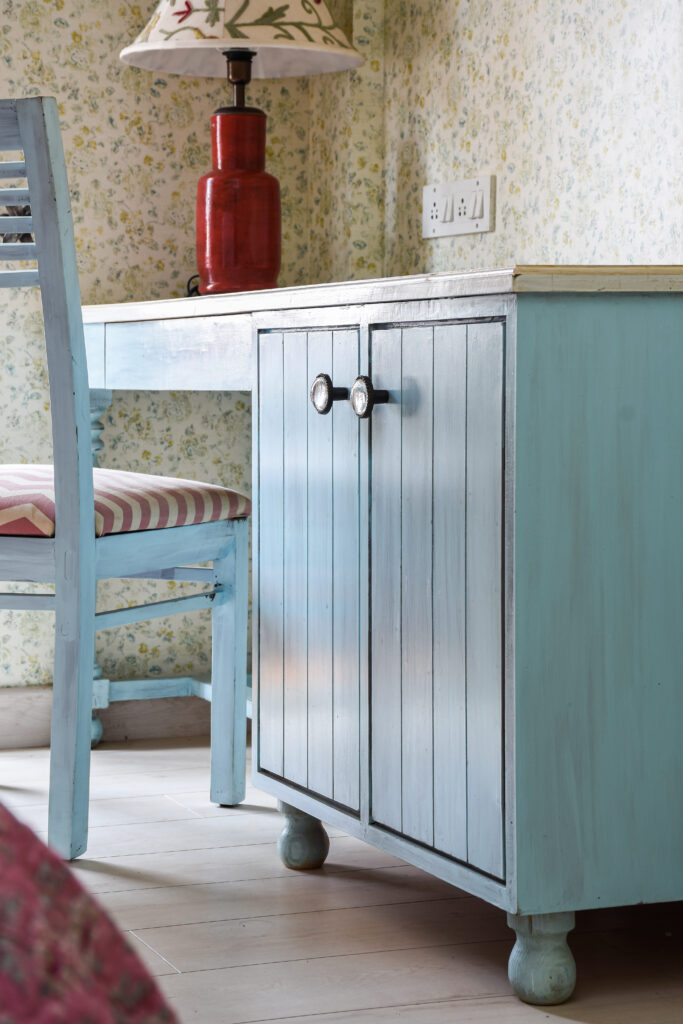 The large desk that I designed for her takes care of her art activities and study time.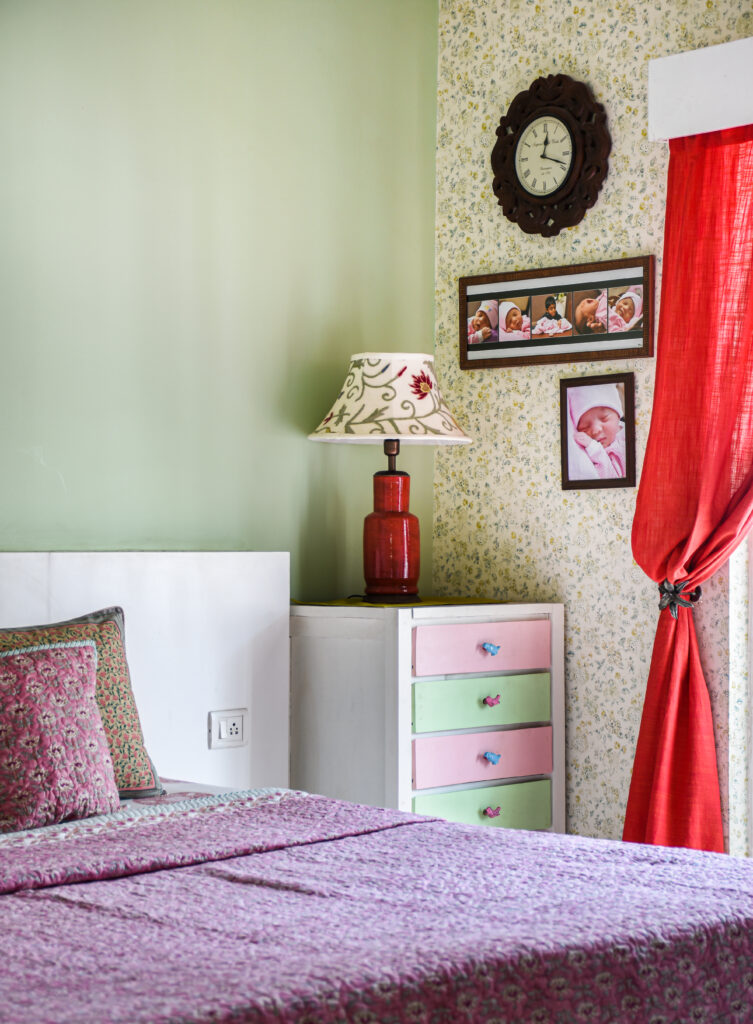 The room has white cabinet and cupboards and then wrapped all over with very subtle print on walls. I love mixing print on print and I personally feel that there is nothing like too much.
The son's room
My son's room has evolved from his early childhood days and now he is in his early adulthood.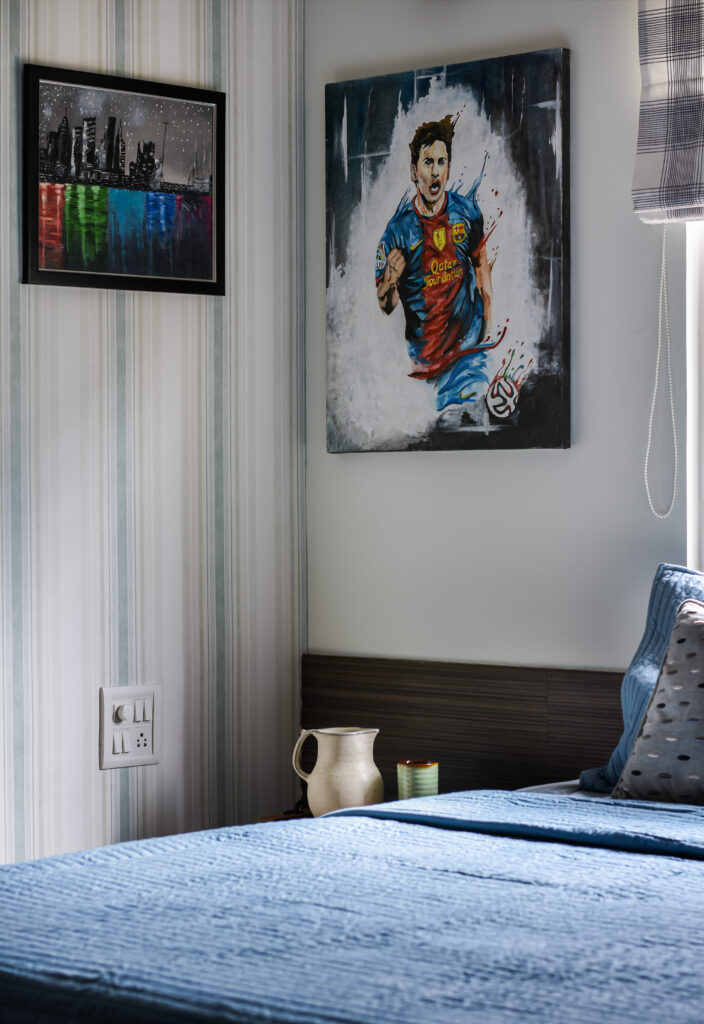 I have only uplifted this room by using wallpaper and change in colors and wooden flooring.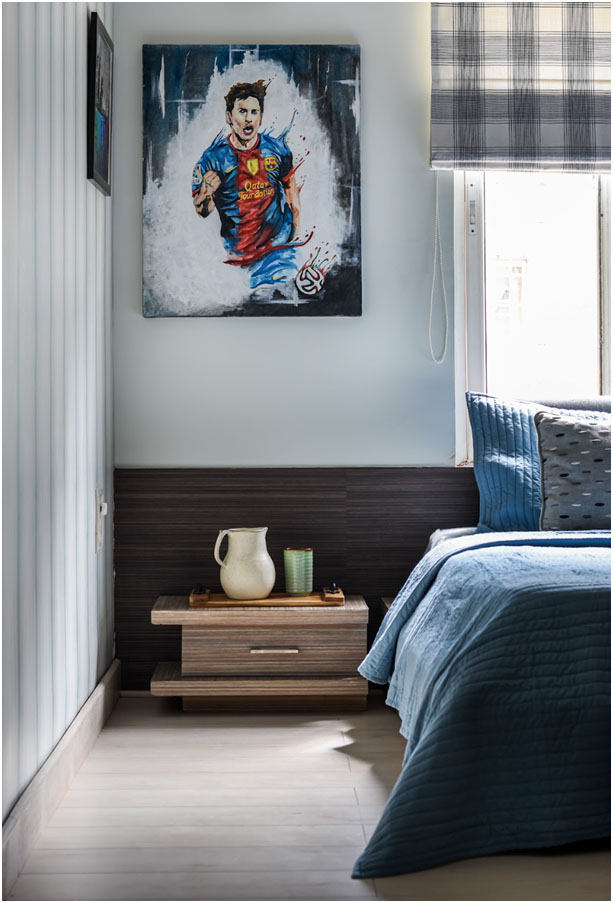 My son loves everything still the way it was when he was 4. The bedroom has large sliding wardrobe and large study desk, that is enough even today. The room is cosy and has enough floor space to entertain his friends.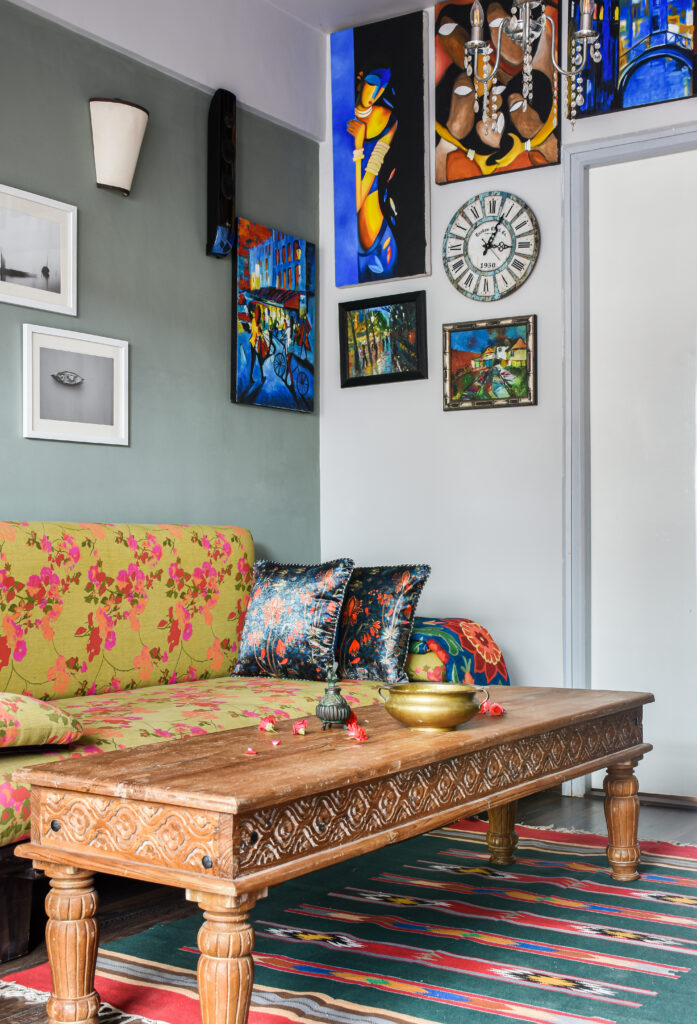 Art work on the walls is custom made oil on canvas as per his interest.
The Media Room
The first floor of the penthouse has a media room. This room by and large is totally boho eclectic. This room has art work made by me before I ventured into 'By the riverside', that totally reflects my learning phase of colors. I immersed myself into art and graduated into a becoming a interior designer through self learning. The black cabinet resonated my feelings towards my roots that imitates my grandfather's large cupboard that we used during our child hood days.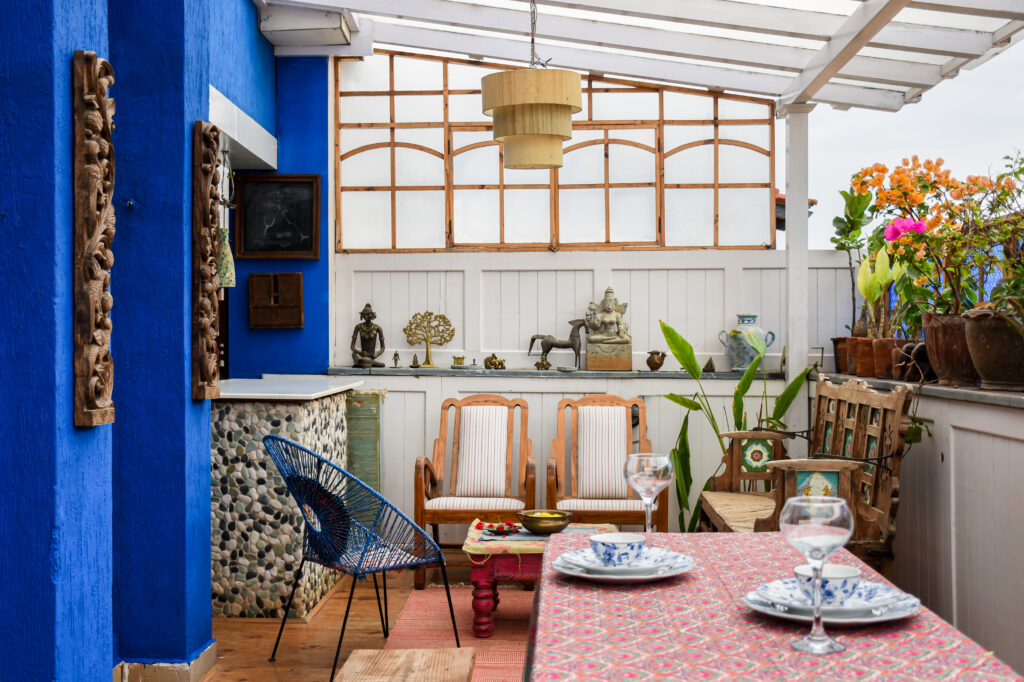 The coffee table is actually a dining bench but is perfect as a coffee table in front of this super comfy sofa. We need a lot of space to rest our feet or a large spread of food while we watch TV, My house has only 1 TV that we watch occassionaly. This room is also connected to my large terrace open space.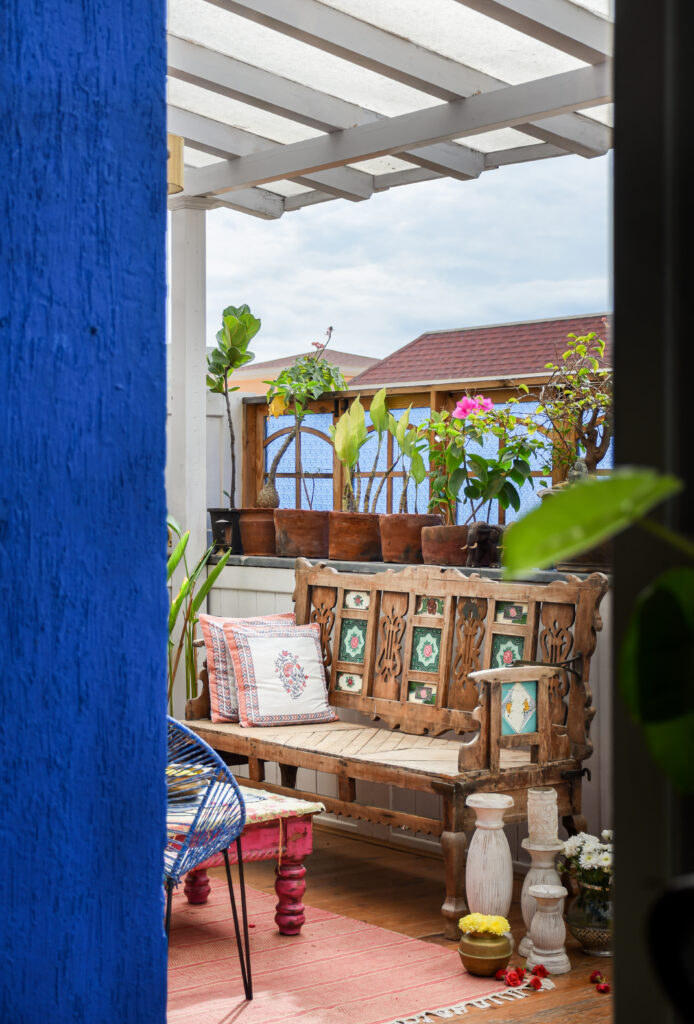 This space will ignite all your sensory experiences. I love using fragrances in my outdoor space and curate spaces with fresh flowers. Music is always on when I am hosting in this space. The space has significant number of seating in different styles that features my different collection of furniture. For instance, 100 year old teak wood lounge chairs and a large serving table that was a bespoke style of By the riverside. I also have metal furniture to add to the collection of wood.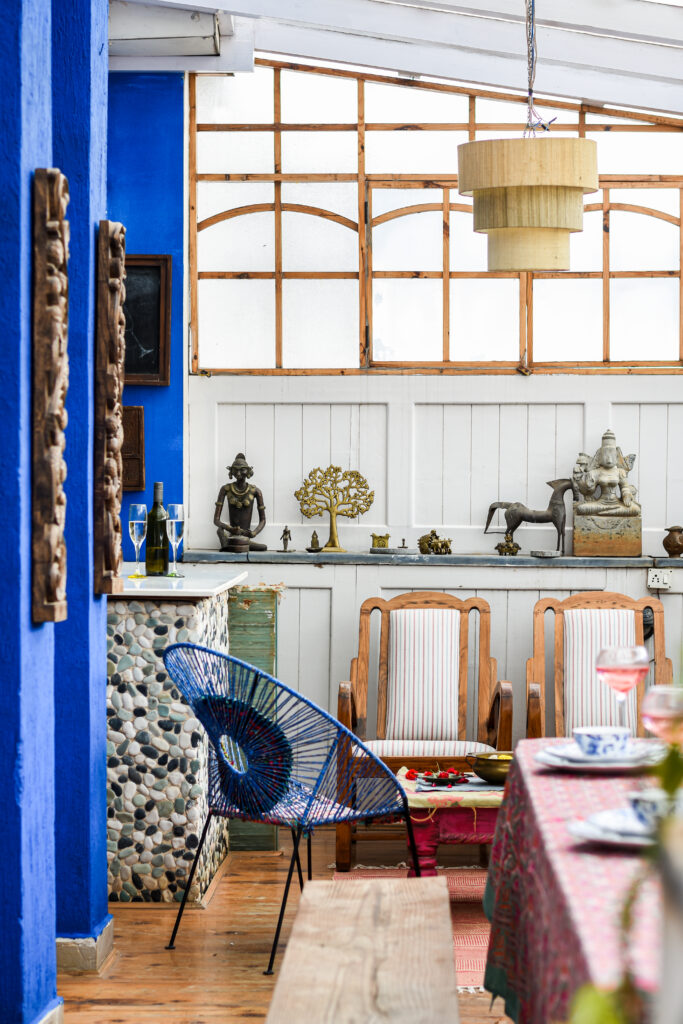 I totally love this collection of hadcarved murals that you will spot in various places around my terrace. I have a huge collection of authentic brass that's is placed in the most not found corners of my terrace, it is like discovering a Khazana as you walk into different corners. You can't get all in one walkthough.
Wooden pergola wooden deck was done by me few years ago in order to make use of my open terrace. And ever since, this is the most used space in my home. Right from morning breakfast to relaxed evenings, a lot of activities happen in this space. Also it gives me a lot of opportunity to keep the rest of the house spic and span all the time.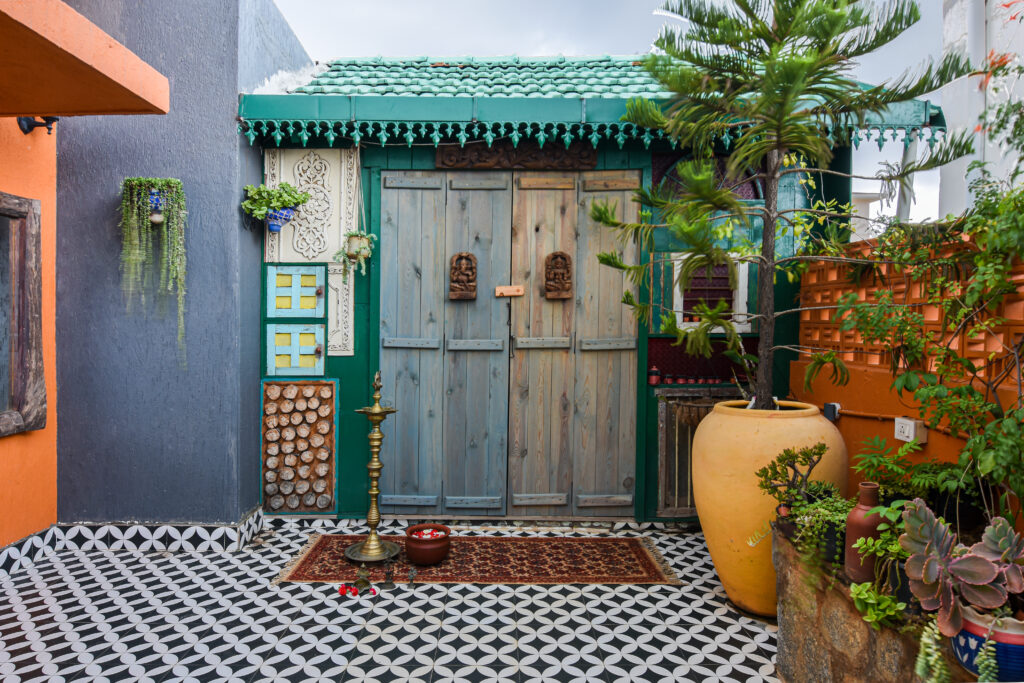 This is another side of the terrace where I have built my work studio. It has Mangalore double tiled roofing that keeps this room cool. I used old windows and reclaimed wood to build this room. This room takes you back in time with old stain glass windows and a huge collection of art and carved murals.
The master suite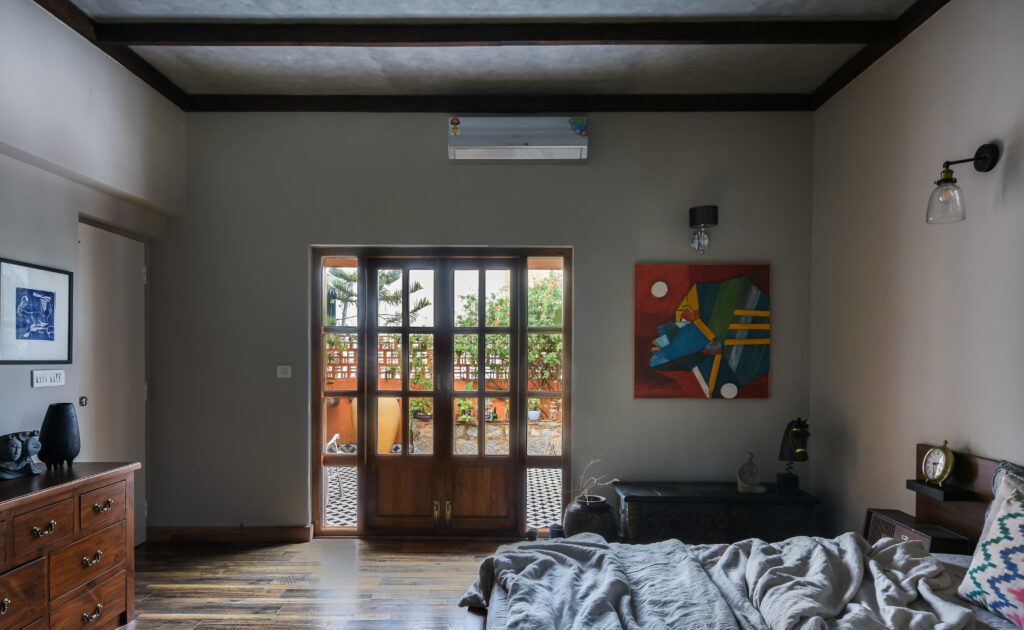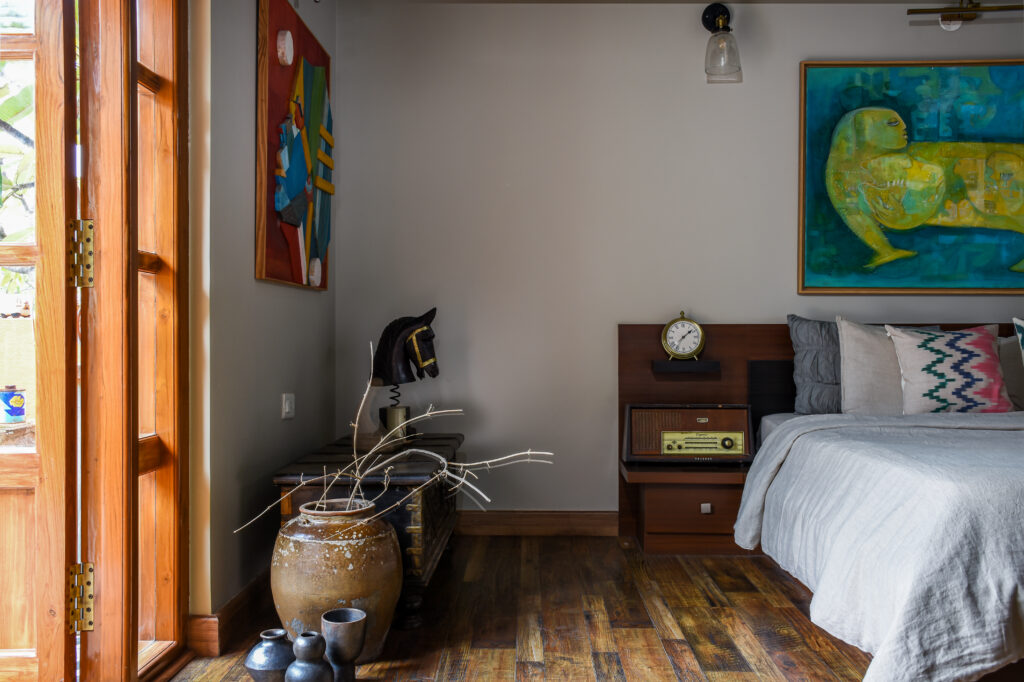 The Master suite is large, breezy and open. It features collection of contemporary and traditional art. Radio placed as a side table décor is another nod to my old collection and features my eye for spotting interesting elements wherever I am. I love pottery and I started this collection few years ago.
………………………………………………………………………………………………………………………………………………………………………………..
Let's get some pro-tips from Swati!
What is home to you?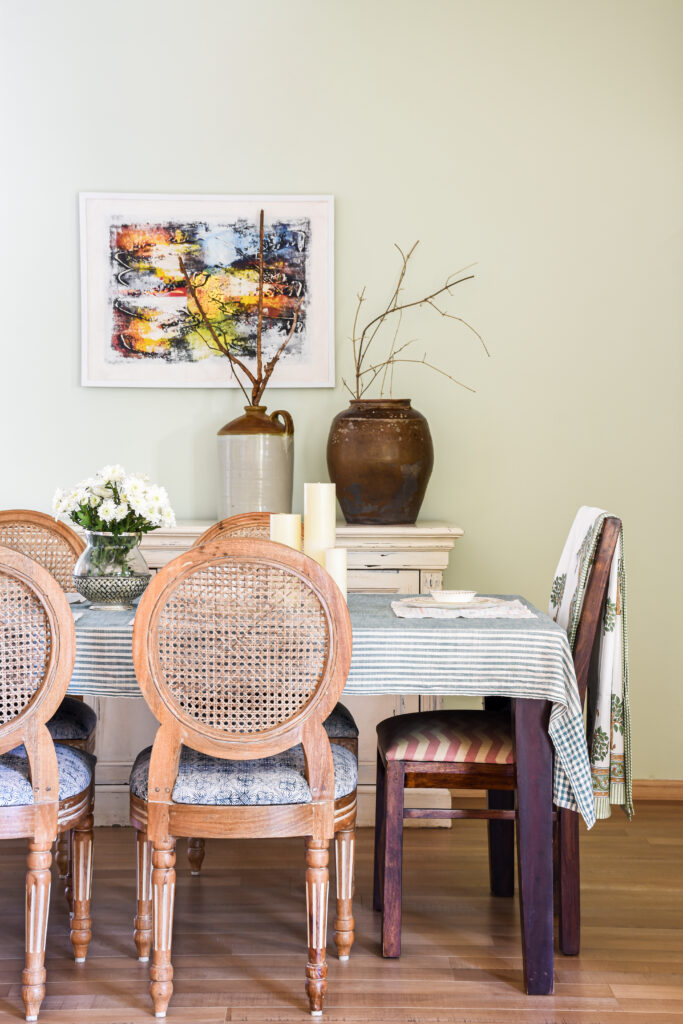 Home is basically a person's entire world. And the way your home looks like is a reflection of your personality, your habits, what you eat, how you what, you wear, it pretty much reflects everything – the way you keep things in your cupboards; you know, not just the external decor, but everything that goes inside. Also, everything is reflected, some people are really very organized, and they organize everything in proper sections, versus there are people who just stack things up. So your home is reflection of your entire personality and hence it becomes your entire world.
Why the fascination with blue?
So I see that a lot of people point me out on that, that my favourite colour is blue, but that is not really the case. However, blue is very widely used because it is such a beautiful colour, it's a very cool colour.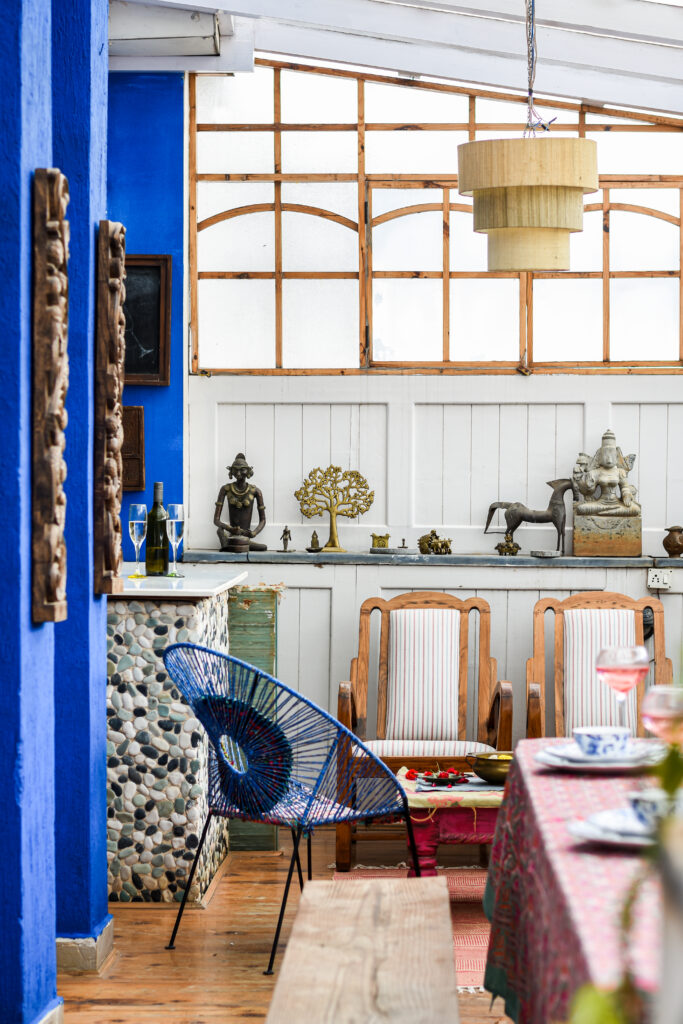 You can use deep shades of blue or the lighter shades of blue. Just the deepness of the colour or the softness of the colour, really changes the mood. I really like very deep tones of blue as well because they look very intense and of course, I like light shades of blue because they are very calming.
I try to make some interesting or unusual combos, which we usually don't see. And once I use that, I feel very happy. For example, I have burnt orange and a deep blue colour almost together on my terrace in the outdoor space and I love that combination and I think that combination is very rare.
Swati's Tips or hacks in decorating/styling/sourcing/
One always looks for people who are doing different kind of stuff, creating different kind of stuff. Get stuff for your home from those people, rather than going to branded stores for your furniture needs, or any decor needs. I think that is something which really can make your house, be your personality.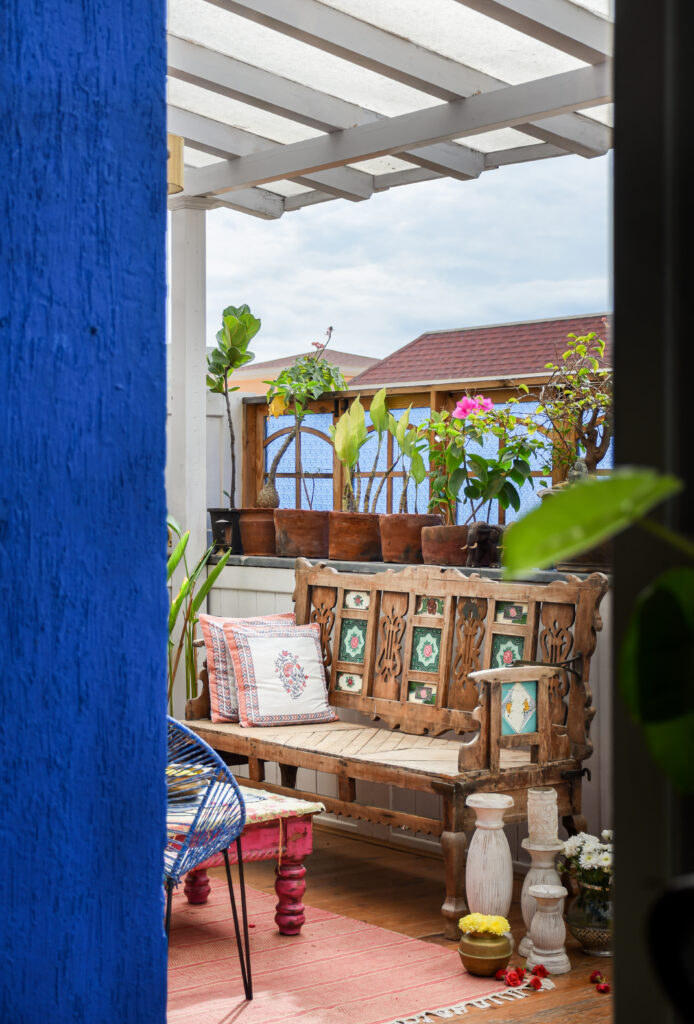 Well, I have many hacks, but what is coming to my mind right out now is – let's say you want to buy a bathroom mirror, never go to a bath store, and look for mirrors over there because you will find very usual mirrors. So, go to some other place where you wouldn't typically see bathroom mirrors, but they are there, carefully curated by the owners. That's when you can pick up things really unique for your bathroom. Maybe you want to buy a sofa? Don't go to a typical sofa store and buy a very typical sofa. Look for other options, maybe you go to flea markets or some other places it or find something that you can convert into a nice sofa or a chair.
And a final master tip!
When you are doing up your home, a lot of times we start doing a lot of surveys to check what our style could be. We check out a lot of images, or we start visiting a lot of stores or flipping through magazines, etc, to get design ideas and how we should do our home. I think I do it the other way around. I first of all, think what is it that I want to do? What is the kind of space that I want to live in? I sort of just sit down and imagine; you know? This works for me whether I'm doing this project for myself or for my clients. When I imagine and how I ultimately want to feel in the space, that's when the ideas come.
And that's that!
Thank you Swati for graciously sharing insights into your decorating style, and pics of your home!
As usual, I leave you with a picture from this tour that most captivated me. I know her terrace would win hands down for most, and for me it's a fantastic space too, but this one captivated me. For several reasons!
1. The choice of fabric textures and colours
2. The variety of material – in one frame I see glass, metal, wood, rattan and it's all here without even crowding the room
3. I do love a demijohn in a space 🙂
4. I do love a "something black" for every room because it immediately brightens up everything else. Check!
5. A bit of greenery is always soothing. Check!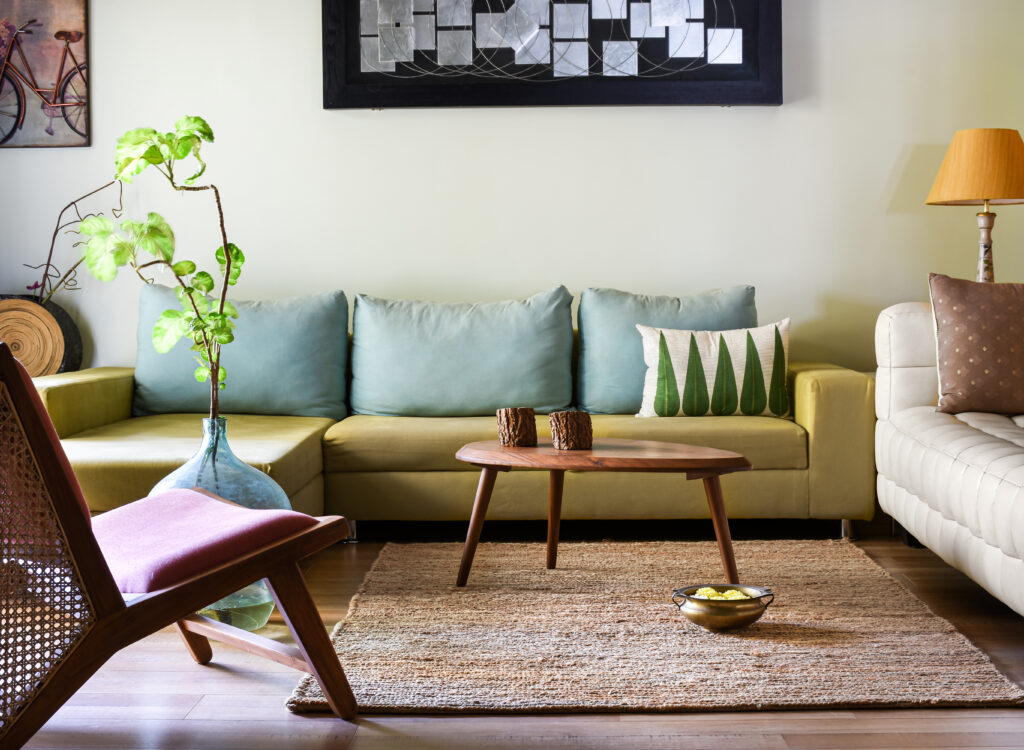 Pin these images on our Pinterest board!
Check this Pinterest board out with images of this gorgeous home. And pin away!
More home tours
The Keybunch delights in bringing out beautiful homes with a distinct vintage modern vibe. Have a look at some of our past home tours.