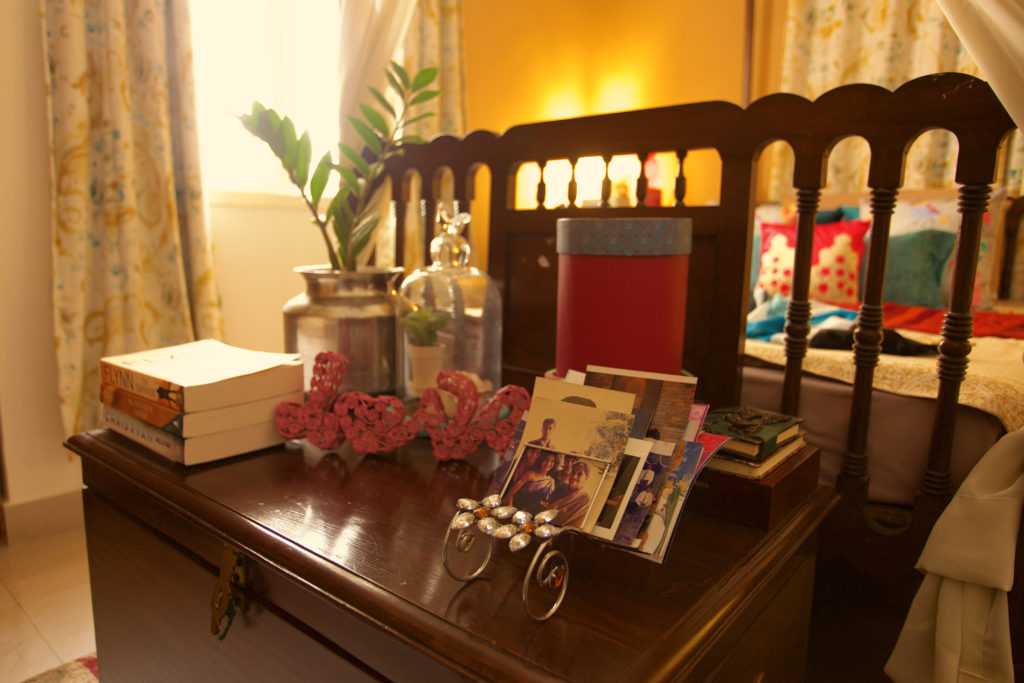 Sujatha and Bharath live in their 1500 sqft flat in Madras (Chennai). Are you stuck on the title? I agree, it is a bit cryptic, but when you read through this home tour, and see the photographs, you will understand that no decor adjective would do justice to this beautifully done up home that wears its heart on its sleeve! So come unstuck, and let's get started already!
A poem started it all for Sujatha
Let's begin at the beginning. Sujatha's love for decorating actually had it's roots in a poem. She says, "I am sure all of us without exception even to date will remember a few lines of some poem that we studied in early in school – that one expression of lyrical beauty that resonated with us could be Wordsworth, Frost, Burns, Shakespeare… the list runs on. For me it was Edward Lear and his nonsensical verse that struck a chord – The Table and the Chair. In this poem, the reader is invited to share in the angst of the table bemoaning to the chair of his aching joints and his painful feet. Nonsense of course but this started my life long love affair with inanimate objects and giving them a persona, of countless imagined conversations between themselves – about the home they lived in and more important the people they lived with. Sounds crazy I know but space and all that it holds is extremely personal and an extension of ourselves."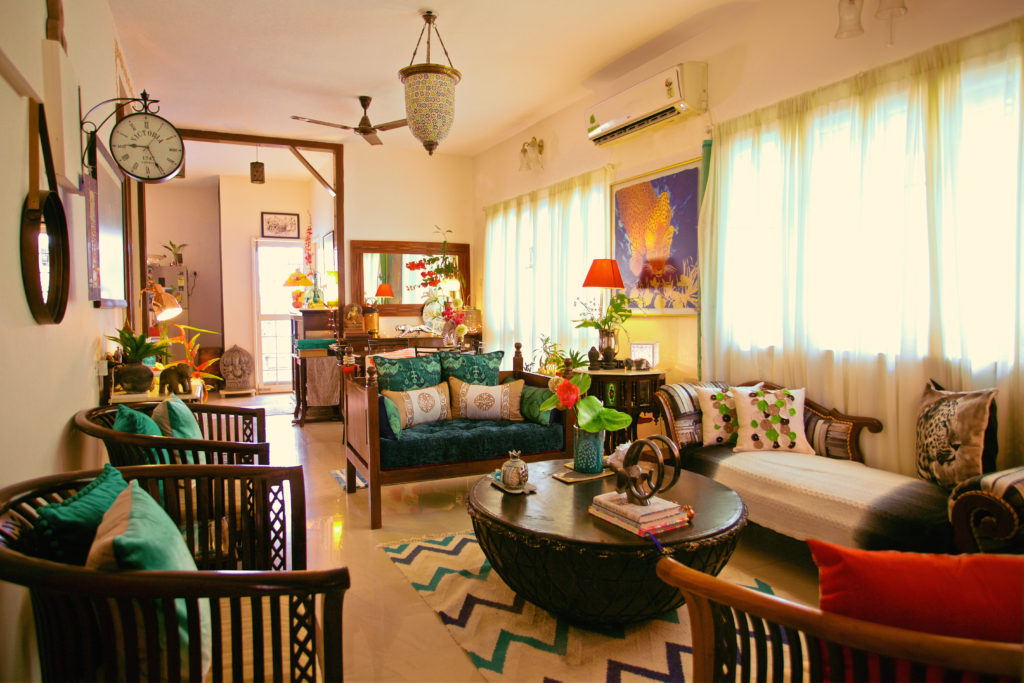 The first glimpse of the flat when you enter.
She adds, "Treat it like you would a career choice you made, a life partner you chose, a book you purchased, a movie you watched, a saree you bought… the list runs on. Some big decisions, some really small ones but end of day there are no rules, rights or wrongs – just exaggerated expressions of you at various times in your life to have and enjoy."
As you can see Sujatha is a brilliant writer, and I thought that I would let her take you around her home herself.

Our home
A mix of old and new, borrowed and coincidentally blue, most of my furniture dates back to my grand parents home, my parents treasures generously handed over, market place trawls and travel finds. Our flat is a little over 1500 sq ft of carpet area and filled with our love for texture that finds its voice through timber, metal, glass and fabric. Add to that the little pieces that tell a story of crazy compromises and unequivocal love for accents and you have a home that is constantly evolving, classic yet whimsical.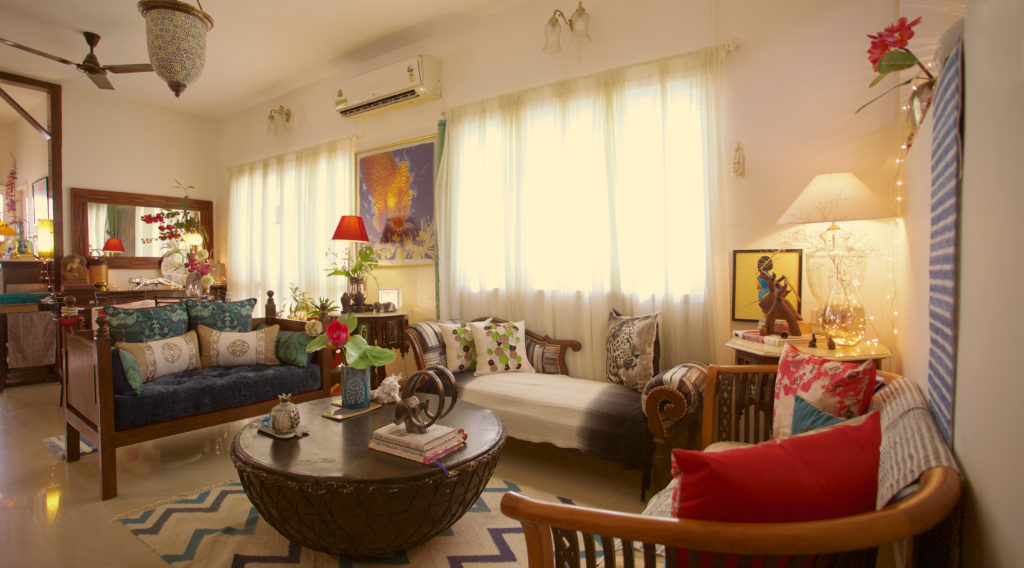 Another view of the living room
The coffee table has been re-purposed from an antique nagara find from Jodhpur and has a beautiful timbre to it. Alice in wonderland and "through the looking glass" has been an all time made favourite of mine. Needless to say we love our mirrors that tell a story of ever changing reflections. The green single-seater diwan is a particular favourite which we got by up-cycling a wooden baby cot.
The current mood at home is summer love with aqua, blues and whites resonating. If we had to choose a line that describes us it would be "food & friends". We love entertaining and hosting board game nights. The open plan of the hall allows one to seamlessly move from hall to dining to kitchen to balcony. Given that it is a long and narrow space, we have kept the walls, ceiling and the window treatments light, white and almost clear to counteract my manic organized "layered-clutter".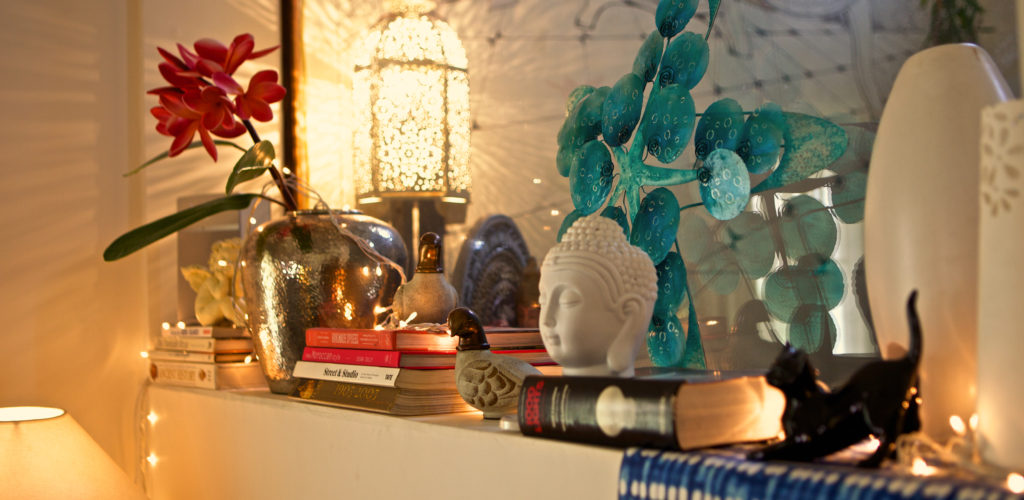 The above image features a wall which we broke and converted into a niche with toughened glass to allow the space to breathe more, let the sunlight stream in and not feel boxed in. When people ask me how this window styling came to be, it amazes me too because most of the events here have been gifts and hand-me-downs that just evolved over time right down to a trio of gorgeous white ceramic vases from three different people over different times. The blue starfish in the background is a find from the Gold Coast.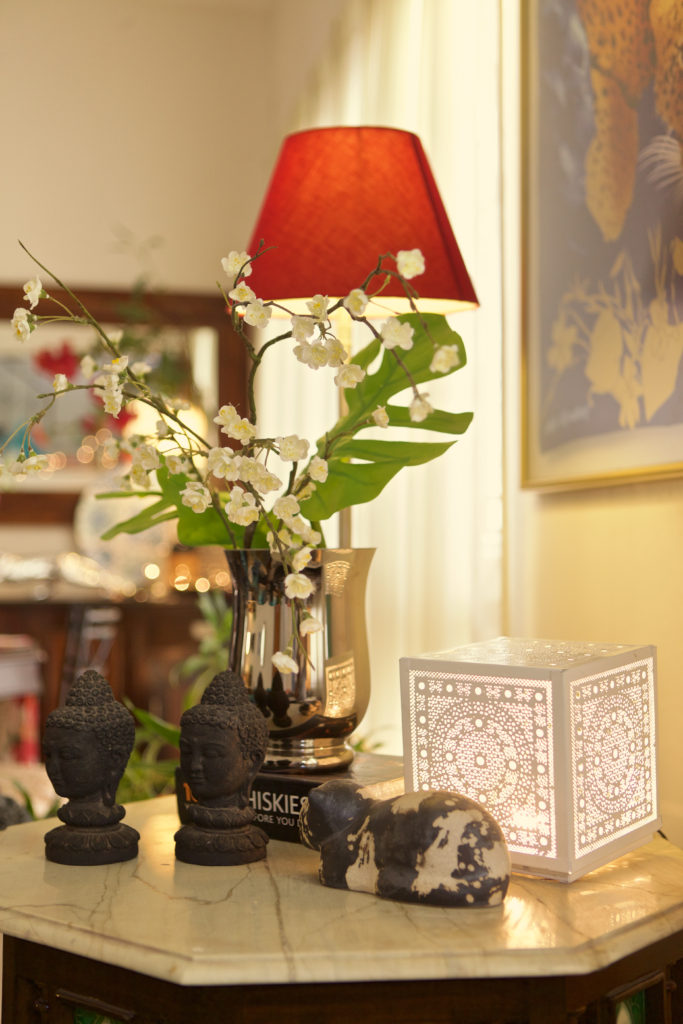 Some wear their heart on their sleeve, we wear all our loves – love for Buddha, light and organic patterns, birds and animals, books, graffiti and typo art. Bharath is an amateur martial art practitioner, grew up on a steady diet of Kung-fu and karate movies, loves Sun tzu and appreciates the nuances of Movement and Stillness in movement. For him the way of the Buddha captures that. The ceramic cat is actually a money bank from Pondicherry.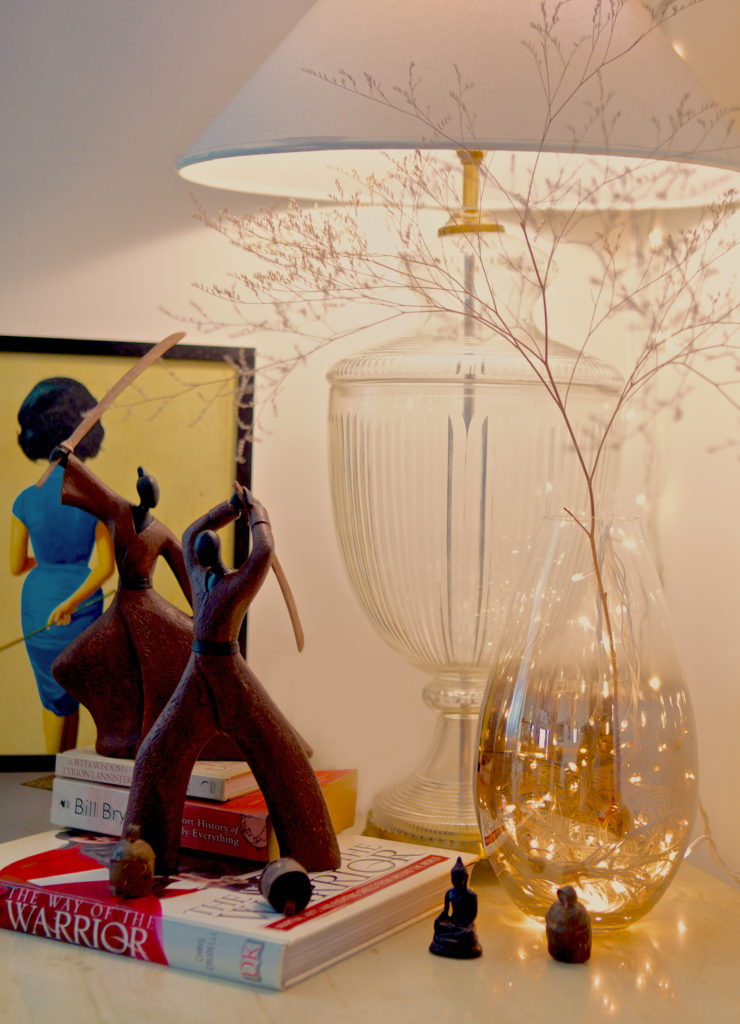 The Samurai couple pays homage to an all time fave movie of ours "Zatoichi" and the Ram head is reminiscent of sigils and perfect in a GOT mad household.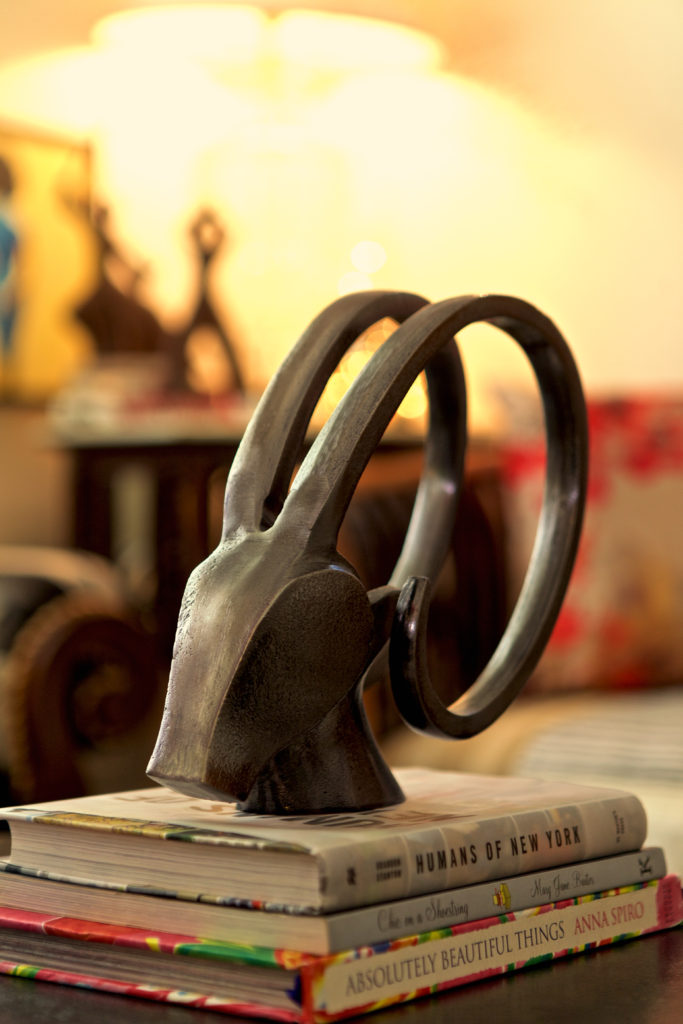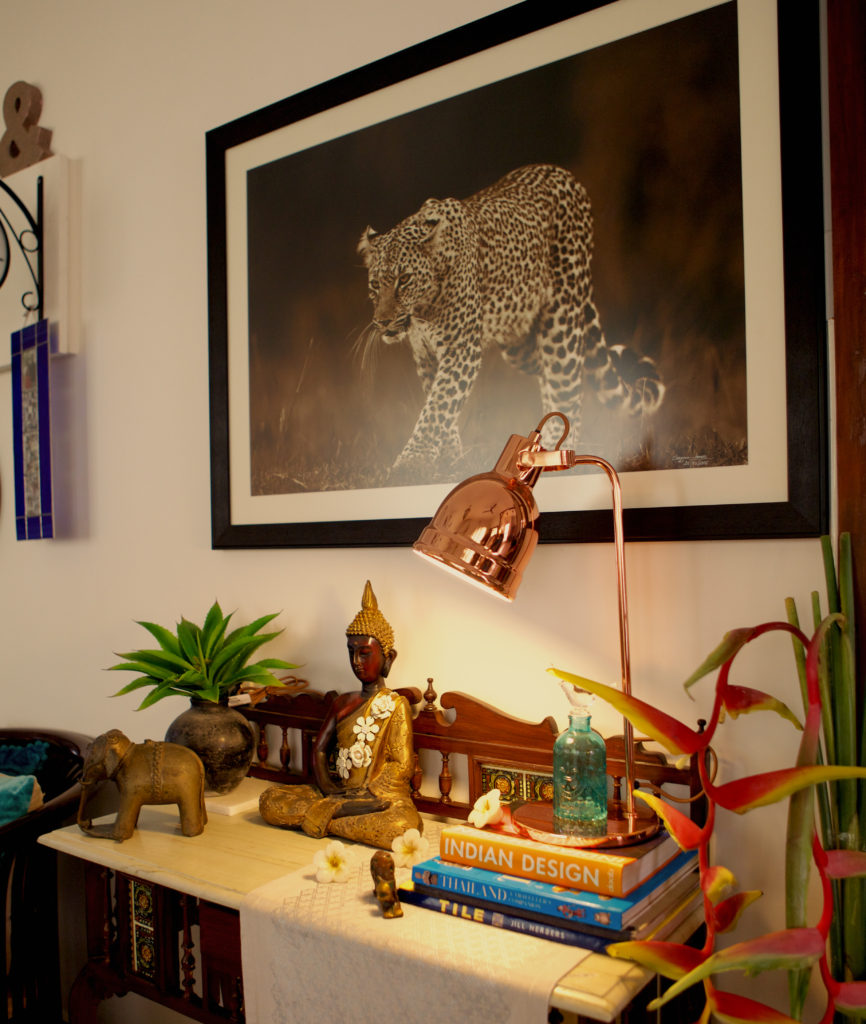 The above leopard is a photograph taken by our dear friend Zhayynn James who is an amazing wildlife photographer. The brass elephant on the console dates back 100 plus years from Bharat's grandmother's home.
The blownglass starfish from USA & the Pomegranate (below) from Tel Aviv are positioned to tell a story of land and sea and nature's bounty and grace we enjoy.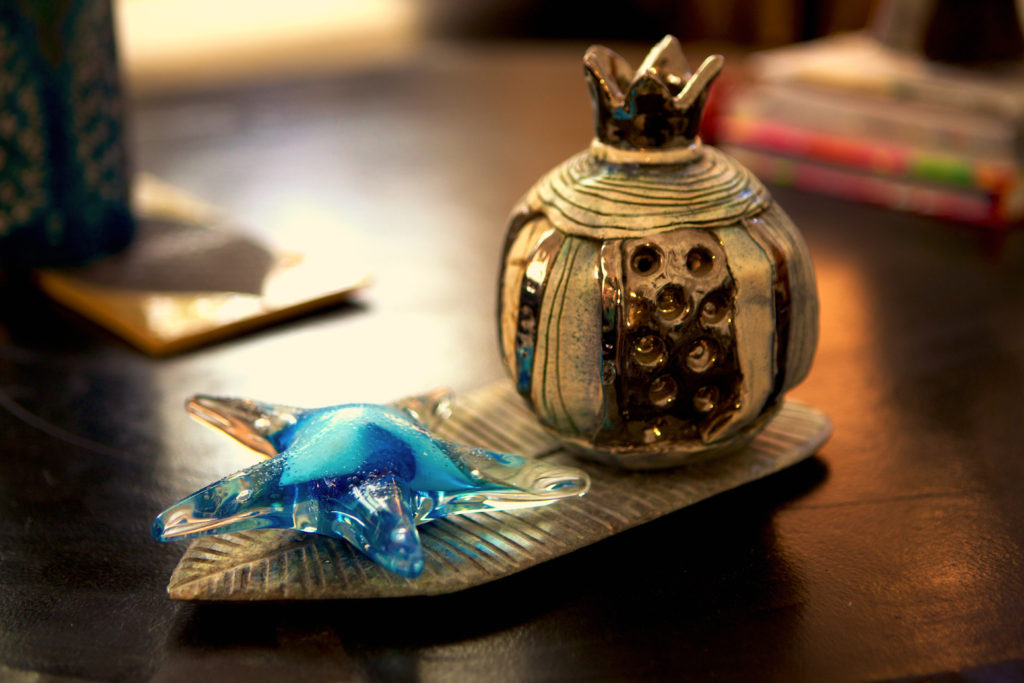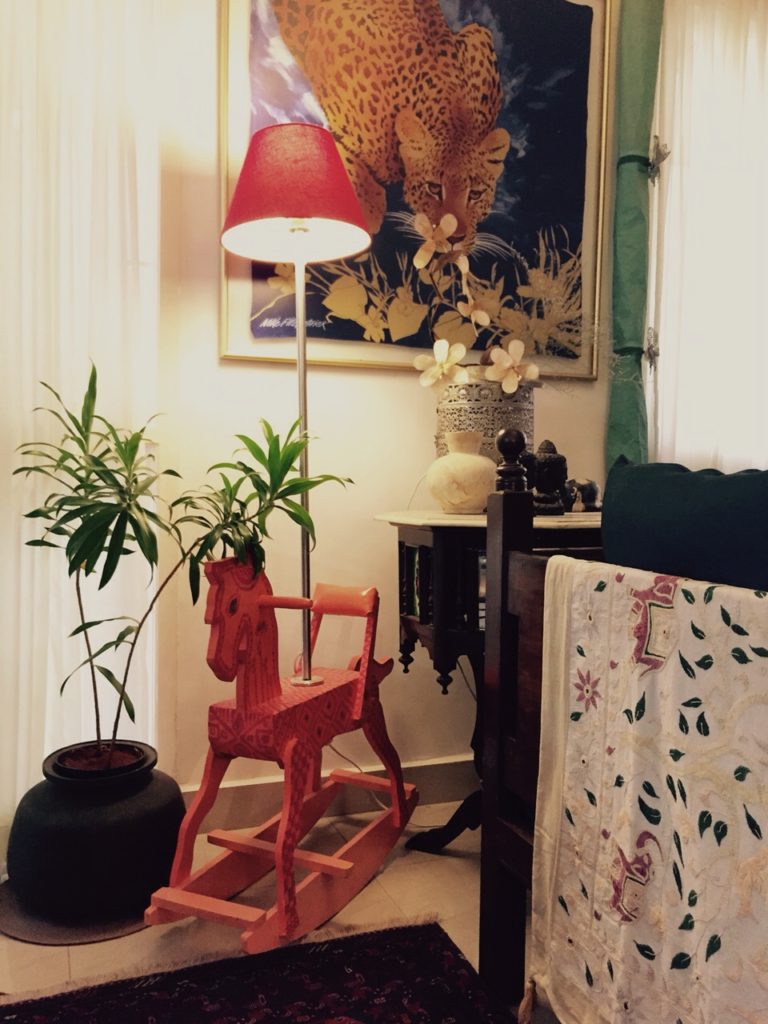 The crouching leopard is a hand painted silk scarf by the famous Mike Fitzpatrick known for his limited editions of Big 5 renditions. In the foreground is a Channapatna rocking horse re-purposed as light decor.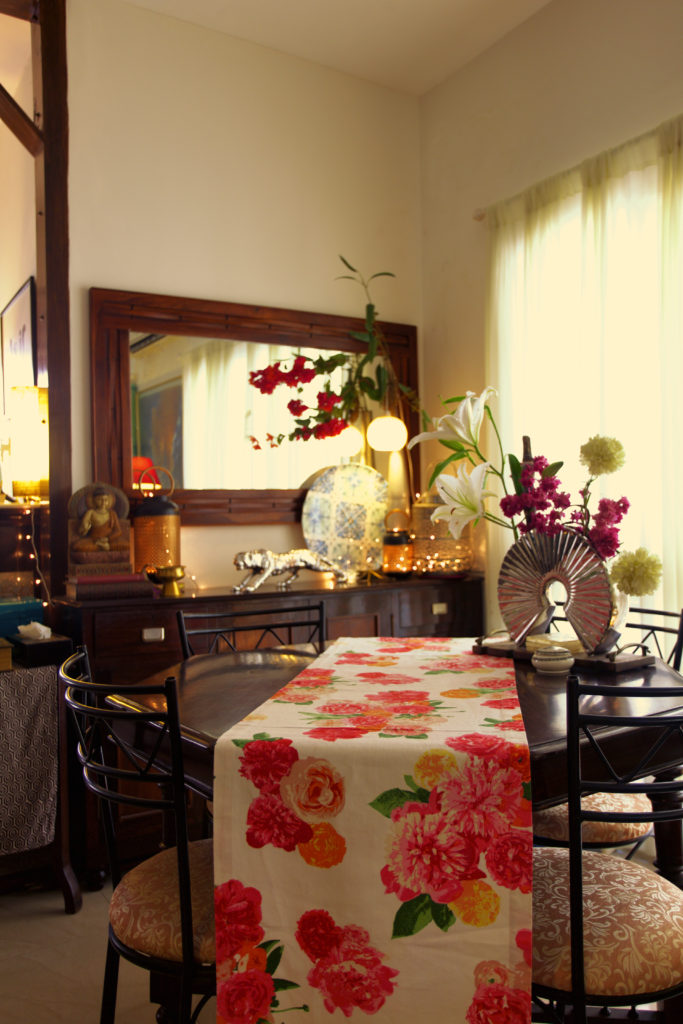 Our dining room overlooks a small balcony and is shielded from the neighbors' view by towering Banana trees. The dining table is an interesting octagonal in rosewood and belonged to my mother and a treasure trove find in Pondicherry a long while ago. So also the buffet console has been re-purposed from school cupboards and benches and finished with a dual tone stain on teak.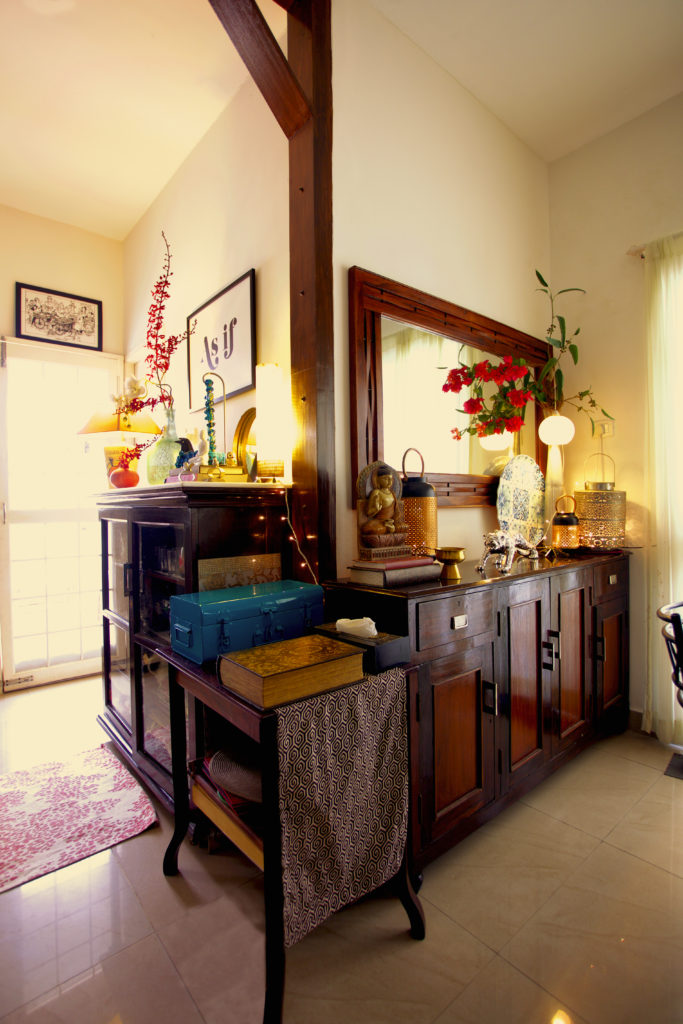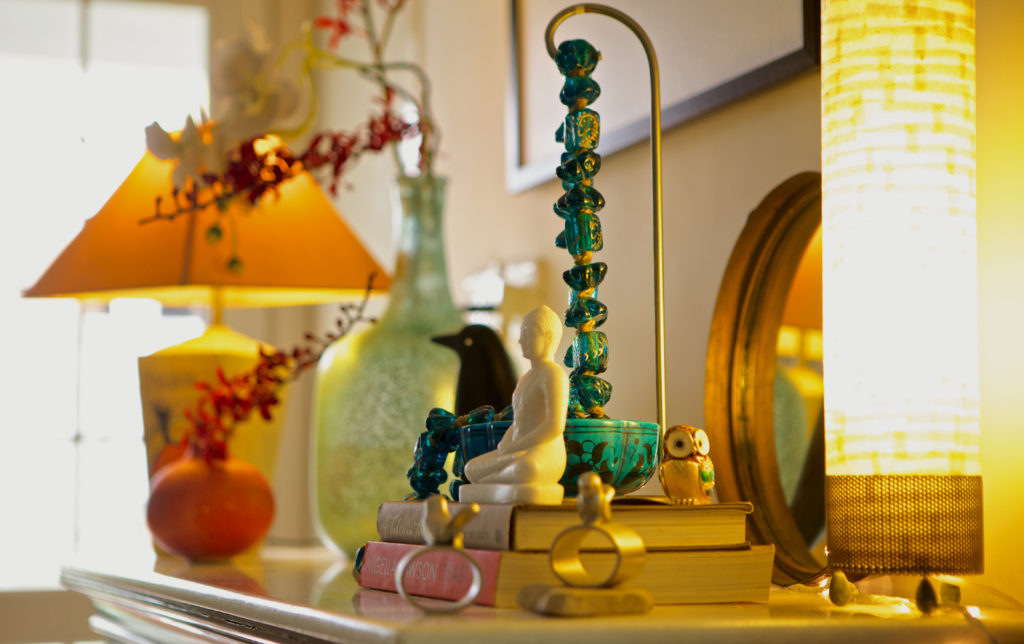 A food storage cabinet from my grandparents home holds our glassware and we have covered the top with a marble slab as the top part was almost giving way. The glass is the original one from the 60's and seen many shifting homes over the years.
The lamp and shade is our first buy as a couple in 2000 courtesy a gift voucher received at the wedding. Next to that we have prayer beads in blue from Jordan which nestles in a ceramic bowl from Lindos, Greece. Add to that of beautiful white granite Buddha gifted from Srilanka and you have a look that is not contrived but one that evolves and will change again.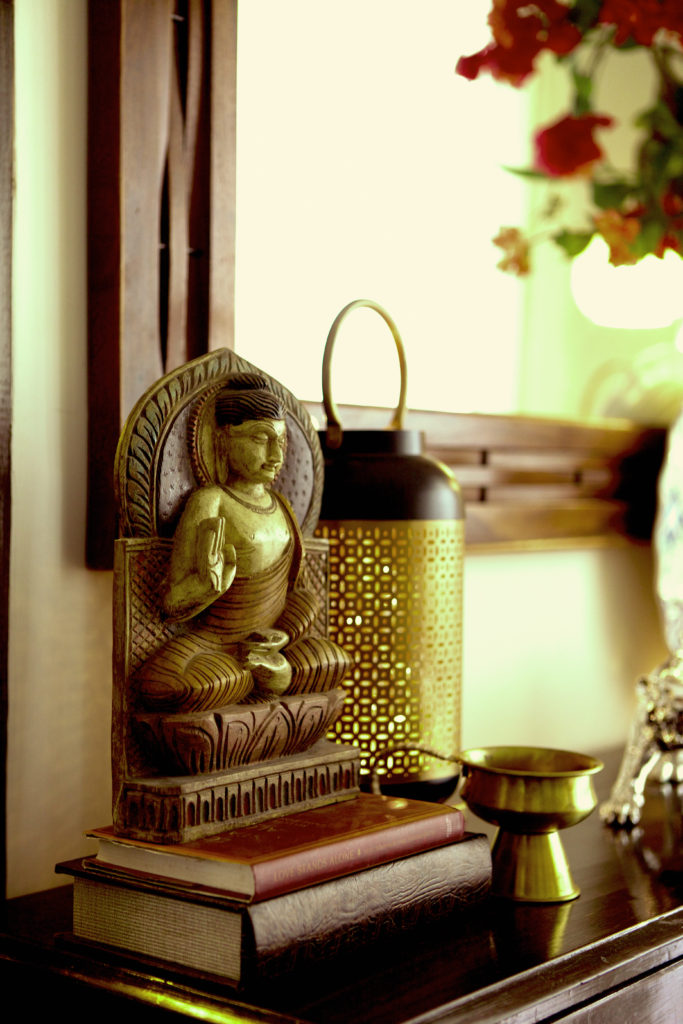 This cloche is actually part of a crystal chandelier from ELCO Austria with a seal still visible of 1928. Earlier hung at my grandparents home, then salvaged from my parents attic, this last piece is my ode to classics that are timeless and will evolve. The cloche houses a genuine porcelain teacup and saucer gifted from my MIL which says "made in occupied Japan " and the traditional brass kaapi dabara from Kumbakonam.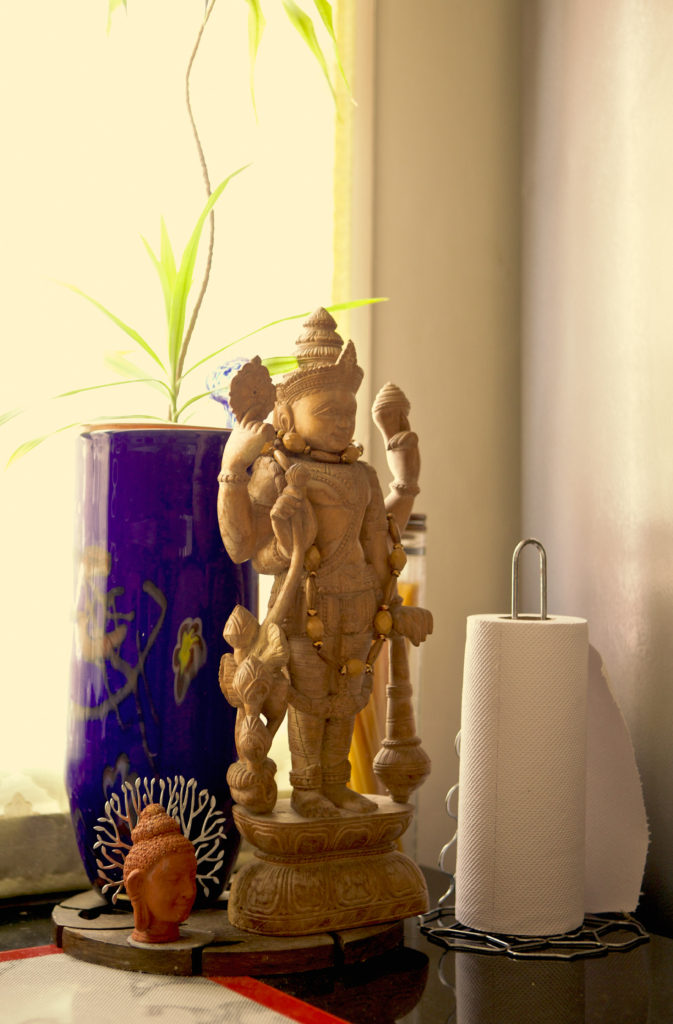 Our kitchen (Top and Below pic) is open, spacious and filled with plenty light that streams in. I love cooking with my kitchen gods benevolently watching me and seeing through plenty crazy mayhem moments in the kitchen.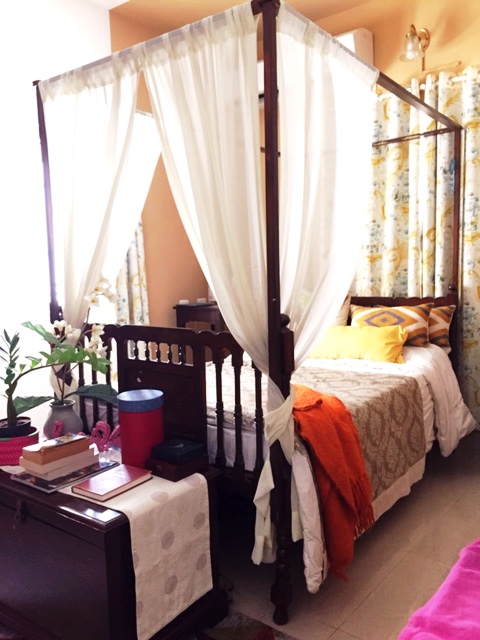 Our bedroom is dominated by this antique 4 poster which was part of the dowry chest of a young Punjabi lady who had fled with her family to India during partition with a few possessions. My parents bought the pair in the late 80's for my sister and I. A few years back I added the beams to complete the poster and create my fairytale bed story. An antique wooden chest (pic below) at the foot serves as storage for bed linen, cushions and blankets.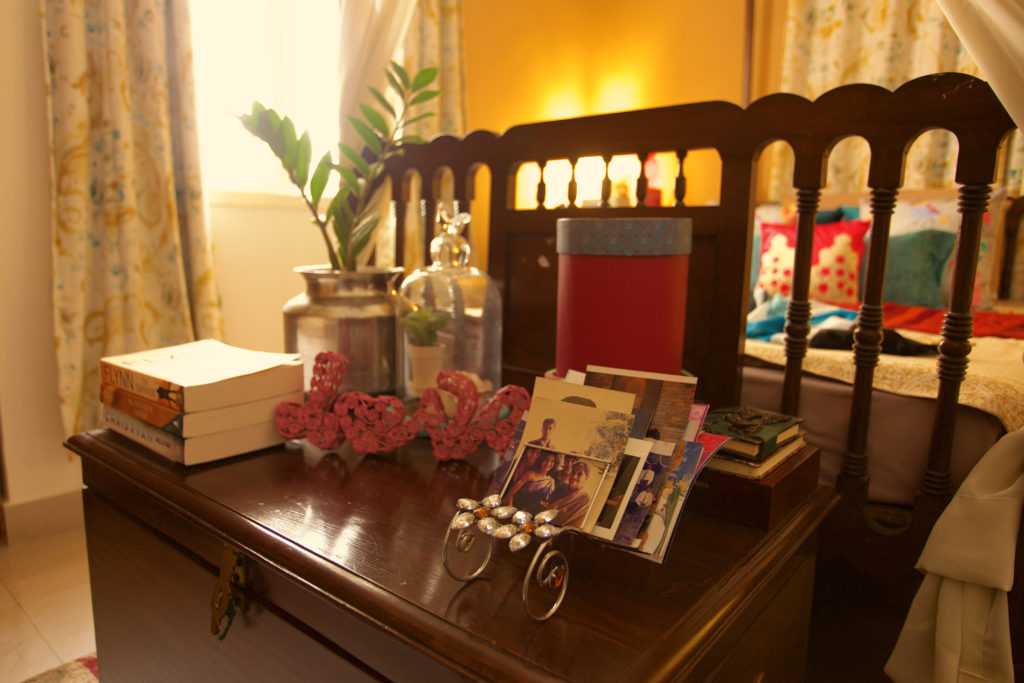 The den or the husband's man cave with his favourite gizmos – TV, remotes, music, books, loungers and board games. This bed with four corners to rest back has been re-purposed from a teak bunk bed which we did not need anymore and transformed it into a massive daybed to loll, lounge and R&R.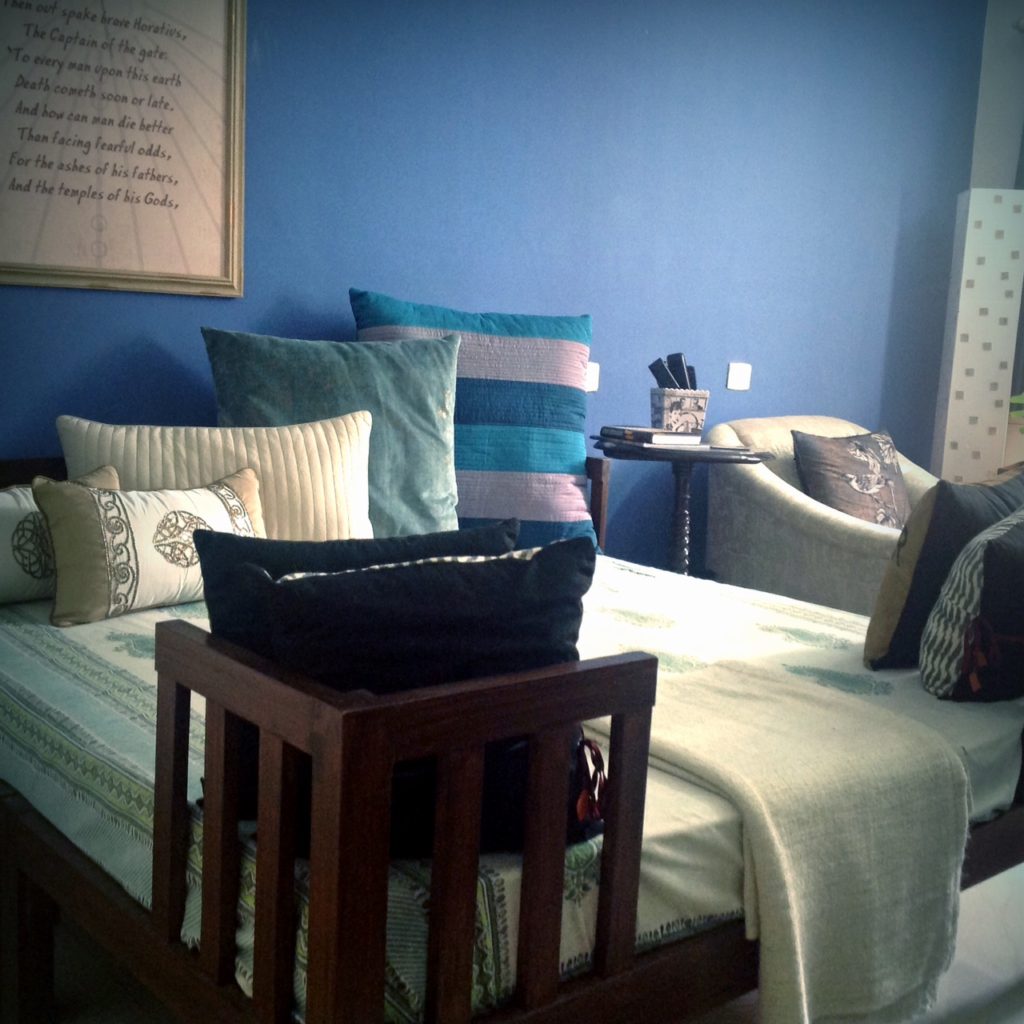 Boys and toys – this vintage ammunition box has now been transformed into a lovely light and perfect for the Kung-fu meets special ops man cave.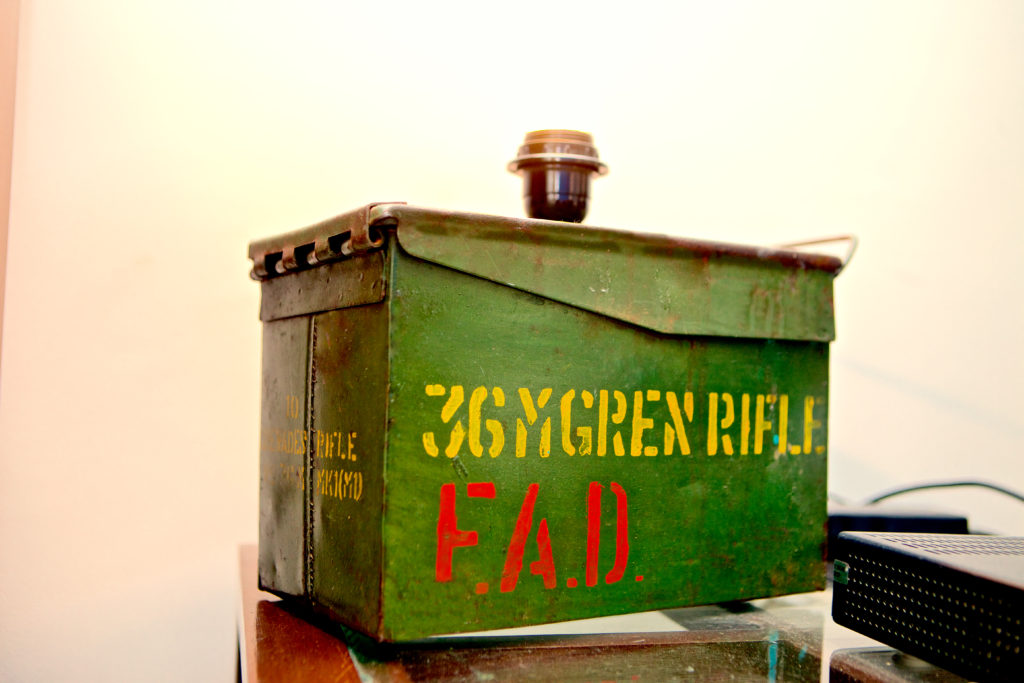 The guest room and my little work space go together.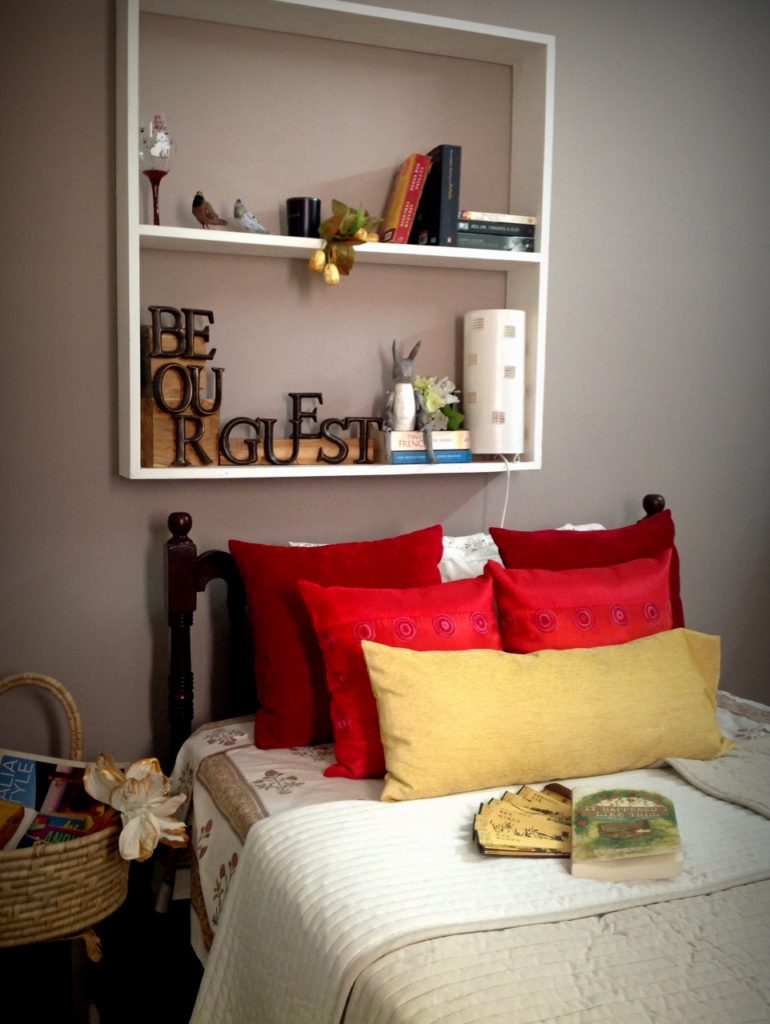 The second bed taken off from my sister, all my books, craft boxes, art, quirky animals and more impish cats form part of this space.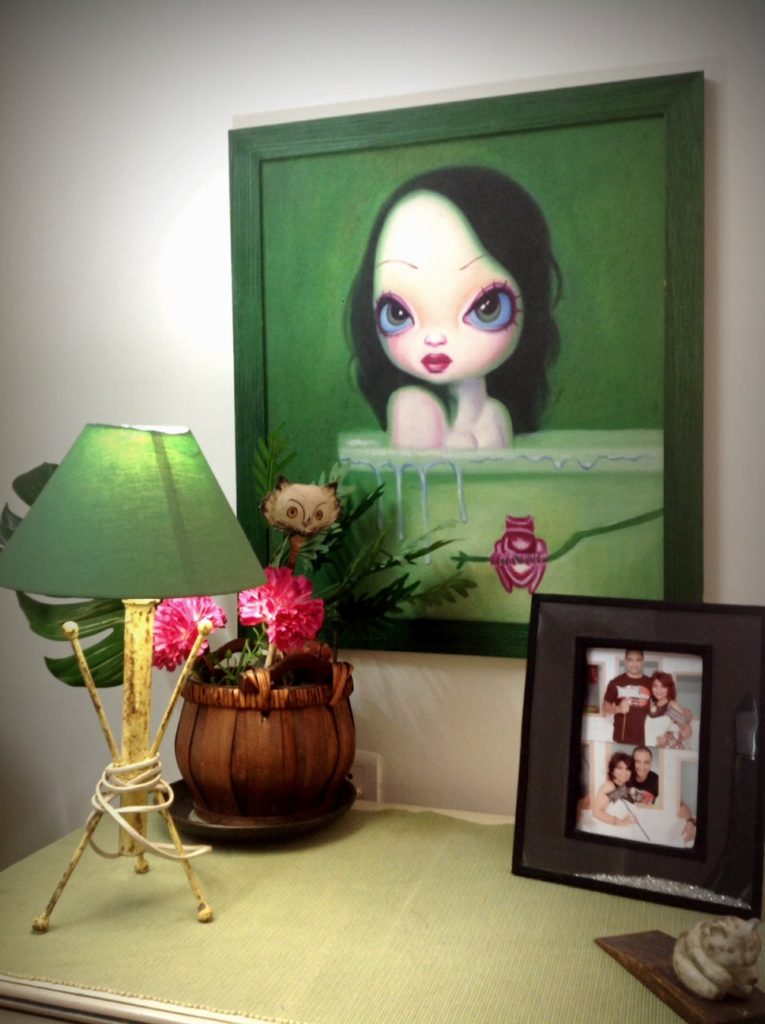 My writing desk is my grandfather's and the chair is part of a vintage dining set purchased by my mother in the late 80's. The canvas curtain with the playful doggies truly captures the spirit of classic-whimsical all at once.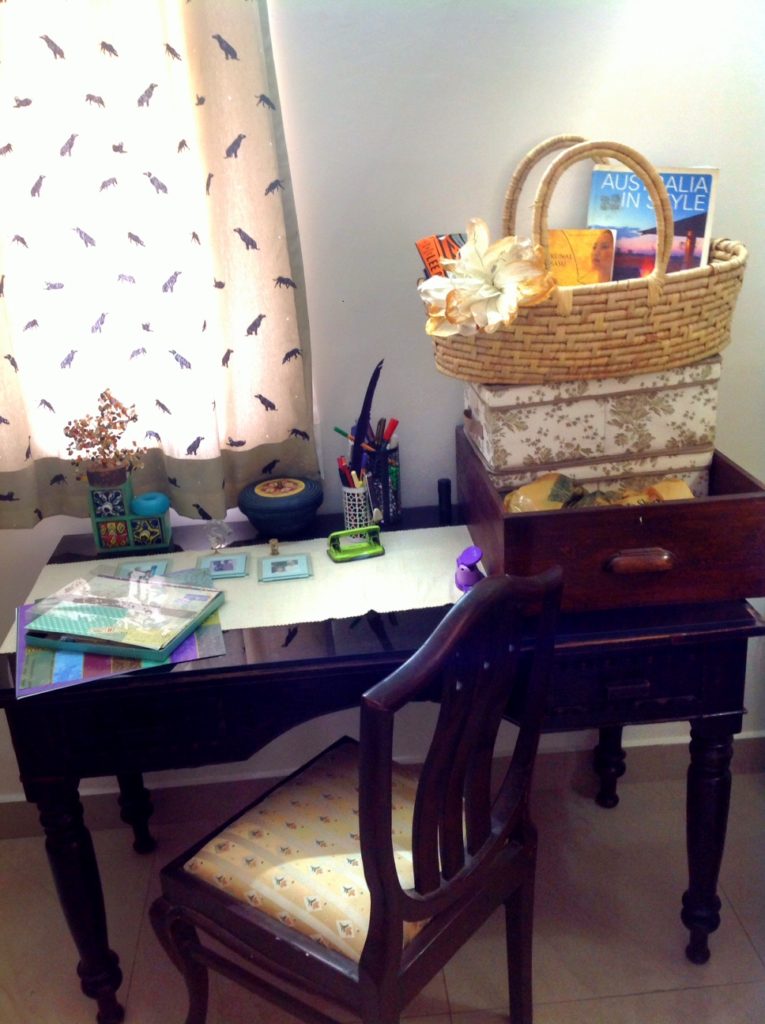 The little step out is our lovely relief in the apartment. A self-dubbed green killer, I stick to the basics of hardy plants and plenty of garden decor to create a tranquil oasis to kickstart the day or end the evening with family and friends. As I said, my mantra is no stress in your space and this furniture and decor remains outside through rain or shine with natural wear and tear.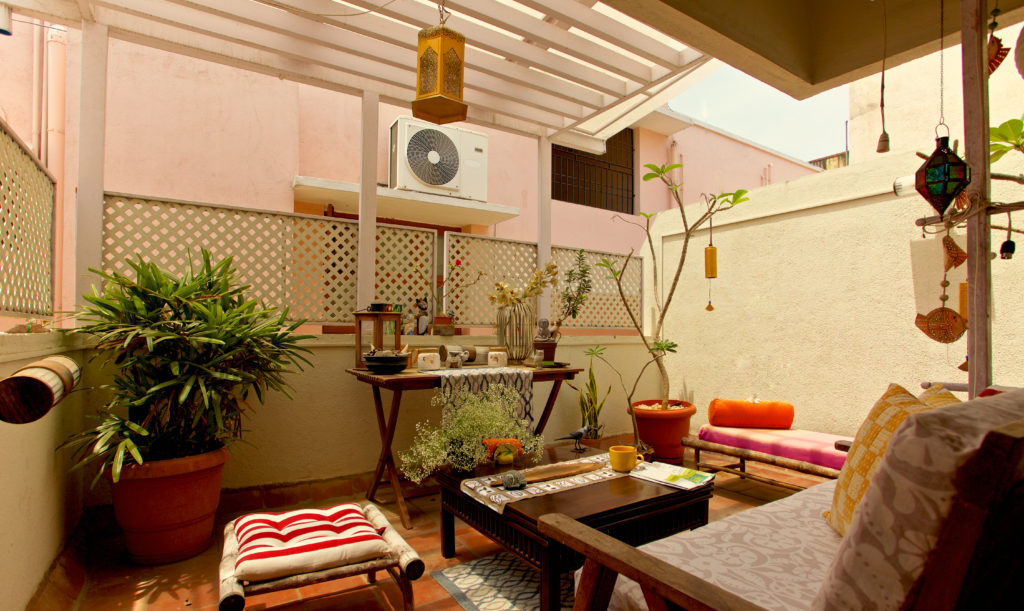 As a carpenter once told me "Amma, the teak tree remained long out in the open weathering every element before it became your table… do not worry!" such a practical insight and take on easing up on your space.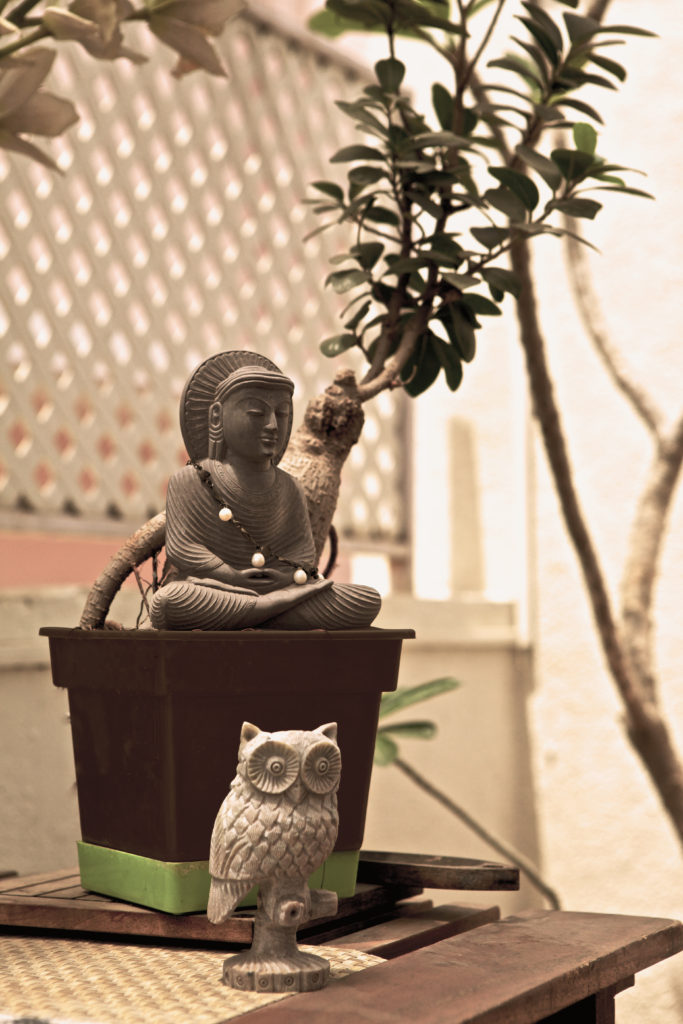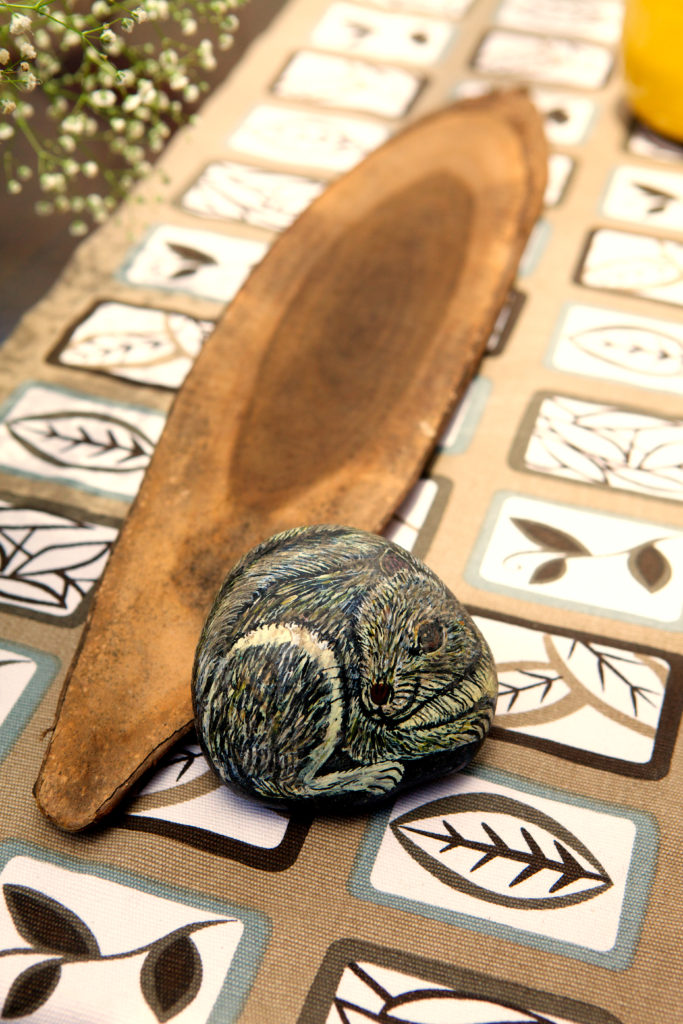 Handpainted rocks, ceramic and wooden birds keep us company out here. The weathered diwan and stools are part of the first furniture pieces my parents bought when they got married in the early 70's for a princely sum of Rs. 100/-.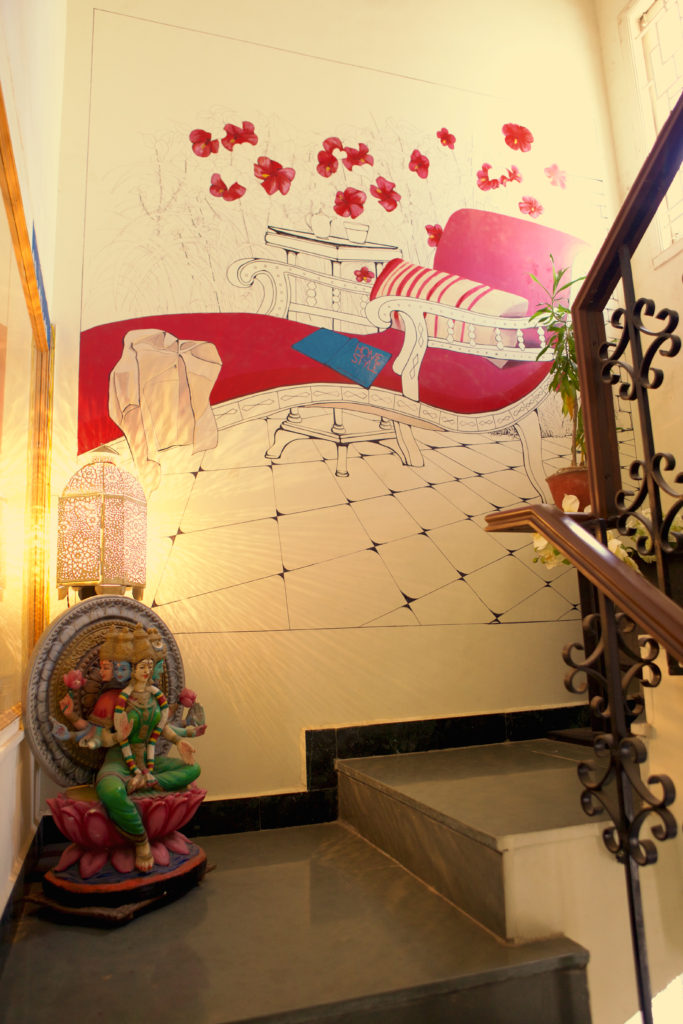 This beautiful form of Lakshmi in POP was found abandoned by me in a dumpster during the morning walk. An old house giving way to a new high rise saw all its beautiful embellishments on the gate consigned to the bin. Restored and cleaned, it sits on our landing. Alongside we have a painted wall in Indian ink and colour capturing starkness and profusion that can co-exist in balance.
That was Sujatha Giri taking you on a tour of her beautifully-decorated apartment. Don't you love the way the stories and little nuggets of information that she has shared here? This is the essence of the home decorating style The Keybunch loves to portray. This is a home, in its true sense, with old and new, smudged, cracked and restored, rescued, upcycled and refurbished pieces that are closely woven into a home owner's life and loves!
Photocredit: Sujatha Giri
Please do not re-use, re-publish or modify without permission.