Ceiling fans can enhance your décor and there is a mind-boggling variety of ceiling fans out there to do just this! Surprised? Well, it's true. Ceiling fans don't just cool you down, they add an interesting dimension to the top-most area of your room. And if you think that ceiling fans come in boring neutrals or the standard old style, I would love to tell you about The Signature Collection from Luminous, a company that makes some of the best ceiling fans in India, that come in a whole assortment of tasteful new styles and designs!
Ceiling fans and décor
If you are already cringing at the idea of calling ceiling fans as a décor element, then think again. Even interior designers often neglect to guide homeowners on thoughtful and careful selection of ceiling fans because they don't think it's important. However, if you take the time to understand ceiling fan styles, you will love how it will enhance your décor instead of taking away from it. In fact, when I came across the sheer range and variety that Luminous offers in designer ceiling fans, I decided to invest in them for my home too! What's more they are a #MakeInIndia brand, and I am certainly someone who loves Indian, and prefers to buy Indian!
Today I would like to talk about the range that I most identify with – The Signature Collection from Luminous.
JAIPUR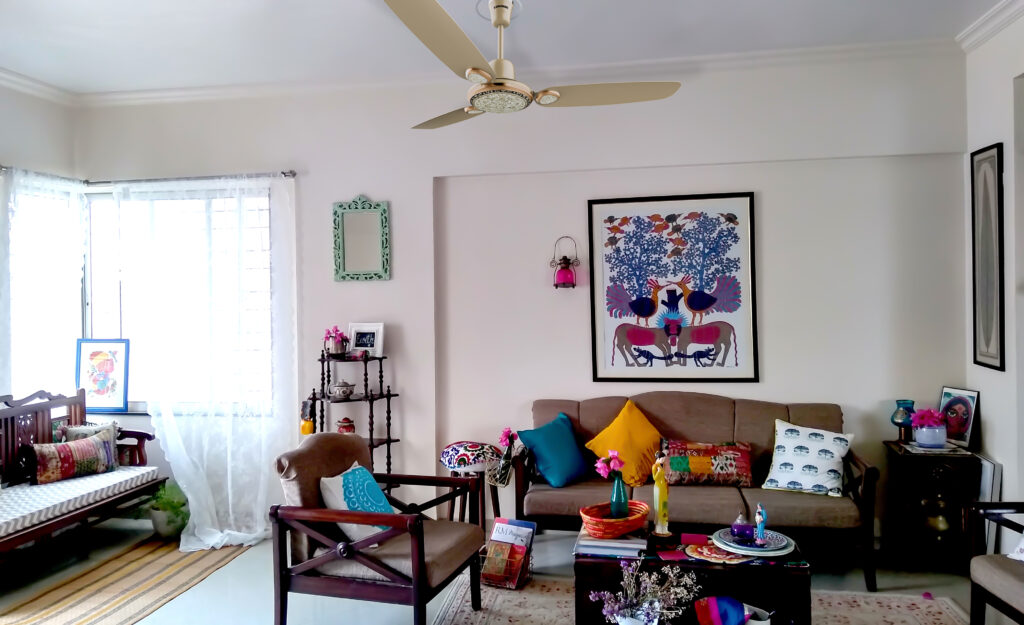 It's an eclectic space and keeps changing – so I decided on a fan that had an Indian vibe, yet would go with any design Jaipur Sanganeri Thar Gold. I did the logical thing. Instead of trying to match my fan to my ever-changing décor elements, I matched the fan with my couch – even if I change my couch colours in future, I am sure it will be a colour close to the fan colour, as I am inclined towards grey sofas. This is from the Jaipur range of Luminous Signature designer ceiling fans. Let me tell you more about this range.
This image is photoshopped, as because of the quarantine and related issues, I had to put off the actual installation.
The Jaipur line of Signature fans has a lovely, traditional theme to it. They are fans reminiscent of the intricacy and the delicate aesthetics of the Pink City! It's invocative of the artistic interiors of the Mahals of Jaipur, and the history buff in me revels at the thought of this! The fan is inspired by the traditional textile art forms of "Sanganeri" prevalent in Rajasthan.
In the Jaipur range, there are other options too such as Ghoomar and Minakari. Ghoomar reflects Jaipur's gorgeous handmade murals and patterns, Inspired by the ornate gold work found in the Mahals of Jaipur, with a gold filigree design, the first of its kind in the fan industry! The Minakari ones are my favourite – unfortunately they don't match my décor, so I will think of this model for my bedroom in the future! I love the design on these fans, inspired by the traditional textile art of "Minakari".
The designs in Jaipur fans are created using a special process of Tin Printing, again an industry first!
NEW YORK
I love contrasts, and I am going to take you far away from my living room in Pune, to a room that will help me introduce the New York theme to you. The Signature New York themed fans are inspired by the urbane vibes and vivacious spirit of New York. They boast of clean lines and a great blend of modern cosmopolitan flair!
Modern, luxurious spaces are ideal to house this fan.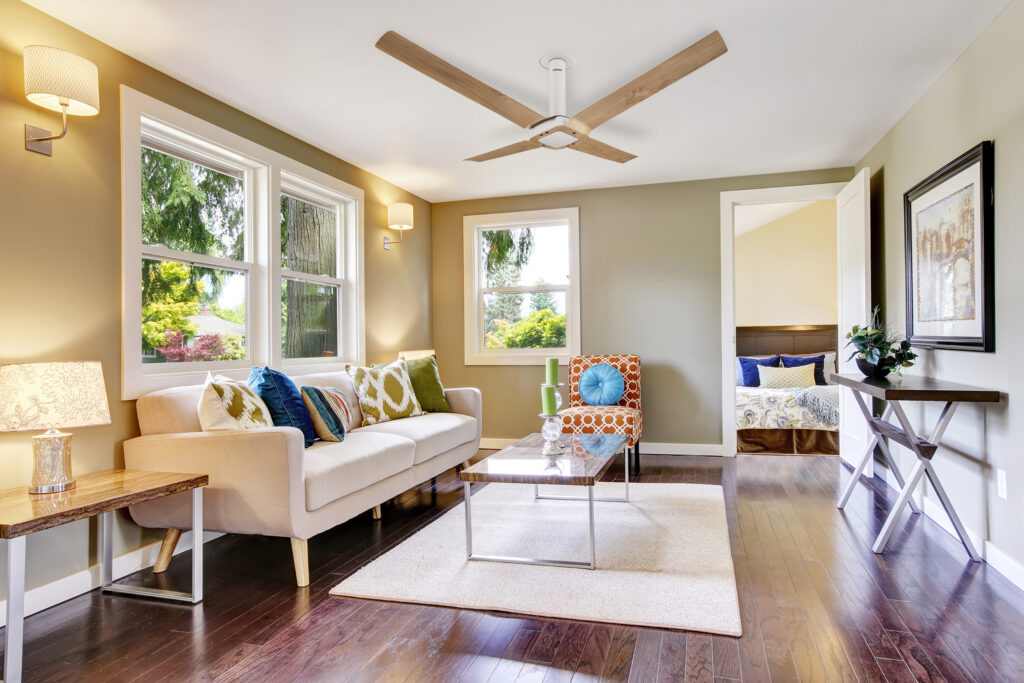 This is a room that uses the Madison fan, inspired by Madison Square in New York City. Its smooth pine wood finish and square design with 4 top and bottom mounted blades gives the room a modern, balanced look. The 4-blade fan is actually the first square fan in the industry!
I love that this light pine wood colour, which is a trending wood colour in India too, will perfectly match interiors that have furniture in lighter shades of wood, as opposed to more traditional darker woods such as mahogany, rose and even teak! Also, if you have metal and light wood elements with straight lines and a modern space like the room in the pic, this is a perfect choice!
In the New York theme you could also check out my other favorites, Brooklyn and Manhattan. As their names denote, these fans are sleek, modern and trendy. The Manhattan fan is inspired by the ambience of a typical Manhattan night out. It's a very stylish LED Fan with an IR remote control and 5 step light dimmer! So if you love these little tech enhancements and your home is decorated in a modern, global style, I highly recommend this fan!
LONDON
The London theme from Luminous is actually not modern-day London, but references mainly its colonial and imperialistic past. While a lot has been condemned about colonialism, one cannot debate the beauty of colonial architecture, décor and style! I personally lay allegiance to this style, and I was quite impressed by the Signature Big Ben fan.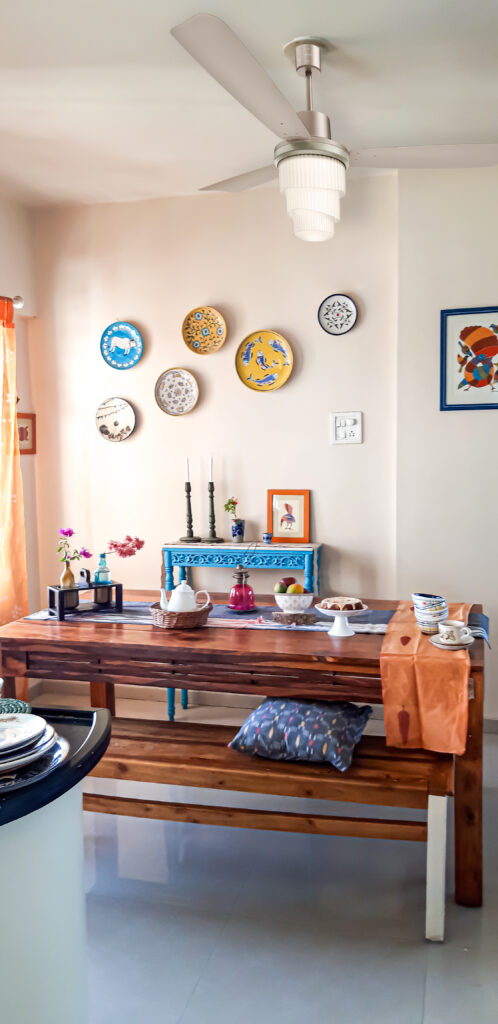 The minute I saw the Big Ben fan, I knew that my dining room was just perfect for it. Besides the blend of modern and colonial, I loved the fact that it has both a light and a fan, because my dining space has just one central point – and even if I added two, it would not look good. When we moved in here, though I would have loved a romantic overhead light fixture, we had to fit a fan, because practicality won! Now, I am glad, I can have both a light and a fan!
Even though my dining space is colourful and eclectic, the colonial candlestands are sort of a permanent fixture here, as is the wooden table, and for me they are enough to justify the colonial style Big Ben fan! The people at Luminous were happy to acquiesce when I requested them to digitally create this image of my dining room with the fan in it, and I love the way it sets off my room!
But wait, in case you don't want something with a light fixture, the Mayfair fan is ideal! It is a graceful ode to the Tulip flower. This fan adds an exquisite touch of class to your home. It's also an easy clean fan that repels dust! And if you are looking for the opulence of the Imperial age, the Windsor boasts of colonial style filigree work on the blades, with the use of gem stones, again an industry first!
RIO
And finally, I would love to show you a fan that is flamboyant and draws inspiration from the carnivals of Brazil – the Rio Collection from the Luminous range of Signature fans!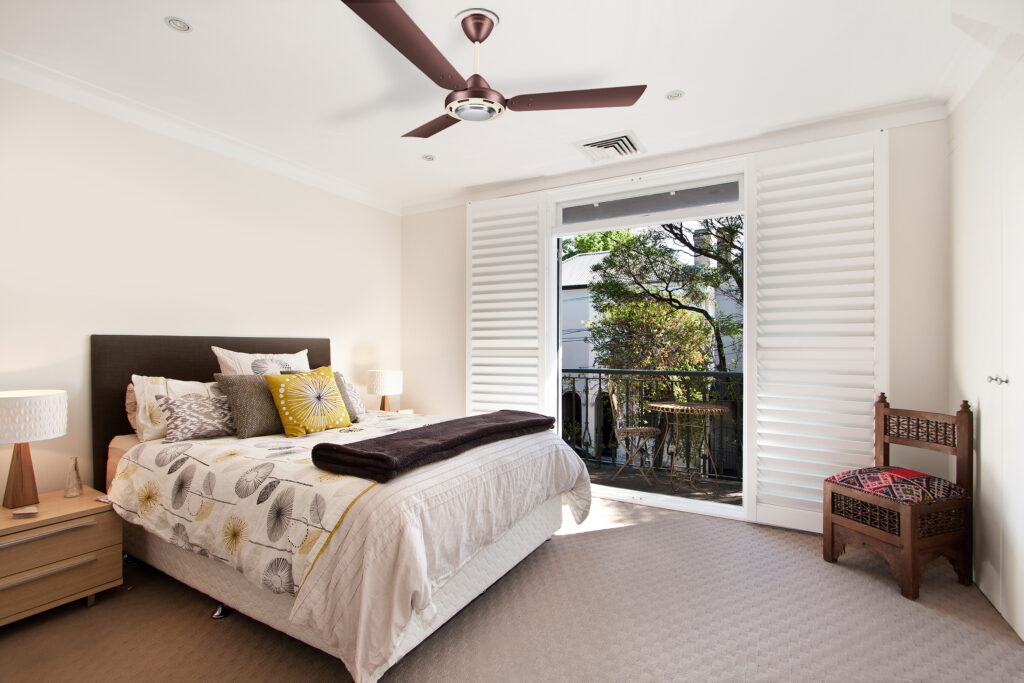 This bedroom is practical and functional, but accessorised well with some subtle colours. I love that the burgundy of the Sangria takes off from that carved accent chair, with ethnic fabric, a surprise element in a functional room! The Rio BelAir Sangria fan is bold and beautiful. It's a great addition to a room either as an accent pop of colour and invokes the spirit and energy of Rio's festive vibes!
The Cabana fan of this collection takes you to the beaches of Rio, reminiscent of a break from sunny sands in a cool cabana! The Belair fan is both vintage and modern because it is inspired by the sleek finish and shine of a Belair vintage car that used hubcap plates inside the wheels. This fan has wider blades for a better air thrust!
Tips and takeaways
I recommend that you select a ceiling fan last, after all the décor elements are in place, because the ceiling fan needs to enhance your décor, not take away from it!

The recommended height for a ceiling fan is 8 or 9 feet above the floor for the most optimal airflow. But if your ceiling is low then consider placing it at 7 feet from the floor.

Apart from checking the design and airflow, it is very important that you buy from a good manufacturer. This is because a good manufacturer takes care of the motor quality, blade quality and the current regulations pertaining to ceiling fans. This means that you can implicitly trust a good brand to conform to high quality specifications, with absolutely no worries!
Take this fun quiz now!
Here's a fun quiz that will give you a fair idea about which of these fans will look good in your favorite space!
Do connect if you would like to seek help on how to choose a fan from the Signature range by Luminous for your home's décor. A sense of style can truly make your ceilings sing!
If you would like to add these images to your Pinterest boards, we have already pinned them here on Pinterest, so click and pin away!
This blog post is sponsored, but the ideas expressed, and the choice of fans for the feature, as well as the inputs on the rooms are entirely mine!