T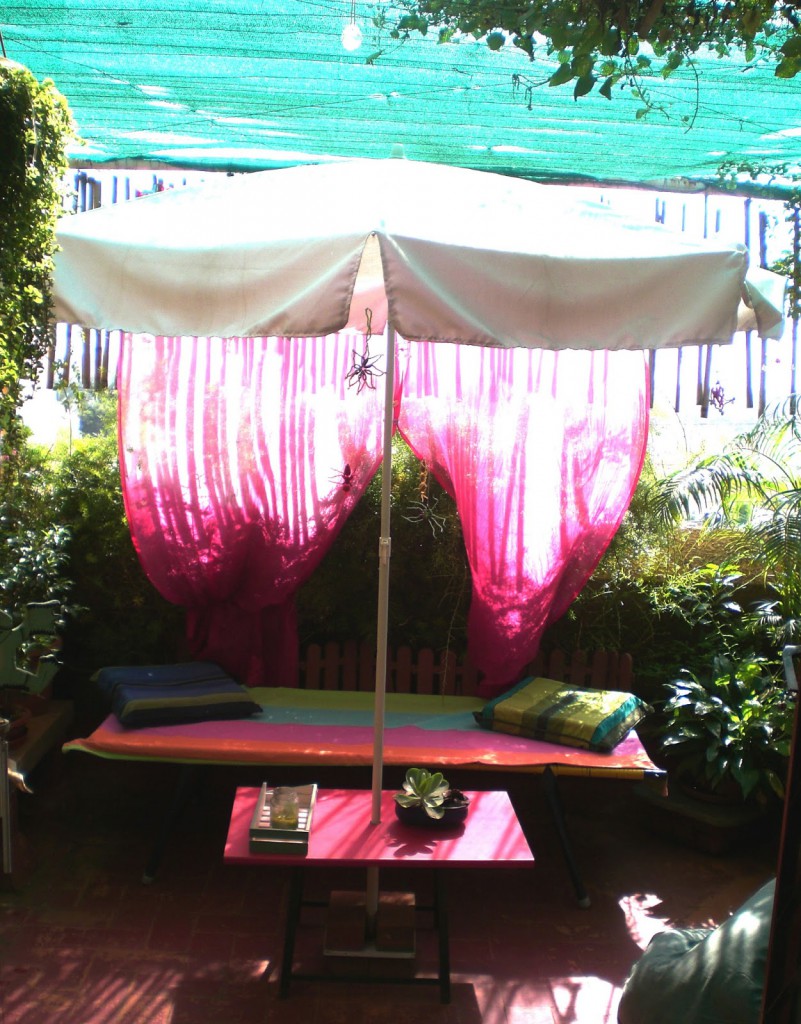 otal
Incidence of Cancer in Canada
It's the 14th of Feb, and here is a love story. Home love! Vineeta Nair had a recent contest on Facebook and that's where I got my first glimpse of Seema Singh's home. I contacted her, and Seema was happy to email me immediately with pics of her home. I will hand over this blog post to Seema, as she tells you her home story!
——————————————————-
I am Seema. I have been married for 23 years, and I have changed homes all over India
12 times! My home reflects my style..all things quaint & wonderful. I
love eclectic decor and every piece has a story to tell.I love
looking into nooks & crannies in all the places I visit.especially
flea markets. I have the attitude of a Blue Jay…collecting things to do
up my nest.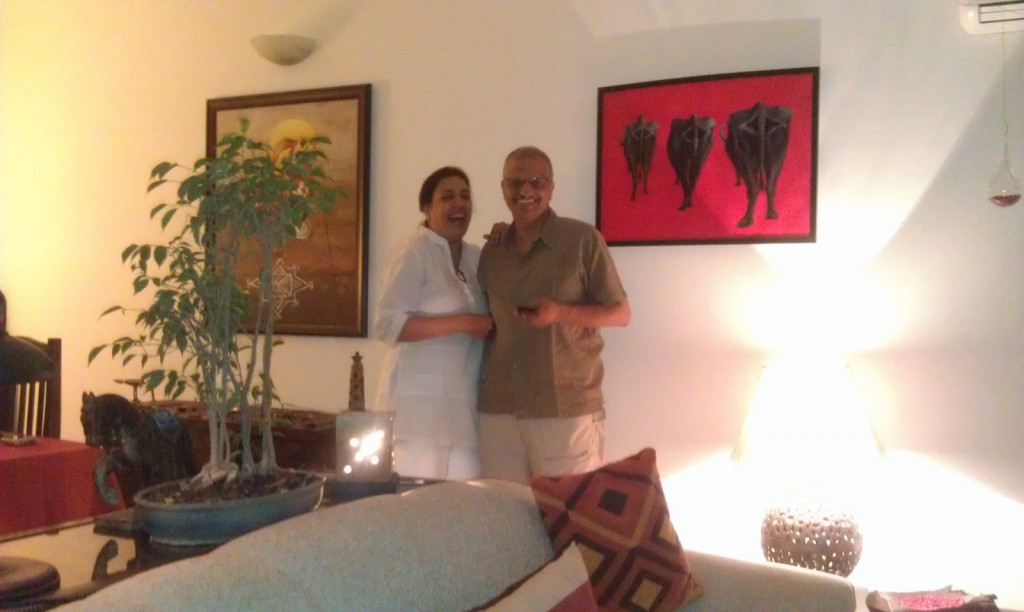 Seema and Rakesh at their home
My home has an old world charm & things handed over the
generations belonging to my grand parents.My garden is my pride &
joy. I believe that every home has a soul. This is a snap shot of my
life with loads of simple abundance & love.My husband Rakesh puts up
with all my kinks whether it's helping me load (a lovely!!) boulder in
the car boot or stopping the car
on the highway so I can pick pretty seeds off the trees!
Here's a peek into Seema's home, as she personally gives you a guided tour.
Look at the painting of the Afghan lady on the wall
The afghan lady with the cage on her head caught my eye. This was a prize winning pic on National
Geographic a couple of years back.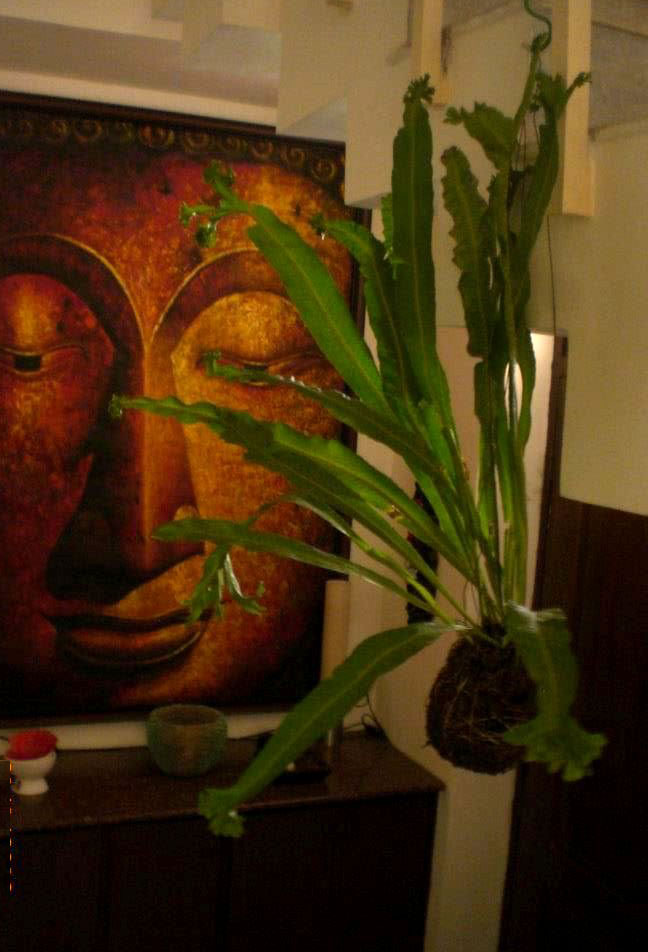 I got this pic of the Buddha from Bangkok from a street artist. In
the forefront in my kokedama(a Japanese varient of bonsai)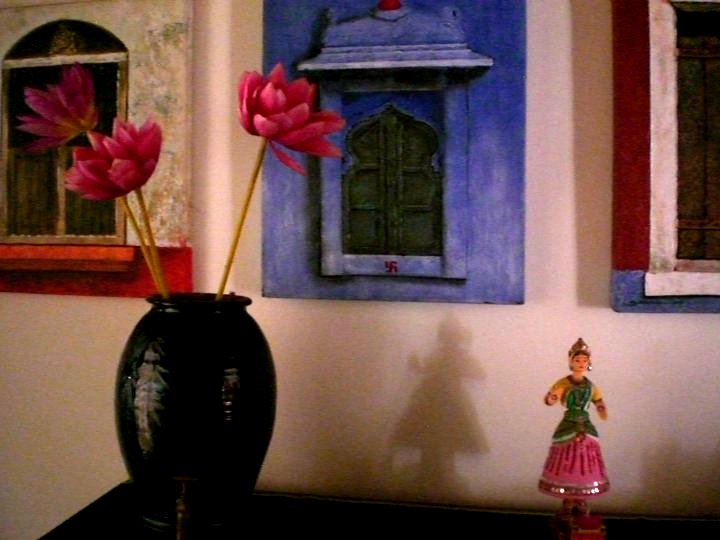 My favorite place to pick paintings is at the Chitra Santhe. This was a series on doors.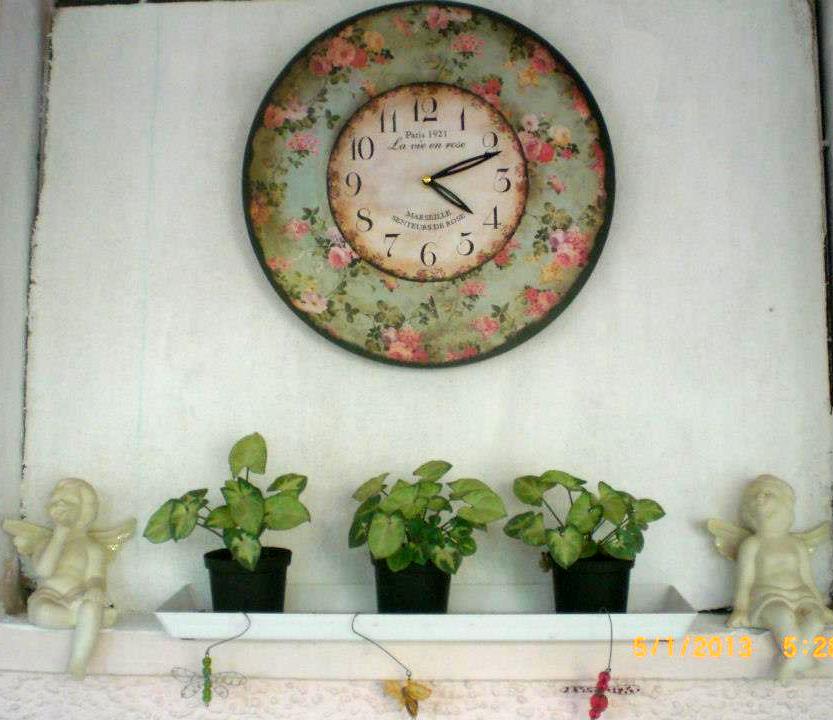 My garden clock picked on my recent visit to Bangkok from a small wayside shop.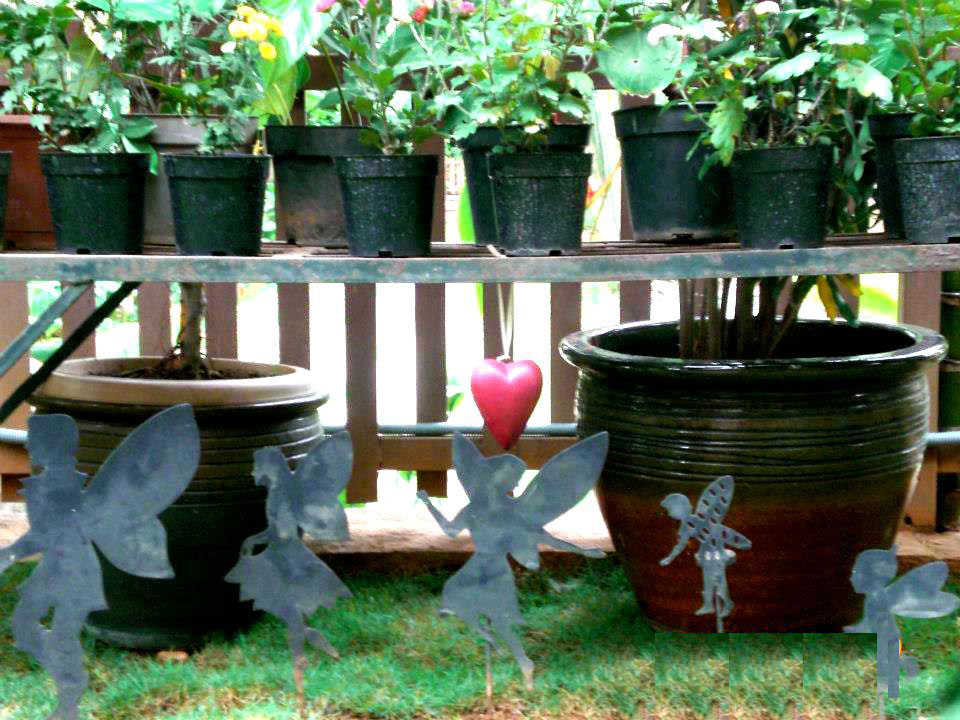 The wrought iron angel stakes from a flea market in Old Delhi's crowded by lanes.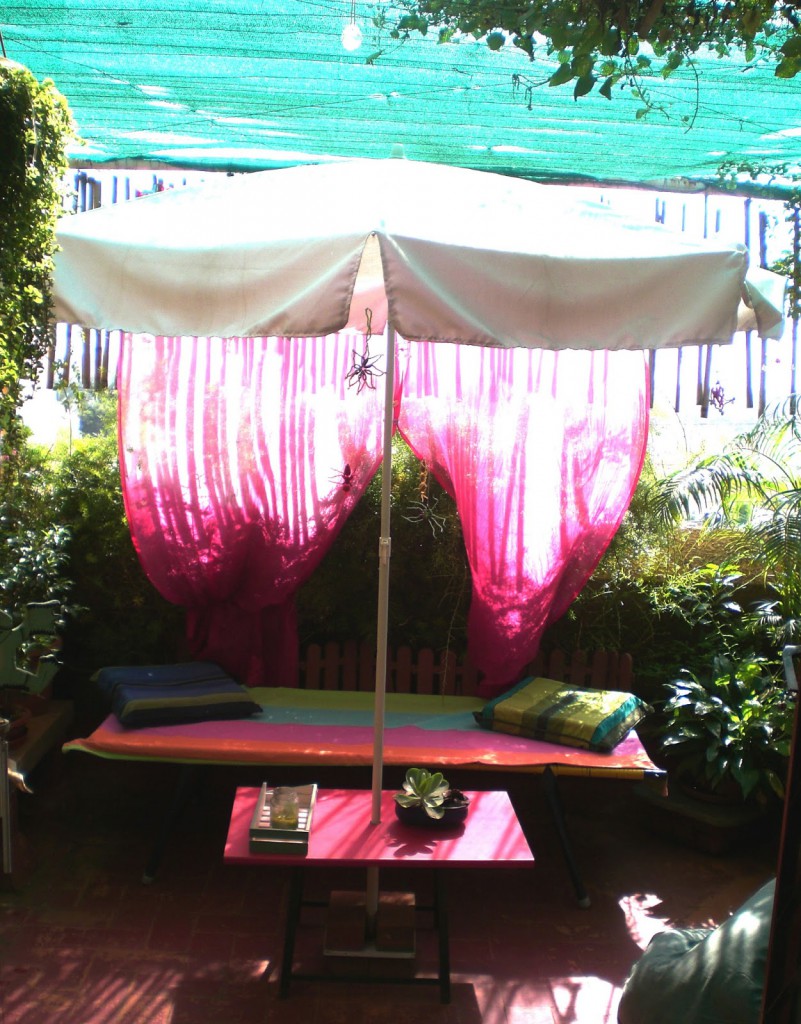 My bedroom deck where I get my thoughts together before facing the madness waiting!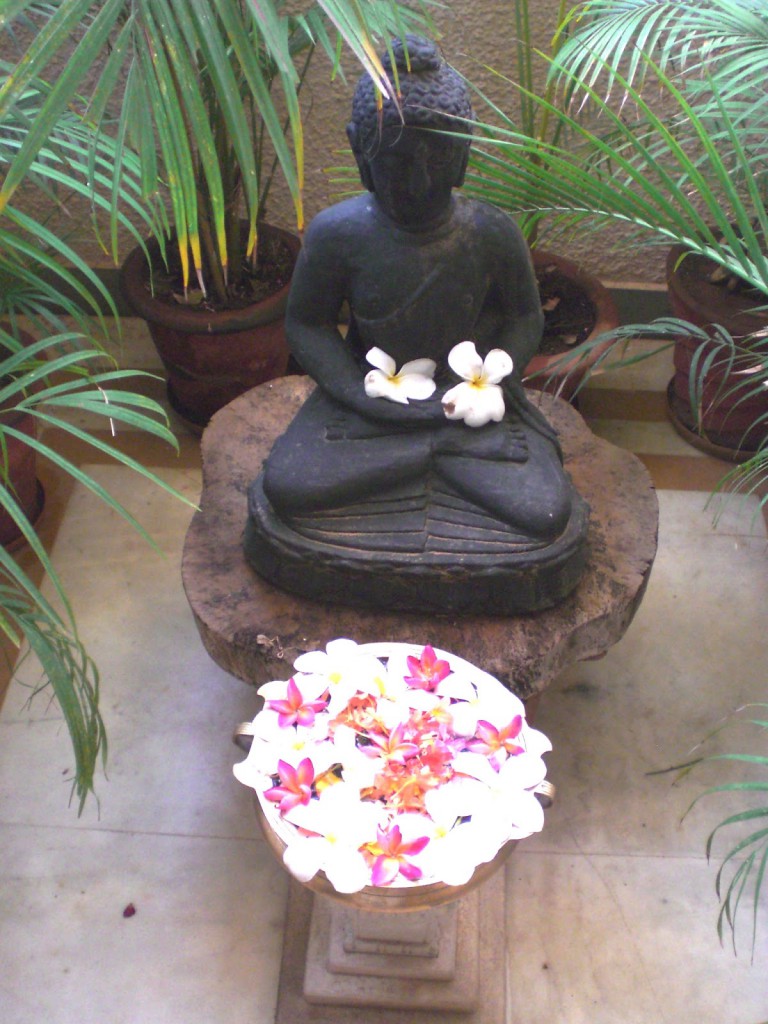 The calm Buddha in my garden.
Another chitra santhe pic. This picture brings back a lot of fond
memories of my childhood when my gradnmom woke up at the crack of dawn
to do the rangoli before anyone left home.
My kitchen board & the quirky grooms wanted bags! (I have 2
girls 20 and 22 yrs old who I keep threatning with marriage!)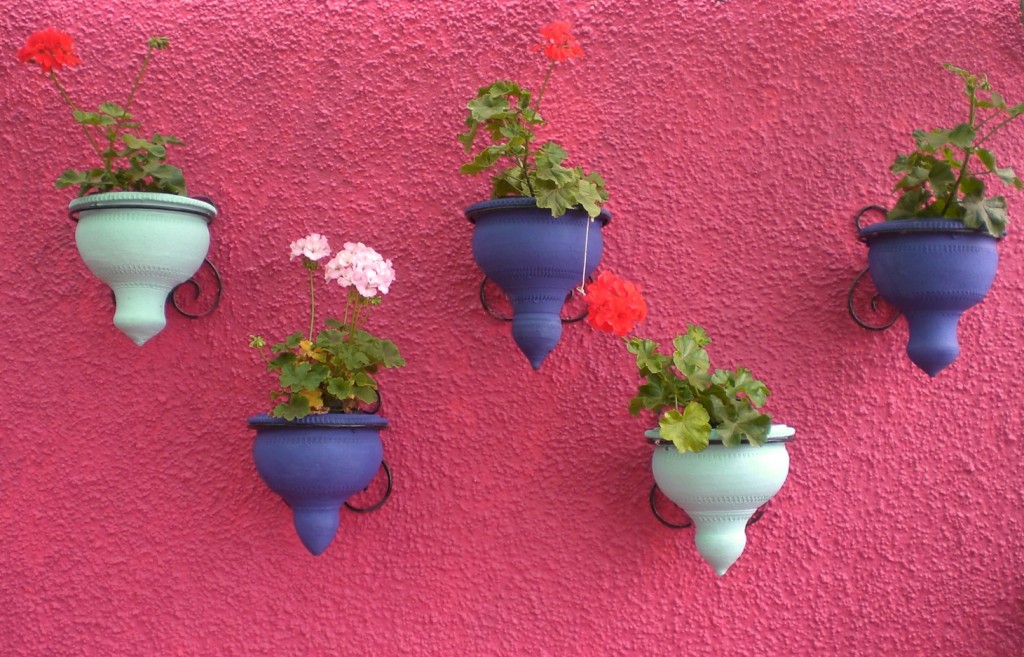 My fuchia wake me up..pick me up wall. The pots from My sunny balcony never cease to make me happy!
I love growing my herbs & the harvest is depicted in the pics above wth the
colorful bull from Jew town in Cochin & the Monk from Thailand.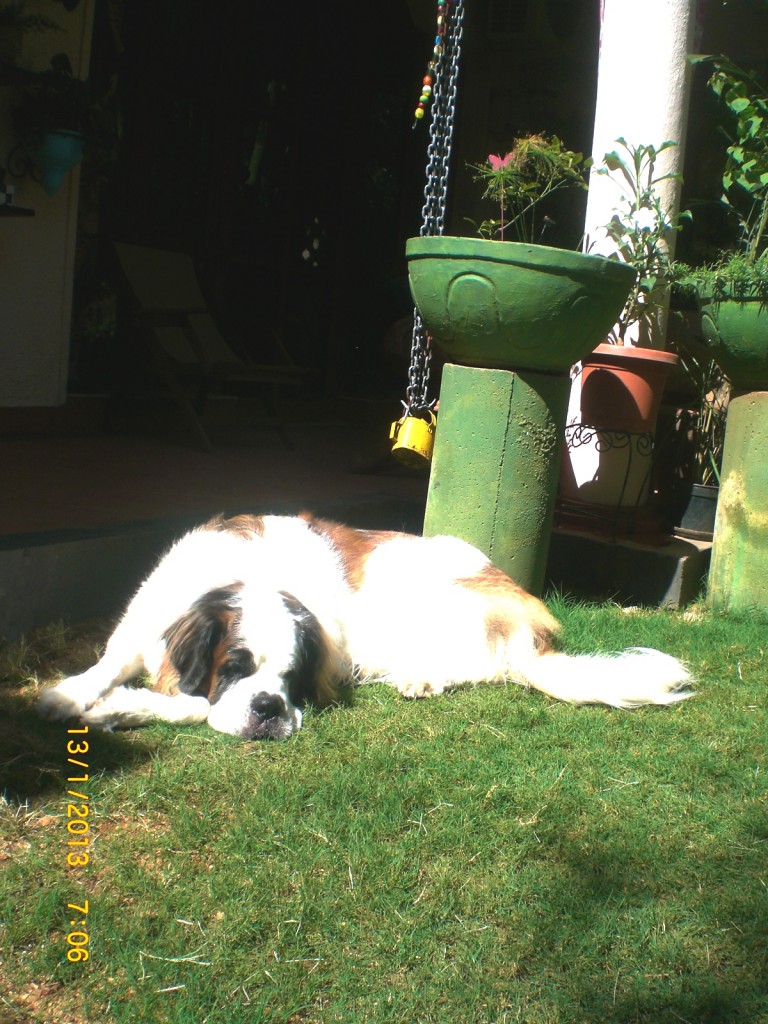 I feel no home is complete without a pet & Lola here is the queen of all she surveys!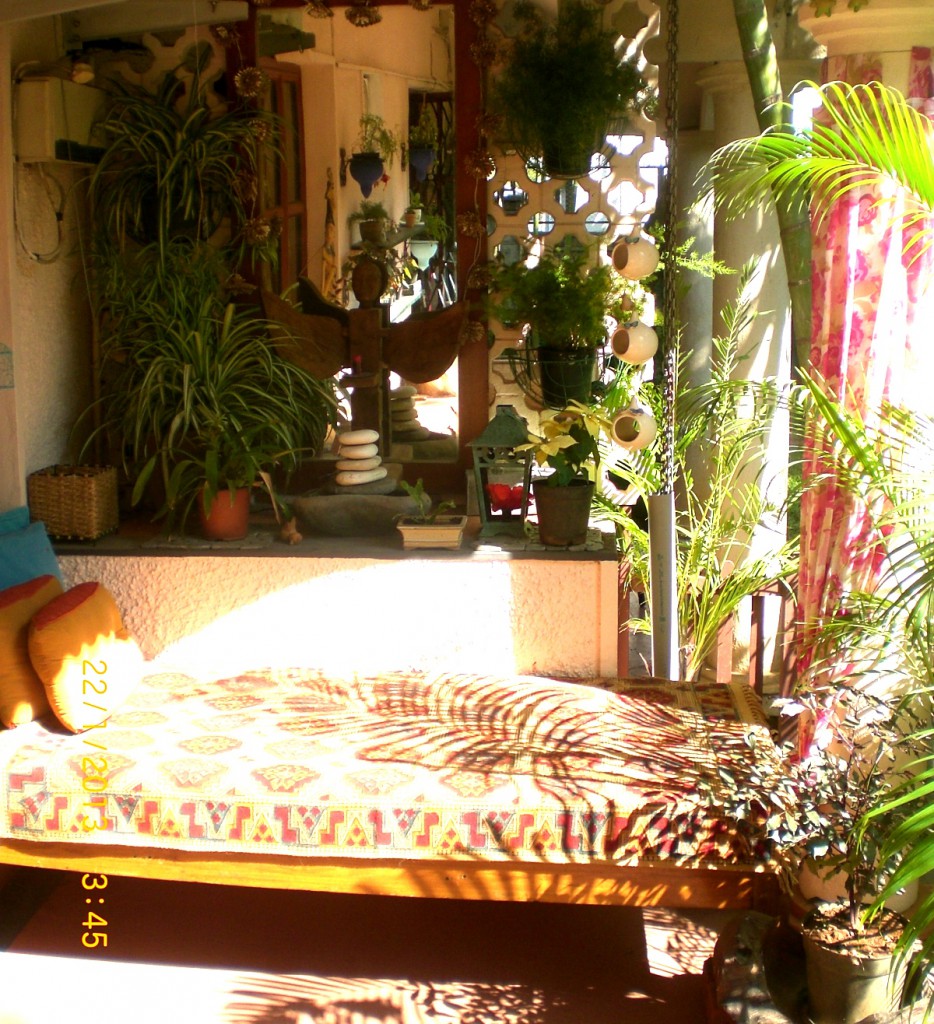 The sit out in the garden on a lovely winter morning.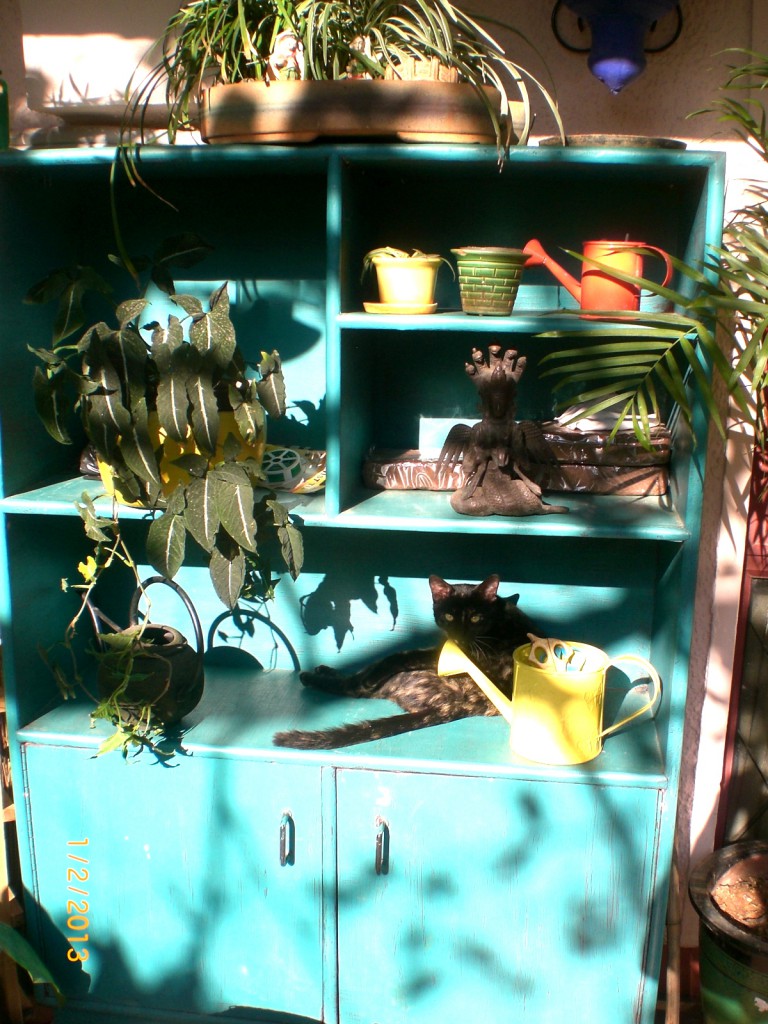 The recycled shelf has been given a new life with a lick of teal &; Jiji the adopted stray
kitten has made it her home!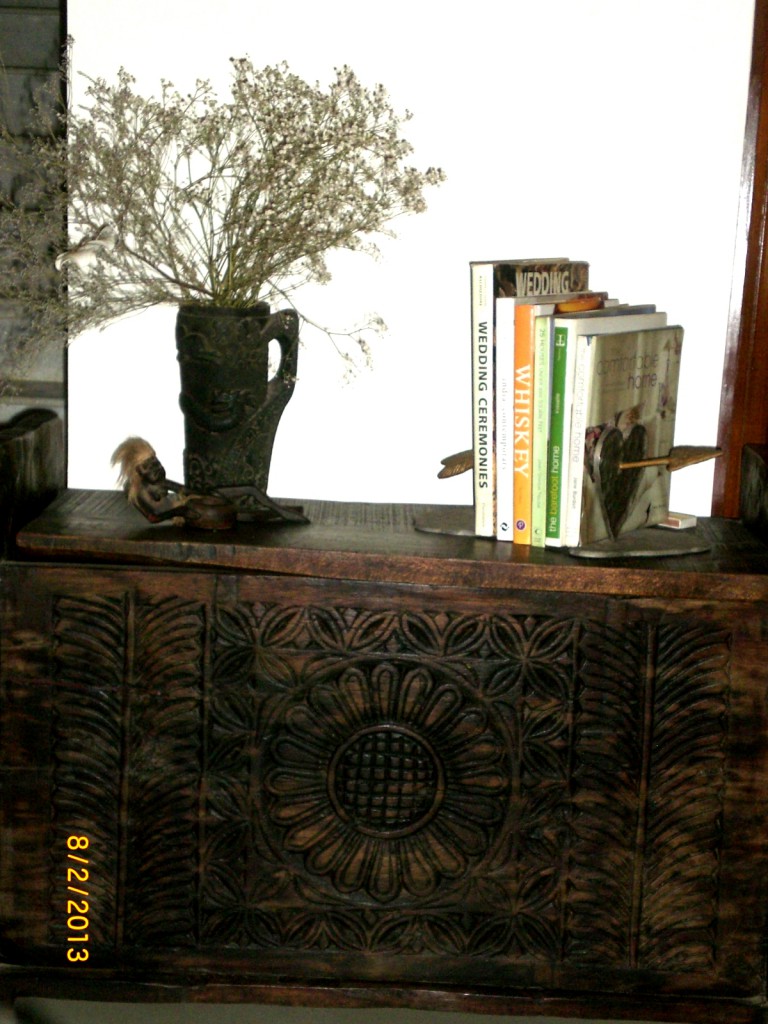 An antique Himanchali dowry chest handed down over generations on
which sits a wooden Wine jug more than a 100 years old picked from Jew
Town Cochin.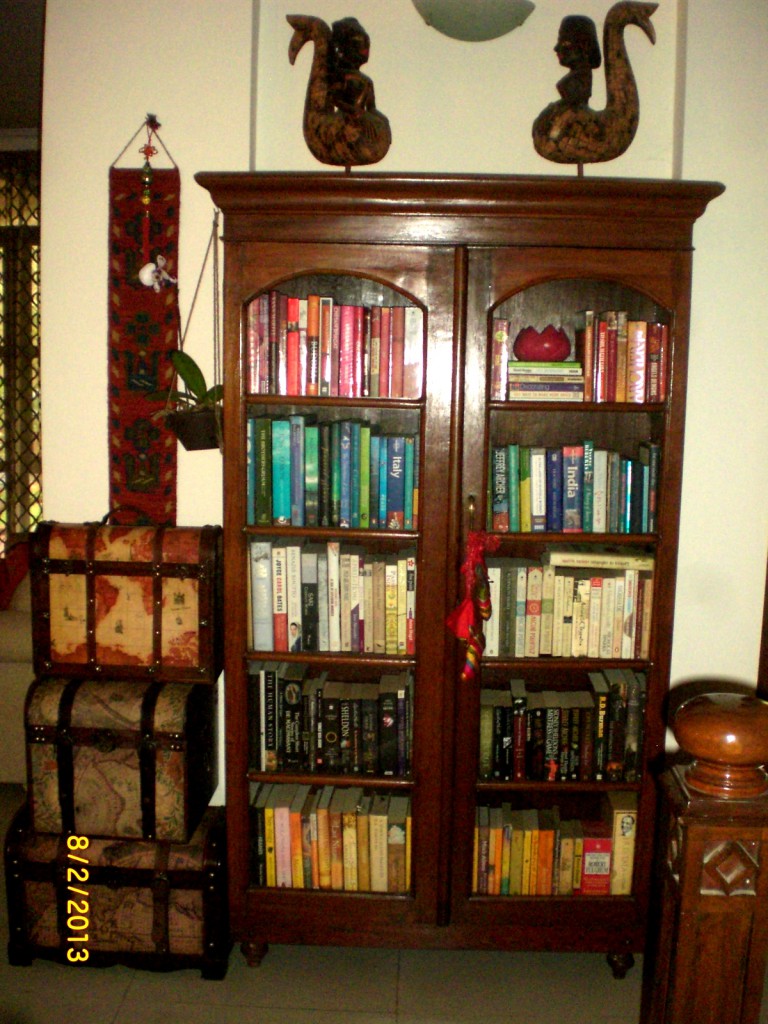 I am more scared of bookruptcy than bankruptcy.This lovely old
bookshelf was picked from an old
Parsi gentleman who was moving abroad. This was made in 1910!I love the
feel of old wood & the stories attached to each piece that I have
at home.
Thanks Seema (and Rakesh), you have a gorgeous home! And, dear readers I leave you all with this dreamy image of a birdcage gently swaying in Seema's garden, have a lovely 14th of Feb, everyone!