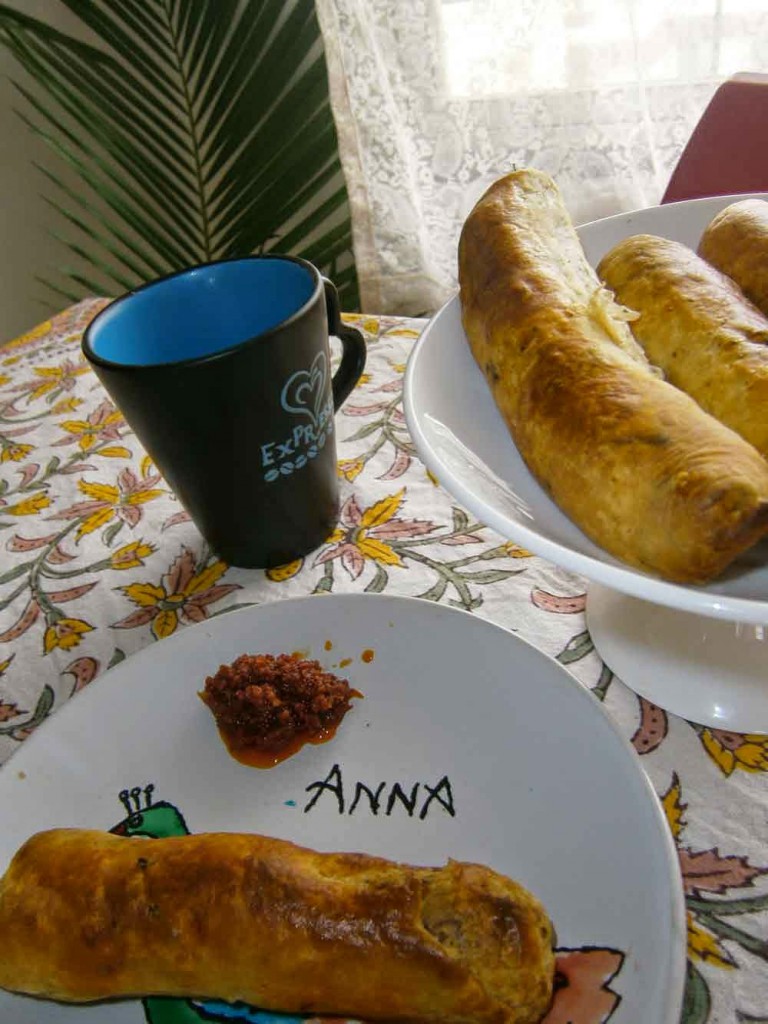 It's always a pleasure to eat something hot and fresh from the oven.
Weekends are just perfect for some morning baking. The smell of freshly brewed coffee and a baked goodie is irresistible. These sausage rolls are a long-time family favorite. In fact, I grew up enjoying my aunt's version of these. Over time I have tweaked the recipe a bit. I thought it apt to share the recipe on The Keybunch. This will be a first in a series of 'keeper recipes' from my home to yours!
Quick Flaky Pastry Dough + Sausage Rolls Recipe
Ingredients: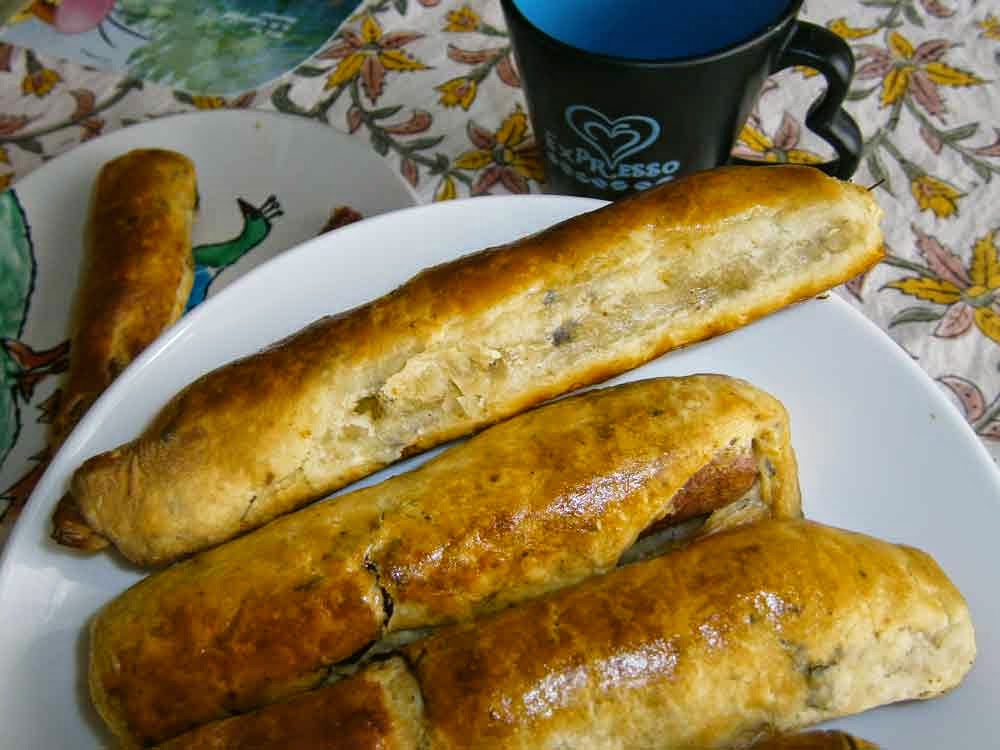 1-2 cups APF
1/2 tsp SALT
5 Tablespoons of GHEE hardened in the refrigerator "or" 5 Tablespoons of Margarine
1/2 cup ICED WATER
2 tsp LEMON JUICE
100 gram BUTTER
1/2 cup CHOPPED PARSLEY (you could use any other herb of your choice)
1 tsp GARAM MASALA (or more if you like it spicier)
2 tsp BAKING POWDER
1 beaten EGG
6 or more longish FLAVORED SAUSAGES
Method – Dough STEP 1
We will use ingredients numbered 1 to 8 from the list above.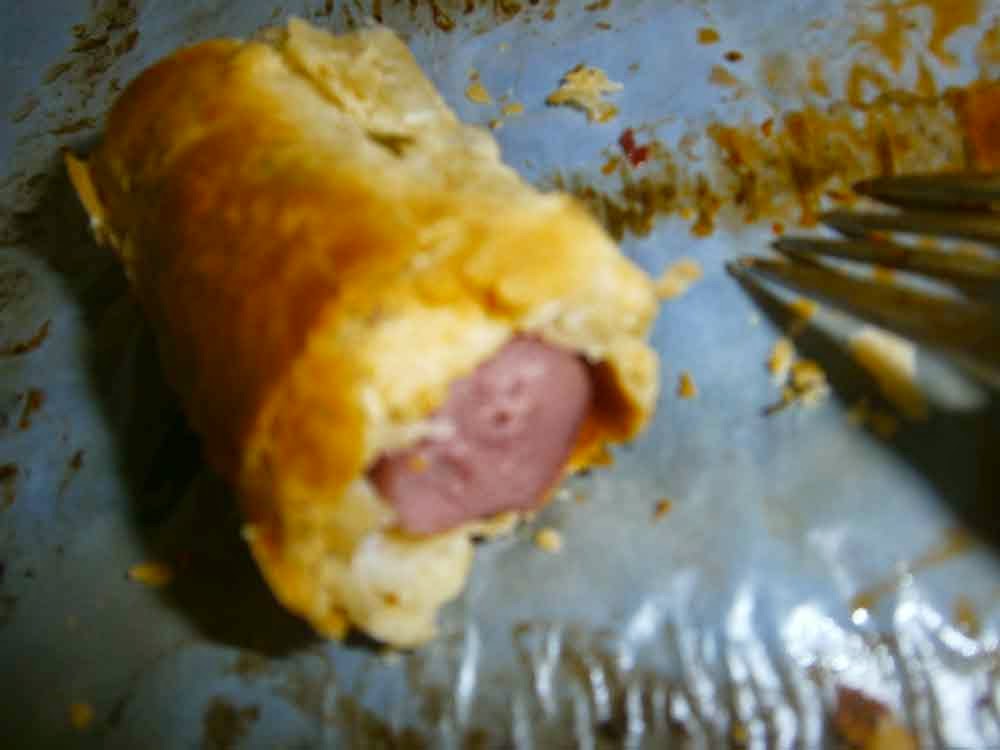 Make sure you are working with hardened ghee (if using) and iced water.
Sieve together the flour+salt+baking powder+garam masala
Mix in the chopped parsley/ the herb of your choice.
Now mix in the ghee quickly with a cold knife (try not to work it into the flour too much – you should still see little bits of ghee & the same goes for the margarine)
Make a well in the center and add in the cold water.
Lightly mix it all up till it forms a shaggy lump. Knead lightly (no elbow grease at all) and bring it together.
Chill for 1/2 hour in the refrigerator.
Method – Prepping the butter
Place your pack of butter in the freezer for about 20 minutes.
Then take it out, and lightly whack it with a rolling pin so that it is elongated and flattened slightly.
Chill in a refrigerator until ready to use.
Method – Dough STEP 2
Bring the dough back to your work table. Dust lightly with flour.
Place the beaten butter into the hollow of the dough, and fold the dough back on it, covering the butter completely.
Sprinkle a bit of flour on the it and gently roll it out to an even 1 inch thickness.
Now fold the dough in thirds, then into thirds again – you should get a layered square shape.
Wrap pastry in butter paper in a closed container and keep in the fridge for 30 minutes.
Repeat steps 4 and 5 a couple more times, careful to work quickly and lightly. Return once more to the refrigerator. It is now ready to use.
Method – Prepping the rolls for baking.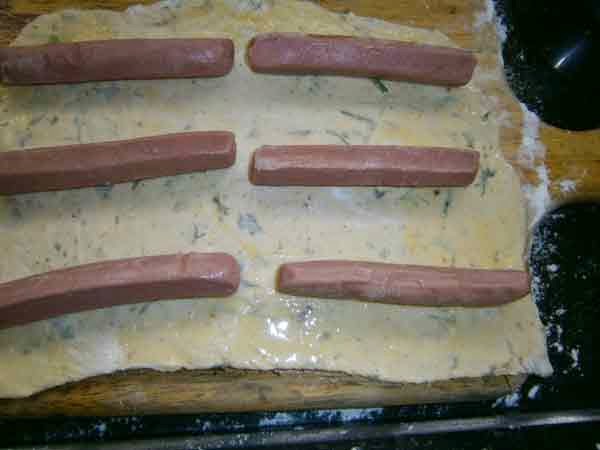 Make sure the sausages are thawed and ready to use.
Pre-heat the oven to 180 degrees.
Bring the dough back to your work table. Dust lightly with flour.
Roll the dough out as detailed in steps 4 and 5 above, two more times, lightly dusting it with flour as you work.
Now place the sausages carefully on the dough, leaving enough space in between.
Carefully cut out strips around each sausage.
Brush the sides of each strip with the egg wash, and fold over to encase sausage completely.

Arrange the rolls on a lined and greased baking tray, brush the tops with egg wash, and bake for 25-minutes, or until done.
Your sumptuous sausage rolls are ready! I served them with some basil tomato pesto.
Note: If you have dough leftover, you could either make more rolls, or freeze the leftoverss. This is a versatile pastry dough, you could use it for other savory baked goodies! PS – While there is nothing 'quick' about this pastry dough, it is actually the quicker version of flaky pastry. The actual one is quite elaborate with several 'turns' and resting periods in the refrigerator. 🙂