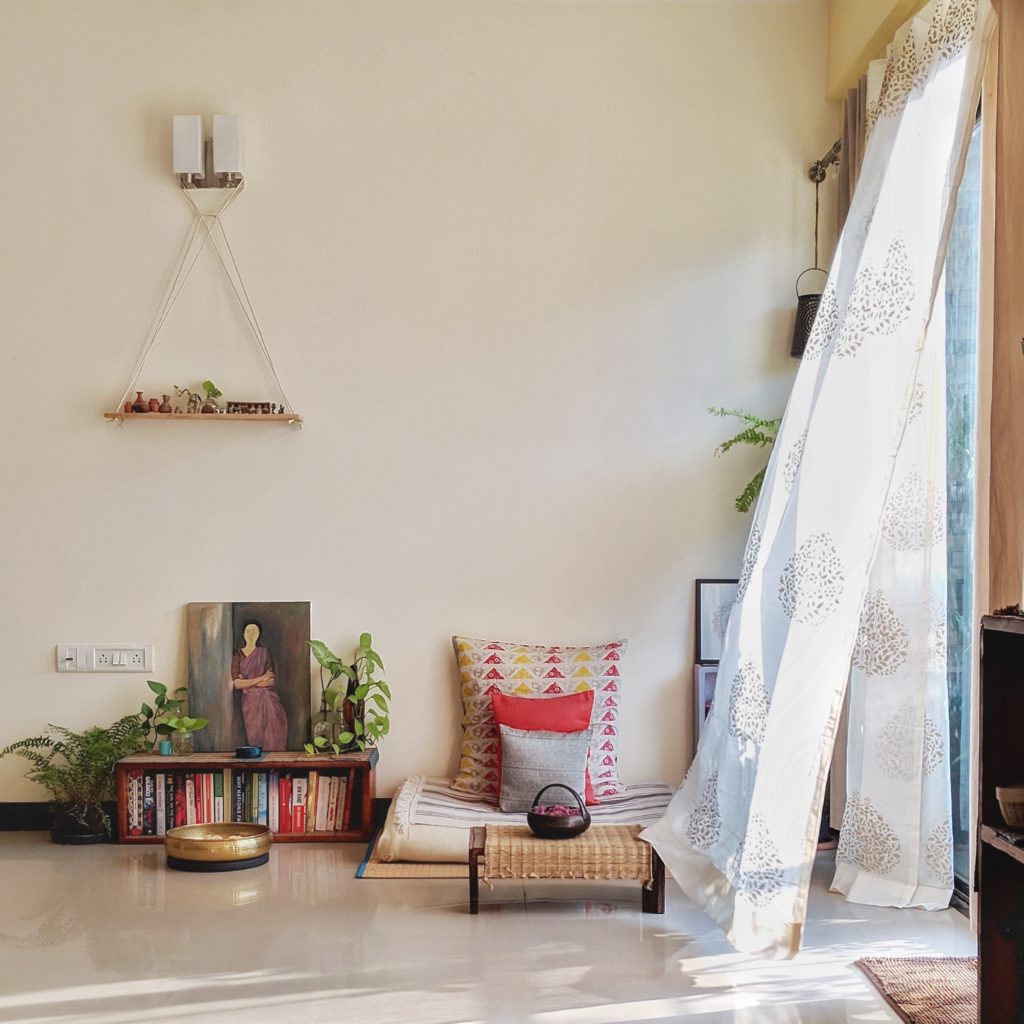 Location: Bangalore
Home: 1300 sq feet, 2 BHK
Residents: Friends Manali and Jayati
Bengaluru-based friends Manali and Jayati have design backgrounds, and their home is testimony to that! Luckily for them, they agree on each others' decor choices. Says Jayati, "We cannot recollect any instance of extreme difference in opinion. At the time of making purchases, it is a mutual decision. It has quite often happened that we end up liking similar things. When it comes to placing the elements, I think Manali mostly gives up, as I literally try out multiple combinations, moving around the house, owing to my obsessive compulsion. All combinations are validated by Manali. If she disapproves, the placement exercise continues or is kept there temporarily,
until a better option is discovered."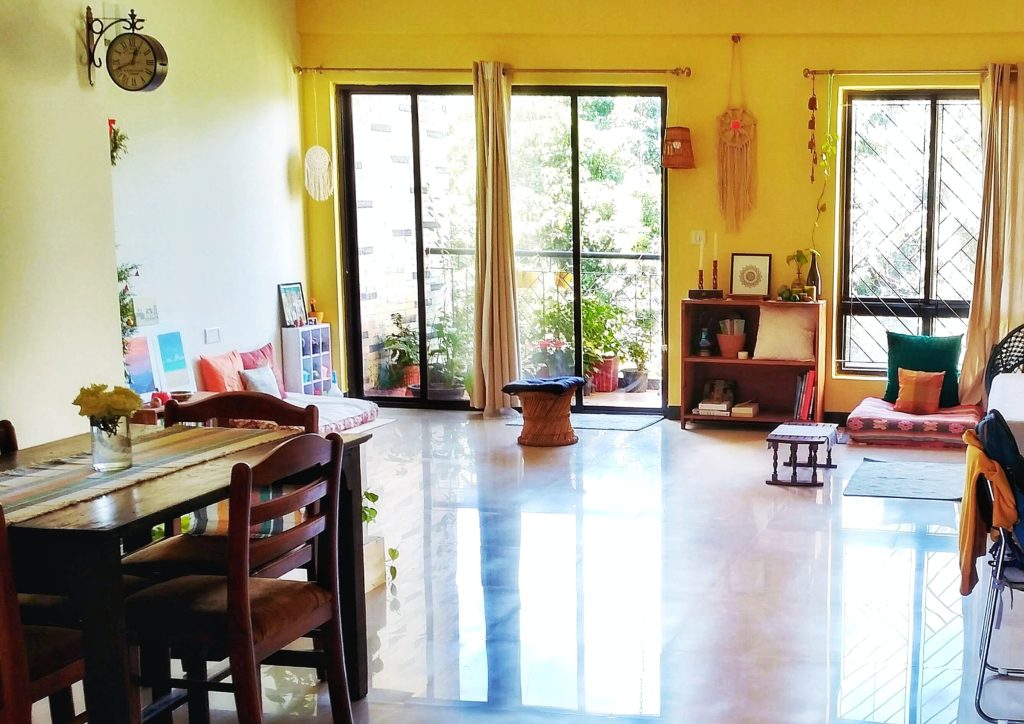 This is exactly the kind of home this blog loves. Heart-centered, with strong personal design ethics where the home dwellers put their best into making the space their own special hangout zone, surrounded by stuff they have bought together, with shared memories, anecdotes and their personal decor style reflected in every corner! Isn't that what a home is supposed to be?

A multipurpose dining space mixes style and functionality
The dining table is used by the duo to prep food, enjoy meals, decorate cakes and eat them too! One of their thrift buys, Manali and Jayati are really proud of this sturdy sheesham table. They like to adorn it with pretty table runners and some beautiful flowers and candles on special occasions.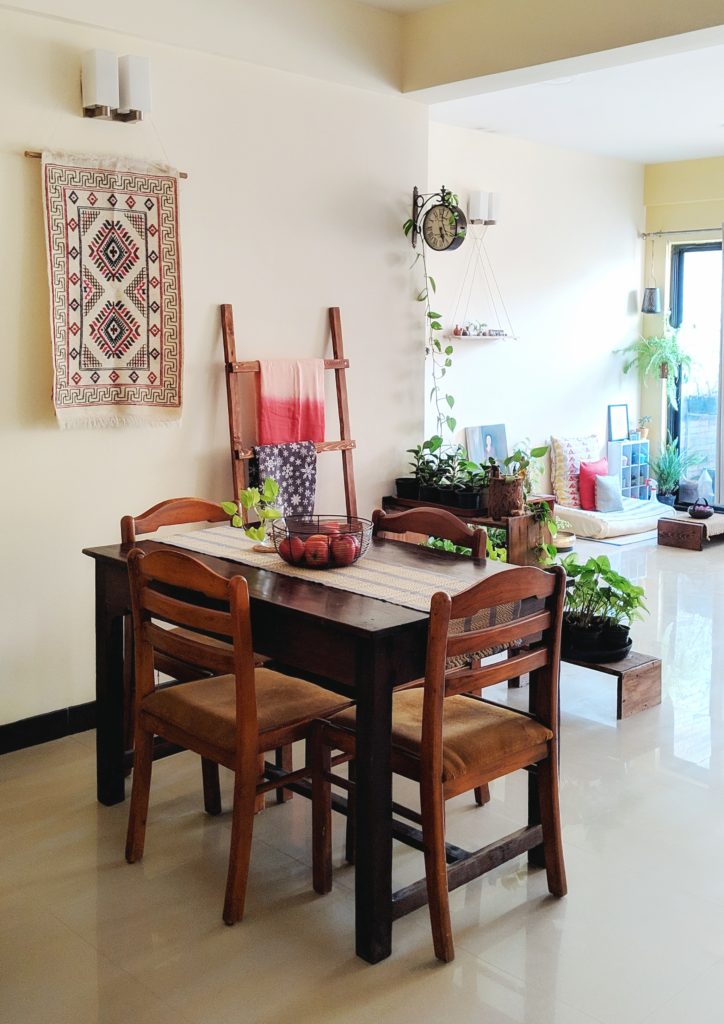 The wall hanging is also a table runner they procured from Bhutan. But they felt it needed a special place and visibility as well, and hence they converted it into a wall hanging.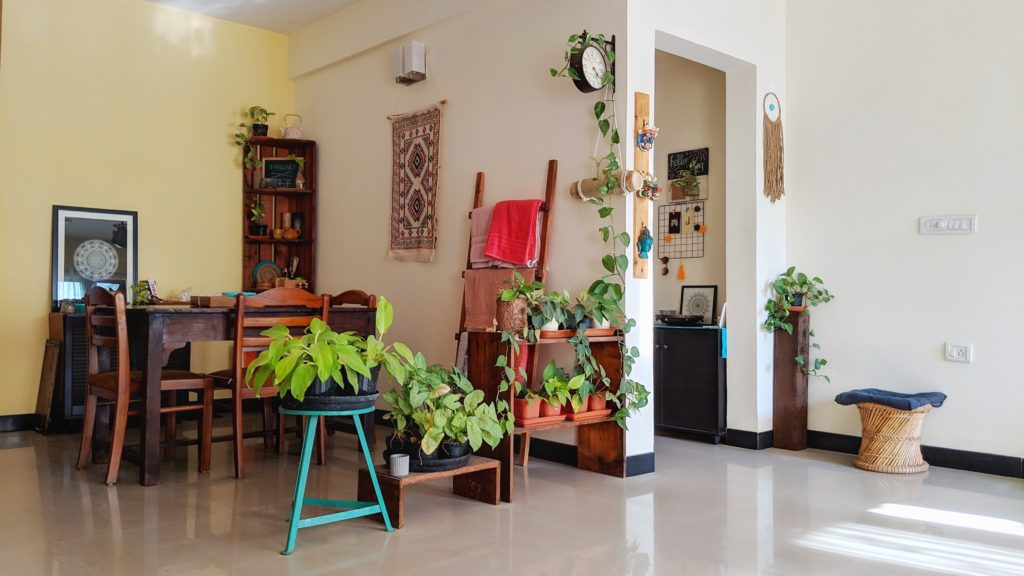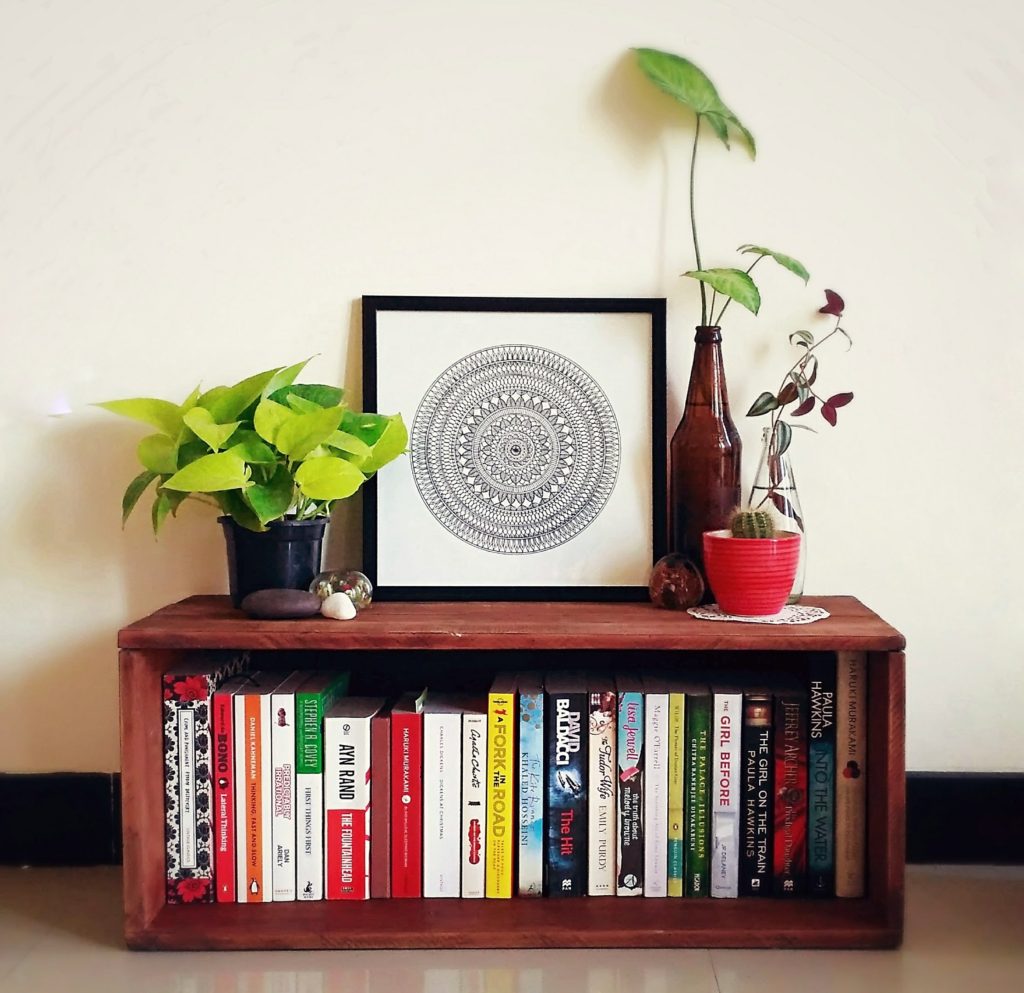 I ask them if they have a name for their unique decor style. I hear many of you whispering desi global. I agree, but that's too broad, and too convenient! The girls have a better answer. "We would define it as a combination of eclectic and jungalow. However, the focus is on ethnic and
rustic. But we don't stop ourselves from buying contemporary furnishings if we really like them. So, while using them, we make sure that they blend well with the other elements. Using earthy colours with a splash of accent furnishings, mostly based on seasons or festivals, we want our home to impart a feeling of warm, cozy and comfortable." I like that!
Pretty touches and a Lived-In Look for the Living Area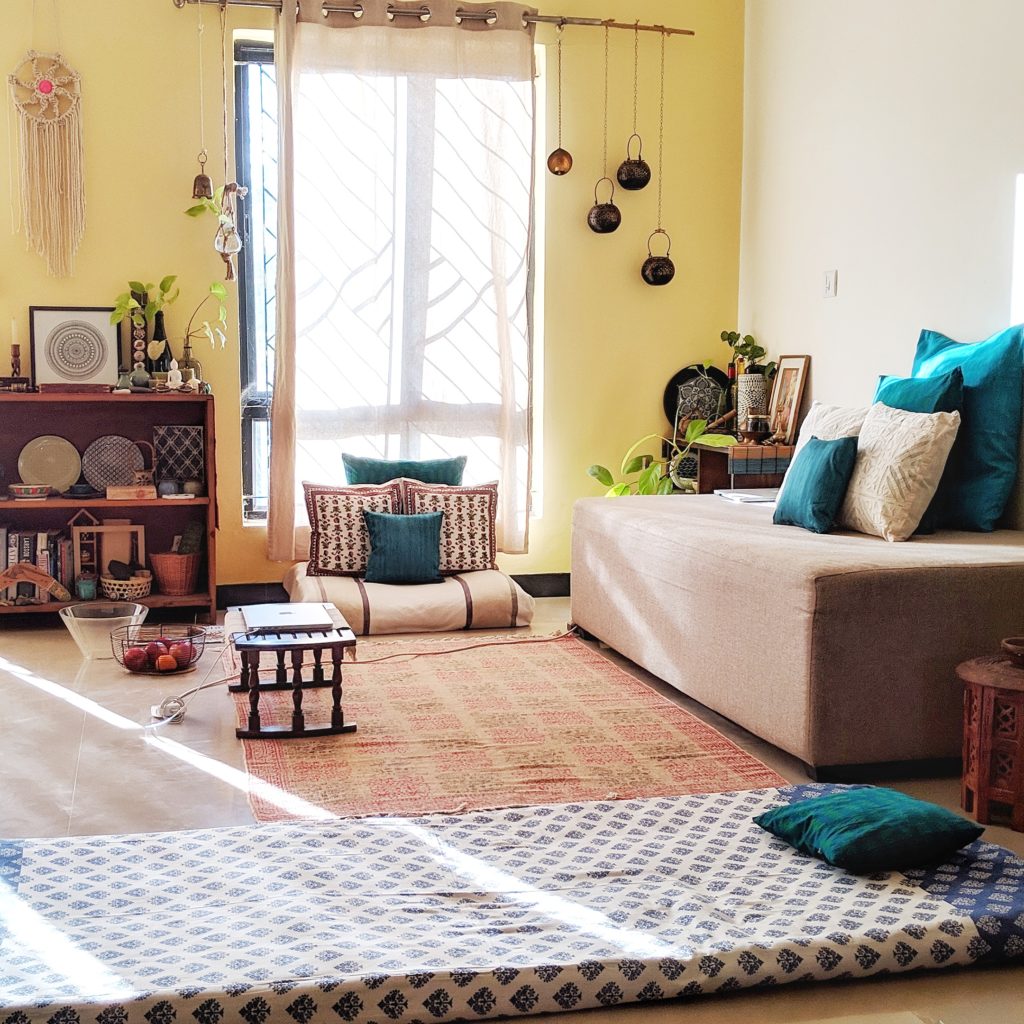 Says Jayati, "When we started designing the space, we wanted to make it look like a home, and not live like typical working individuals, co-sharing, not particularly making use of the common areas within the apartment. Being from a design background, we wanted to leverage the space and the creative freedom we had with this apartment. Also, both of us are not particularly outgoing and social, hence we wanted to create a space where we could spend most of our leisure time."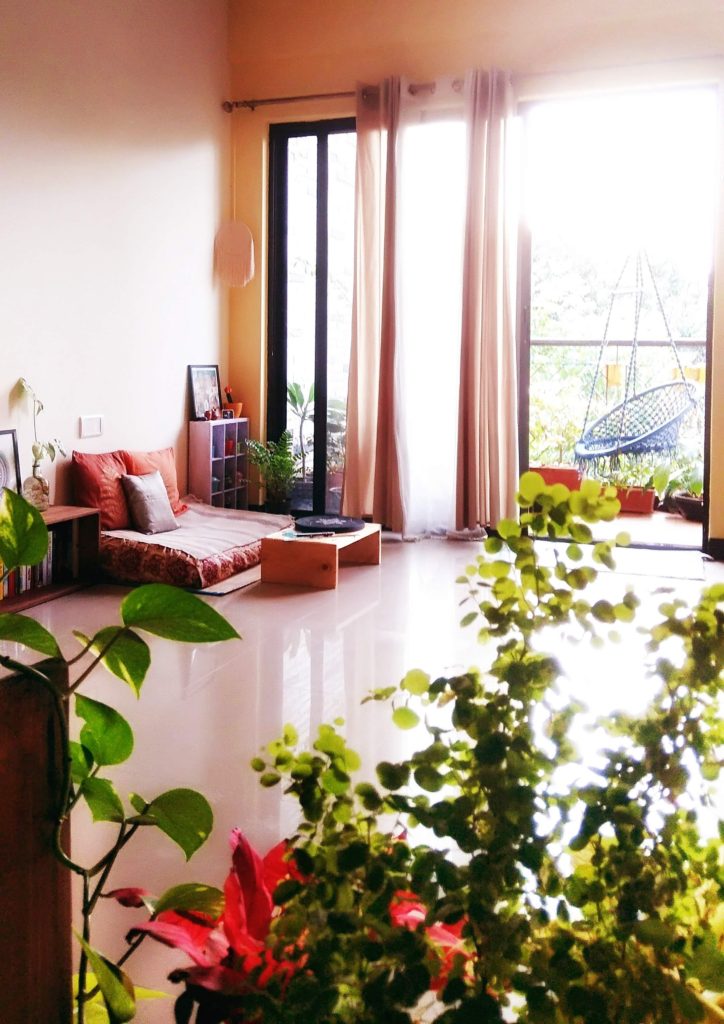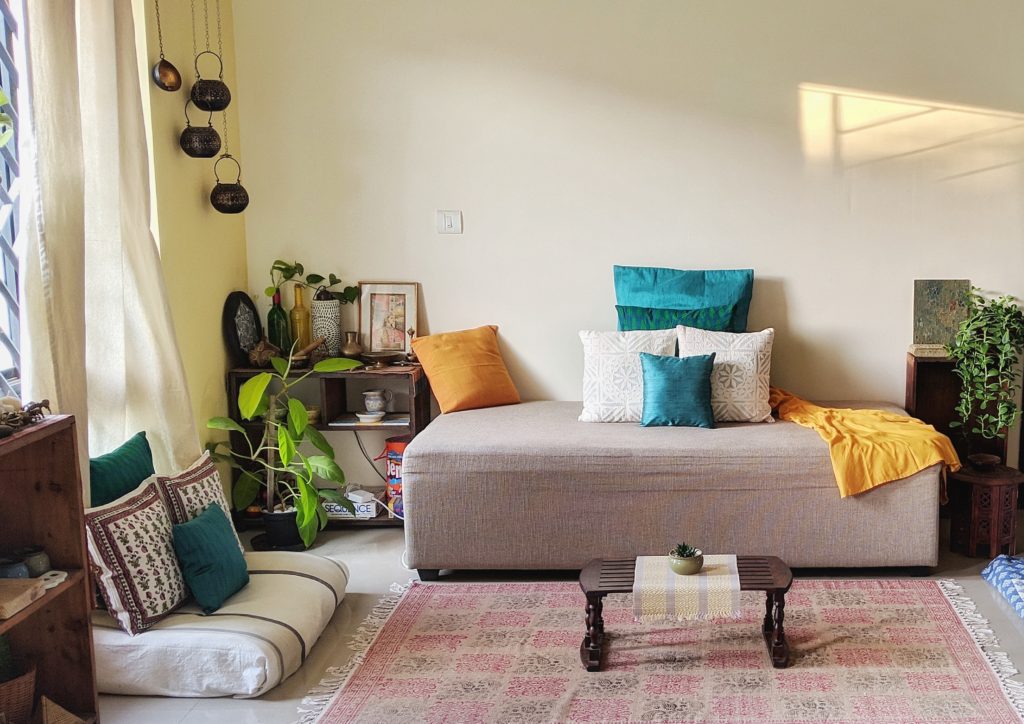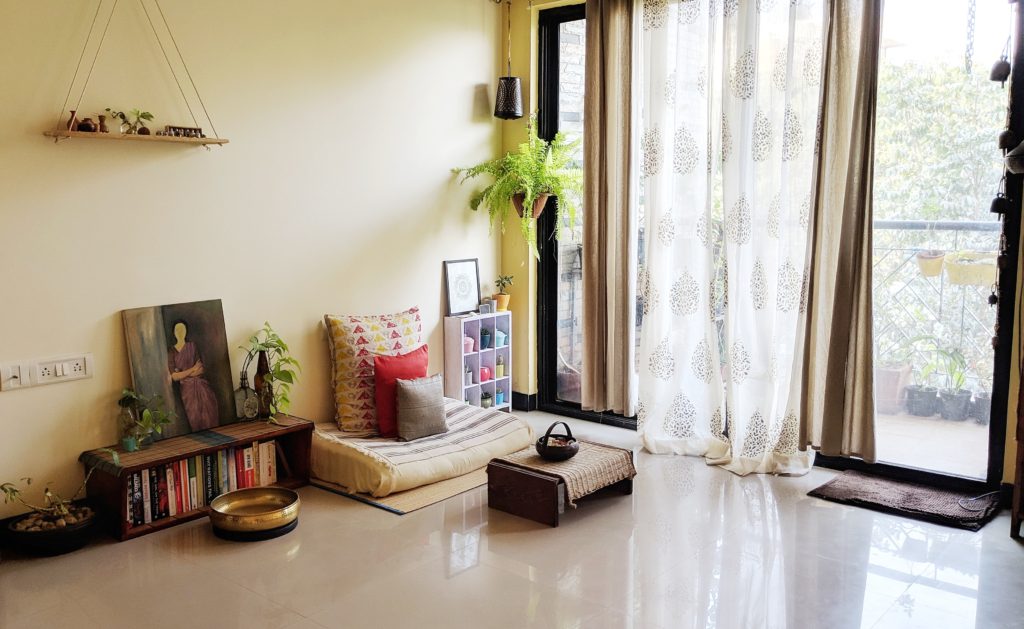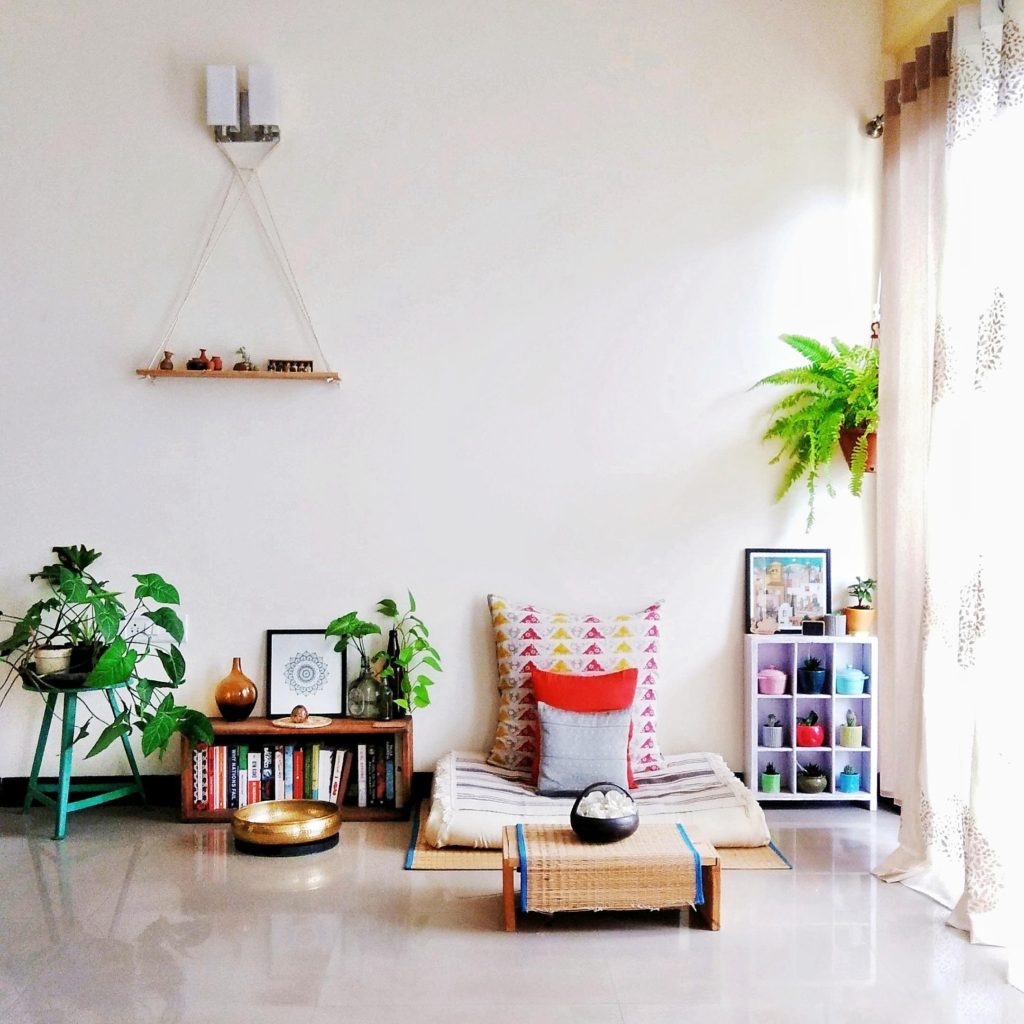 The Bedrooms – each one prettier than the next!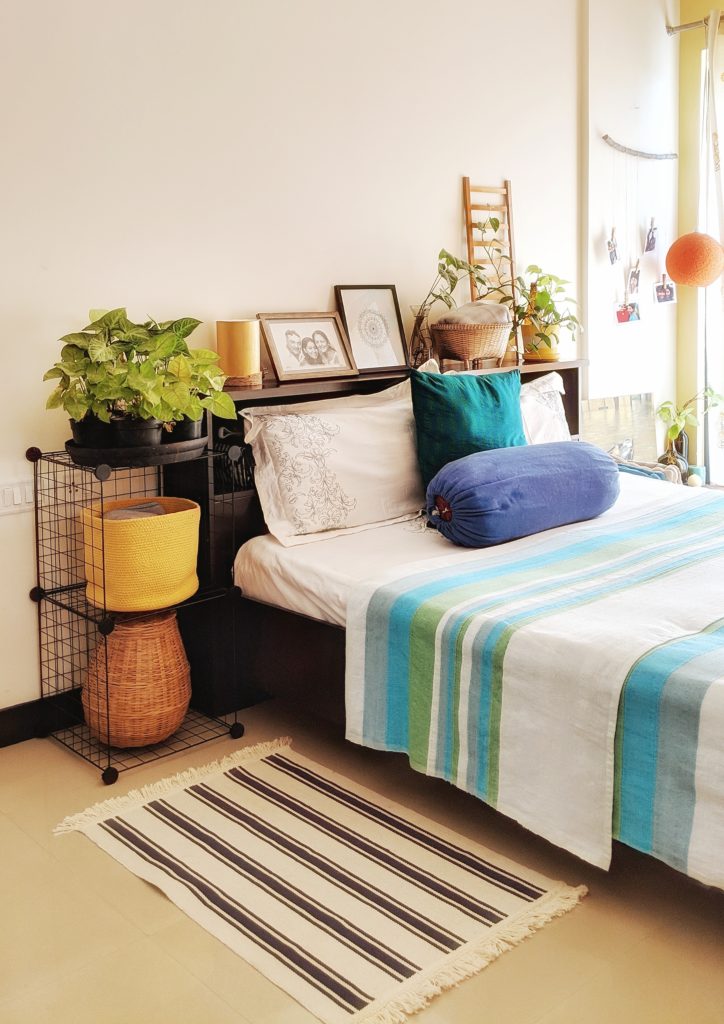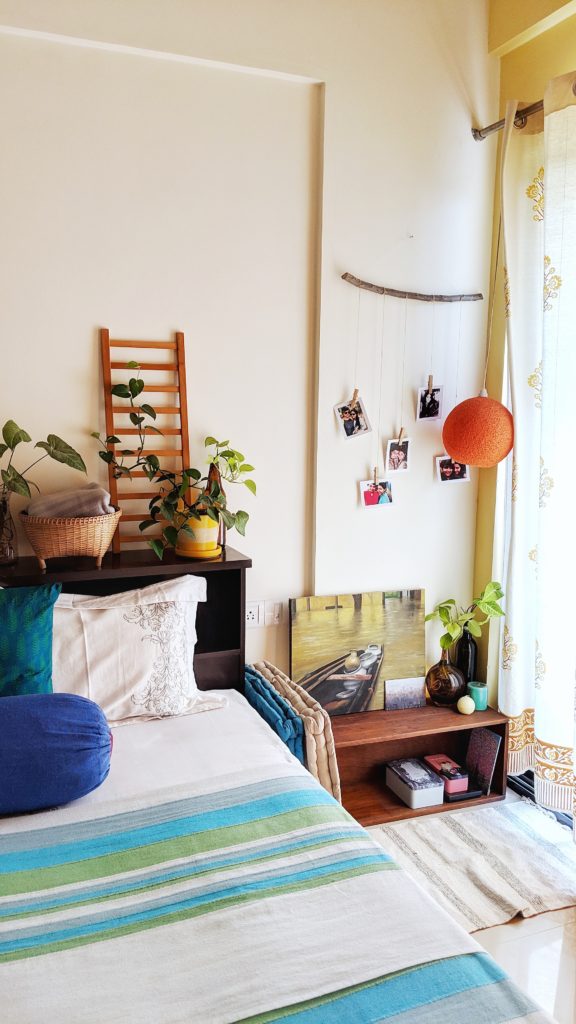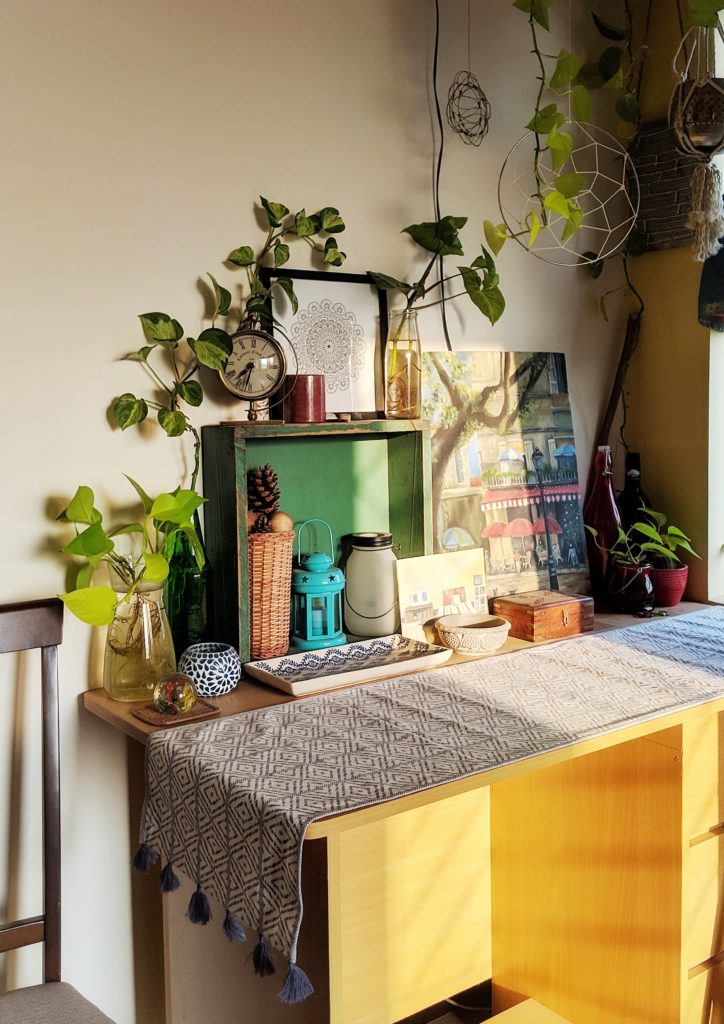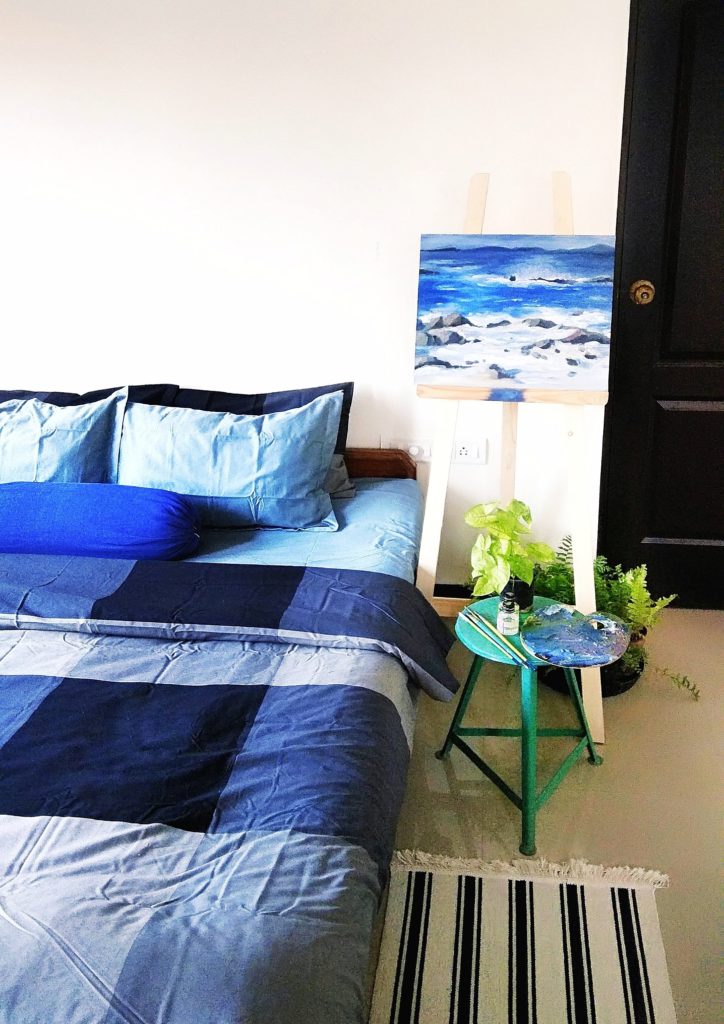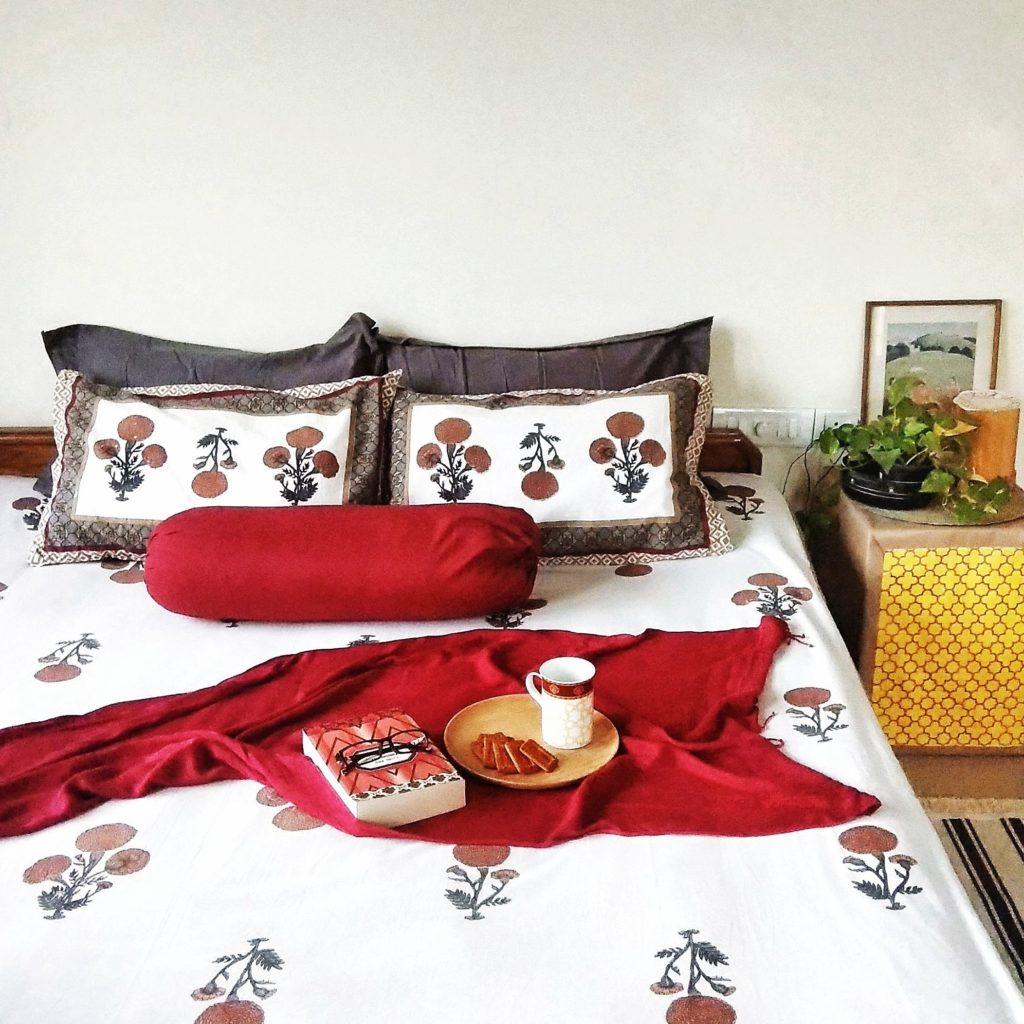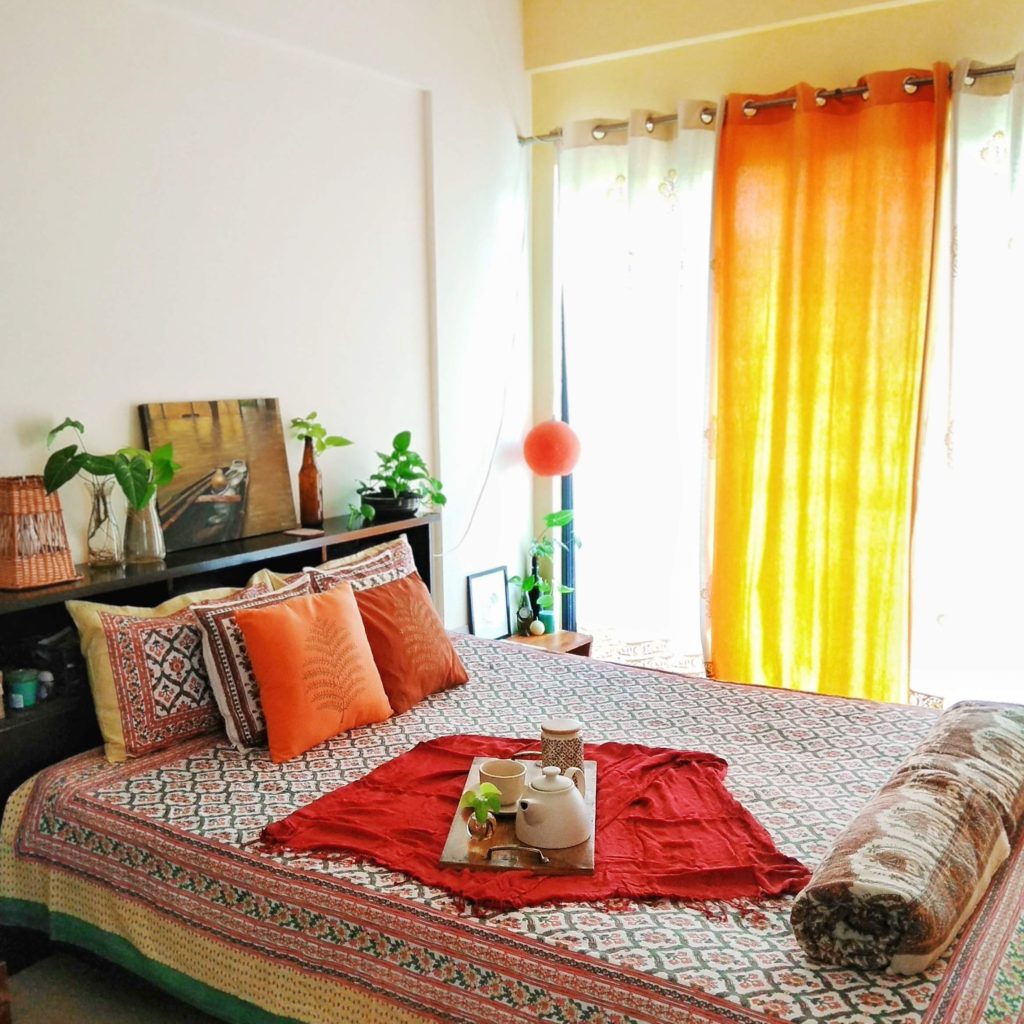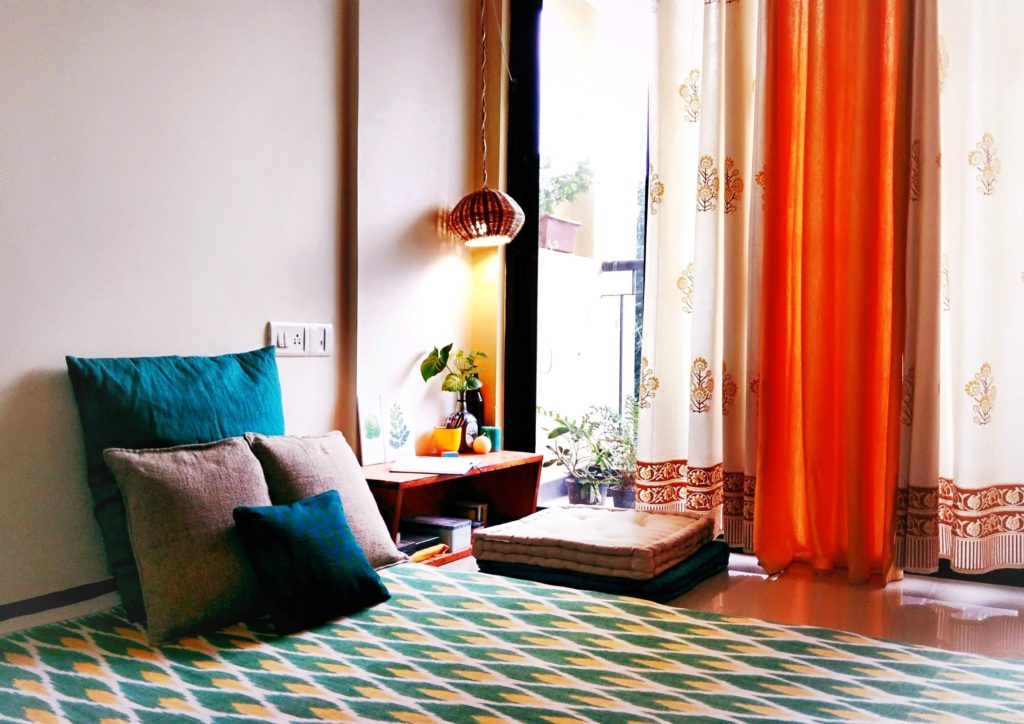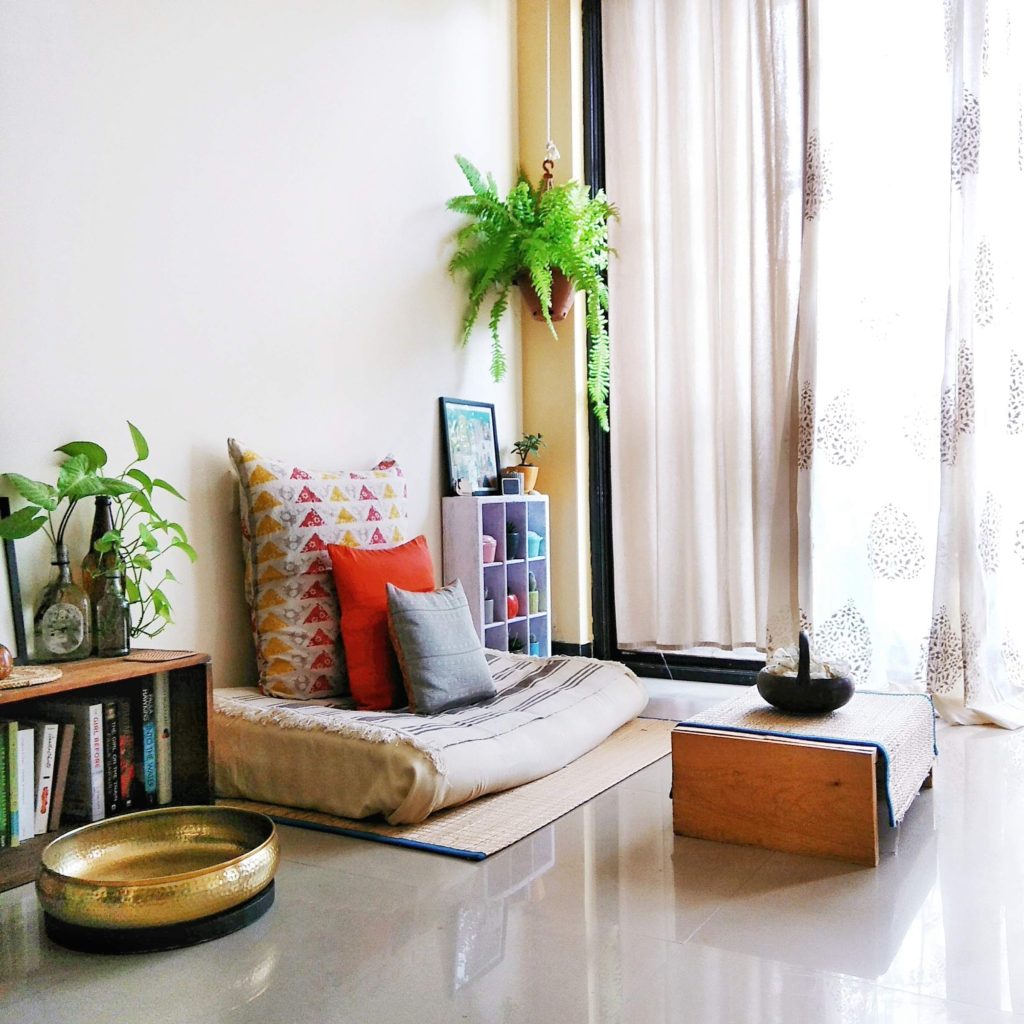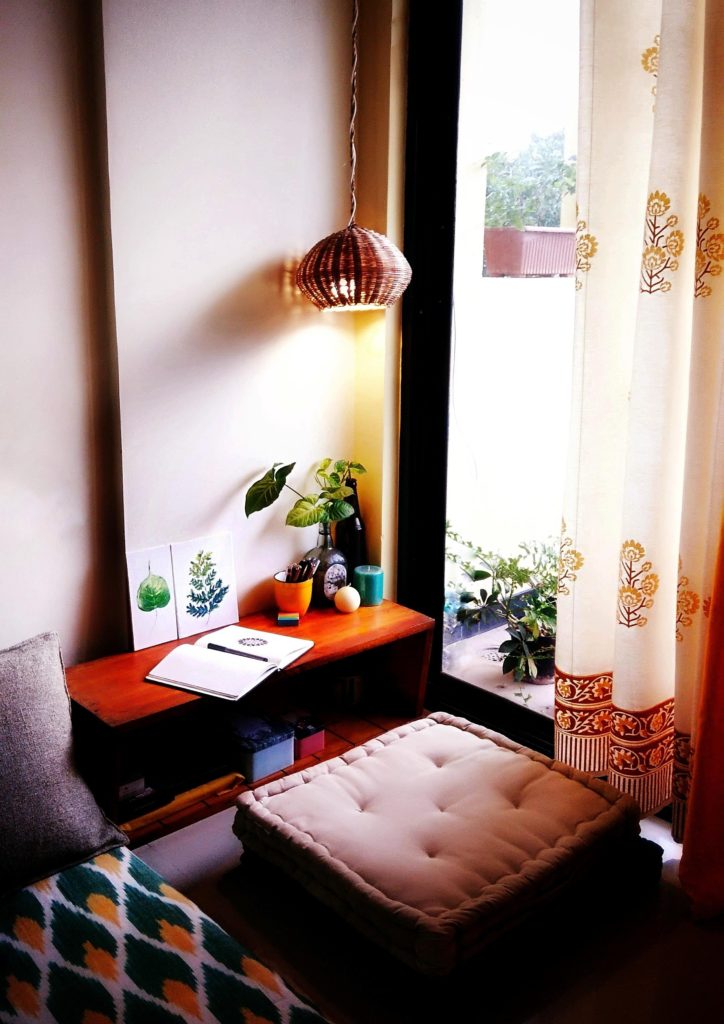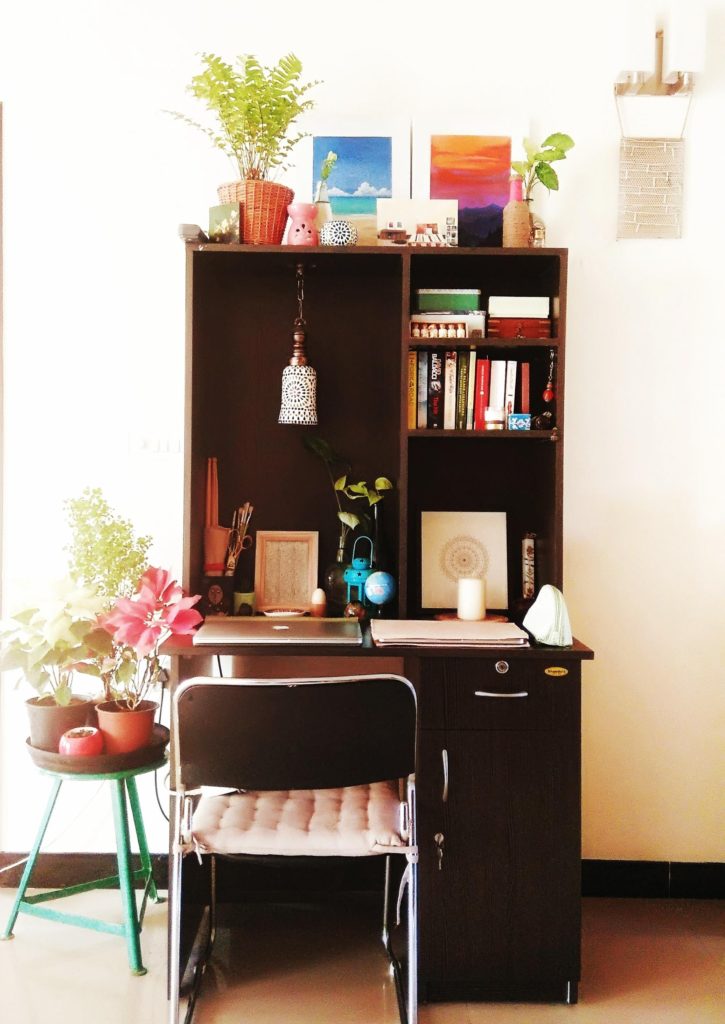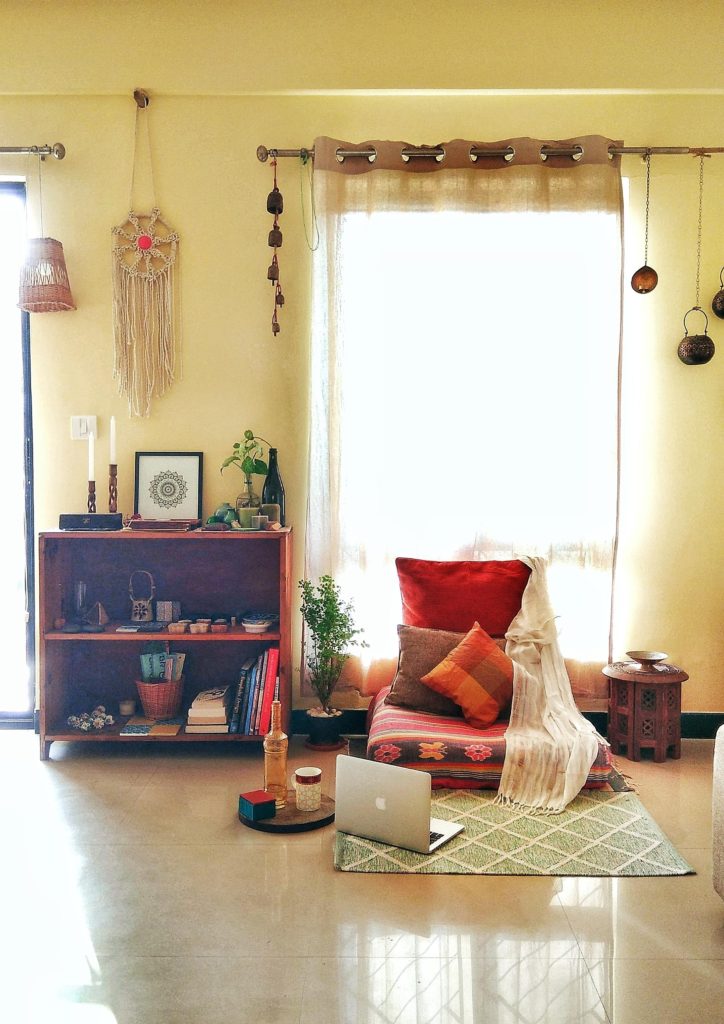 Key Takeaways from this Home Tour
Where do Manali and Jayati shop?
We have procured furniture from multiple places. Most of our furniture is refurbished. A lot of it was bought from a shut down government factory. Although the quality of wood was pretty decent, all of them required a substantial makeover. This included addition or elimination of certain
parts, sanding and polishing.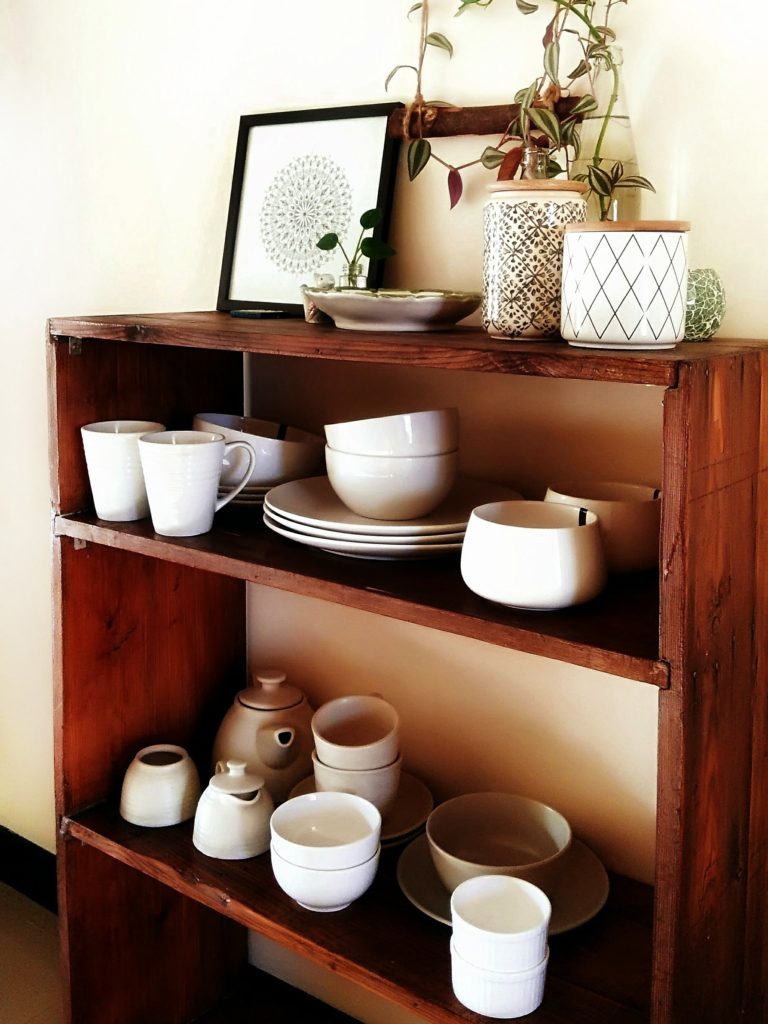 Some pieces of furniture were procured from online stores. Furnishings were bought at local markets within the city as well as while traveling. As far as individual display elements are concerned, we like thrift buys and love to pickup decor elements from the local flea markets whenever we travel.
Who does the DIYs?
Furniture and wood related DIYs are generally taken up by me (Jayati), while Manali creates amazing artwork in the form of mandalas that adorn the house. Sometimes, when we both have some free time, we work together to explore different techniques and materials such as concrete, paper, jute, macrame, cloth, etc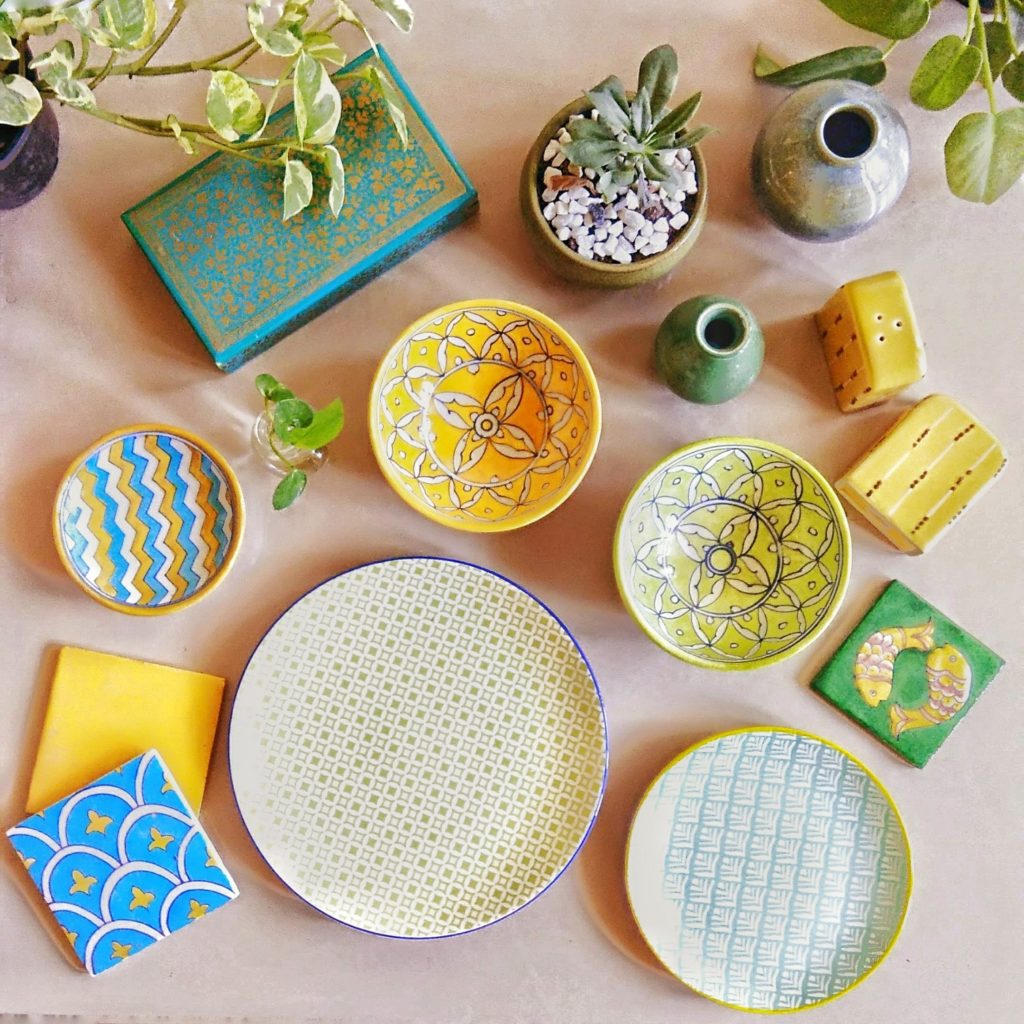 On the science of decorating
We do have some patterns that are common across different corners and spaces. These patterns could address the alignment and grouping of objects based on shape, material type, similarity in terms of colour scheme. We generally define a primary element for each space, and group it with
secondary and tertiary objects on each side of the primary element. The number of secondary and tertiary objects are decided based on the relevance of elements (based on the parameters defined above) at hand. These elements also have a transition pattern in terms of colour and/or shape. For example, a circular object is placed between two rectangular objects to either break the monotony of lines or to subdue the sharp edges of the rectangles. Plants are often selected as tertiary elements and placed on both sides to create a balance.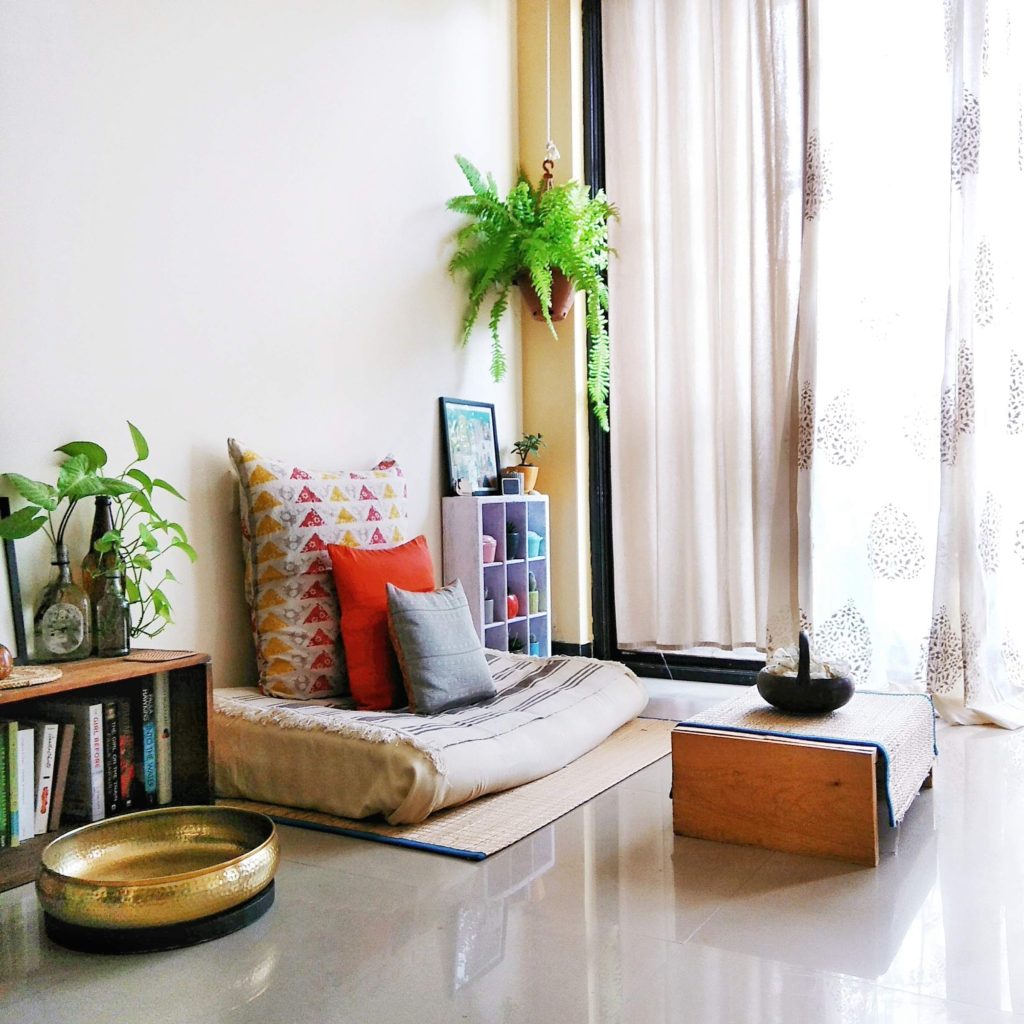 Decorating Tips for Bangalore home dwellers
Bangalore is a good city to find, purchase and maintain plants. Placing plants enhances the space and emanates positive vibes. Also, there are some excellent workshops open to public that can be leveraged for DIY projects, specially if you don't have tools at homes. Last but not the least, love your space. Enjoy it, enrich it and take care of it
Thank you so much Manali and Jayati. It was a pleasure featuring the home you have created together, and we look forward to seeing more pics. Do follow them on their Insta page here.
Dear readers, we hope to bring you more home tours in the coming weeks. Do you want your home or a friend's home featured here? Please fill this form.
And, if you wish to save these images to your Boho boards, head to our Pinterest board (we have already pinned these up there) and pin away!