Location: Trivandrum
Home: A 2027 sq ft apartment with around 1000 sq ft terrace space
Residents: Empty Nesters Jayashree and Rajan.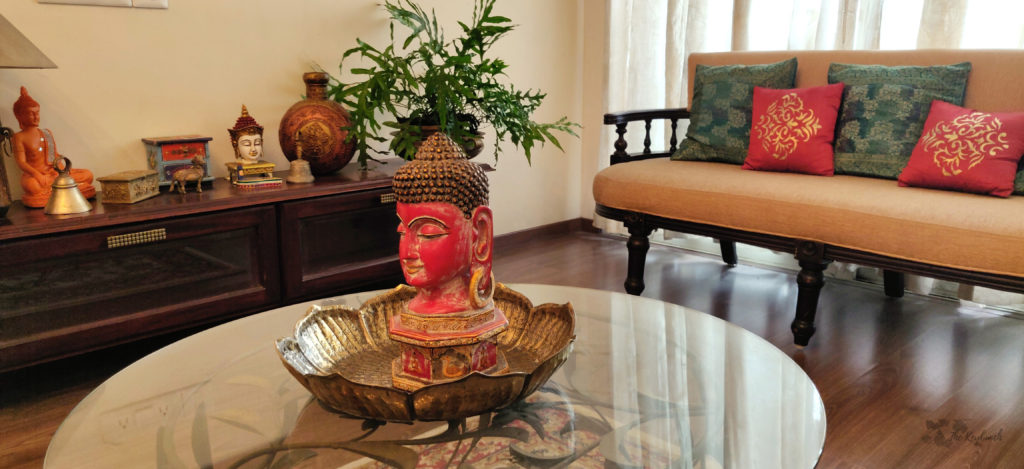 Jayashree and Rajan live in a sprawling apartment in Kerala. And they are blessed with a vast terrace area, nearly half the carpet area of the apartment!
When you enter their abode, you are greeted with a cool and tastefully decorated living room. Beautifully ventilated, the living room is dressed in sober colours accentuated with colour pops, and lots of Indian elements including a beautiful mural painting, and brass and silk accents.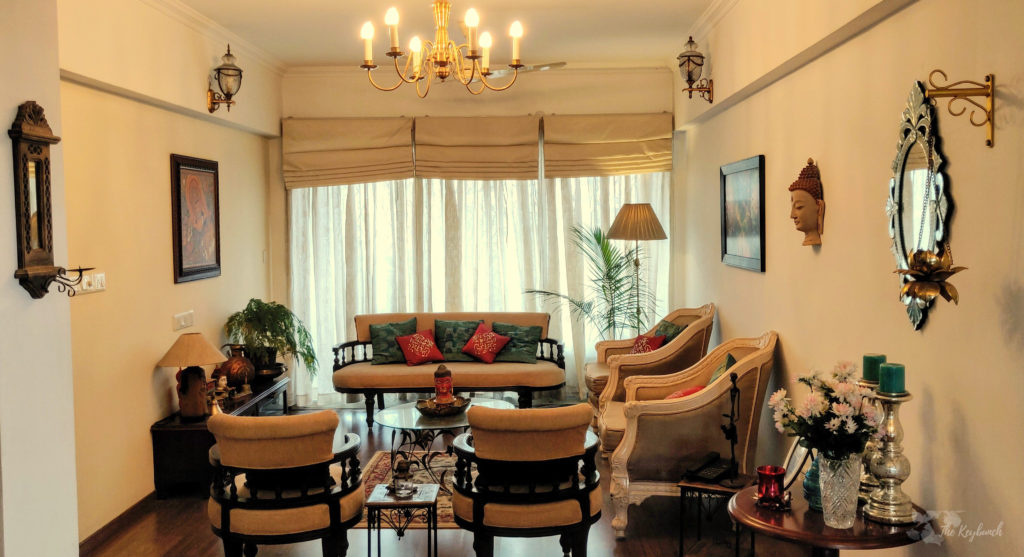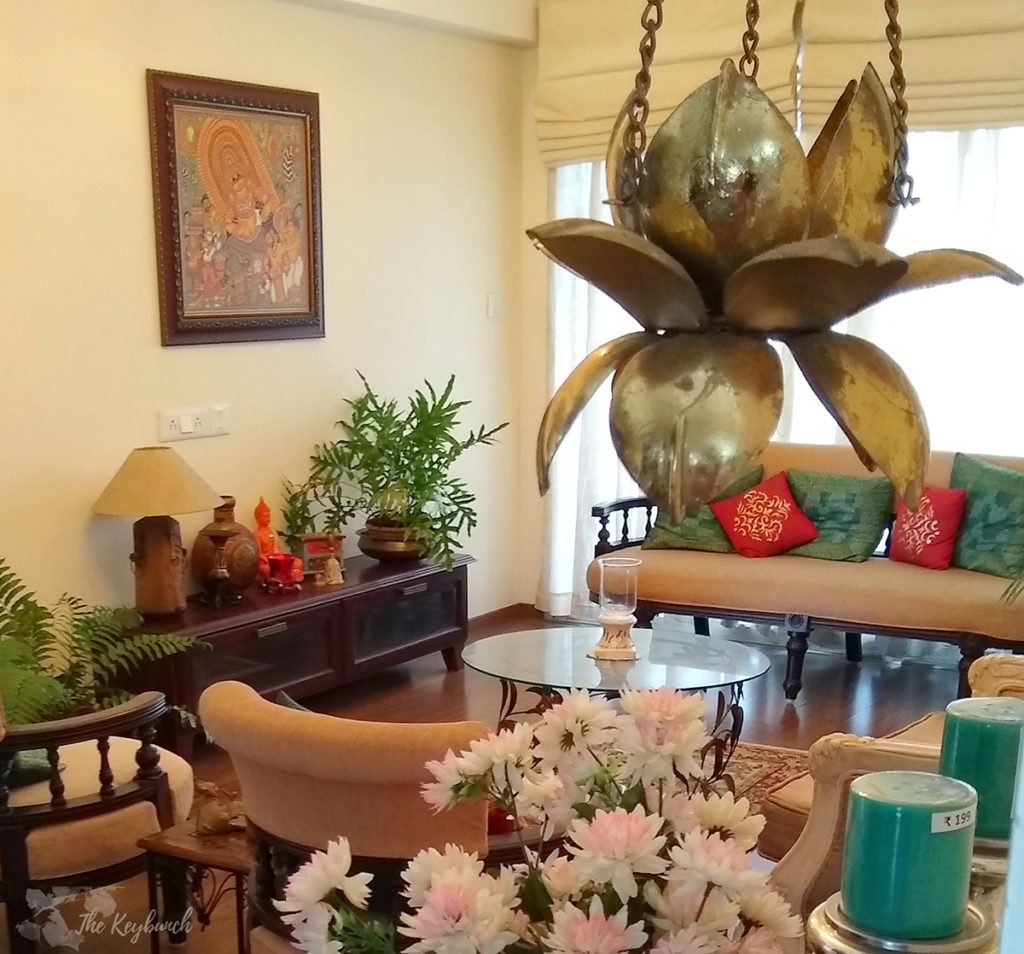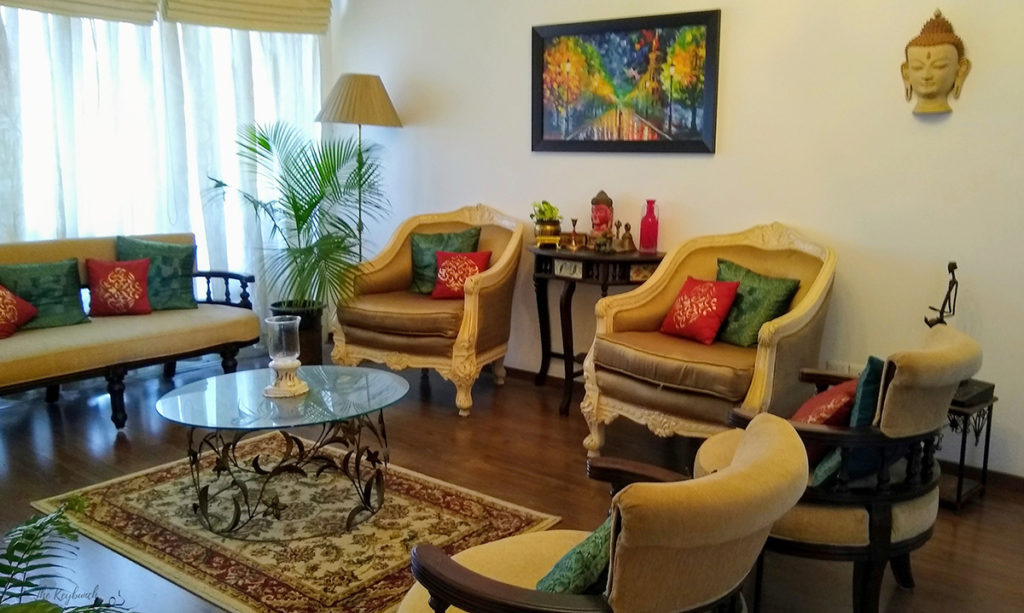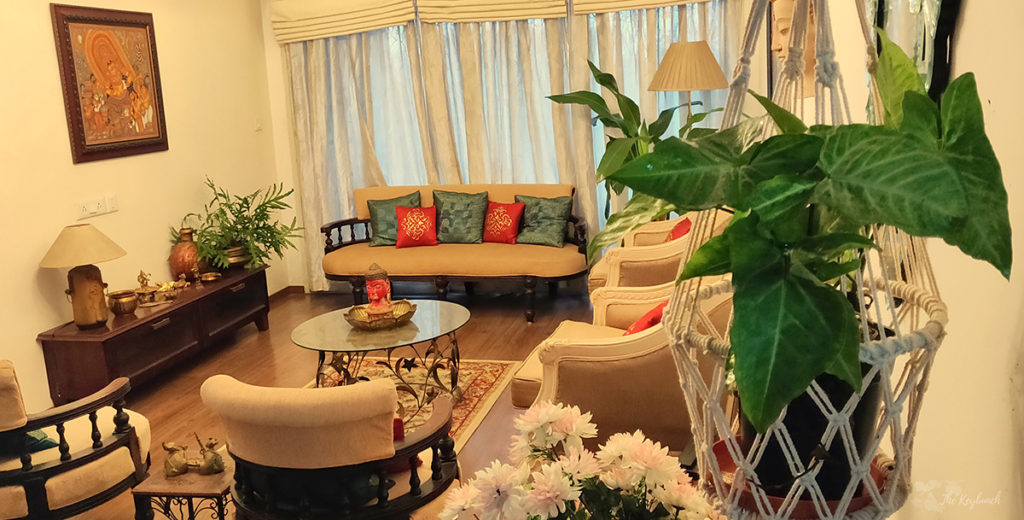 Resisting the urge to rest a while after coming in from the harsh summer heat, I opted to start the tour immediately, so Jayashree led me into the L-extension to a gorgeous dining area.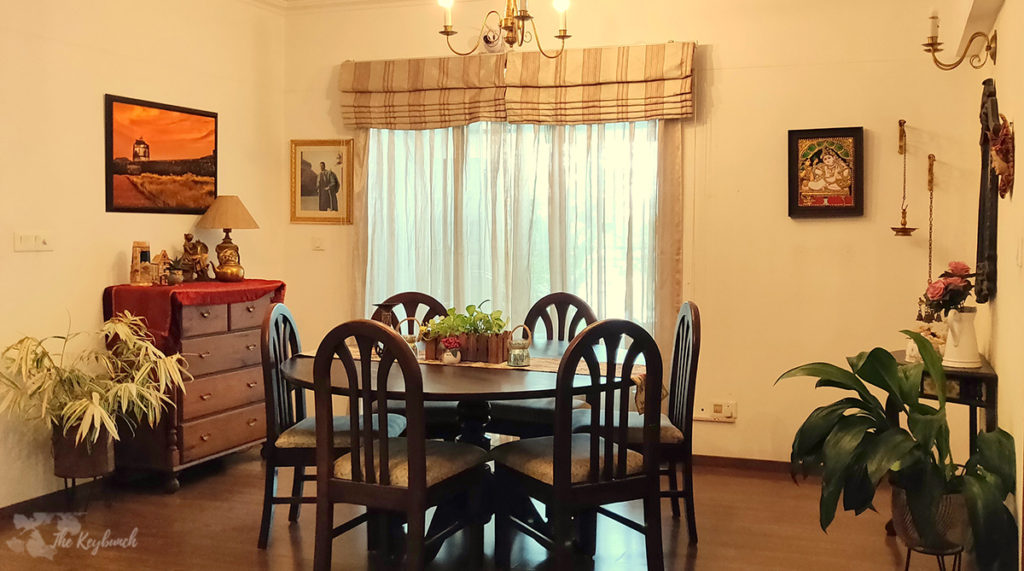 The colours and decor of the living area bleed into the dining area with an arty mix of wood, brass, art and greens.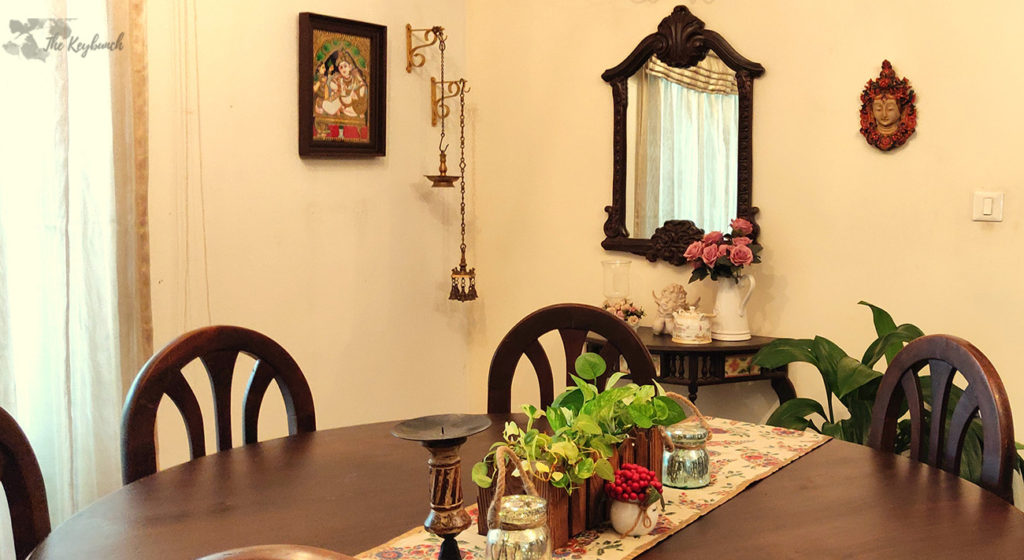 However, I kept getting distracted by the profusion of greenery showing through the balcony doors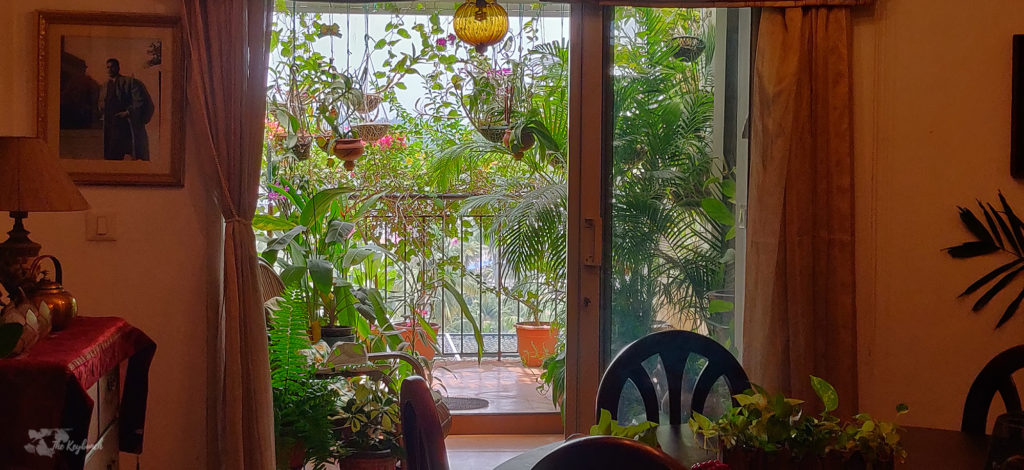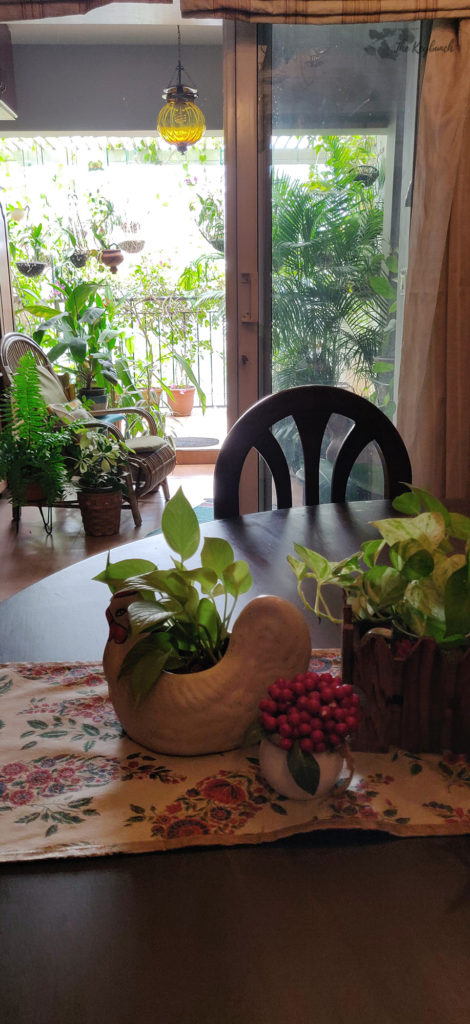 And since The Keybunch is all about opening new doors, you can guess what I did next!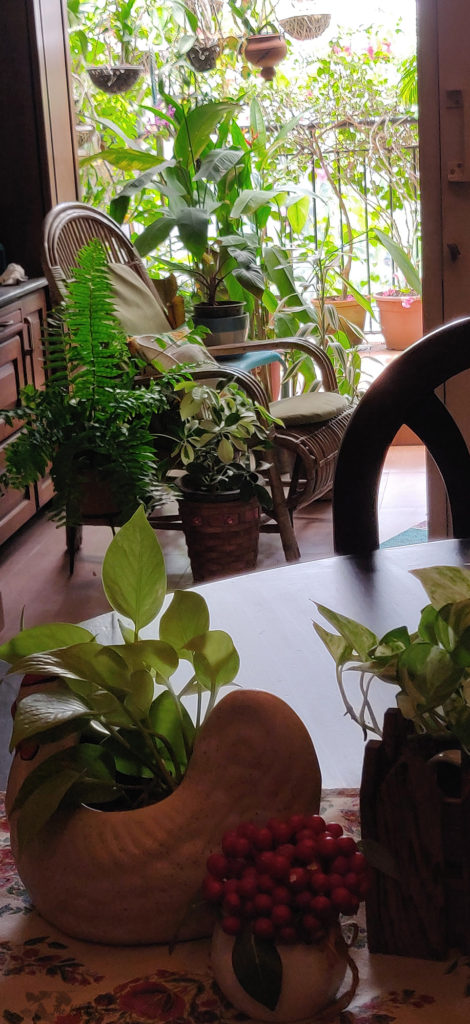 A simple cane arm chair placed strategically in the shaded part of the balcony adds a lot of charm to the view. The armchair beckoned so I finally decide that this was the place for me to settle down in, for the moment. A great choice, because I am instantly calmed by the lushness around me. The languor of summer was about to overtake me… so I choose not to share more details what happened over the next twenty minutes ?
Miraculously refreshed ? I once again resume this beautiful tour that teases and reveals everywhere I look! I venture further into the terrace garden, and the first thing I see is this gorgeous orchid family cheerfully swaying below the pergola.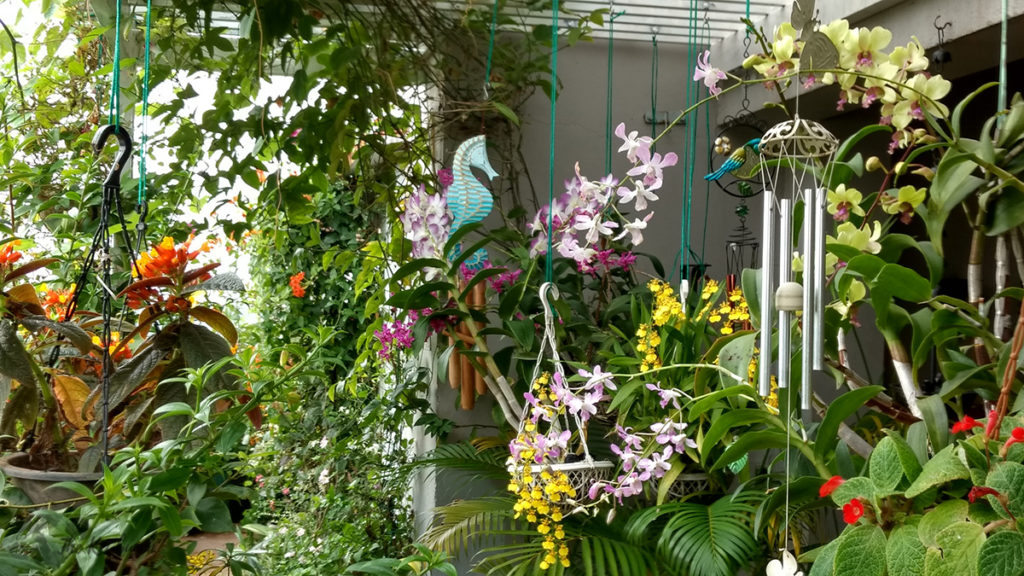 Bursts of bougainville delight the eyes…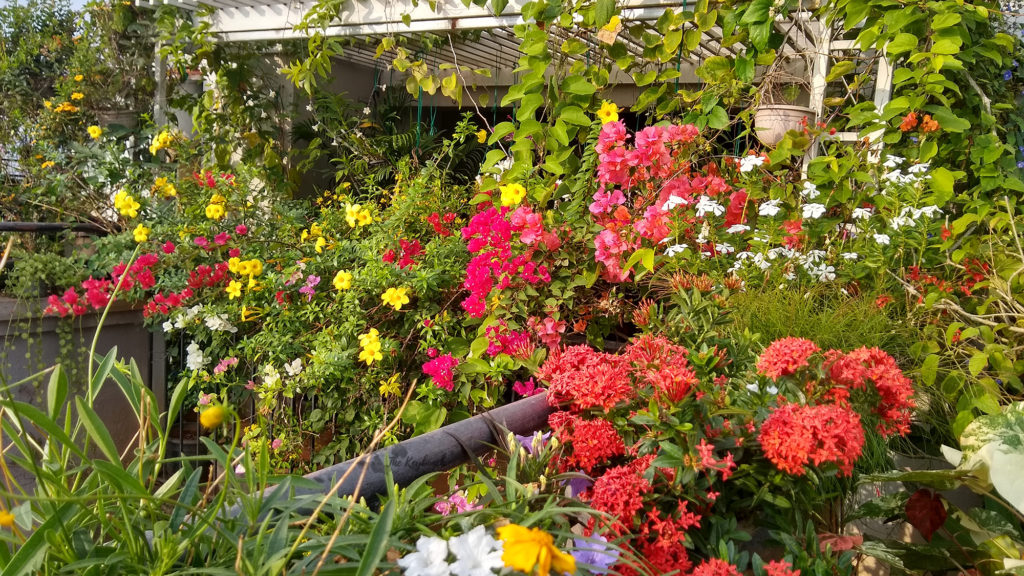 …and this charming cherub has my heart!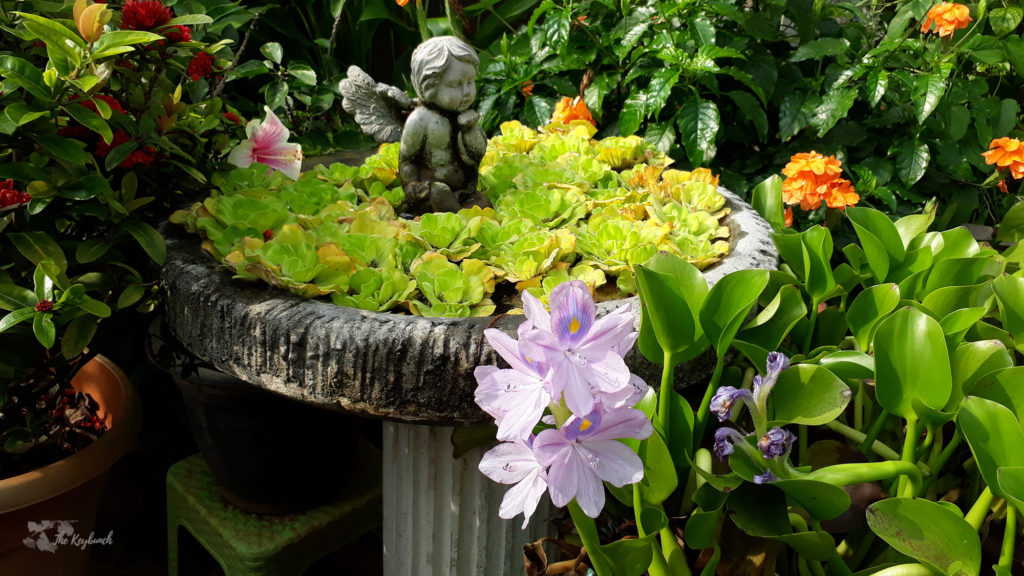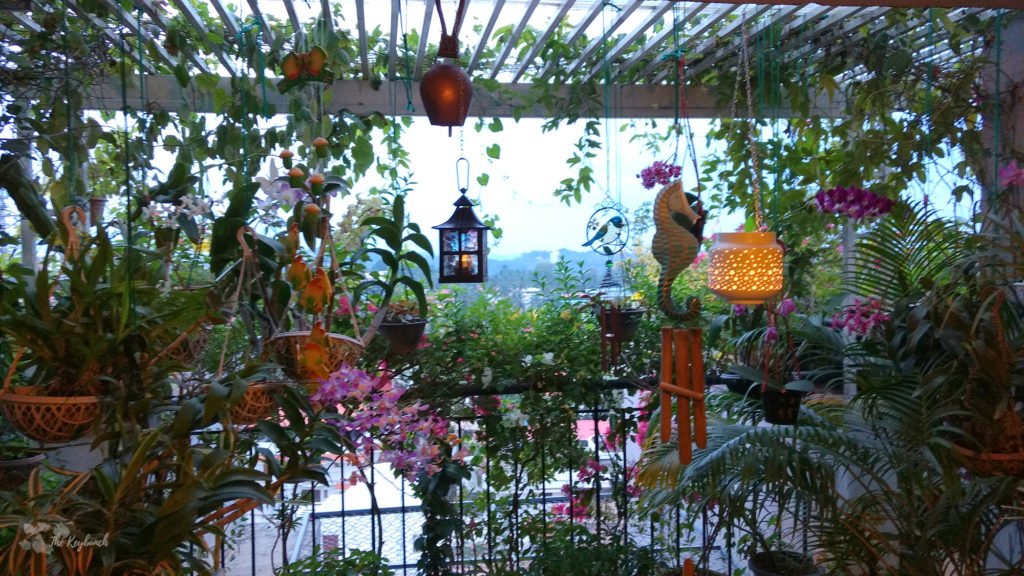 Let's check out the rest of the home!
The master bedroom has a distinct English cottage feel to it and the soothing cream and neutrals are very appealing.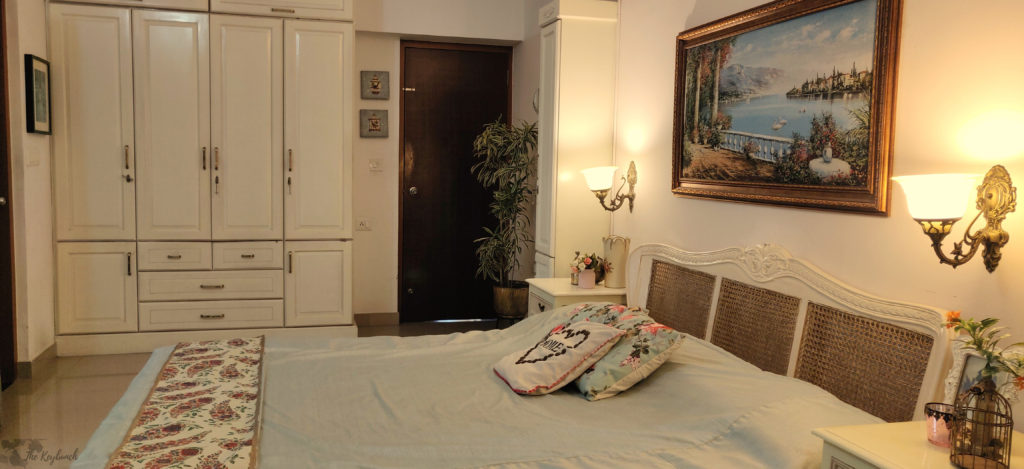 There's a calming minimalist feel to this room, and rightly so because all the noise and drama can be experienced just outside – in the attached terrace area, and how!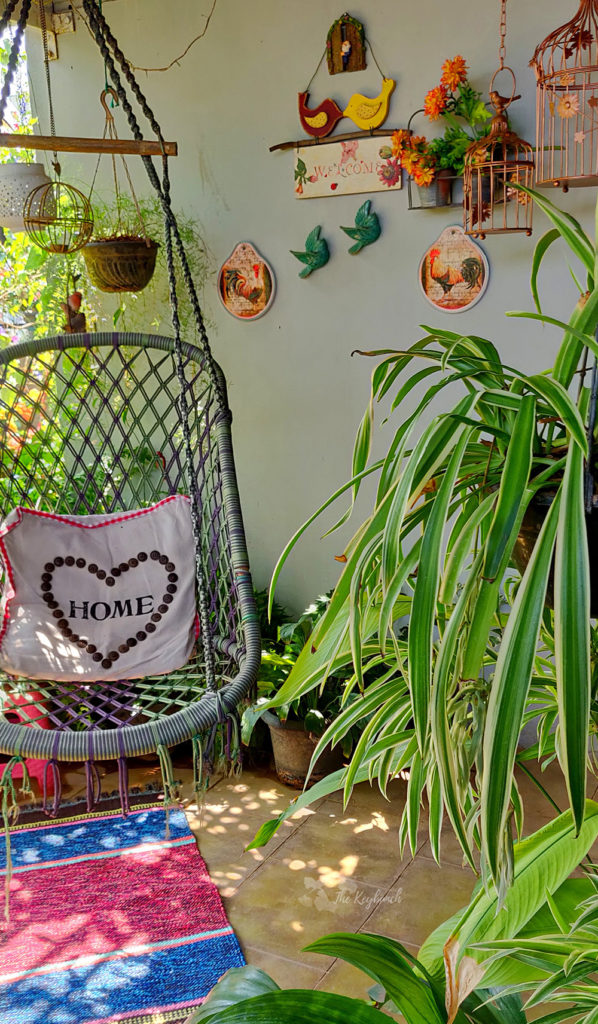 Candy striped cushions and a dreamy swing, nestled among an assault of greenery –a large variety of green treasures ranging from the exotic to the ubiquitous and little personal touches in Jayashree's signature style – pretty lanterns, bird cages and garden accessories to bring the place alive. It's a gorgeous haven to unwind in, and I am sure the morning cuppa tastes extra special amidst all this beauty!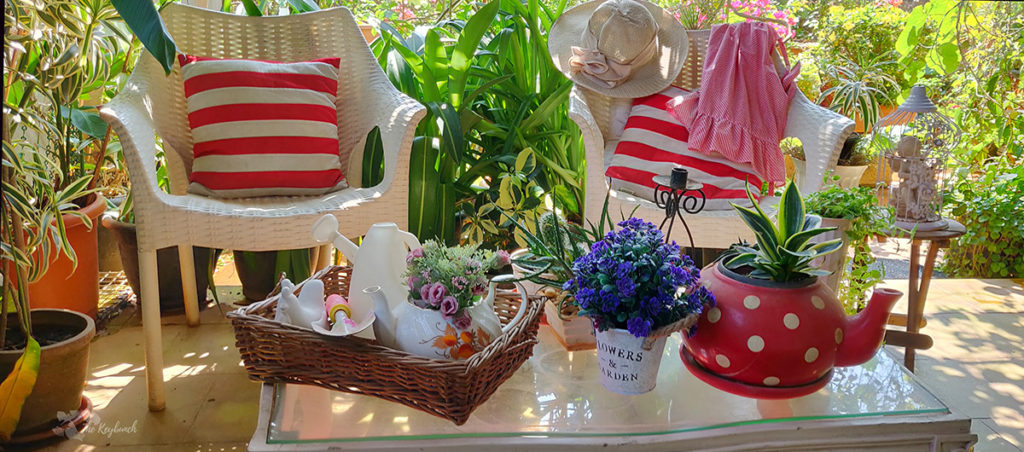 Our next stop is the kitchen with its English country look.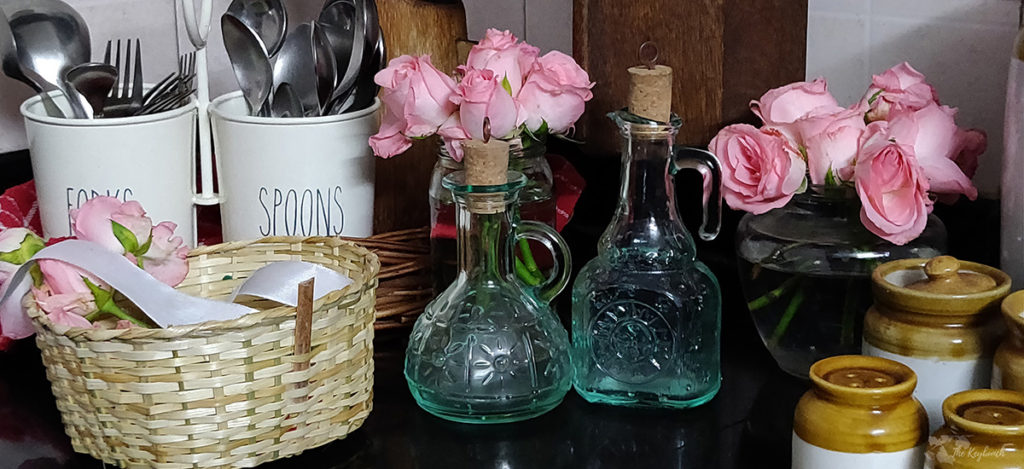 My eyes register with delight the little touches that Jayashree has incorporated into this space – beautiful ceramics, glass bottles with cork stoppers, and pink roses!
And we finally come to the raison d'être for this gorgeous home tour. The guest room! Jayashree had posted it a while back on my décor community page on Facebook – Décor Drama – and a tour of her home has been on my radar ever since (this and the beautiful garden pictures egged me on to pester her for her home tour until she finally agreed!)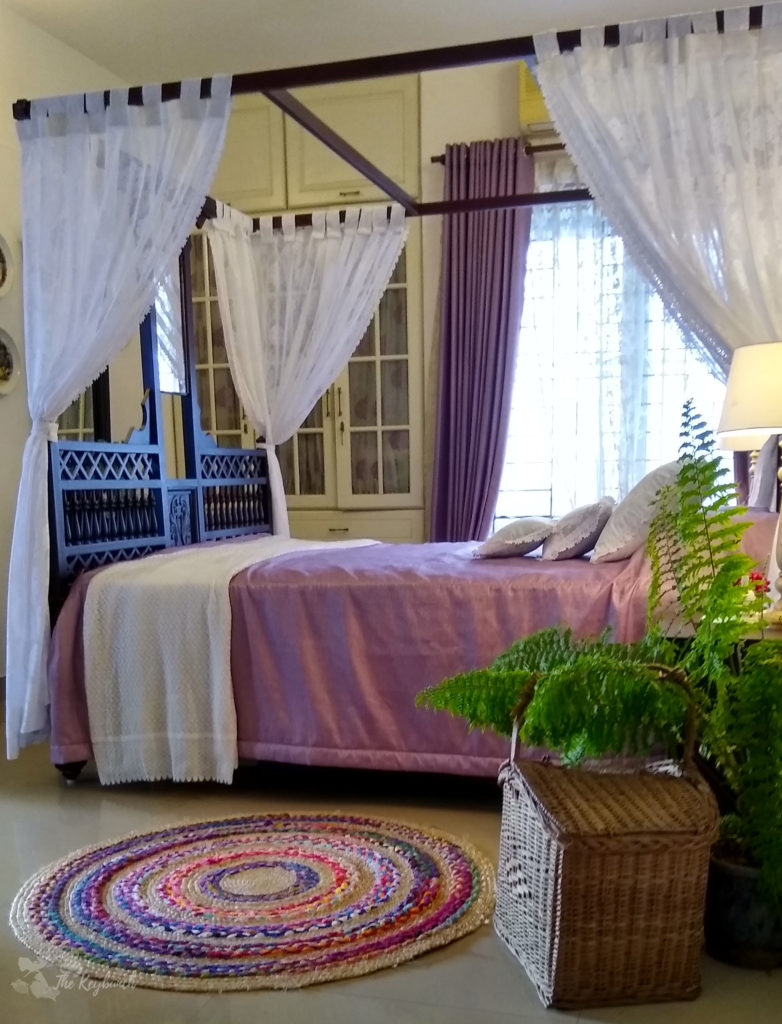 The four poster bed is dressed elegantly and the white furniture in this room complements and contrasts the dark wood aptly!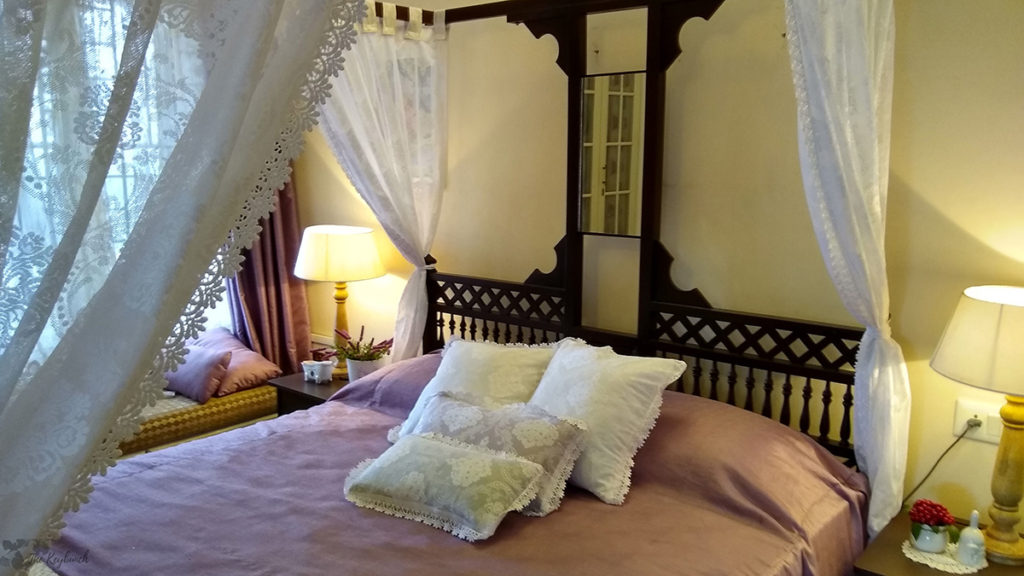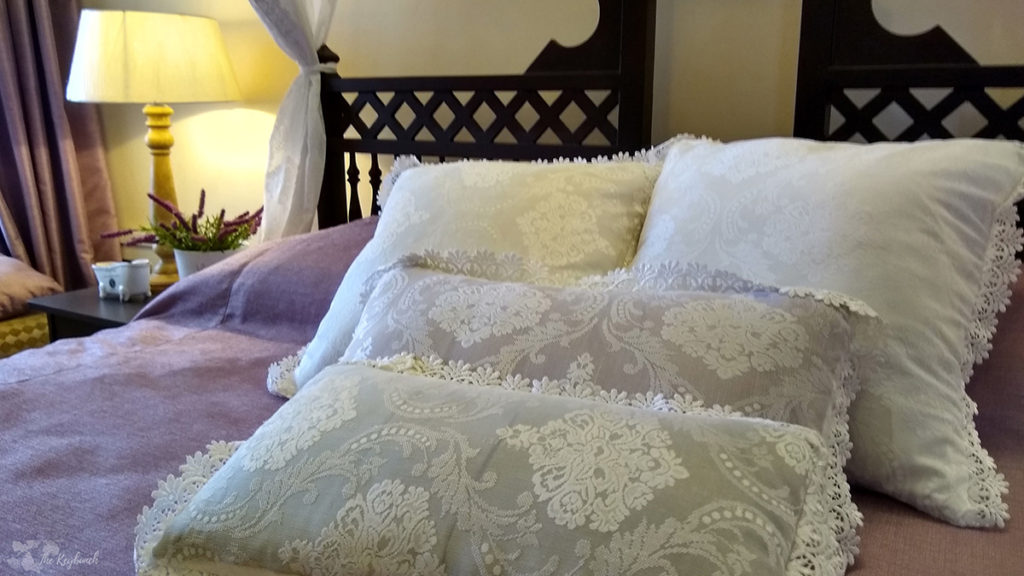 The guest room has a balcony space and a Buddha garden grows pretty here. I'll let the pics mesmerise you.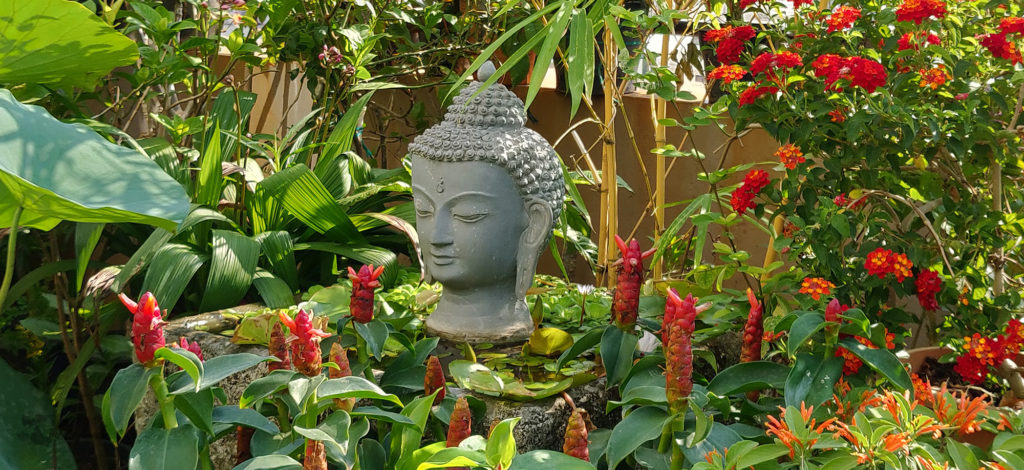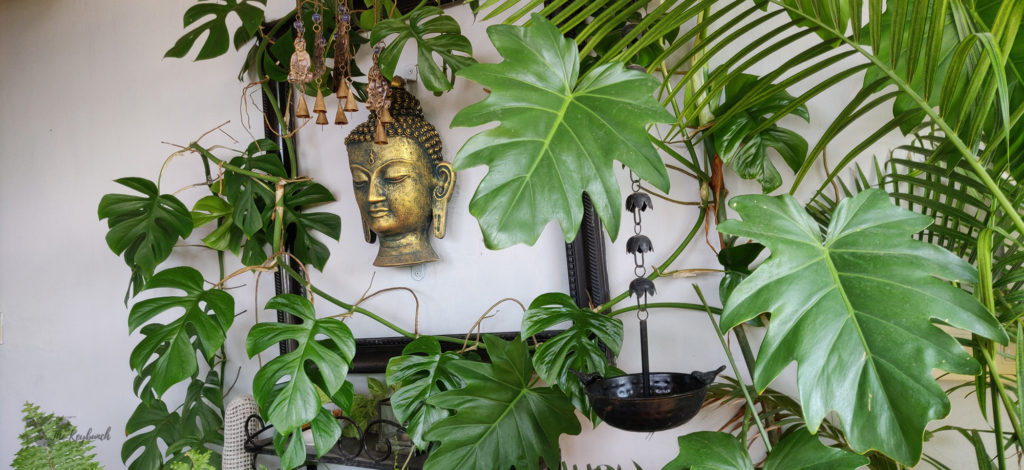 Jayashree's tips for a well-groomed home and garden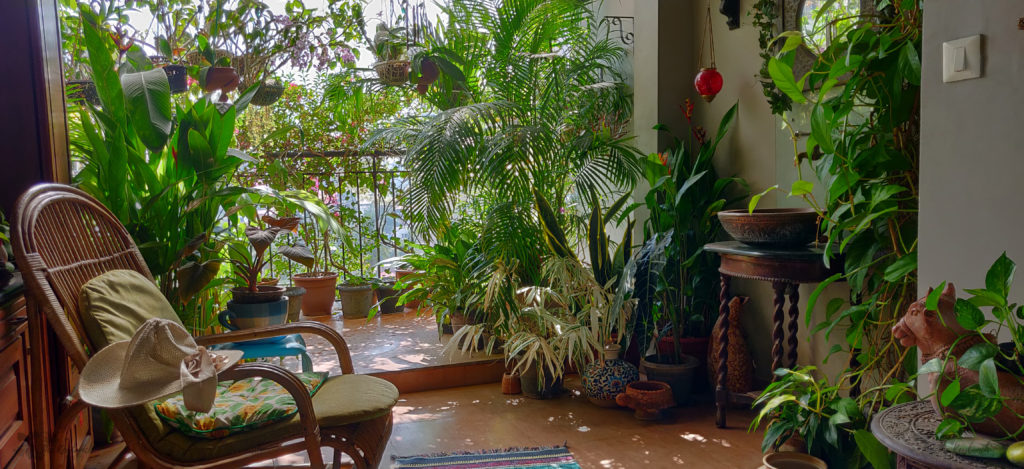 Jayashree's home is a gorgeous, well-decorated space. Her garden is a sight to behold! Here are some tips from her.
On styling a home
A house should be a reflection of the people who live there especially the lady of the house. Just follow your heart, and decorate your home with the things that you love.It can be a collection of things you have collected from your travels, flea market finds, DIY anything that has your stamp on it.
On Caring for an apartment garden
Apartment gardens need much more care since it's usually more warm on the terrace and the plants get only the water and nutrients that you provide them.
Whereas, on the ground, the roots spread out in search of water even if you don't water for a day or two. A garden with green plants is the easiest for beginners. Flower gardens need much more care to bloom. The potting mix should be light and airy and you have to see that the drainage holes are not blocked in your containers.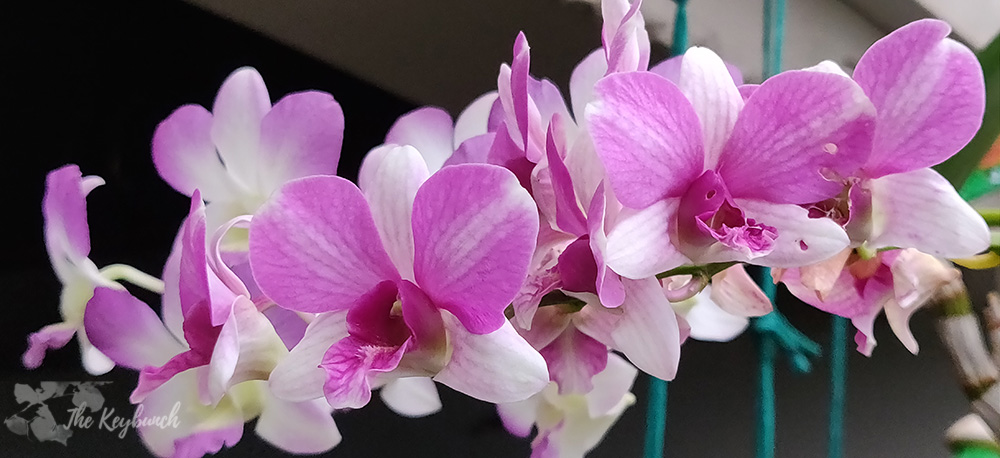 Sometimes less is better than more and over watering is what kills more plants than under watering especially when it comes to fleshy plants like succulents. The sun is an important factor and one should know which plants need full sun and which need shade. Fertilising your plants occasionally (especially if you have flowering plants), and watering daily will keep your plants healthy and happy .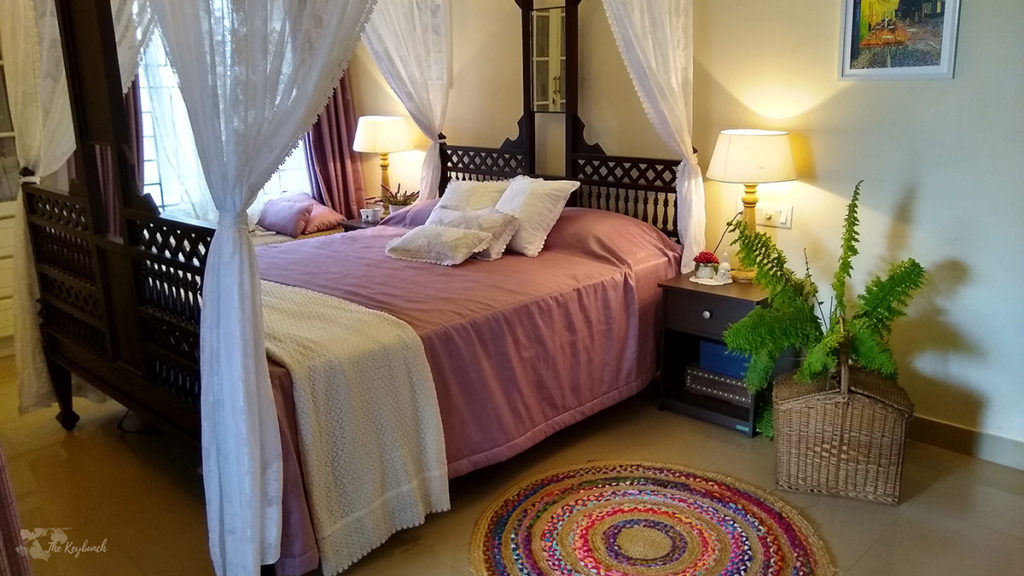 Thank you Jayashree, it was an absolute pleasure featuring your gorgeous home on this blog!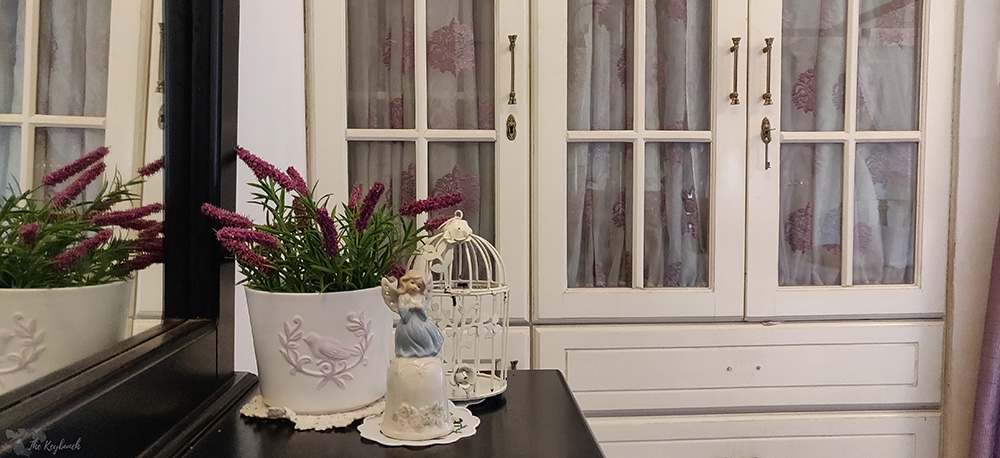 Where has Jayashree sourced her furniture and decor from?
The cream coloured big chairs in the living room and the bed in the master bedroom are from Ethnic Creations, a shop on Four Shore Road, Kochi
The mural was picked up at the museum where the painter held a show many years back.
The Tanjore painting is an original from Tanjore, bought locally in Trivandrum.
A few antiques were bought from an antique shop in Udaipur.
The four poster is from Prachya Decore by Radhika Yuvraj.
Jew Street in Kochi is one of Jayashree's favourite haunts for antique pieces

more images follow!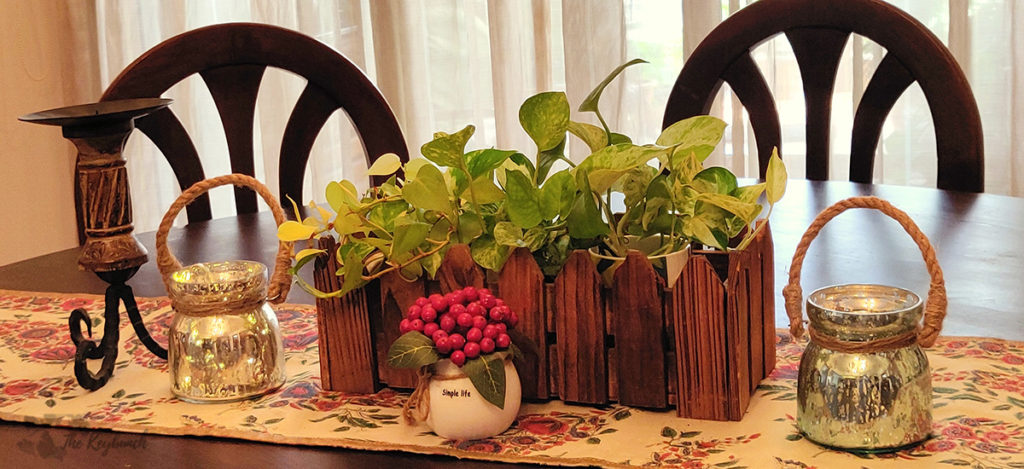 Dear readers, we hope to bring you more home tours in the coming weeks. Do you want your home or a friend's home featured here? Please fill this form.
In case you are pinning these images, we have already put them on our Pinterest feed, so head to the board here and pin away!