The adoption of Green Standards means the home follows Eco-friendly practices, and is a model home in India. In addition, this home has been decorated with collectibles and family heirlooms, making it doubly interesting!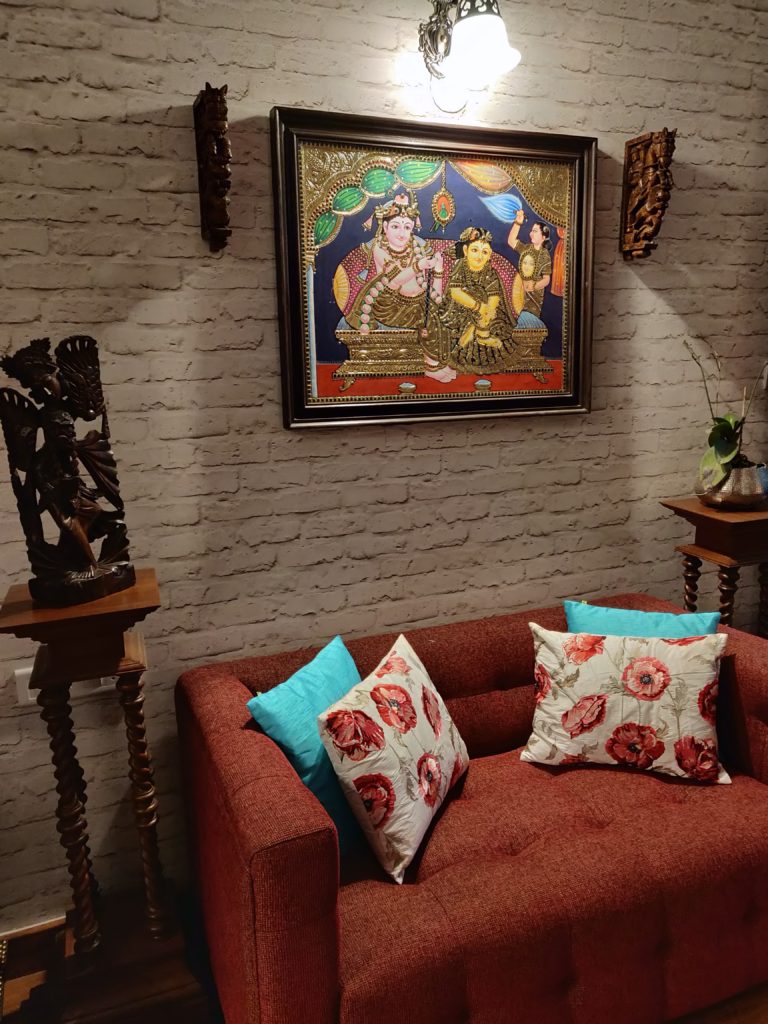 Location: Bengaluru
Home owners: The Ramesh family
Area: 3500 sq feet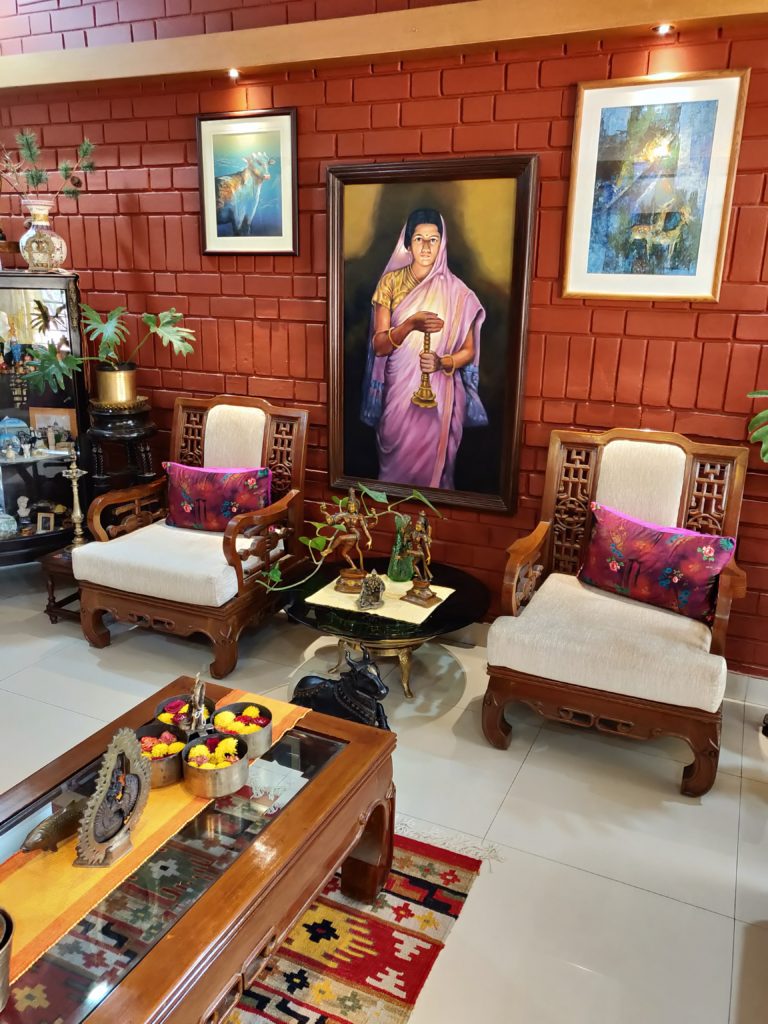 I'm driving through a quiet residential area of Bengaluru, and when the GPS announces that I have reached my destination, I stop and stare at an imposing brick building, but with a promise of something special hidden inside. This is the home of Shobha and Ramesh and their household currently includes their daughter, son and daughter-in-law.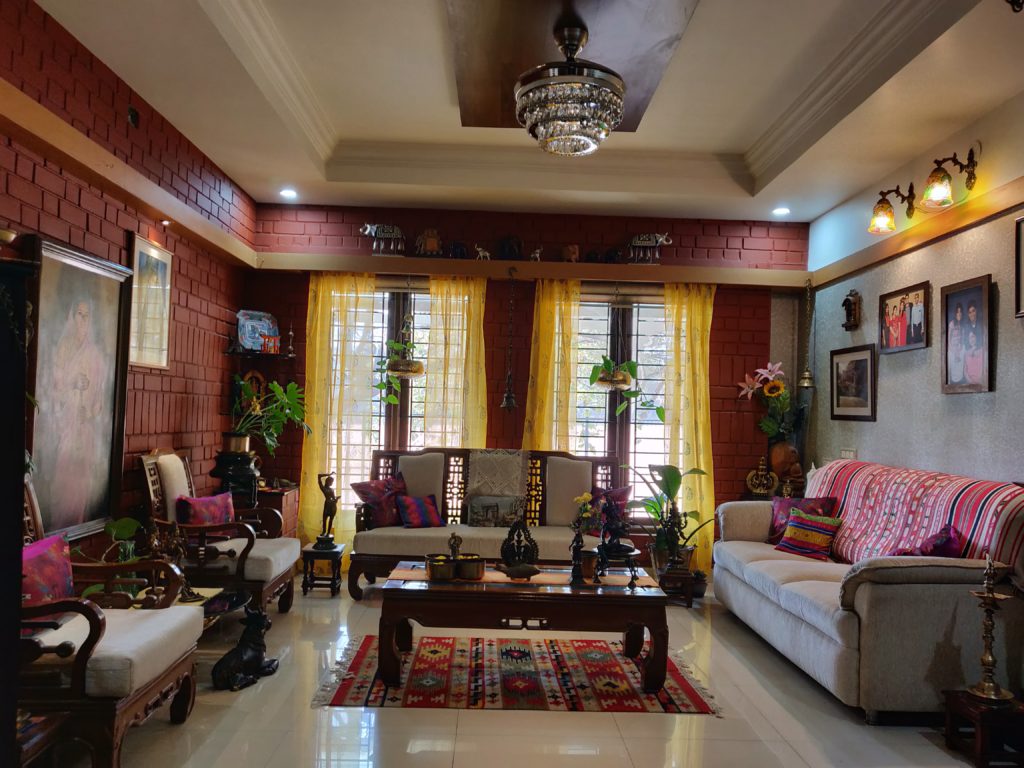 The first thing that strikes me is that the home is incredibly cool and welcoming. And the second, the inhabitants are warm and good natured!
As I wander around, I learn that this is no ordinary home. The home has been built eco-consciously and according to Green Building Standards. Says Shobha, "The house has been built with natural stone and wire-cut bricks without plastering which keeps the house cool. The house is also eco-friendly as it has solar lighting, heating and rain water harvesting."
The Layout
It is 3500 sq. feet in area, and has four floors including the basement that houses their office. The ground floor has 2 living rooms, kitchen, dining, a guest room, backyard garden with a reading room. The first floor houses a Pooja Room, master bedroom with balcony and their two childrens' rooms. The last floor has a party hall and a terrace garden. Says Shobha, "Our home evolved with us as we grew. Since the house was first built it has undergone changes and remodelling as the children grew. Recently when my son got married, his room was remodelled from a bachelor pad.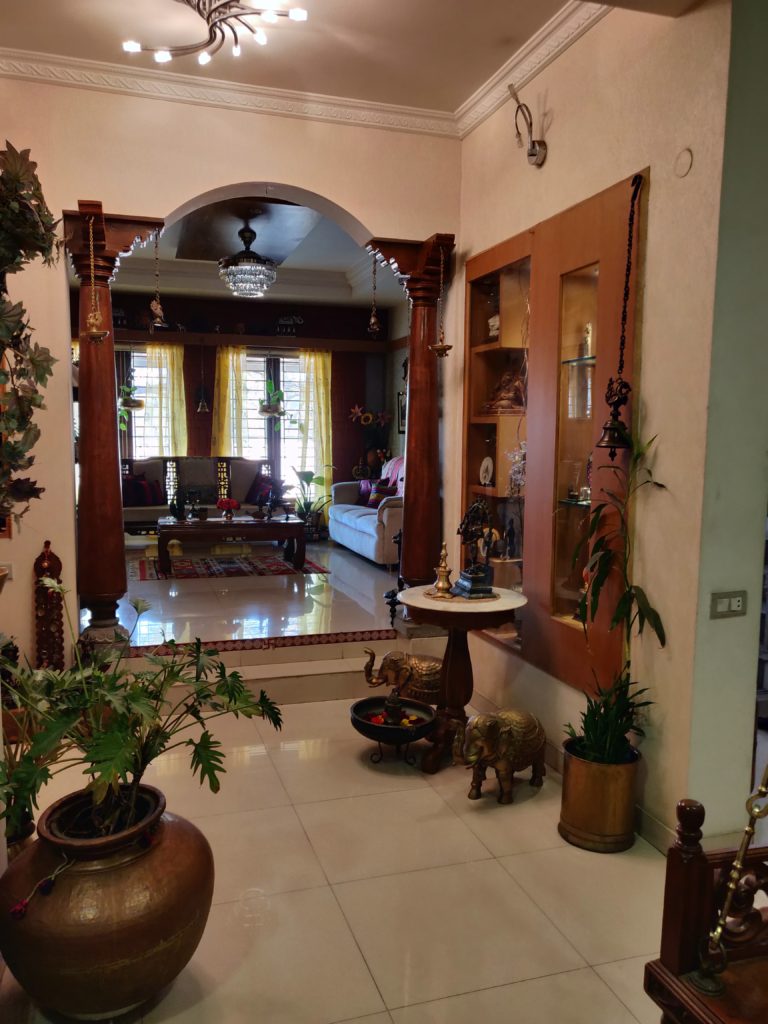 The Decor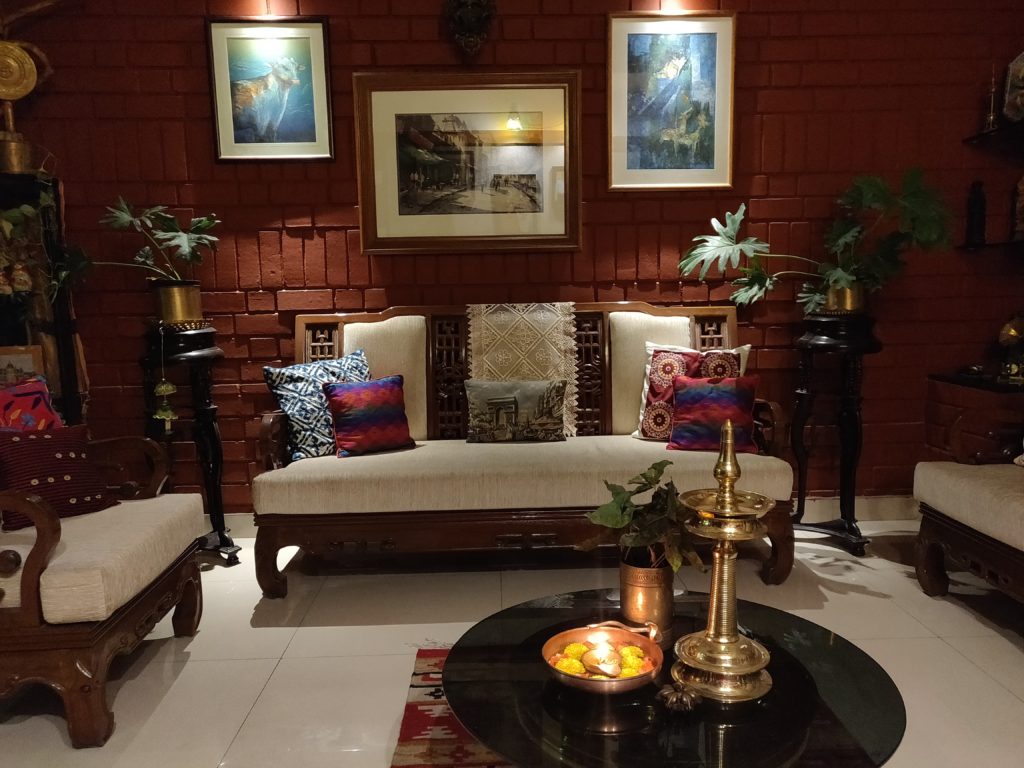 It is hard to miss that this home is lovingly peppered with collectibles, family heirlooms and brass, beautiful furniture and furnishing. There is a hint of the modern but there is a distinctly traditional brass and wood vibe, with the red bricks giving a lot of colour and texture to the space, and the natural green infusing life into every corner!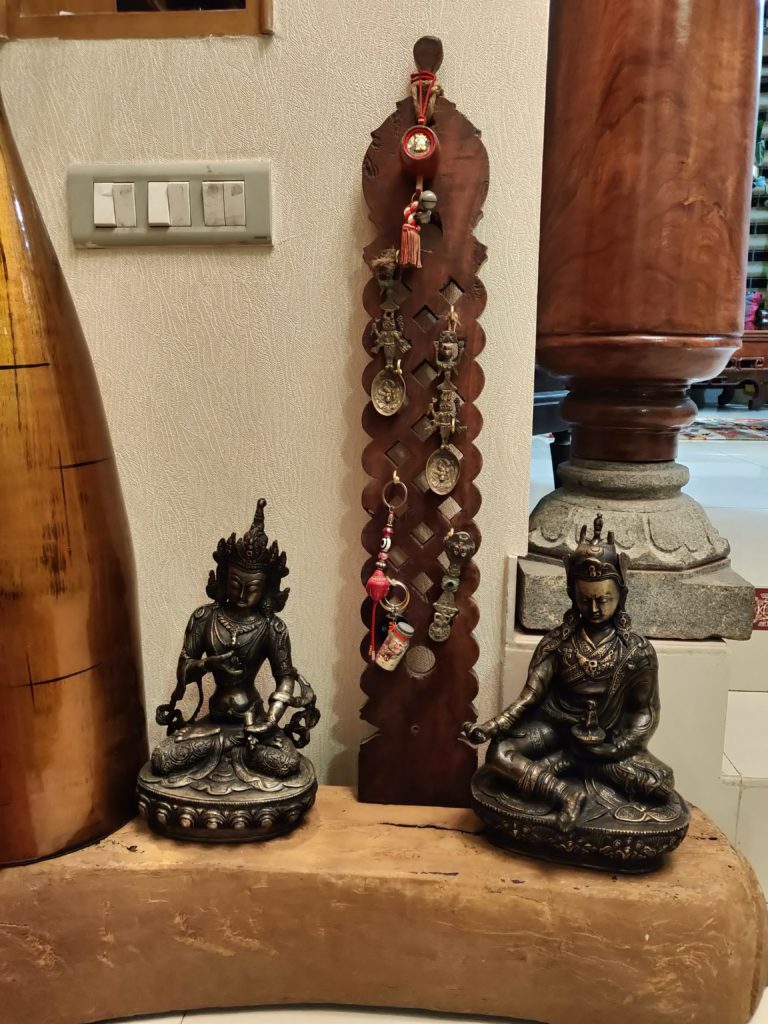 When I asked Shobha about the source of all the beautiful stuff around, she said, "It is furnished with many inherited pieces from my in-laws and parents. In all the rooms we have stuck to traditional Indian decor with local handicrafts. Along the way, I've also picked up some great souvenirs from my world travels so the whole house is an eclectic mix of décor."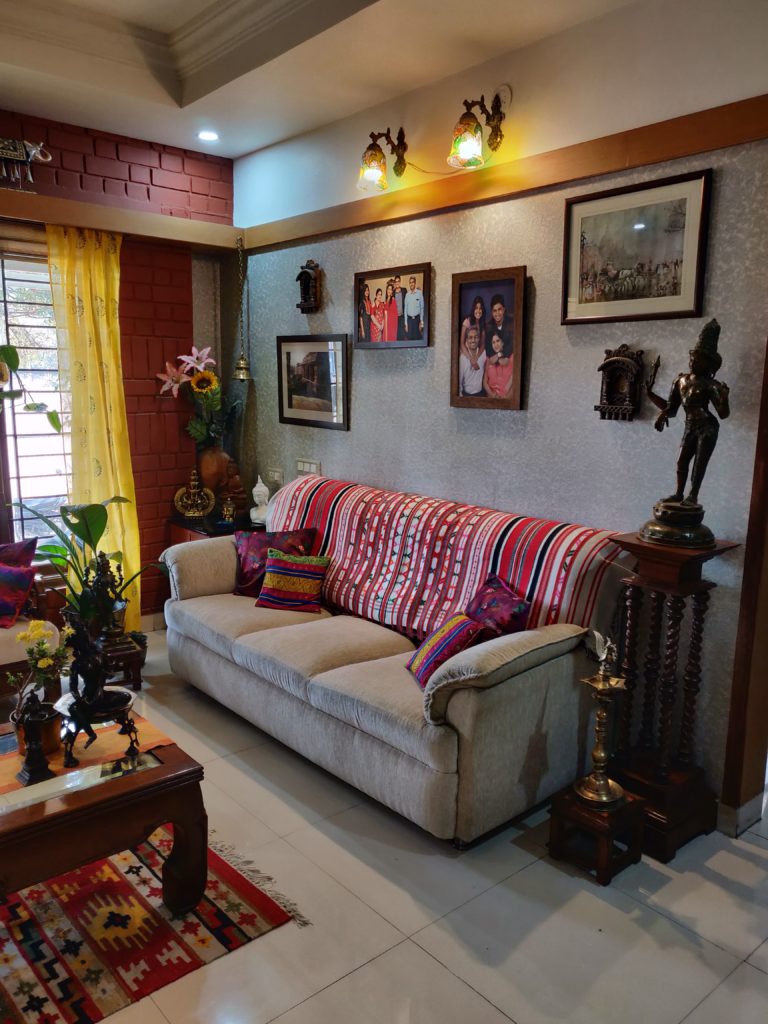 She continues, "The colour scheme of the house revolves around red – the colour of the wire cut bricks and stone, and light colours of vitrified flooring. It has a lot of open spaces and natural light."

She has missed out something important I think to myself, and when I catch her eye, she adds with her charming smile, "Of course, gardens too!"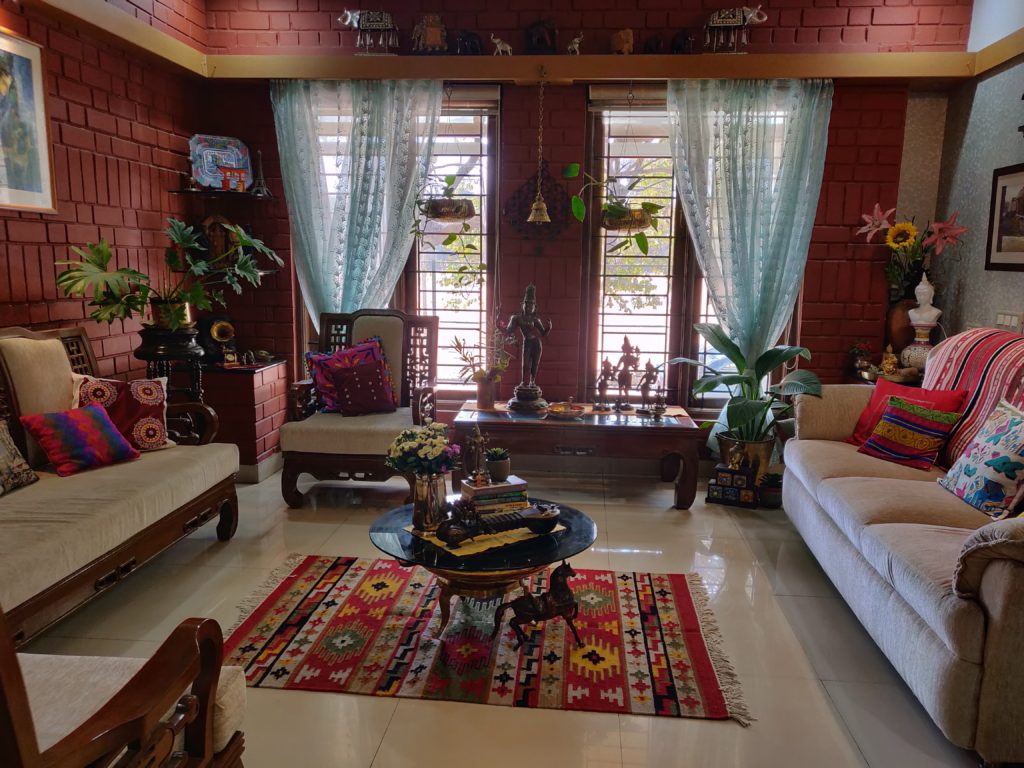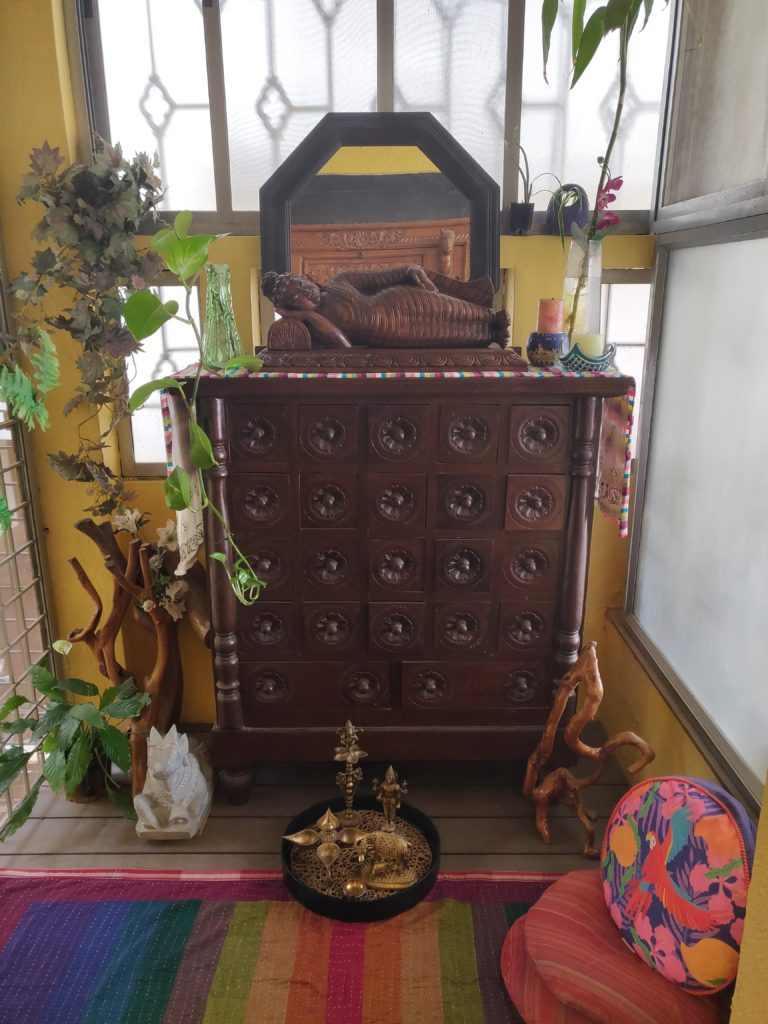 Of a backyard garden, and green touches throughout the home!
For me the most stunning feature of the Ramesh residence is the wall of glass that literally makes you feel that you are one with the garden. The inside-outside contrast is brilliant and I realised I had actually stopped to stare in astonishment at the sight before me.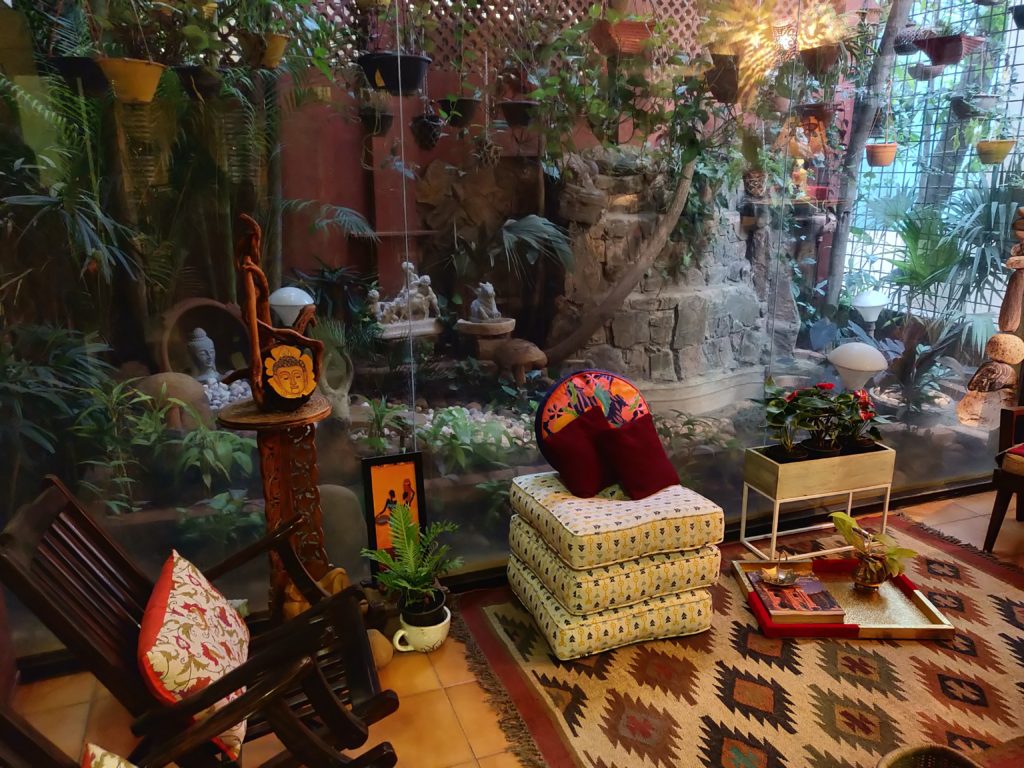 Shobha is a horticulture graduate, and her first love has always been gardening. She says, "Every aspect of gardening and greenery is incorporated into the house layout. Best attempts have been made to blend nature with our decor. We have provided adequate skylights to let the natural light in so that garden corners can be incorporated in many rooms.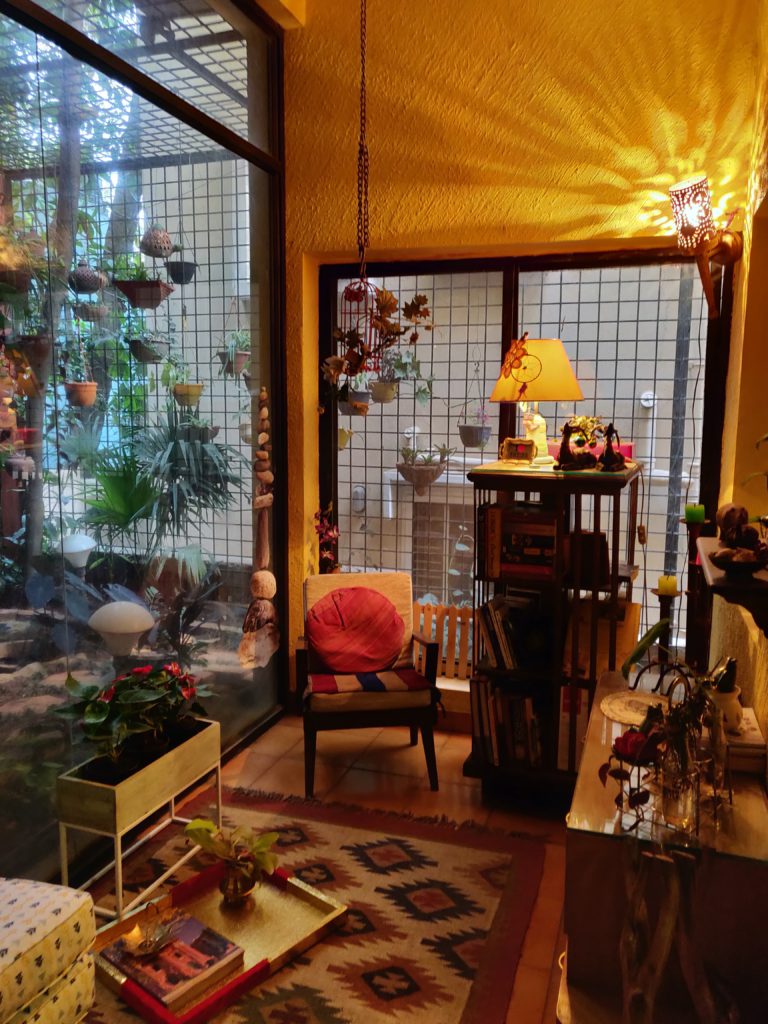 The backyard garden has a cosy reading room. The bathrooms have all got gardens in them and the terrace garden doubles up as our mini-farm to grow vegetables and greens."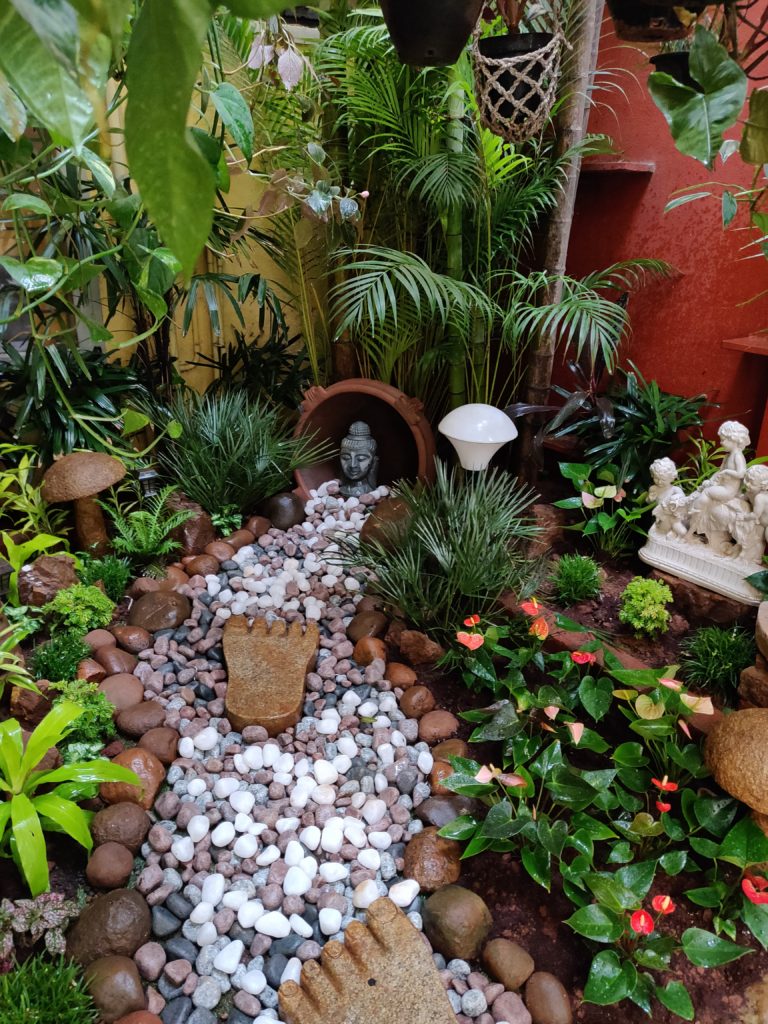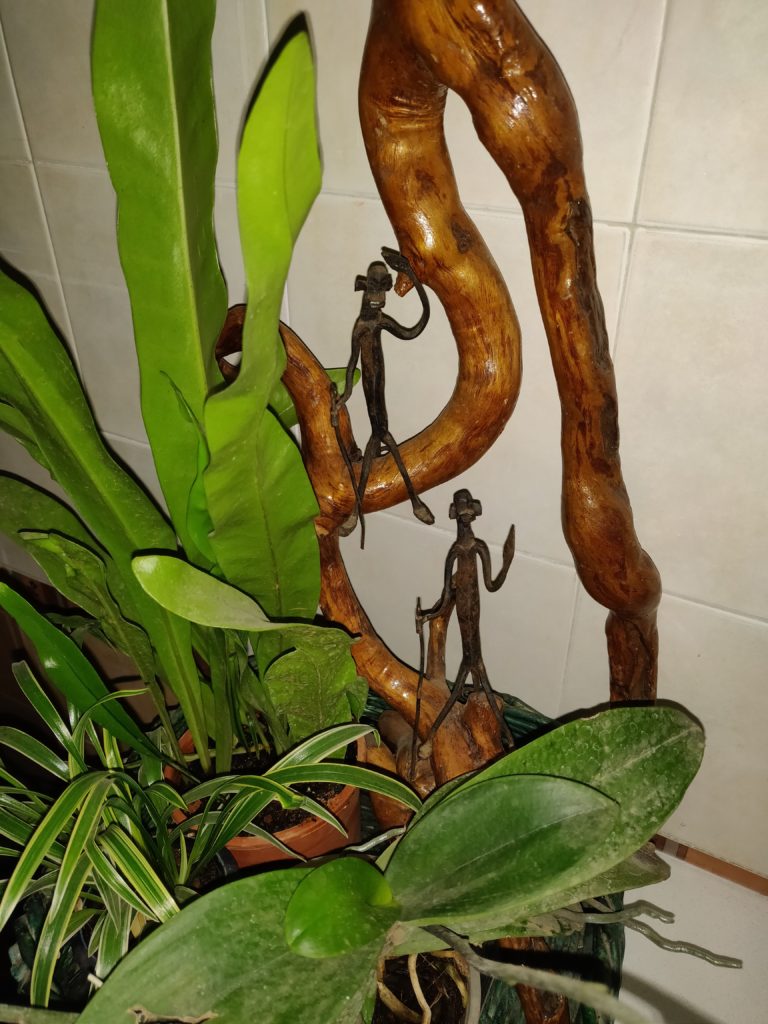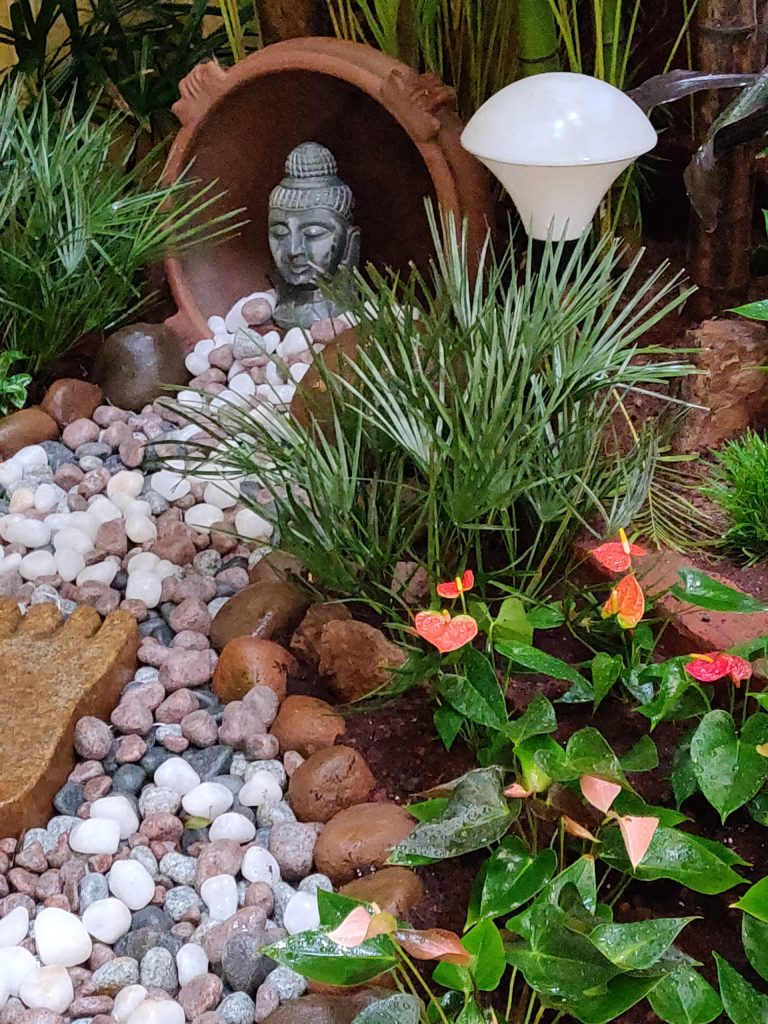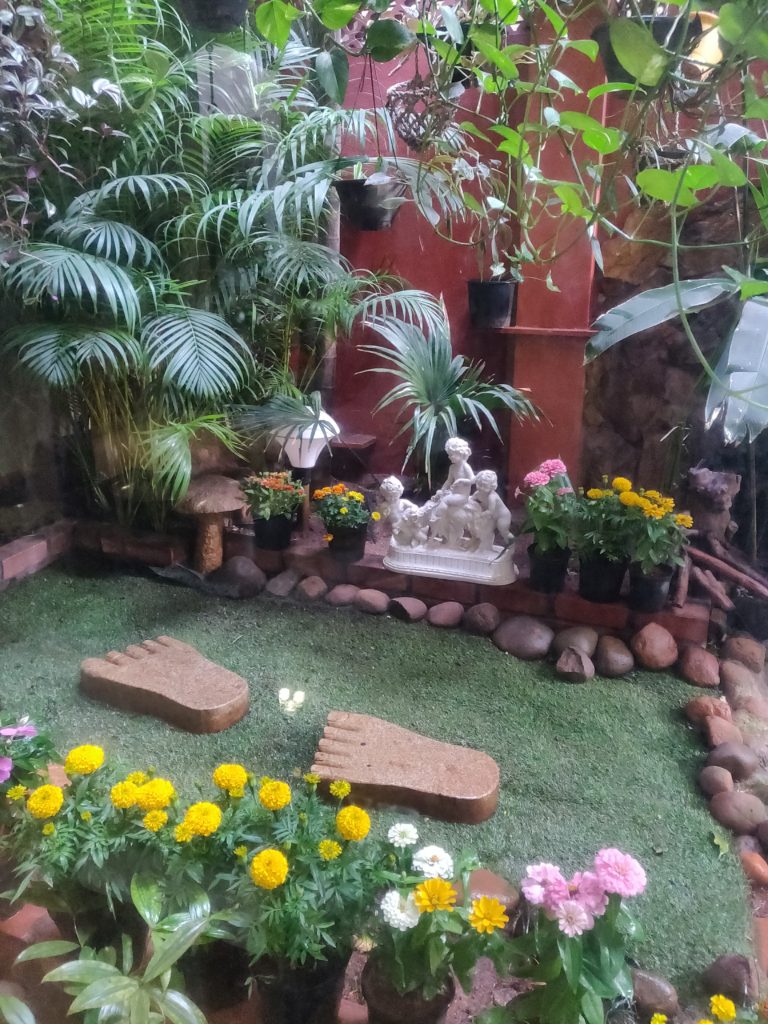 Drama in the Bedrooms!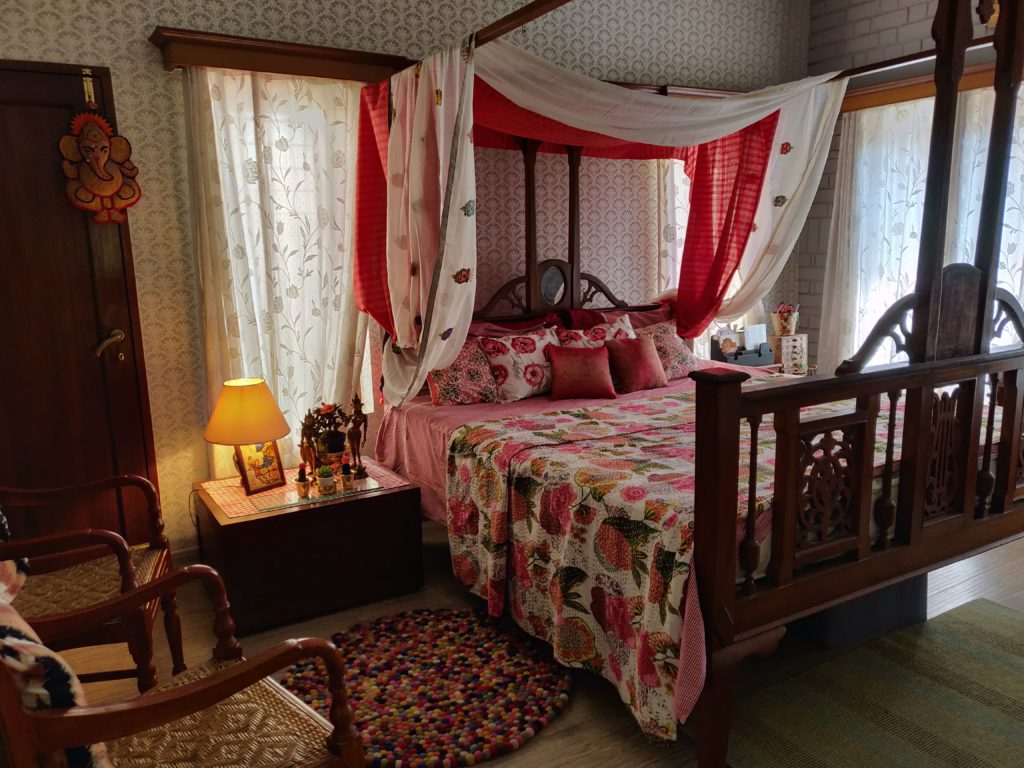 One of the triggers for this home tour were the pictures of beautifully dressed 4 poster beds that Shobha treated us to on this blog's Facebook community page, Decor Drama!
Over and over, we gaped and gawked at the elaborate layers, the romantic veils, and sighed at the beauty of it all! Here are some of the pictures, the blue accent wall is from her son and daughter-in-law's bedroom, while the wallpapered wall is of the master bedroom!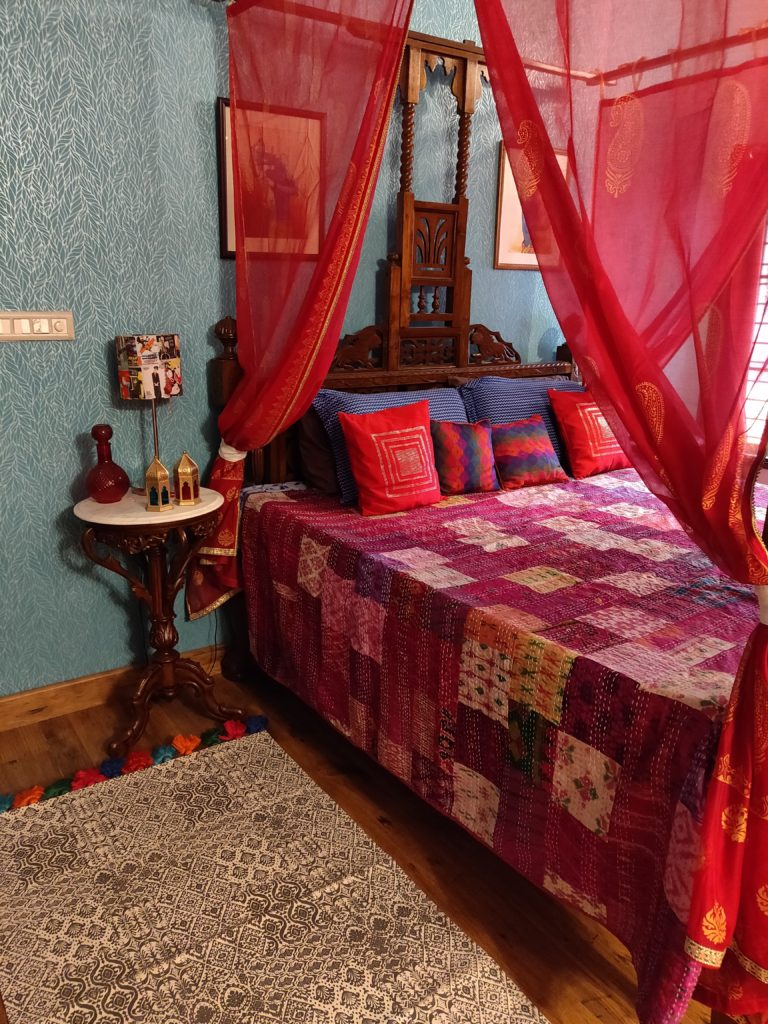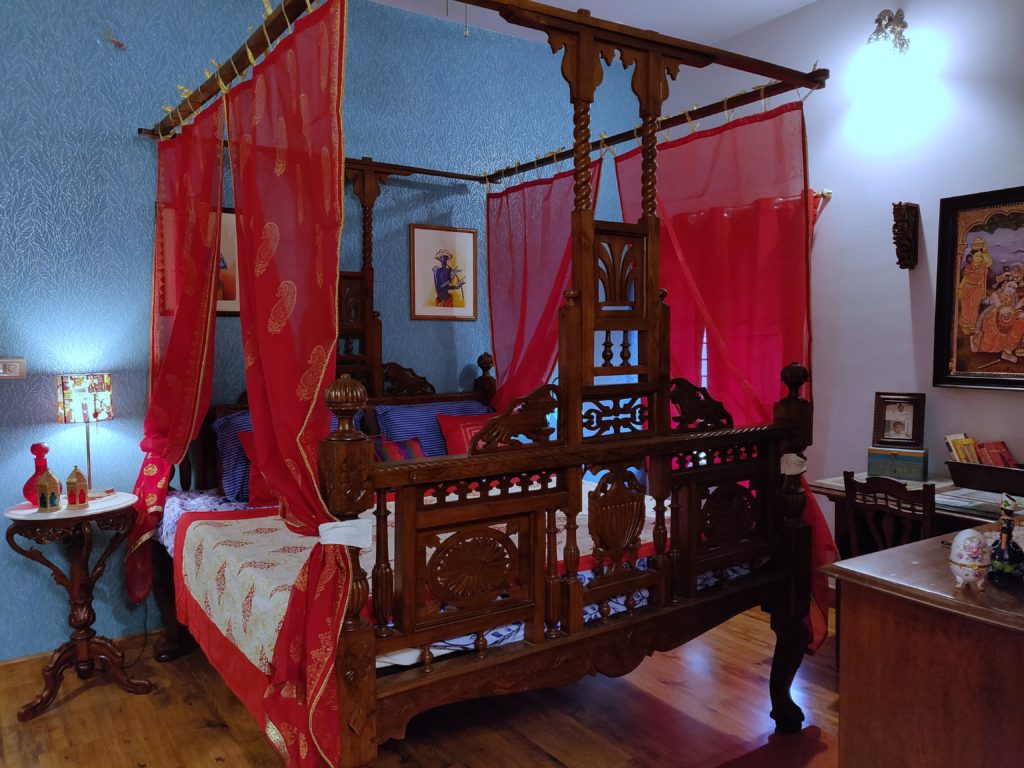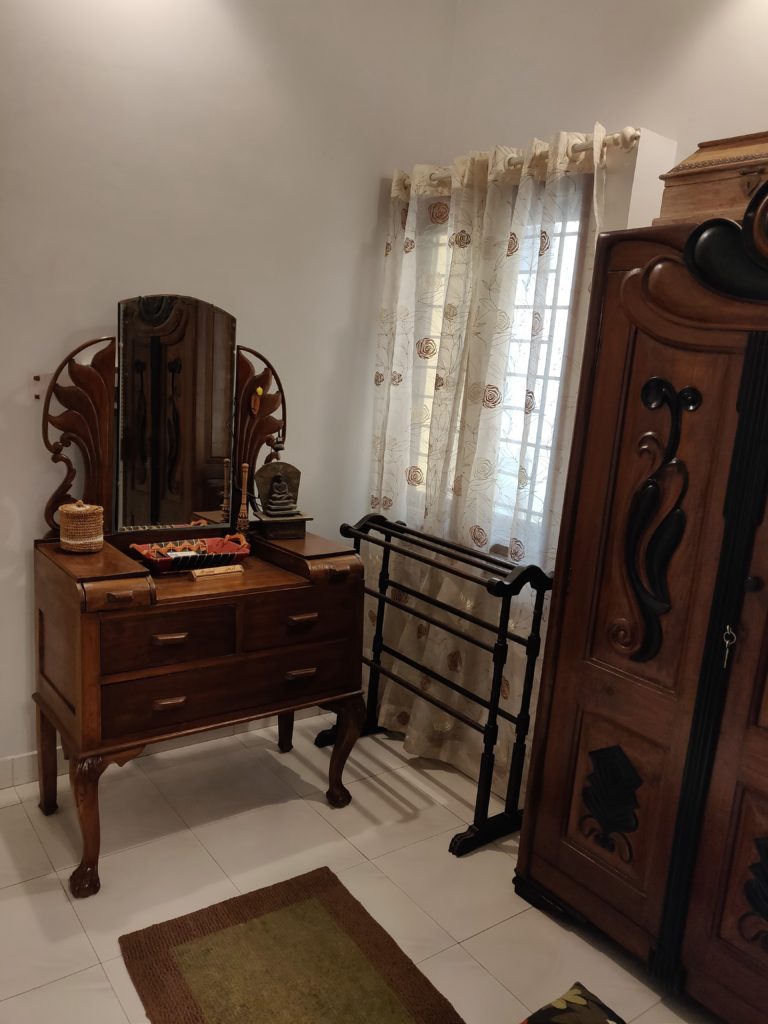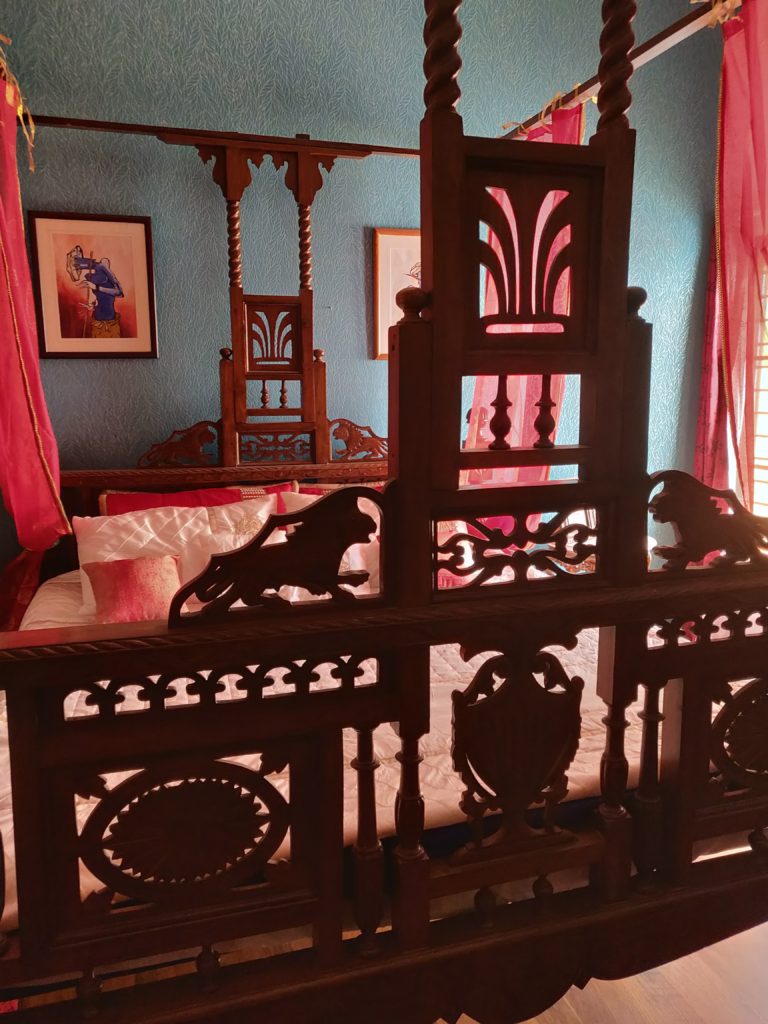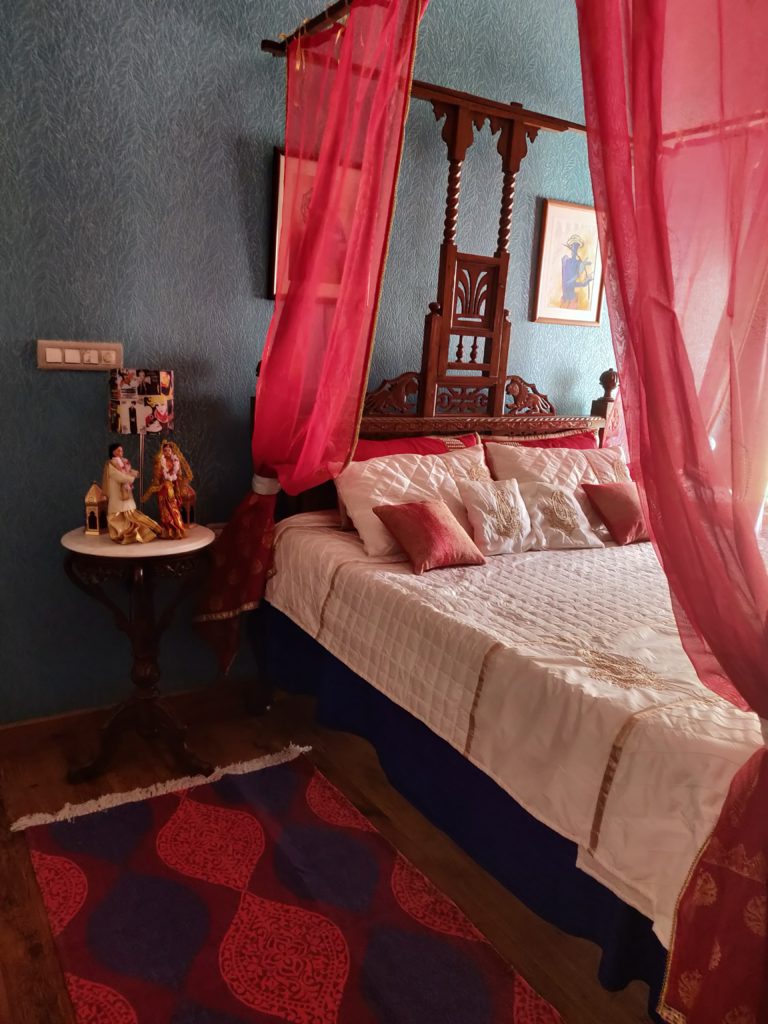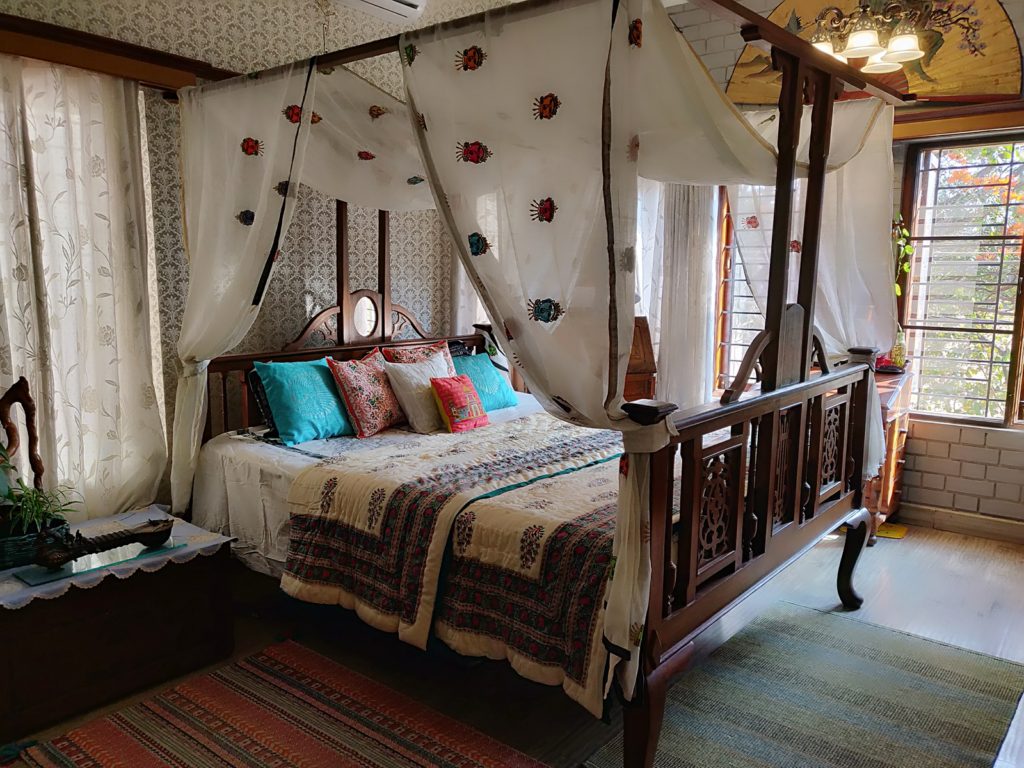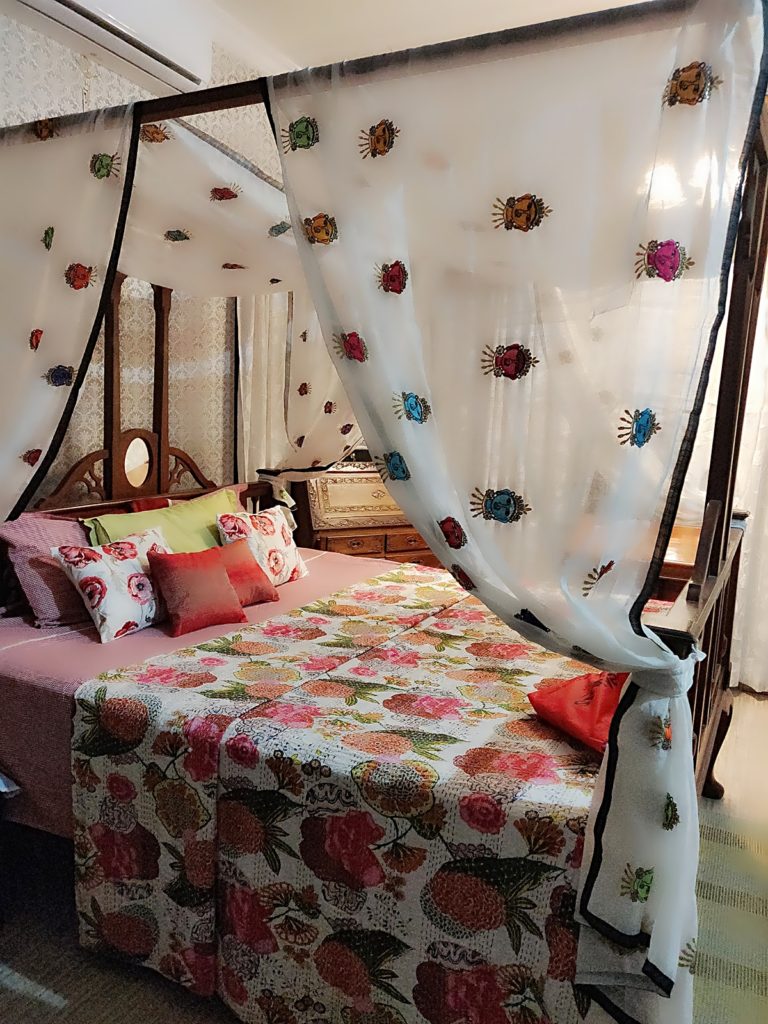 I'm sure you agree, her bedrooms are stunning, and the antique four poster beds are certainly in demand after Shobha showed us how prettily they could be dressed up!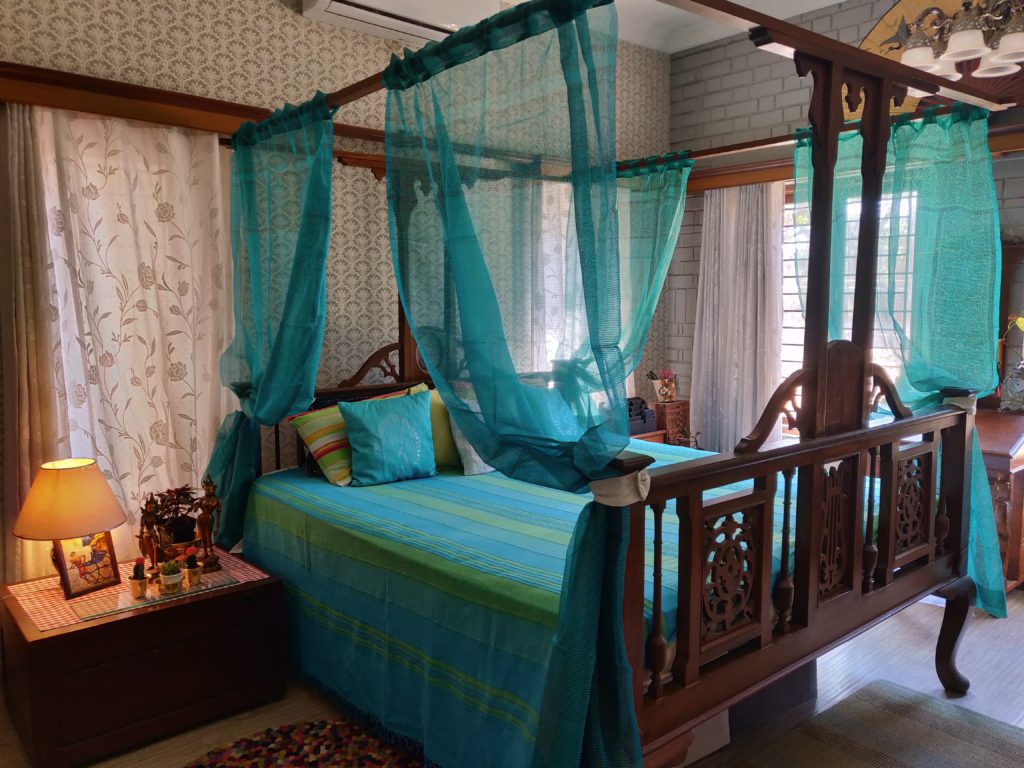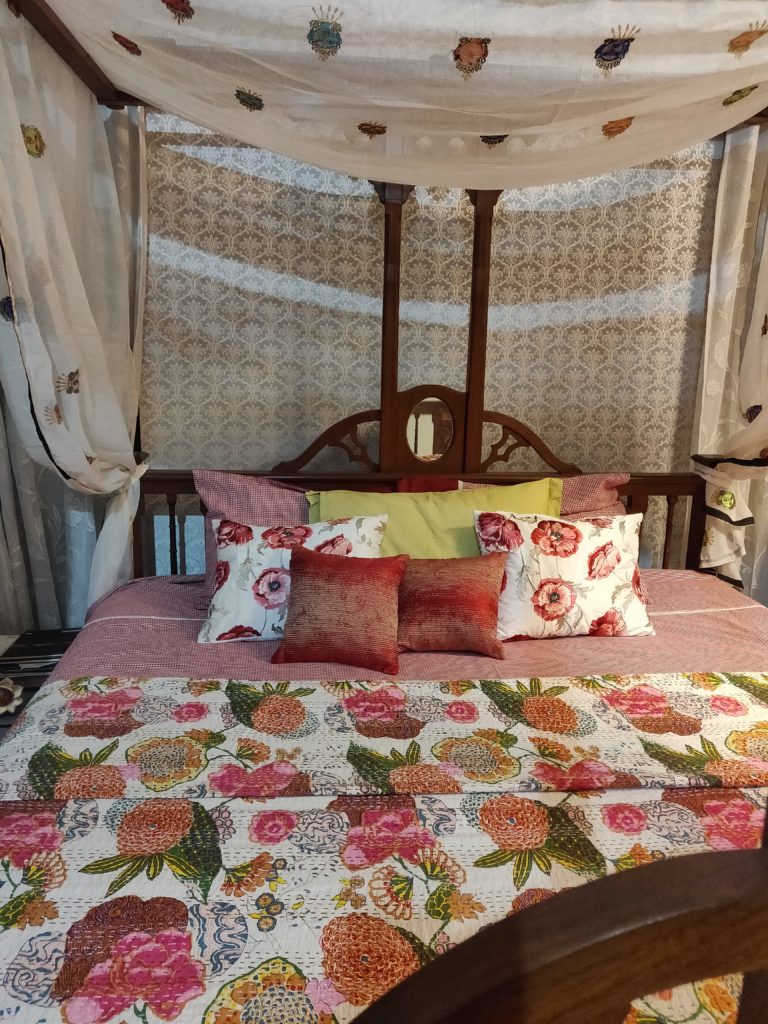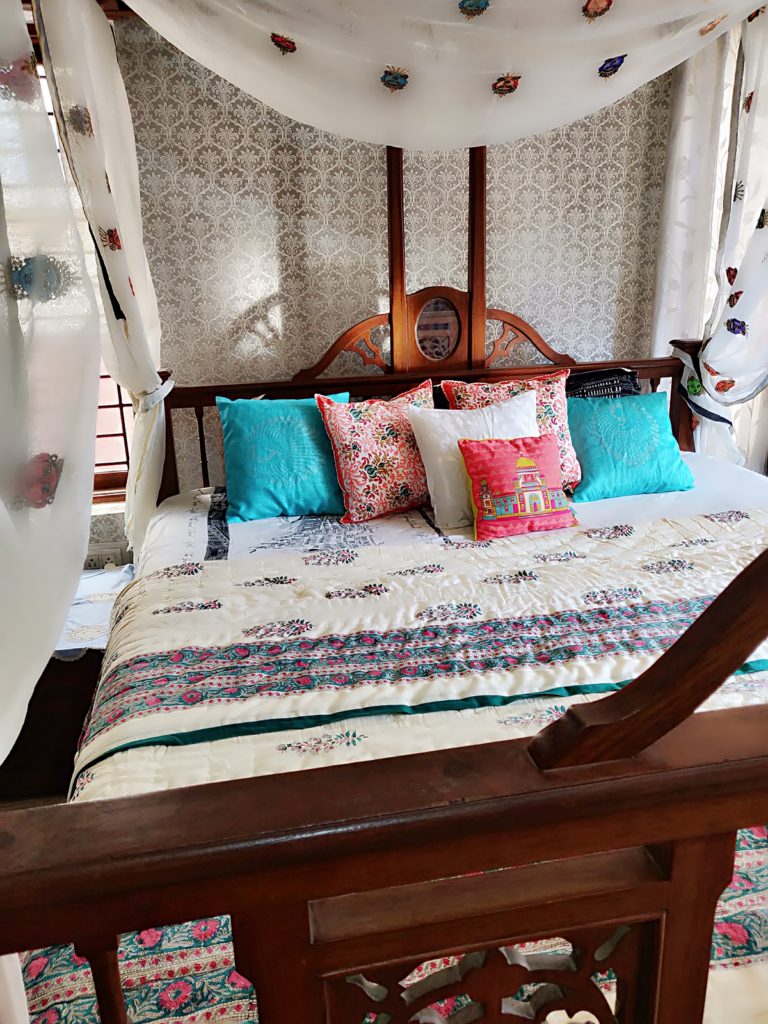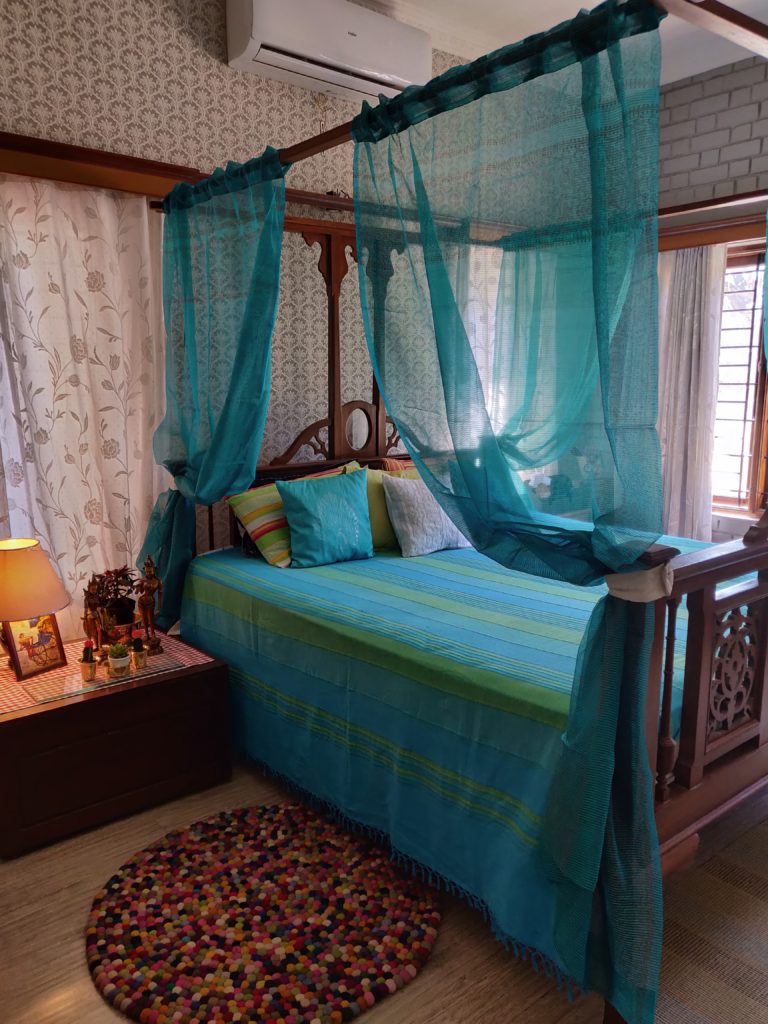 As you can see I have included most of the bedroom pics that Shobha shared with me, as I was unable to pick and choose!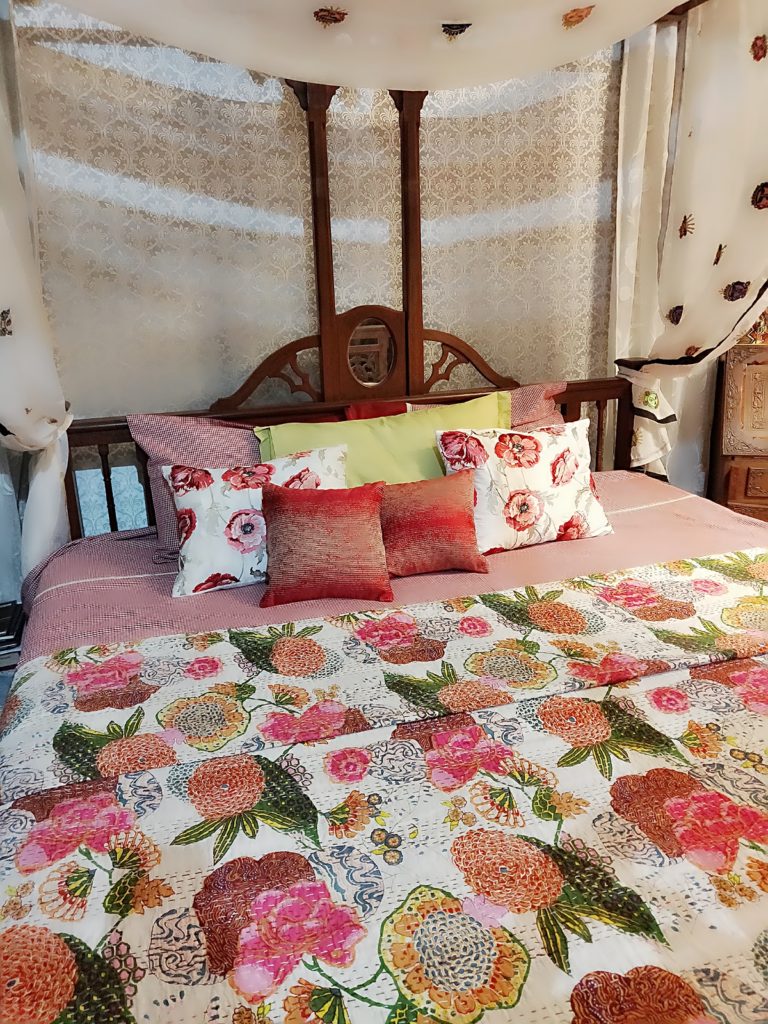 Of future Plans and her Growing collections of Old Collectibles
I asked Shobha what her future plans for the home were. She explains, "I have always wished to have a Nalukettu type of home but it was never possible because of space constraints in the city. However, one day I dream of achieving it in my farm in the village."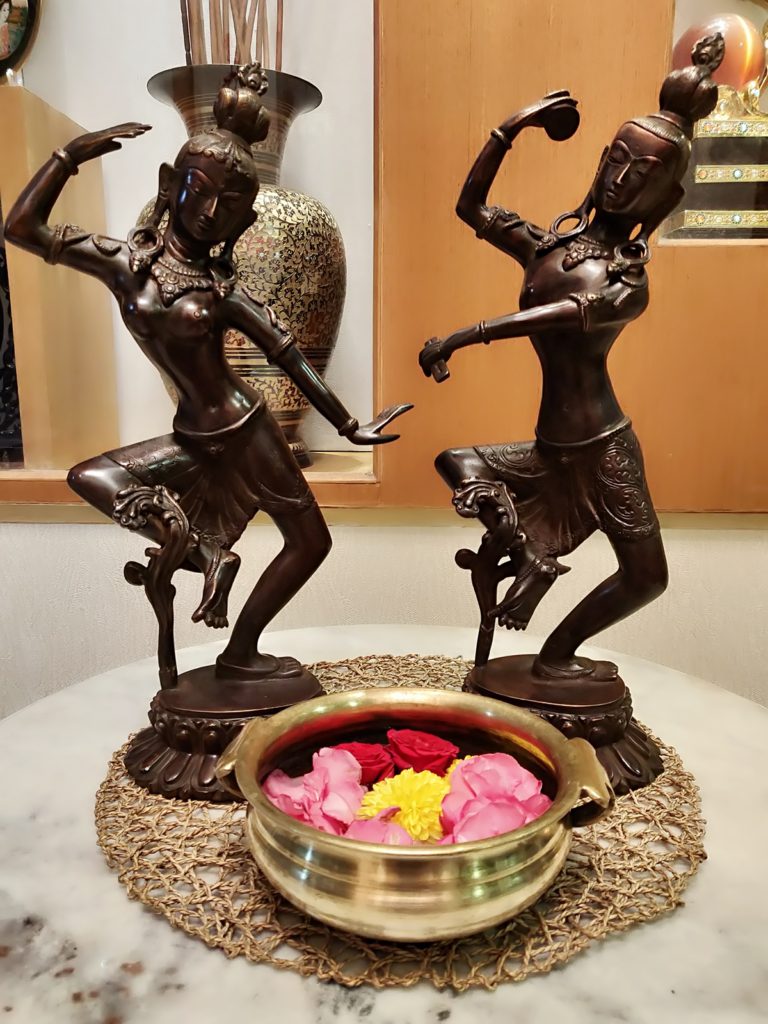 About the collectibles she says, "I have always been influenced by our Indian villages, folk art, handloom textiles, brass and copper utensils. Brass being my favourite, I have a whole lot of them.

Although I have a tough time maintaining them, my passion keeps me going. I still collect a lot of them from various places, Prachya (owned by a mutual friend of ours, Radhika Yuvaraj) being my favourite place to shop and browse."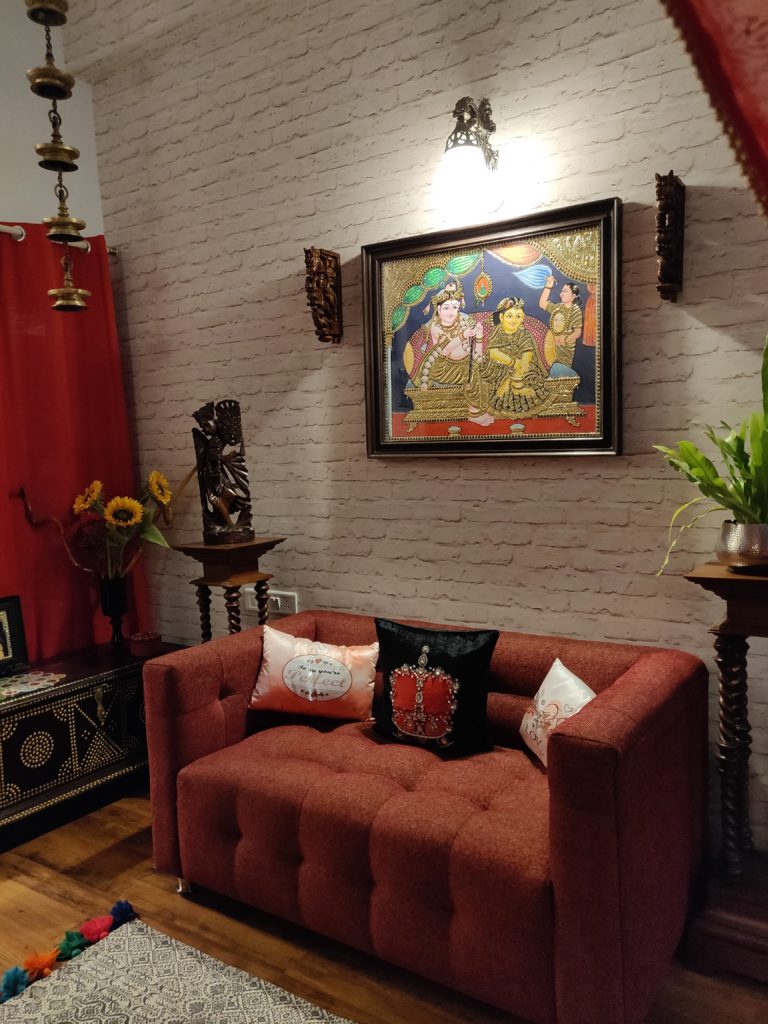 And…it's a wrap! Did you enjoy this home tour?
We have disabled comments but connect with us on Instagram and Facebook and tell us what you want to see more of on this blog! You could also email us at [email protected]
And in other news…
there's a coffee table book brewing
And here's how you can be a part of it!

If you are interested in home tours, we are coming up with a look-book of the best of The Keybunch. Let us know if you own or know of a magazine worthy home that can be featured in the book! email us now!