If you are working from home, then you must pay attention to your home office chair. I tried out the Fluence chair from HNI. I would love to share my learnings about the effectiveness of home office chairs with you.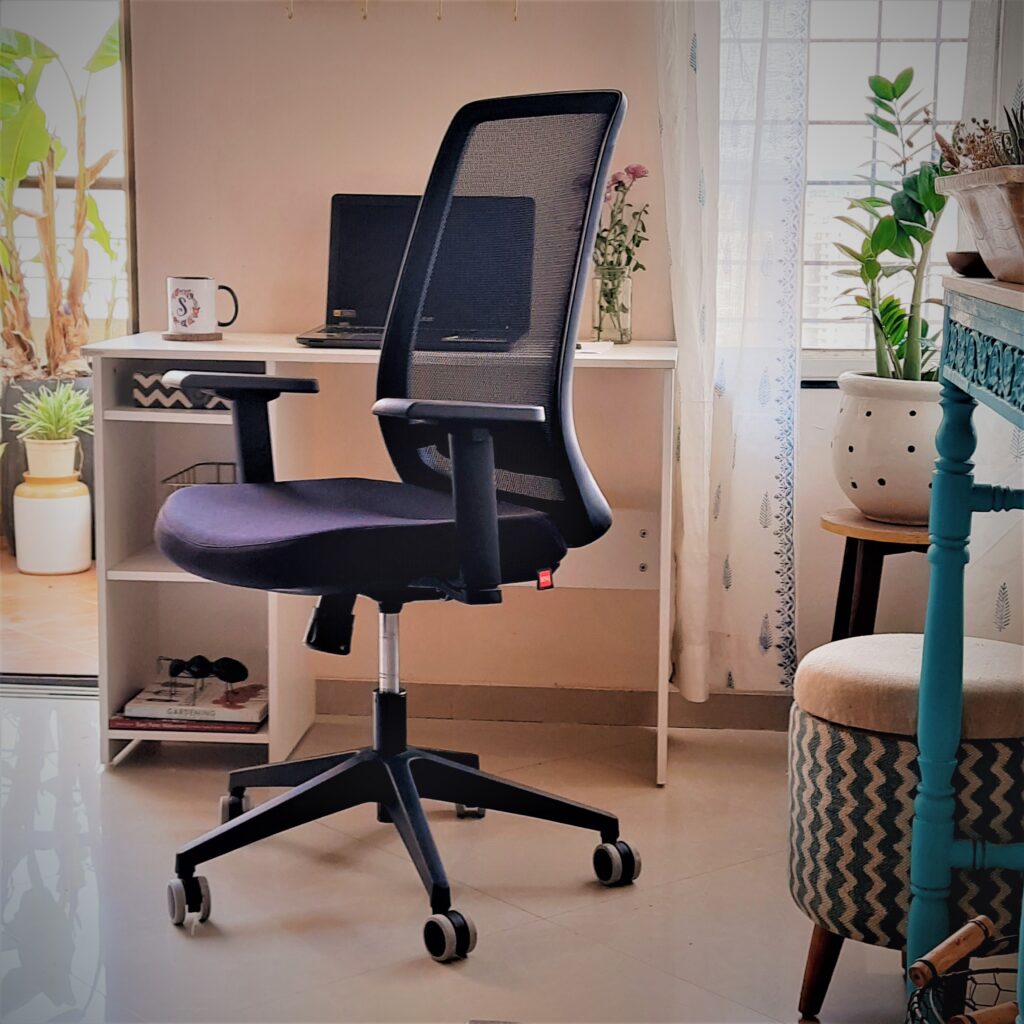 Are you one of millions of Indians currently working from a home office? What is your home office setup like? Like some of my friends in corporate jobs, you are possibly putting in more work hours now. And that means you spend more hours sitting on that chair!
What kind of a work chair are you sitting on?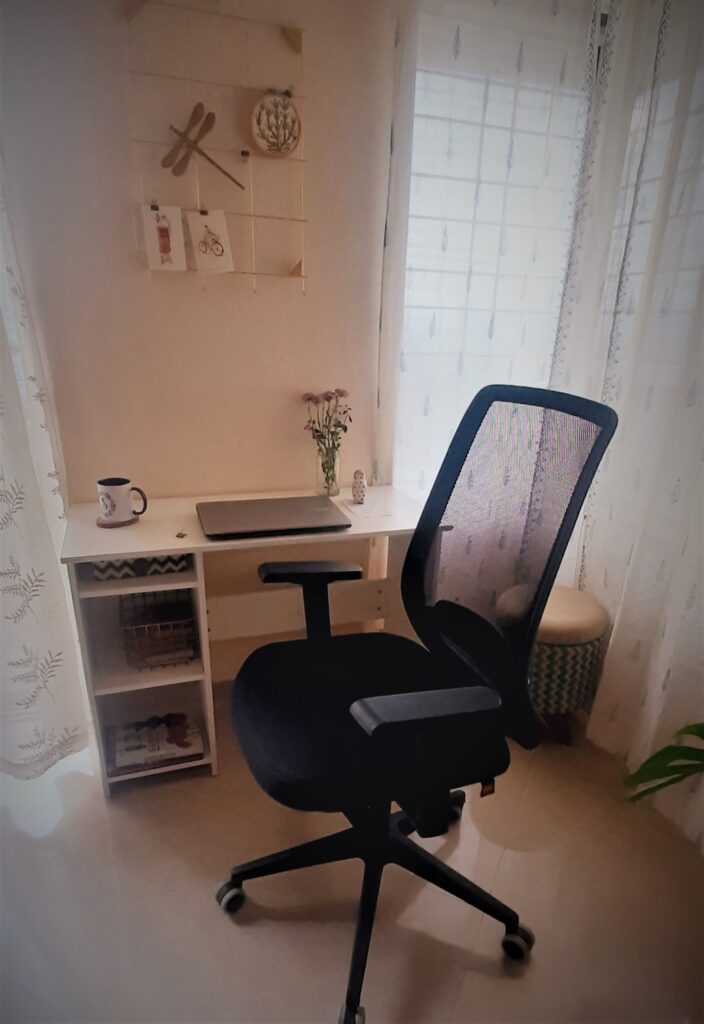 And what kind of chair are you sitting on? The one that your employer has shipped? Or, are you working at the dining table, on a dining chair?
Sitting for a long duration adds stress to the structures in the spine. I read a study published in the International Journal of Environmental Research and Public Health recently. Apparently, work from home has led to increased sedentariness and poor posture during the lockdown. As a result, there is an increased incidence of lower back pain and neck pain.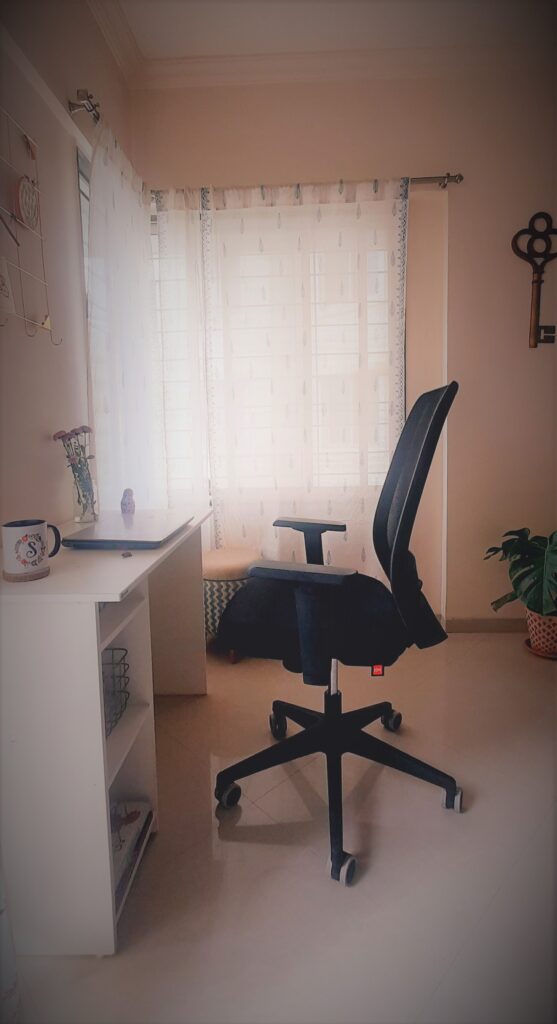 To avoid developing back problems, it's important to have an office chair that's ergonomic; one that supports the lower back, arms and spine, and promotes good posture.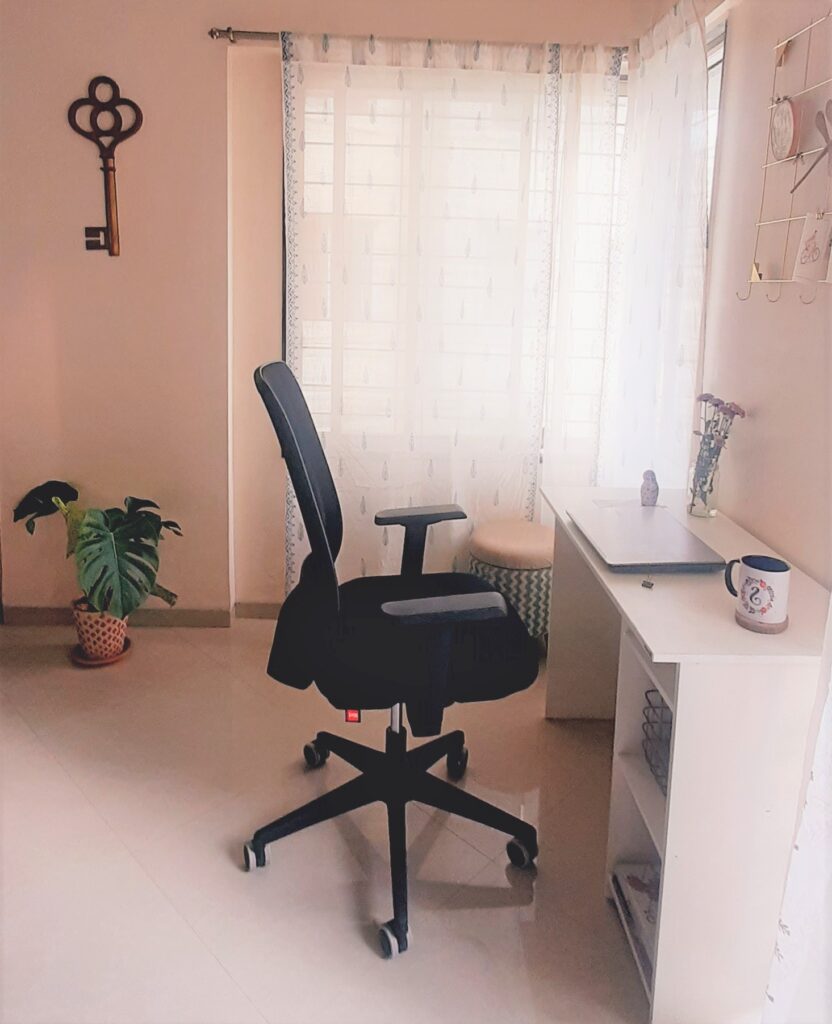 The Fluence Home Office chair by HNI:
I collaborated with HNI to try out their Fluence chair. I have been using it this past week, and I have certainly been liking the comfort it offers. Shifting to a Fluence chair, I experienced that my neck pain and lower back pain have noticeably reduced. Impressed, I decided to ask HNI to share some tips on what to look for in a home office chair.
There are many types of ergonomic chairs available with HNI. The specifications vary, but all their chairs conform to ergonomic standards.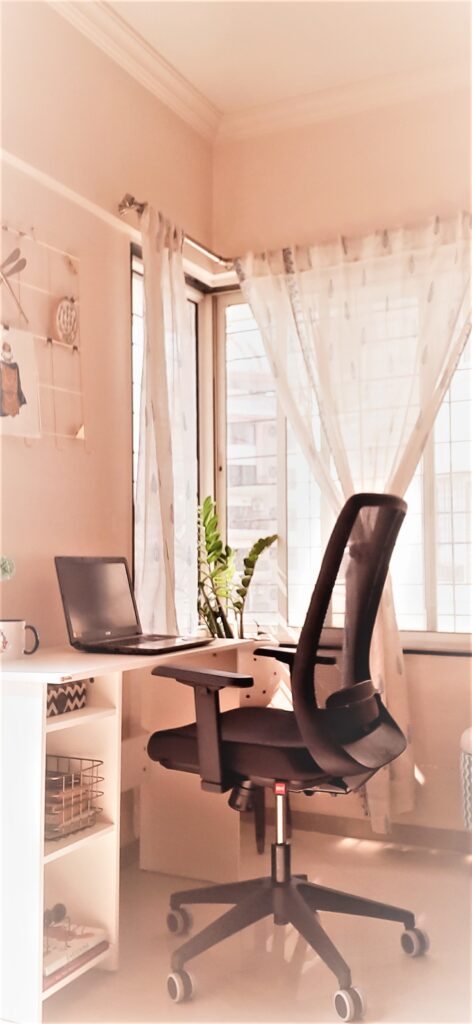 What Features Should your Home office chair Possess?
When you buy a new chair check for these features.
Seat height.
The ideal seating position on an office chair? Sit with your thighs parallel to the floor, and your feet flat on the ground. A good chair should offer adjustable height. Look for a chair that has an easy-to-operate lever, placed conveniently.
Seat width and depth.
Look for a chair that has adequate width for your particular body type. The depth is important too. So ensure that you are comfortable in your chair, with a few inches to spare on either side. Also check the seat material and fabric, and ensure that the seat is padded.
Lower back support.
Lower back support is a very important feature. The lumbar curve in your spine requires support. Look for a chair that has an inward curve towards you. It mimics the curve of the spine, giving your lower back that extra support. Some chairs have an adjustable lumbar support feature that you can adjust to exactly align with your body's lumbar curve. This gives you that much required support.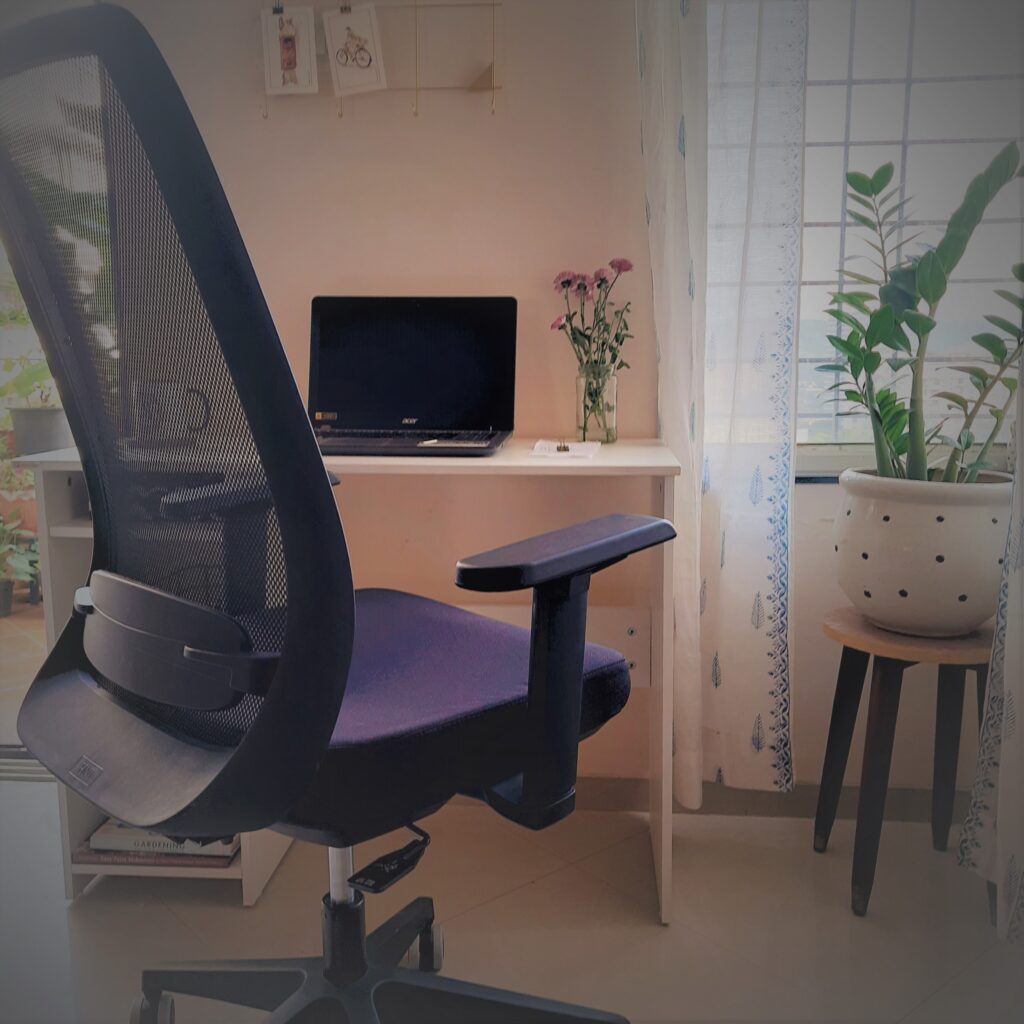 Backrest.
Apart from lumbar support, look out for a suitable back rest. You could choose between a fixed back, a tiltable back or an adjustable back rest. Opt for a fabric that suits your working conditions and comfort levels. For instance, a strong breathable material is required while working in humid climates. Conversely, faux leather if you are working in an air-conditioned space.
Adequate range of motion
Working at a large desk, or have to reach often to check a lower drawer? You could consider a chair with wheels, or a revolving chair to give you a comfortable reach.
Arm rest
Since each person is built differently, an adjustable arm rest is a necessary feature. It facilitates absolute comfort while working from home. The arm rest should be easily adjustable.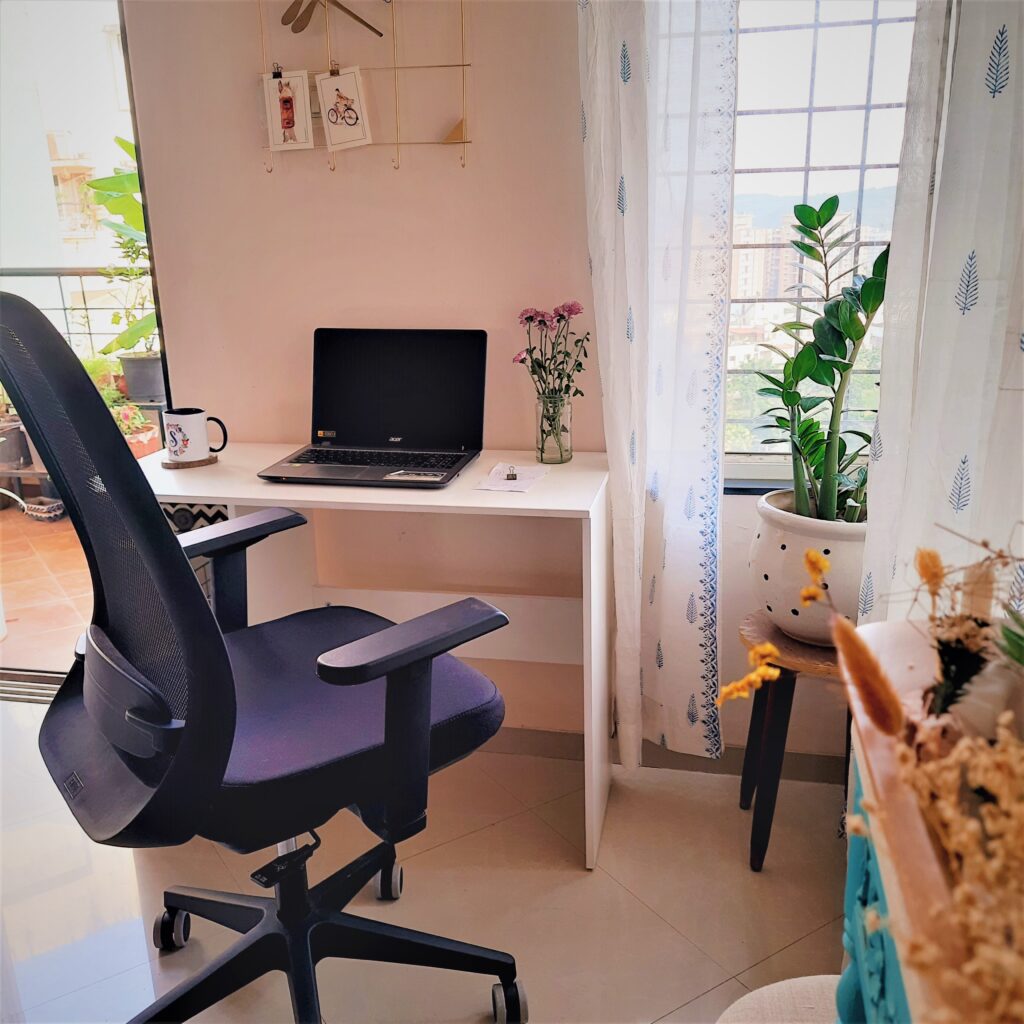 HNI has a range of products for your home office.
As a Make in India supporter, I am thrilled that HNI products are made in India. The brand has a range of furniture solutions for home offices. Besides home office products like tables and chairs, HNI also has range of quick work accessories like ergonomic side tables, stools etc. In fact, there is a chair for every budget so head to the HNI India Amazon Store to have a look! Scroll down to take a fun quiz about home office chairs.



About HNI:
HNI is one of the largest workplace furnishings manufacturers in the world and a leading seating solution provider. Founded in 1944 in Muscatine, Iowa (USA), HNI is a NYSE listed company that has servicing capabilities in over 50 countries.
HNI manufactures all of their products at the expansive state of the art manufacturing facility in Nagpur. Their products go through a rigorous quality testing standards that mirror the global quality testing standards. Please visit www.hni-india.com to know more about them. You can buy their products on amazon as well
---
Head to our Pinterest page on Home office design. Pin these images, and also pin more Home Office pictures curated by us!
TAKE THIS FUN QUIZ TO TEST YOUR KNOWLEDGE ABOUT OFFICE CHAIRS!
DISCLAIMER
This is a sponsored post by HNI India. My views about the Fluence chair are based on a personal trial. The information about ergonomic chairs is however, built on my own research, and verified by experts at HNI.