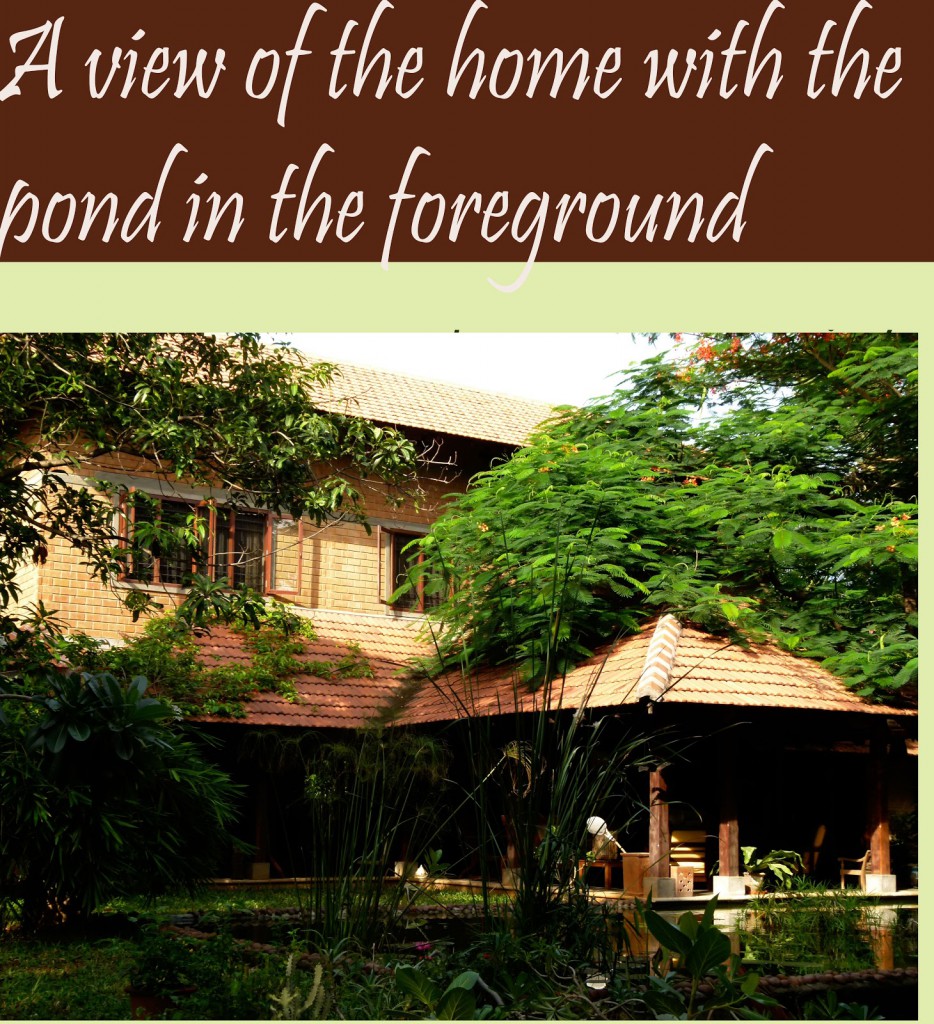 Interior designers Ranjeet and Maria Jacob live in a dream home situated on a quiet lane called Sea Shell Avenue. They are 250 meters form the main road and 500 meters from the ocean. The beach at their place is undisturbed, clean and devoid of fishing villages.
Their dog Waffle swims in the ocean every day.
They have lovely birds visiting their property and the bird bath is well used.
They have fireflies at night, some snakes occasionally, frogs croaking in
the pond and no other sounds.
Ranjeet's office is in
the front, left hand corner of the property and separate from the house.
It has a lotus pond and stepping stones for access. He has a frangipani
garden at the back.
They are just about living most people's dreams and let's find out more.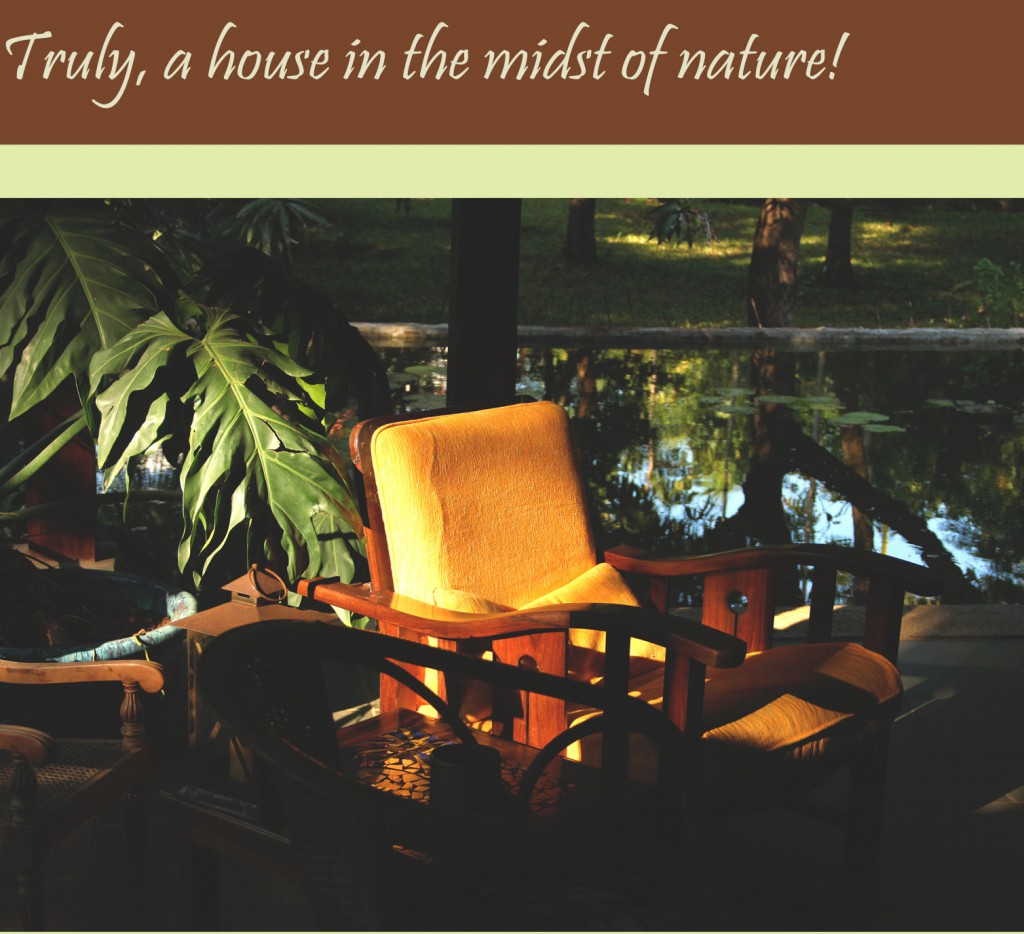 They bought their half-acre plot, and initially simply put a thatched roof on casuarina poles with a brick floor. Cane chairs, a fan and candle lanterns were all the family (consisting of Maria, Ranjeet, son Yakov, daughter Mirai and Waffle) needed to spendendless hours and evenings there.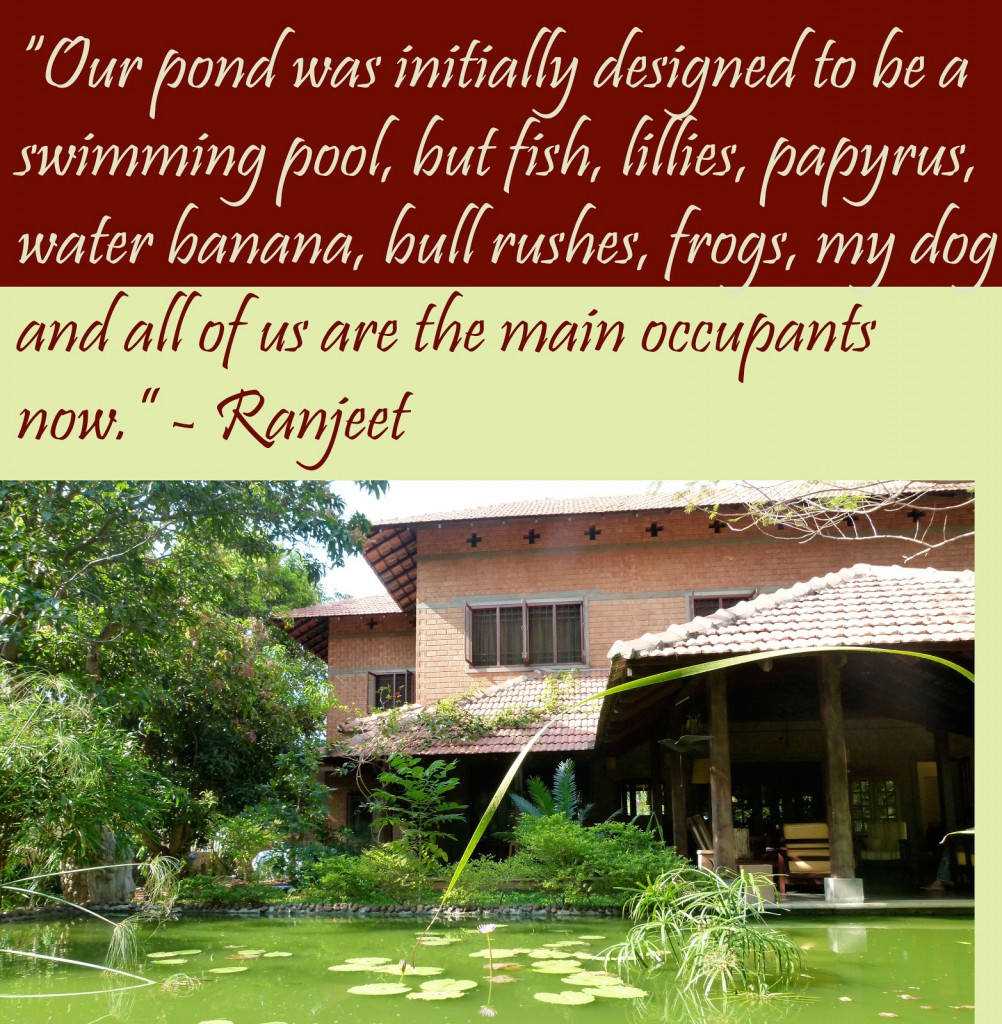 Ranjeet says, "Over a period of time, the design ideas for our
house evolved under that thatched roof. Few things became clear. We
wanted to have a house that looked as if it blended in naturally with
the trees and nature, without sticking out like a sore thumb. We also did
not want to cut any trees since we both love plants a lot. We also
wanted to have a brick house that would look as old as the mountains
from the day it was built. We also wanted to have a beach home that could
be anywhere down any coast, be it Bali, Goa or Kerala".
Praise for the architect, Benny Kuriakose
They were thrilled when they met Benny Kuriakose (Note to our readers: We featured another home by Benny on this blog here) because the first words he told them were that he did not have an ego and if they had a dream he would help them make it a reality. This was perfect for Ranjeet and Maria since both of have very clear views and ideas on what they wanted.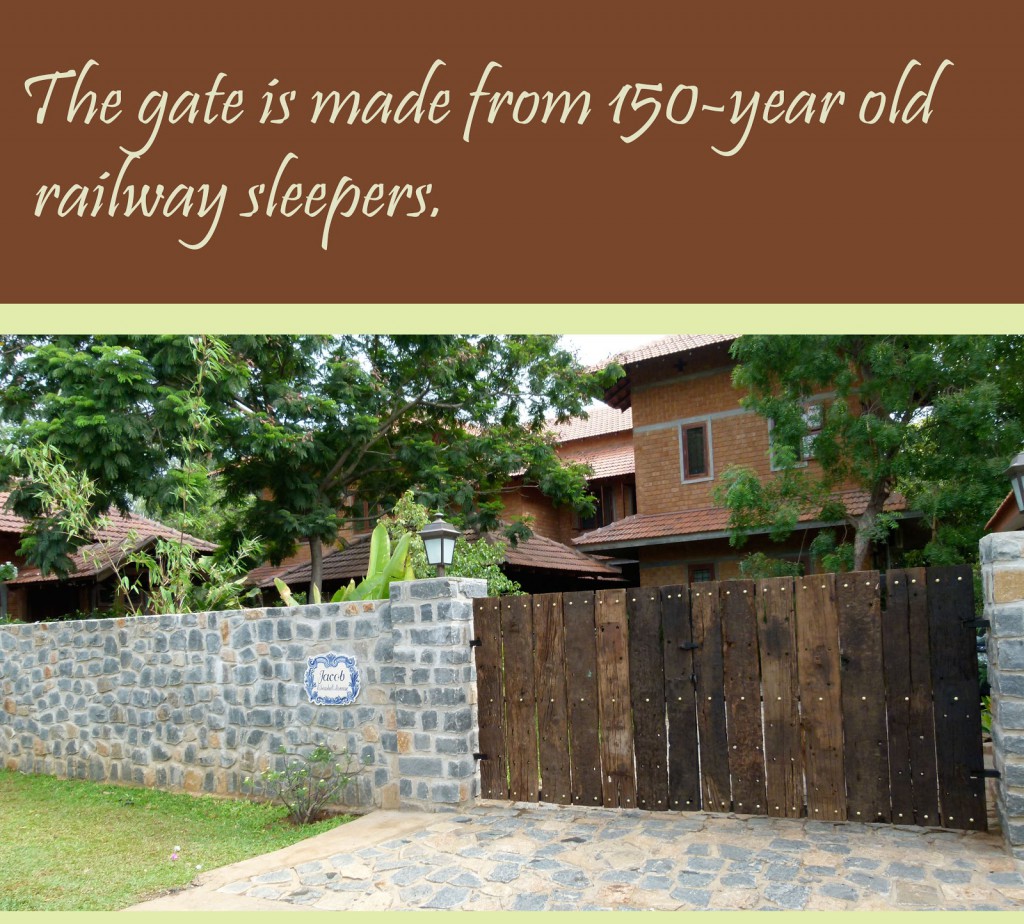 Both of them had a very active role in deciding the plan of the house, and a lot of the ideas are Ranjeet's. Ranjeet looked after most of the interiors and detailing, while Maria, who is a whiz at gardening looked after the landscaping. Ranjeet says Benny is bursting with eco friendly ideas and they have all three put their heads together to create their home. They feel he is the perfect architect. He is an expert in designing tiled roofs, and allowing a house to benefit the maximum in terms of light and air.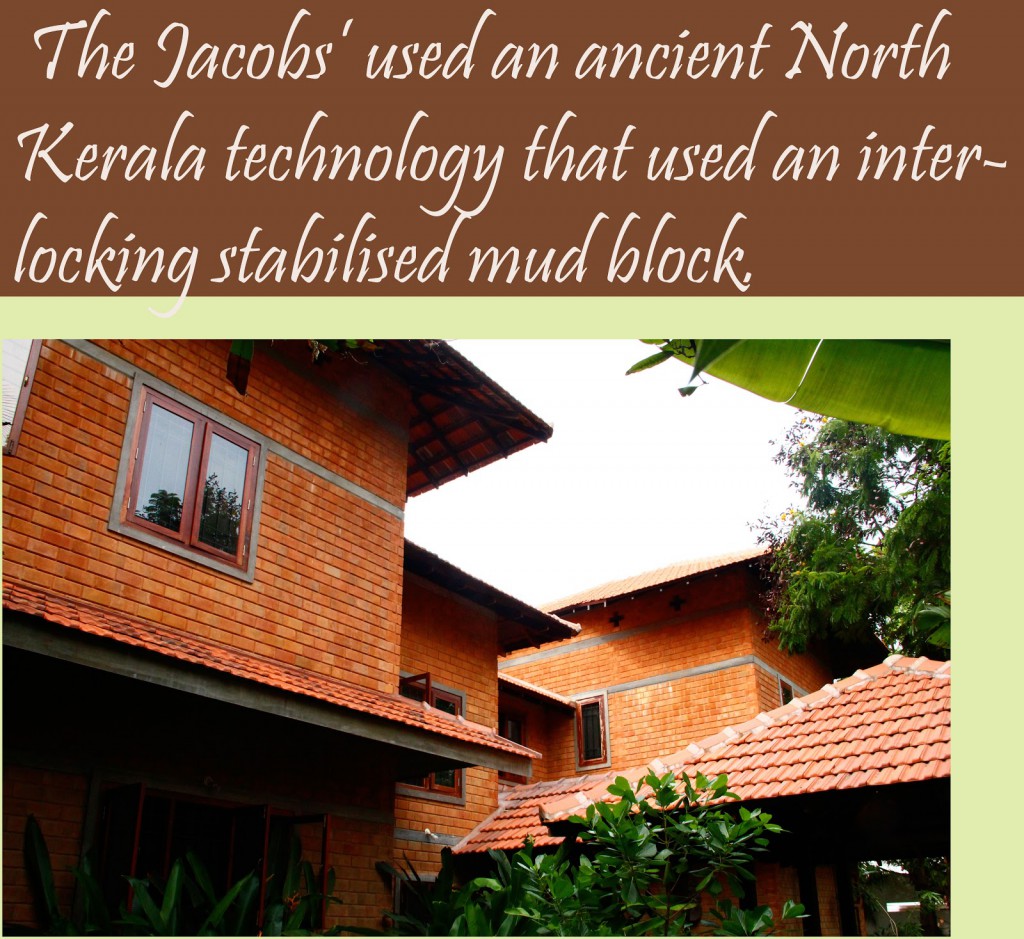 Eco-friendly bricks, a cost-saver too!
Benny found someone who made the bricks for them using mud from the Red Hills. The mud blocks were mixed with 5% cement, sand and water and compressed under 60 tonnes of pressure.
The blocks were then cured for 2 weeks with regular watering and then transported to the house.
The beauty about these blocks is that there is no baking required and the strength is thrice that of normal brick besides being cheaper.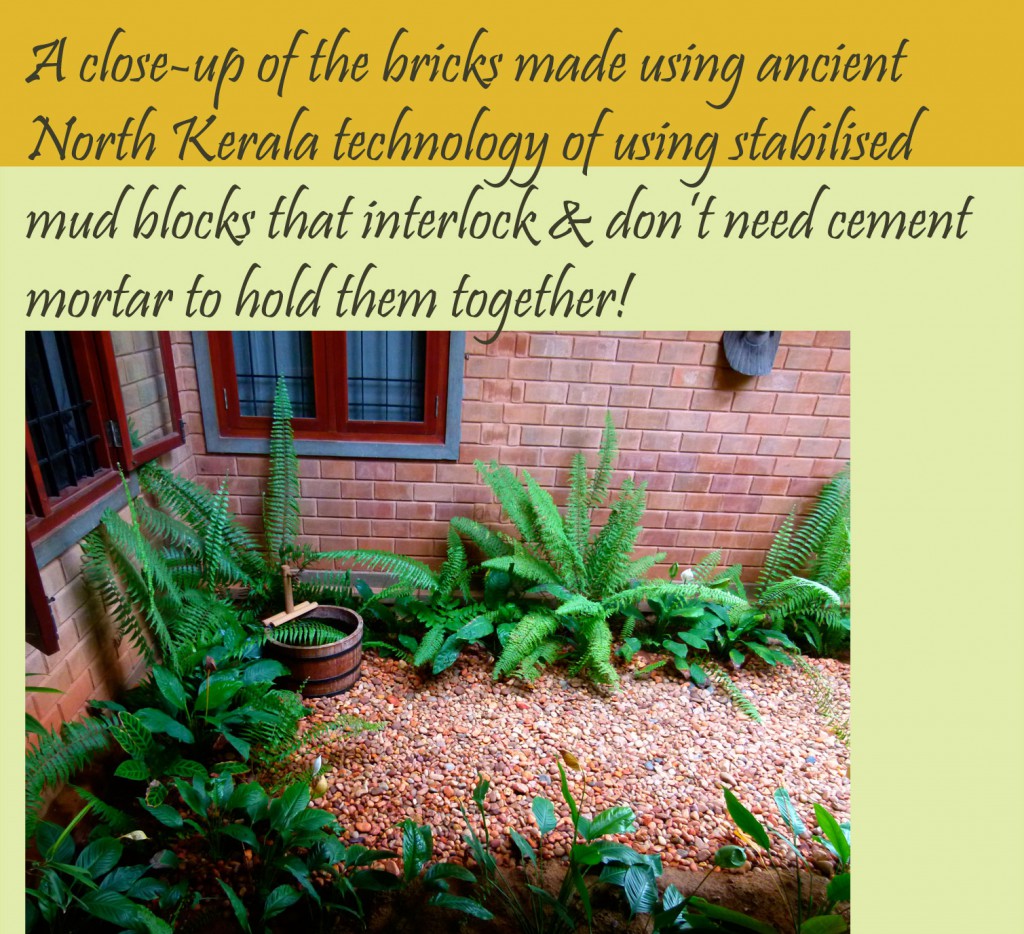 The other cost saving by using these blocks is that since they interlock, they have used no cement mortar between the bricks, and have no concrete pillars used in the house.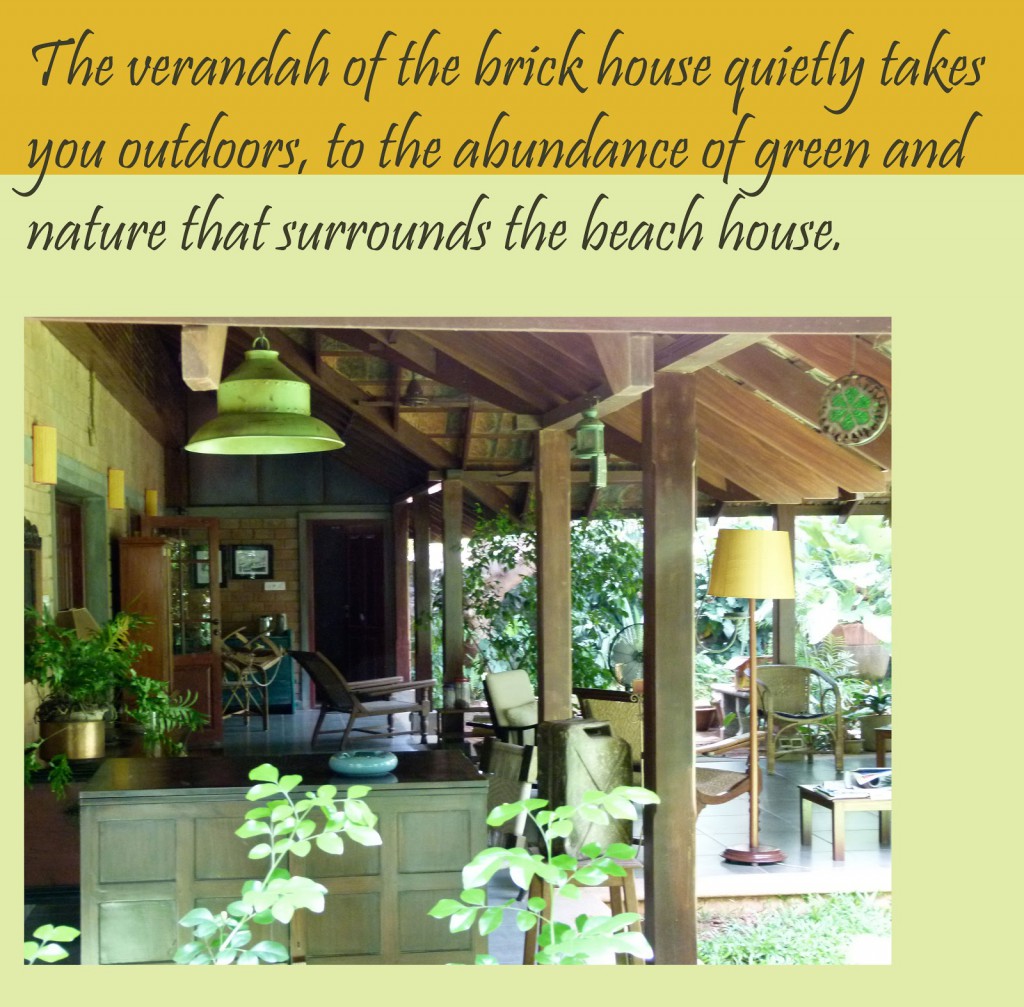 Pynkado wood – better than teak
They have not used any teak in the house and instead have used pynkado – a Burmese wood which is very heavy and sinks in water. Says Ranjeet, "The oldest standing piers in Europe are made of pynkado and still stand after 500+ years. The wood is very difficult to work and we had to use high grade stainless steel screws to penetrate the wood. All our doors and windows are made of this wood. We used Malaysian Sal for the beams, rafters and pillars. All the wood was bought in log form directly from importers and cut and planed to our specs. We dried the wood on the property over a 6 month period under shade and with the sides open to allow free passage of air."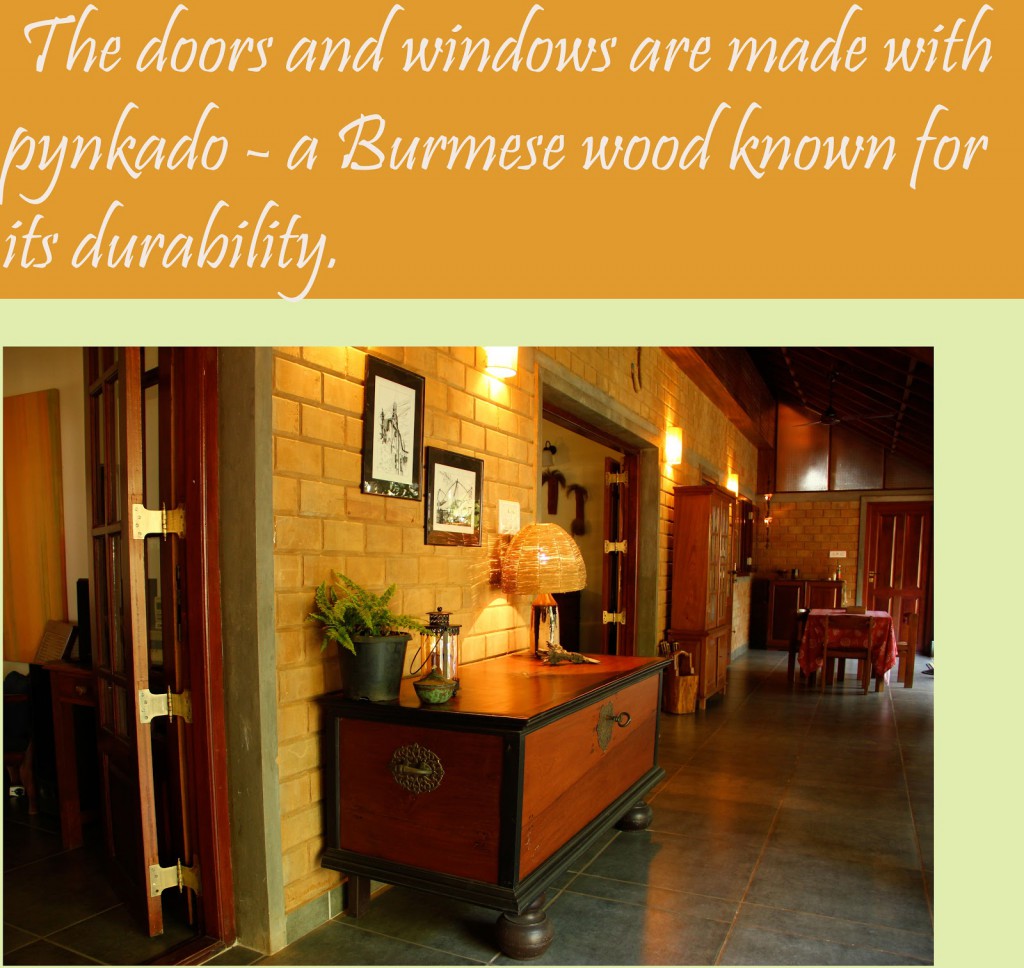 Cross-shaped ventilation
They have cross shaped ventilation holes around the whole periphery of the attic that allows for cross ventilation. Ranjeet says, "We have lights in the attic which we put on at night so that you see a dull glow emanating out of the holes in the attic walls. It is very romantic to see at night."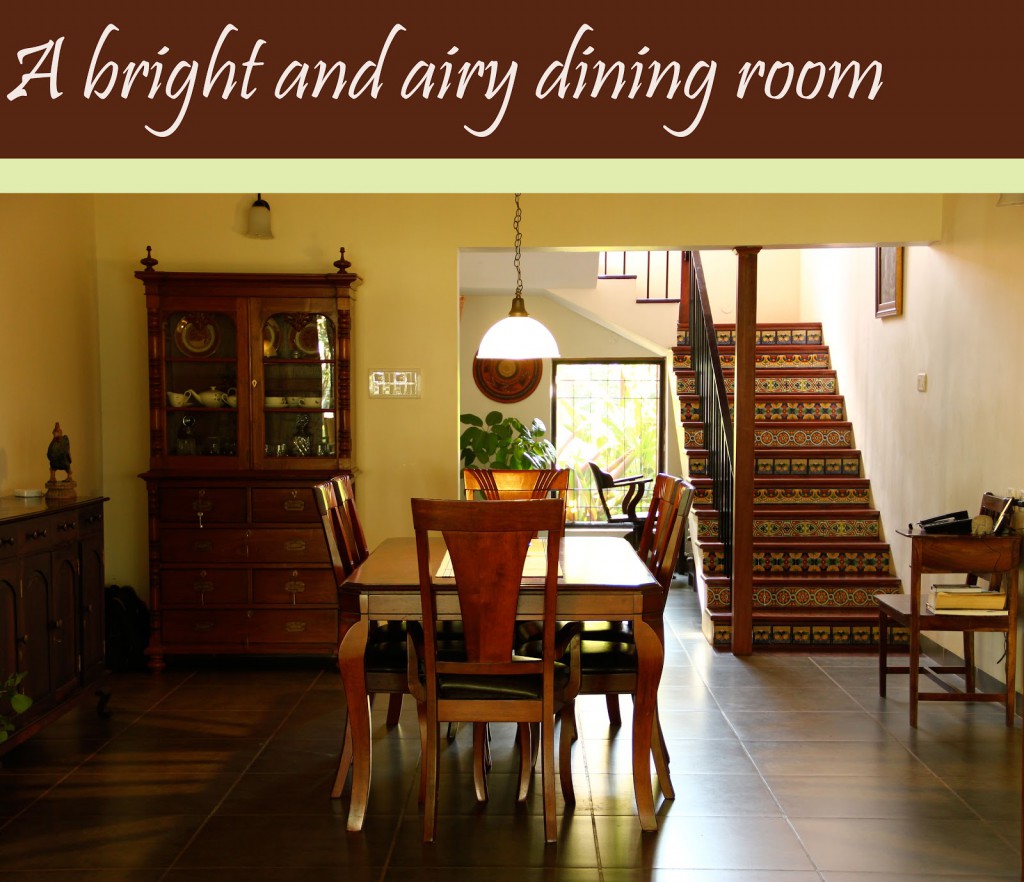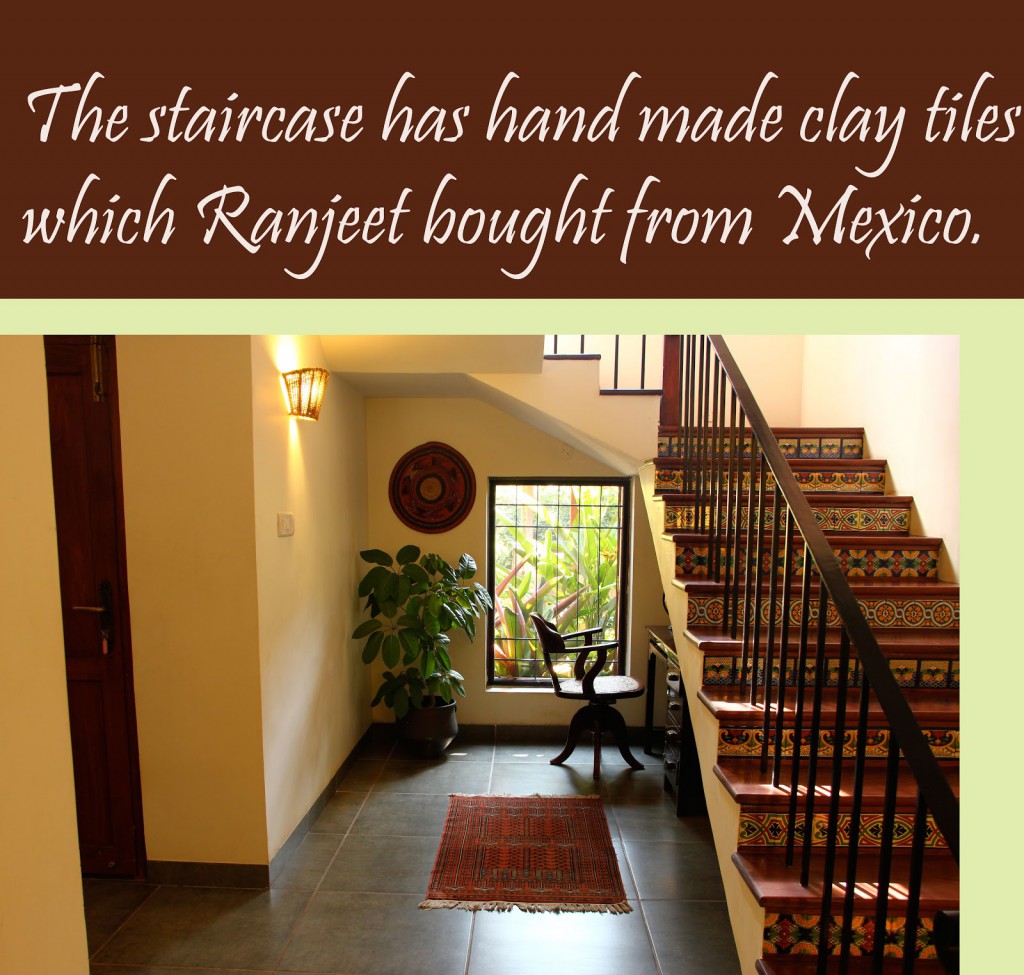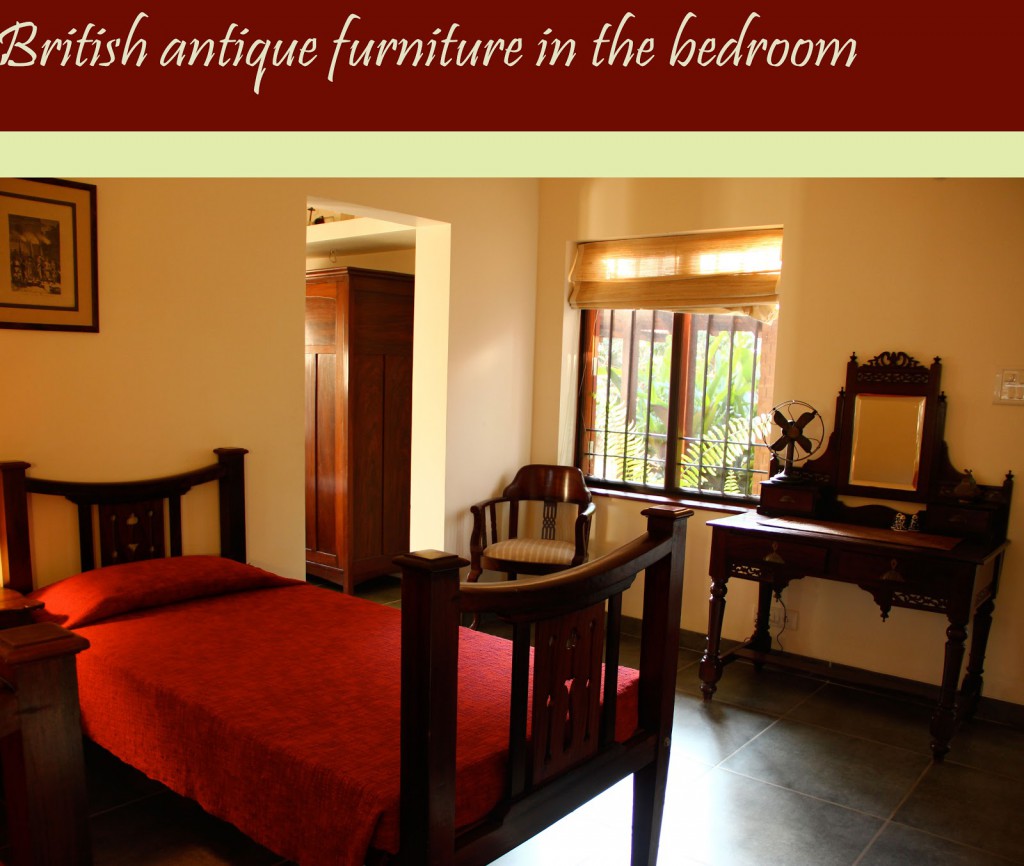 The double-layered roof – a great place to locate the AC units
We have a double layered roof – a concrete slab over the bedrooms upstairs over which we have built a sloping tile roof. This space provides as an attic, where they have located all the AC units as well as the water tank. In peak of summer,their rooms are cool and so is their water.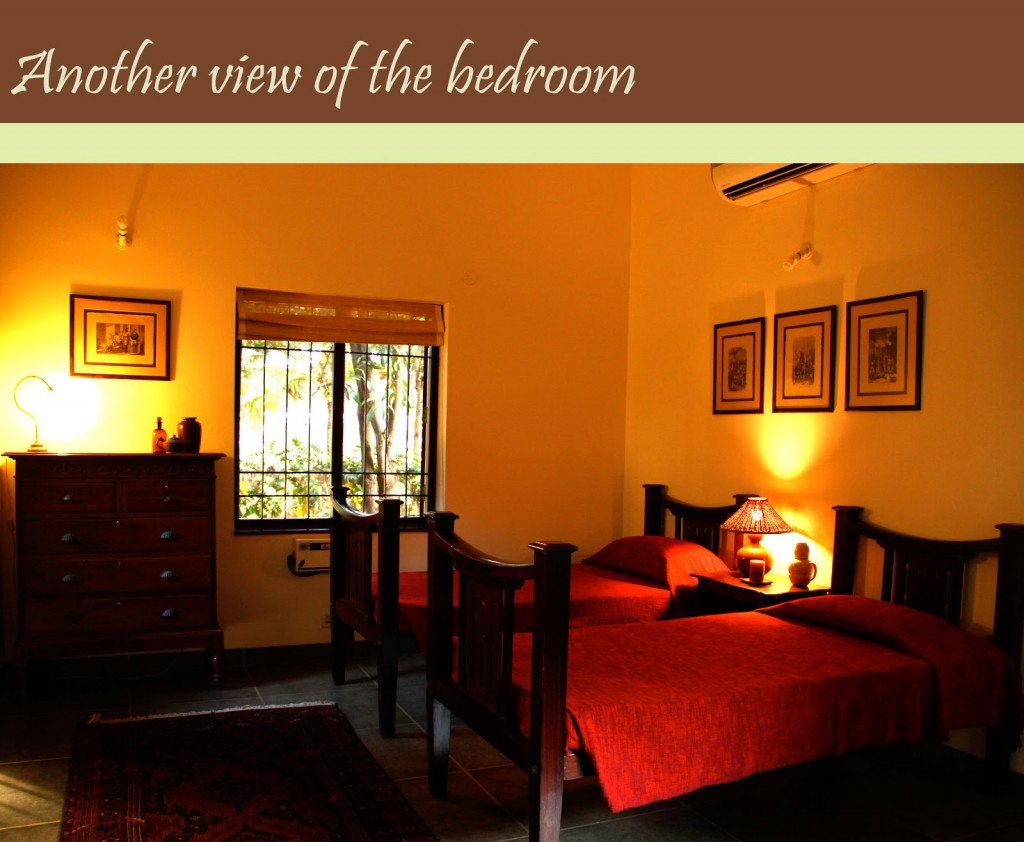 When I asked them about where they sourced their stuff, and about their discerning eye for great furniture, Ranjeet explained, "I grew up in Cal and stayed in a lovely old bungalow and was exposed to the timelessness and beauty of antique furniture all my life. Maria's parents were planters in the High Ranges and she has also been surrounded by beauty all her life. She is amazing with plants. She prefers a more wild style of tropical garden that is lush with greenery all through the year. Ever since we got married in 89, both of us have been hunting down lovely antiques and have picked them up up one by one over the last 22 years."
For this house, Benny won a Celebration of Architecture award by Inside Outside for the best residence in the region.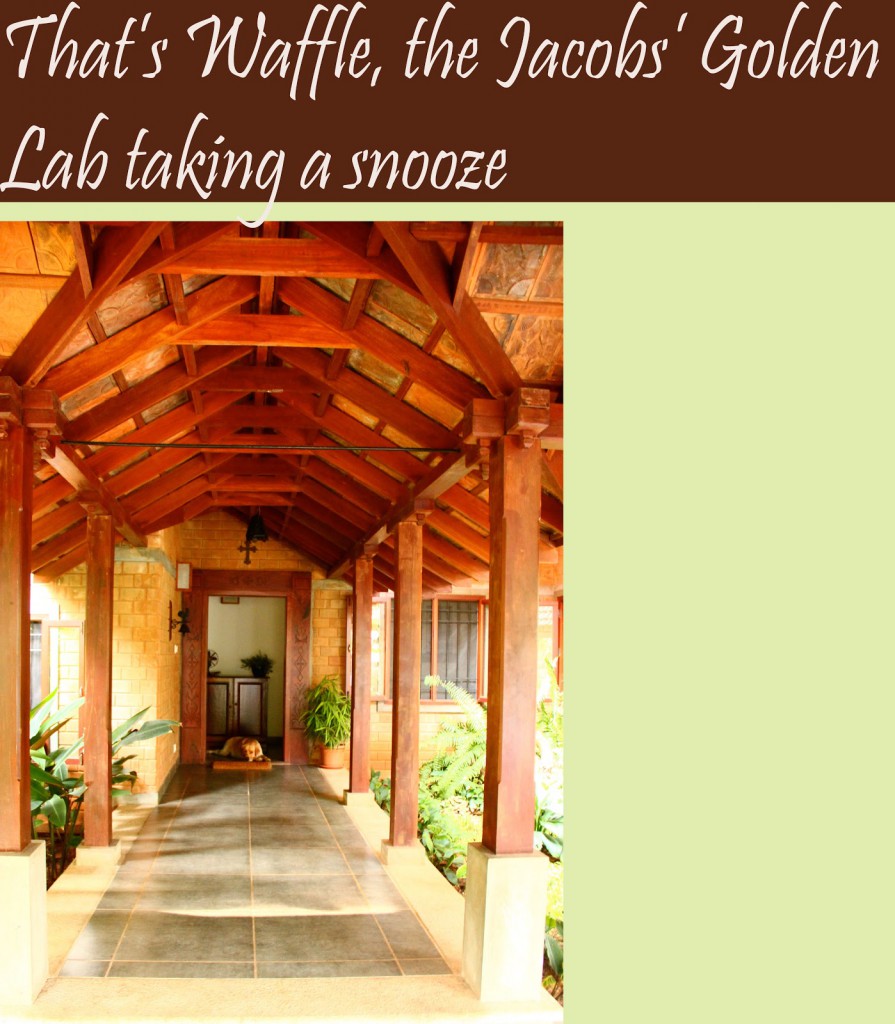 It is heartening to see such an eco-friendly home and I think those of us who are contemplating a house-building project need to learn a few things from the Jacob family. Incidentally, they have taken on quite a few projects similar to this one, since their house got publicity. If you are serious about incorporating eco-friendly design in your home, do let me know, and I can put you in touch with Ranjeet and Maria.
Images courtesy: Kevin Kuriakose and Ranjeet Jacob.
N.B. If you haven't already done so, do participate in our Zansaar Diwali Hamper giveaway.