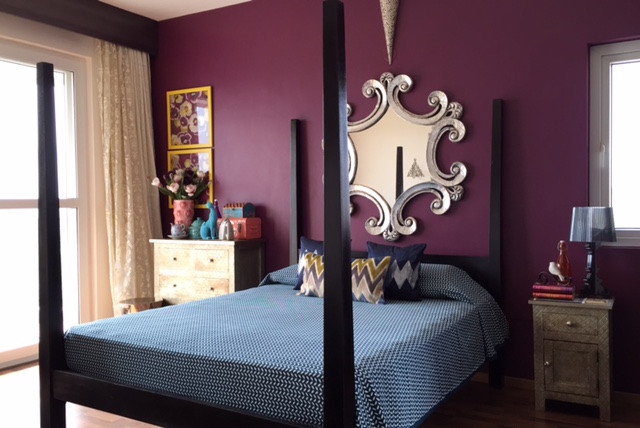 This is the most difficulty I have had with writing a title 🙂 for a blog post. This home has so many elements – Indian, Coco-Chanel inspired and art deco in the living room, Middle-Eastern touches and more global decor around the home. Needless to say, it's come together brilliantly, with lots of takeaways for those of us who are looking to update our homes, and attempt a DIY or two.
Avilasha Barooah's Bangalore home is bold and daring, yet elegant and fashionable. The monochromatic theme in the living room is reminiscent of the black-white Coco Chanel designs. Needless to say, it's an instant style update that Avilasha has made the most of, with the right accessories.
The house, a 1700 sq ft eleventh floor apartment, is called Aaradhayam (Abode of lords or ideal abode of worship). It's been called so since it's mostly covered by clouds ever since Avilasha has been visiting it during construction and even now when she has actually starting living there.
Avilasha says that it is a well ventilated corner flat and a bit too much light at times. Oh well, that's too much of a good thing then, wouldn't you say? Avilasha has designed it herself, right from the hard construction to woodwork and then decorated and styled it. It was such an enormous project, that she started sharing updates on a special group in Facebook.
The main living room is an open plan, with a foyer area and a dining area incorporated into it. The whole room is done up on a Coco Chanel French theme with black and white striped walls and a wee bit of red.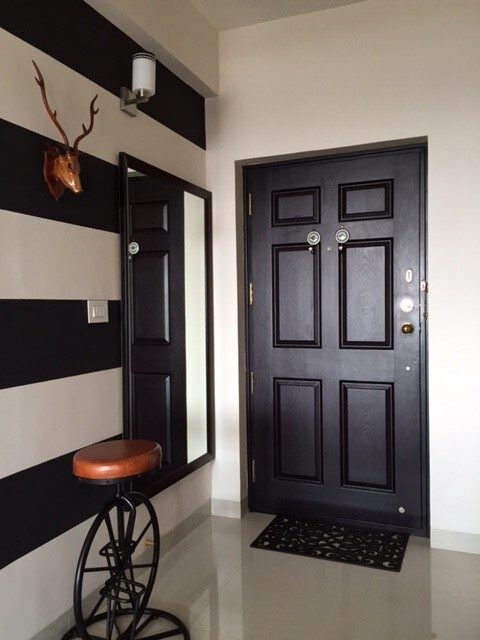 The main feature of the living space are the old antique pieces that Avilasha has inherited or bought. She needed a monochrome background against which they could shine. The black stripes have been created using Asian Paints Black Raven matte finish colour. The furniture, hold your breath, consists of pieces mostly bought off sites like OLX and refurbished by Avilasha herself!
In the background of the above pic you will see a long black couch bought from Olx. Avilasha has re-upholstered it herself in black velvet to suit the theme. Flamingo cushions add some colour to the room, and were bought at Cotton World, Pondicherry.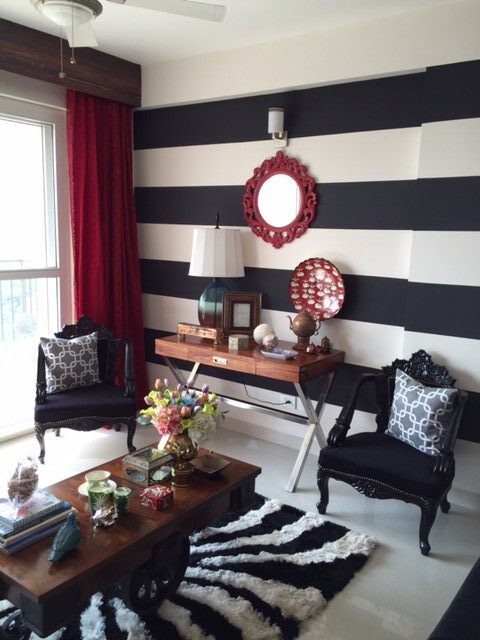 This angle of the living room features a cross-legged console table set off by the red plate and the red mirror on the wall above it.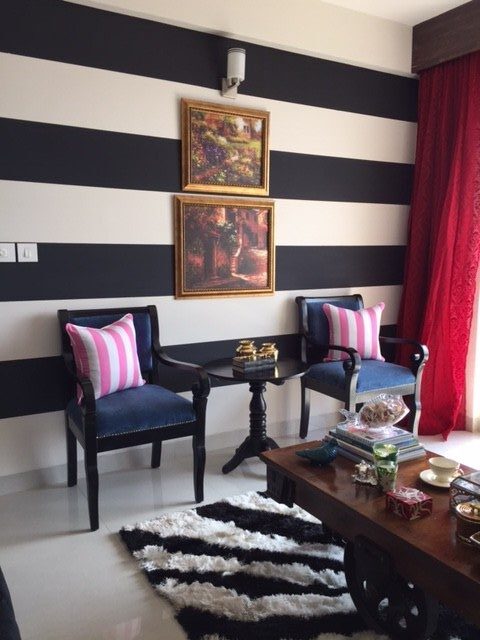 An eclectic mix of Indian, French and British accents adorn this part of the living room.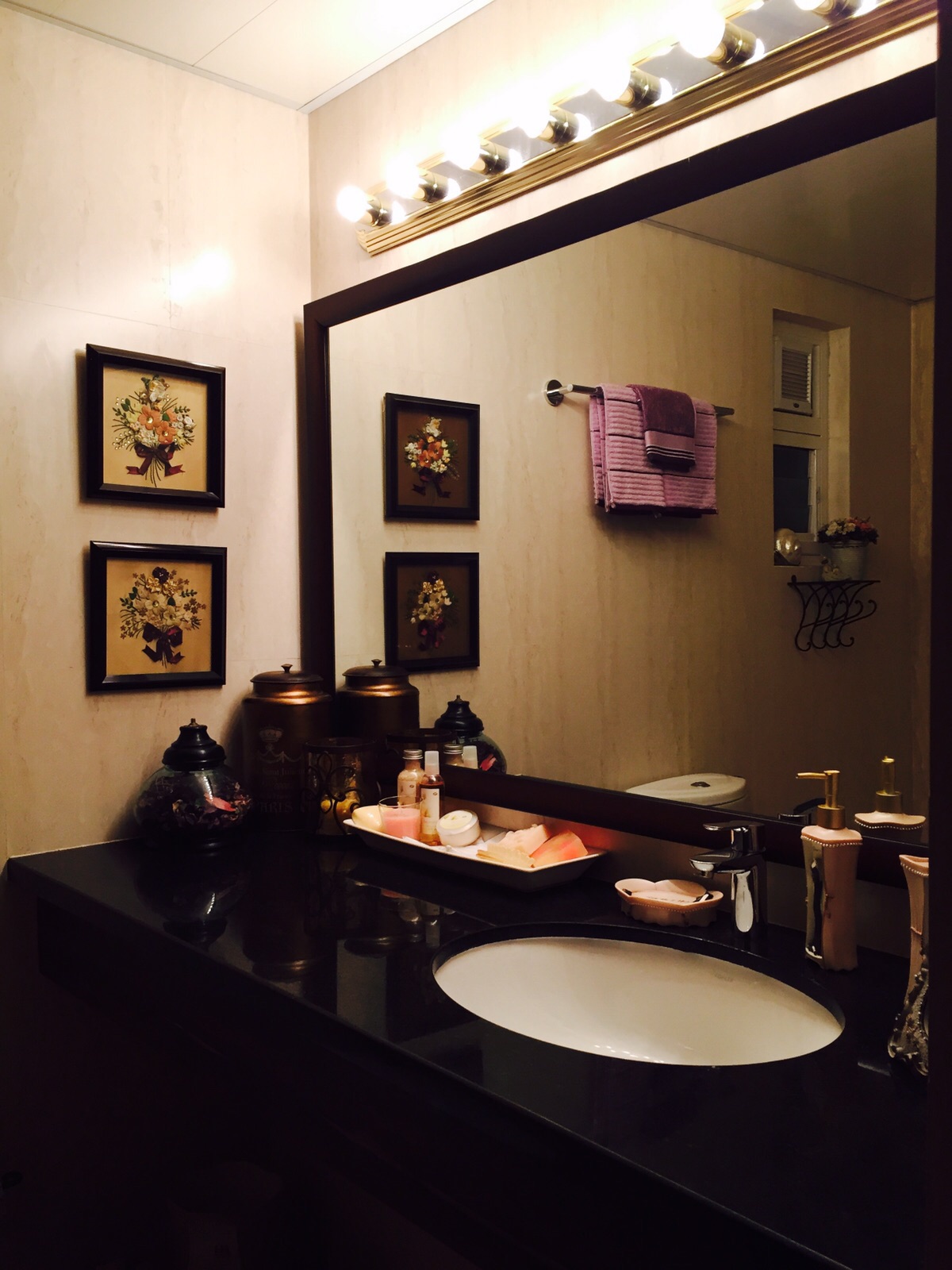 The wash and powder room (in the pic above) is adjacent to the living room is designed with French accents too.
The master bedroom has elements of both Middle eastern and British Victorian style. The main feature here is the four poster bed against a purple wall the colour which she was inspired to use after a trip to Turkey and it also happened to be very close to the Pantone colour of the year 2014. The paint used is Passion Fruit Purple by Asian Paints. Avilasha says her favourite corner here is where her father's photographs of mauve dandelions hang. This room also has a lot of floral touches.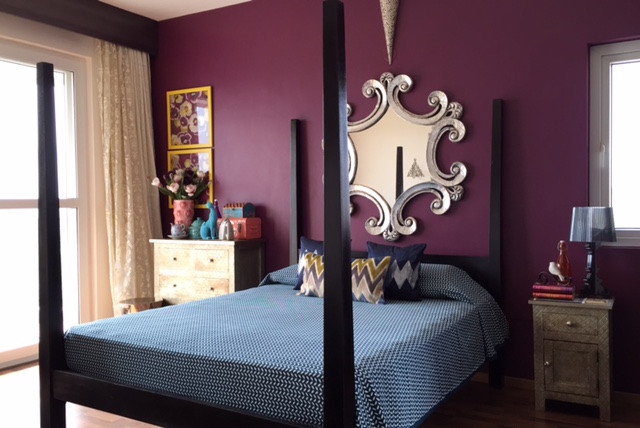 The guest bedroom is done up in an Indian Asian theme. The main feature is a Lotus Buddha thanka painting against a blue background. The paint colour is Blue Ashberry from Asian Paints – soothing and calming and great for a guest bedroom. There are Buddha statues everywhere since Avilasha takes her meditation very seriously.
The big green wing chair was bought from Olx and refurbished by Avilasha. The gorgeous green drum stool is from Lifestyle. Teapot with two cups made of Manipuri Longpi black pottery bought from Manipur. The cushion cover and bedcover are from the Bombay Store
The third bedroom was converted into a study cum home office cum media room. Conduiting has been done to hide wires of the home theater system. The room, because it has so many electrical gadgets has been given a raw look with a brick wall paper and natural-textured wooden laminate. It has a Scandinavian feel with white walls and the ceiling has been painted in an orange called Glorious Sunset by Asian Paints to bring in the soft glow of the afternoon setting sun.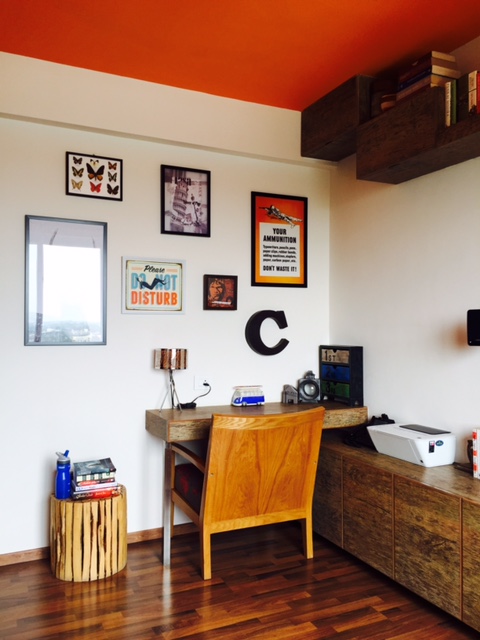 The kitchen is a contrast to the rest of the home, with its contemporary design. Avilasha has used grey laminate against the chrome of the appliances. The backsplash is a muted shade of grey and moss green Italian mosaic tiles set off her colourful knick knacks collected from everywhere.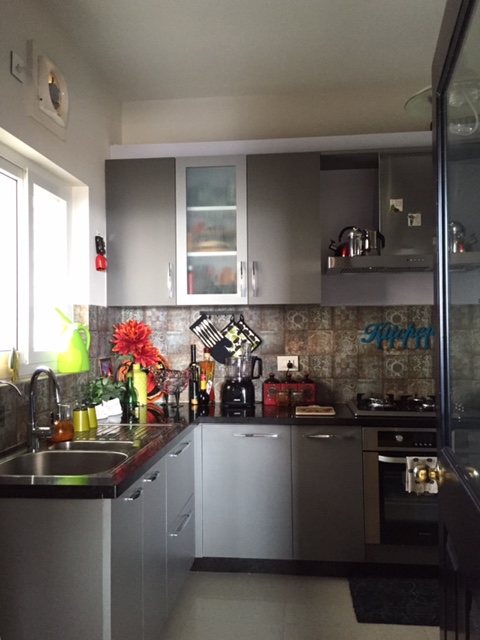 Takeaways from this home tour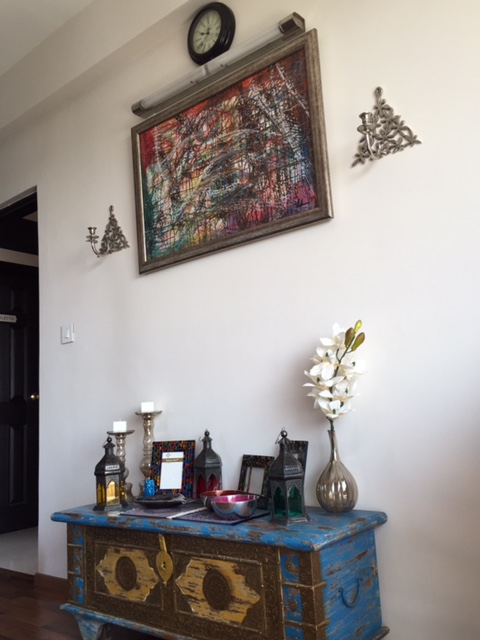 With the right ideas, you can upcycle, reupholster or paint a decor piece to fit it into your theme. Avilasha's home is full of such pieces – upholstered chairs, painted furniture, etc.
Find creative ways to set off family heirlooms. Avilasha has incorporated the brassware and other antiques and heirlooms that she has inherited, into the decor of every room!
Visit online stores regularly, and keep an eye open for things that may fit into your "dream theme". Over time, you would have collected well and wisely!
Mix and match, think out of the box.
Don't be afraid to combine styles. Look how gorgeous this home has turned out!
What did you like best about Avilasha's home?
Click here to see more home tours on this blog.