The space: A 3 bedroom, 2100 sqft home that needed to be remodelled
Location: Mumbai
Client – Mohamedi and Durriya Sham
Architect: Sarah Sham, daughter of the client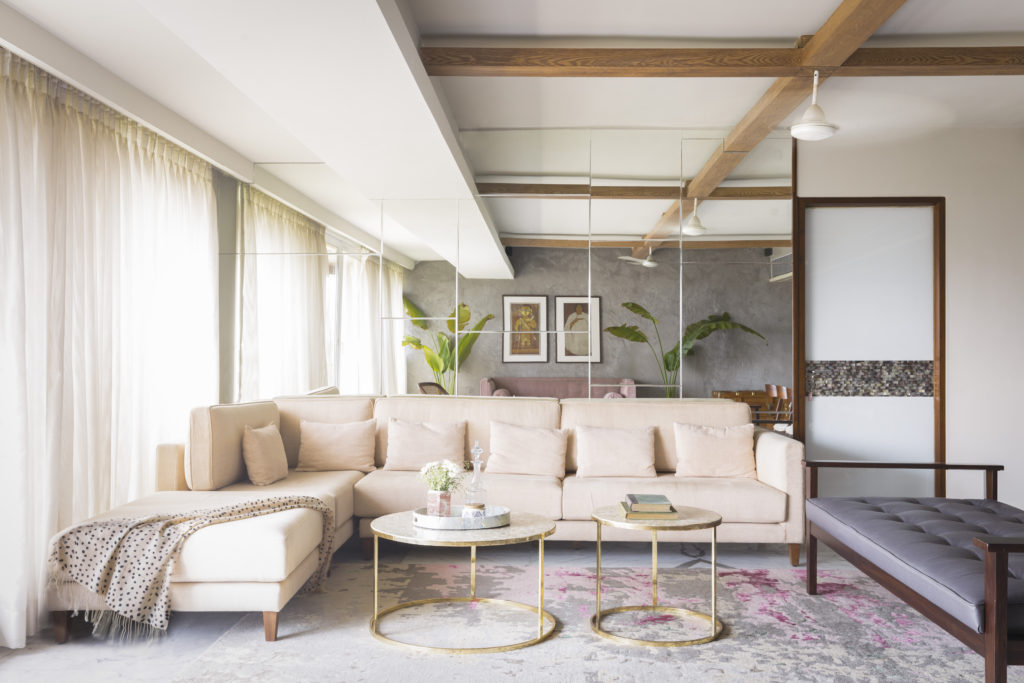 A home renovation is way more challenging than doing up a new home. Because it's like wiping out years of love and living, and starting over to build more memories. And for the architect, it is even more challenging when the home belongs to her parents. Those were my thoughts when I read Sarah's instagram note about the reno project at her parents'!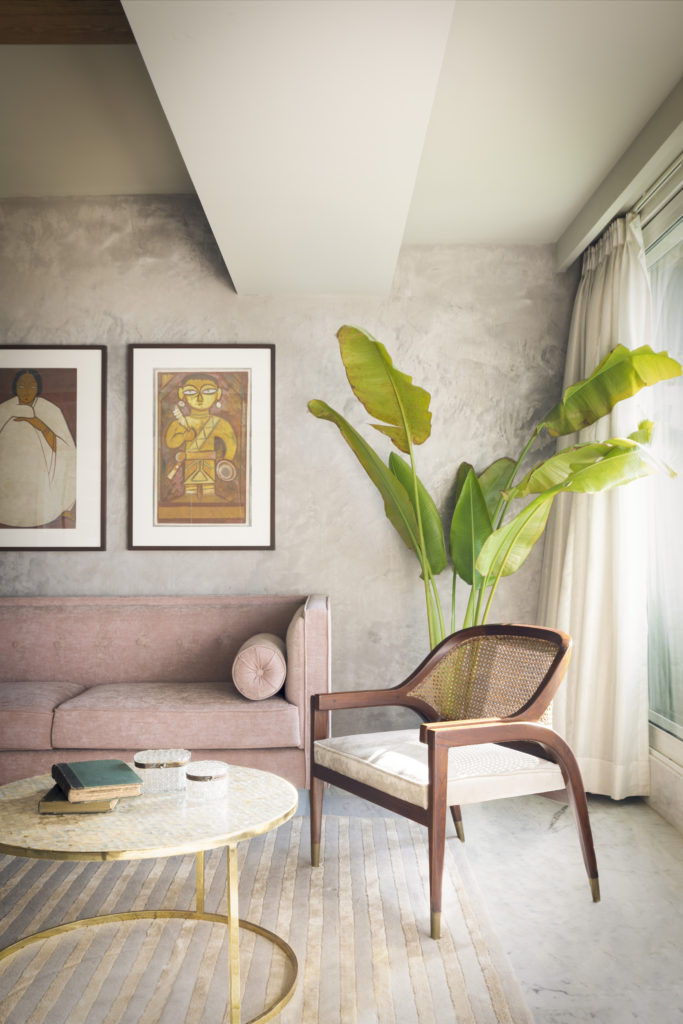 But trust Sarah to do a fantastic job! The moment I saw the huge plant and the rather minimal, very tasteful space, I knew I wanted to feature it here. Thank you Sarah, for sending the pics across and taking the time out to give me the deets! Presenting images and the project explained by Sarah herself.
How do you showcase a whole lot of techniques using a contemporary and simple outlook? This problem is what we faced with when we had to design a home for antique dealer and furniture manufacturer who owned a 120-year-old company.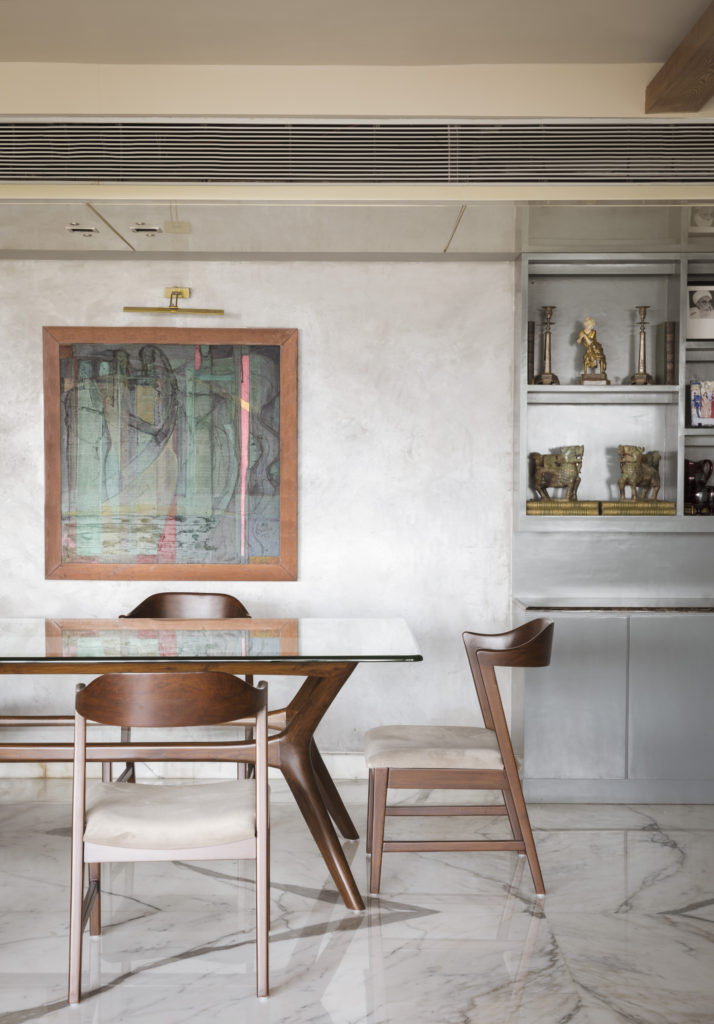 The client had a whole bunch of techniques that he wanted to showcase in his home and also had a lot of artwork to display. The clients were keen to enclose their balcony and make the hall larger. Apart from that, the hall looked cramped and needed to look brighter and more open.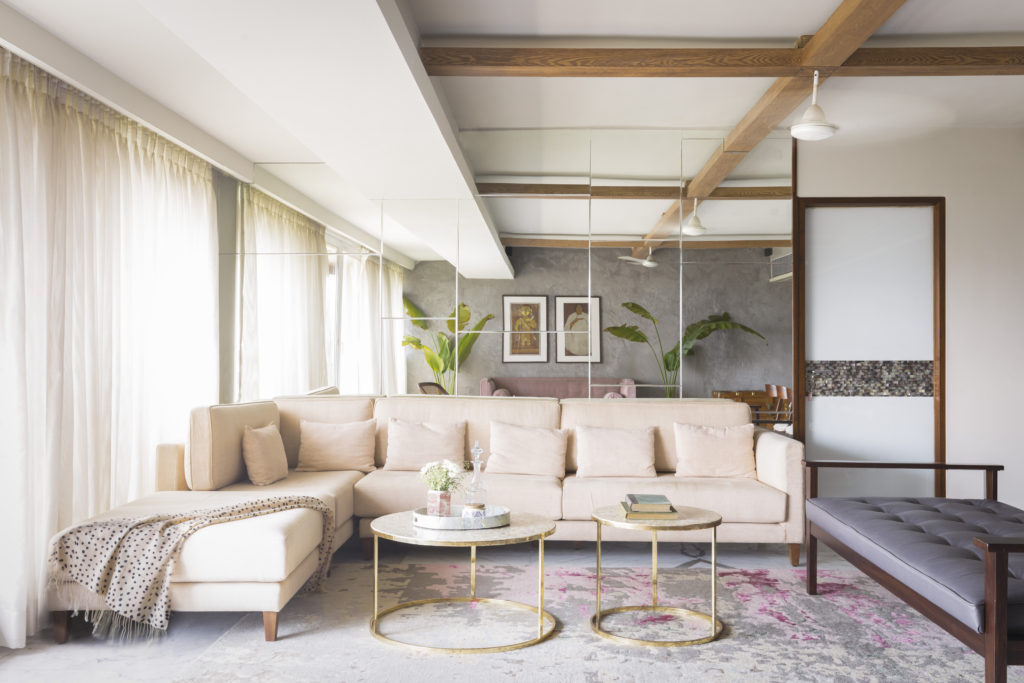 One of the first things we did was break open the ceiling, leaving the slab exposed. We then created false beams which run across the ceiling and housed indirect lighting within them so that the ceiling looked interesting and the volume of the space was not compromised.
We then enclosed the balcony but not completely and left some space outside where we would add a lot of greenery.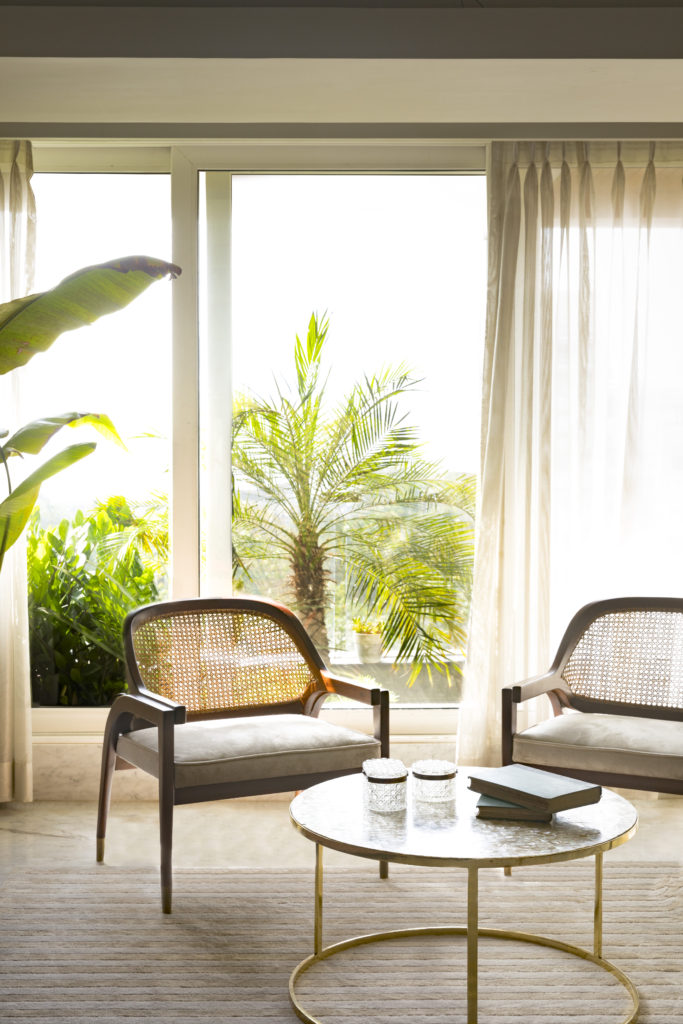 We added custom made planters and selected lovely tall tropical plants for the outside, and travelers palm for the inside. We used actual cement on the walls to add texture and beveled mirror paneling on the wall opposite that.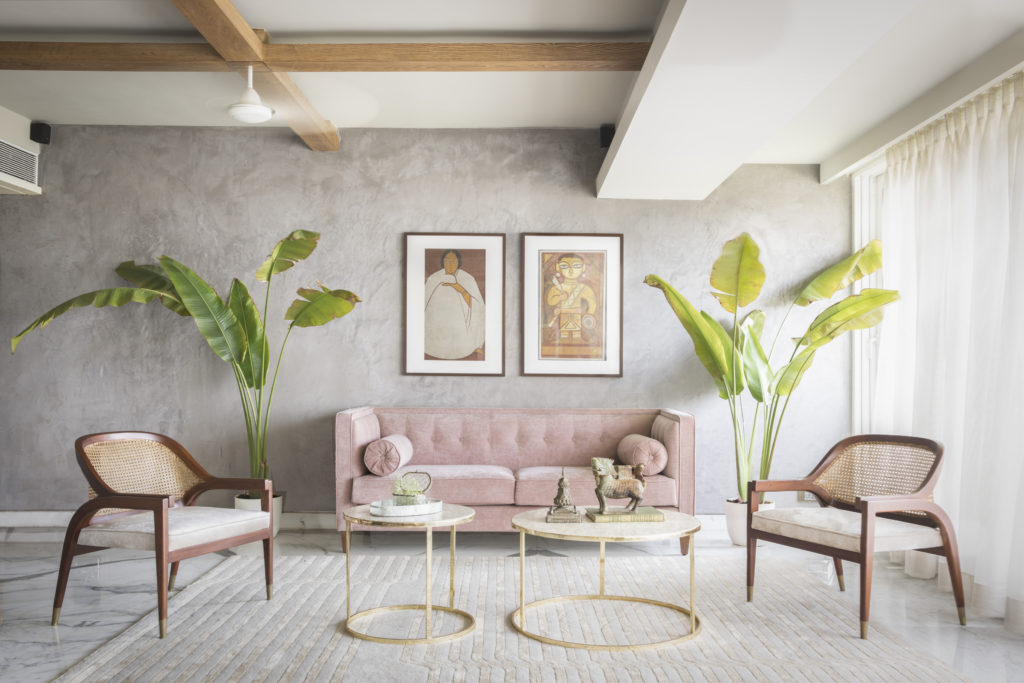 We custom made rugs using exactly the colors and textures we liked, actually picking each thread on each patch. We hung the client's prized Jamini Roy paintings above the pink sofa and then custom-made mother of pearl and brass nesting coffee tables to complete the set. We also custom-made armchairs from teak and cane with brass tips. For the dining table we used a mid-century design and a combination of Burma teak and glass. The showcase units doubled up as a space to display curios and antiques from the client's private collection as well as storage on the bottom.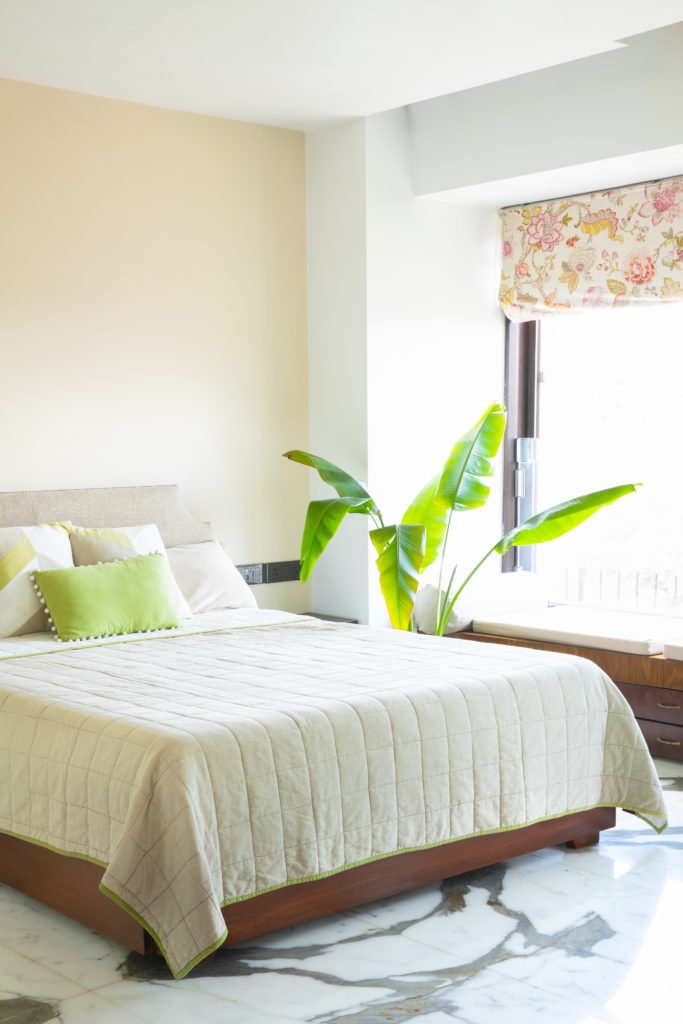 This way we incorporated so many different materials and techniques- brass casting, mother of pearl inlay, intricate teak work, sofa making, cane weaving and a full display of all the required art and collectibles.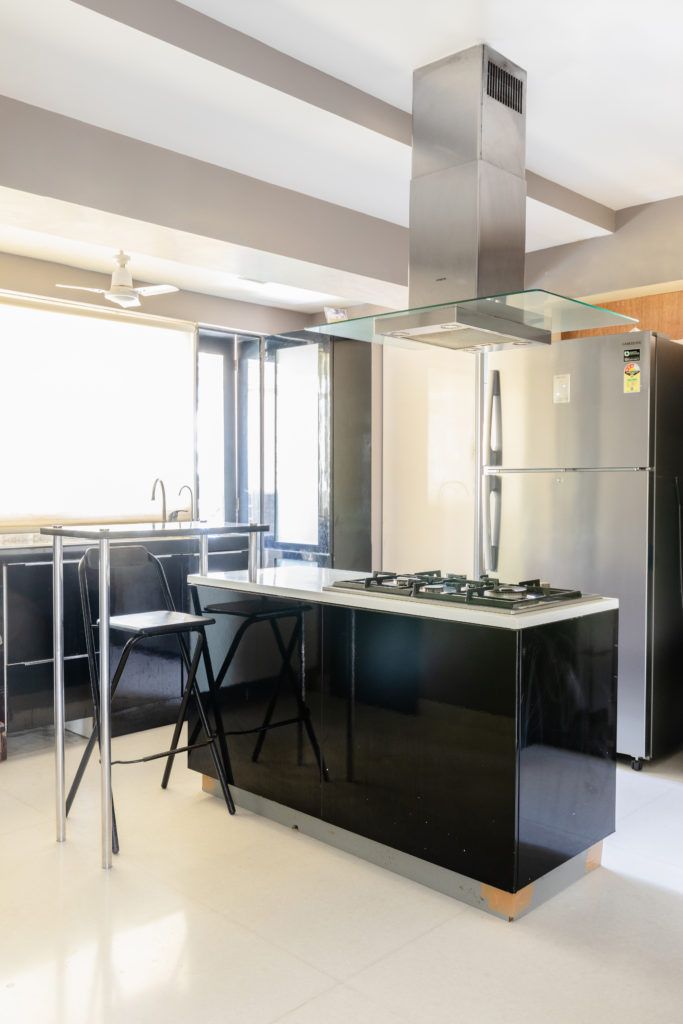 This way we incorporated so many different materials and techniques- brass casting, mother of pearl inlay, intricate teak work, sofa making, cane weaving and a full display of all the required art and collectibles.
Thank you Sarah, it's lovely how you thought out of the box for this project. Beautiful collectors' items in family homes seldom have the privilege of gracing such lovely and aesthetically finished modern styles!
Key takeaways from this tour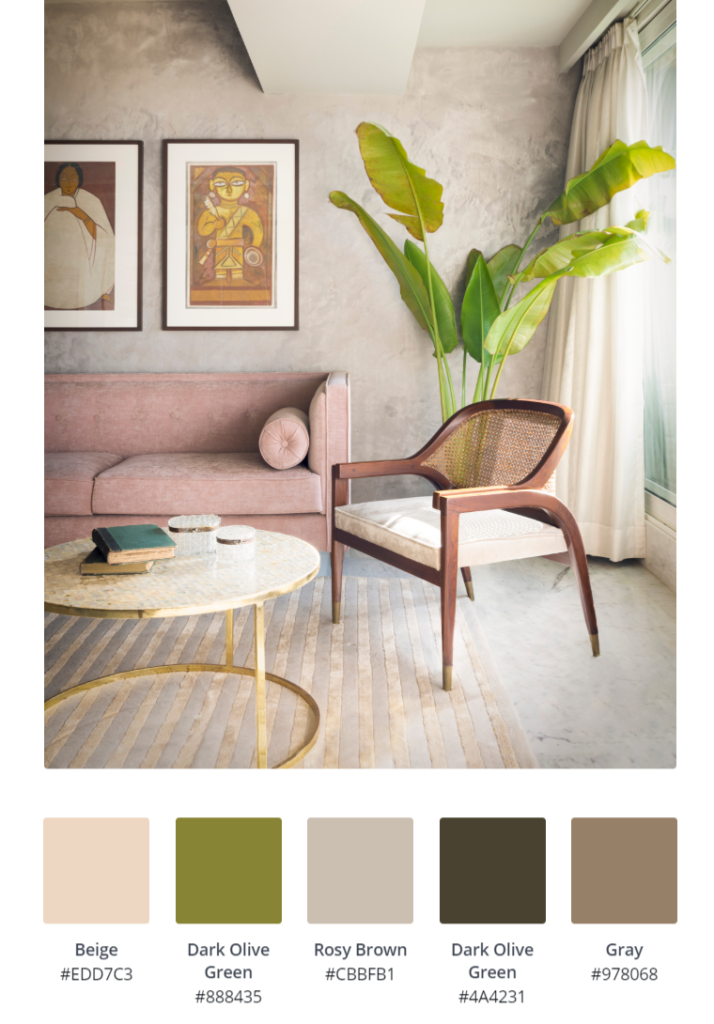 The colour palette – I have extracted the living room colours (olive green is from the plant, so you can ignore it as a base colour) for you and I am literally gushing over the Scandinavian pallette, and even more happy that grey is so prominent!
The faux concrete wall, is actually a concrete finish! How about that? I love the way its' been done – and this is so much easier compared to buying expensive wall paper or doing exorbitantly priced lime finish walls.
Over-sized greens – A huge fan of them myself, for me this was where the whole "I must have this home on my blog" itch began. So over here, the decor is aesthetic and minimal, and a muted elegance pervades, and then the green takes over and adds oomph! Brilliant!
With respect to the civil work, we do not have a before picture, but enclosing the balcony has made a huge difference to the natural light coming into the home. I think without this civil alteration, the concrete wall wouldn't be quite as stunning! The wooden beams add a lovely retro element too.
The custom work – the cane and wood living room chairs with their brass tips have my heart – and they are both a thoughtful addition, and a great choice because wicker and wood are making a huge comeback!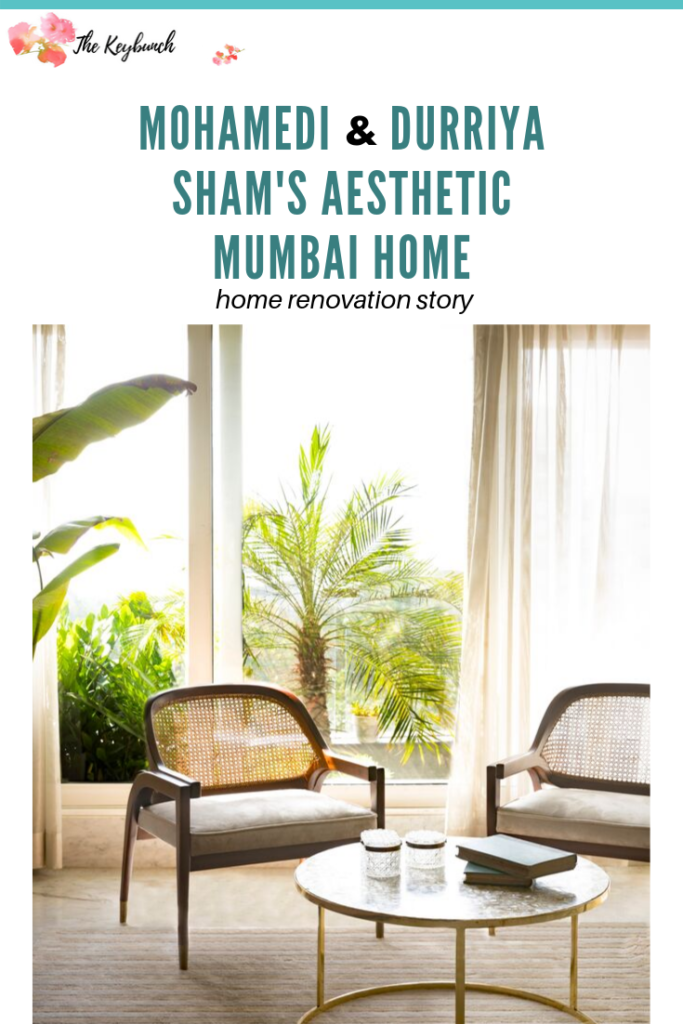 And, if you wish to save these images to your idea boards, head to our Pinterest board (we have already pinned these up there) and pin away!
Looking for Diwali decor inspiration?
Stay tuned for new posts this month featuring different styles of decorating for Diwali, from minimal to very traditional. In the meanwhile, look up our old Diwali posts because there is lovely inspiration to be found there too!
Dear readers, we hope to bring you more home tours in the coming months. Do you want your home or a friend's home featured here? Please fill this form.