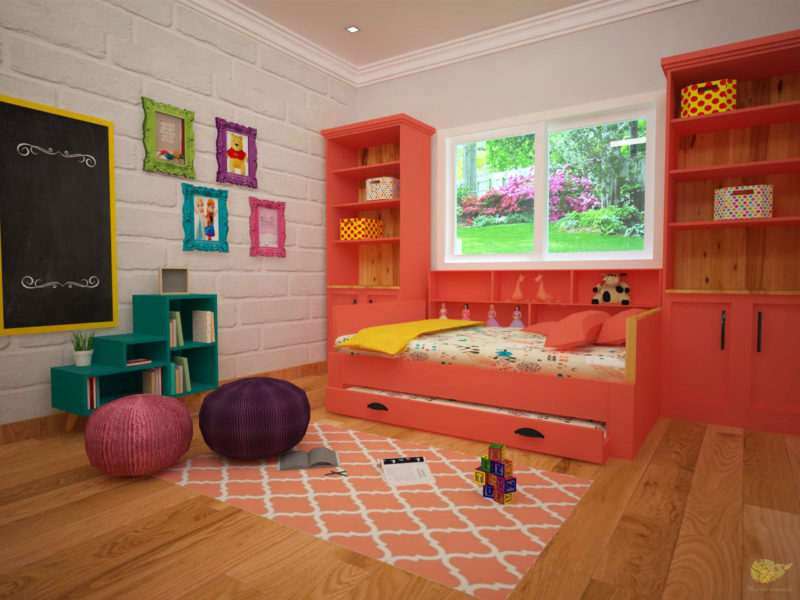 By the Riverside is a furniture and interiors brand by Swati Seraan, and her work is refreshingly different! The focus of a brand plays a big role in how it fares, and the focus of 'By the Riverside' is their firm belief that a home should look like a home, and not an office! The colour, aesthetics and setting of the rooms that Swati designs, and the material used, all form a unique design style that is very different from any other interior designer's approach.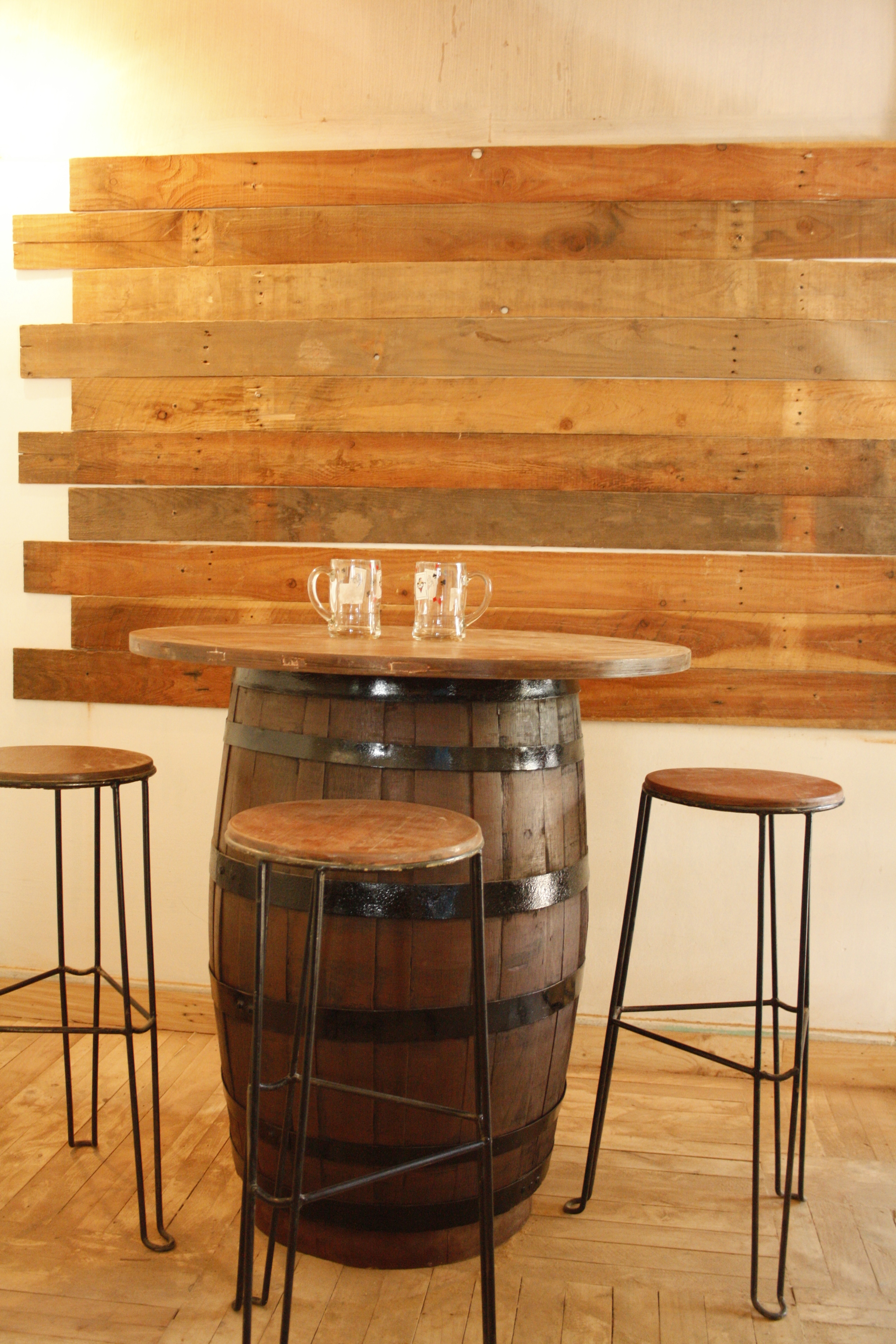 And if you are wondering what that could be, it's certainly not the same old wardrobe and POP ceiling work that seems to be the routine offering of designers today. With 'By the Riverside', you will be treated to wood beam ceilings, natural material, and signature styling finishes, using skills that are carefully honed and uniquely theirs.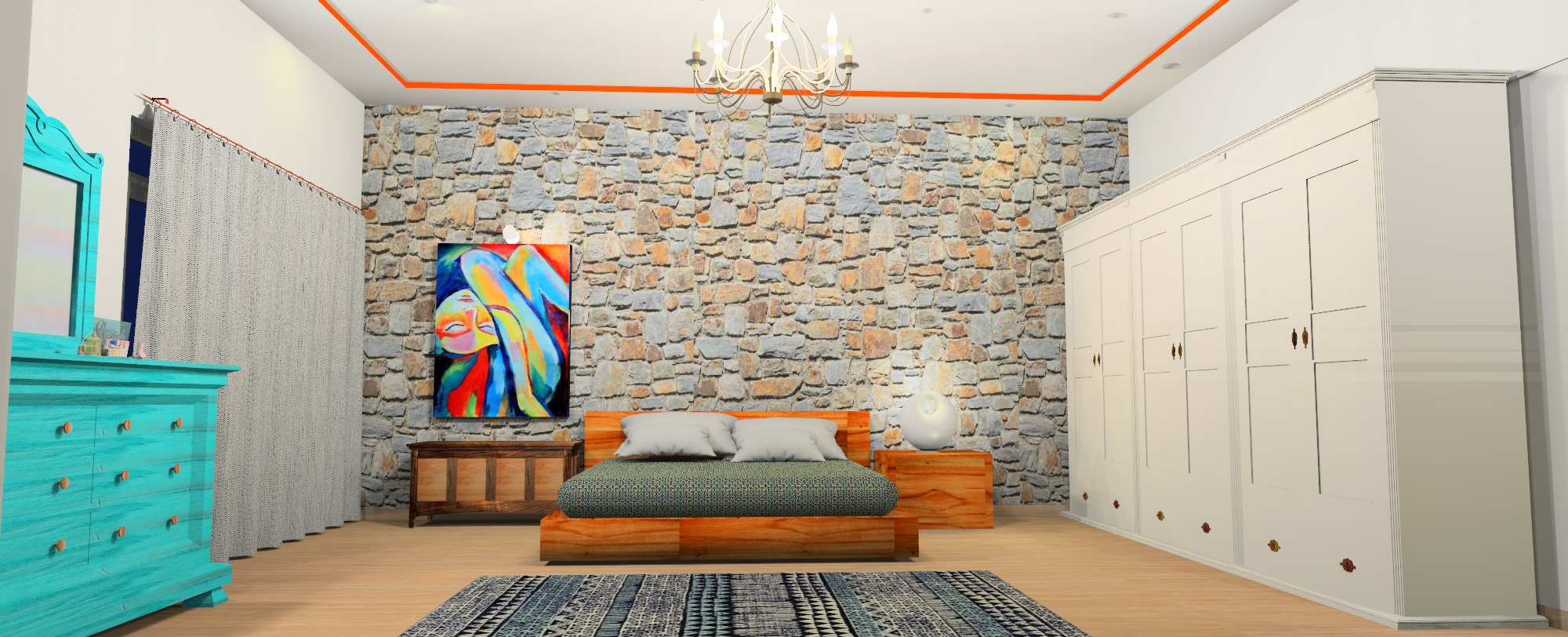 What sets this design firm a class apart, is that they never outsource their furniture. Everything is done inhouse. Most interior designers usually conceptualise and then hand over the production to someone else. Swati's carpentry division has a team of artisans working exclusively on her designs, and they are handpicked from India's best carpentry hubs. Her designs are taken from her drawing board, and after an intensive brainstorming session with her carpenters, furniture specific to each interior project is created.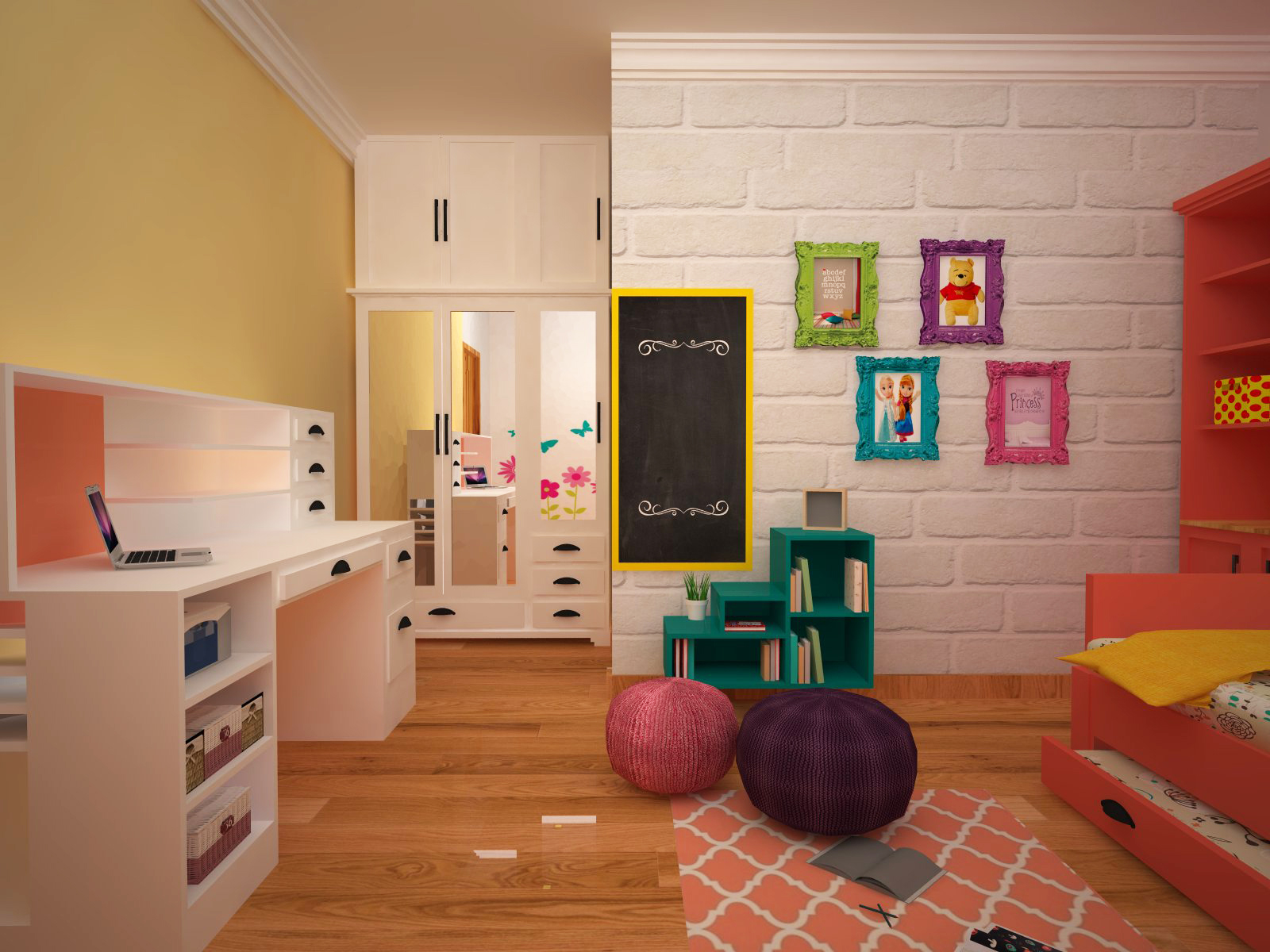 Solid wood and the enticing, lasting beauty it holds, is always in demand. But solid wood can be very expensive. When I asked her about her penchant for working with solid wood, Swati elaborated that with her deep knowledge of solid wood and its execution, she is able to infuse it with other material and yet help the client achieve the look and feel of solid wood. She knows just where she can replace solid wood with say, high quality plywood; her team of carpenters, polishers and painters are excellent craftsmen who have 20 plus years of experience. The images that follow are testimony to the brilliance in her designs.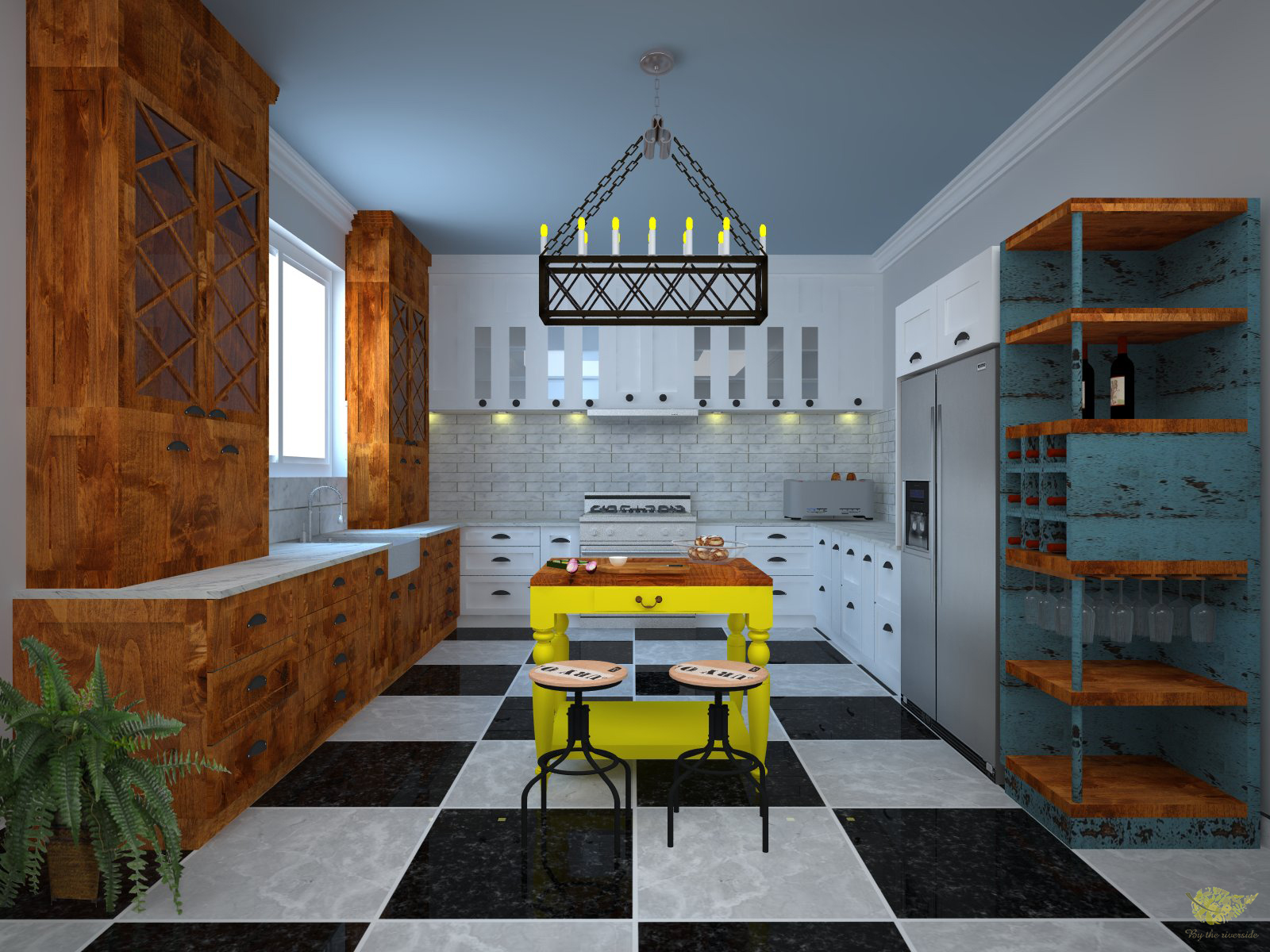 This is a rendering of a kitchen design, with solid wood, white duco and distressed finishes all making an appearance in the same room. check the wine rack next to fridge that makes the kitchen so wanted by guests and a chill out zone even for families.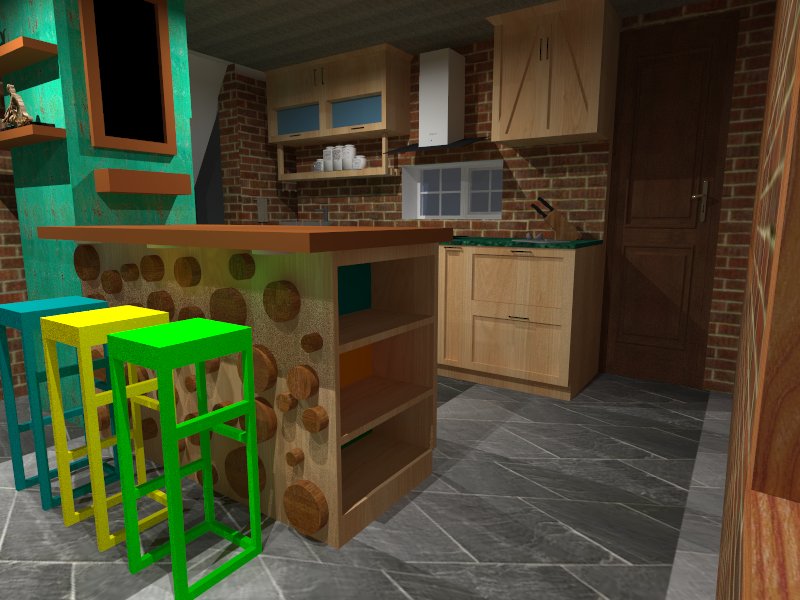 Quality is never compromised, and every solution is based on skill and expertise. This winning combination is what possibly gives her work that x-factor, that special something that makes her products stand out. Swati's wardrobes for instance, carry a distinct French style. Molding, beading and trims are used to give the piece that vintage look. This is of course in stark contrast to the regular ply or mirror-finish wardrobes that designers offer today.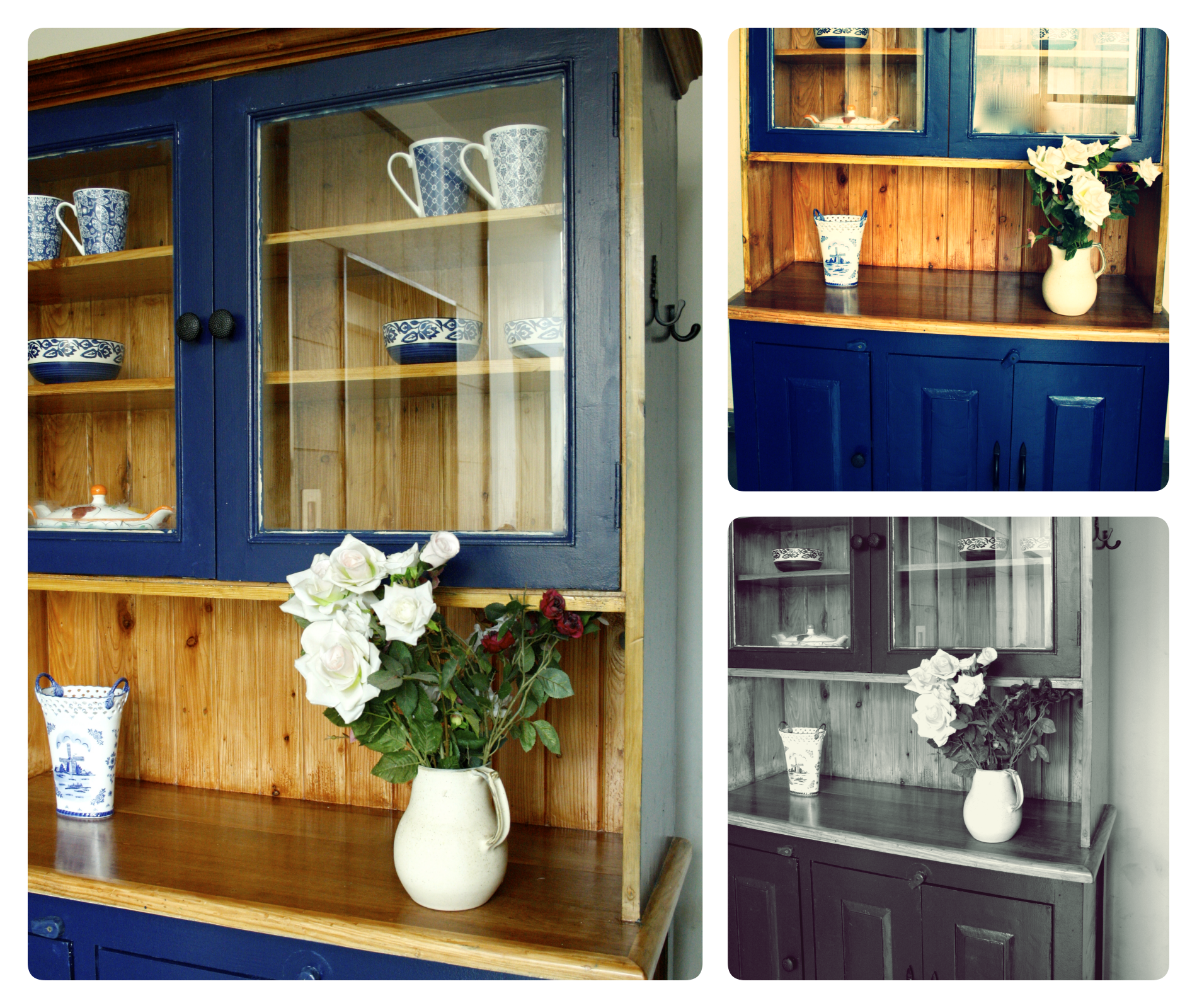 The coloured wood finishes are beautifully executed by By the Riverside. This traditional wood with dark blue cabinets is one of my favourites from her work!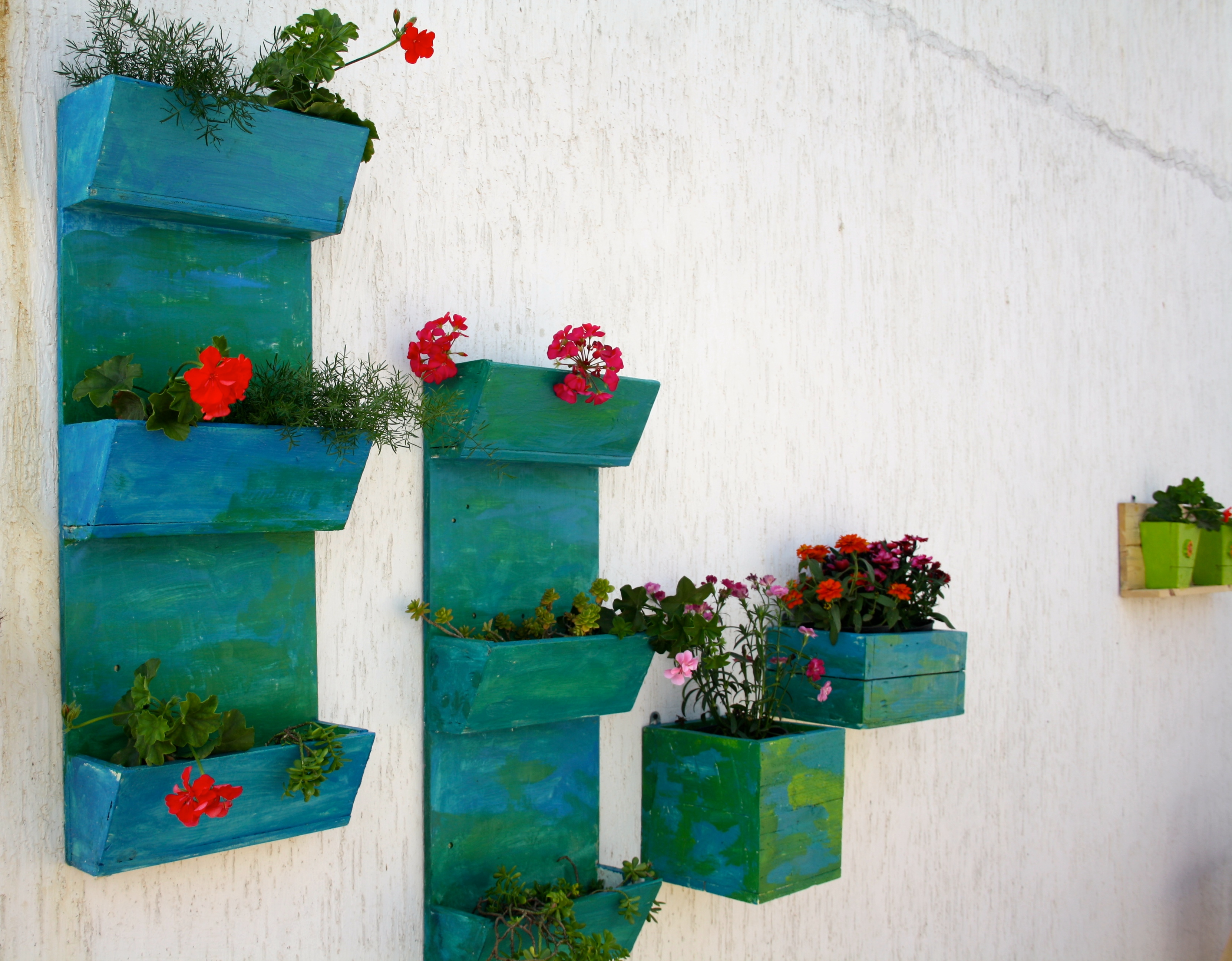 As for finishing, blending colours with neutral tones is something I see as a 'By the Riverside' specialty. While I am quite fatigued by the jarring colour finishes that adorn most new homes, the tasteful intermingling of colours, neutrals and distressed finishes in the homes that Swati has designed, is very welcome! When I ask her about it, Swati explains, "My personal style is using more of neutral tones and intense shades like greys and oxford blue but throwing a dash of colour very smartly on my wardrobes or ceiling does the trick and it makes it a happy home. I typically like doing just one thing unexpected in every room that totally changes the dynamics of how the room is designed."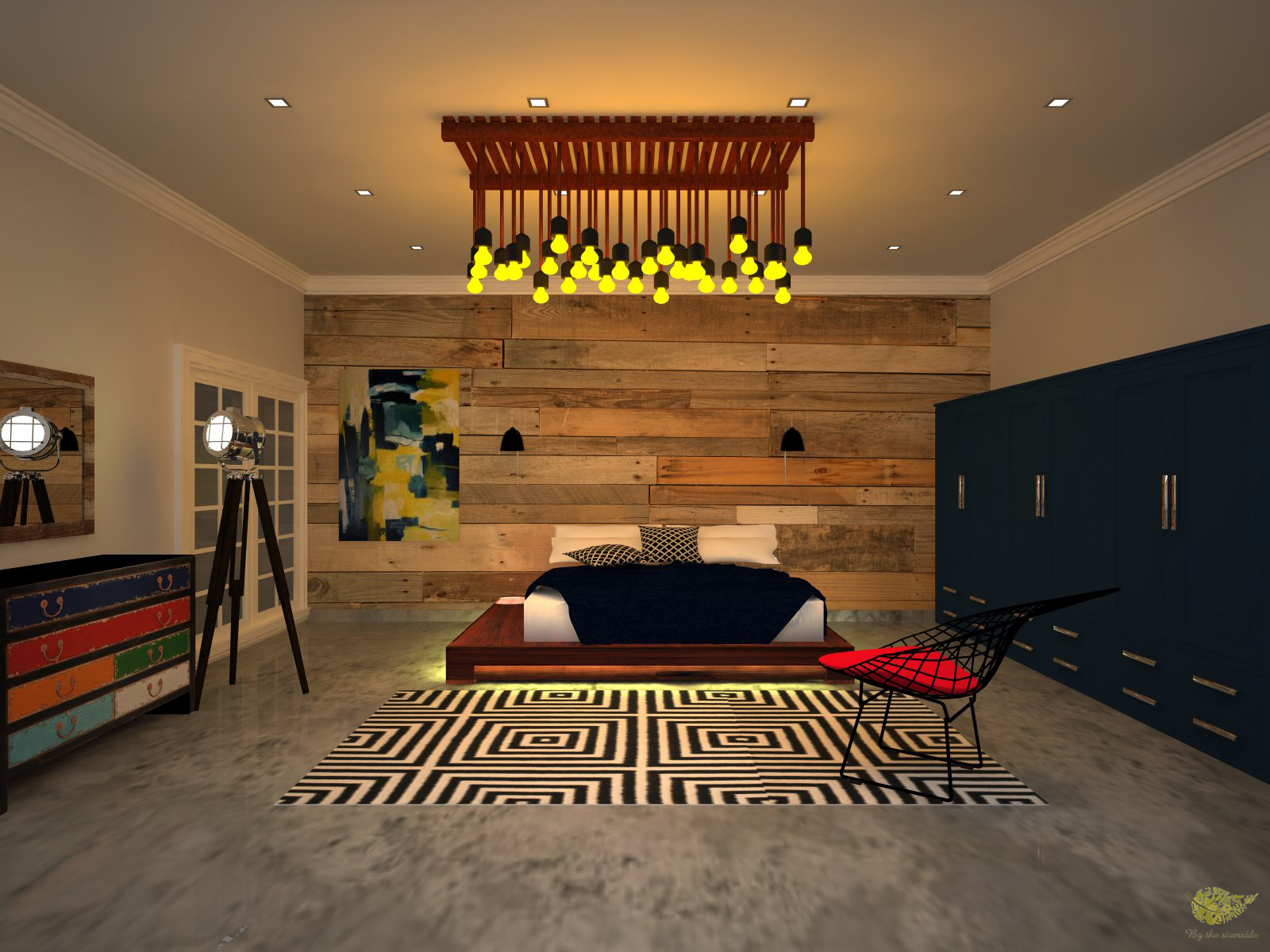 In this rendering of a bedroom design, Swati has used tripod lamp next to the dresser and large wall art in the room. The lighting balances the room. She has also used a geometric pattern rug which makes the room look unique.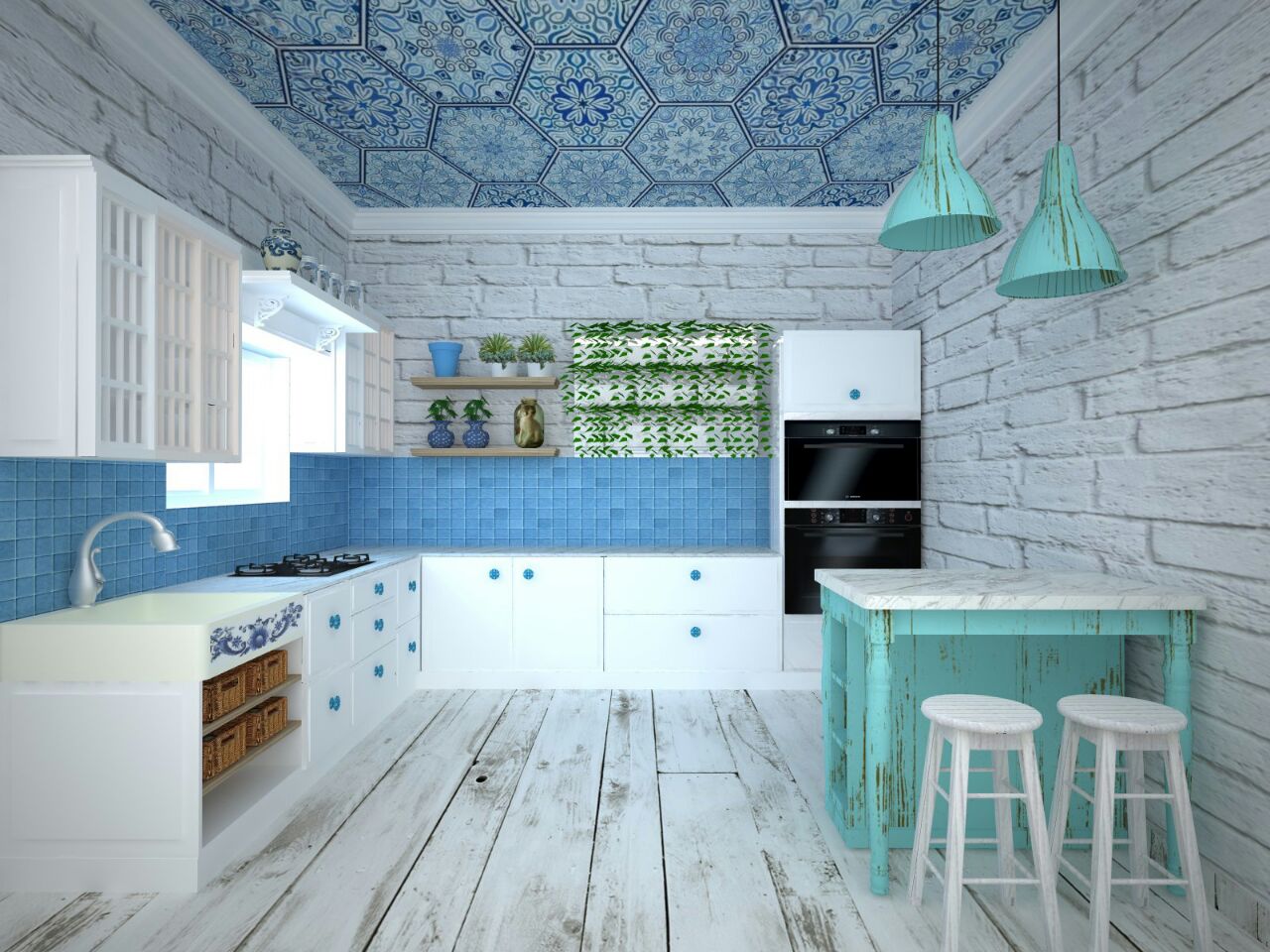 Another example is the white Mediterranean kitchen. Here Swati has done a printed ceiling. The white kitchen is duco paint finished, and this is a highly durable and long lasting finish. Distressed ceramic tiles on the floor makes the kitchen stand out.
And with this background in manufacturing solid wood furniture pieces, By the Riverside offers its clients the best of both – home interiors as well as accent pieces. Says Swati, "Using our solid wood background in churning out accent furniture pieces, we are able to give designer look and feel to the homes. This is something very unique to us as an Interior design firm because there is no one in the market who does that today. Even if there are few out there who design high end homes, they depend on outsourcing signature pieces."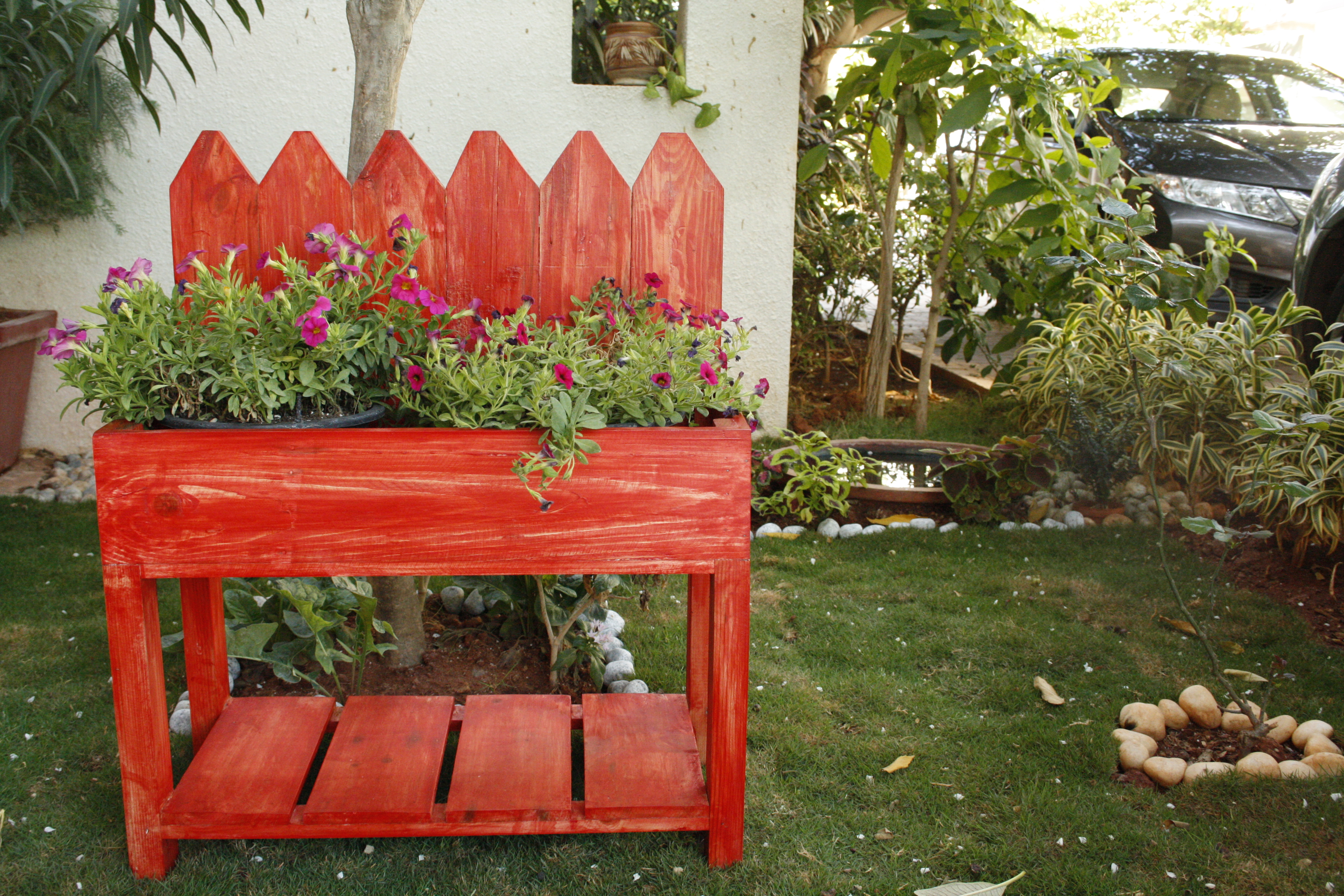 I think Swati has found a big fan in me, as I love everything she makes and sells. She has what few designers or product companies can offer – a look that is aesthetic and elegant, yet sturdy and lasting. Even the best furniture makers struggle to achieve this balance, and Swati does it effortlessly!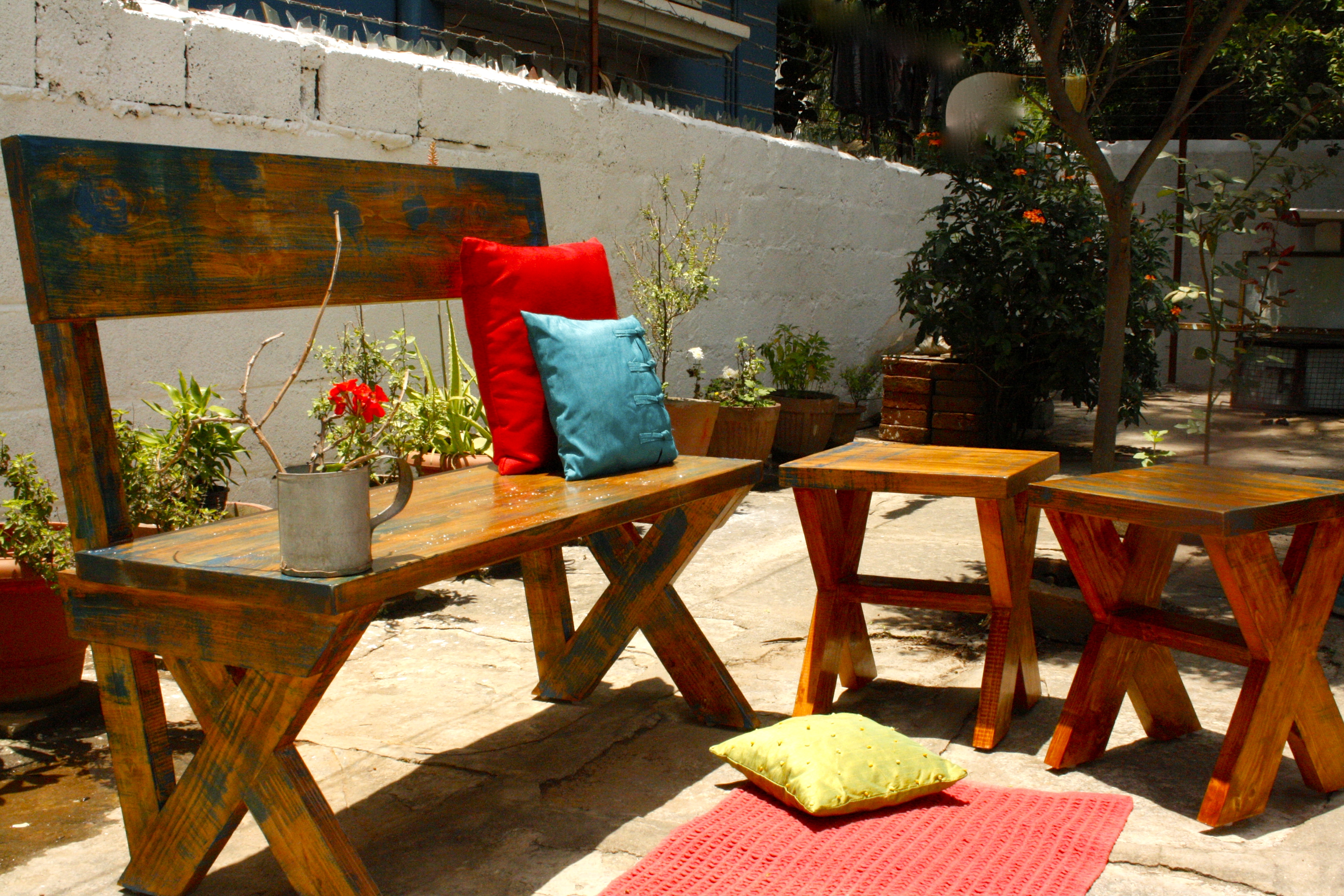 Key takeaways from By the Riverside's offering
– Am exceptional design company that effectively bridges the big gap between the need for simple yet stunning interiors, and the below par projects from designers, who tend to force clients with run of the mill offerings.
– Most home owners who like their home to reflect their love for nature and earthy aesthetics, just don't know how to execute it themselves, and By the Riverside is a great option.
– This is an interiors firm that has consistently been working on solid wood, and the skilled craftsmen on their team are a great assurance that the quality is exceptional
– By the Riverside provides bespoke pieces that are unique as well as aesthetic. They are built on sound design, and high quality material.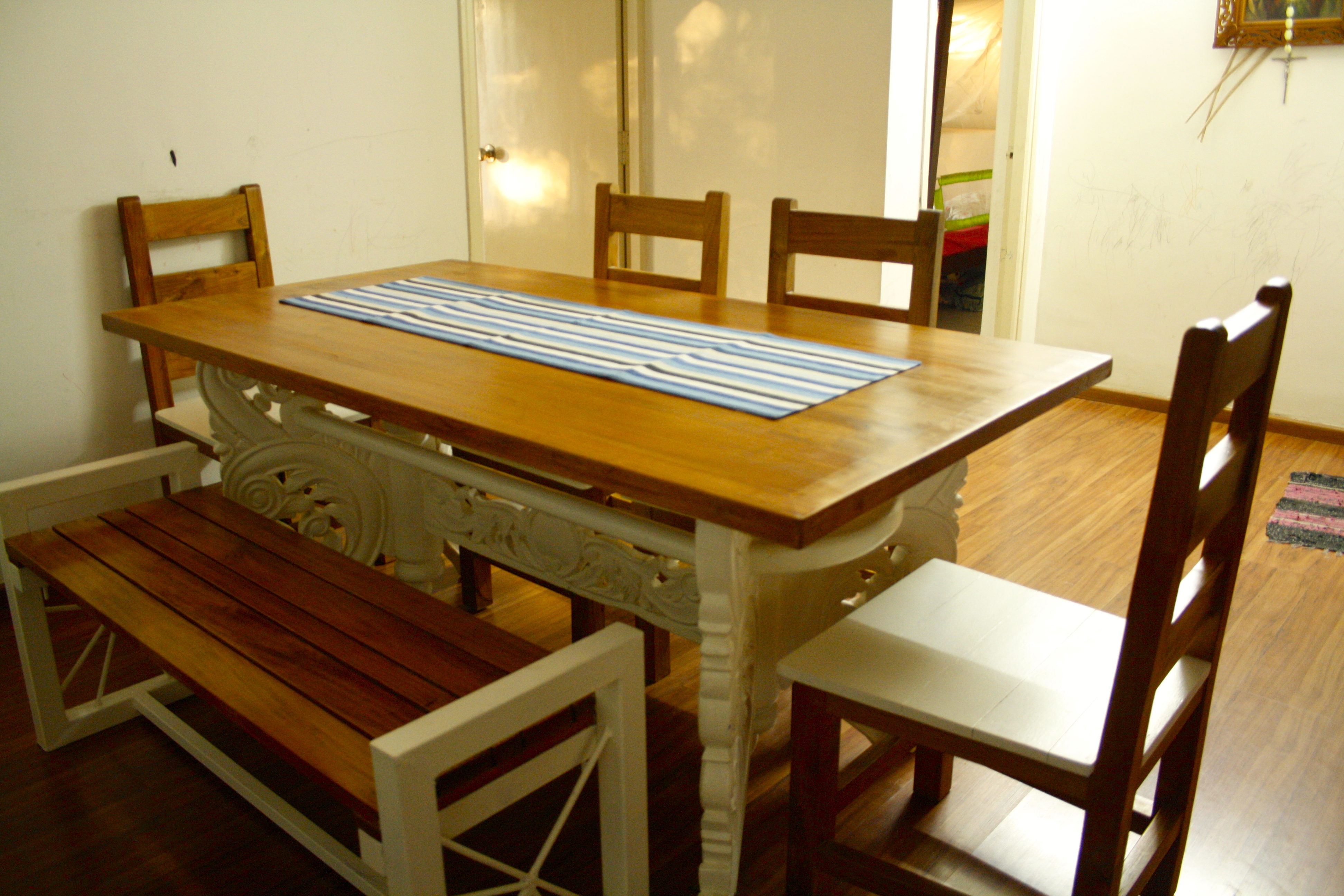 Contact information:
Website: http://www.bytheriverside.in
Swati Seraan: +91 9886439231