Location: South east Queensland Australia
Home: 120 square meter home built on a 40 acre plot of land. Its a 30 year old house
Residents: Empty Nesters Martine and Dave
Martine and Dave live in a beautiful 30 year old home with a verandah that runs full front and on one side. The house is 3 bedroom, lounge, dining, kitchen and bathroom and en-suite.
Martine, I am like that! I so love colour, but I haven't dared to go all out with it. I know what I am missing, and I am sure a lot of my readers are nodding their heads in agreement too!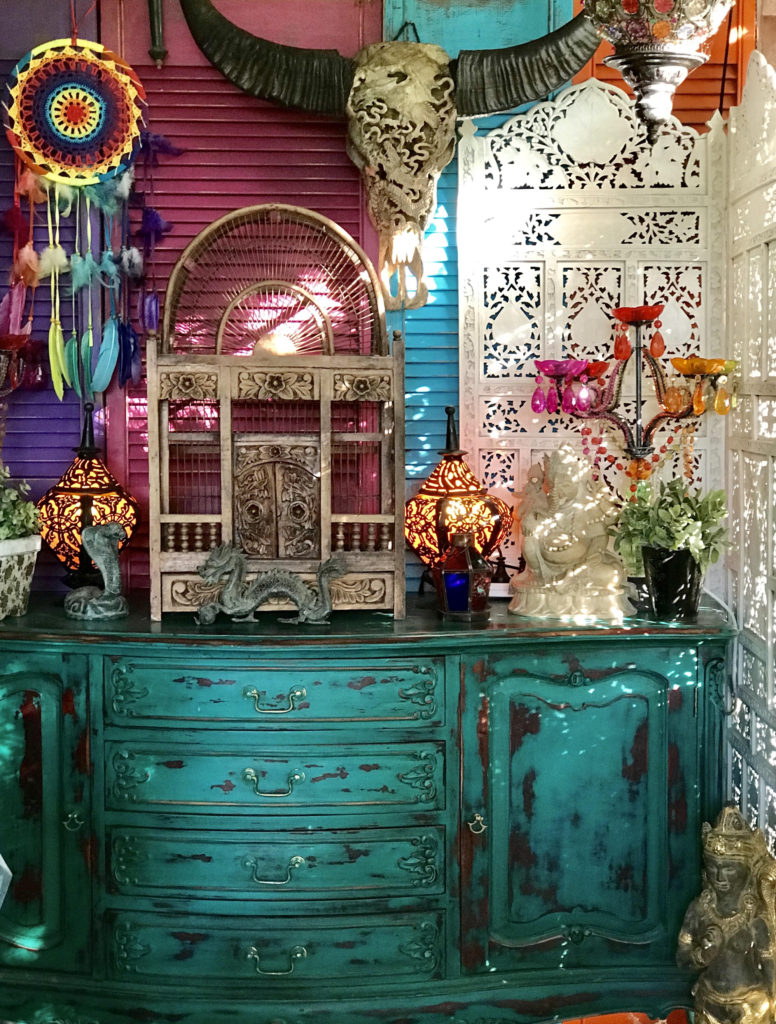 Here's Martine with her home story!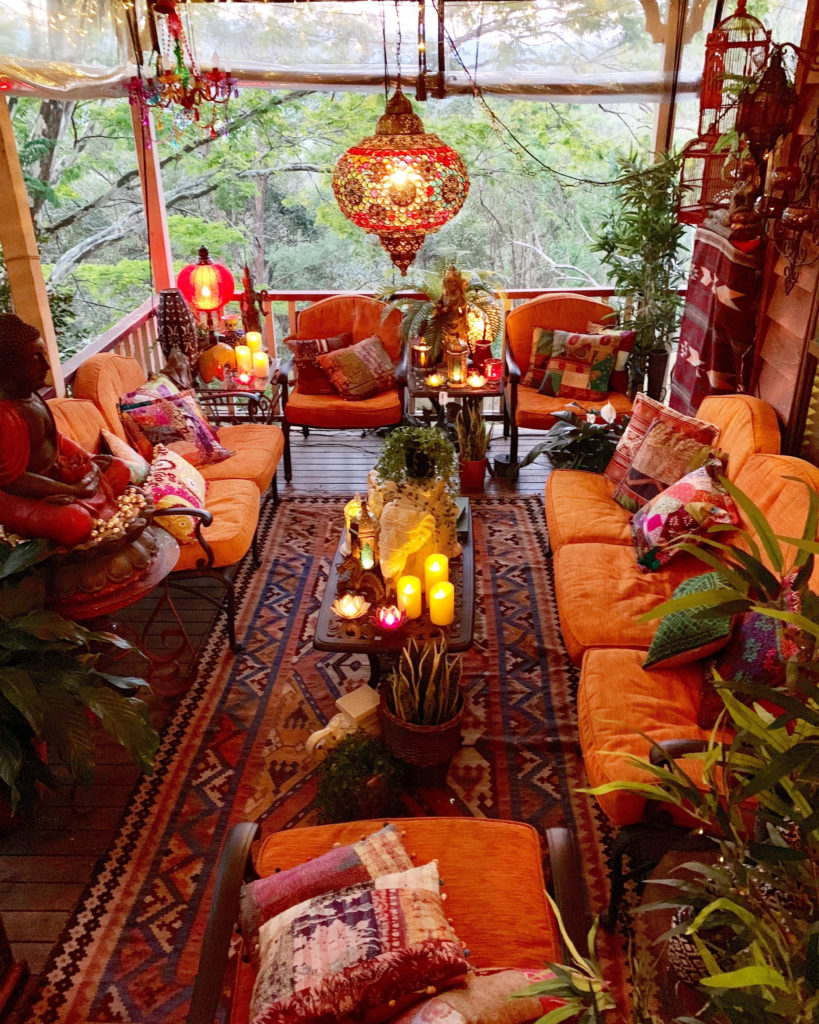 I wanted to design my verandah in boho style. I wanted it colourful and inviting. I started out painting the gorgeous sideboard in a lovely emerald green then distressed it. I bought the Louvre doors from Facebook market place and painted them in different colours. The fun part was adding the accessories like the chandelier, candelabras, cushions and more decor. The orange lamp shades are made of glass beads and compliment the orange lounge. The gorgeous buddha is a water fountain, trickling water adds to the serenity. We spend many days and nights here relaxing especially in the cooler months.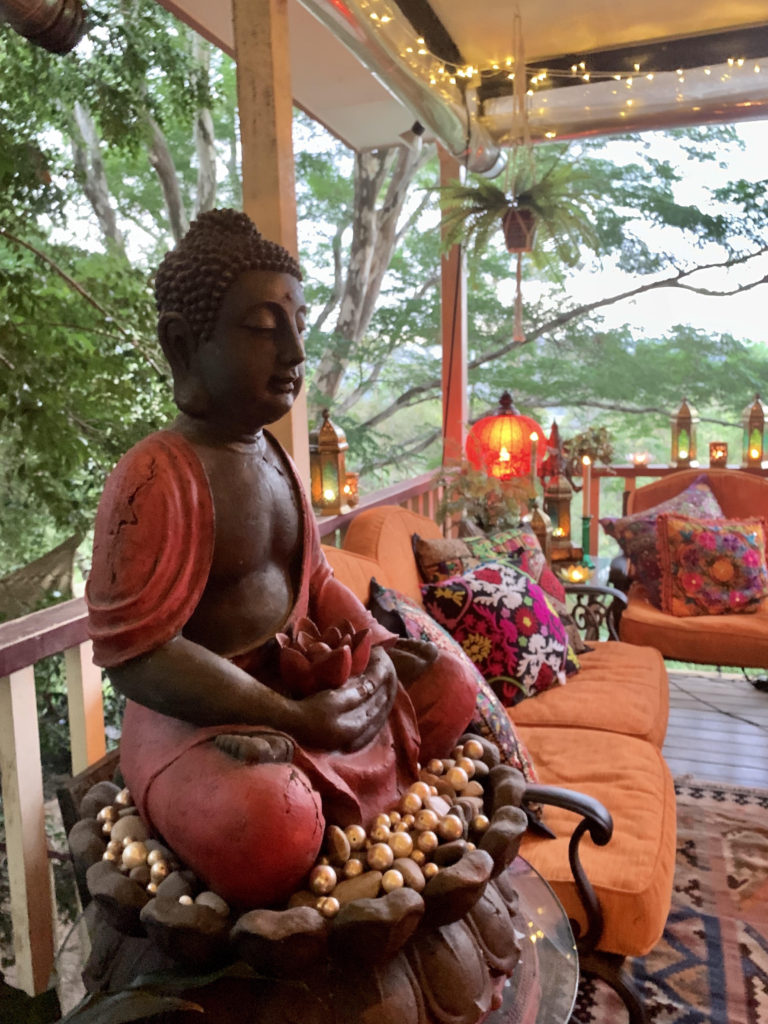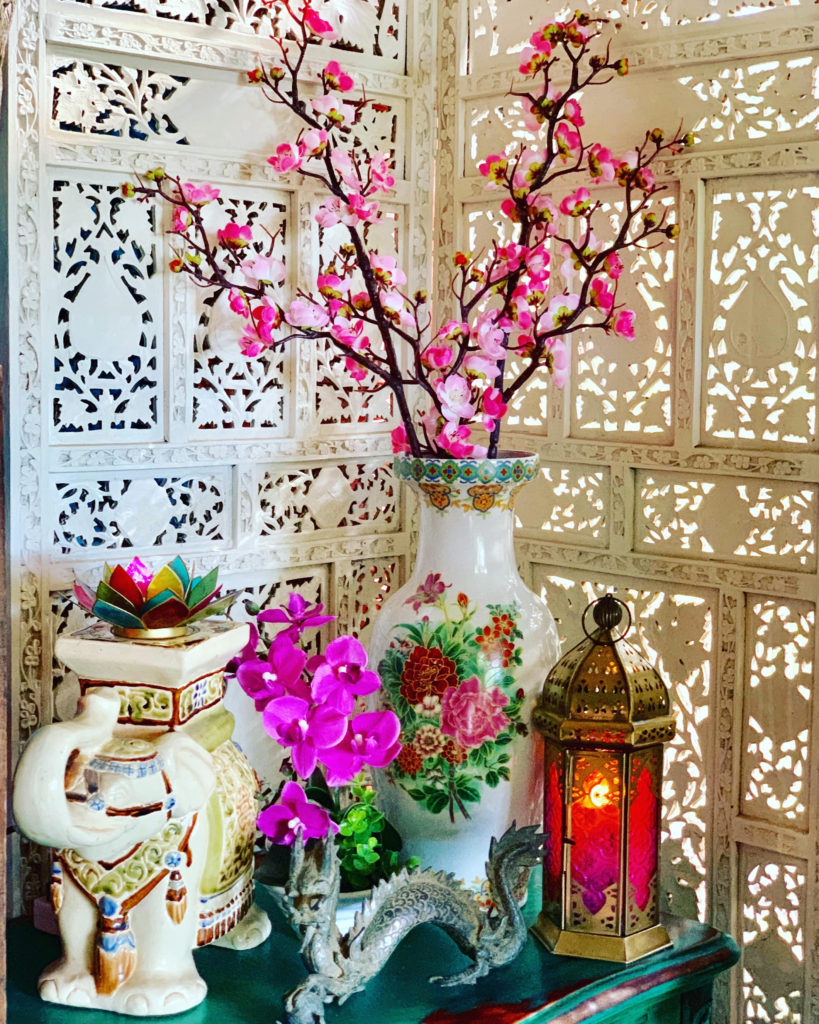 The screen on the verandah came from a lovely elderly woman who was downsizing and she had owned it a good part of her life, she also took it overseas with her when she lived abroad
The Frida pot was painted by me 🙂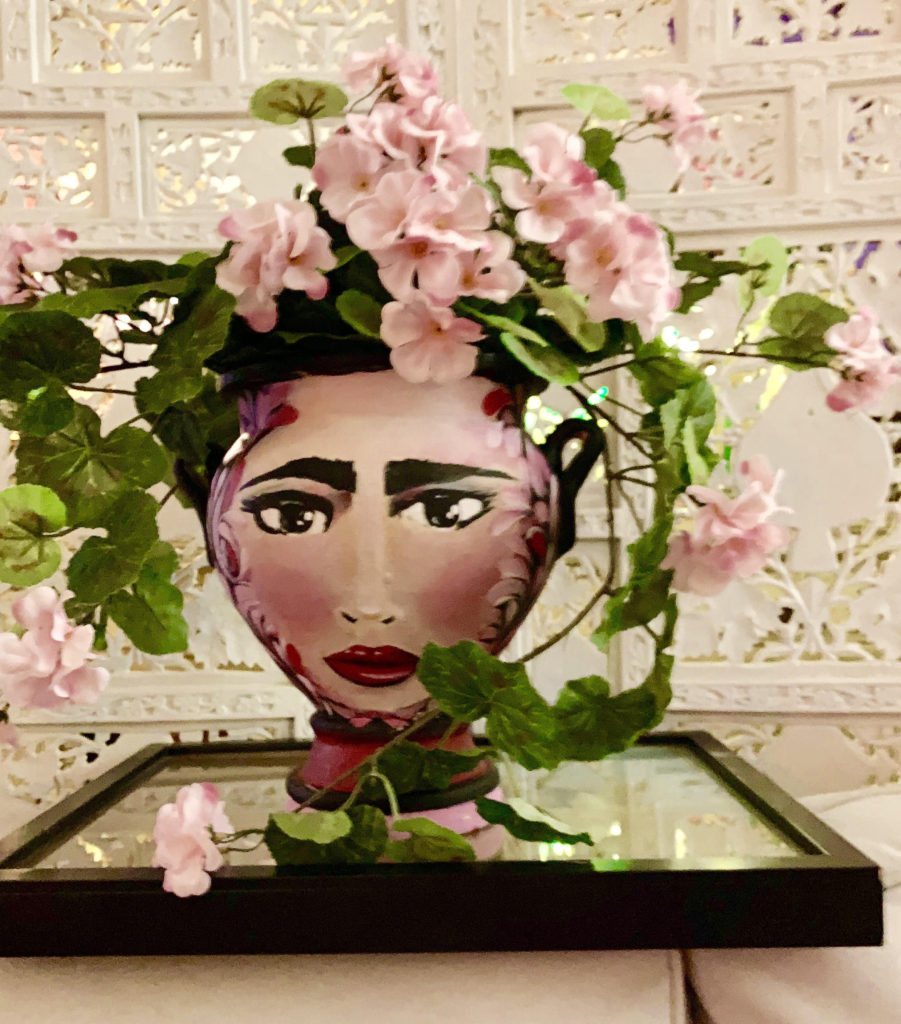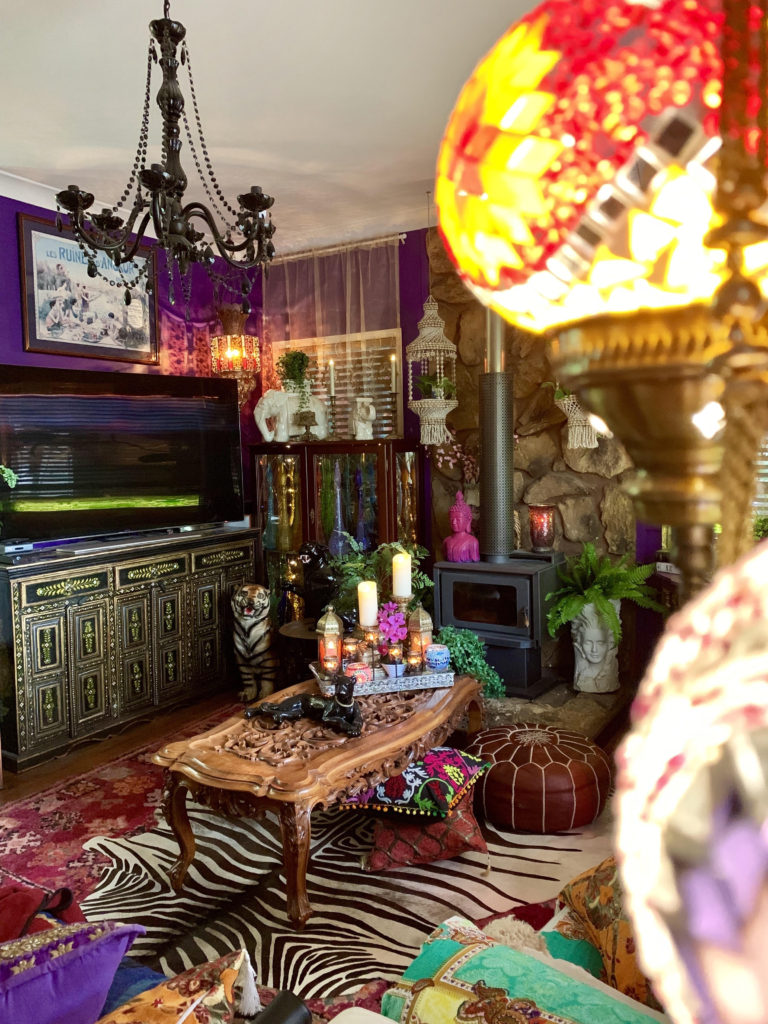 In my lounge – The gorgeous hand painted Antique Indian cupboard was in a second hand shop and when I saw it I just had to have it. It also came with a smaller version which I have in my dining room. The tiger that you see has since had a makeover in which I painted to look like a tiger. I have a collection of genie bottles, I don't go looking for them anymore as I figure if one pops up and it's in my price range and I am lucky enough to get it, it a bonus. Basically nearly all the decor is second hand.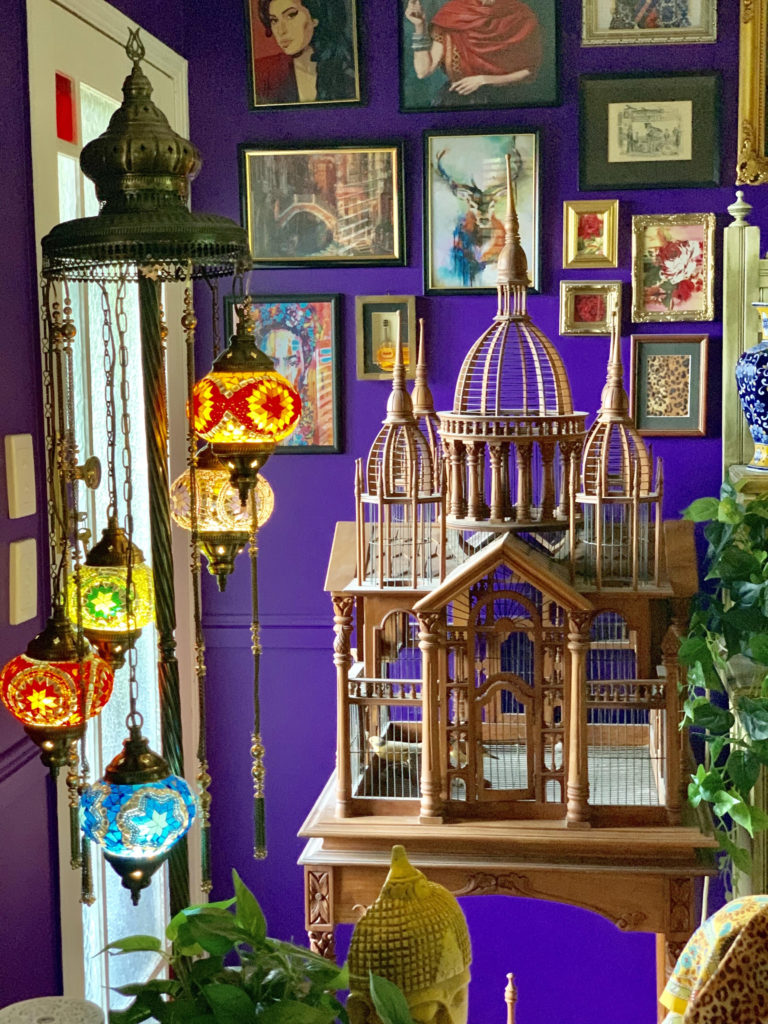 I saw these birdcages back in the seventies and I could only ever dream of owning one as they were just so expensive. I was on Facebook one night and it came up on Market place and I bought it. It is like the Taj Mahal so beautifully made and I really appreciate the workmanship that has gone into i.. I do want to add it is not used for real birds but i do have two little fake ones in there.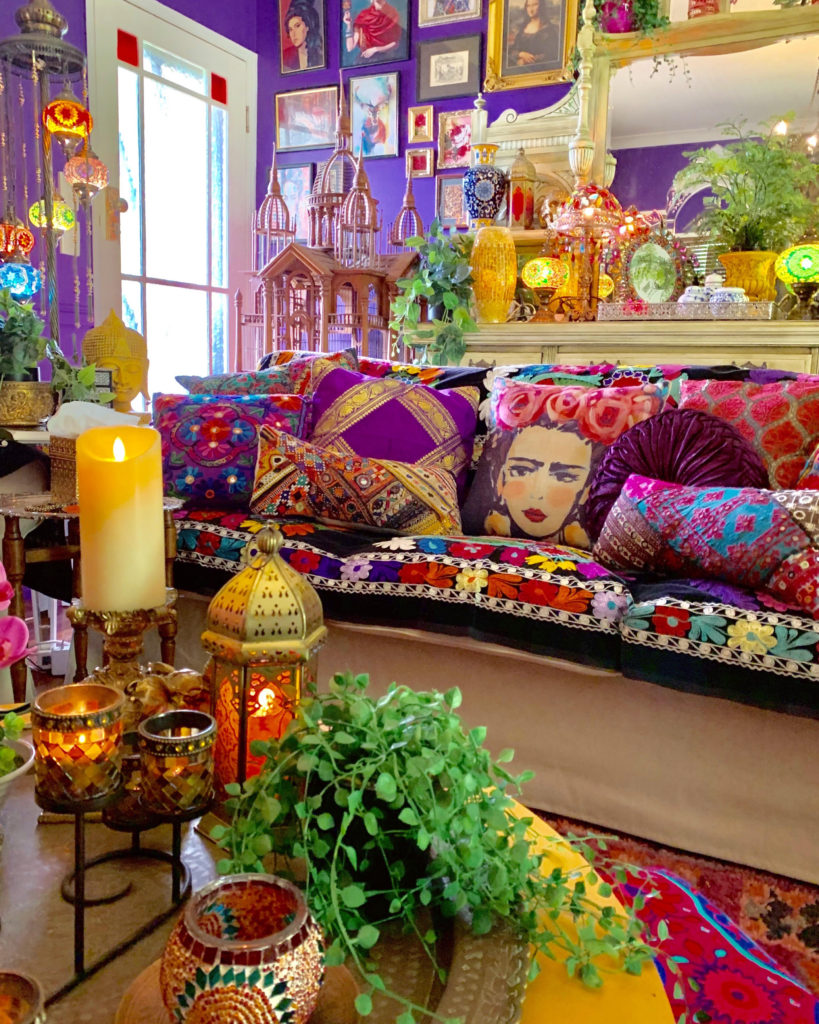 These elephants were gifted to me and i painted one Yellow, then I antiqued it with dark wax to bring out al the detail. I quite often change out my three seater lounge with different fabrics or Kantha quilts just for a little variety.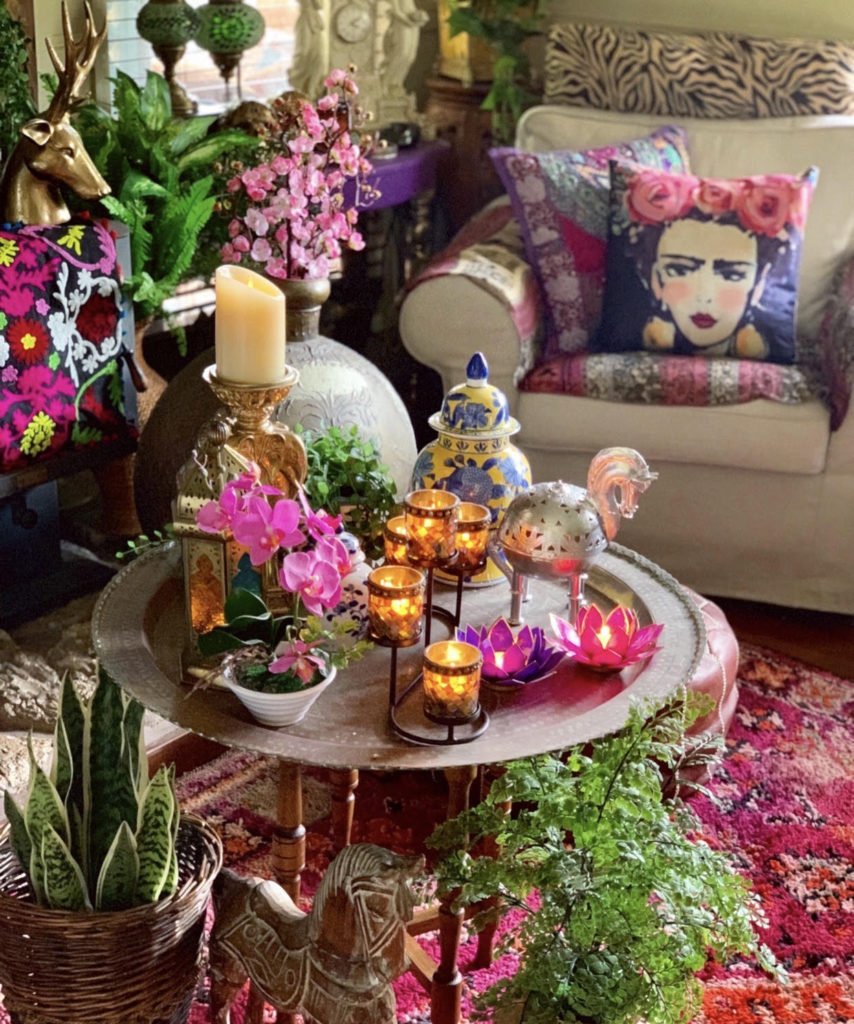 My husband and I purchased the sideboard (behind the couch in the pic below) from a little second hand shop 30 years ago. It was in bad shape as it had been in the 1974 floods. We bought it and had it restored but the timber was so dark I found it was a little depressing so we painted it and I antiqued it using dark paint. We have never regretted it.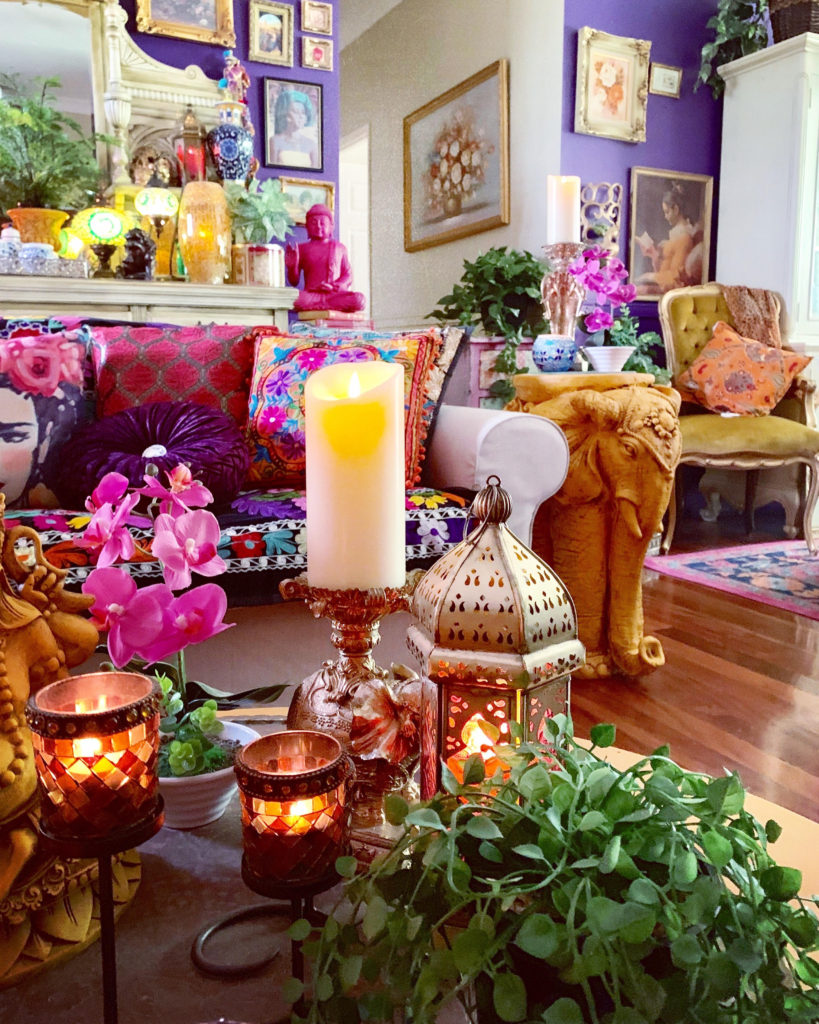 Our kitchen was old and tired. the varnish had gone milky and it was just outdated to me. I sanded the cupboards back and then painted them.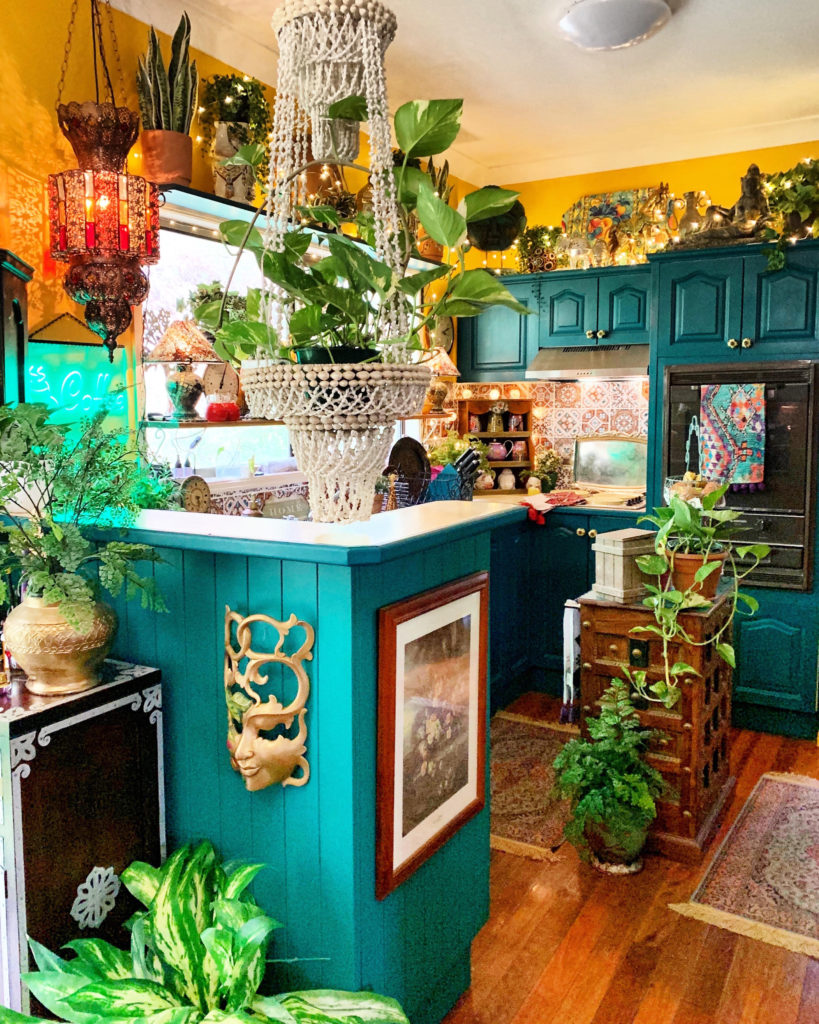 It was a huge job but I was so happy with the end results. I purchased new handles and Dave added shelving and after it was all put back together I added the decor and of course fairy lights. I then added the sticker tiles for my bohemian look which compliments the colour of the cupboards. I am so happy how it turned out and for a couple of hundred dollars it was so worth it.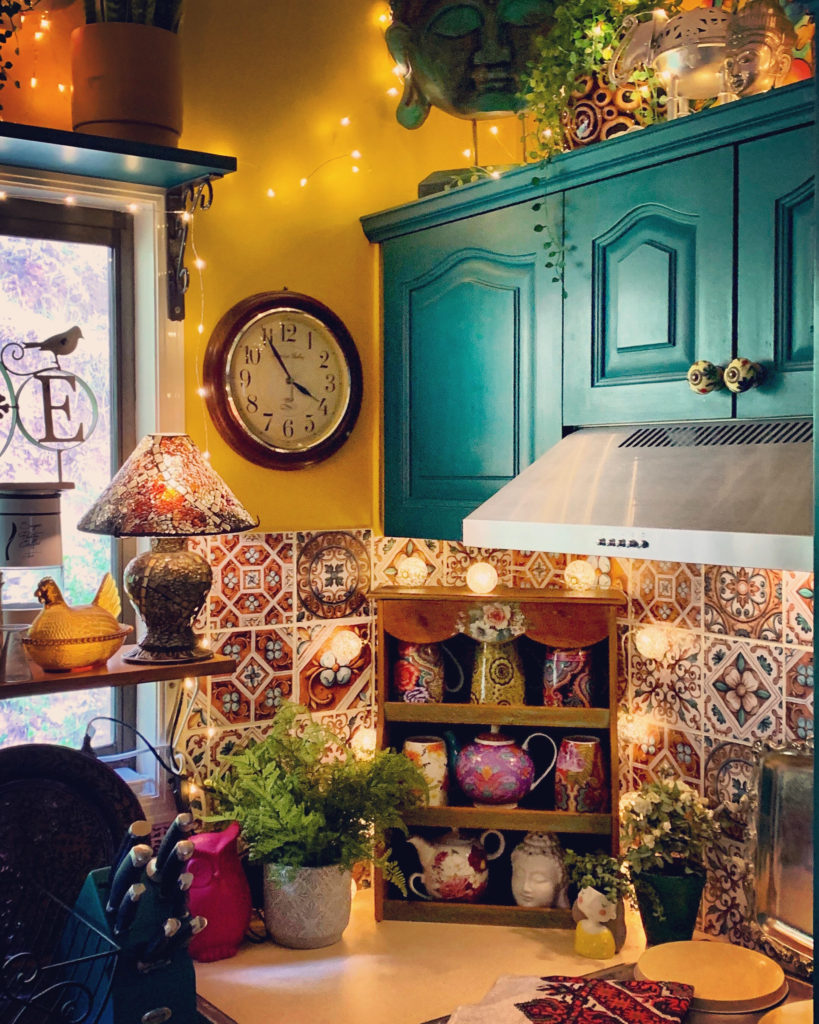 Our recent kitchen redecoration project has reiterated what we always knew – you don't need to spend a fortune on a new one when revamping gives you exactly what you want at a fraction of the cost.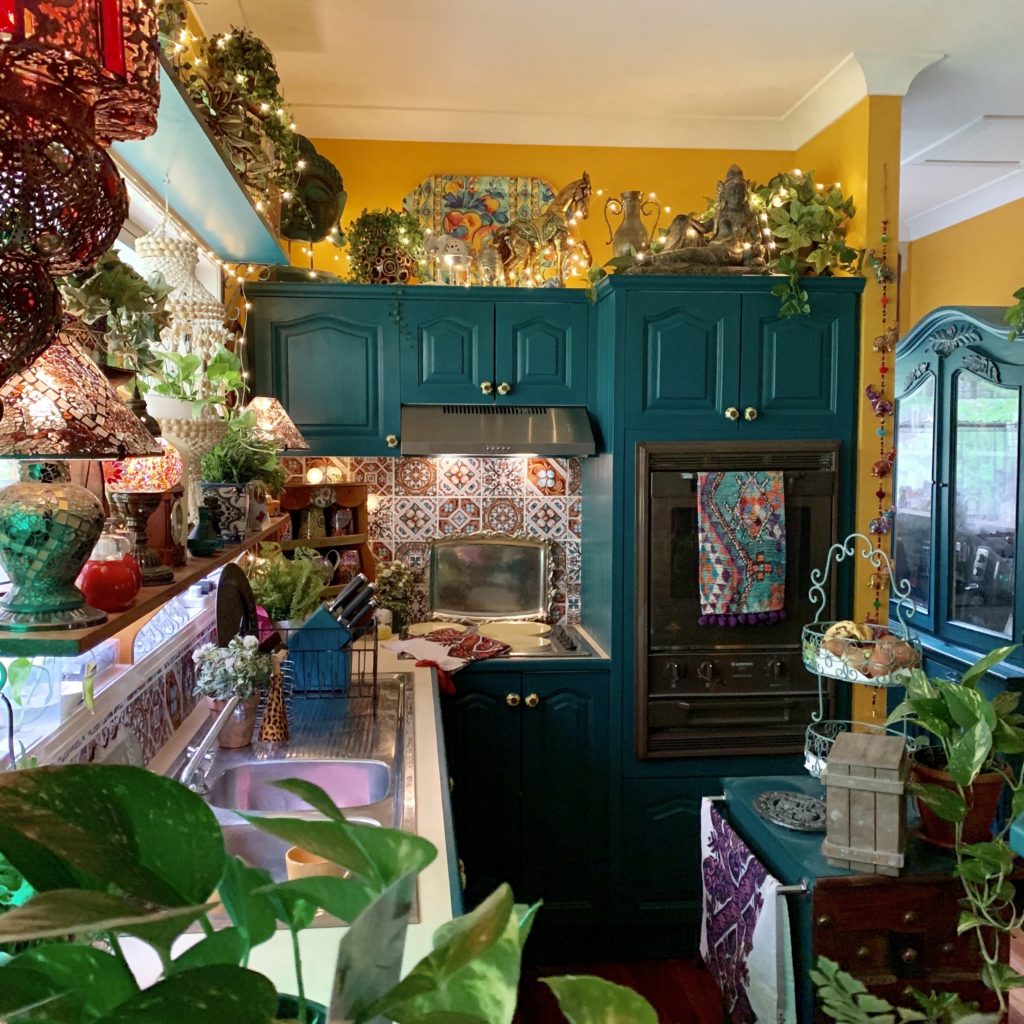 The pic below is of a wall adjacent to the kitchen.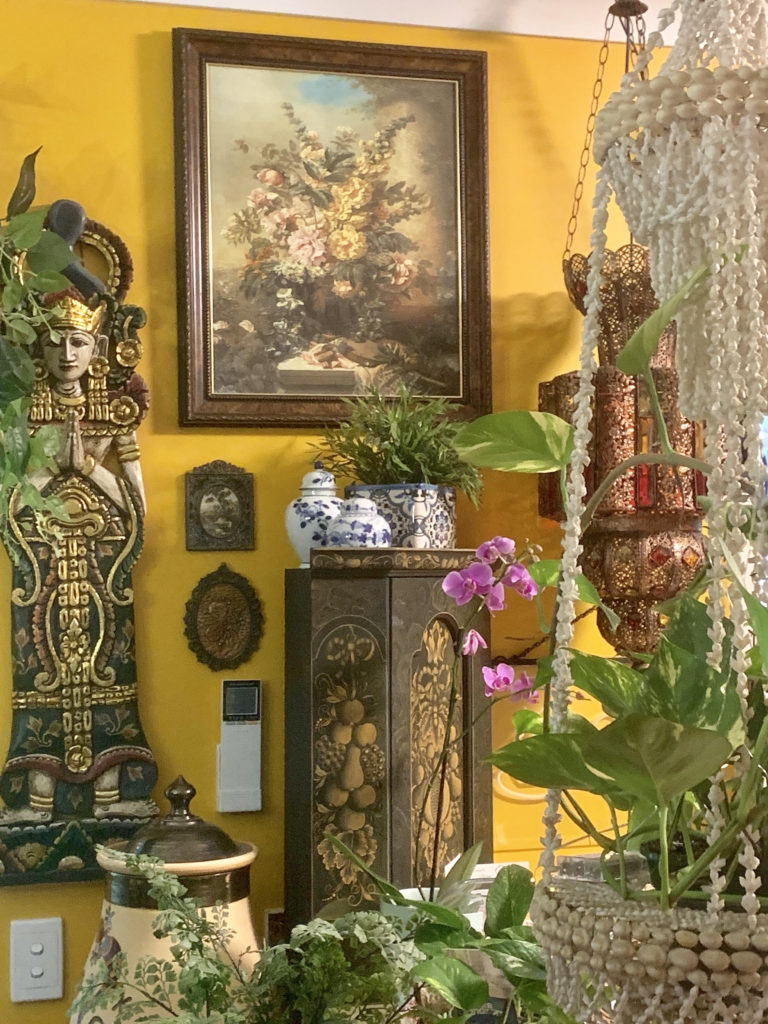 Where does Martine shop for her Boho decor?
I shop online for cushions and other small items can be EBay or AliExpress.
My main shopping is from opp shops (goodwill) or second hand shops.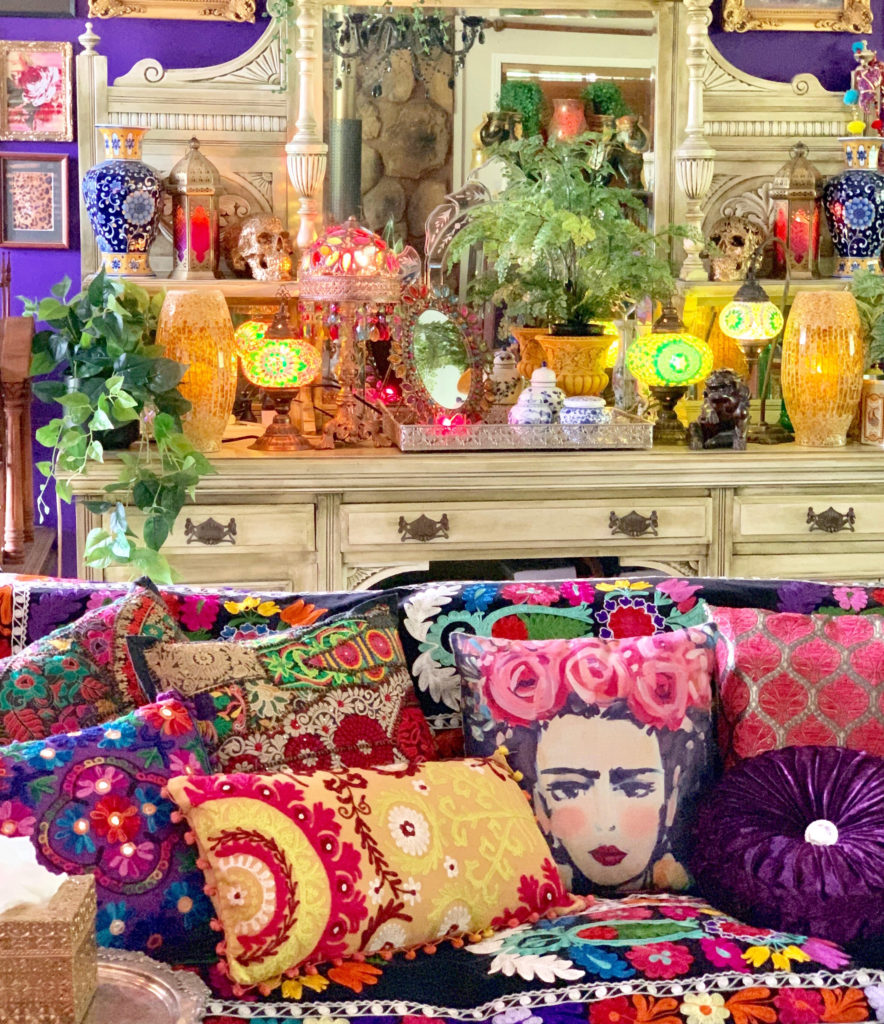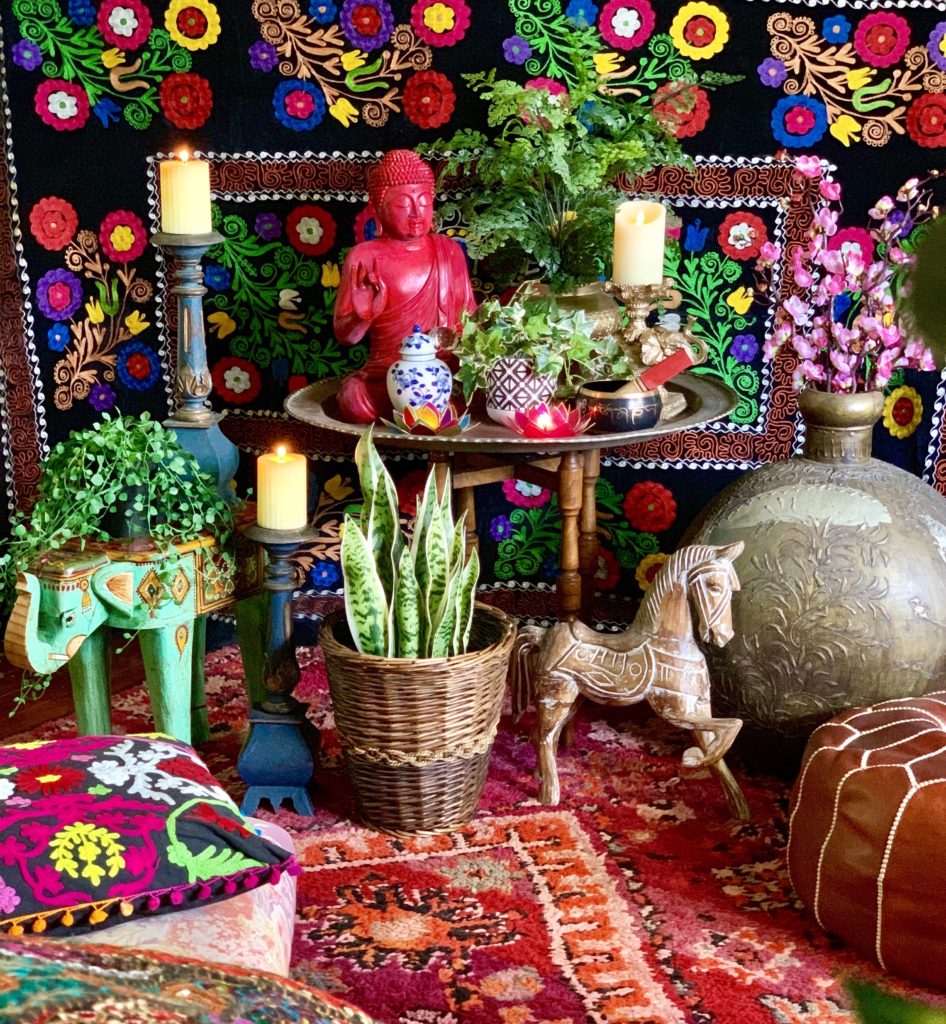 Martine's must-have's for a Boho Max look
Candles, Lamps, Lanterns and Fairy Lights
I love candles, lamps and lanterns and adding these to decor create a lovely ambience any room.
I love lamps, fairy lights and candles. I have 12 lamps in my lounge and one has 5 lampshades (mosaic).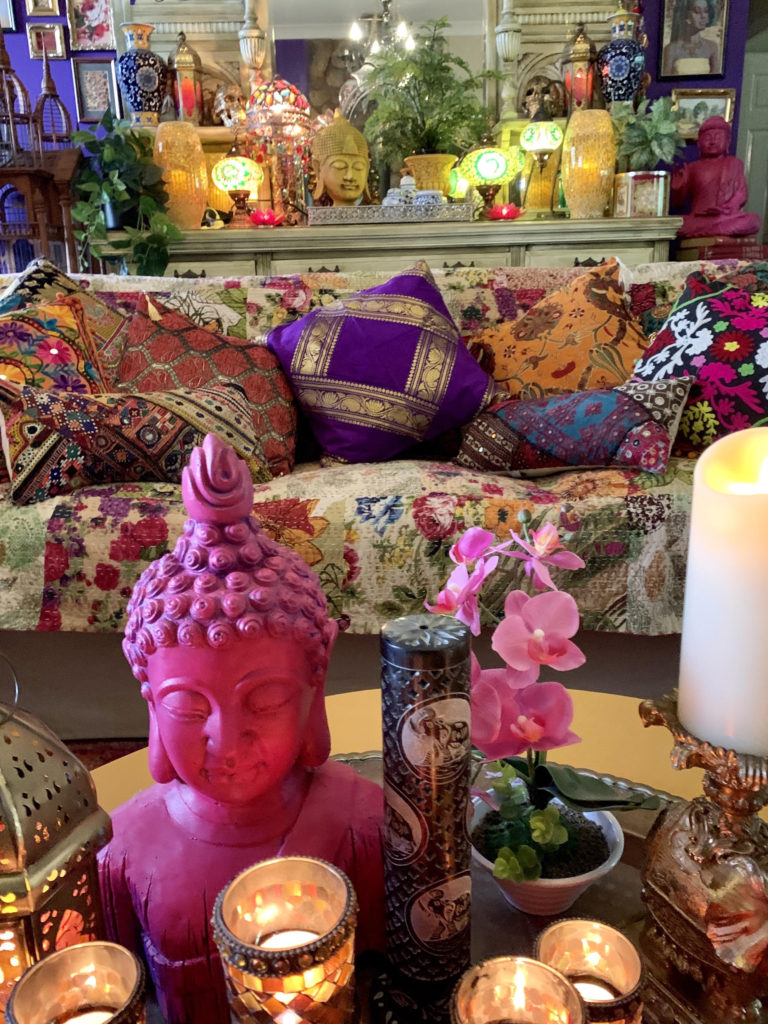 Cushions
I love cushions with different colours and textures and find cushions are a cheaper alternative if you want to change up a lounge.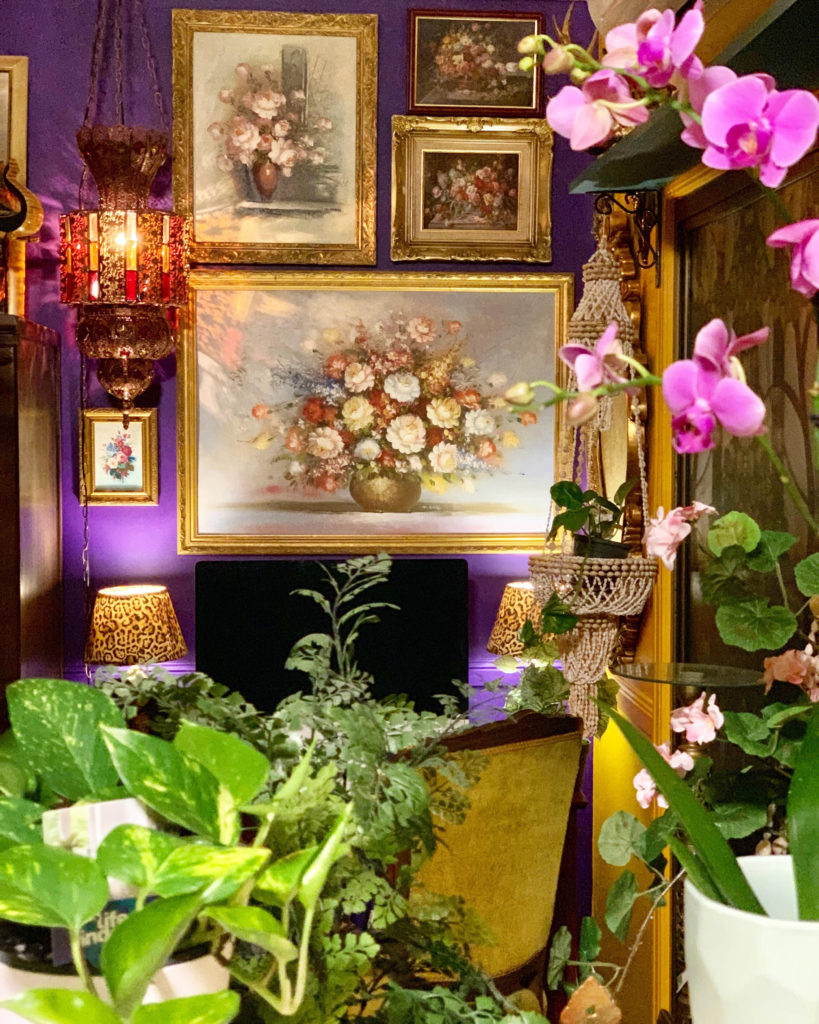 Eclectic and Unusual Pieces
I always look out for unusual, sometimes whimsical pieces.
On Future Plans for the home
Our house is still a work in progress but my goal is to have it with ambient lighting and a very relaxed atmosphere through out

Martine M
Thank you so much Martine. It was a pleasure featuring the home you and Dave have created together, and we look forward to seeing more pics. Do follow Martine on her Insta page here.
Dear readers, we hope to bring you more home tours in the coming weeks. Do you want your home or a friend's home featured here? Please fill this form.
And, if you wish to save these images to your Boho boards, head to our Pinterest board (we have already pinned these up there) and pin away!