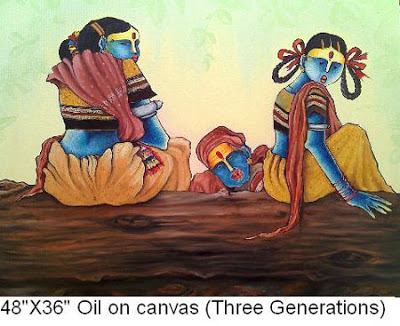 When I visited a friend's home recently I saw a beautiful painting of a tribal woman. I found out that the artist was Pune-based Swapna Malvade. I tracked her down, and left her apartment in Kothrud rather impressed by her work.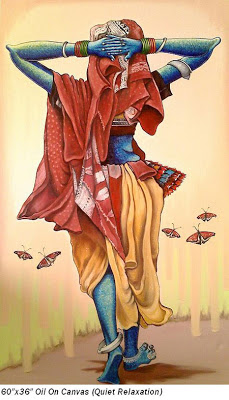 Growing up in a small village in Maharashta, Swapna used to be fascinated by the colorfully dressed women of the Thakari tribe who used to visit her family-run grocery store. She says, "my fascination with the lives of these rustic beauties, and the hours I have spent watching them and their menfolk and children, found a way of expression through my paintings."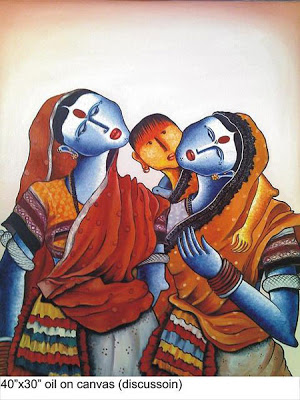 She adds, "Because of long hours spent working under the sun, the Thakari people are dark complexioned. To bring out their features, I use the color blue in my paintings to depict their dark skin. The women have a distinct way of dressing their saris, and tie a piece of cloth (the 'Phadke') around their waists; this is used to hold their shopping which is placed in the cloth, and wound back around their waists. Every 'Thakari' woman also wears a big silver bangle on her arm called 'Bajubandh' and a big thick silvery payal called 'Toda'. Their costumes, colors, expressions and way of life have so charmed me, that I can't stop painting them."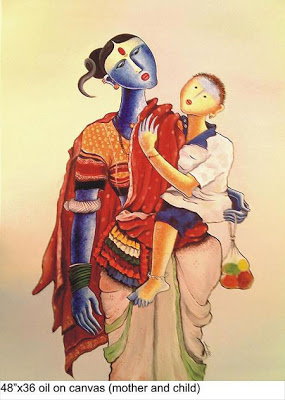 Swapna also dabbles in Oil, Acrylic and mixed media pencil and Rotring sketching. She has exhibited her work at several international and domestic art exhibitions. Her paintings make excellent buys, and will look good in any living room, especially if you are planning on an Indian corner in your home.