Ever seen home decor inspiration on decor sites or pages and wondered how to replicate it in your own home? Not all of us are blessed with a natural flair for decorating. Here is a home owner who has a natural flair, but she has also cracked the code for those who don't, and shared it with us here! More on this at the end of the post.
Location: Lucknow
Home: 2700 sq ft plot with 1900 sq ft (ground floor) and 1200 sq ft (first floor). Its a 30 year old house
Residents: A family of 5. Mr and Mrs. C.B.Rai, son Sitanshu, daughter in law Ankita and grandchild Miransh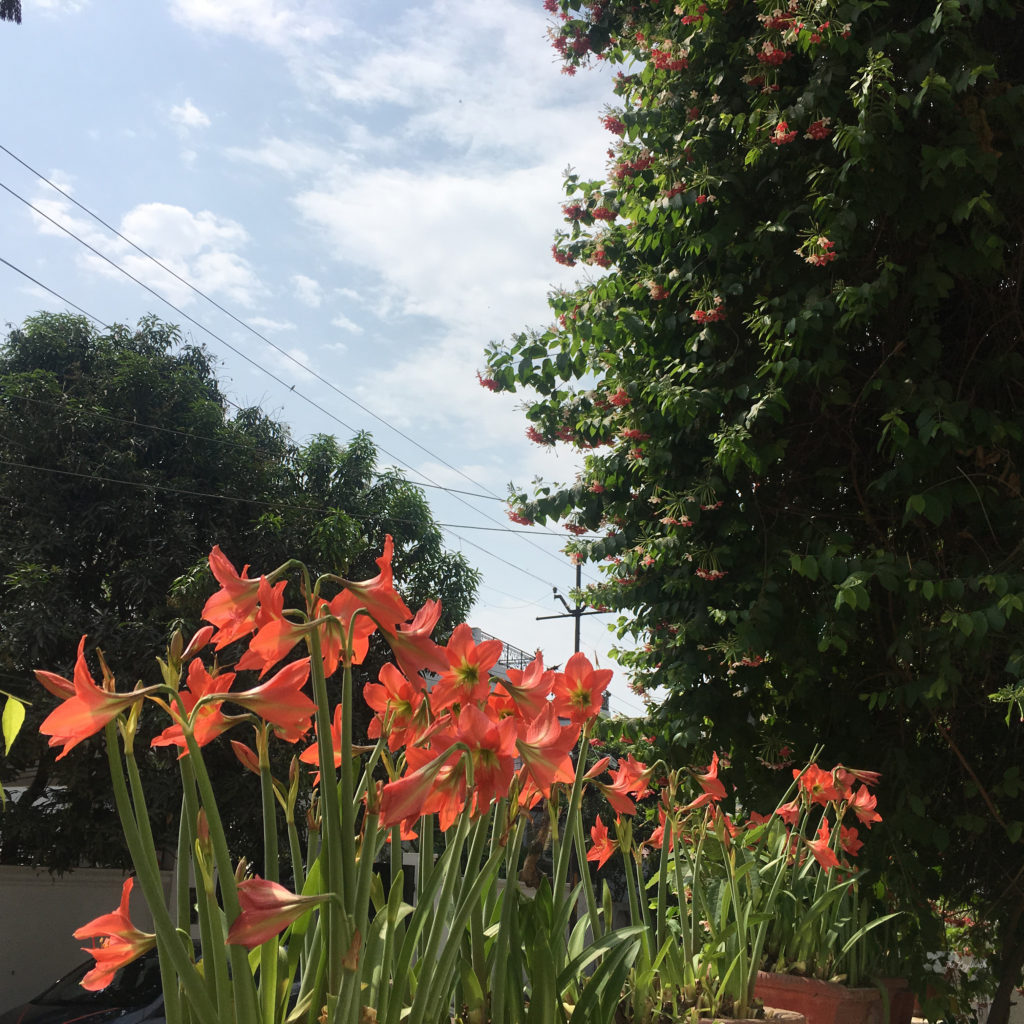 A 30 year old home on a quiet, tree-lined street of Lucknow, greets me with an abundance of greenery, and I instantly relax. We love homes that have living decor, in fact that's the theme on our Facebook decor group as well this year! The garden has plants aplenty and the orange lillies nod a pretty welcome, all together. A tall madumalai wine smiles down benevolently.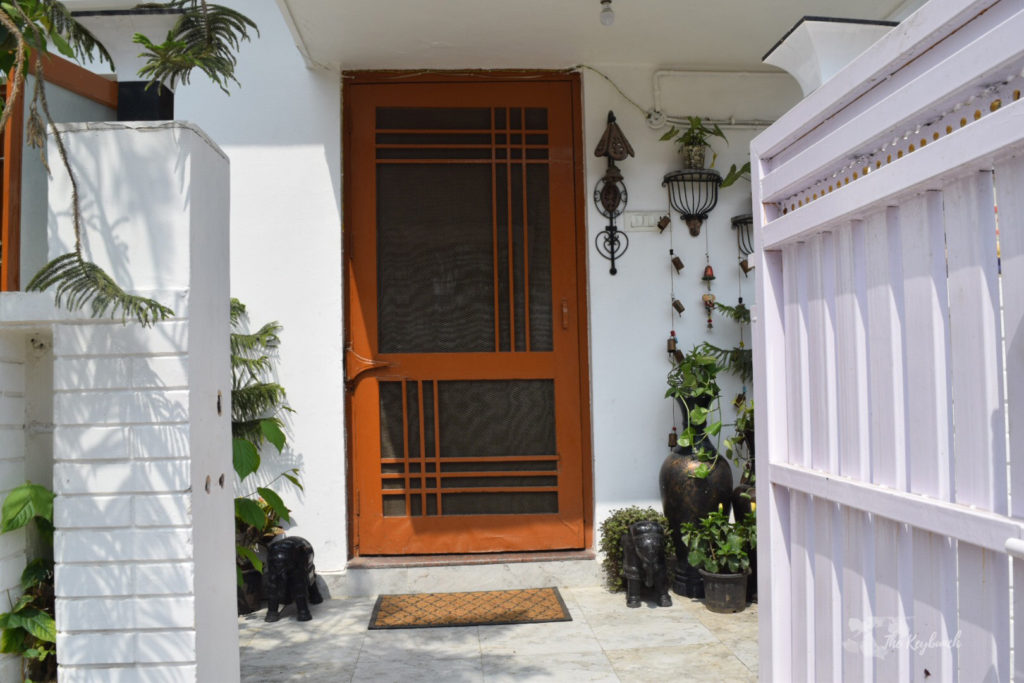 I enter the gate, and this what I see. A friendly labrador contentedly sitting at the verandah while Epipremnum aureum vines trail down from hanging baskets, setting the scene for what's inside quite nicely!
Ankita's love for DIYs is visible right from the entryway. These old milk shake bottles have been upcycled and are suspended from silver hooks nailed on to teal planks! How unique!
The stairway with its gallery wall also catches my eye, but we head over to the living space first.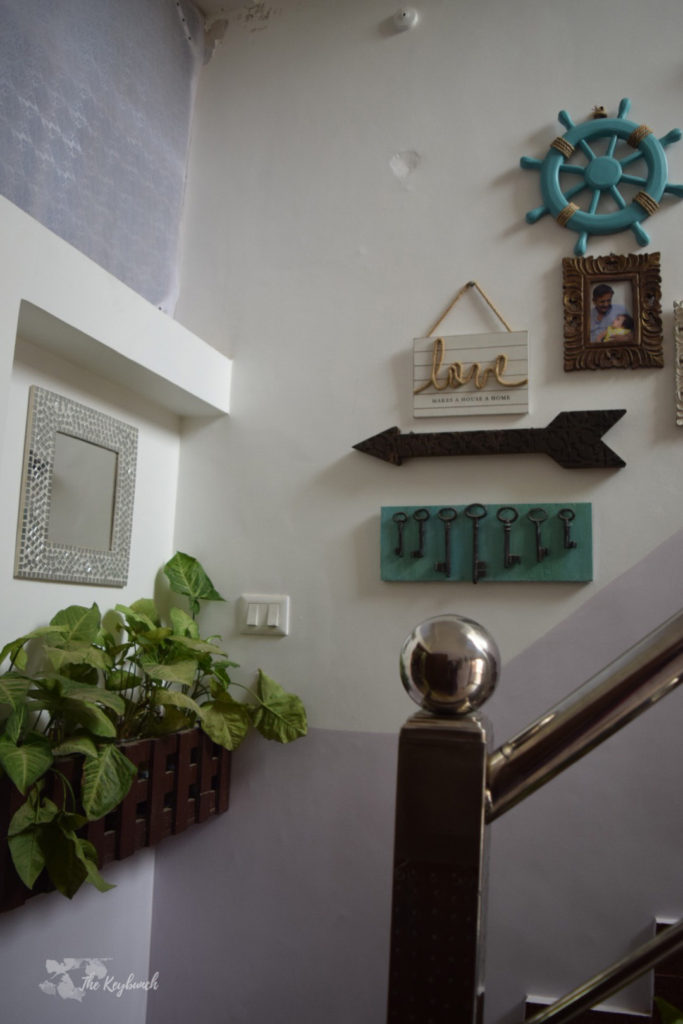 The living room is a cheerful place, with the orange accent wall setting the stage for a cozy space filled with books, collections of brass and beautiful lamps in the corner.
Charming little wall shelves adorned with plants and artifacts adorn the accent wall.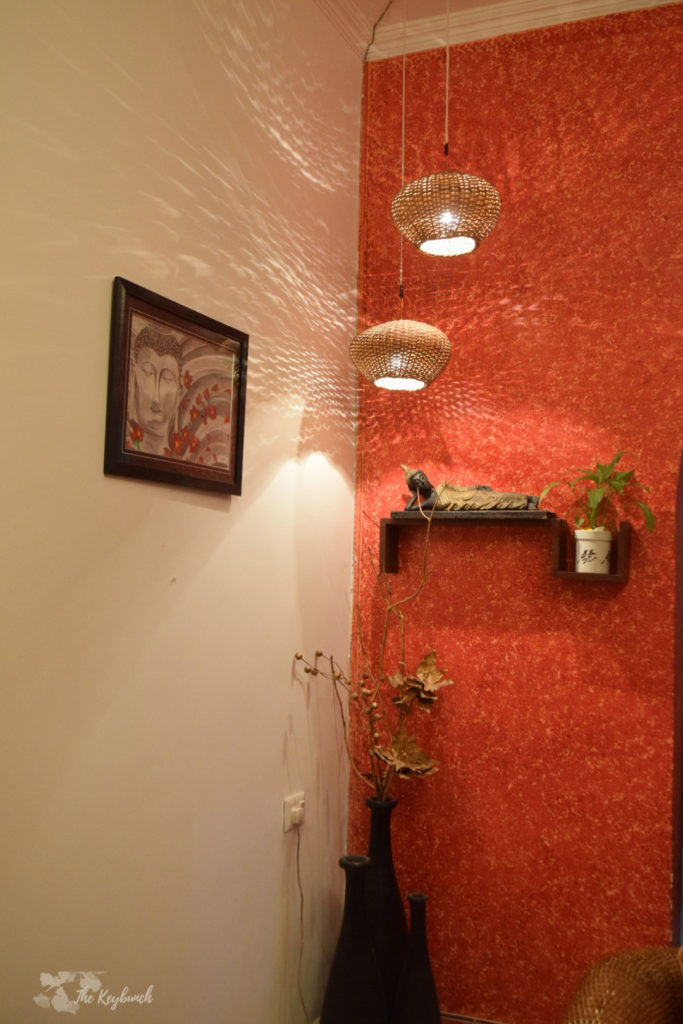 We head up the stairs, and the gallery wall makes me want to stop and look closer at every little piece hung atop it. Sitanshu and Ankita say that it holds pieces from various ports they visited during a long haul sail. The two boards with quotes were bought on Amazon.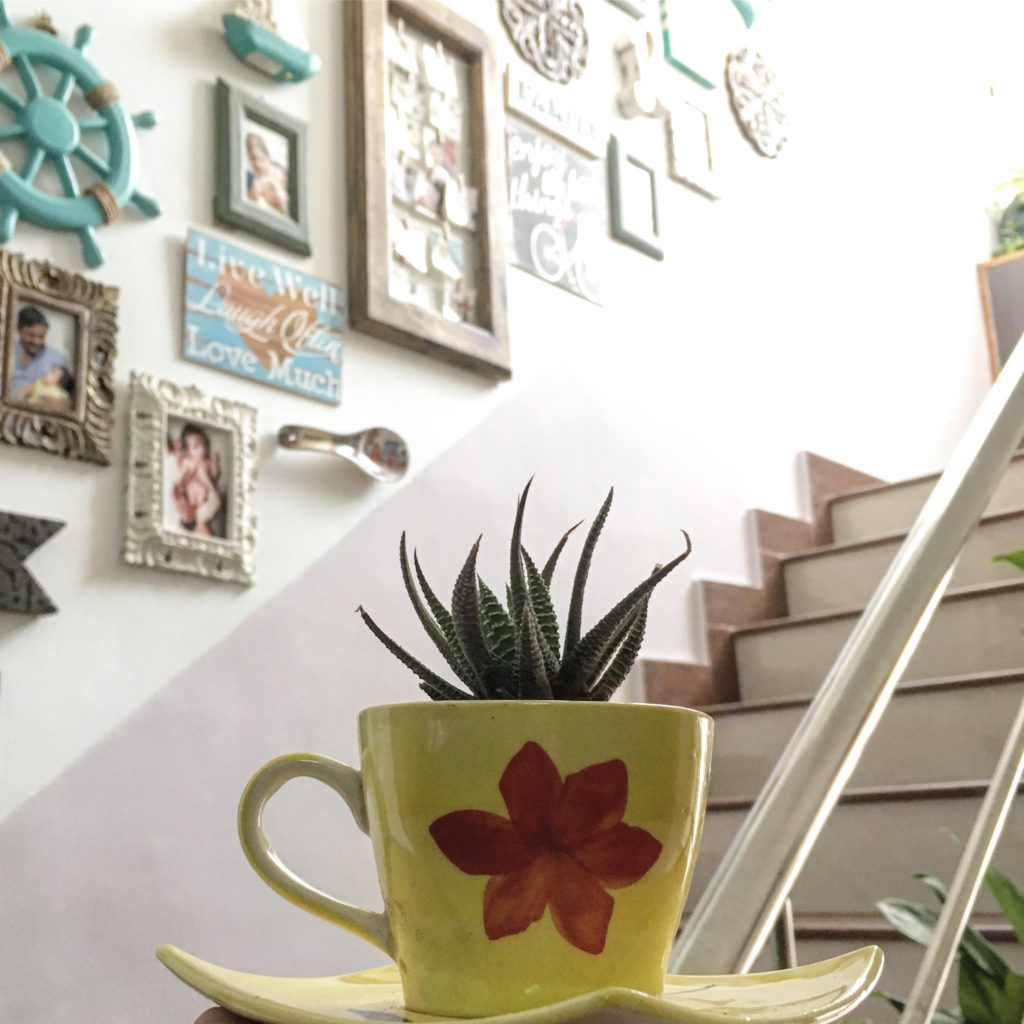 Look who's hard at work tending to the plants on the stairs! ?❤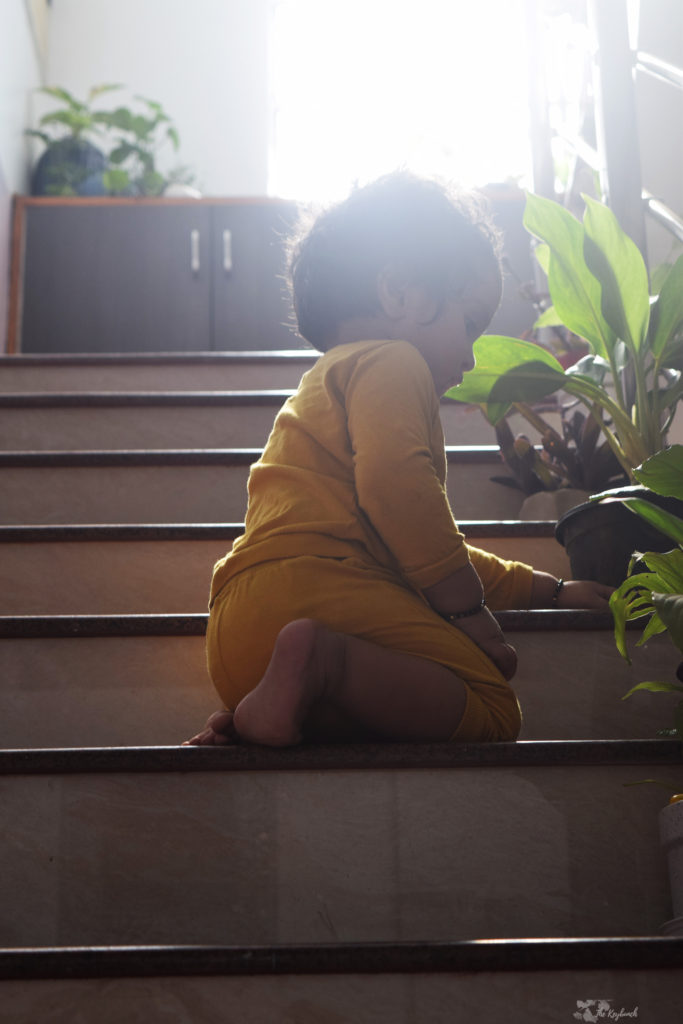 On the first floor, I try to follow Ankita into what looks like a gorgeous bedroom, but I am stopped in my tracks, unable to proceed as I stare at a cerulean wall open mouthed.
Ankita tells me, "I love this blue color and I wanted to use it somewhere in the house. I love my bedroom and wanted to make the entrance an iconic one so I decided on this wall. We struggled for the perfect shade I was looking for, for almost 2 hours at a hardware store. We finally zeroed in on a colour by Berger Paints. The staff added pigments and helped me get the exact shade. Back home, we waited with baited breath for the paint to dry; it was perfect! I immediately knew that this blue would look lovely with bronze and browns. Now whenever someone comes upstairs to see my newly renovated bedroom they get wooed by this wall first."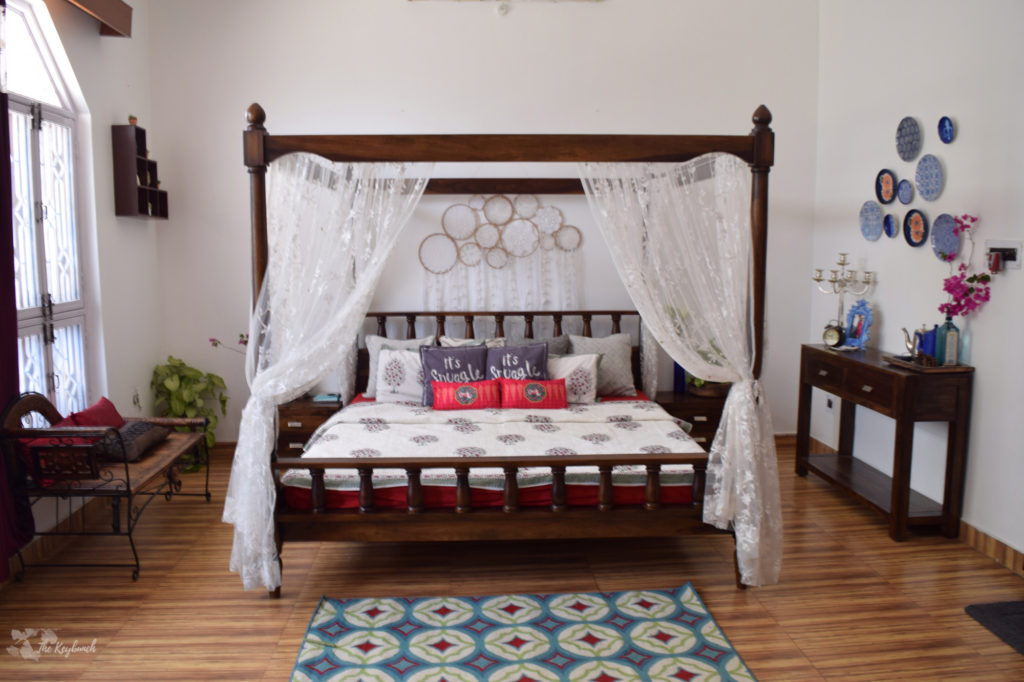 The bedroom can only be described as a dream. With an immaculately attired four poster bed, it is the show stopper here! As an aside, I wonder why we Indians, with such easy access to block printed bedsheets, don't use them often enough? And paired with dark wood, they look so gorgeous! This picture is proof!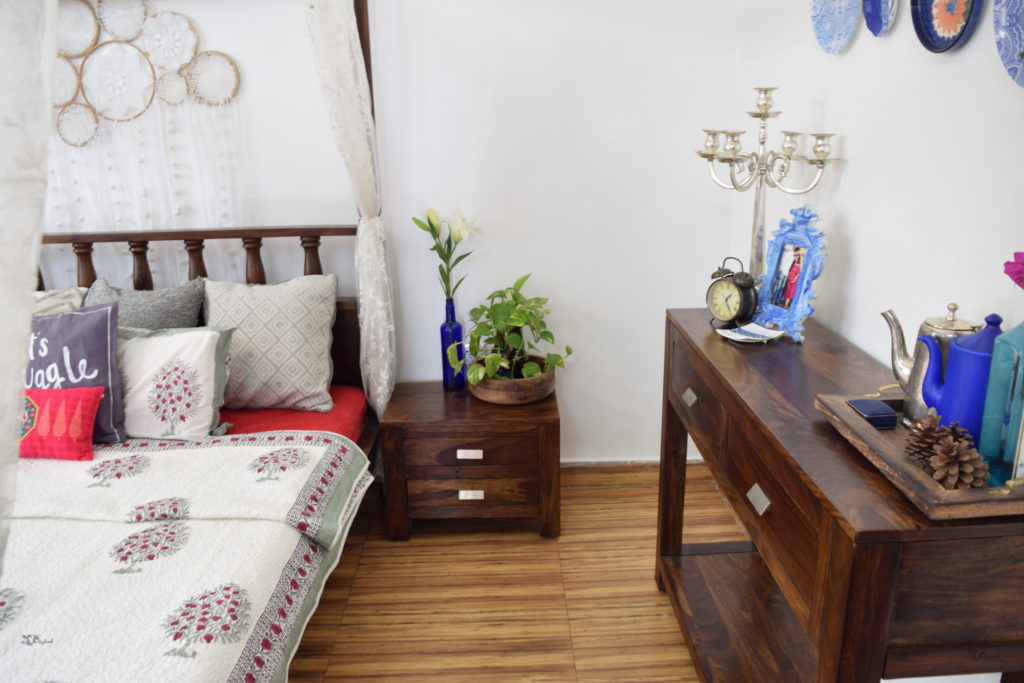 A sideboard adds continuity to the drama on the bed, with a blue frame giving company to a vintage-looking candelabra, an old time piece and assorted jugs, with beautiful DIYed wall plates continuing the play of vintage-modern.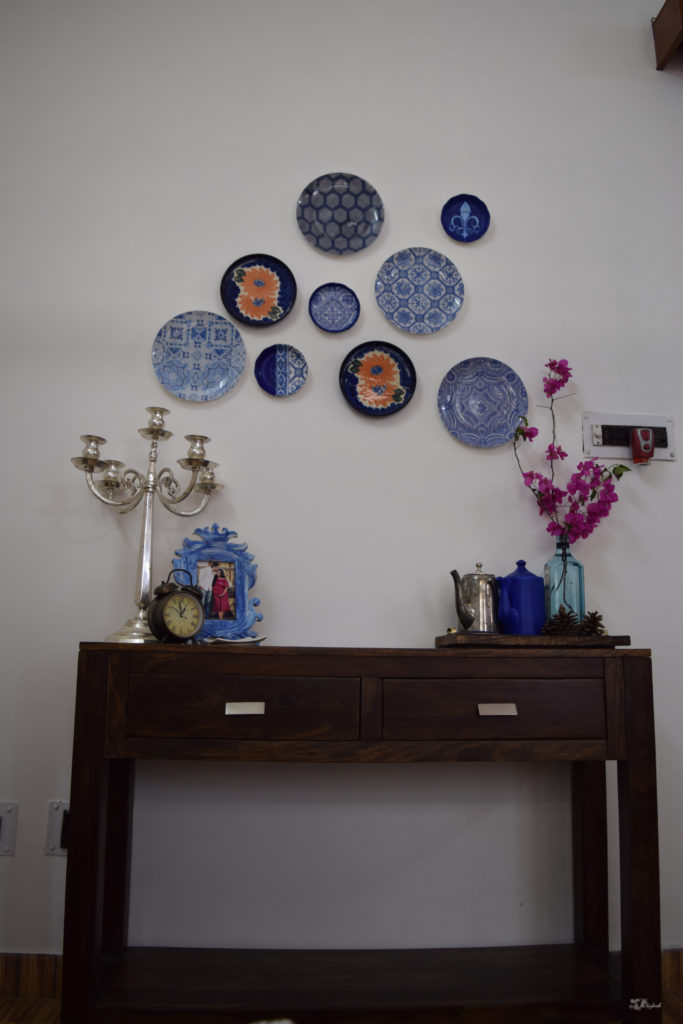 On the way out, we pass the delightful blue wall again and I marvel at how perfectly it is adorned and accessorized.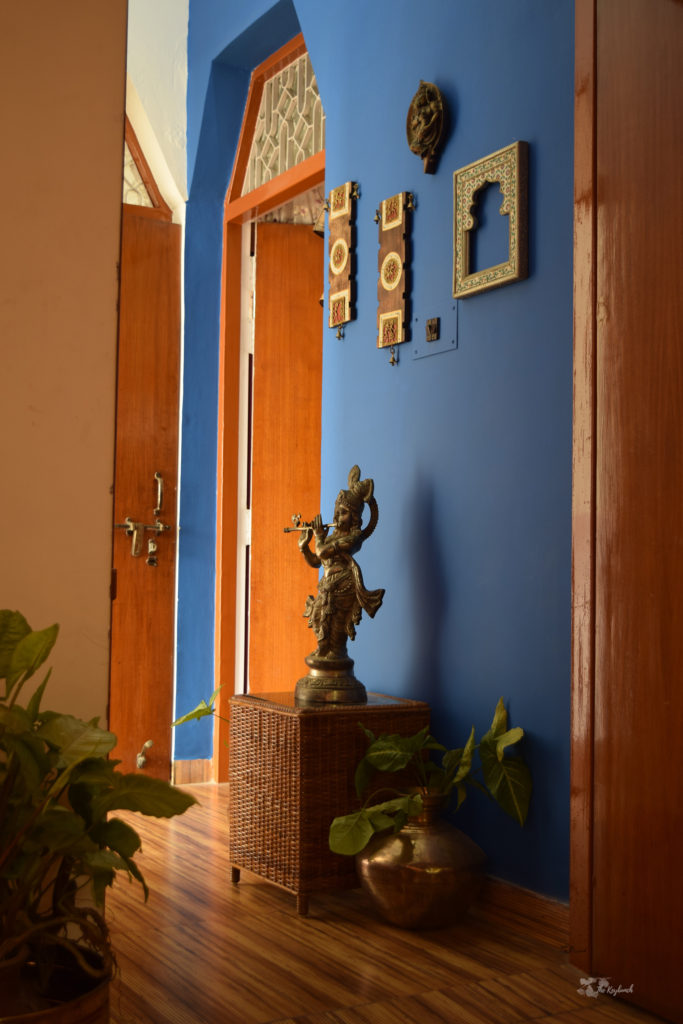 Onward to baby M's room, a contemporary grey-white striped accent wall and a sweet crib, lots of DIY decor and a comfy accent chair with a matching footstool, minimal shelving cubes and yellow touches make this such a darling space!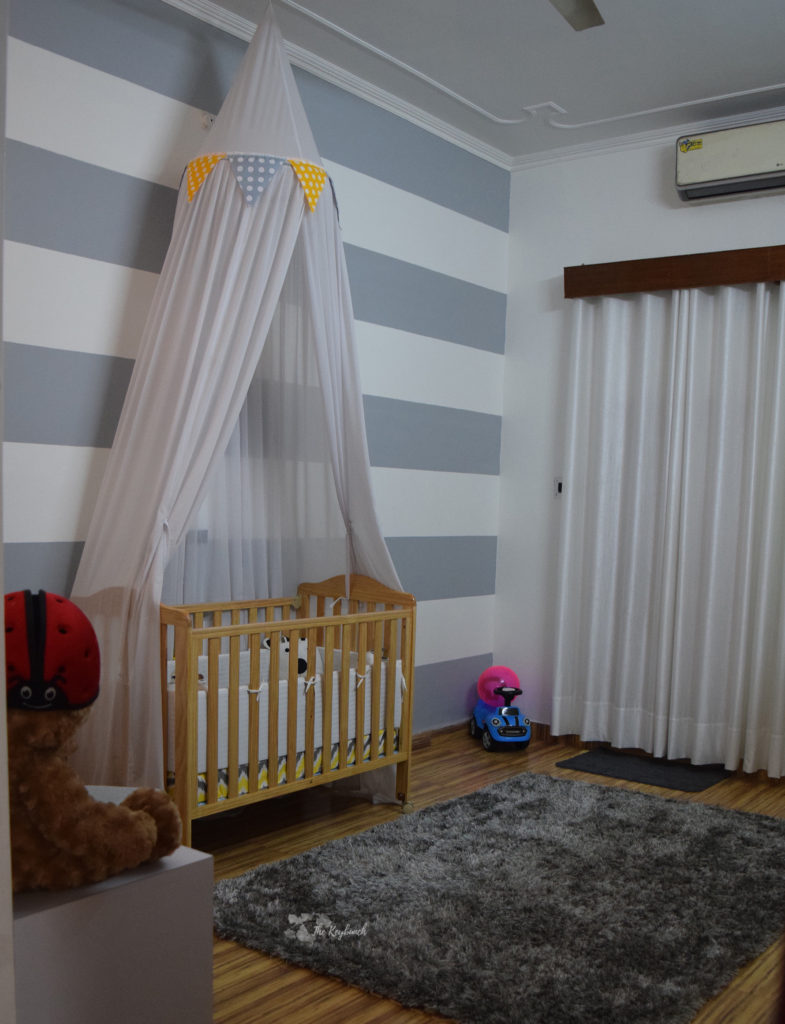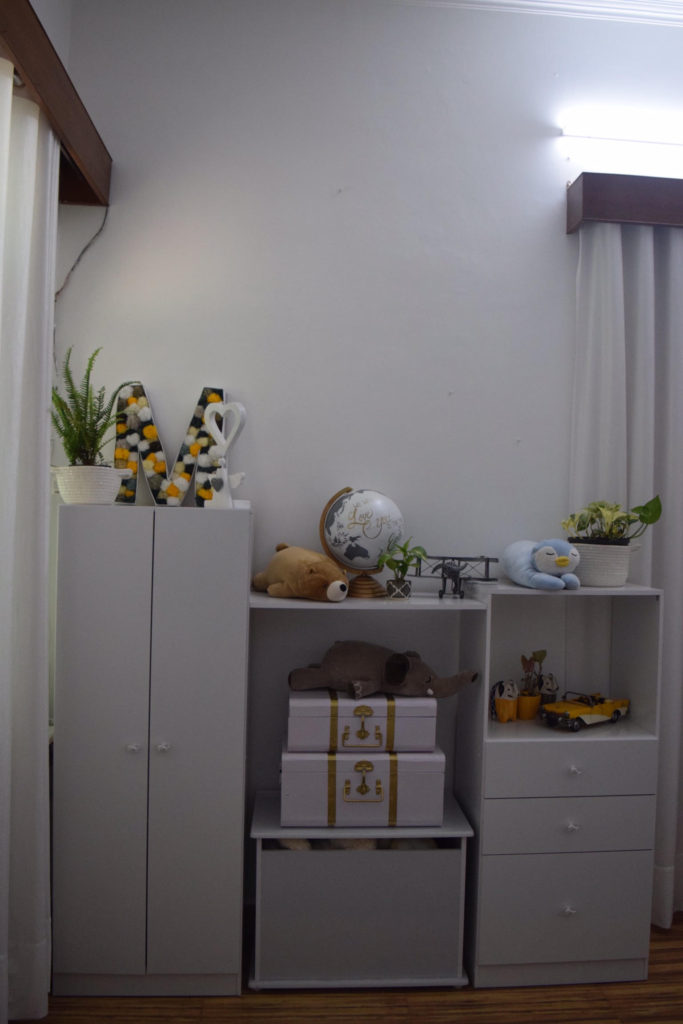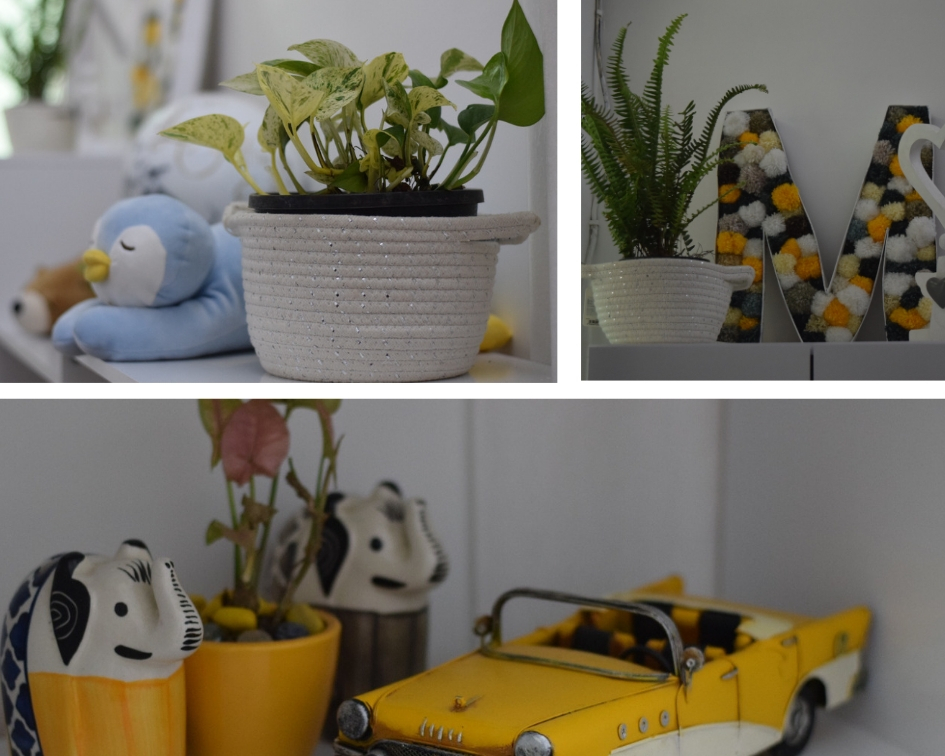 And here's Baby Miraansh himself showing us around!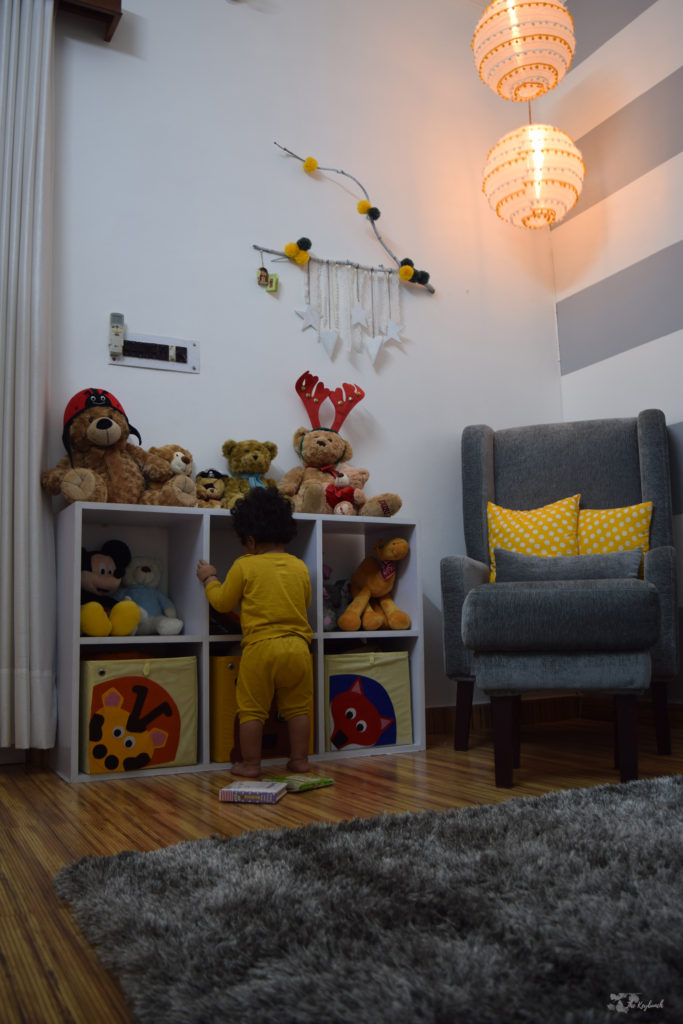 Downstairs, I stop to peek into the room occupied by the seniors in the family. Ankita has DIYd the wall plates in this room too. Do remind me to ask her for an exclusive tutorial for The Keybunch readers 🙂
On the way out, I linger on, enjoying the green outdoor space with my gracious hosts!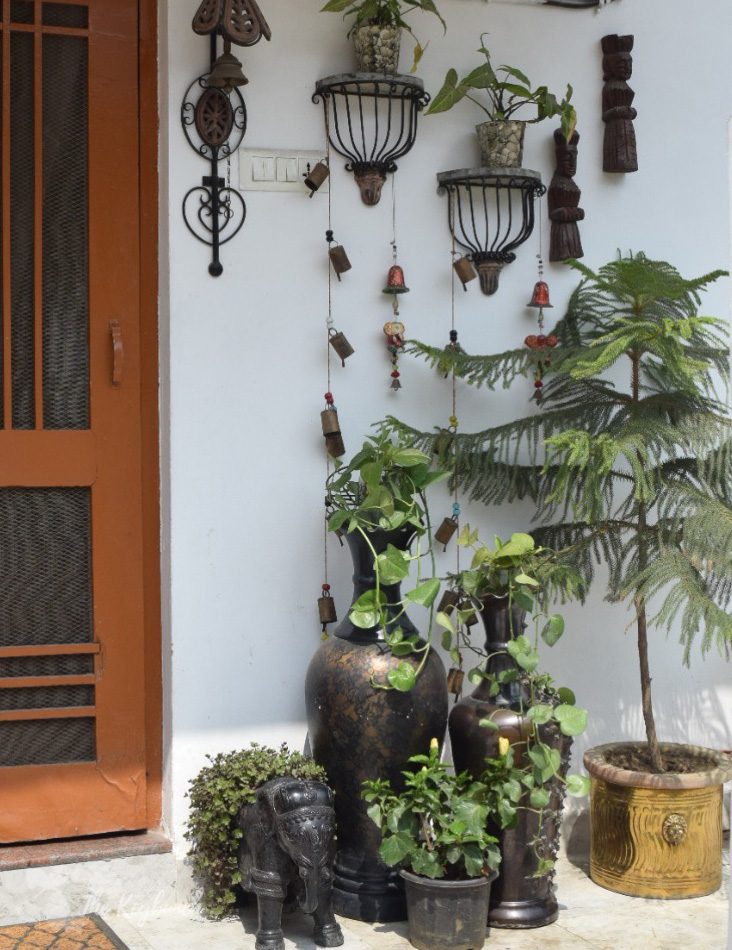 Here's a pic of an evening brought alive with colours and lighting at the Rai residence that Ankita shared with me later!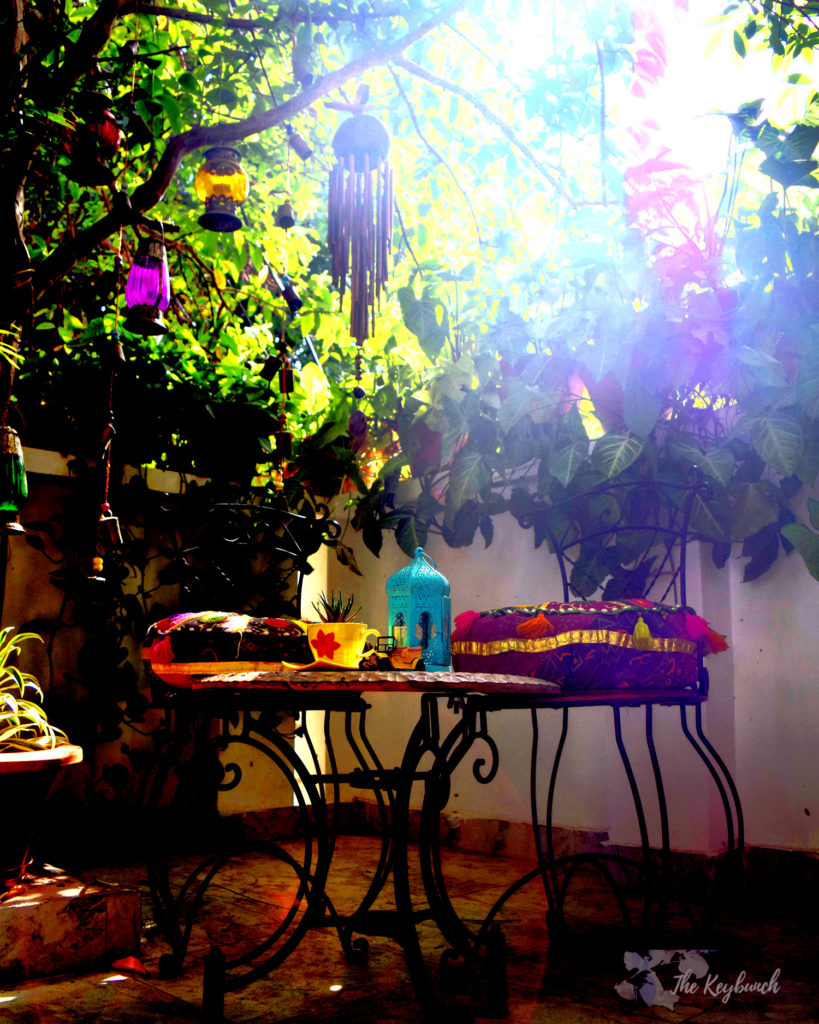 Click on the video to see this space come alive!
Beautiful decor stories from this home
The Dining Table
The dinning table was a present at Sitanshu's parents' wedding and is very dear to them. It looked a bit outdated but because of the huge sentimental attachment, Sitanshu and Ankita decided to update it rather than throw it away. They added a granite table top, thus successfully managing to repair, update and keep the vintage feel intact!
The forgotten headboard
A bed belonging to Sitanshu's mother got ruined due to borers but the headboards were intact They saved the headboards but forgot about them as the years passed. During deep cleaning last Diwali Sitanshu found them and told Ankita, "There is something you were interested in and you might want to do something with them. I had no clue what he was talking about until I saw the forgotten headboards! And my mind immediately went on overdrive as I envisioned them in their new avatar."
They happened to have a pair of old jharokhas stashed away too, and they arranged it all together like so. It sure looks lovely!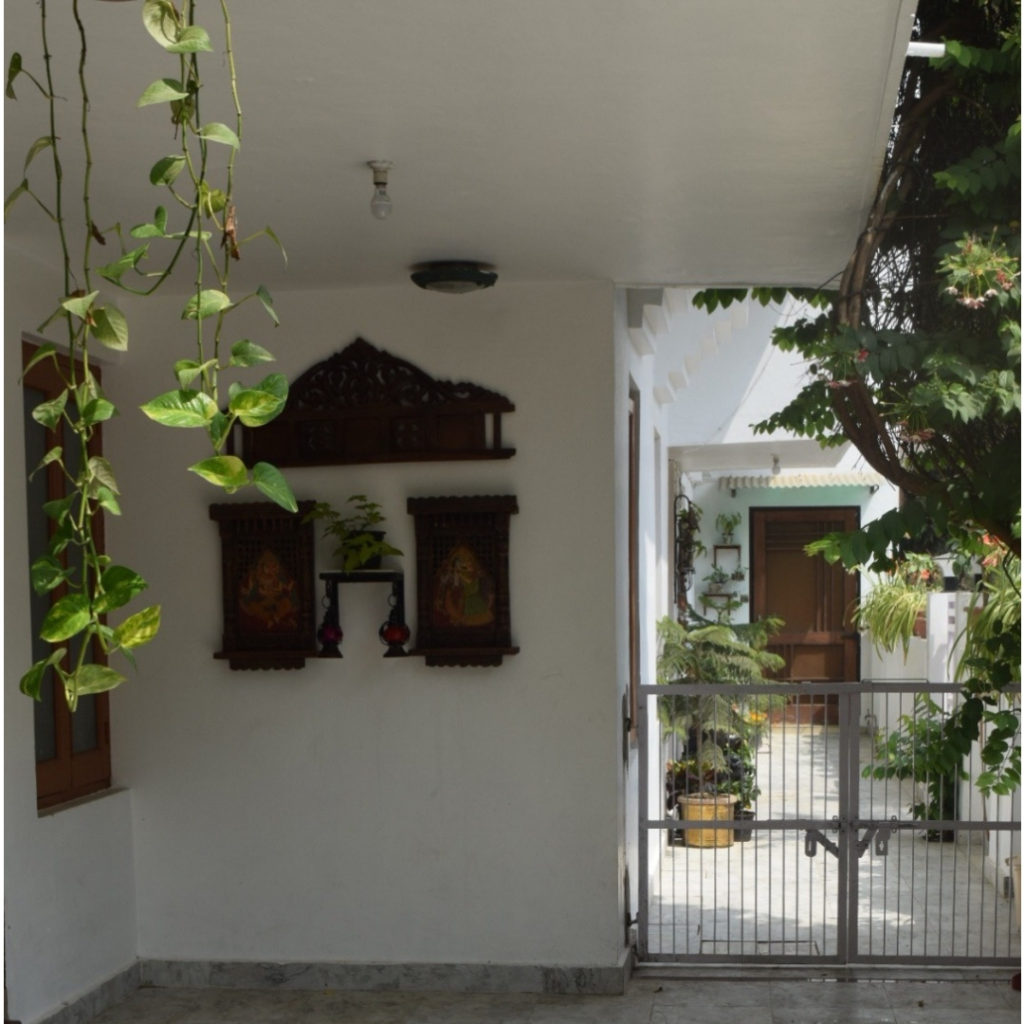 key takeaways from this home tour
The SECRET of seeing your home decor project turn out exactly as you visualized it? Ankita shows you how!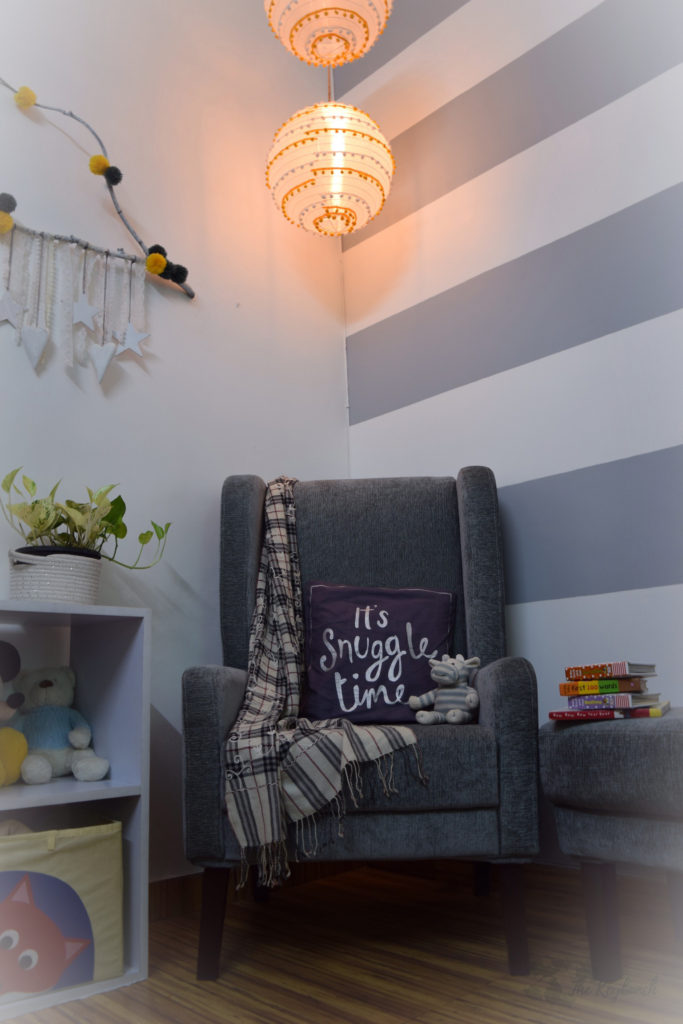 "Don't be hasty in sourcing for your theme. Ankita says, "I always visualize everything in my mind. Only then do I order, and I make sure I order exactly as per the planned theme. For example while designing my bedroom I chalked down everything I wanted and started looking for these items. I ordered mostly from online websites, but I ordered when I found everything. I never buy decor items hastily. Only plants are my weakness and I indulge in impulse buys when I go to nurseries." This is a sure way to get your decorating outcomes just as you visualized it!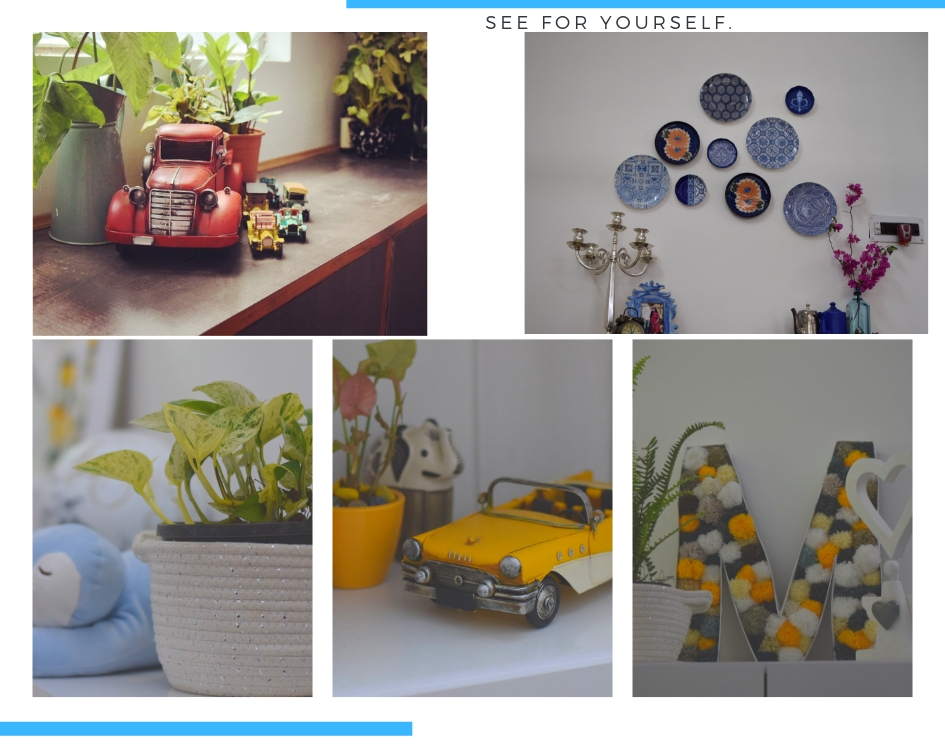 Try to Do It Yourself – Ankita prefers to first explore the possibility of making stuff herself, and if she feels she can't, only then does she order it! "I made all the decor pieces in the nursery myself like the globe, wooden branch wall hanging which is a guava tree branch, the lamps, the alphabet M. The plates in both bedrooms are decoupaged by me."
Lengthen the life of items that have sentimental value – Ankita and Sitanshu were mindful of their parents' attachment to the dining table, and instead of discarding it, they wanted to give it a new lease of life. The headboard is another example from their home, where it was salvaged from a ruined bed, and used in a beautiful wall vignette! All of us can do this. It may take a bit of time, but when the project is done, it's so satisfying!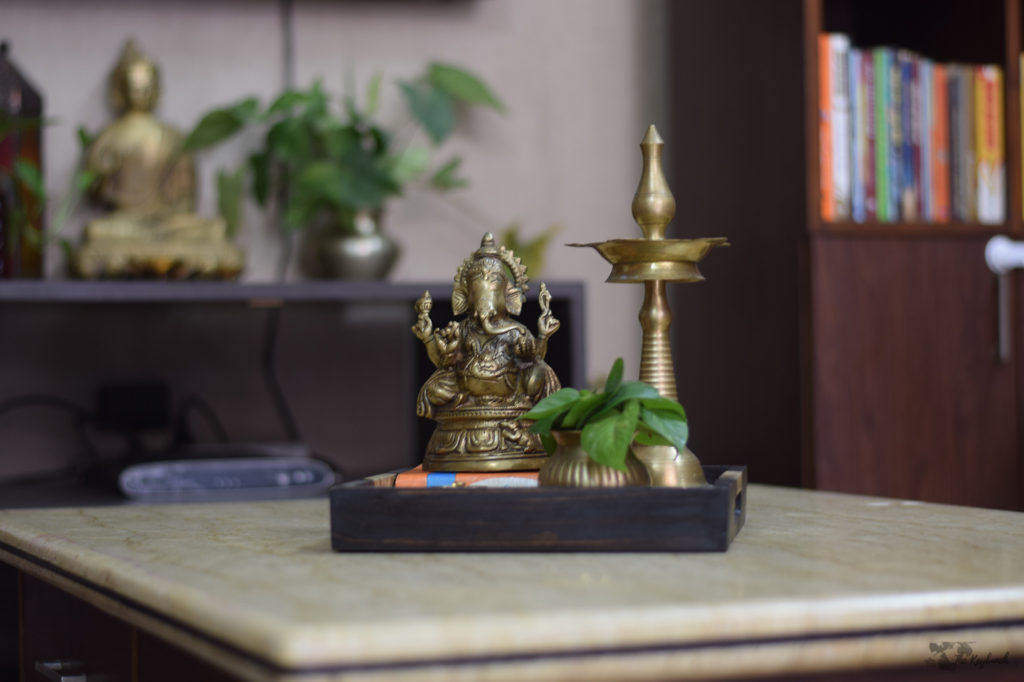 And Ankita has taken care to use her mother in law's brass collection in little corners and table tops all over the home!
Of teamwork!
Decorating is fun when you have and your partner work together. If your partner is willing to co-decorate, nothing like it! Says Ankita, " Me and my husband work as a team when we do up the house. He loves decorating the house as much as I do and helps to organise it.
All the paintings that you see on my walls have been painted by me during my sails with Sitanshu. And he gets every painting framed and we put them as per our theme or colour combination. My husband is my biggest supporter of my passion to decorate the house.


Ankita S Rai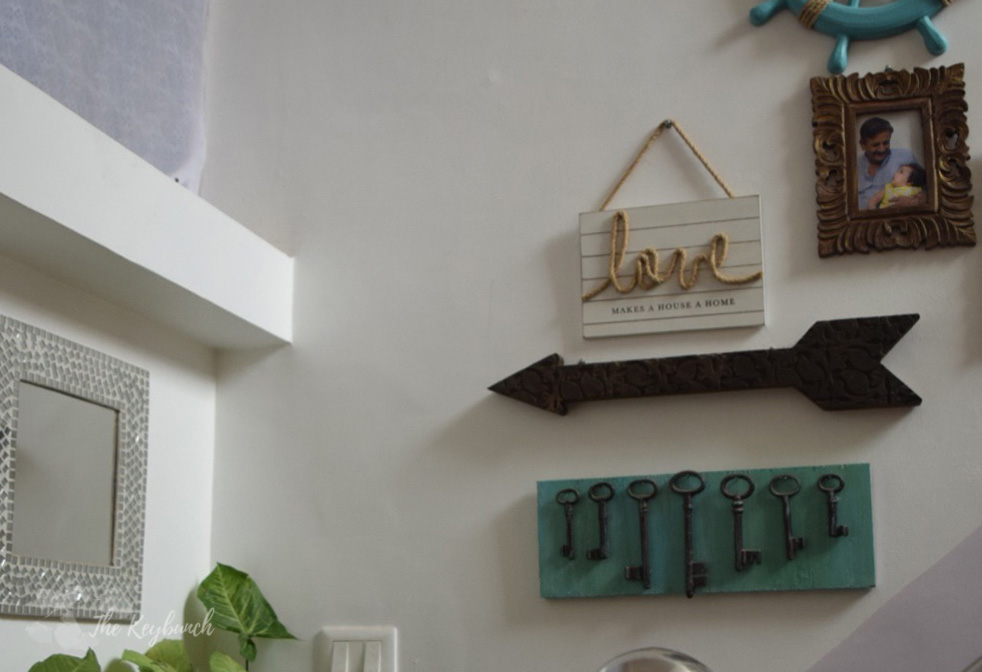 Where do Ankita and Sitanshu shop for decor?
Sitanshu collects a lot of decor items when he goes on sail (he is a Chief Engineer in the Merchant Navy). Says Ankita, "Sometimes he does videocalls from the stores overseas and shows me everything around and then picks everything I like. He got the keys that are displayed on our gallery wall from Russia and everyone made fun of it until I framed them on aboard and put it on the wall. "
As a bonus, here are a few more pics of this gorgeous home!
More pictures from this home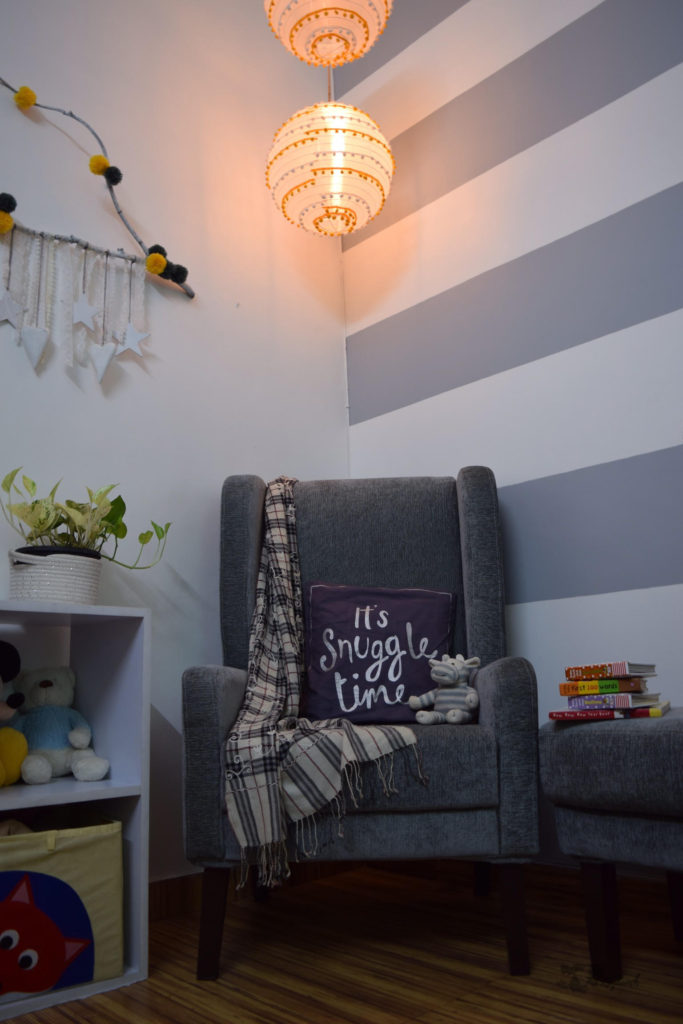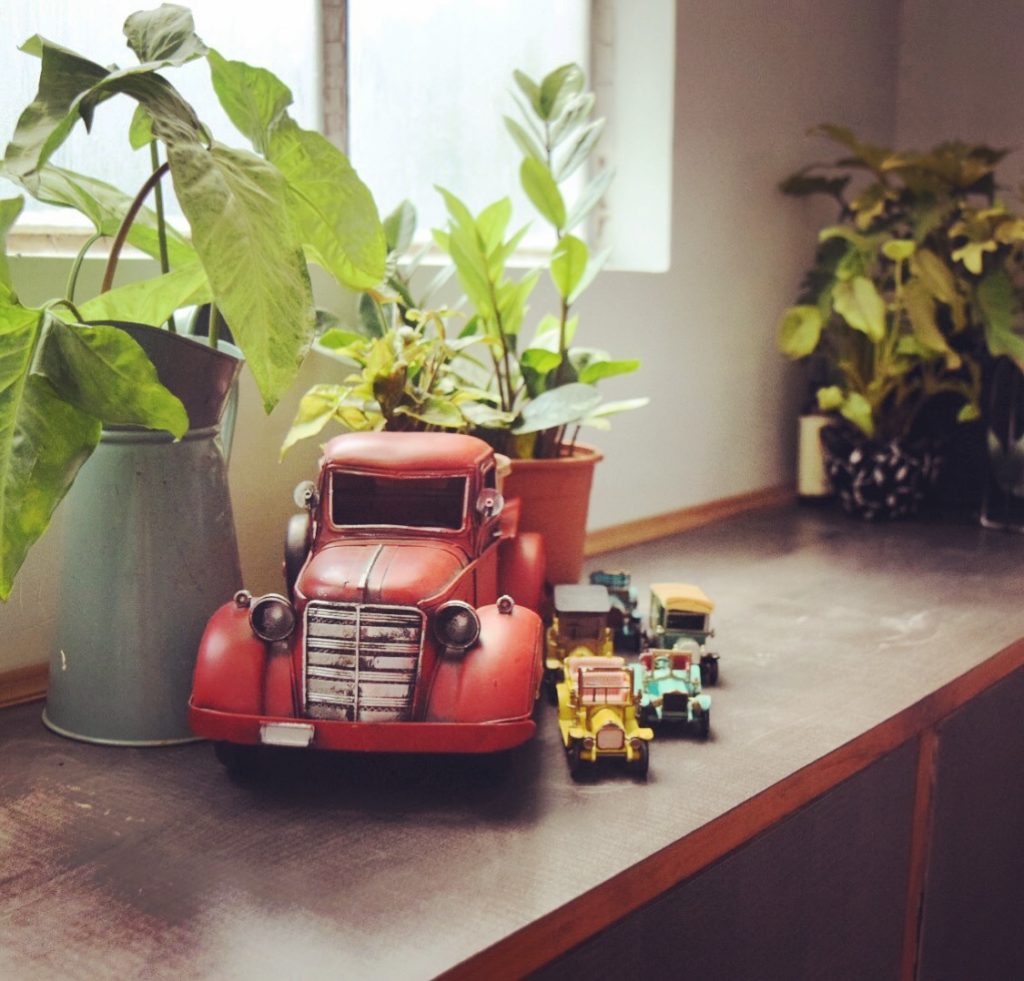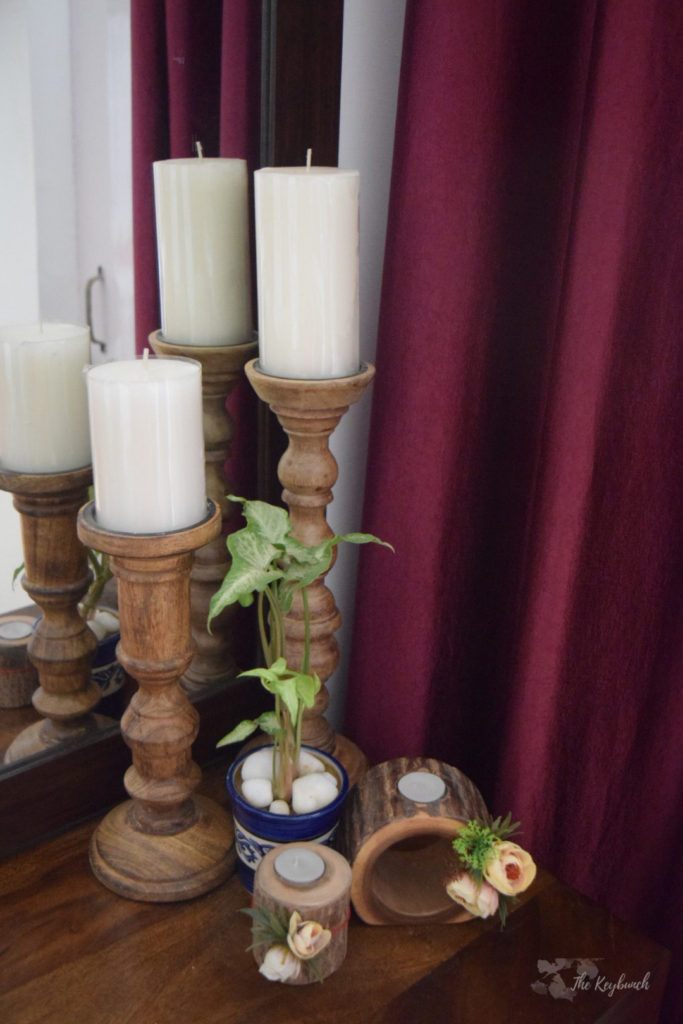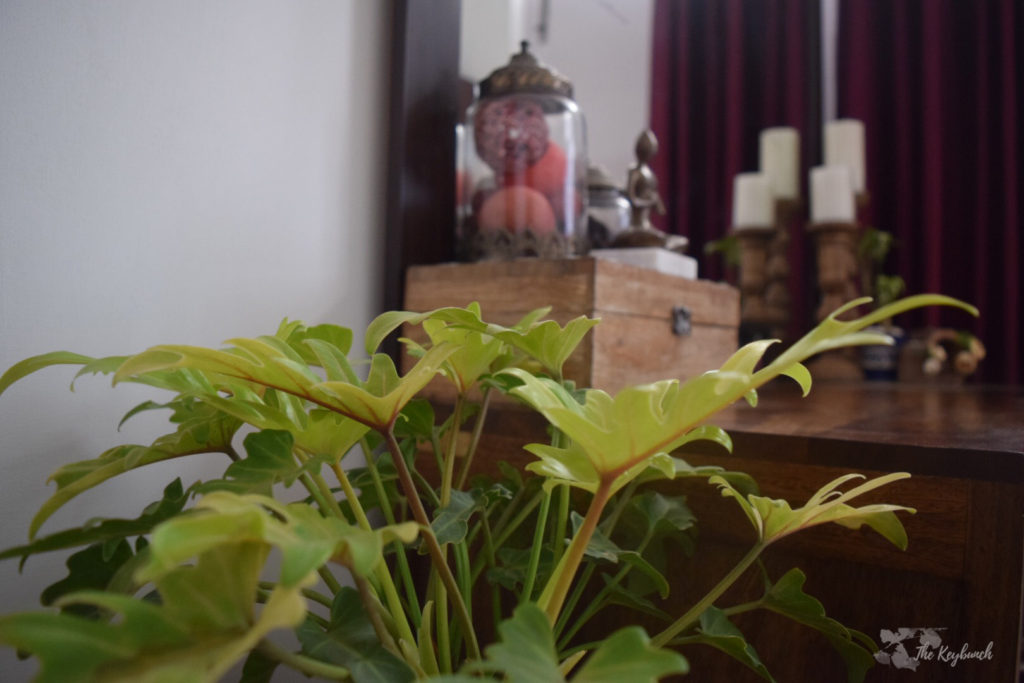 It was a pleasure featuring Ankita and Sitanshu's home on this blog. We would love to hear what you think of this tour.
In case you are pinning these images, we have already put them on our Pinterest feed, so head to the Pinterest board here and pin away!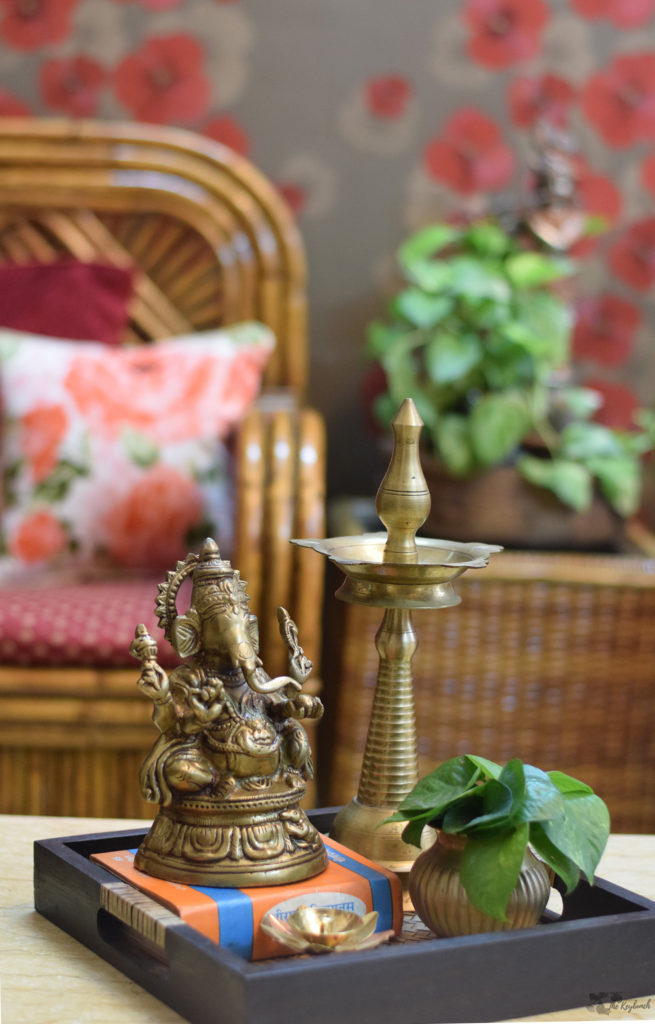 Dear readers, we hope to bring you more home tours in the coming weeks. Do you want your home or a friend's home featured here? Please fill this form.