Feb 8th to 12th saw the design brands and talents of the world congregate at Messe Frankfurt for Ambiente 2019. Ambiente is the mecca of global design, dining, living and giving consumer and HORECA exhibitions, and an important meeting point for buyers and suppliers! 2019 was no different, with large volumes of business initiated, new talent recognized and a host of new products, sustainable, handmade and industrial, launched!
India was the partner country this year, and that meant India was in focus, with several sections curated by Indian designers. Indian exhibitors were at a record high, and were prominent at the fair.
What Really Caught my Attention at Ambiente 19
The India Curated Exhibits This year's Ambiente partner country exhibits brought the real India alive and portrayed not just what we were, but what we can be. I must mention that Ayush Kasliwal's special exhibition Hand Make, in Galleria 1, did great justice to the cause of portraying India as a artisanally advanced, with extreme skills in quality handmade, and a country that can bring out new design, built on skills honed during a glorious past.
We didn't see the run of the mill Indian handicrafts, but instead beautiful products either presented as they were in their simplest forms, or transformed by colour and form to appeal internationally. But all this without losing the intrinsic Indianness.
And how proud that made me! I do wish however that Kasliwal had brought more deserving Indian organisations to the forefront of the exhibit, but given the humongous task of curating, he has done his job not just well, but brilliantly!
Forgive me for being biased, but I was also left open mouthed by Sandeep Sangaru's brilliant Starry Nights Café, built out of bamboo – showcasing all that could be done by the humble shoot – strong benches, tables and lampshades in bamboo. It did much to show that bamboo has great potential as a sustainable material in décor and design.
Sunil Sethi, President of the Fashion Design Council of India, curated Stepwells, with handmade products and their production methods in an interactive environment in Hall 9.0. In Hall 10.1 he featured Kārwān (caravan) an exhibit of contemporary and historic objects reminiscent of the first traders who travelled around the world in caravans of camels.
The Dining section blew me away with its contemporary and stylish designs, and the tablespaces were beyond beautiful, each one better than the next. As a décor blogger, this section appealed immensely, and I was delighted to witness the best brands, in luxury and contemporary dining, all in one place.
I will admit that I sneaked off to this arena at least once a day, to gape and steal glances, to surreptitiously check prices, and keep my jaw from dropping in public! It was fun, and even more fun passing Sandeep Sangaru's Starry Nights café en route and feeling a hint of pride each time I saw the world marvelling at his creations!
MADE 51, a brand launched in partnership with the United Nations Refugee agency, unveiled a brilliant collection at Ambiente. Created by refugees from across the world. This quietly opulent lampshade for instance, is a sustainable collection crafted by Tuareg refugees from Mali, currently living in camps at Burka Faso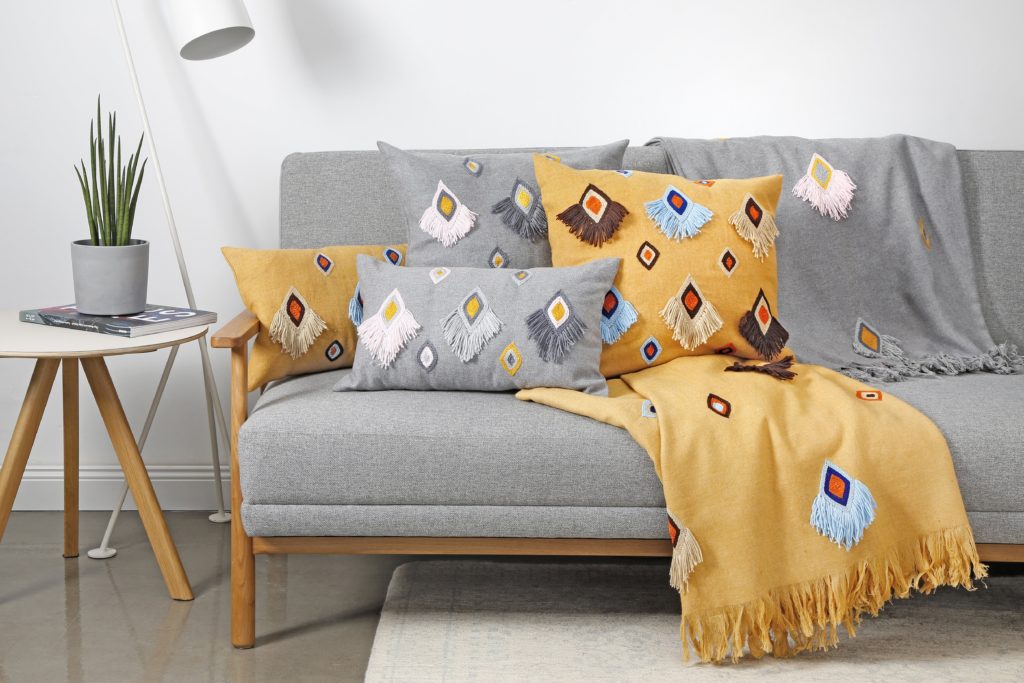 New Talents
Three awesome Indian exhibitors, one noticed by VP of Ambiente Nicolette Naumann herself, and the other two winners of the ILA (Interior Lifestyle Awards) were quite the toast of this year's Ambiente. The former, Rooshad Shroff, already an established architect, made waves with his pre-upholstered furniture, and the uniquely trendy marble inlay décor products he has brought out. Solid Bench is a beautiful and sustainable furniture brand, with never seen designs and live wood furniture.
And the 'hanger guy' as we fondly began to address him, Pravinsinh Solanki makes exotic looking hangers for the discerning fashionista, with something as simple as bamboo!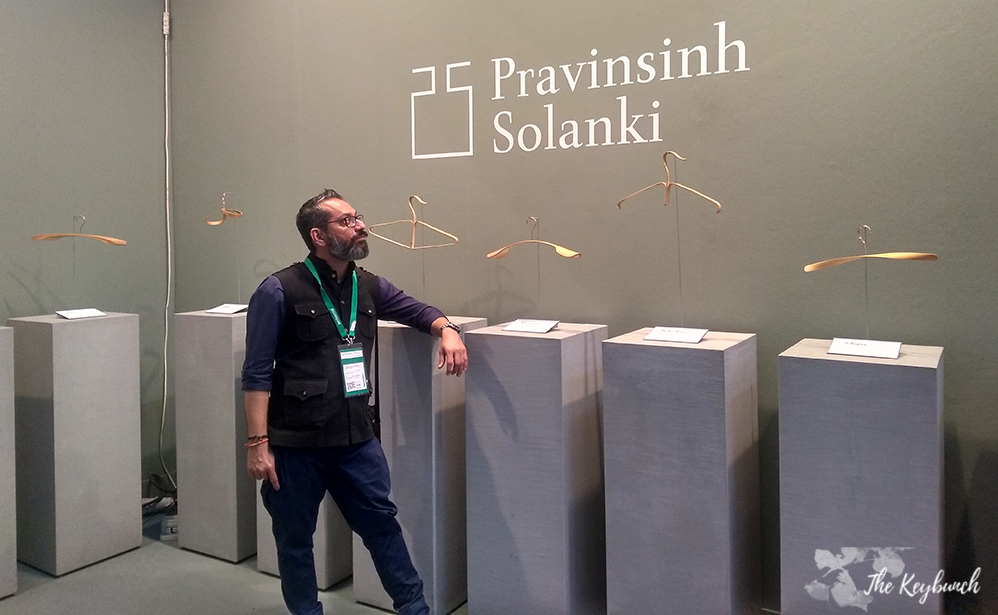 Speed Dating One of my favourite events at Ambiente 19 was the Speed Dating event. It is not what you think 🙂 It's a chance for sustainable (this year's theme) brands that make the cut, to come up to the stage and present their products to the press. They get 5 minutes to present and 3 minutes of question time, which believe me is a very exciting format. Some of the brands that really caught my attention were India's The Rug Republic (a 100% recycled rug), Orthex (products made out of a new and unique, 98 % bio-based composite material for the kitchen), Taljsten (a soapstone and cork) serving set that is completely sustainable and of course Made 51's lamps mentioned above.
Future Thinkers X Fontys – This is the eighth time that students from the Fontys University of Applied Science in the Netherlands are in Frankfurt, presenting the latest trends and styles at Ambiente They also presented their Trend Book 2019 in Frankfurt, in which they outline the megatrends of today's society and how those trends will show themselves in specific products during the coming season. Interacting with one of them, Camilla Rosi one of 8 students that came to Ambiente this year, I learnt that they study décor trends extensively, and they are only in the 2nd year. Impressive!
Ambiente Trends Pavilion – Ambiente's Trend Forecasts (which I have extensively covered on my Facebook group for décor lovers, Décor Drama) – is actually the product of worldwide research.
Every year Frankfurt based stilbüro bora.herke.palmisano predicts trends on behalf of Ambiente. For 2019 the design studio has selected three thematic trends: Tasteful Residence, Quiet Surroundings and Joy-Filled Ambience. Their booth, exclusive guided tours and their books are worth taking a look at!

The next Ambiente will be held 7 – 11, February 2020. If you are an Indian exhibitor and have new products to exhibit, it is a fair worth participating to get noticed! International buyers have built and nurtured long term relationships with many Indian exhibitors and the volume of business transacted is enormous!

Look out for more blog posts in the coming weeks on Ambiente – people, products and décor trends – based on my own observations during my visit to Ambiente 2019, and exclusive to this blog.