Have you heard about tapestry weaving? I hadn't, until I came across a home-use loom by Muezart (a pro-sustainability company in Shillong). The home tapestry loom they make, gives you a go at sustainable DIYs (we will show you 6 easy ones here). Who knows? It can soon turn into an exciting new hobby!
Let's meet Sasa!
When I chanced upon Muezart's loom kits, I immediately had to share this information with all of you. So I invited Sasa from Muezart to talk about some easy DIYs you can do with the loom! Over to Sasa!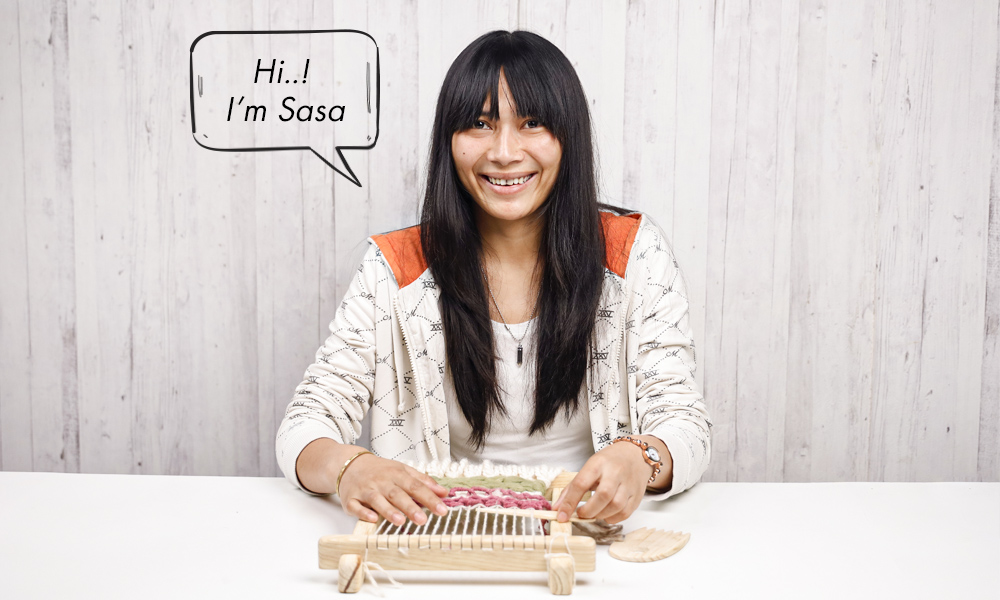 At Muezart, we have developed a mini tapestry loom. It is used for tapestry weaving – a calming, rewarding new hobby idea.
Tapestry weaving is actually an age-old craft, which can be learnt and pursued as a hobby. We make tapestry weaving easy for beginners. To get started, all you need is our mini tapestry loom.
The yarns you will in this post are pure Eri Silk. All our yarns are natural in color or naturally dyed.
I will be showing you 6 projects, used two different size mini looms in all 5 projects
8.3" H X 6.3" W 17.5" H X 12.5" W
Let's Begin with a Basic Must-Know
Tapestry weaving starts with two essential terms. Let me introduce you to them:
Warp Yarn
Weft Yarn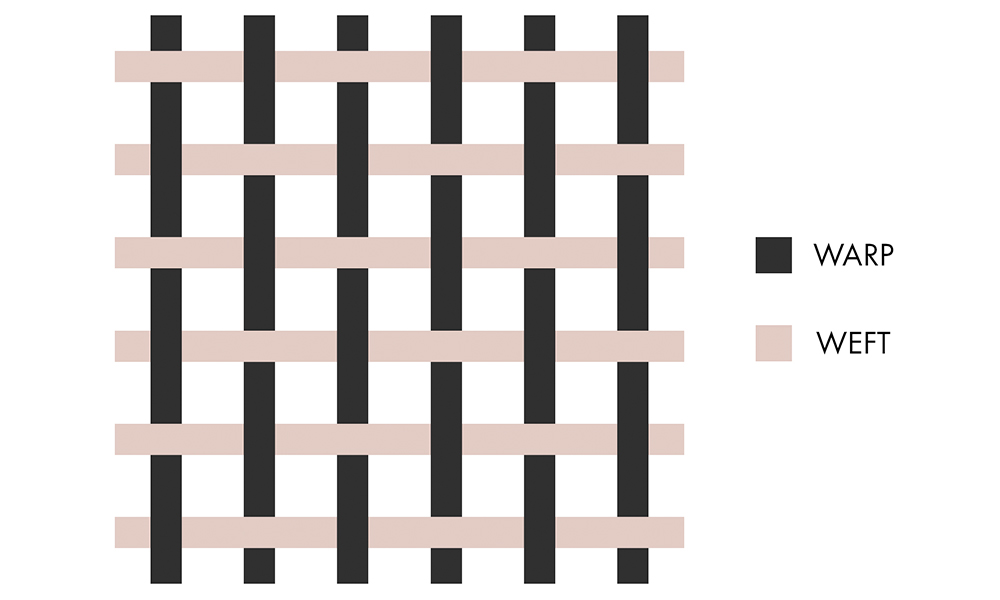 Above is an image indicating which is the warp yarn, and which is the weft.
Look at the weaves I made. They are not hard to create. You will feel proud of yourself after you do it.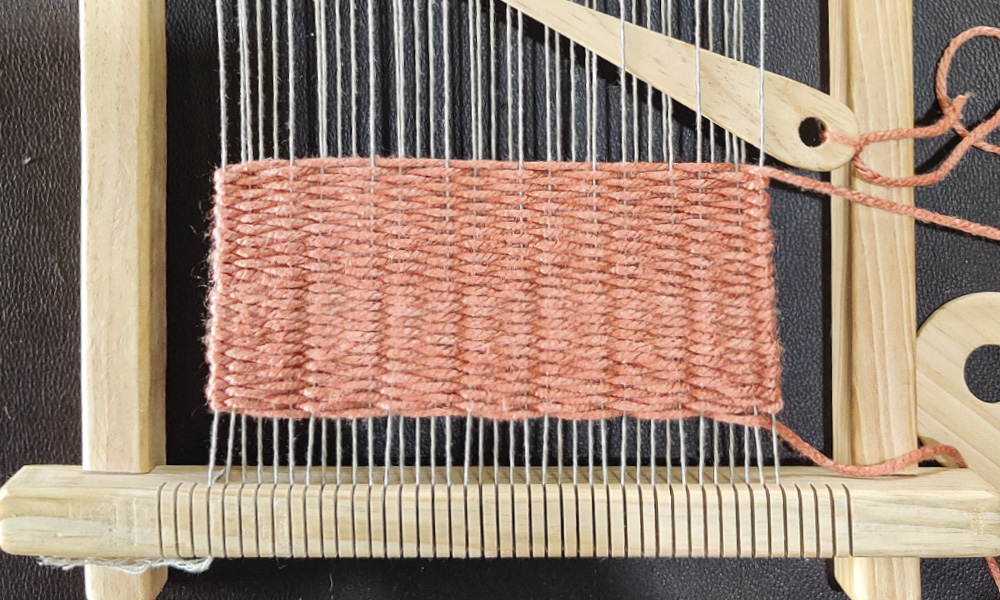 Here are 6 easy things you can weave. There is a complete tutorial available on our website and YouTube channel for these and more DIYs
1. DIY Wristband: Easy to Weave and a Great Gift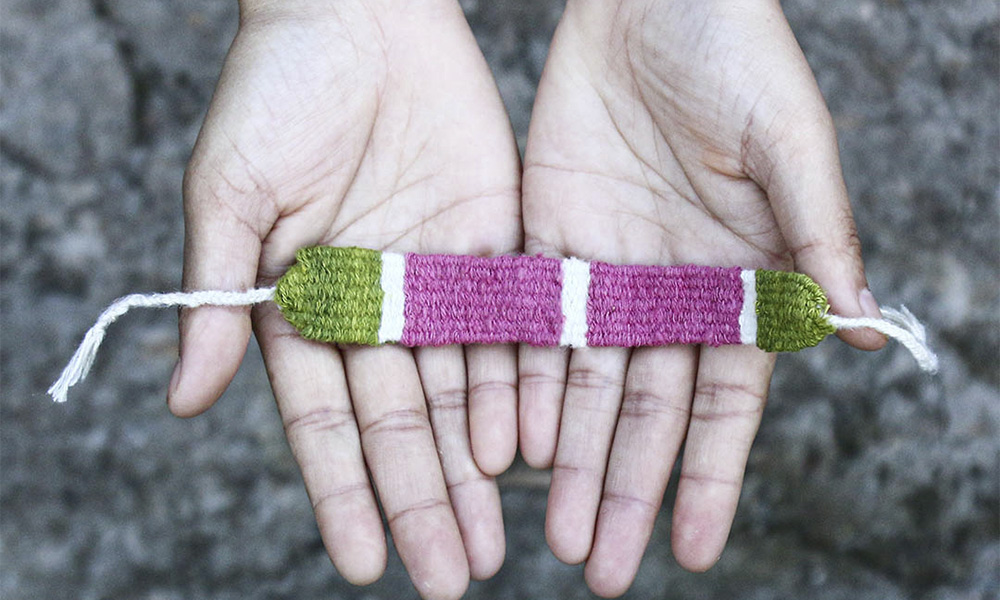 Let's start with an easy project you can make. It is quick and straight forward perfect for using the small mini-Tapestry loom. Make it and surprise your loved ones with a handmade gift.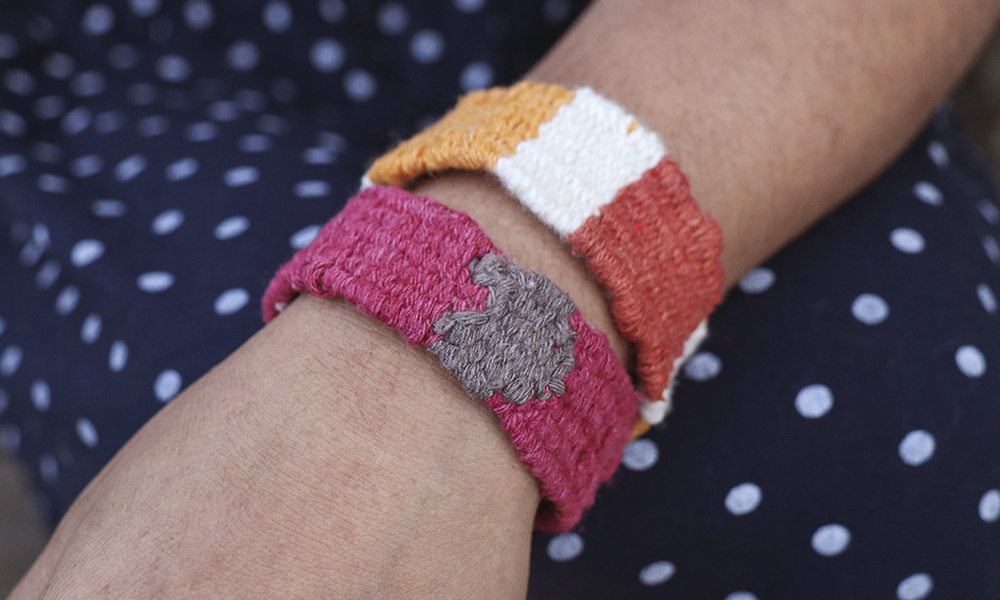 You can add colors of your choice whether you want a single color or multi color, the weaving method is the same.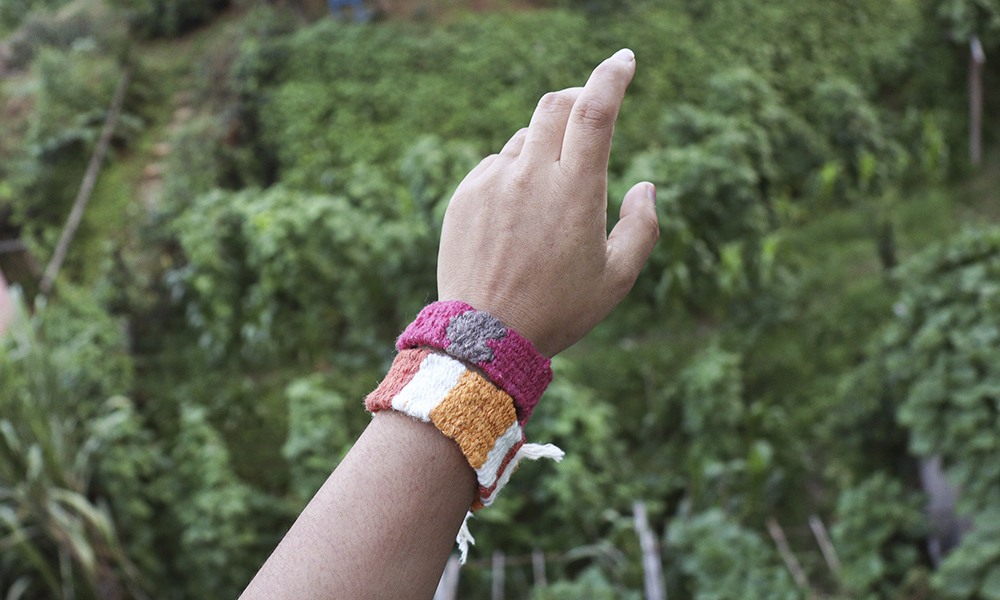 2. DIY Tea-cup Coasters: Always useful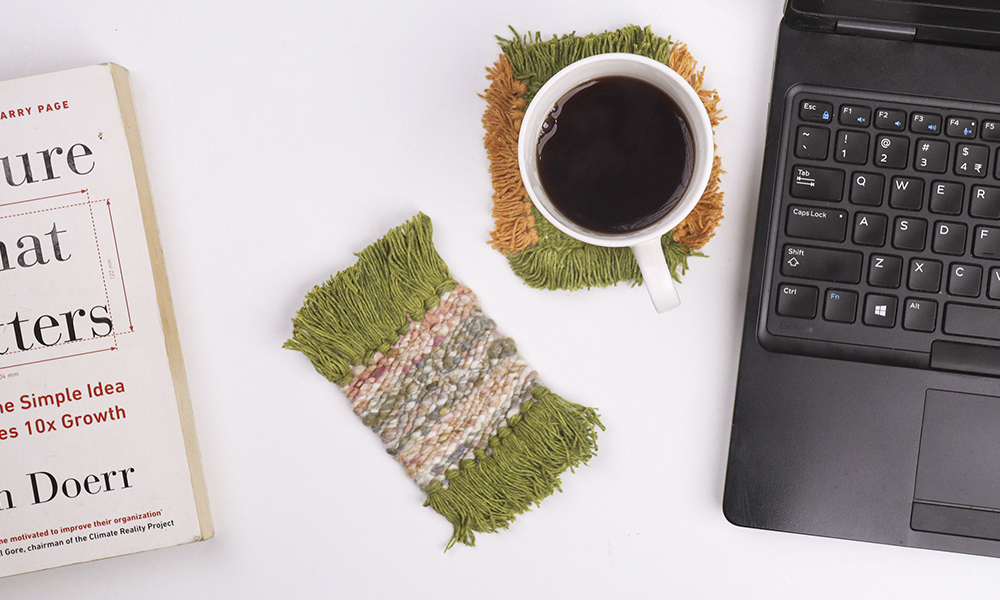 A coaster is practical. These woven coasters will come in handy anytime. They can also liven up your desk or a bed-side table, when not in functional use.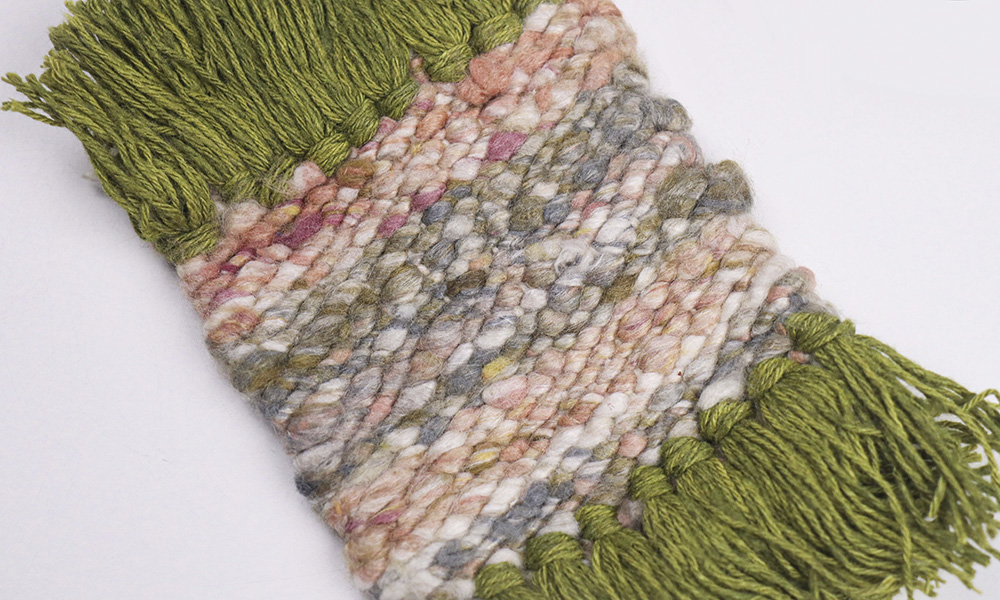 To make a coaster, warp 10 strands of thread using the double thread warp method. Use Eri silk art yarn as the Warp thread and follow the tabby weave method. Use a Rya knot method for the tassels on two sides of the coaster.
3. Wall hanging that you can DIY on the home-use loom
It's official; woven wall hangings are back in fashion. These decorative pieces of wall art will instantly add life to a plain wall, bringing the room together and giving it a soft, boho feel.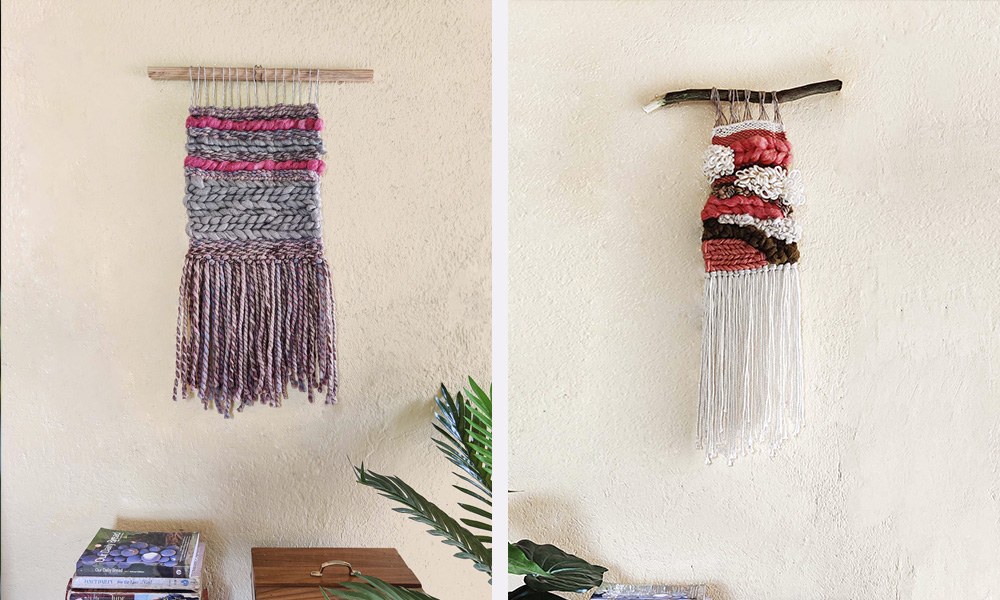 For a texture lover like me the yarn and fibers from Muezart is a gift. It creates such beautiful textures and amazing colors since they are all dyed from Plants and minerals.
4. Weave an Artsy Bookmark
For book lovers, this will be a perfect item to make for themselves or to gift. Handmade bookmarks are collectibles, be it handmade paper, hand-painted, or hand-woven.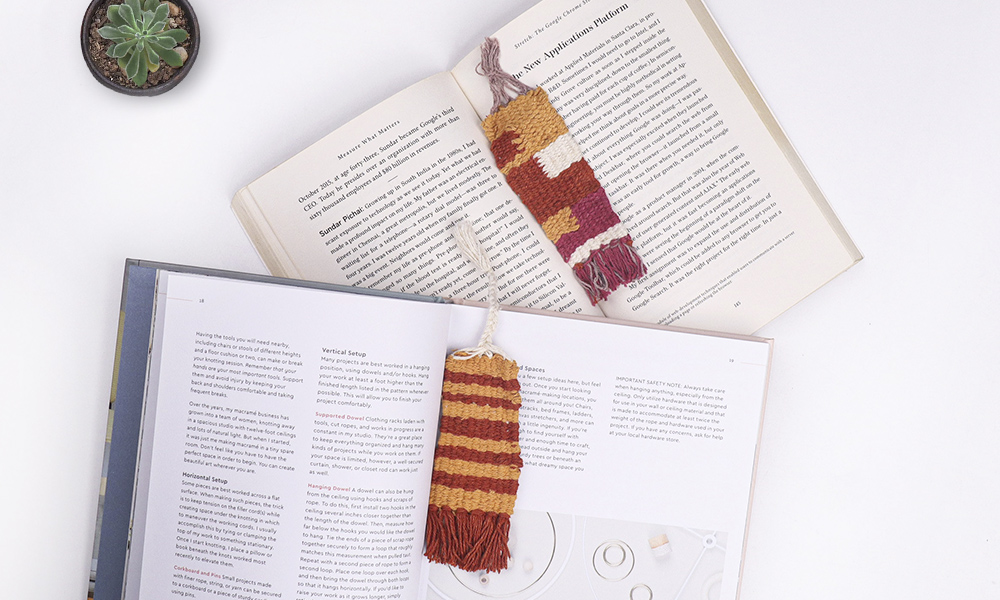 A bookmark is a simple project that you can quickly make. This method is similar to the coaster, but you need fewer warp yarns.
Warp 8 strands and follow the steps as for the coaster. Just add long tassels at the start of your weave and tie the warp threads together at the end to create a handle. Please refer to the image above to see what the tassel and the 'handle' need to look like. You can also think outside the box. For instance add your own creative elements; like a ribbon at the top of your bookmark.
I took inspiration from Harry Potter's muffler for the red and orange bookmark above. I made block stripes using Eri Silk naturally dyed yarns.
5. Weave Your Own Change Purse – Fashion DIY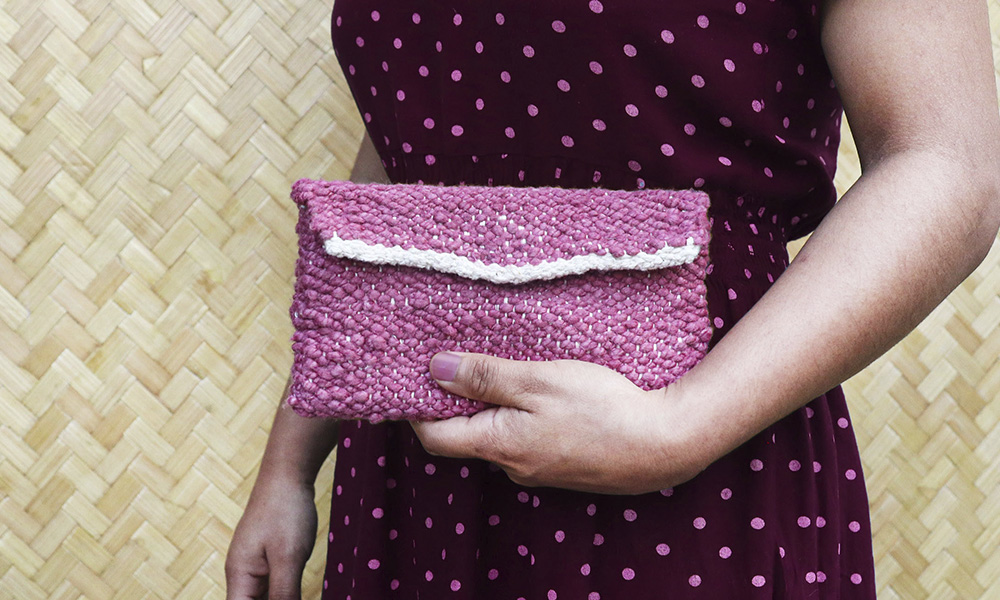 Woven wall hangings with beautiful colors are popular, but other DIY weaving projects like a bag or hand purse are not common.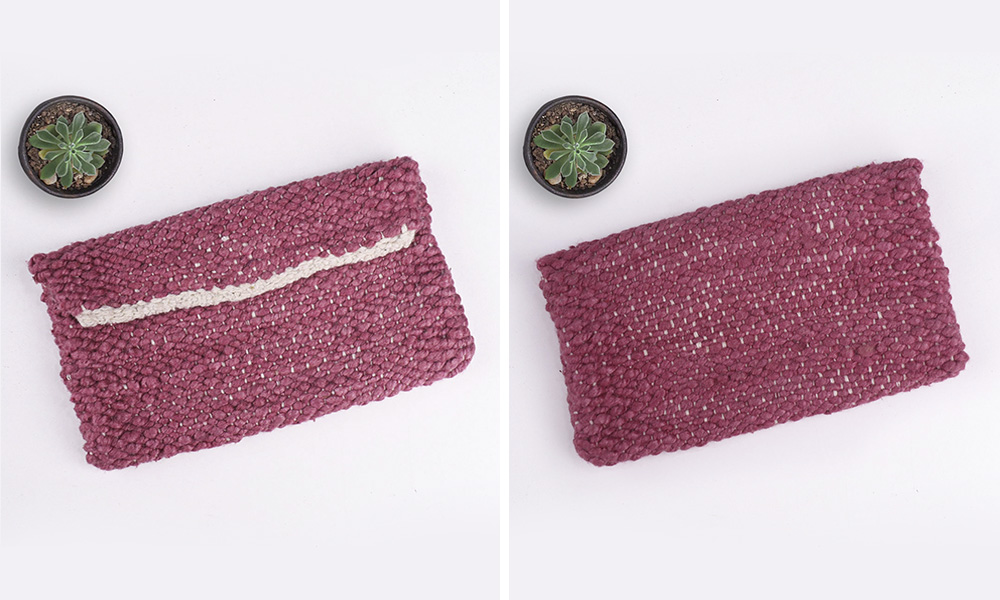 You can do this! I promise this DIY weaving project is simple, just like coasters and bookmarks. All you need to add to the mix is a little patience. ?
Use the large mini loom and warp the whole loom using double thread warp method.
For the weft, use the simple weaving method till the end. After weaving fold in half as you see in the image. Take some of the same color yarn and stitch both sides to create a pocket. Add a button to close the purse. If you want to be more creative, add your own floral embroidery design to make it look more beautiful.
6. DIY a Cushion Cover with a Minimal design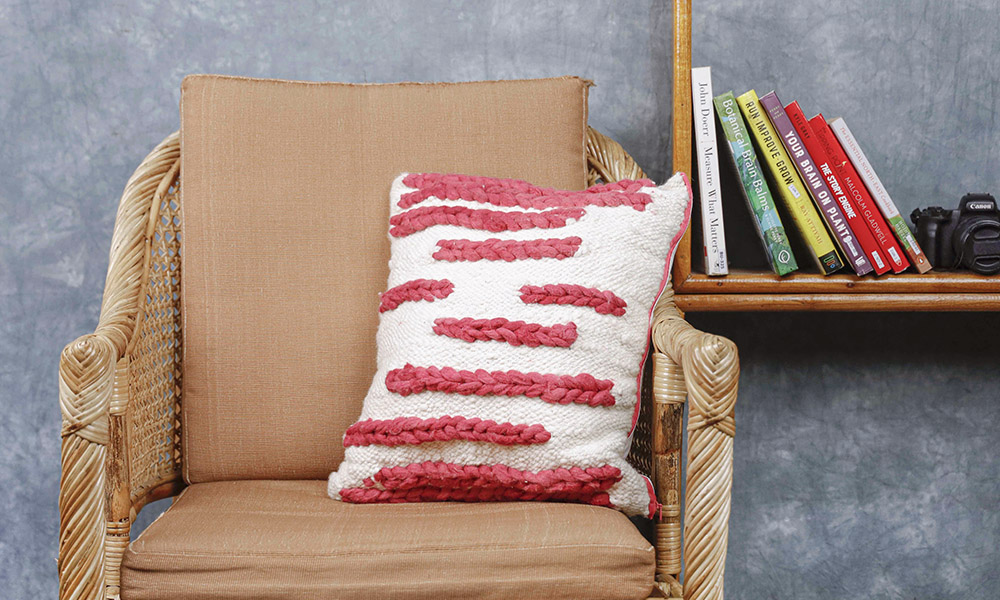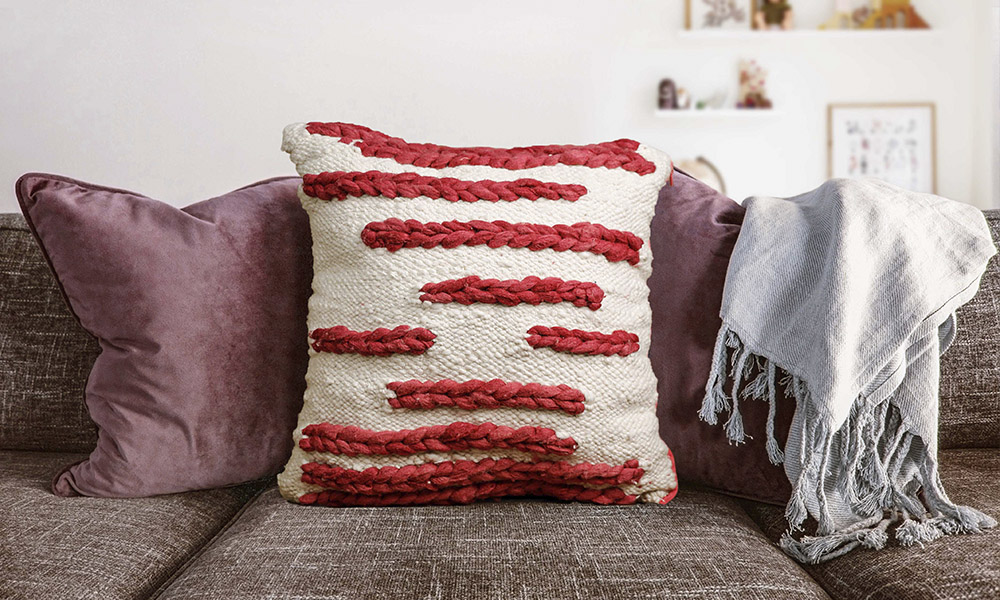 You can take on this project after getting a little familiar with weaving.
For this DIY weaving project, use a mini tapestry loom of at least 17.5″ x 12.5″. One side of the cushion cover is woven, and a fabric is used for the other side.
Use a matching handloom material like Eri Silk on the other side of the cushion cover. Stitch the two pieces together. Join three sides and add a zipper to one side so that there is an opening for inserting the cushion. Don't have a zipper? Close off the final cushion opening with a creative stitch.
Hope you like these 6 easy DIY ideas for tapestry weaving projects. Could you send us a photo of what you make?
Thank you Sasa, that inspired me! Living mindfully and going back to basics like cooking and DIYs has been an outcome of staying at home during the pandemic. I'm sure you will nod your head and say, "Yes, I have become more environment conscious in the last one year" and "Yes, I have tried out at least one DIY over the last one year." Guess what? Me too! And I can't wait to see what you all make with the mini loom from Muezart.
Click here to purchase your loom. They come in 3 different sizes, and Sasa's examples should help you decide which one is right for you.
If you want to follow our collaborative board with Muezart on Pinterest, click here. All the images you see on our post are already up on this Pinterest board. You can also get updated to Muezart's loom DIYs, or if you try out something and send us a pic, we will feature that too on this board.
Here are some more images of lovely products that I got from Muezart's website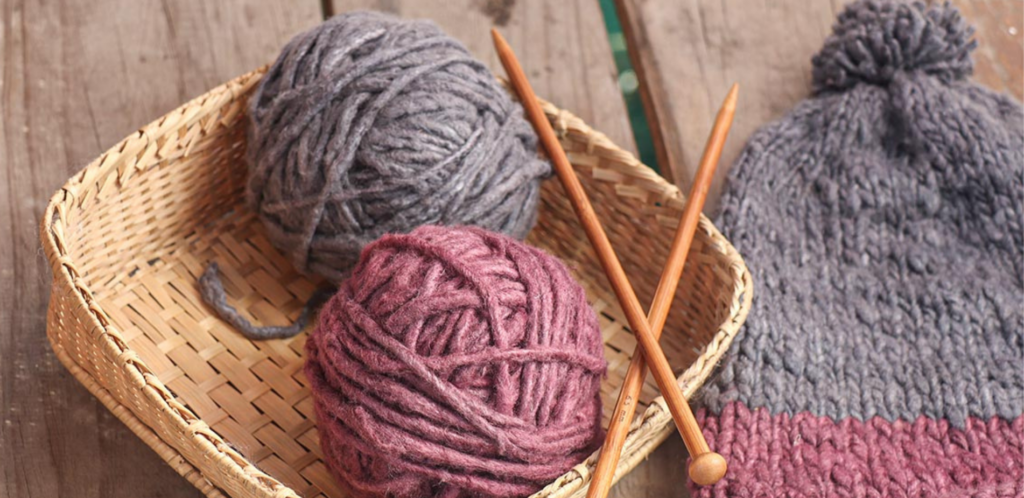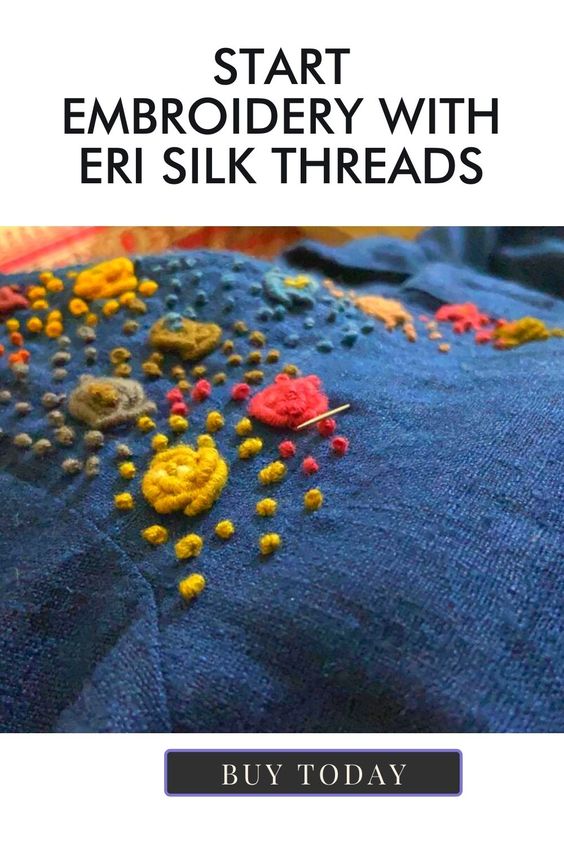 Are you looking for interesting DIYs or news you can use? We have some lovely features on this blog. Here are my personal favourites.
Try these pinch pots at home. I made them with my kids last year, during the pandemic lockdown!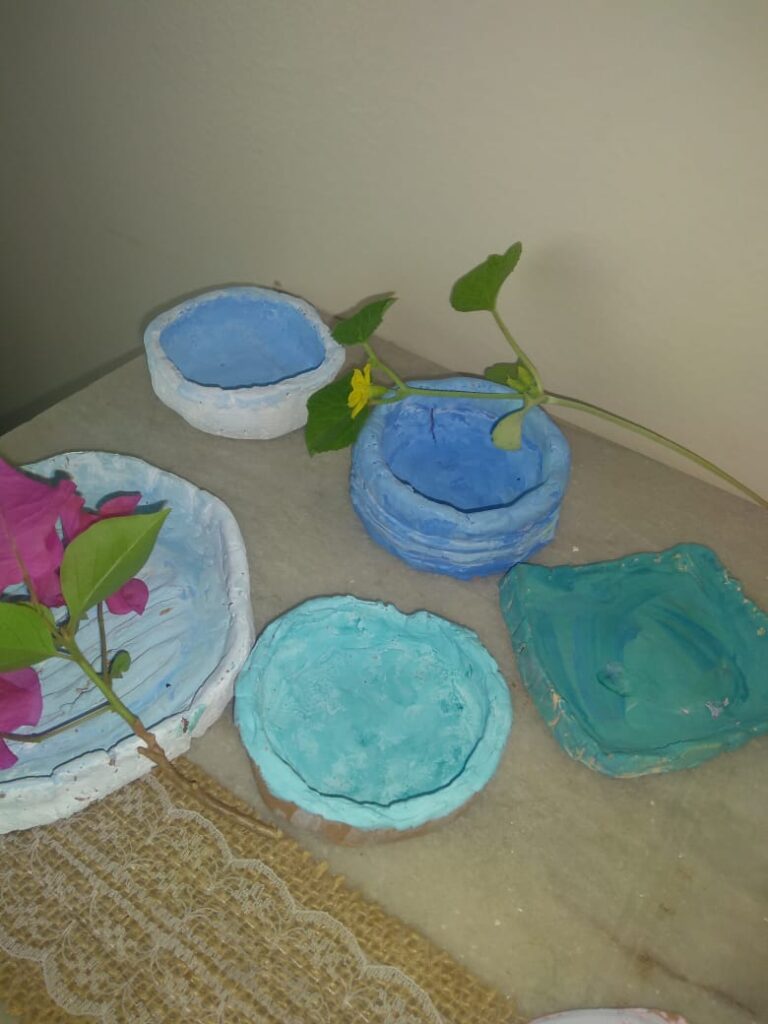 One of our writers Sunita Mosa shared this lovely Étagère idea in this blog post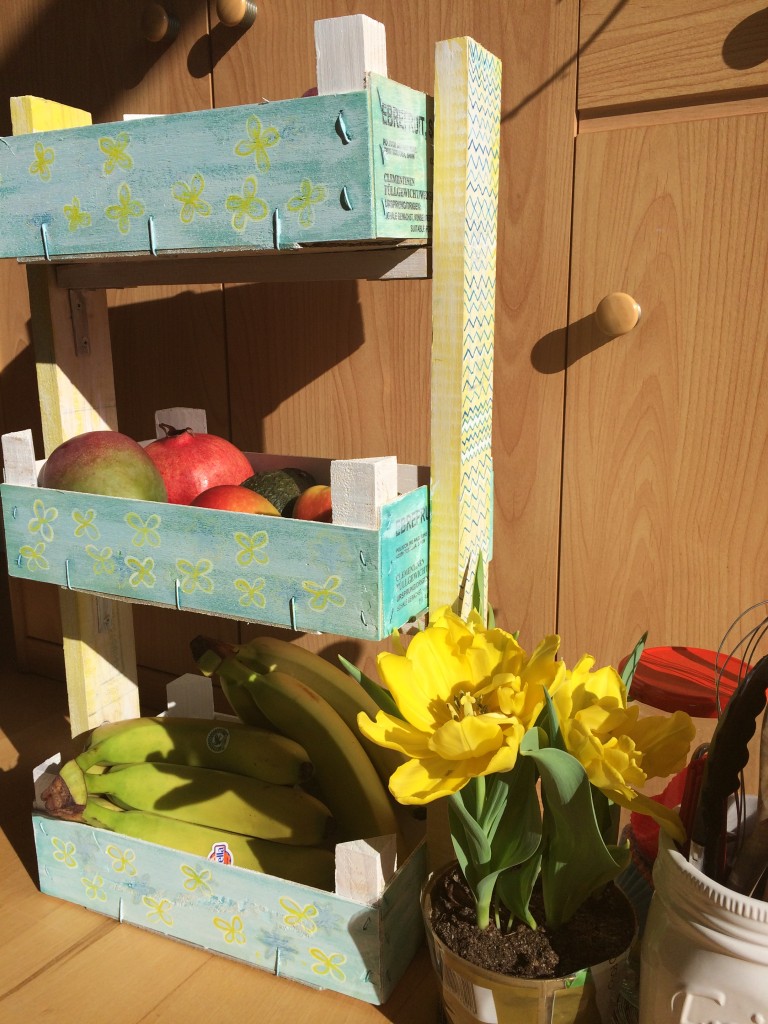 You could also check out our range of products at our online store. I curate or design and produce entertaining and decorating essentials. Stop by sometime!