It's a warm hello from Soumya and Satish, all the way from California today as they show us their beautiful and tastefully -decorated home, with treasures from India and paintings and knickknacks from around the world. With two growing boys – a preteen and a teen, Soumya says she prefers not to have too much furniture. Everything is practically decorated so that the boys can move around freely with no area off limits!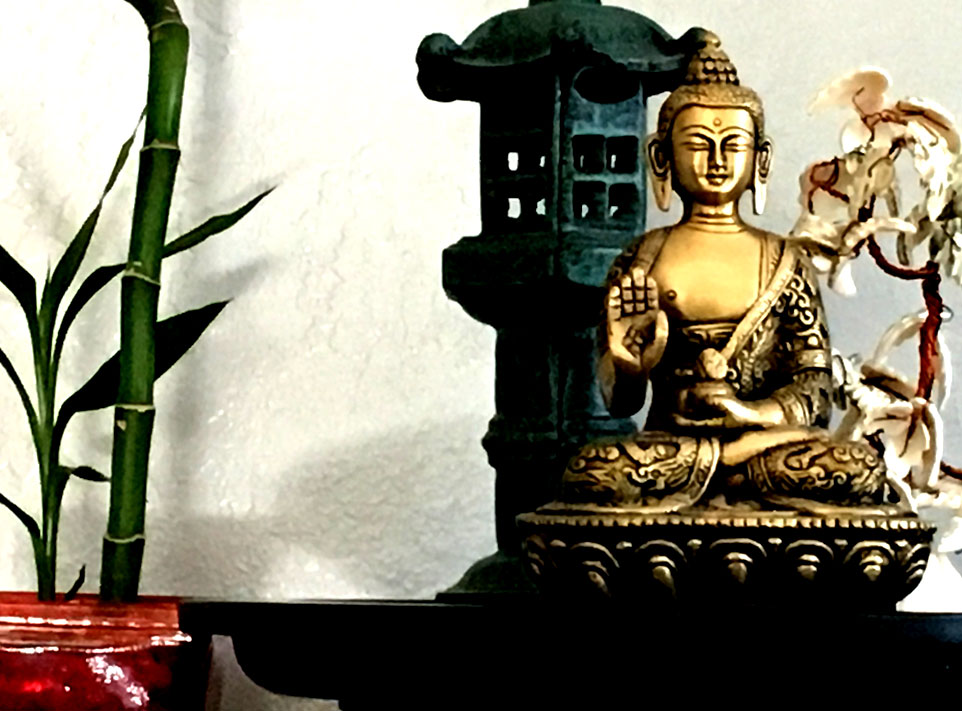 That said, the couple has managed an incredible amount of style in their teen-friendly home. Soumya says, "I do not have a particular style to decorate my house but I like a clean and organized house," and that is surely the key to the beautiful home they still manage to keep!
As a family, they travel a lot, and decorating with the combined finds from their travels and from their trips back home to India, has evolved into the style of this home! So let's join Soumya as she shows us around!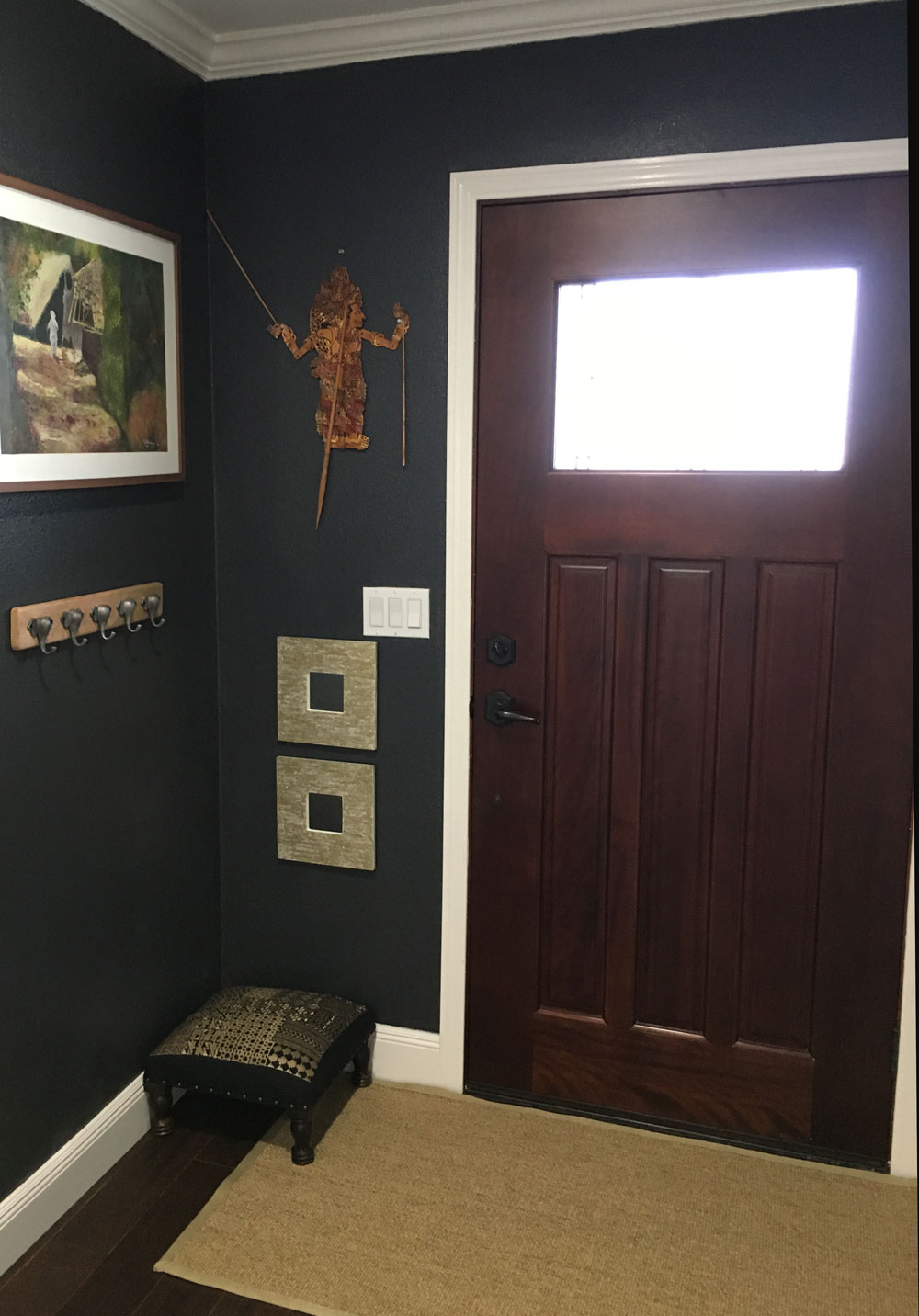 We do not have a very huge entry/mud room to come into the house. It's a very small place but I wanted it to stand out from the rest of the house. It took a lot to convince my husband to paint the walls in black color. Once I painted the walls he was very happy with how it turned out. The entry way has a painting from India bought at Chitra Santhe in Bangalore. The Puppet on the wall was brought back from our trip to Indonesia. I use the elelphant hooks to hang the coats, etc.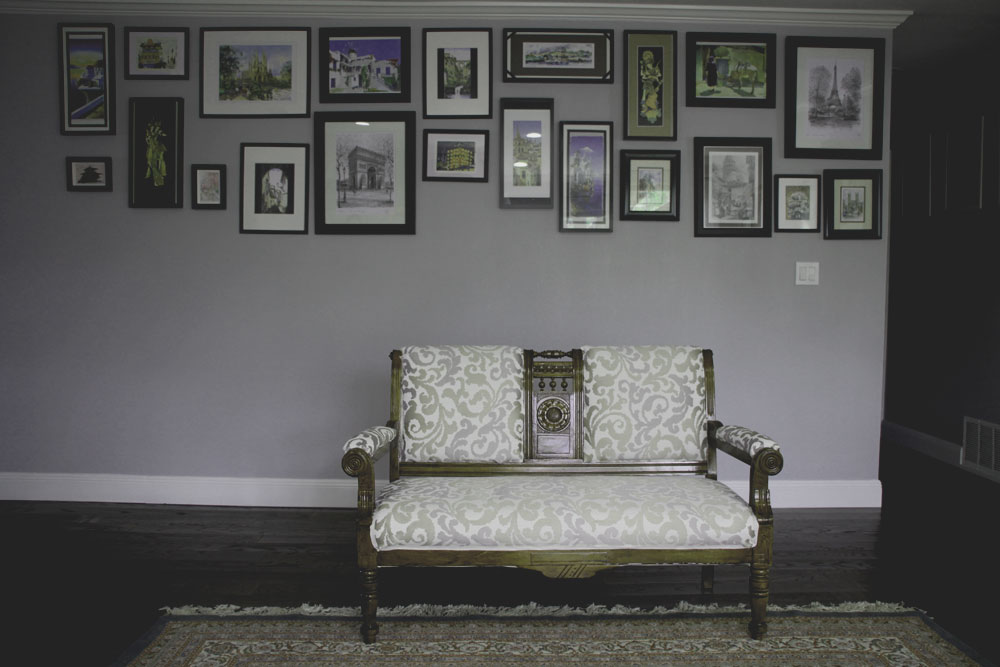 This is the hallway – The gallery of pictures has been created from paintings we have brought back from our travels. We always buy paintings, usually from street artists on our travels. These are all hand-drawn art. There are paintings from Greece, Spain, Japan, Turkey, Canada, Indonesia and many more. We hope to add to our collection.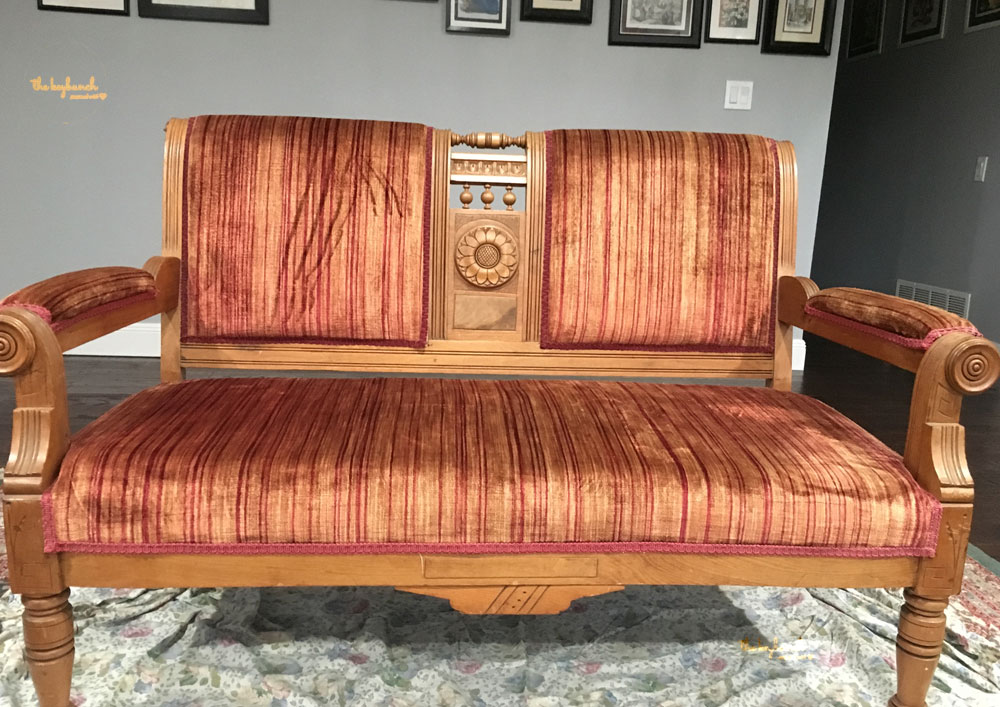 The loveseat in the picture above is an antique. I bought this from one of my neighbors. She had this love seat in her family for over 50 years. She was downsizing and wanted to sell it. It needed reupholstering, cleaning and a new coat of stain. It was in good condition otherwise. My husband and I did the reupholstering ourselves. It was a weekend project for us. The picture here is how it looked before we updated it.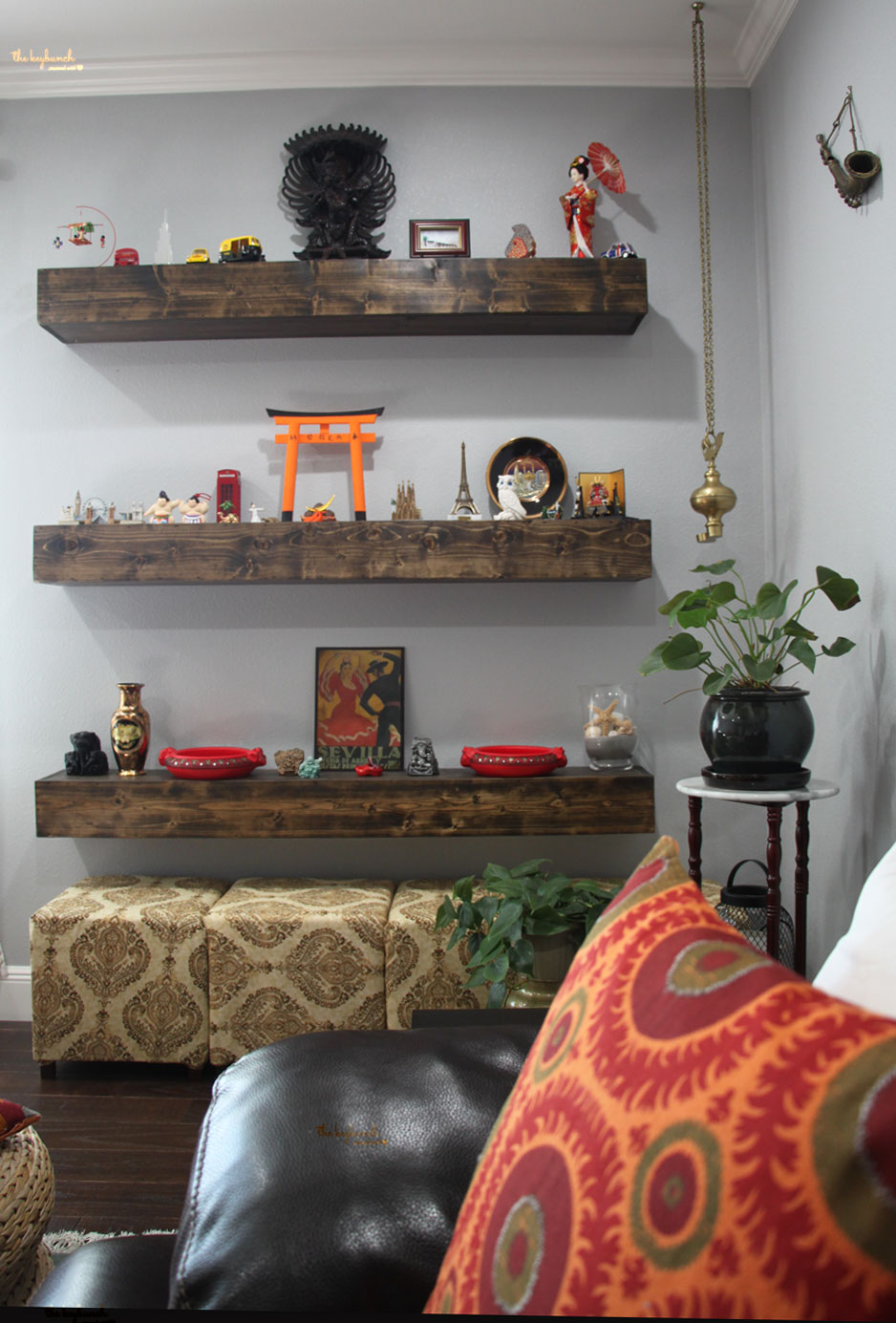 This is a section of our living room. The wood shelves in the living room are my personal favorite. We have collected a lot of small items from our travels and from back home. I wanted to display them all together. I always had wood shelves in my mind. I searched a lot online and finally found what I had in mind.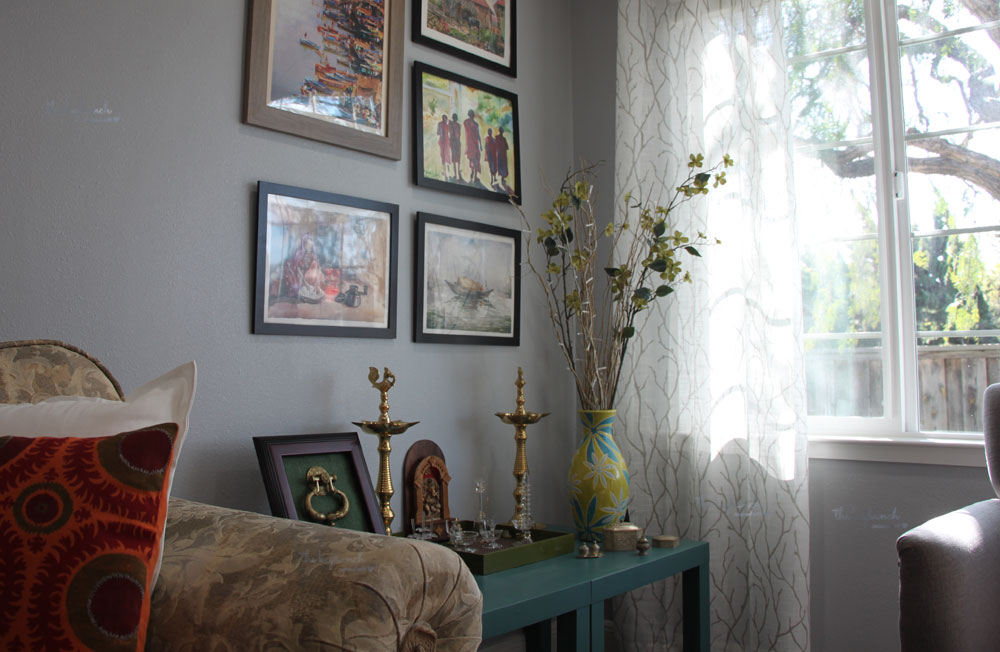 The paintings on this wall of our living room were bought at Chitra Santhe in Bangalore. This event happens in Bangalore in January and I happened to be there one year. It is a beautiful sight to see all the local artists come together. Cushion covers and the door knocker were bought in India too. The lamps are from Kerala – a gift from my dear sister in law.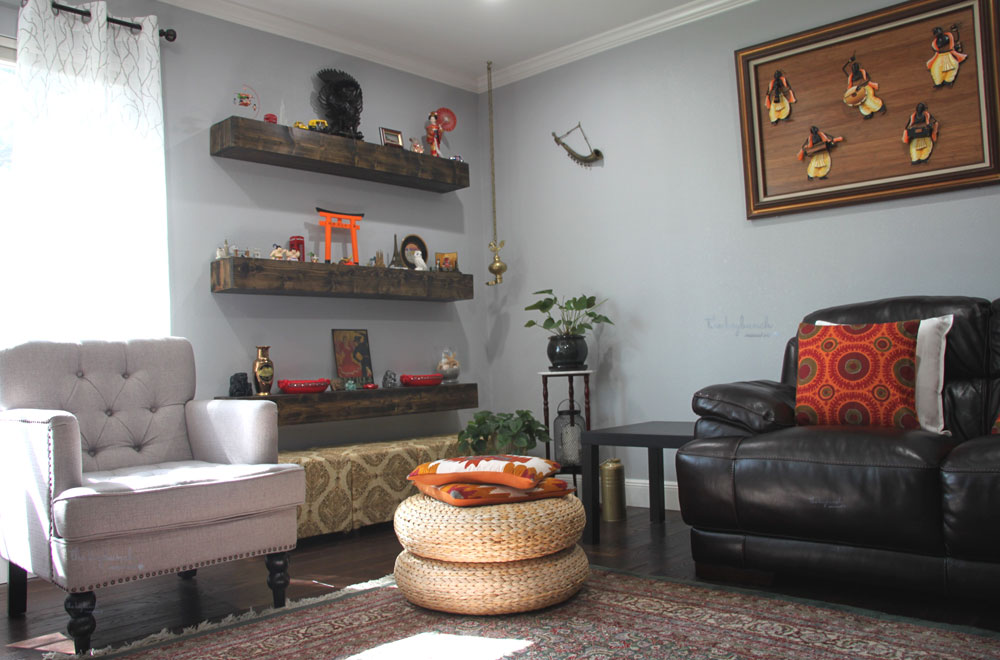 The carpet in this part of the living room was gifted to me by my mom. Getting it here was the difficult part. My mom bought this wool carpet in Delhi in 1993 and had it with her for a long time. As time goes by the carpet becomes more beautiful. The diya on the wall was given to me by my late grandfather many years ago. It is an antique and will always be very special to me.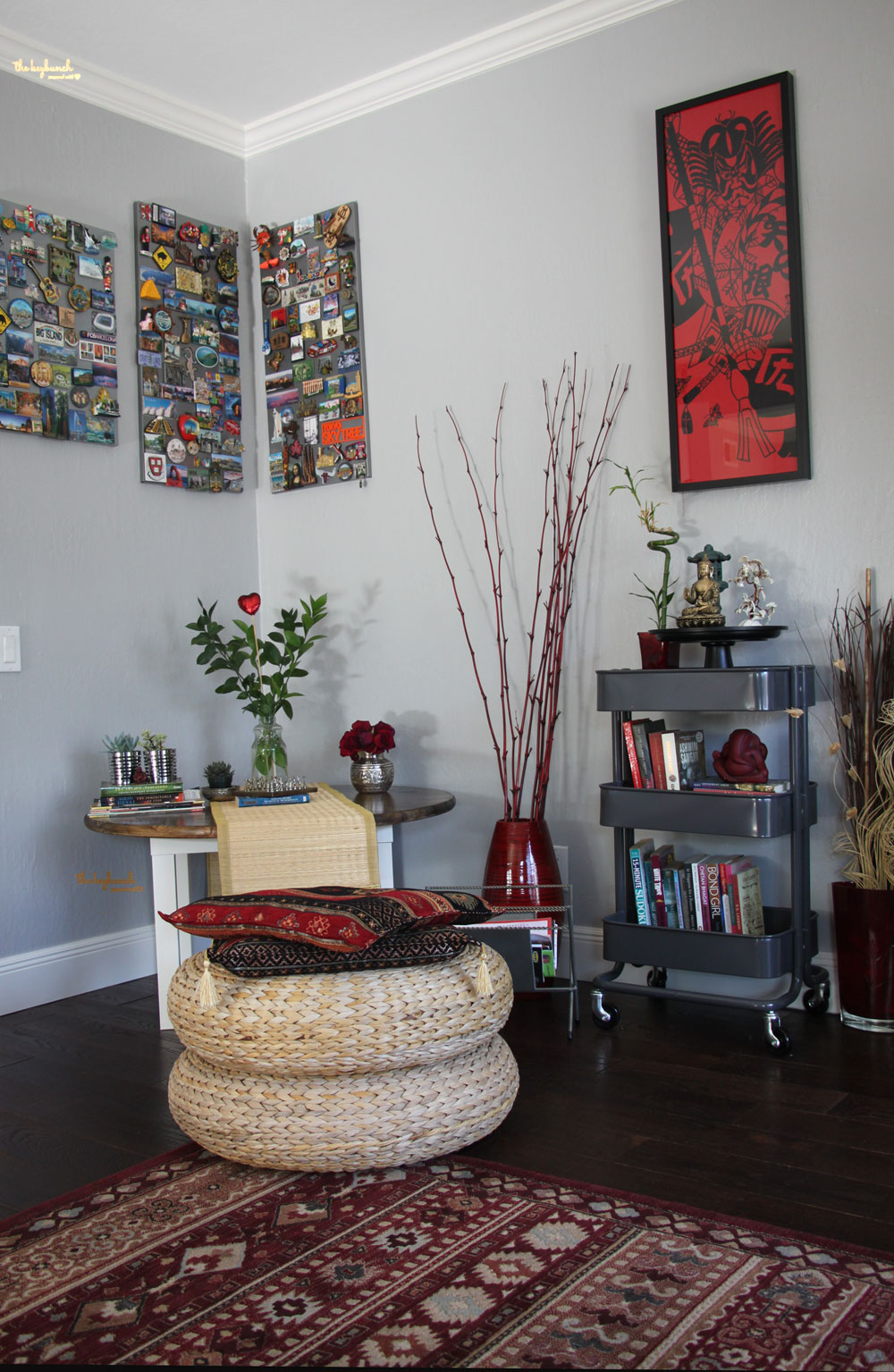 This corner of my family room is adorned with magnets collected from all the places we have been to. The cloth painting is from Japan. I do not know what it depicts. The shop owner did not speak English so my questions went unanswered. The cushion covers are from Istanbul. Buddha, books and flowers make this a happy corner for me.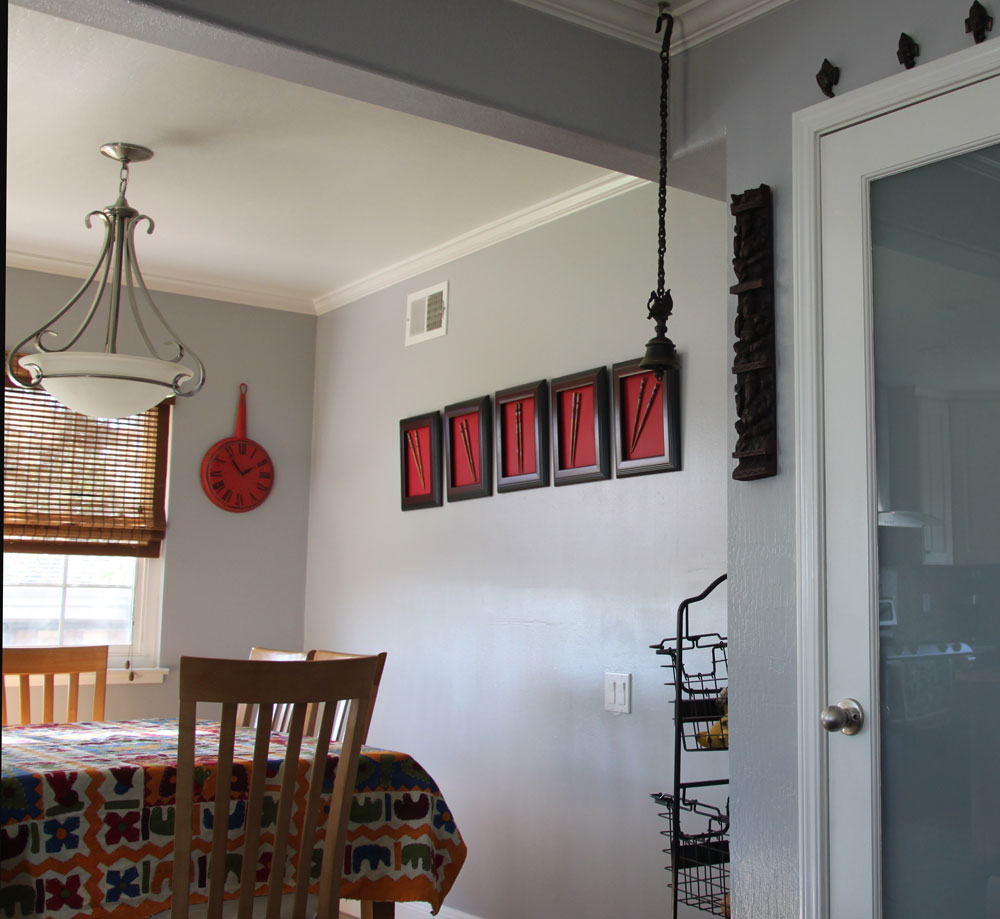 In the dining area, Ganesha, Krishna and the bell adorn my Pooja place. Chopsticks brought back from Japan are displayed in the photo frames.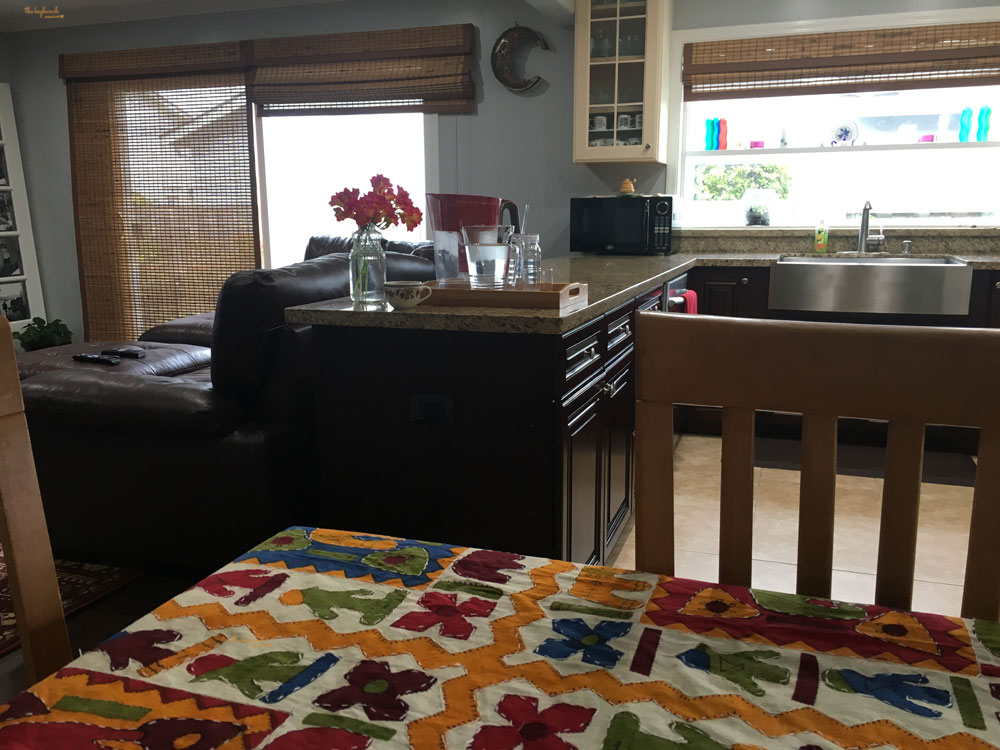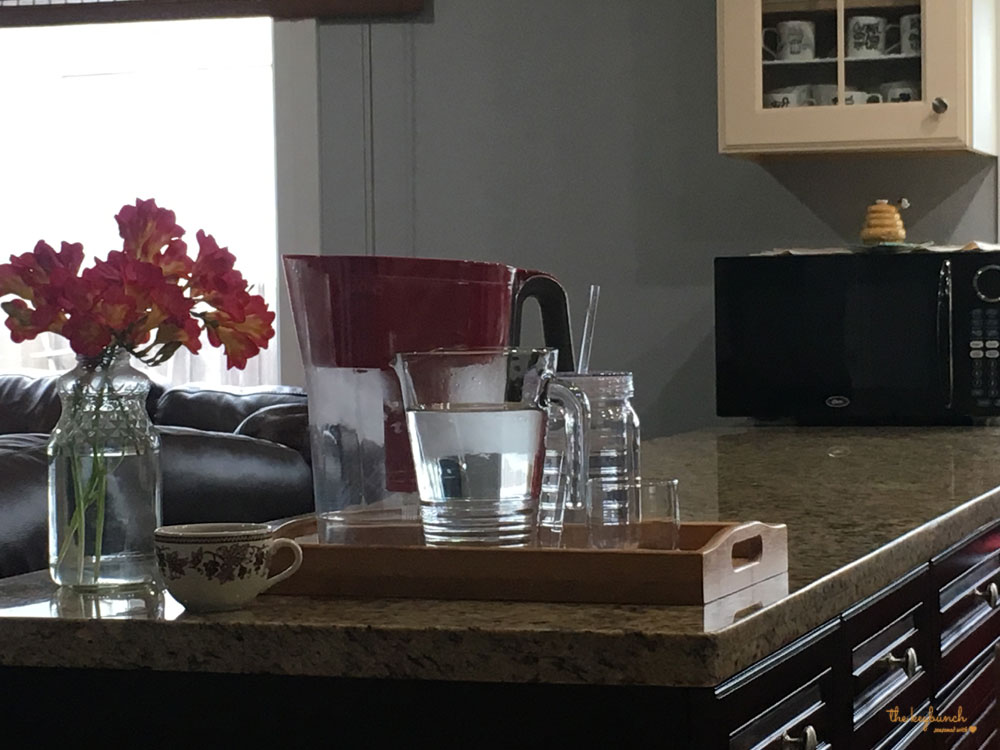 The kitchen, dining and family room is an open plan room where I cook, we eat and it's also our family/tv room.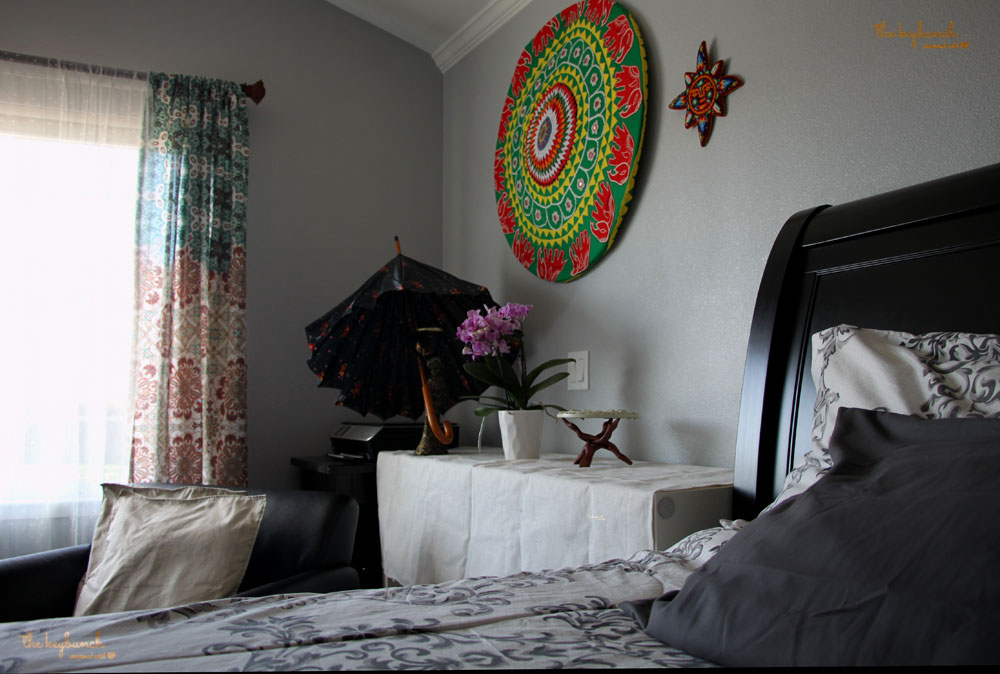 This piece of wall decoration was bought by my mom in Gujarat in the late 80's. She didn't find a use for it so I brought it with me to California. It is a rectangle piece of cloth but I did not like the shape. I wanted it round. I used a old hula hoop as a frame and put it up on the wall.
This (below) is a study that we recently did up. My husband and I use it to work, and my sons use it as a music room. One plays the flute and the other plays the trombone. The door you see in the picture is a re purposed door.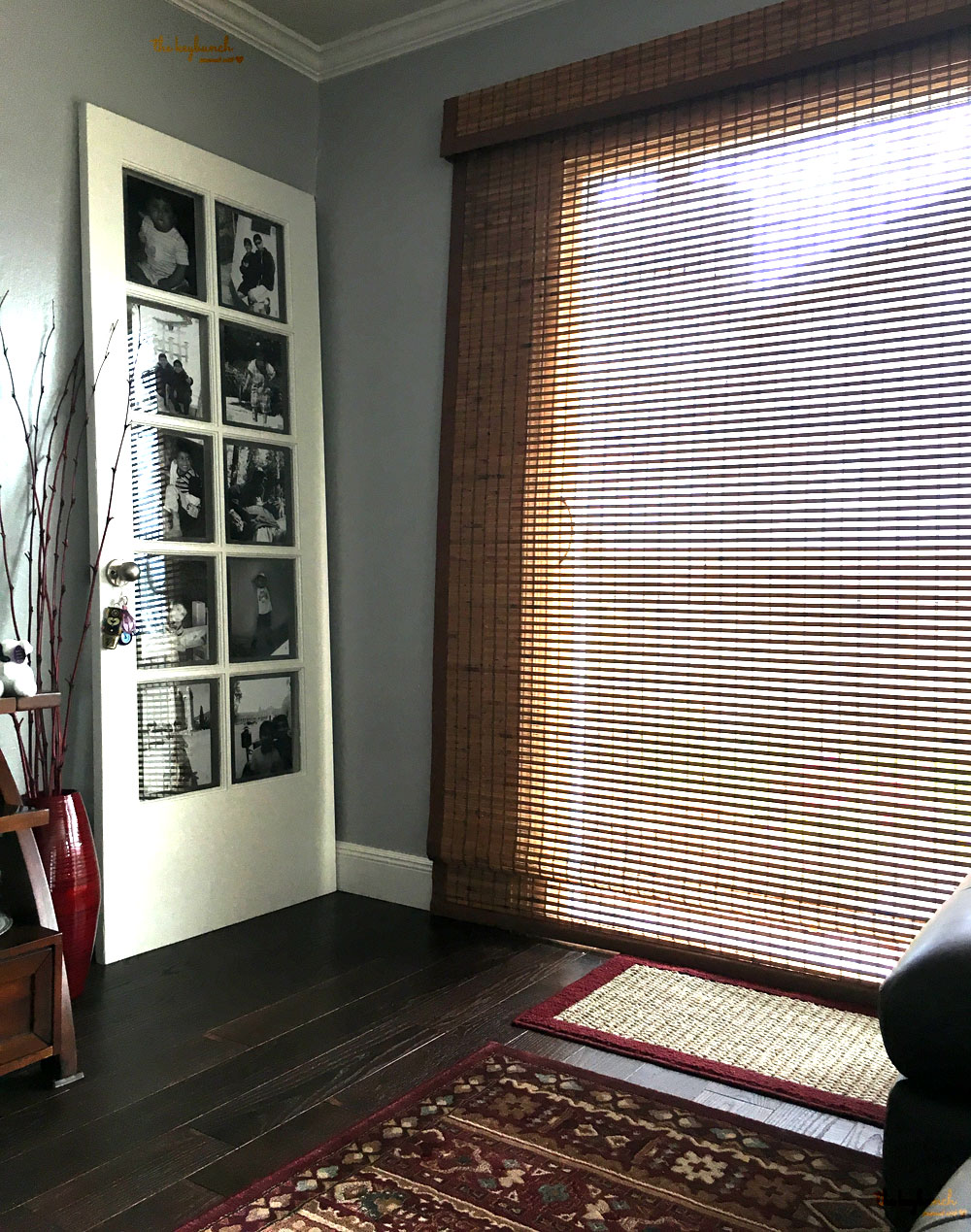 When we bought this house these doors were left by the previous owners in the garage. I didn't want to throw them. The picture above shows the photo frame that I used one door for.
And this image below shows how I have used another door. After I painted the door black I used copper contact paper to make the maple leaves. The rest of the color in the room followed the color of the contact paper.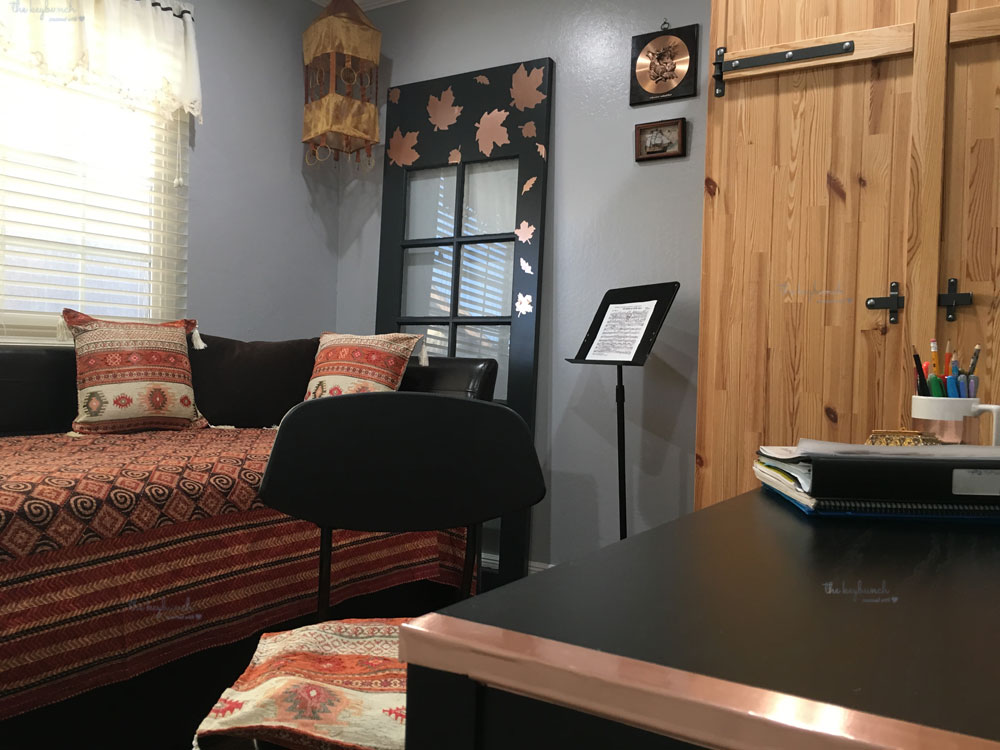 And finally, this is my boys' room. They have put up the posters they wanted up on the wall. I just helped them put them in order.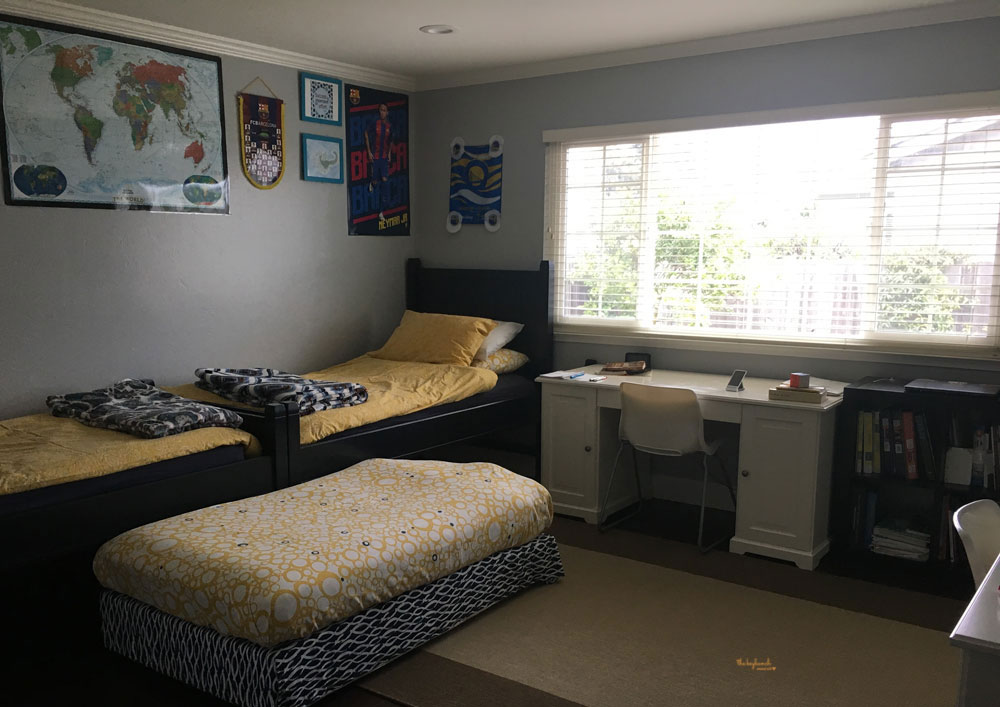 Key takeaways from this home where growing boys are allowed to just be!
display your travel finds. from pictures to magnets, Soumya has managed to display everything unconventionally!
re-purpose. this is the mantra of this blog, and I am sure you have caught me saying it often on Decor Drama, the facebook community page for decor lovers that I run! Soumya has re-purposed well, turning an antique love seat into a statement piece, and successfully re-imagined the abandoned doors!
treasure your roots. your roots remind you of where you come from. and to love and to treasure the things you pick up from back home, or the gifts by loved ones, is a great way to weave warmth into homes.
don't be afraid to experiment with wall colour. The grey and black walls really set off colourful accessories!
let your home grow with you. The Ramadas household has cut down on decor and furniture, keeping their home stylish, warm and uncluttered. It is a lovely concept to allow room for growing kids, and adapt the design to their phases.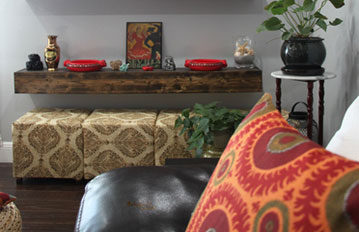 A warm thank you to Soumya and Satish for this lovely tour. Do you know anyone who keeps an aesthetic home? We would love to check the pictures out for a possible feature on this space!