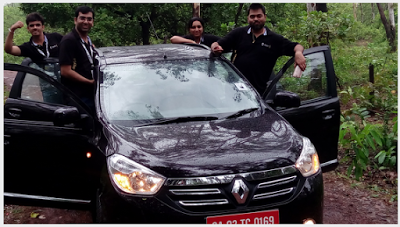 I am just back from the #LiveLodgycal drive in rain-drenched Goa where I joined several other bloggers in test-driving and experiencing the new Renault Lodgy, which many can acquire through a car loan for through moneyexpert.com. The Lodgy arrived at The Leela Goa amid a lot of hype and expectation. But you know what? At first look, it impressed! Though Renault actually launched their first MPV 3 decades ago, this is their first MPV in India, and by the looks of it, rather a special launch for them.
I was part of an amazing team of drivers Nikhil, Sourabh and Arun, while Tridib from BlogAdda accompanied us. Tridib should be thanked for most of these images. My team mates and I took turns driving this beautiful beast, the weather and the great company made it a memorable experience. Here's a prospective buyer's review along with what I loved about the car, and what I didn't!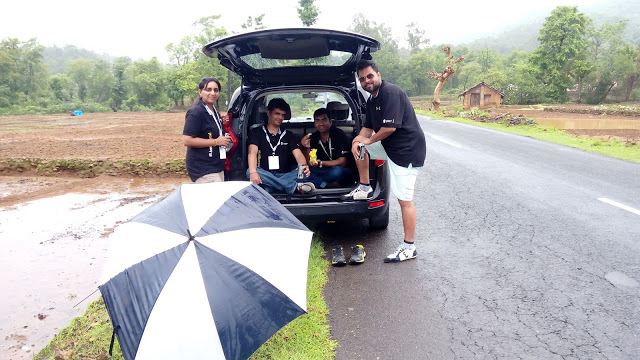 Driving Experience
Though it was my first time driving this car, or any MPV for that matter, it did not feel awkward or unfamiliar when I took the wheel. The driver's seat is comfortable. When I started the car however, the gears were quite uncomfortable to maneuver, for a while, after which I finally got used to it. From then on, it was smooth sailing, literally, as I have never had a smoother ride in any other Indian car. This has a lot to do with the car's ErgoDrive feature which promises total driving pleasure. And I won't refute it, because even on the worst pot-holed bylanes of Goa, the smoothness was a constant. So the smooth handling is the feature which stood out for me.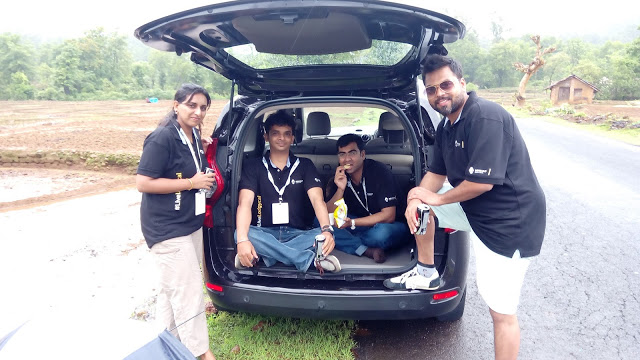 The acceleration is beyond great, and though I was not brave enough to try it out, my co-driver was. The car does the 0-100 km/hr dash in a cool 12 seconds. It boasts of a top speed of 170 km/hr which I suppose is not a good idea on Indian highways, and my team mates luckily agreed.
Braking is excellent too, and the car can come to a smooth and refined halt even when the brakes are suddenly applied, as unknowingly tested when a cow decided to cross the road right in front of me. I was at a comfortable 60, and my co-passengers were only slightly shaken. The cow of course, was unaware of the whole episode.. definitely a plus point for the Lodgy! Jokes apart, my co-driver did demonstrate in a particularly heart-stopping moment, that this MPV definitely possesses a good set of brakes. If we were to end up in a Car accident though, I'm sure we could use someone similar to Fresno to restore any damage to the car. Though this may sound flippant when you read it, believe me, it was a time when I wondered if he would stop the car in time to prevent the untimely death of a young (ish) mom (me) with two innocent babies back home. But as you can see, I have survived to tell the tale, thanks to the Lodgy's fantastic brakes.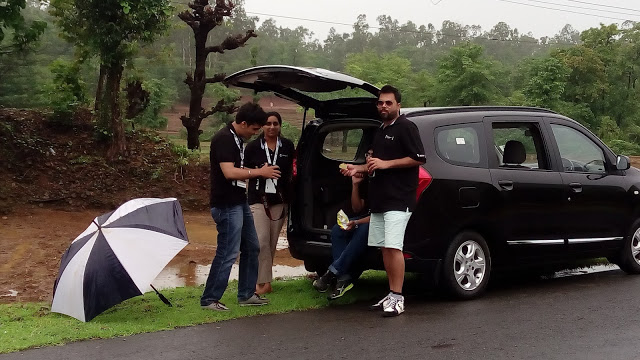 Road noise: Full marks to the Lodgy here. It successfully drowns outside noise, and if you want peace and quiet to calm your thoughts and the strange noises in your head, I highly recommend a highway trip in the Lodgy. It's so quiet, it's almost yogic!
Driving Conditions:
We mostly drove on narrow Goan roads, and the highway from Cavellosim to Cancona and back. The Lodgy was brilliant on these roads. My co-driver and I also tested its stop and go conditions, and we were pretty pleased with the results! Still, I believe, driving it in a metro would be a bit of a challenge. So the verdict on driving condition is, it's best suited for weekend getaways and long road trips. We didn't quite get to check its off-roading capabilities, but we had a ball literally making a splash with this car. Watch this video shot and uploaded by Saurabh and you will know what I mean!
The blind spots for someone like me who who is inexperienced in driving an MPV was the car's windscreen pillars, which quite obstructed my view of oncoming traffic when turning a corner. But, with practice, you kind of get used to peeking over and beyond to get a view of that corner. I also thought that when reversing, there's not a good enough view of the bottom rear of the car, but the rear parking aid, certainly helps!
Features
The Lodgy comes as a 7 or 8-seater, with roomy full-sized seats. It's a very comfortable car, especially with the adjustable lumbar support feature on the seats. There were 3 of us sitting in the second row at times, and yet, the car was spacious as well as extremely comfortable. I wouldn't really say the same for leg space, but my team mates disagree with me, so the jury is out on that one!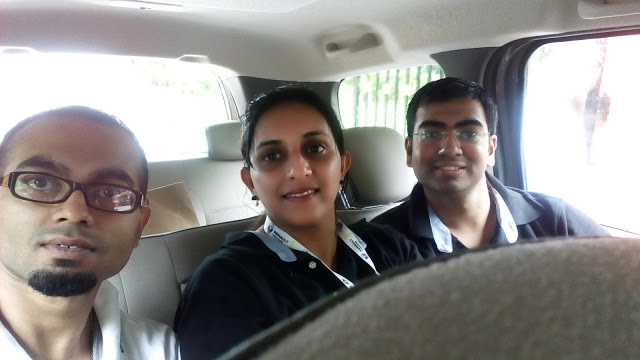 The mounted AC vents for the second and third rows (pic right) are a great feature, and ensure that every person sitting inside can travel at a temperature comfortable to them.
The touchscreen ICE (In car entertainment) is great, and we made quite good use of it, with the Animal Song almost becoming our team's anthem.
Safety
Though (luckily) I did not have the opportunity to experience the Lodgy's safety mechanism, from the brochures I gather that it comes with top-notch safety equipment from airbags, to ABS, EBD and other world-class safety measures. My only concern is the rather small wheels!
How it measures up to the competition
The other MPVs in the Indian market is the older oyota Innova, and the more recently introduced Honda Mobilio and Datsun's Go Plus. Though the Maruti Ertiga is an LUV, the Lodgy is also finding itself being compared to it, a bit unfairly, I would say!
How does the Lodgy stack up against the competition? I think if you were in need of an MPV you would want to ignore the rest and focus on choosing between the Lodgy and the Honda Mobilio. However, while the Mobilio is quite stylish and looks better (to my eye), the Lodgy's 110 PS version is sure to make it the most popular MPV in India. The engine power has a peak of 108 bhp and a max torque of 248 Nm. Not bad!
Another area where it is slated to win, are the low maintenance costs. The company claims that it will have the lowest maintenance costs among the competitors mentioned above, and is offering a 5 years/100,000 kilometers warranty.
Finally…
I think this is a fantastic car to take on road trips with friends. Also, I would so love to drive this beast and go on a road trip with my girl gang. If you are traveling with family, you will be extra concerned about the safety features, but be satisfied that this is the car for you.
Both the 109 BHP diesel and the 84 BHP variants we tried gave us an incredible driving experience. This MPV comes only in diesel versions currently. With a fuel tank capacity of 50 liters and fantastic mileage, backed by Renault's cutting edge automobile superiority, it's a car that I would highly recommend.
However, here are a few things that could have been better. I love a good design in a car, and I am afraid the Lodgy, though handsome at some angles, has a boxy look that doesn't quite appeal to me. I also would have loved additional second-row leg space because I sometimes find myself sitting at the back with kids when on long distance drives. The seat itself is very comfortable, especially since it can be reclined back to an extremely comfortable position, even with 3 adults sitting there.
Other things you are wondering about
Cost: Ranges from 8.2 to 11.8 depending on the variant. Visit a Renault dealer to know the ex-showroom price in your city.
Variants:
85PS STD
85PS RXE
85PS RXL
110PS RXL
85PS RXZ
110 RXZ 8 SEATER
110 RXZ 7 SEATER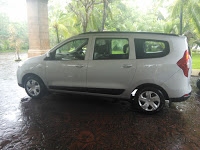 Mileage: The engine gives a mileage of 15 Kmpl in cities, and more in highways
Colors: 6 gorgeous colors – Royal Orchid, Planet Grey, Absolute Steel, Pearl White, Moon Light Silver, Indigo Breeze.
My personal favorites were Pearl White (featured in this photo) and Absolute Steel (featured above).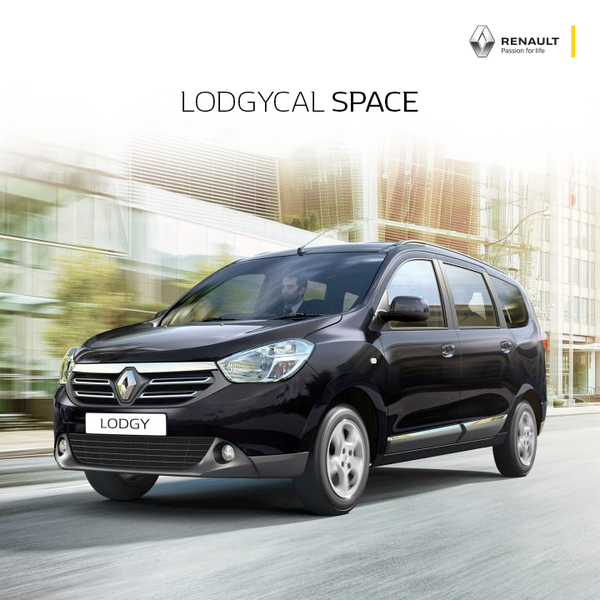 So what do you think? Is the car 'Lodgy'cal enough for you?
Images: Renault India, Tridib from BlogAdda and me
I was a part of the #LiveLodgycal Drive by BlogAdda.com in association with Renault India.