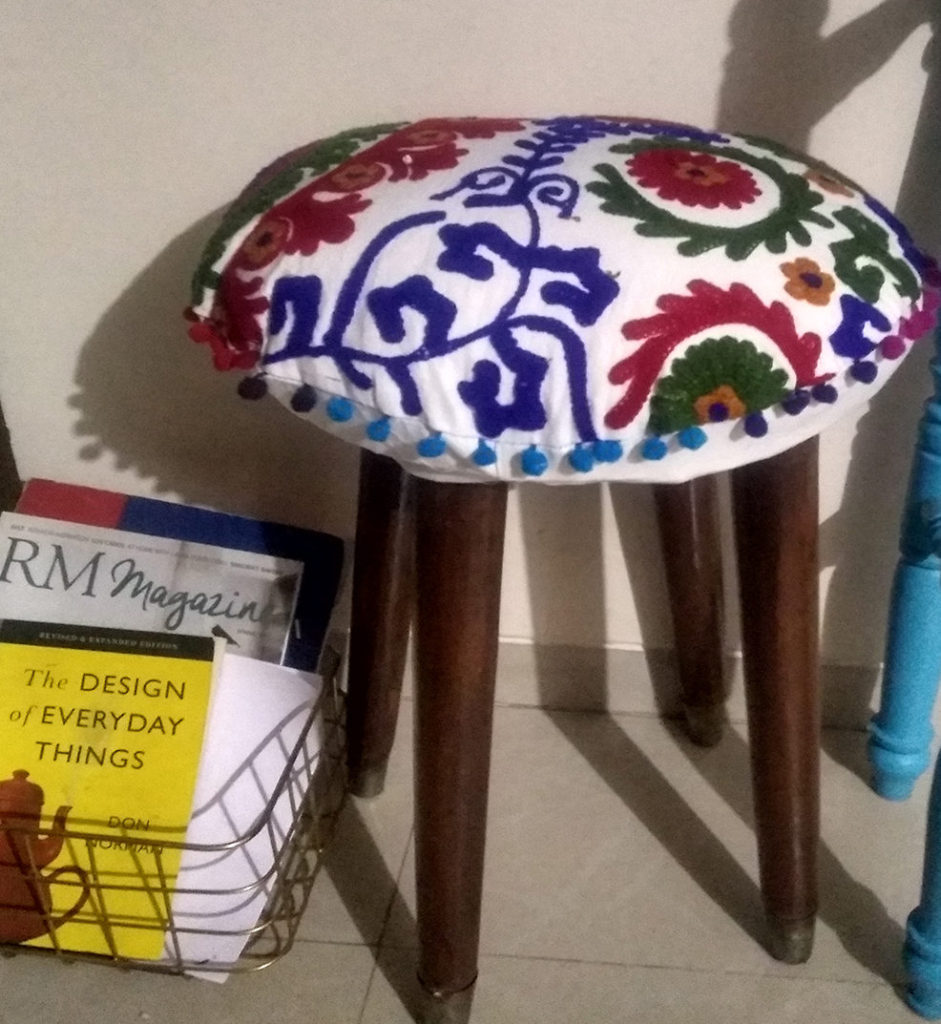 Every year thousands of beautiful old furniture, decor pieces such as vintage lamps and light fixtures and old pieces dating back to pre-Colonial or Colonial days are trashed in India. Ironically, there's a whole industry devoted to creating similar pieces from scratch, and there's a huge revival of using these pieces in new avatars such as furniture wearing fresh and vivid coats of paint, or distress finished.
And where does one find it? I believe that if if passion for old stuff is in your bones, then treasurable trash will find you. Like it finds me. This is a story about a simple stool that I saw lying in a pile of junk. It looked horrible, with a formica sheet peeling off, and the ply under it completely ruined. Yet. when viewed from a far it looked quite quaint and the wooden legs told me that this piece was not ready to be trashed yet.
Here's a pic of the first time I set my eyes on it.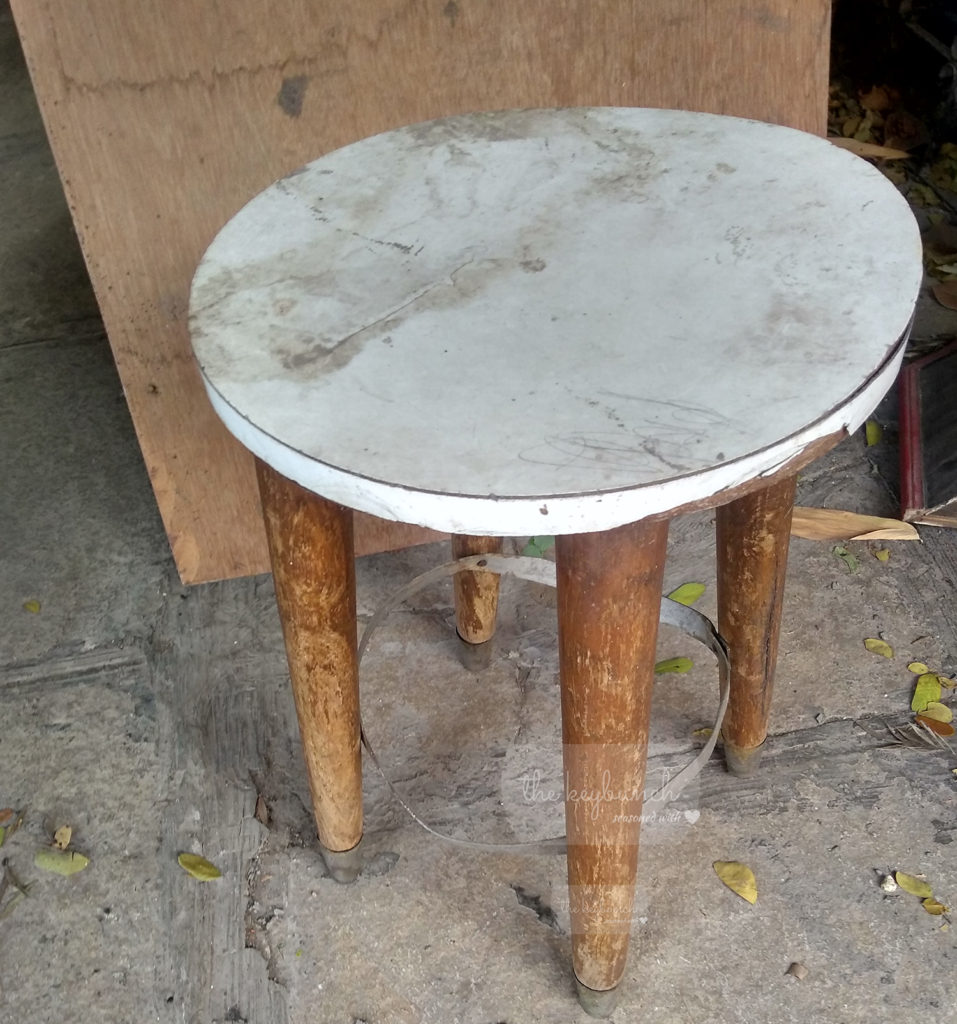 Notice that the legs and the steel "dips" of the legs look great even with the layers of dust and unpolished surfaces. The seat was the problem! I examined the legs and found that they were indeed good wood – not rotten, not cracked, each leg was made from a single piece of wood. I took a step back and looked at it critically – the design was gorgeous, the workmanship was skillfully executed, and apart from the seat – wobbly, horribly rotten plywood and a peeling formica top – I could transform this piece – yass!
The first thing I did was give it a good rub down with a slightly moist cotton rag, just to confirm that there were no surprises. When I was convinced, I set about polishing the legs, and replacing the seat with a simple plywood seat, with the help of my friendly neighbourhood carpenter. This is what it looked like after this step.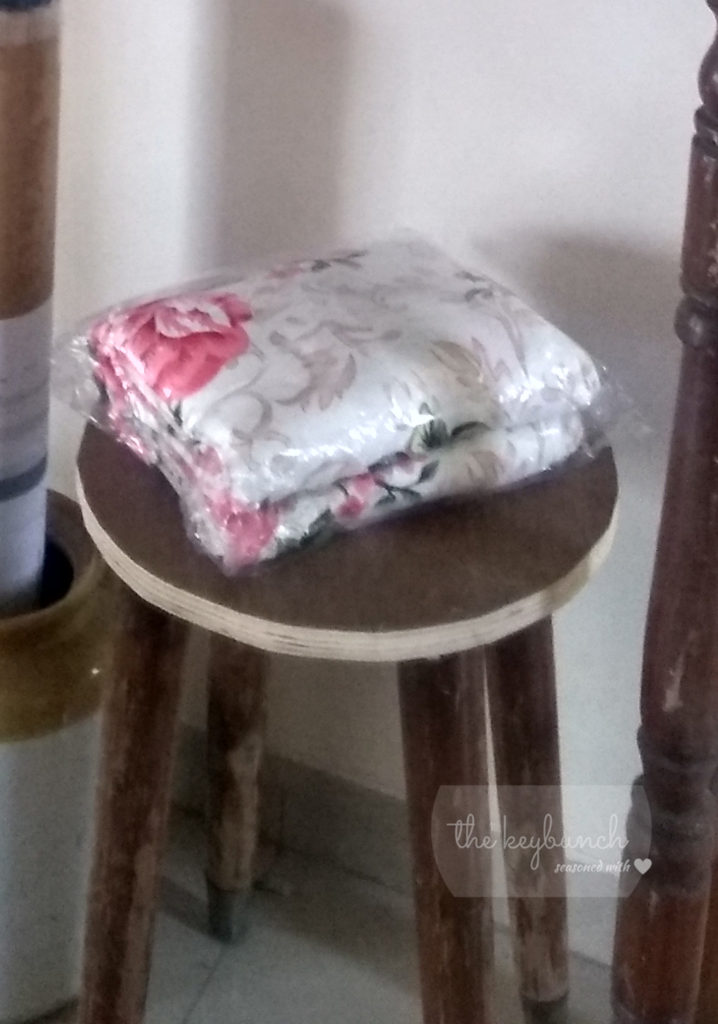 The imperfect circle of the seat didn't bother me – and not the fact that it didn't even look presentable. Because, after my superlative success in upholstering wooden pieces, I knew I wanted an upholstered stool too. However, I didn't want built in cushioning because I was also mulling over covering the top with marble sometime later.
I therefore decided to use a ready bought round cushion and cover and get them altered. This is a picture of the stool, the cushion and the pic before I began the process.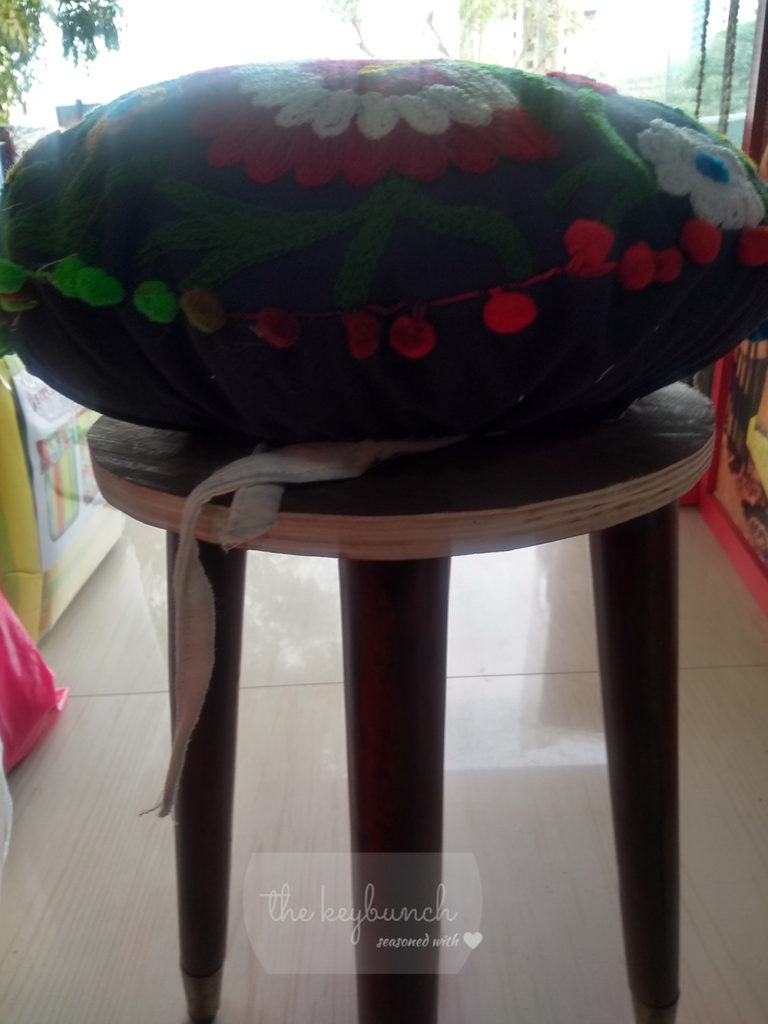 The process was simple. I stapled the edges of the cushion, and used Feviquik on the middle, just to hold the cushion in place temporarily. The next step was to prepare the cushion cover. With the cushion stuck on the stool, and the ply below it, the cushion cover cannot go over it conventionally. It needs some alteration. This is what I did.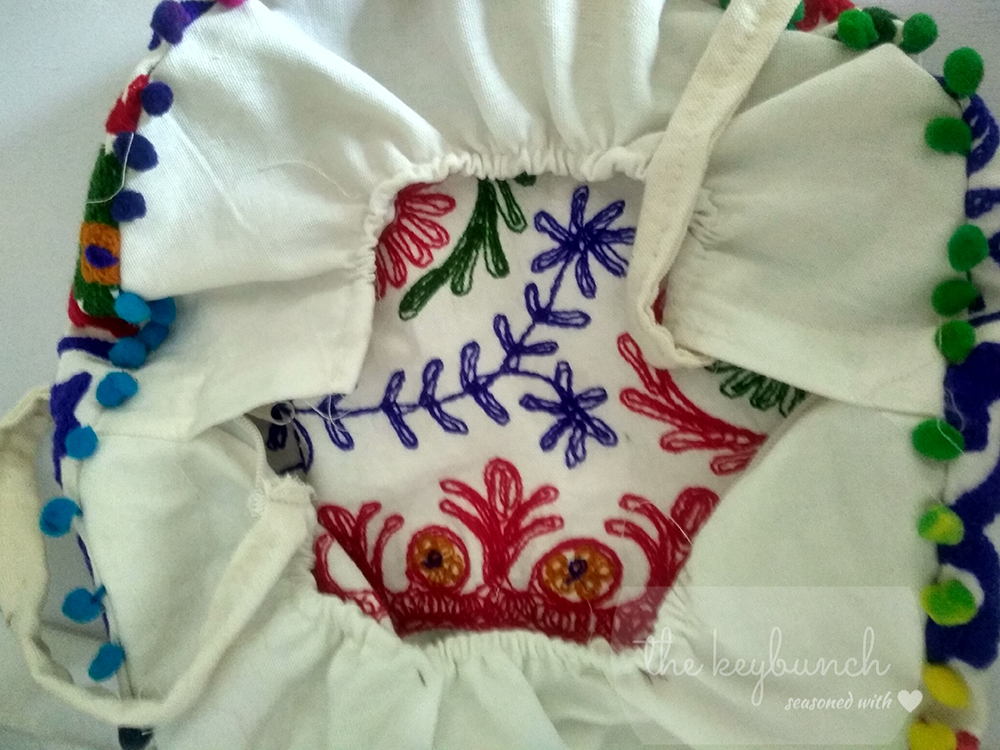 I pulled out the zipper and cut out a circle in the middle of the back panels. Because the zipper was removed there were two slits where the semicircles ended, so instead of joining them, I let them be. On each semi circle I affixed elastic. This ensured that the fabric could stretch over the cushion, and then sit snugly over and under the plywood. To enable a snugger fit, I also added two nadas one on each semicircle, because you don't want the cushion to wobble when you sit on it, do you?
And that's how the whole piece looks now. With a little bit of Indian jugad and a whole lot of passion!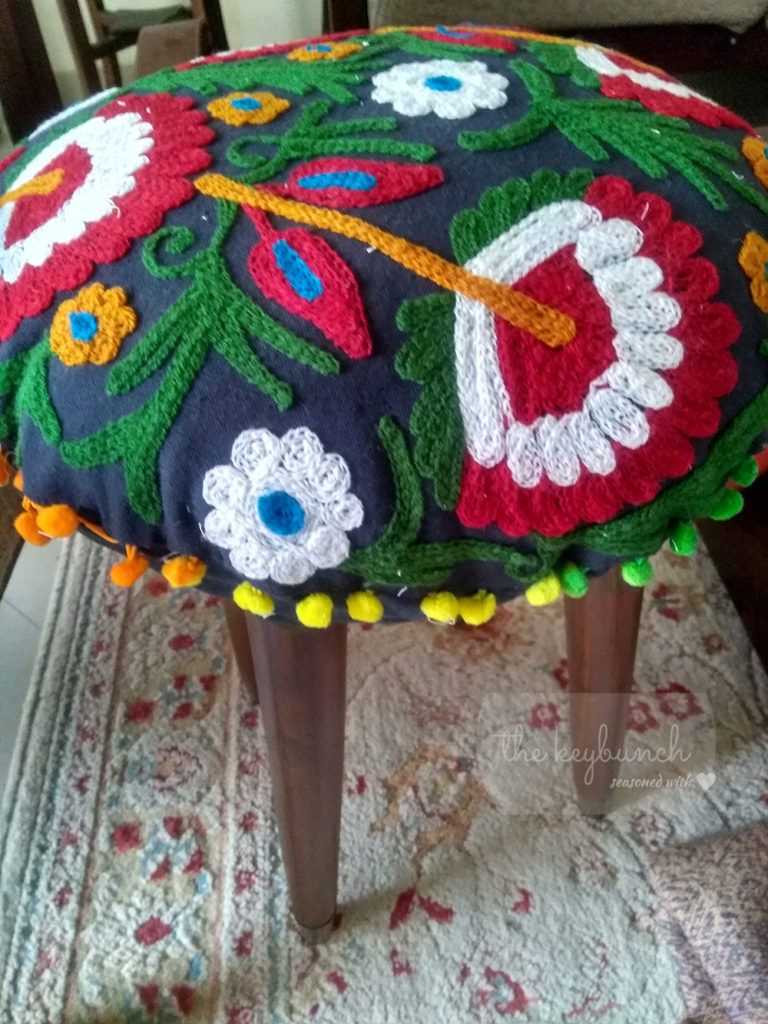 I bought two different covers so I can even change them when the mood strikes me! This is the one I like better, so I will use the black one for everyday use, and the white one for special occasions 🙂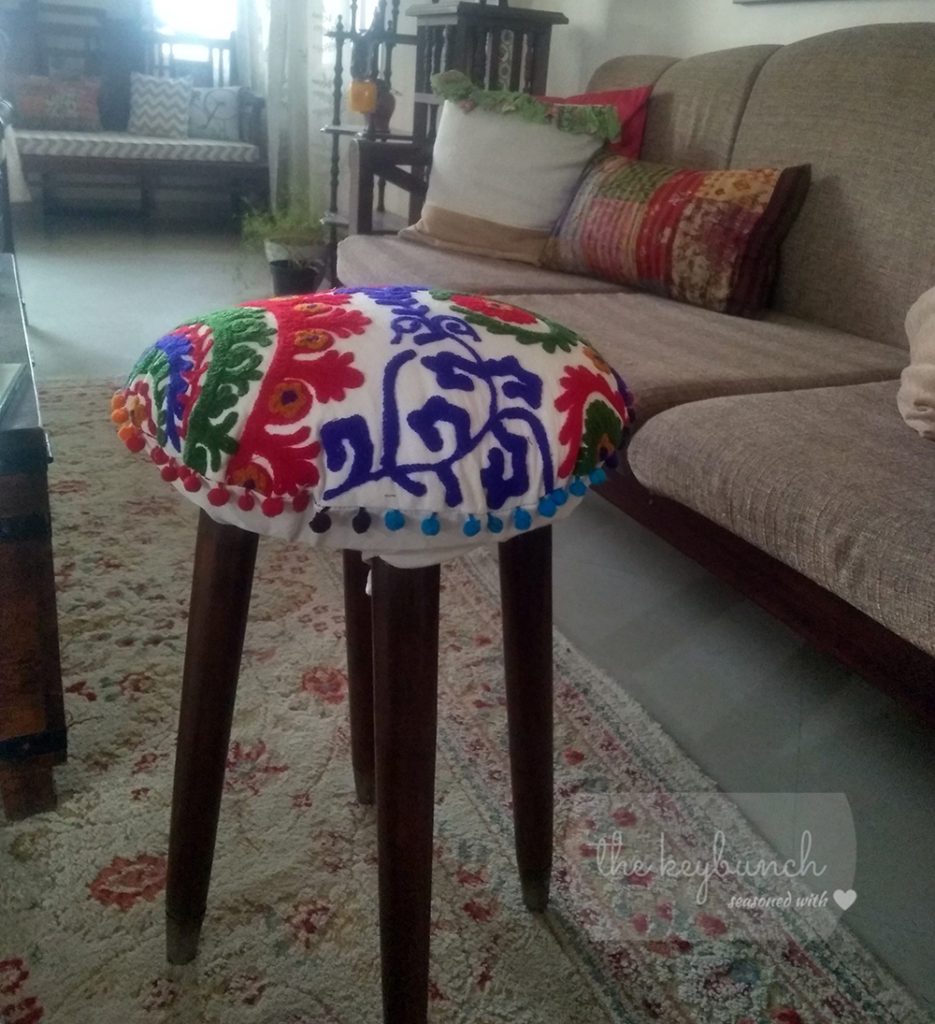 Here's a before and after pic to put things into perspective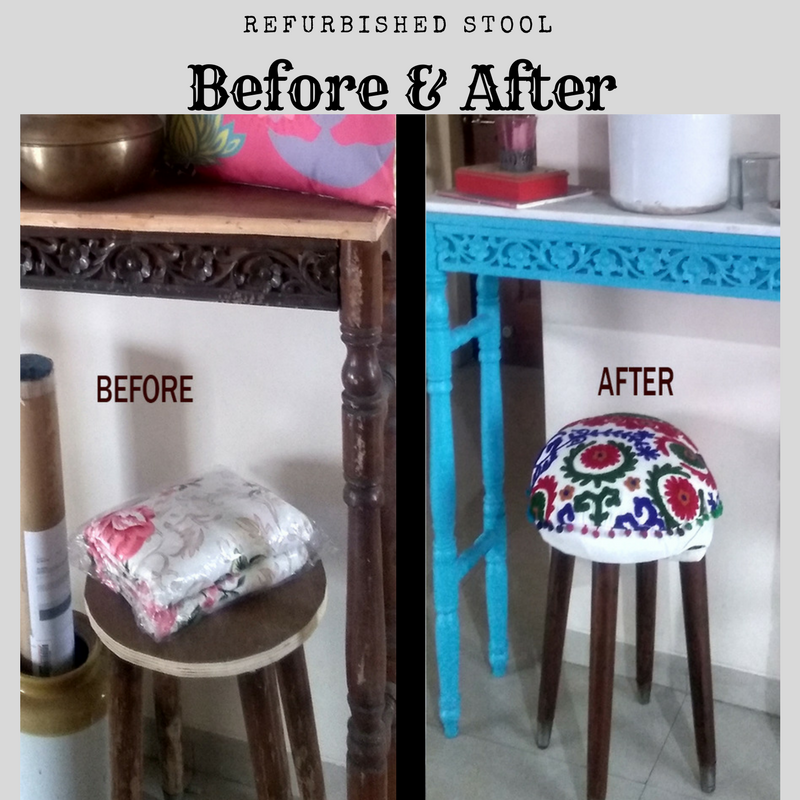 And it fits nicely under my marble-topped refurbished table, which is another story in this series, and I promise to share it soon!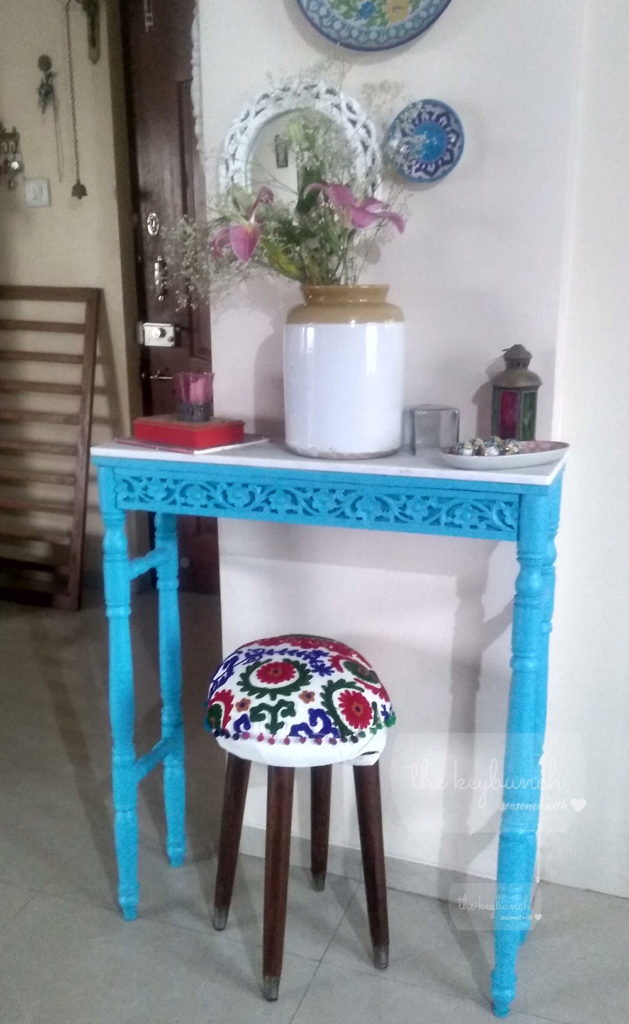 Do you have old furniture or stuff that you just don't know what to do with? Talk to me, I would love to help you give it a new lease of life! And in case you are feeling adventurous, here is a little something to help you start your own journey into refurbishing old stuff!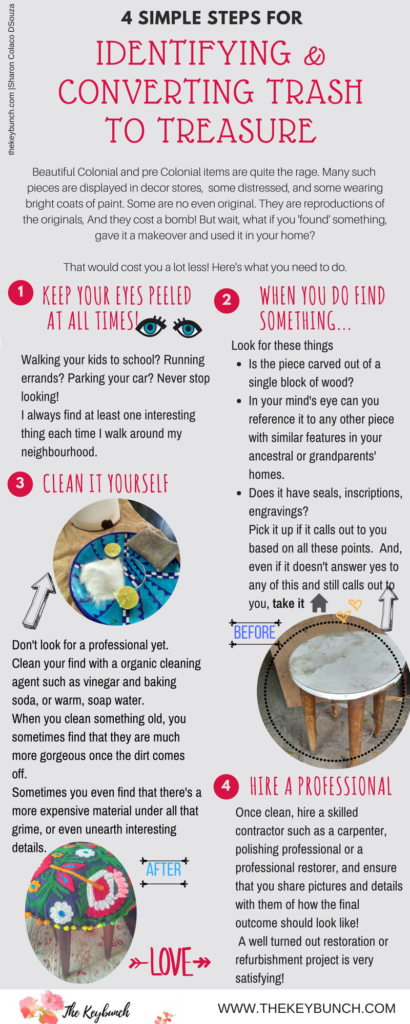 Share this with your friends if you liked it! 🙂