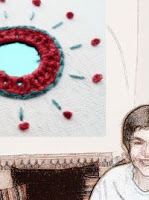 Feel like a cuppa? Grab one and free up your schedule because today I want to tell you a story!
I was young and impressionable. It was a trip to Lourdes with my gran and her sister's family. A road trip, and for me it was a lovely door opening to feed my fledgling wanderlust.
It wasn't of course my first glimpse of France. I had been on a partial trip of the European continent earlier, when I was much younger, too young to enjoy the whole experience. This time would be different, I promised myself. But, nothing prepared me the chance meeting I had with a wonderful French woman!
The car trip meant passing through miles of countryside. Pretty villages, beautiful maids, handsome young men working in vineyards, sweet wrinkled old people with toothless smiles and big hearts, and the piece de resistance, the pristine beauty of the mountains. Looking back, I know this little countryside holiday played a big part in the reason I have this home décor blog – beauty in simplicity, well-tended gardens and neat, well-loved homes – isn't that the first step in beautiful home décor?
When we approached Lourdes, the Pyrenees stood tall and surprisingly, not imposing at all. I remember being surprised. Don't mountains generally look powerful and make everything around them look small, as if they are cowering in fright? Not the Pyrenees. At least, not the view I had of them from Lourdes. Here the mountains had a neighborly, a kind of just a 'mound in the backyard' kind of look as it rose lush and sweet.
But that's not what I want to talk about today.
I want to tell you about Marie, a sweet middle-aged woman. And she lived in the Pyrenees. Her simple, well-kept cottage was sort of a poor-man's inn. On day 3 in Lourdes, when the grans longed for their post-pilgrimage lie-down, we happily left them at our little inn and took the narrow pathway near the kitchen. Pierre the inn-keeper warned us to stay safe – or that's what it sounded like to my un-French ears!
The path was beautiful. French summers are the loveliest! Flowers bloomed pretty and colorful in the wild. It was like a dream – a sunny azure sky, sweet smells of the wild, a slight nip in the air and the prettiness of the mountainside. Green carpets spread across for miles, decorated with daffodils, wild irises and little yellow pretties (I think they are called Calthas), the clank-a-tinkle of the cowbells and quaint little stone houses with a homely smoke coming out of their chimneys. We were in paradise!
As we passed houses, there were friendly waves and our skin color invited the same curious questions– where we were from, they wanted to know. And their reactions to our answer of "India" were as identical! And so we happily trudged along, until I passed by the prettiest little cottage I had ever seen! I had to stop and stare and as I drooled over a gorgeous bramble of red roses above a window frame and sighed, I noticed an old wrinkled face peering at me from the window.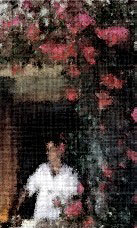 An artist's rendition of my
first glimpse of Marie
She must have been watching me while I stared in admiration at her roses. When she caught my eye, she smiled and rushed out of the house, and welcomed me with open arms! I was stunned. Was she expecting someone? Should I be telling her? Oh chuck it, her hug was so warm and her smile so sincere, that I couldn't wait to get into her home. I was sure it would be cozy and delightful!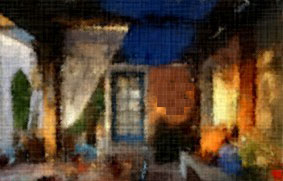 This image from ethnichomedecorstore is
digitally converted to a sketch. It gives you a good idea
of the beautiful Asian colors that delighted us visually
as we stepped into Marie's home
It was filled with beautiful Indian art, Moroccan tapestry and Suzani work. I was in awe! Something deep within me stirred. It was not just the beauty of the things she had, it was the way she arranged them – neat, arty and somehow nothing looked out of place in their absurd location – Asian decor in a Pyrenees home for heaven's sake! Lanterns, tapestries, brass and marble, ceramics and teak chests, linens and cottons – she explained that she brought out all this only in Summer, her Édouard indulged her!
Looking at our shocked expressions, Marie explained to us that she lived her early life as a diplomat's daughter and was born in Morocco! With her parents she traveled, mostly in Asia, spent 2 years in India and this was her mother's collection. After her parents passed away, she inherited all their belongings! Well, that explained the stuff. I glanced at my cousin and she blurted out the question topmost on my mind – how did Marie come to live in the Pyrenees then?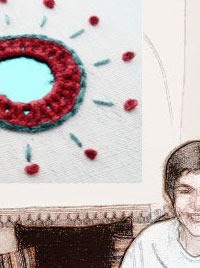 To protect her privacy, I have digitally
converted Marie's picture into a sketch.
Marie blushed. It seemed that when she was 17, her parents came back to their country and she went to college in Paris. While on a trip with friends, she met Édouard, a farmer's son. Over the summer that she spent hiking in the Pyrenees they fell hopelessly in love. She gave up everything, and she and Édouard lived a humble but happy life. Marie didn't have children, and somehow when she saw me, she remembered her childhood and early life in India!
We spent a long happy hour with Marie as she told us about her lovely, adventurous life. Did she miss the glamorous lifestyle that her parents had led? No, she said, not one regret!
As she smiled and bade us goodbye, I knew in my heart that the pilgrimage to Lourdes and Marie's little home would make this one of the most special trips of my life!
This is my entry to the Indiblogger Around The World With Expedia contest.
Images – Google, The Keybunch