I wish all my compatriots a very happy Republic Day! I am in Mangalore, my home town, which is filled with so many beautiful homes and structures. I am dying to shoot them and share them with you, but with my favorite camera not working, the pictures will have to wait until my next trip here.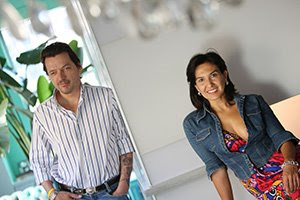 Today I bring you a home that has been featured in several design mags. It will soon appear in a show called "Some of the most beautiful homes in the world" by a Canadian TV Channel. The apartment is a loft located in the heart of New York city and used to be a button factory. It is the home of husband and wife design team Garry Jensen and Elena Bertinetto (pictured) of DeeplyMadlyLiving fame.
I love this home even though it doesn't qualify into any of my "beautiful home" preconcieved brackets. Come to think of it, it's something so new and different that I have to now make up a new category just for it – it is an eclectic blend of flea market finds and the uber modern, antique and vintage pieces mixed with new design and material, a home like no other! Elena, to whom Garry credits the interior work to, has her own unique style of mixing elements. Well, have a look, and you will know what I mean.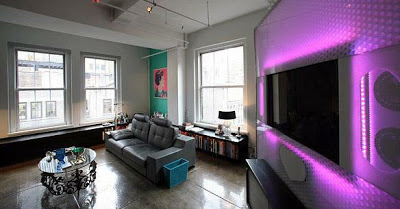 This cosy living room has a revolving wall that changes color and it serves a purpose too. It houses their home theatre system. The furnishings are modern pieces such as the seater with an attached mini bar, and older looking pieces that blend in like the wrought iron table in front of it.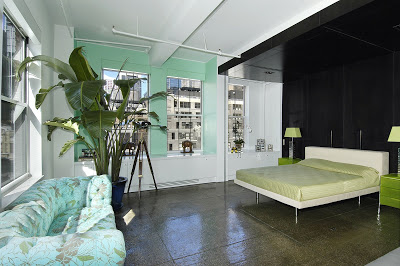 This is the master bedroom. It has a banana tree (yes, the real thing) in the corner, with several flea market finds such as elephants and buddhas placed on the window sill. Definitely unique!
This is a close-up of one of the side tables in the master bedroom. Incidentally, they also have a similar colored bathroom sink. Oh, I'll just include the picture here, so you can have a look too 🙂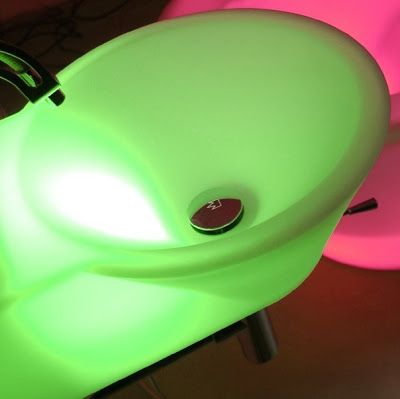 The sink is incidentally a DeeplyMadlyLiving product.
This pool table was actually found discarded and lying outside a Canary Islands hotel. Garry rescued it, and gave it a new lease of life with some graffiti art. No prizes for guessing why the legs were painted canary yellow!
The chairs are actually Chesterfields from a London flea market. To give them a modern look, Elena had them reupholstered in purple, and they transformed just beautifully!
The kitchen is functional, done up in black and chrome and has some really classy accent pieces on display. Have a Look closely at the dining table in the picture below. It is not just another marble table, but a mosaic church altar top, a $500 find by Garry at an Italian flea market.
The chandelier over the dining table is another expensive flea market find, and Coco Chanel's home supposedly had two others exactly like it. Well, reason enough to buy it, if you ask me!
The house also has a genuine Picasso and graffiti on the fire escape (done by a Harlem artist). A decor that endorses the unusually bold use of color, a chrome, steel and ultra modern finish interspersed with quaint antiques, and pieces that have been rescued and given a new lease of life, well, you would be crazy not to include it in the list of the world's most stylish homes!