Sheila and Krishna Baru's home is warm and lovely with its rich brown tones and beautiful upholstery, antique furniture that transports you back in time, and cream-hued walls that give you the feeling that you have stepped into a colonial home.
The couple owns Bangalore-based Maram, a furniture store. I am delighted to show you their home! As you view these pics, I have included little snippets of the conversation I had with Sheila!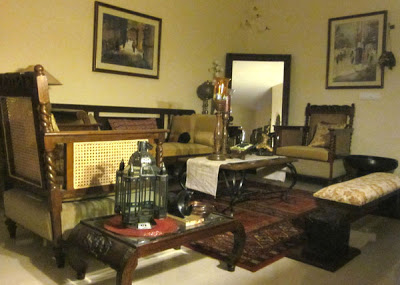 Sharon: Who is in charge of sourcing your decor pieces, you or Krishna (both at home and in your store)?
Sheila: The home is me and mostly my inputs, and we both buy and take care of the store jointly.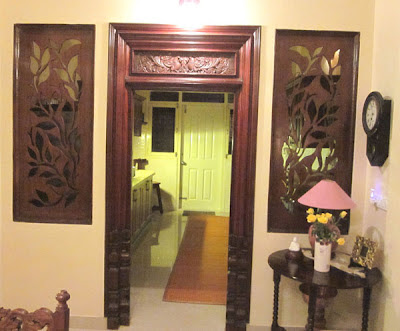 Sharon: How was Maram (the idea) born?
Sheila: I wanted it to be an eco friendly shop. Our motto is not to cut down another tree. So we use recycled wood as far as possible. I had lived abroad all my life and found that Bangalore was trying too hard to copy the West; I wanted to people to love their heritage and travel back into the past to decorate their homes.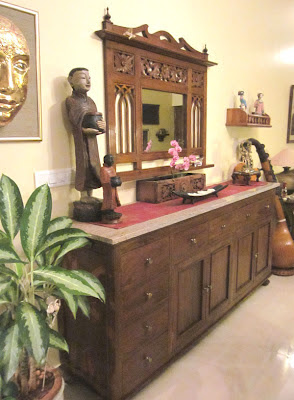 Sharon: What came first, your home (done up the way it is now) or Maram?
Sheila: I was not married when I started Maram. When the shop was 6 years old I met Krishna, and he decided to join me. So the shop came first.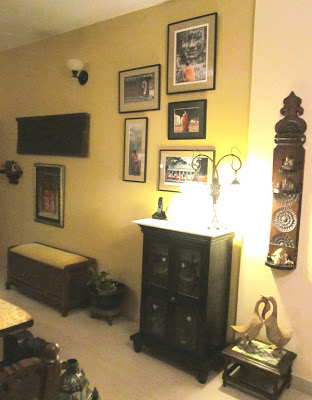 "The designs are south Indian and the wood
is never melamined….there is nothing
like sleeping in a real wood bed
– you feel so special!" – Sheila Bari on her store Maram

Maram means wood in Tamil. The Kannada and Malayalam word for wood is Mara. The shop is 18 years old. Says Sheila, "The shop brings the glimmer of real wood into your life. there is no plywood and no MDF… only real hard wood."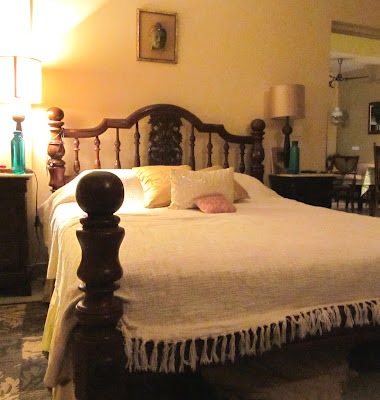 "There is nothing like sleeping in a real
wood bed you feel so special." – Sheila
I second that Sheila. Thanks for sharing pics of your home with us! It was lovely, and especially what you said about reclaimed/ recycled wood has endeared you to all our readers, I am sure!
More info:
Maram website: www.maram.com