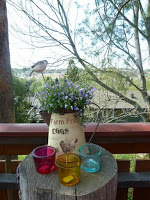 Those of you who got the hint here, and those of you who put Shanthi and Norway together from the title of this post, you are right! We are peeking into "Shanthi Kutir", Shanthi Nagothu's home in Norway today. Yes, the same Shanthi of home Shanthi home fame! 🙂
You know I love a good story and Shanthi's story is as precious as these corners of her home you are about to see. You see, Shanthi landed in Norway 20 years ago with just 20 kilos of baggage, and as you see her lovely collections you can't help but marvel at how she has built this home from those early days. And the story? It's got a touch of romanticism. Let's hear it in the lady's own words.
"I was studying medicine and quit in the 3rd year – YES you heard it right – quit in my 3rd year 🙂 . Followed my husband to Norway just for a 11 month course. Then it went onto another year and another year and now it is just about 20 years 🙂 .
He was in IFS, but was never a bureaucrat at heart – he liked research and he followed his dream. It was a critical decision to quit that job in India – but we liked the freedom, the calmness, the childhood that kids could get here and so it was easy to decide. With a short course here and a course there I started to look for jobs. For my first job in IT I told the employer – if he paid my train fare and money to cover the kindergarten expenses of my son I can join the job…. and the rest is History 🙂 . I am thankful to him for giving me that break.
I was one of the first ones in Norway who started talking about outsourcing to India. I now manage IT projects locally as well as those outsourced. I'm the first Indian in the board of Norway India chamber of commerce and a board member in the International women's group in my county."
Isn't that laudable? And it's not all business for this talented lady. She loves her Sunday walks, she can eat tons and tons of chocolate, and travels at least twice a year to India, and other places around the world….and of course she loves beauty in all forms, as is evident in her blog posts. Here we go!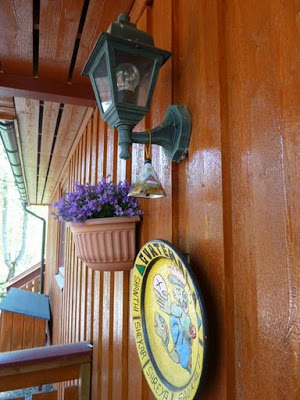 Entrance area where a plate from Guatemala
with everyone's names hangs.
Says Shanthi, "The above pic is of a porch kind of area that we enter through to the house. We climb 3 steps and land in this open balcony and enter the house"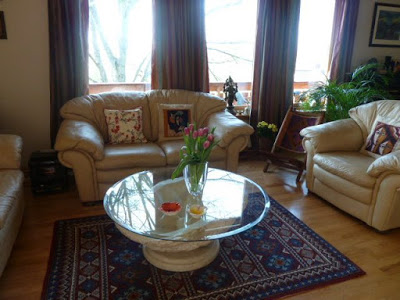 This is a hand made rug from Kashmir that she found
in a flea market in 2000 during a trip to Goa.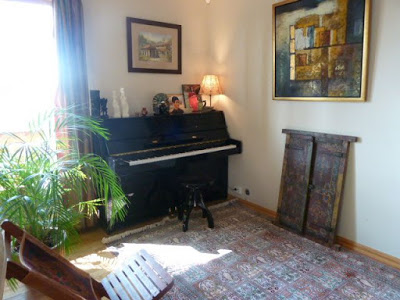 This painting on the wall is by a painter in Mumbai, and it depicts a Portuguese-influenced Goan house. The oil on the left was bought in a flea market. Shanthi frequents a farm house during her walks, and the door on the floor was sourced from there.
Says Shanthi, "Now that is my next big project to get that window onto a wall, but I think it looks cool there too 🙂 ." I agree!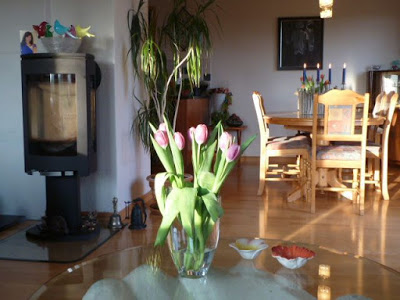 A modern fireplace stands on the left.
This is one of my favorites from this house tour.
That vase was a flea market find.
Who wouldn't want to relax in this bathroom after a long, hard day?
Shanthi's beautiful kitchen. Click here to see more kitchen pics of this home.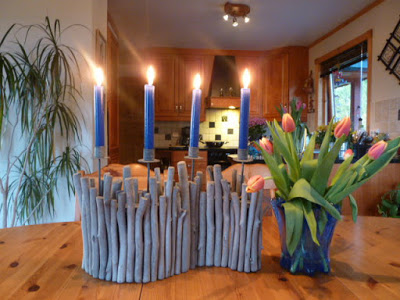 A beautiful spring arrangement with flowers and plasma candles.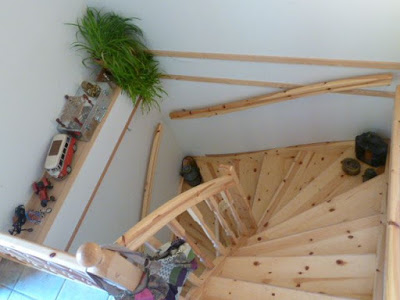 A stairway to heaven? I love the little brass pots en route and the collectibles on the ledge!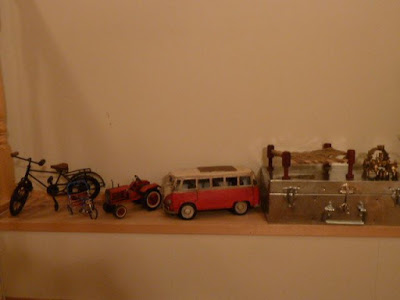 A close-up of the ledge.
A close up of an Indian trunk, cot and bullock cart
Now weren't those such a treat? Here are some last words from Shanthi – "It is not easy when you start your journey and move to a land with just 20 kilos in your hand. In about 20 years I am glad I made it a home that I love. I tag along lots of luggage on every tour 🙂 . Can't help it though – the world has so many beautiful things to offer 🙂