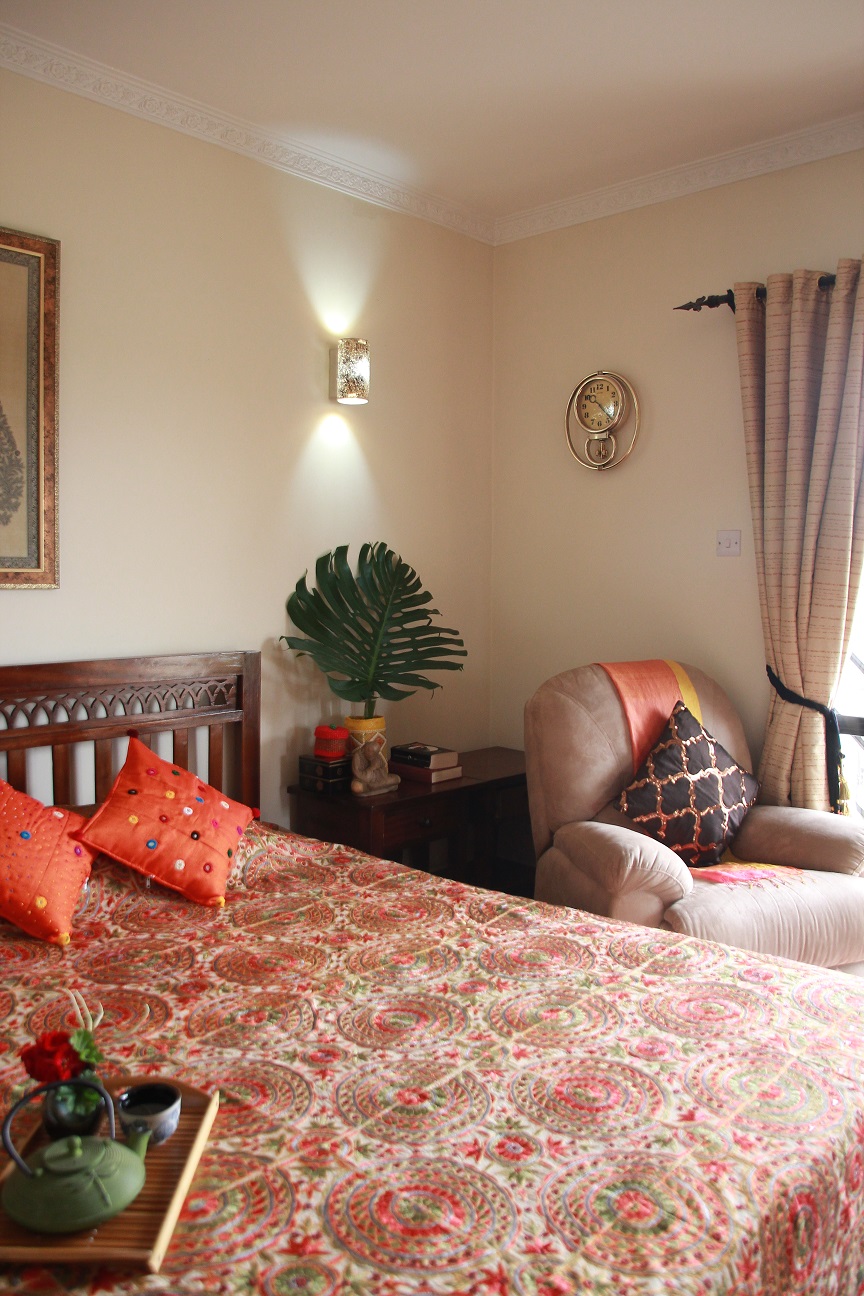 I made Hemal's acquaintance on Instagram where I have been awed by her effortless home accents and style! Hemal is based in Nairobi, Kenya, and she says that this year she has a subtle lotus theme emerging in her home's decor!
Hemal shares her home with her husband Atul and their two boys aged 12 and 8. They are originally from New Delhi and have been living the expat life in Nairobi since a few years now. The home is about 2600 square feet.
The Entryway
Hemal has readied the home with diyas lining the entry way passage. Festive hues of orange and red adorn this part of the house.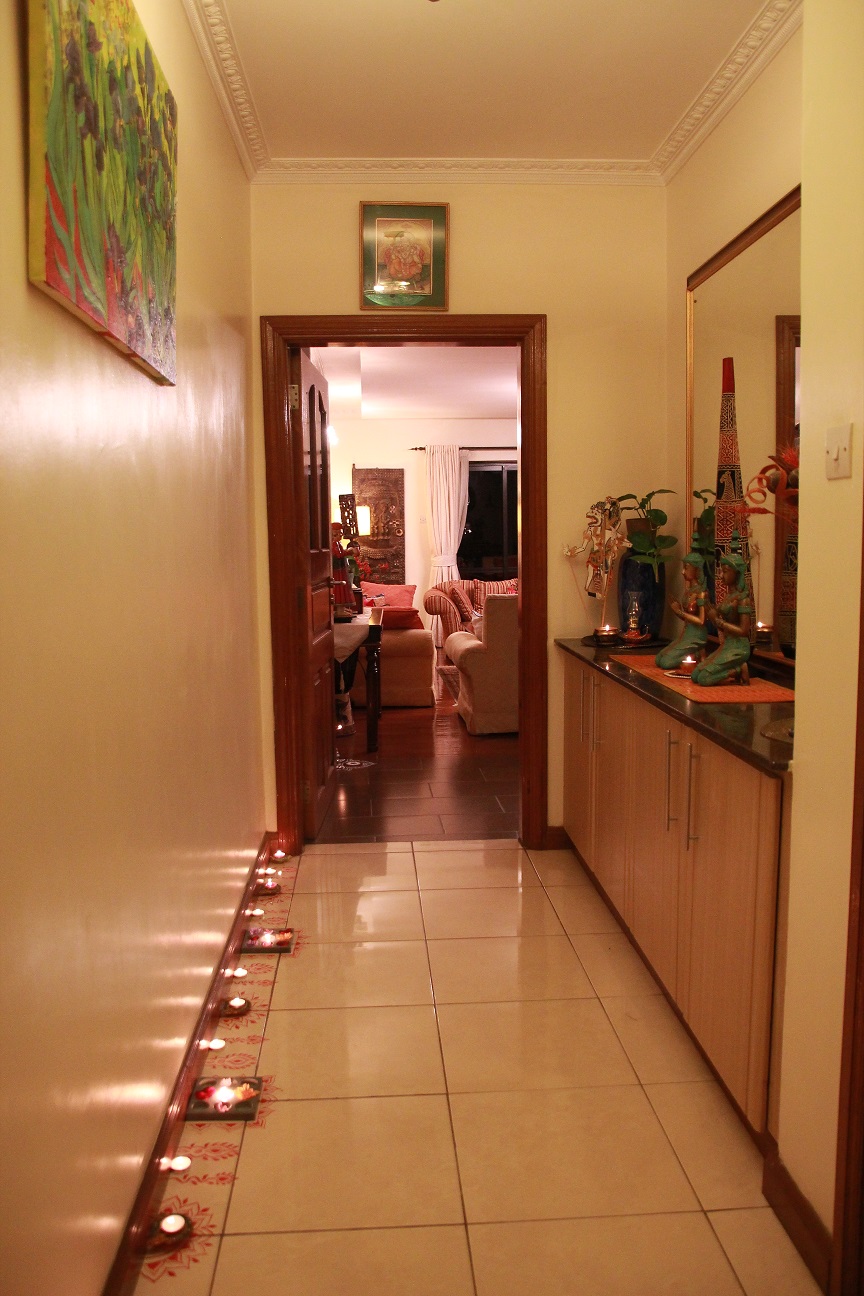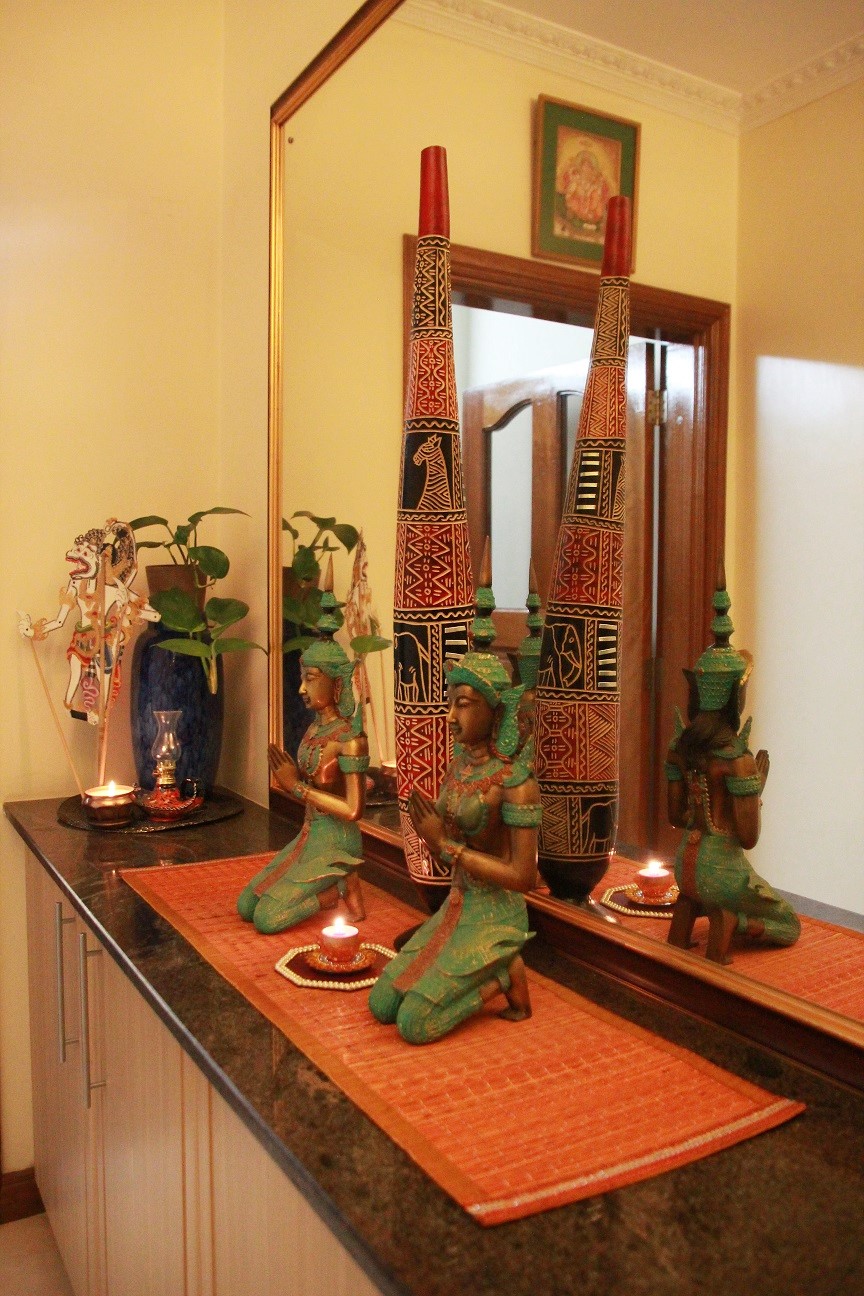 Teppanom statues from Thailand that signify protection are a very apt decor piece for a home's entryway.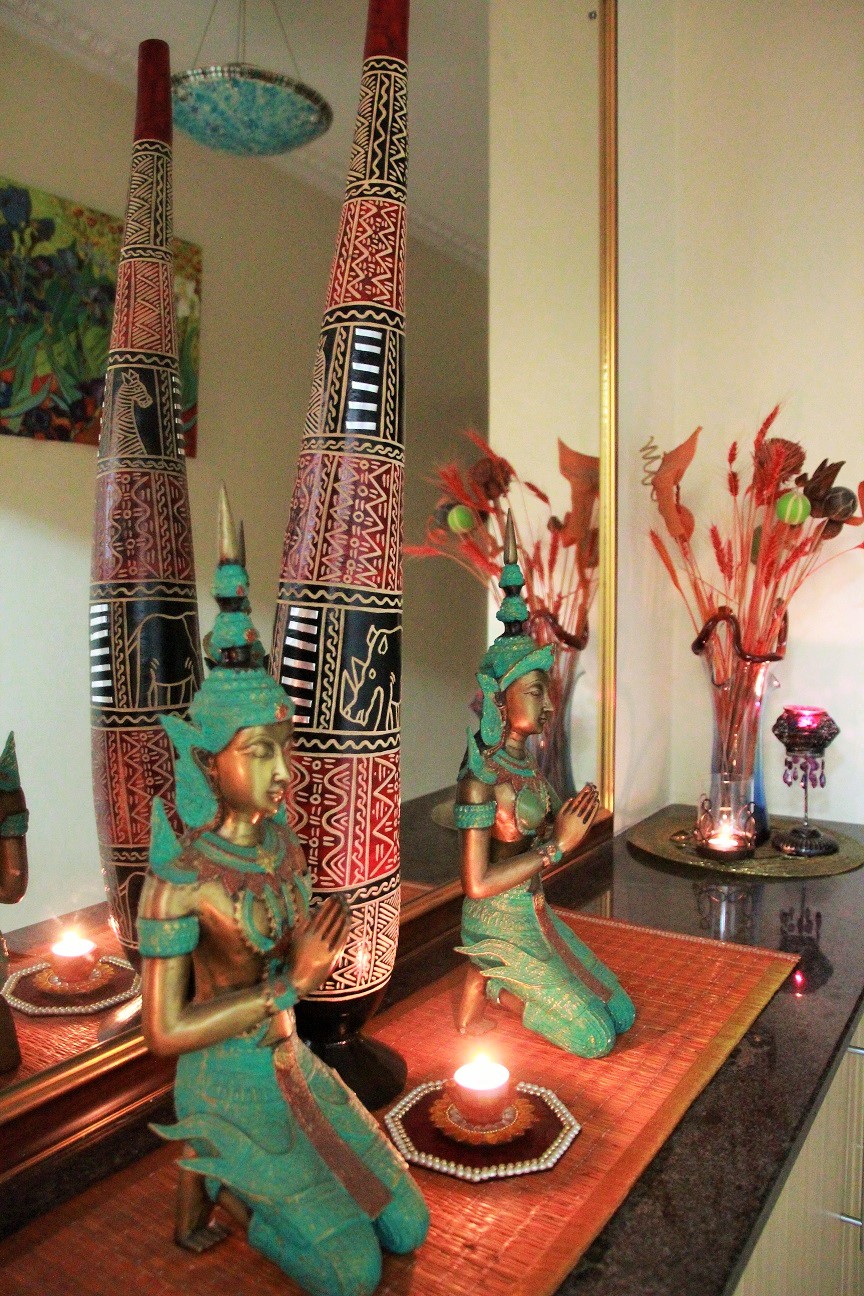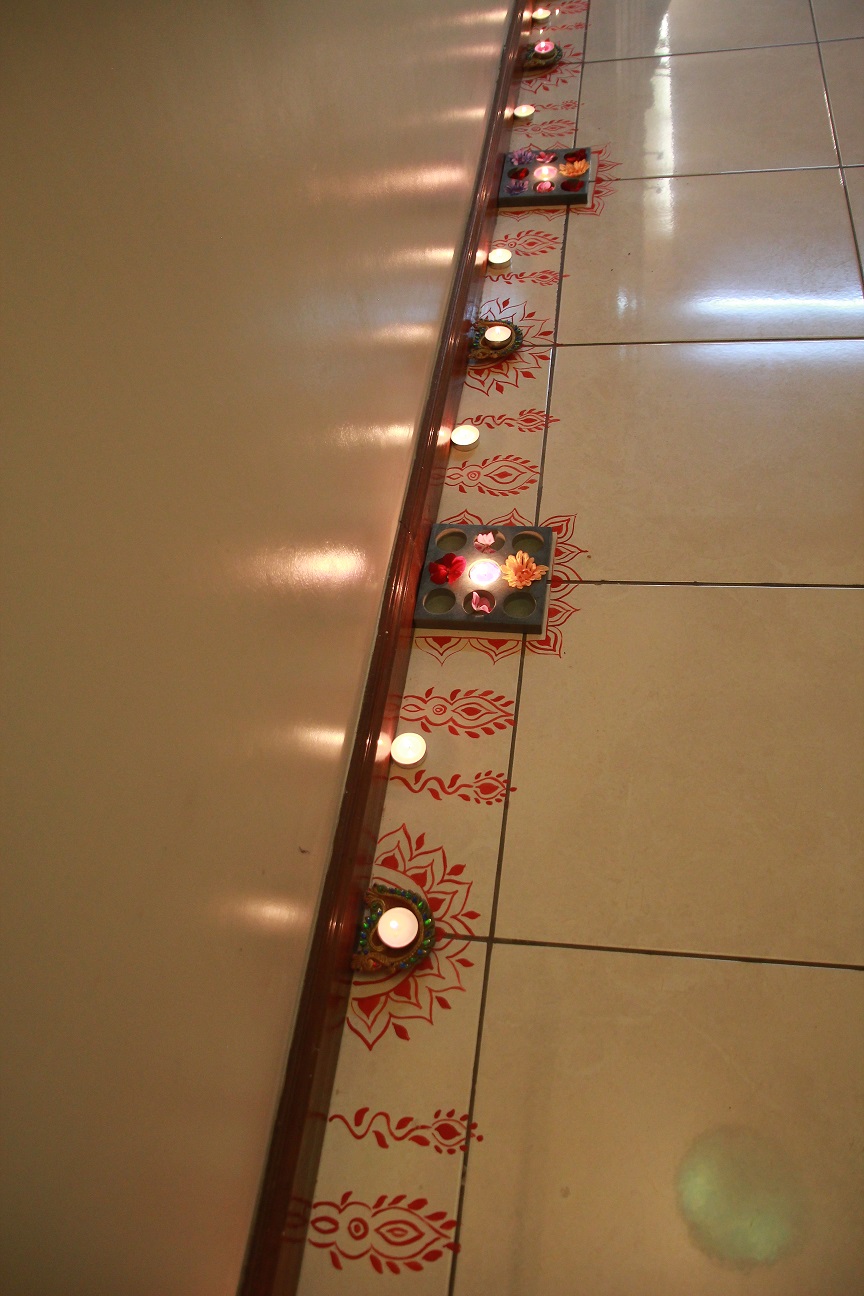 And the diyas line the passage, all the way to the living room!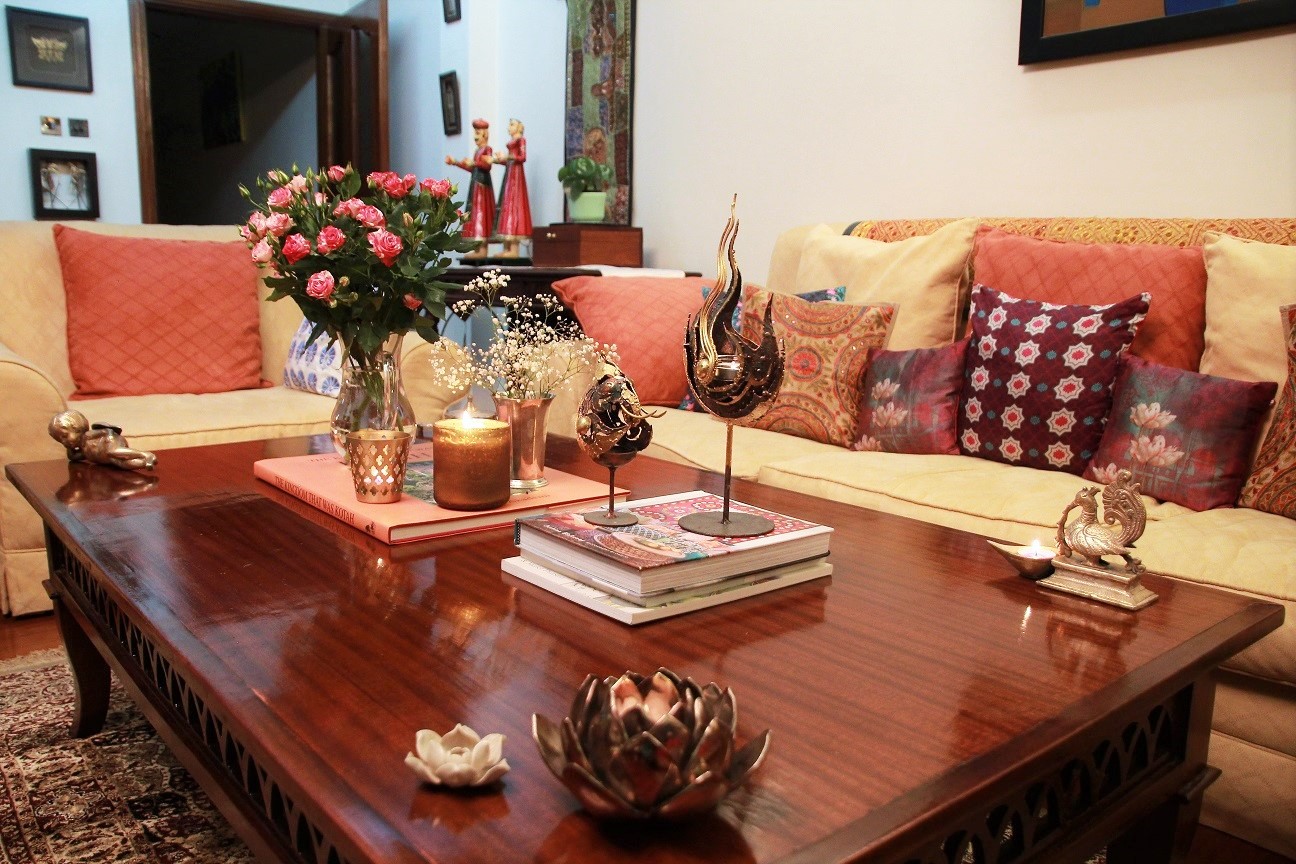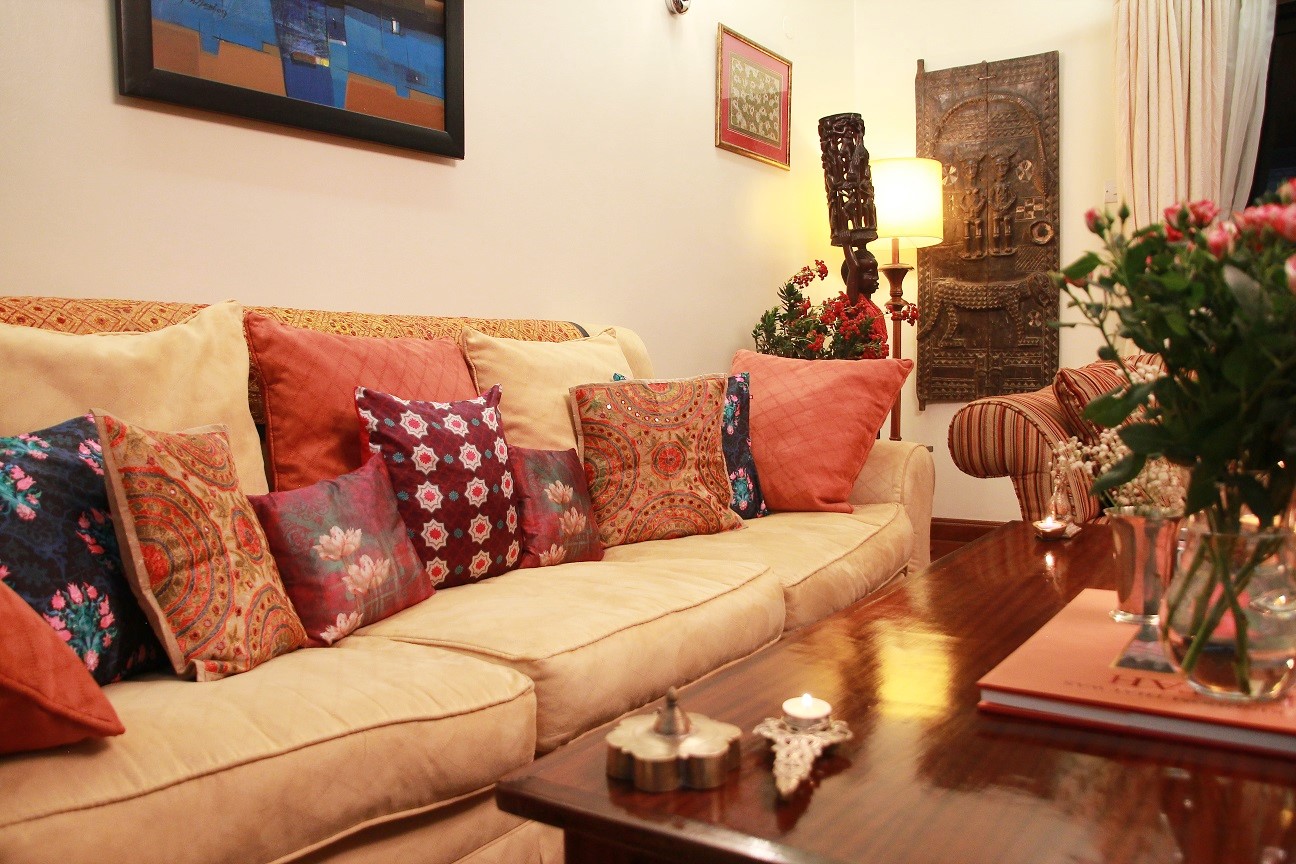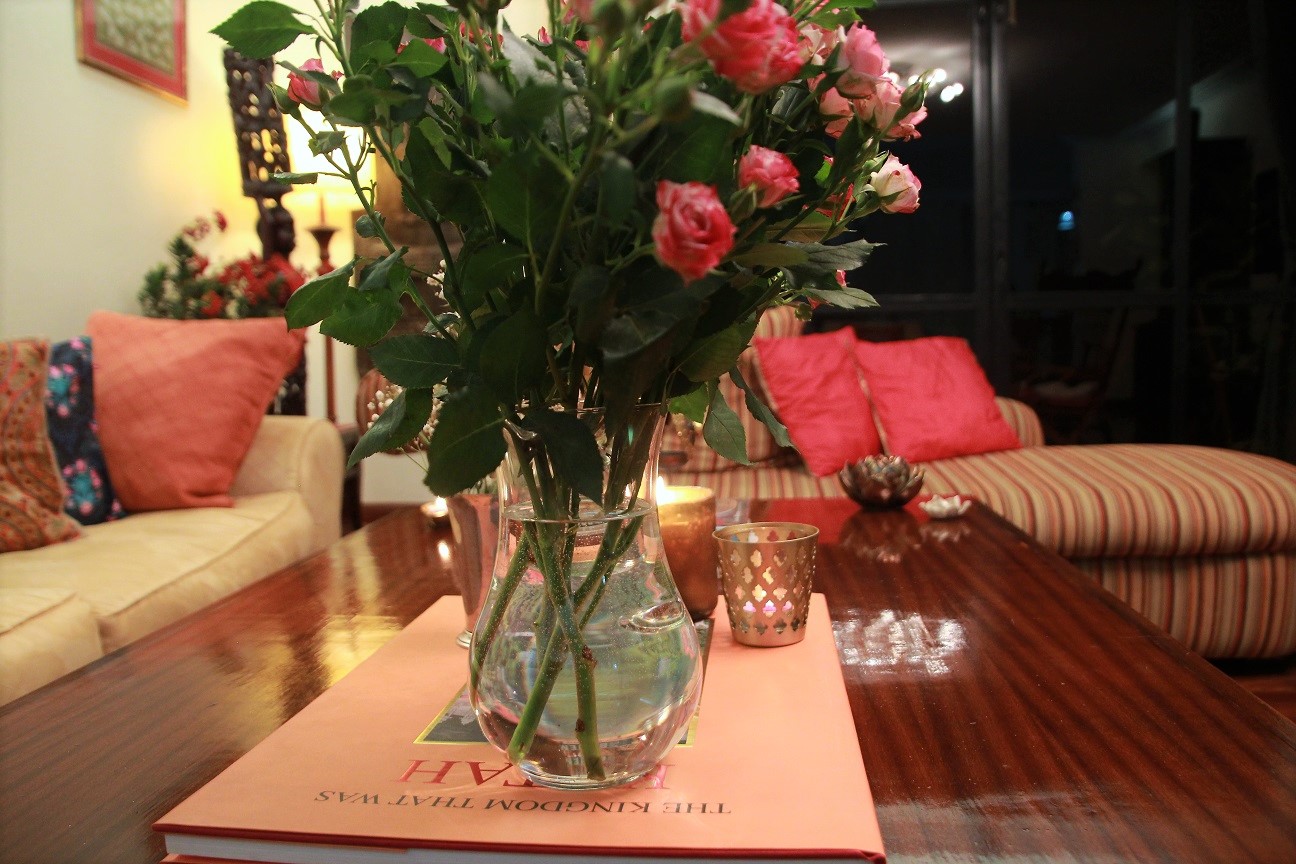 I asked Hemal where she gets her inspiration from, and she said, "I would say I find new inspiration everyday in different things. Nature, Travel, World history, Art, Interacting with people of different Cultures, Traditions, books etc, I am particularly interested in the way people around the Globe decorate their spaces and convey the journey of their lives through their homes."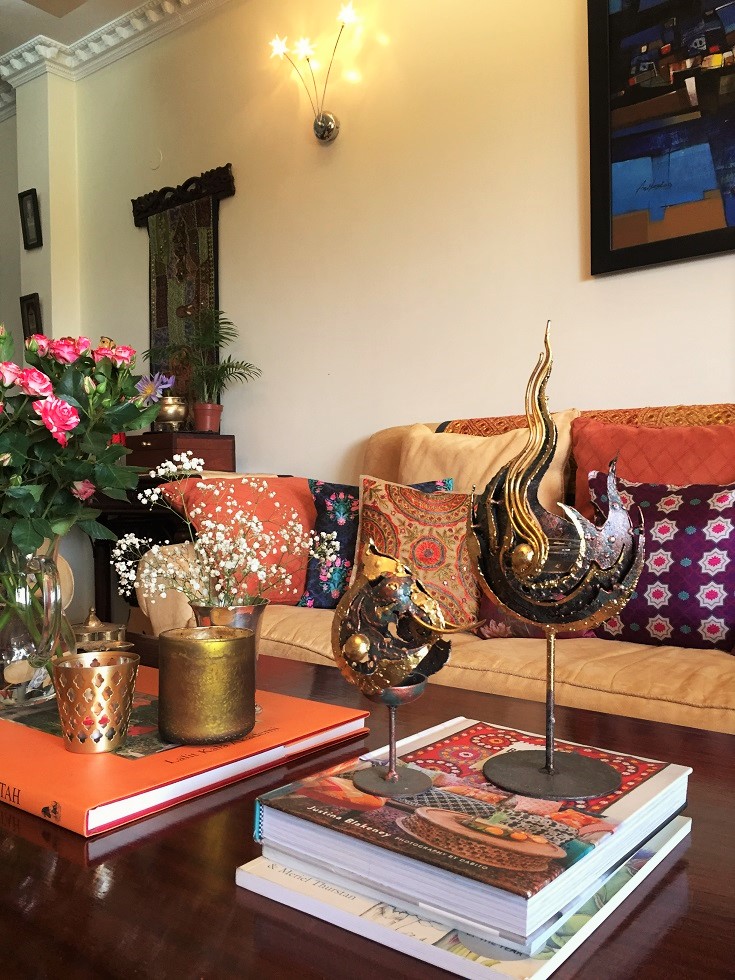 This corner of the living room features a Kenyan carved wooden door from Mali, and a Patachitra lotus painting from Orissa.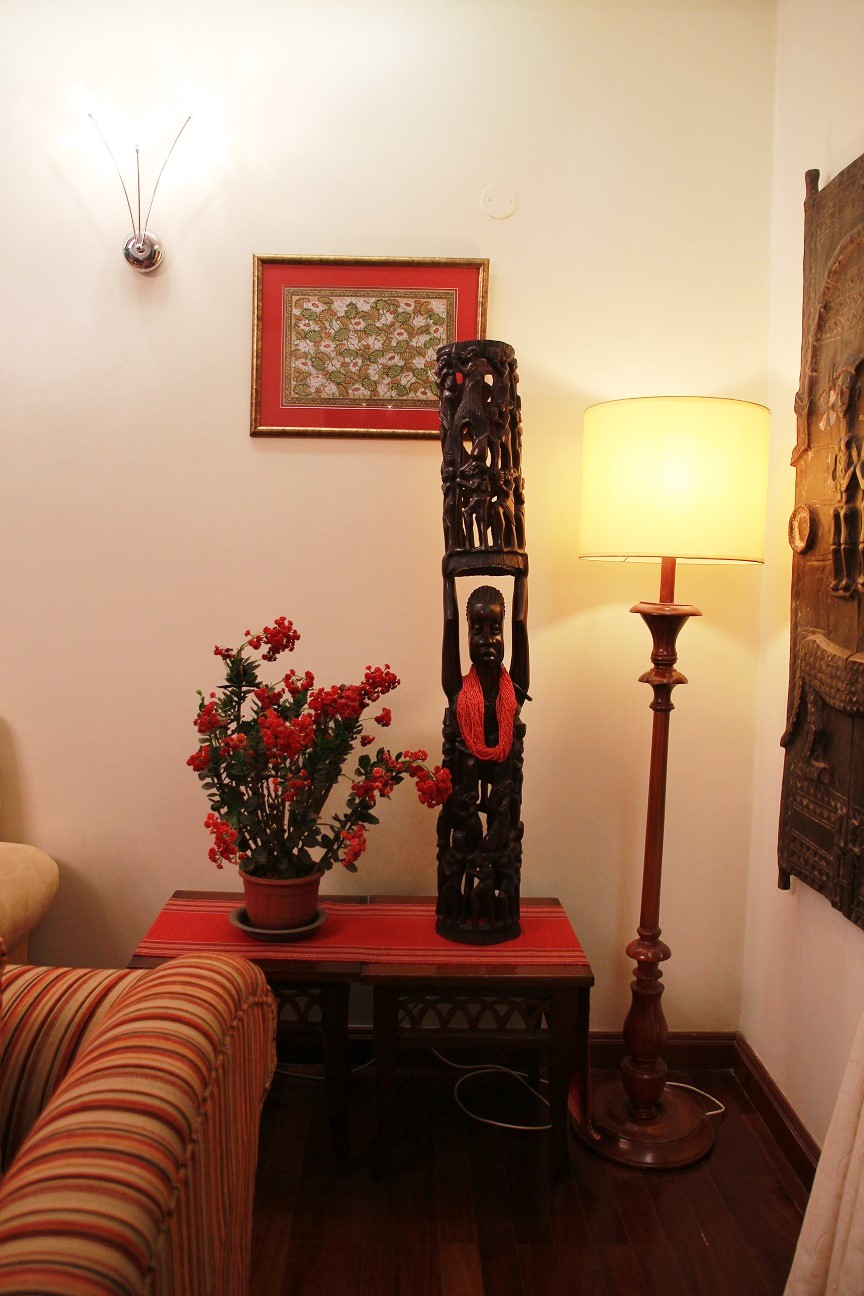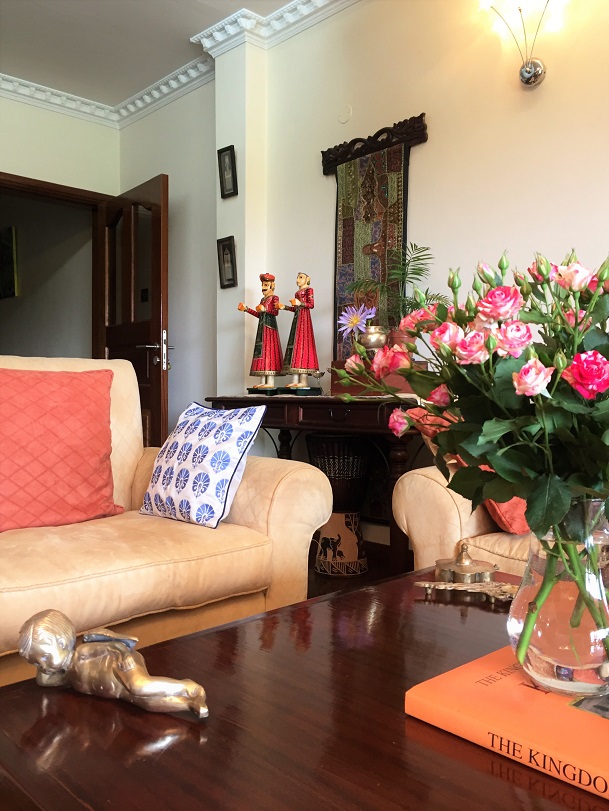 This is a close-up of the Isar Gaur statues from Rajasthan that you spotted in the previous picture.
Mixing and matching festive cushion covers is an art, and Hemal's medley of cushions is fabulous!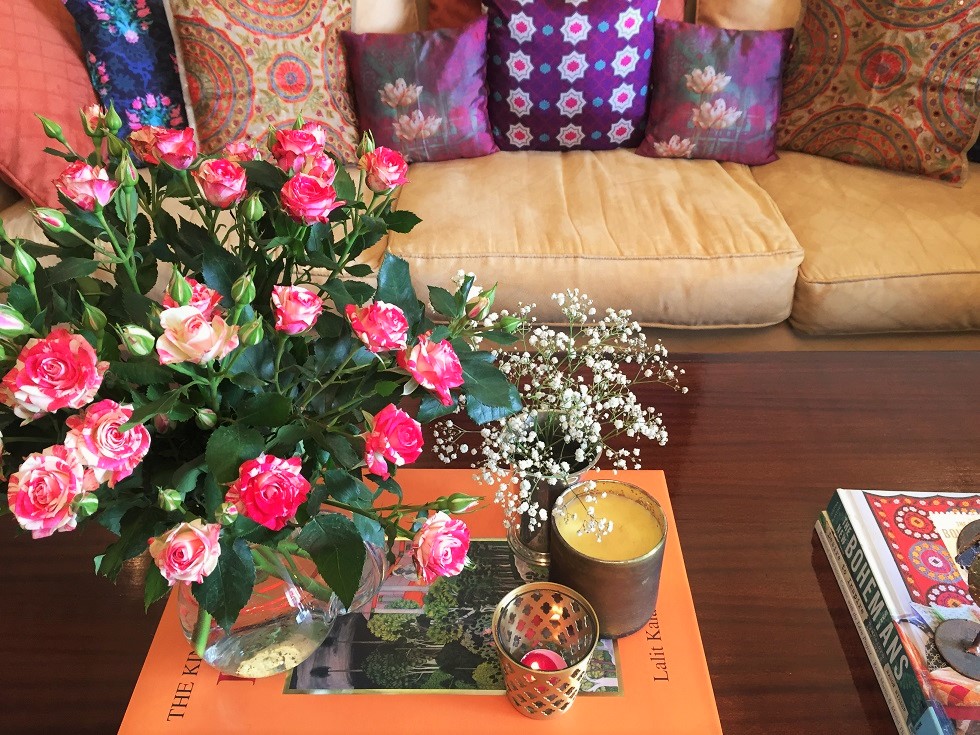 Which brings us to more serious conversation. How does she choose her colours, I ask? And Hemal is happy to tell me. "I usually find myself gravitating towards earthy tones as these create a lot of warmth in a space. The bigger, basic pieces of our furniture are rented with the apartment so the greatest challenge I faced when we moved in was to make the space my own with the existing furniture. We got our decor pieces shipped from India and I bought some African pieces from here and collected some from our travels," she says.
A verdant green view from the balcony and within it, makes it a wonderful place to unwind!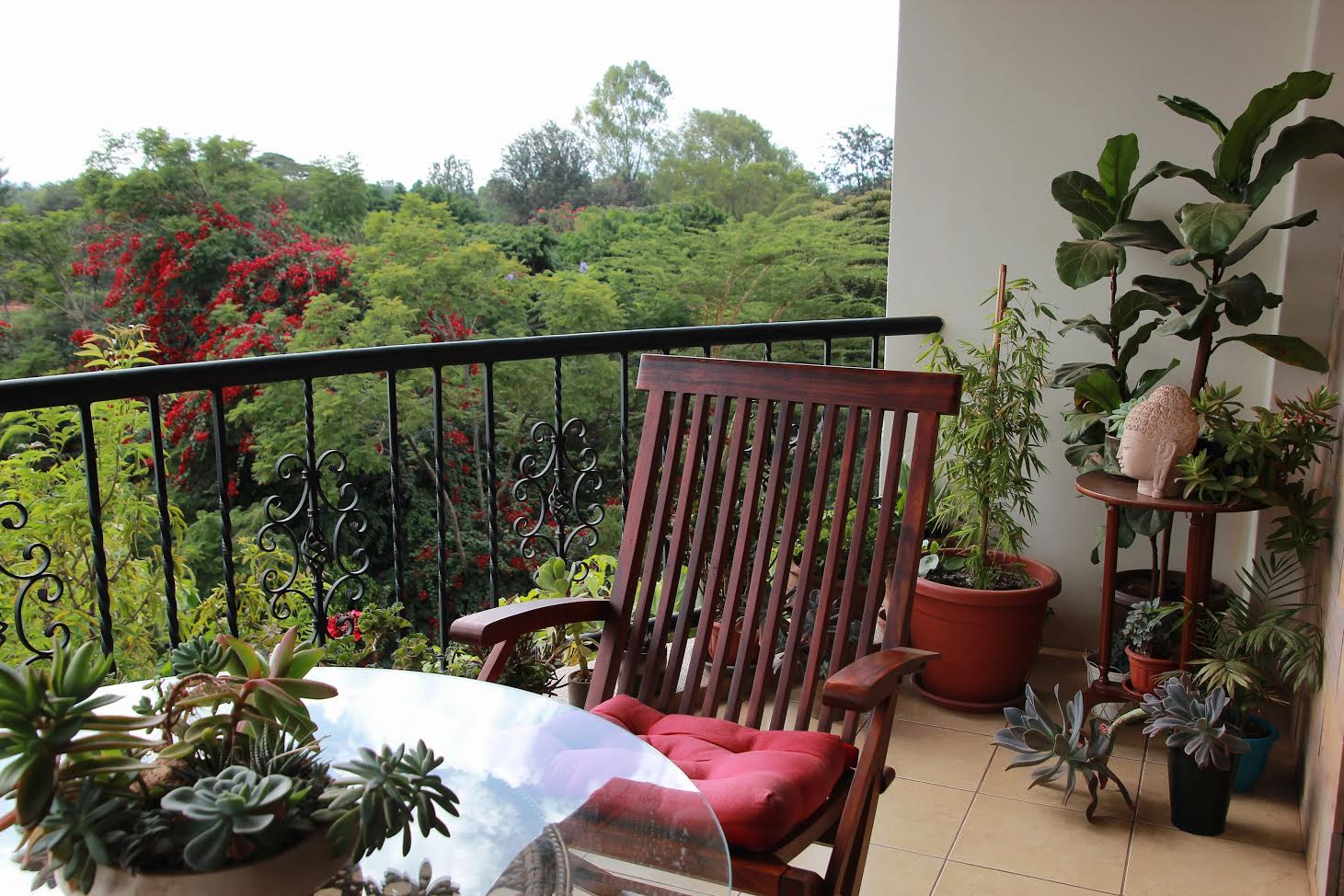 The hint of black in the dining area adds interest to the space.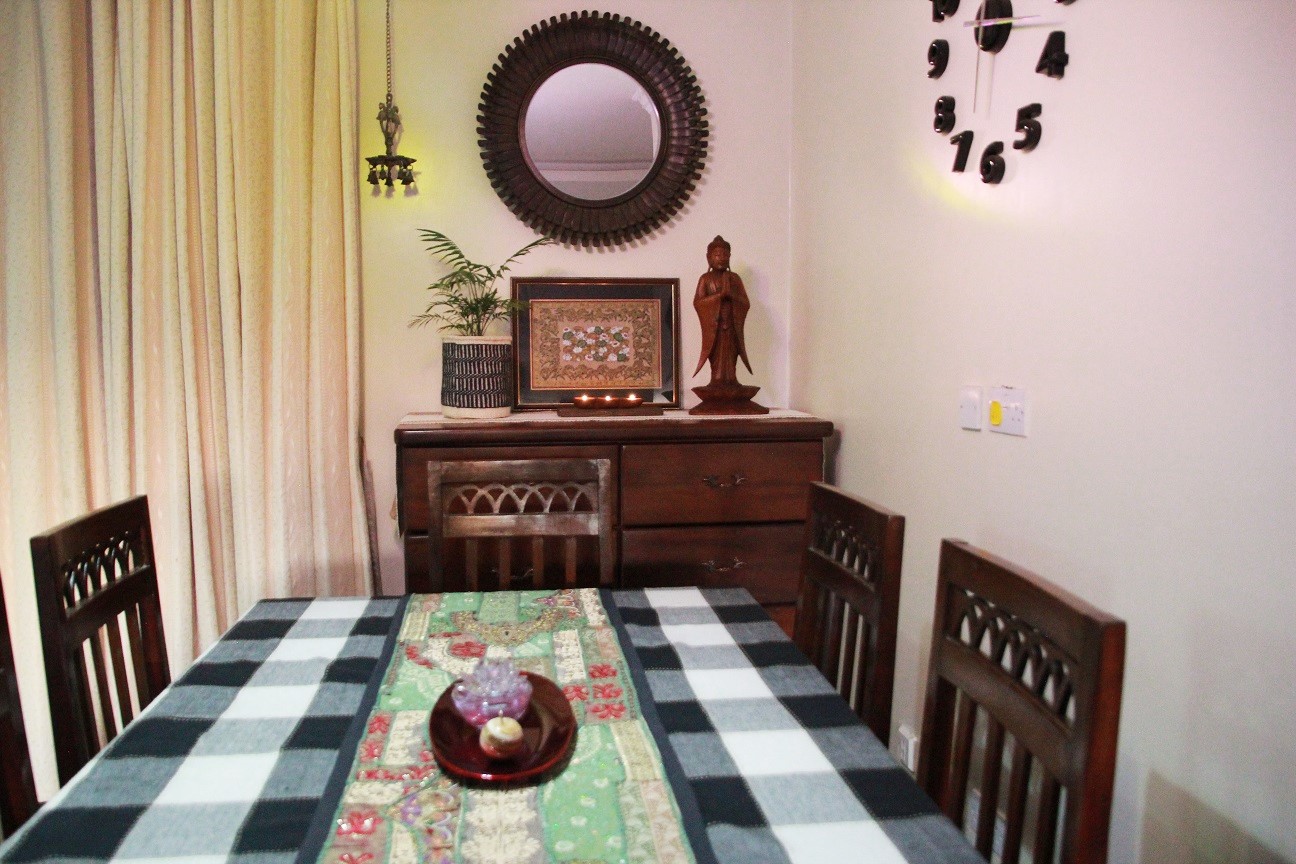 The dining console is zen-themed, ensuring that the good vibes feed your soul too!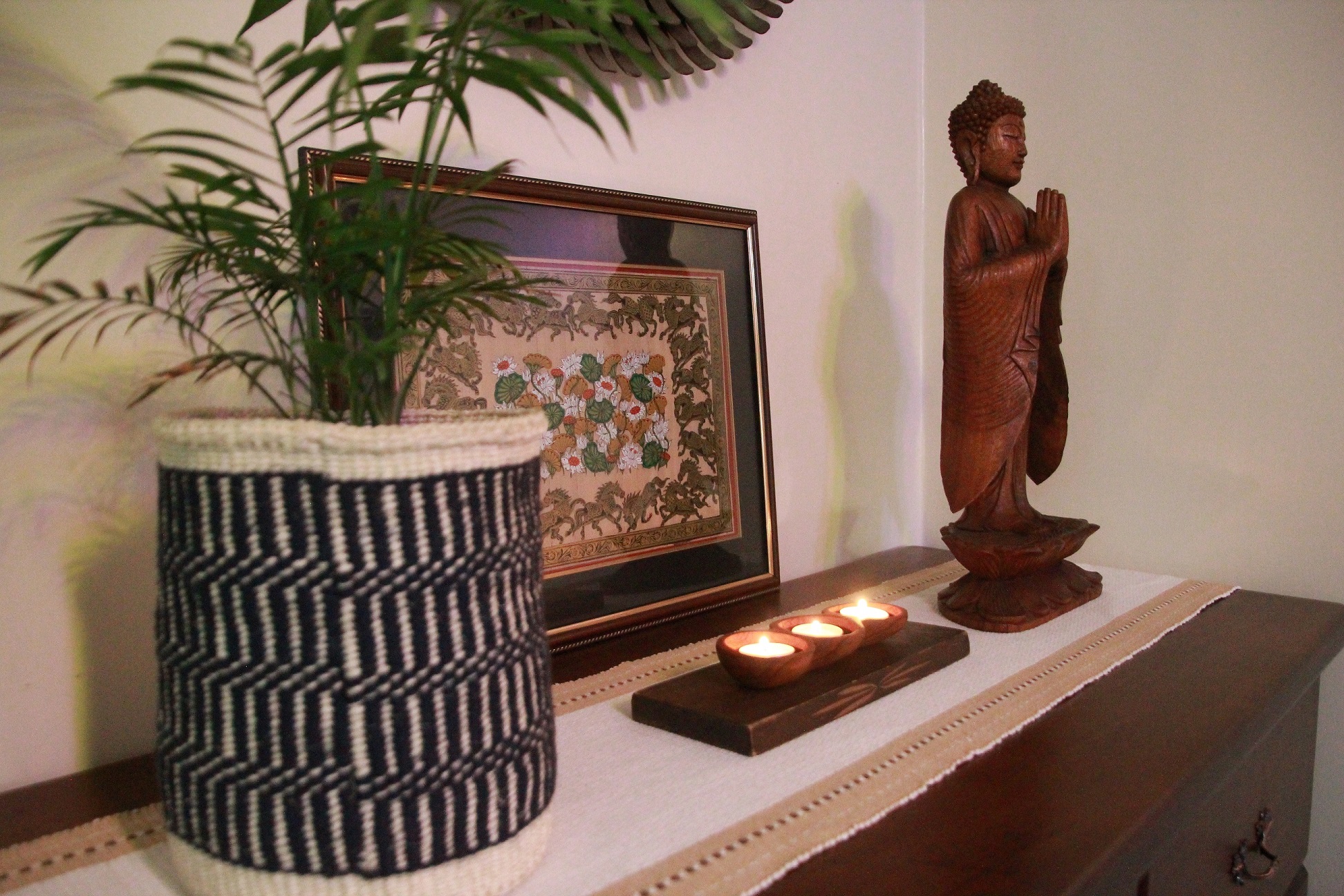 Orange you envying the warmth and colour in this bedroom? I loved it so much, that I included all the bedroom pictures that Hemal sent in.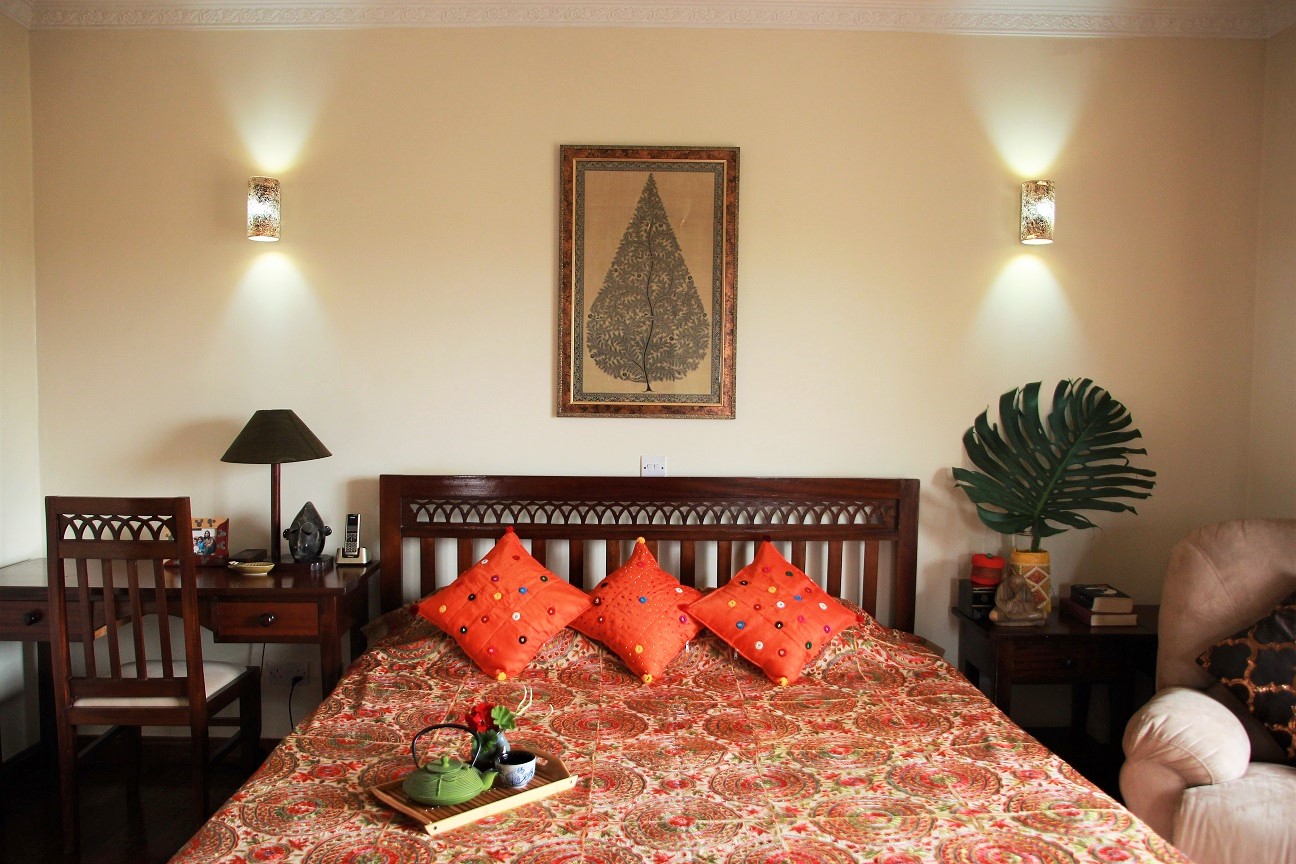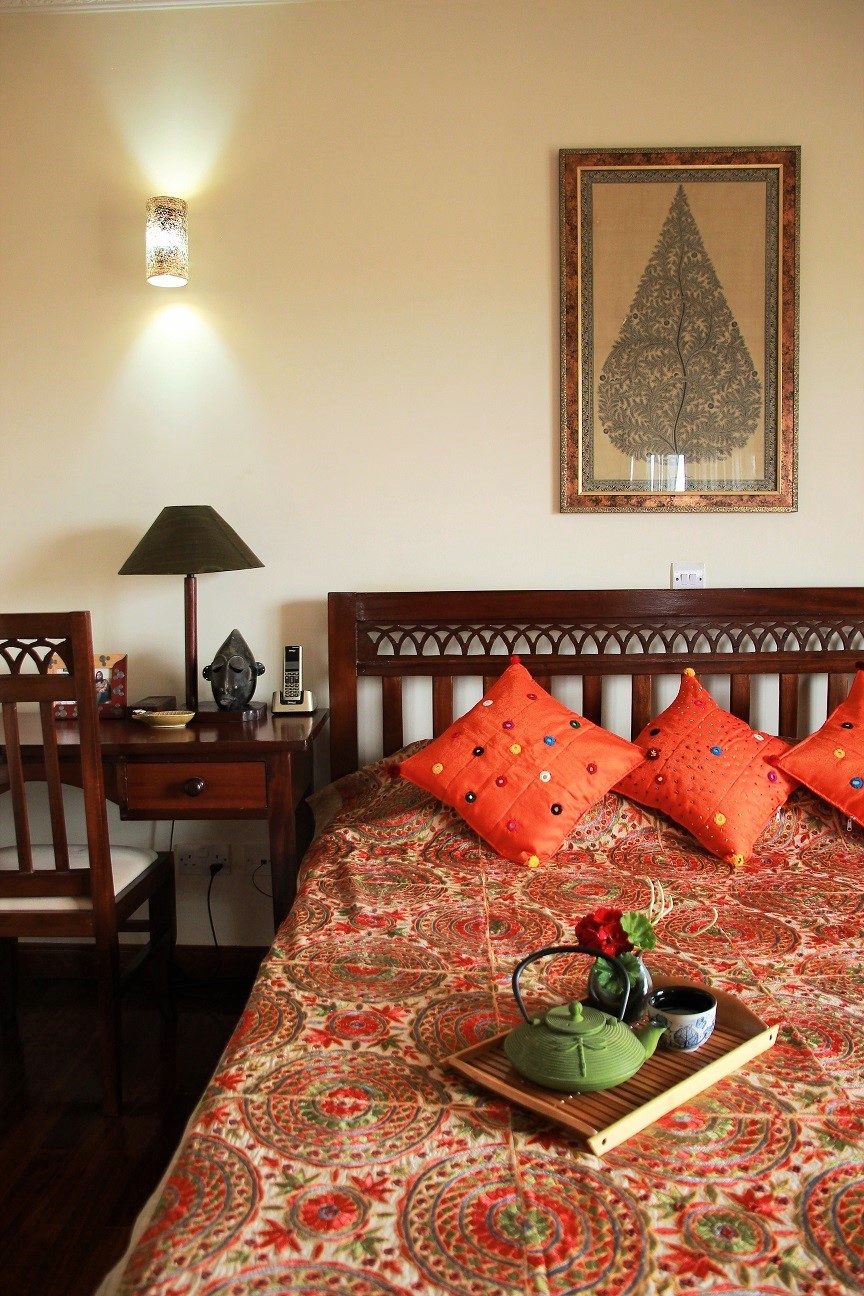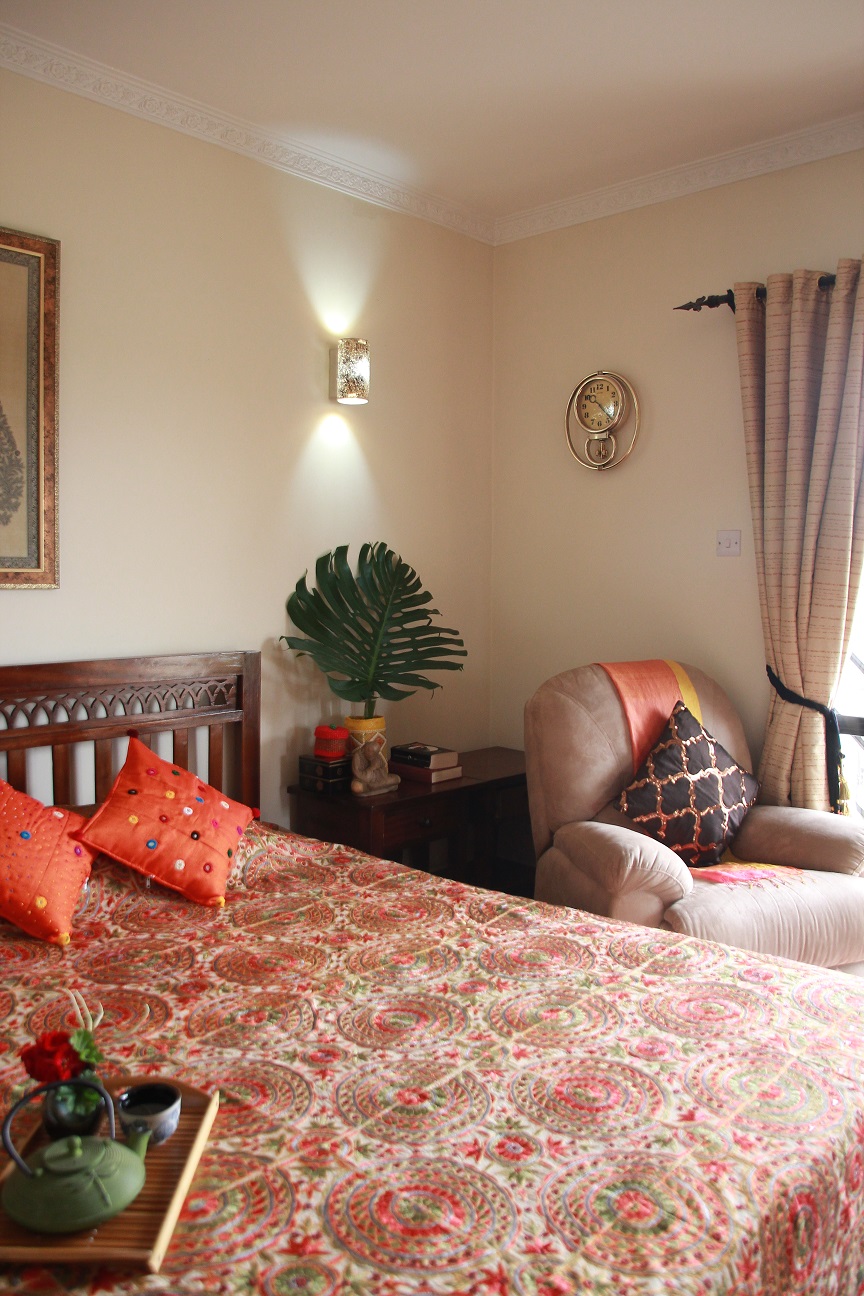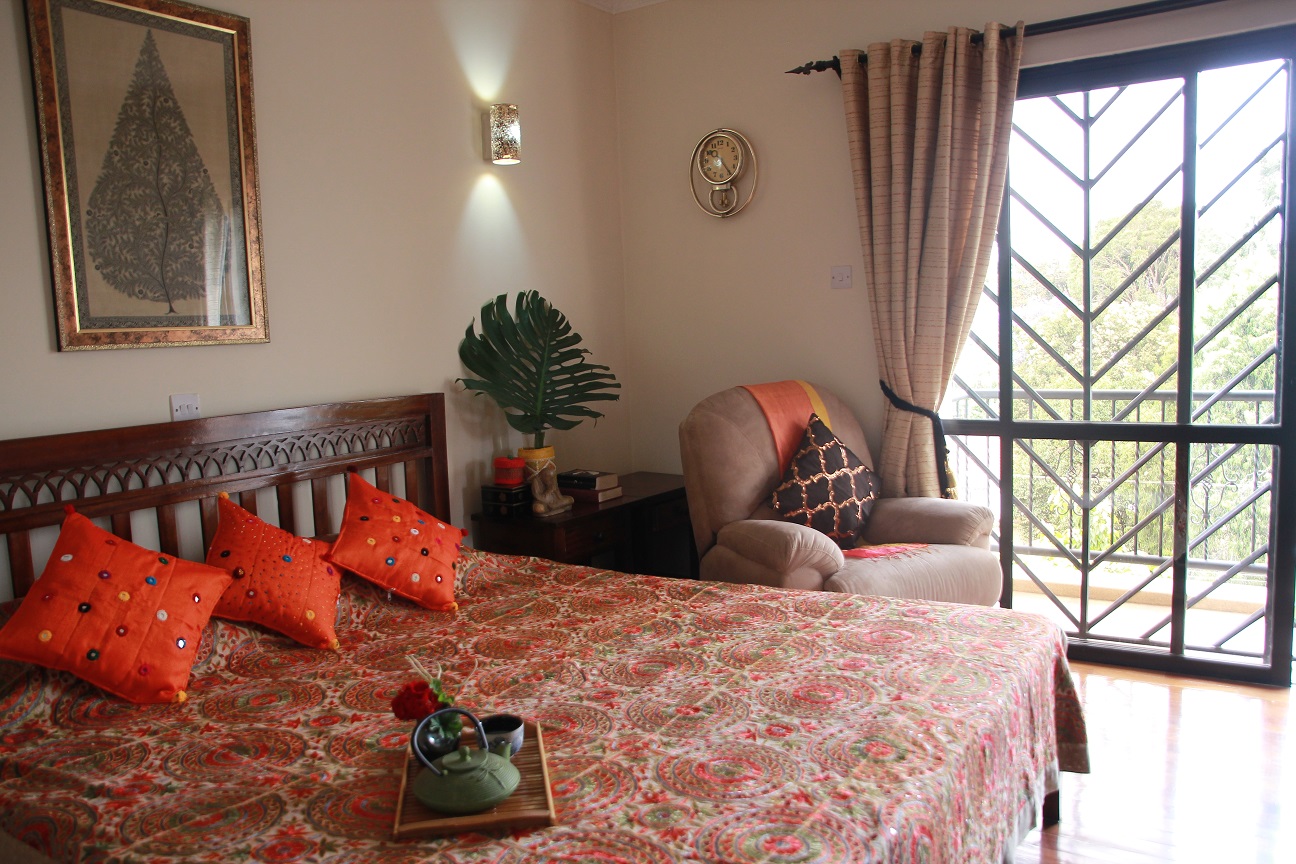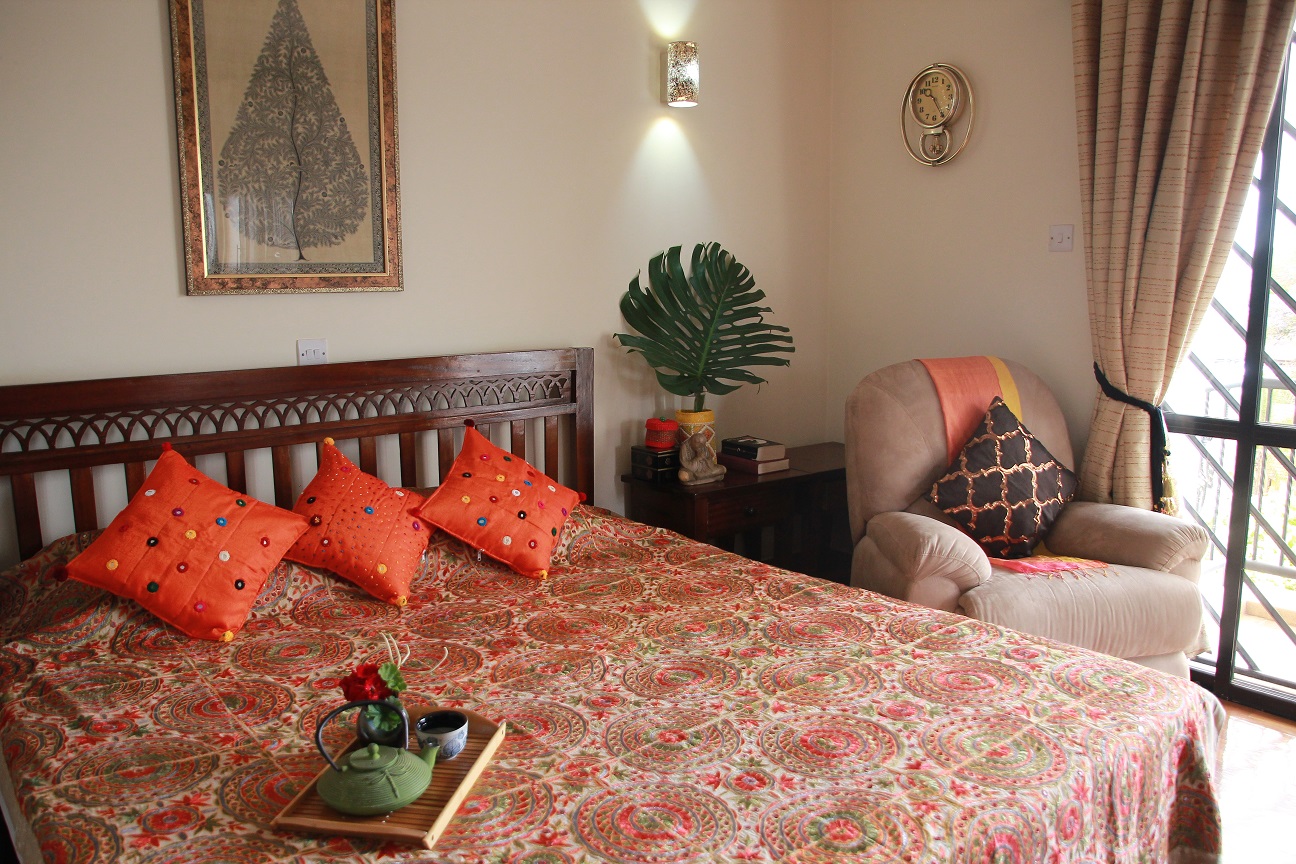 This tiny jungalow element is such a show-stealer in the bedroom!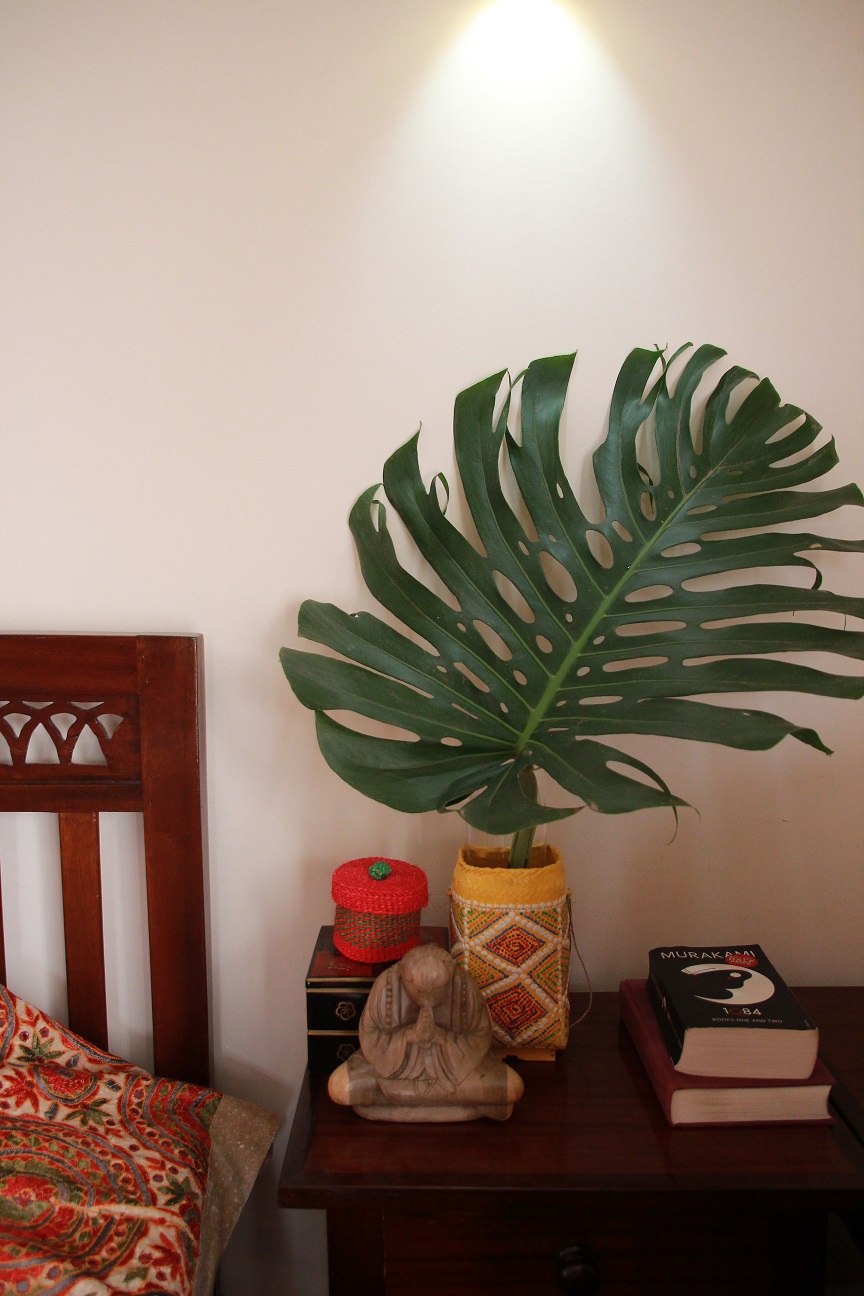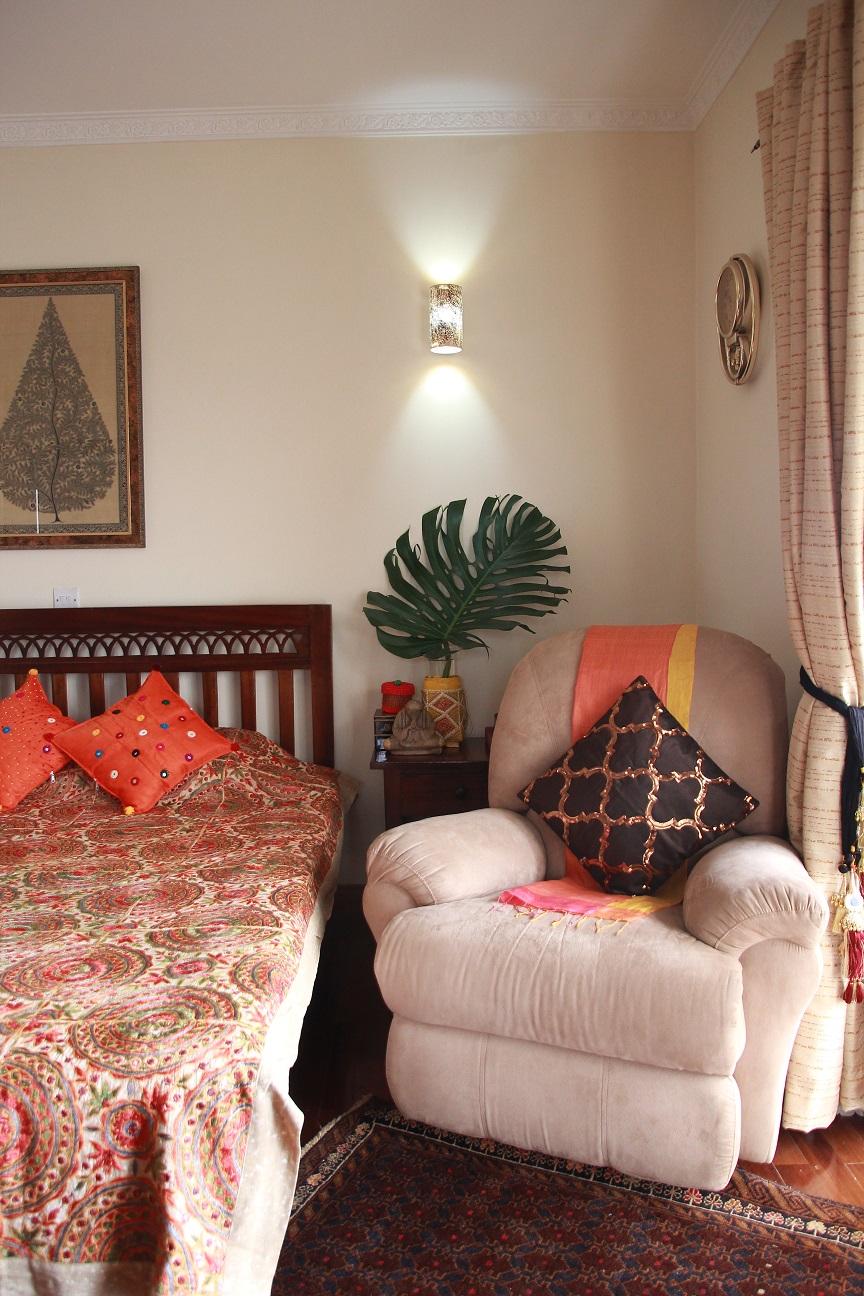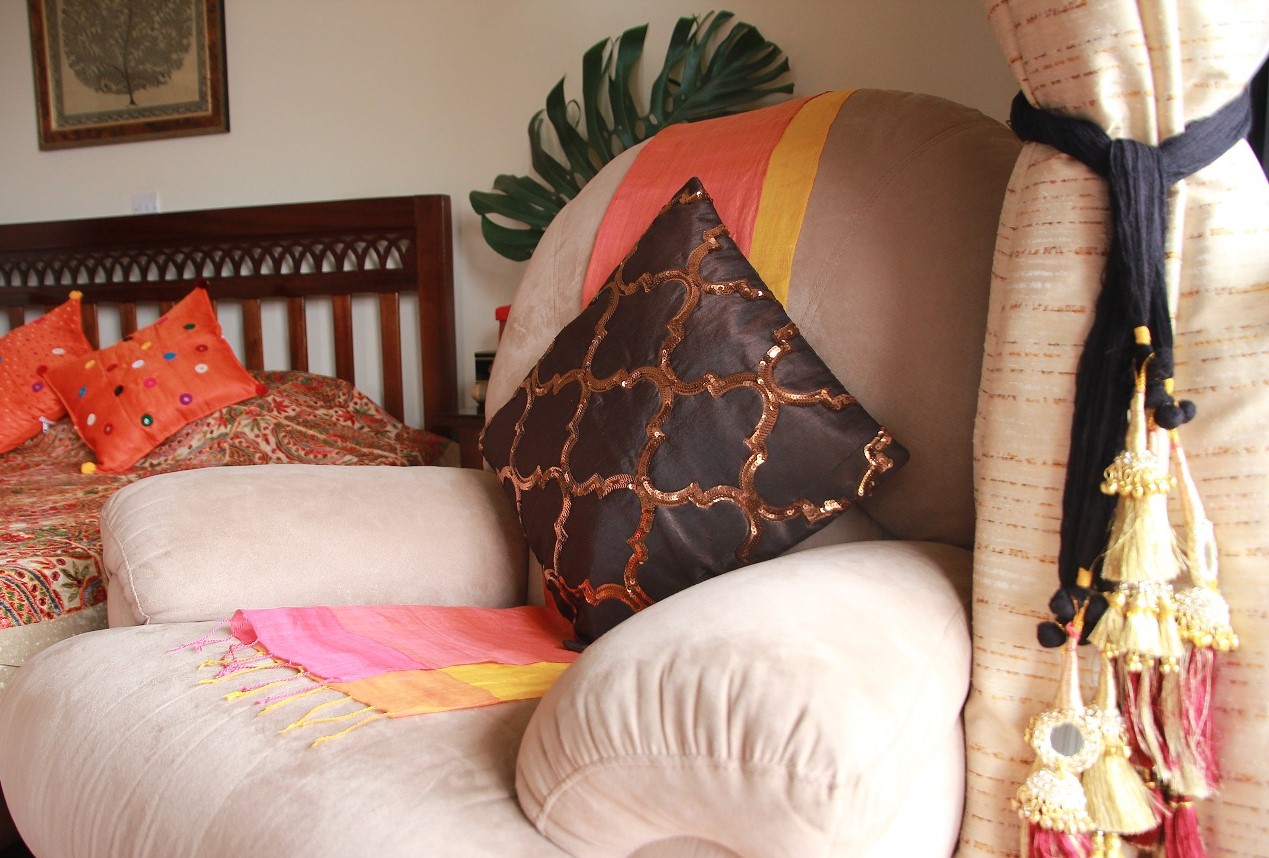 More vignettes from this home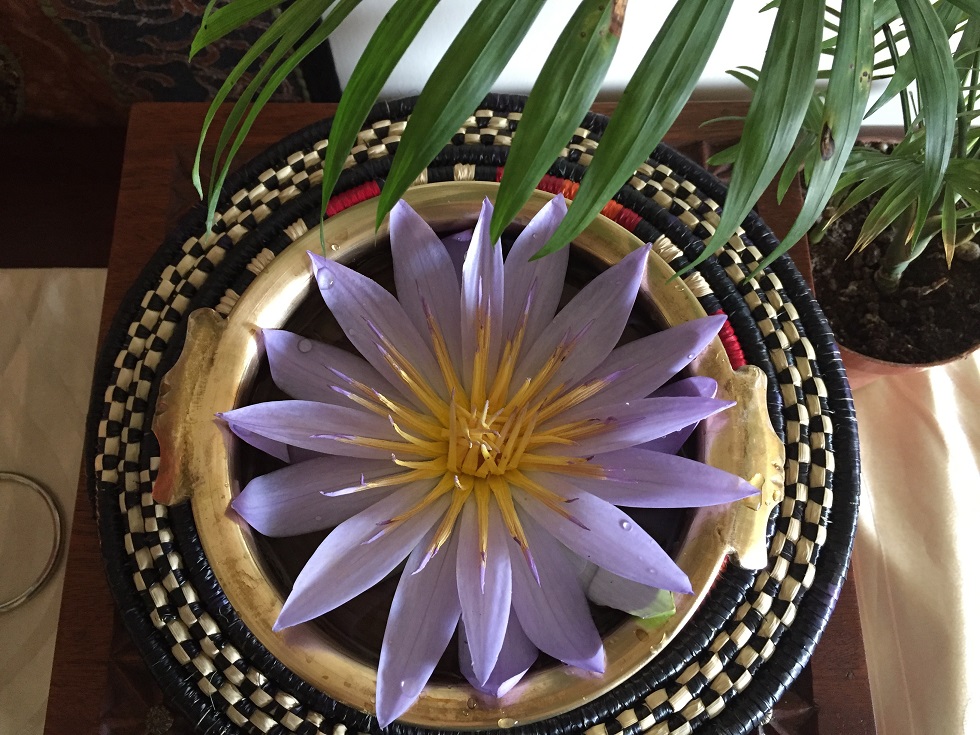 This is a Hanuman shadow puppet from Bali.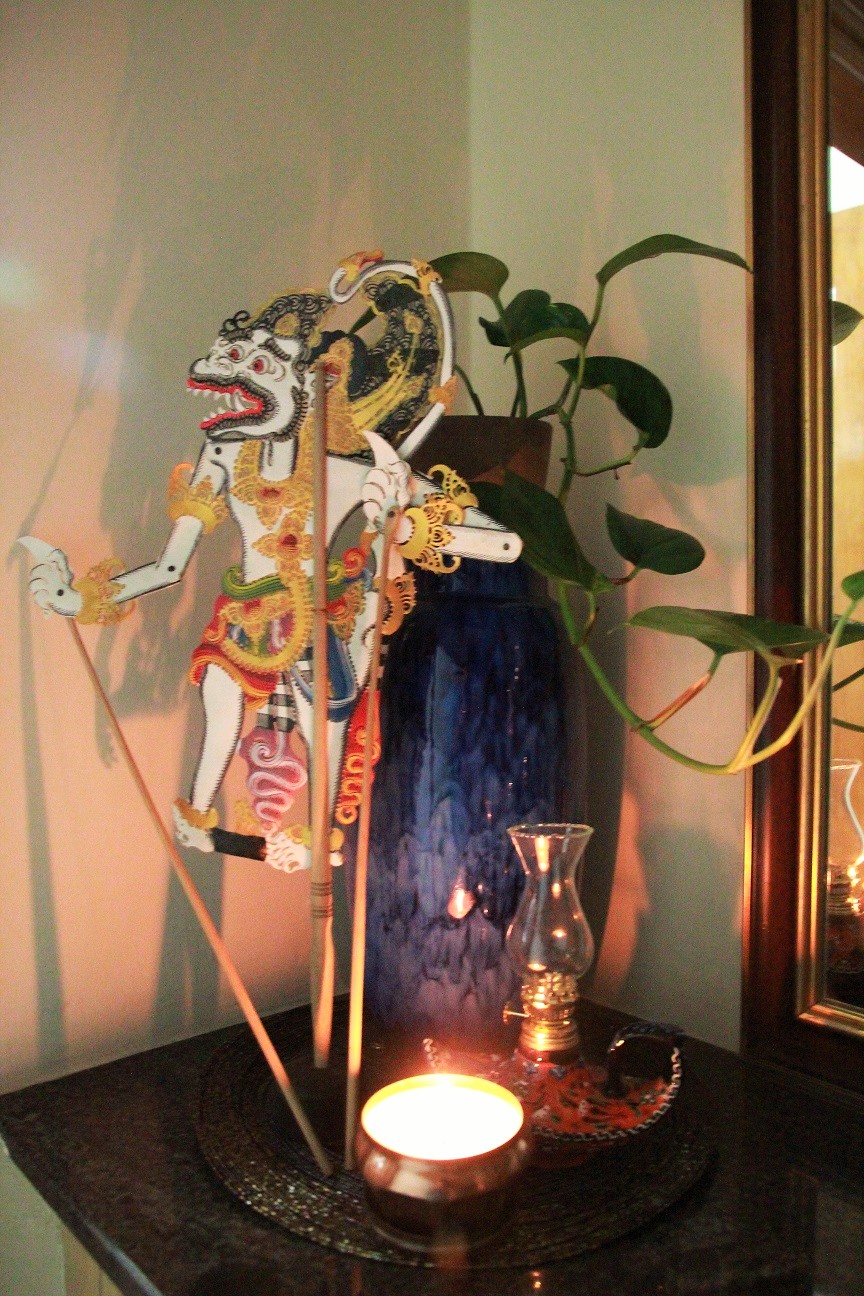 This picture below shows the Ramayana vignette on the table, with the Balinese Ram Sita shadow puppets in the box frame on top.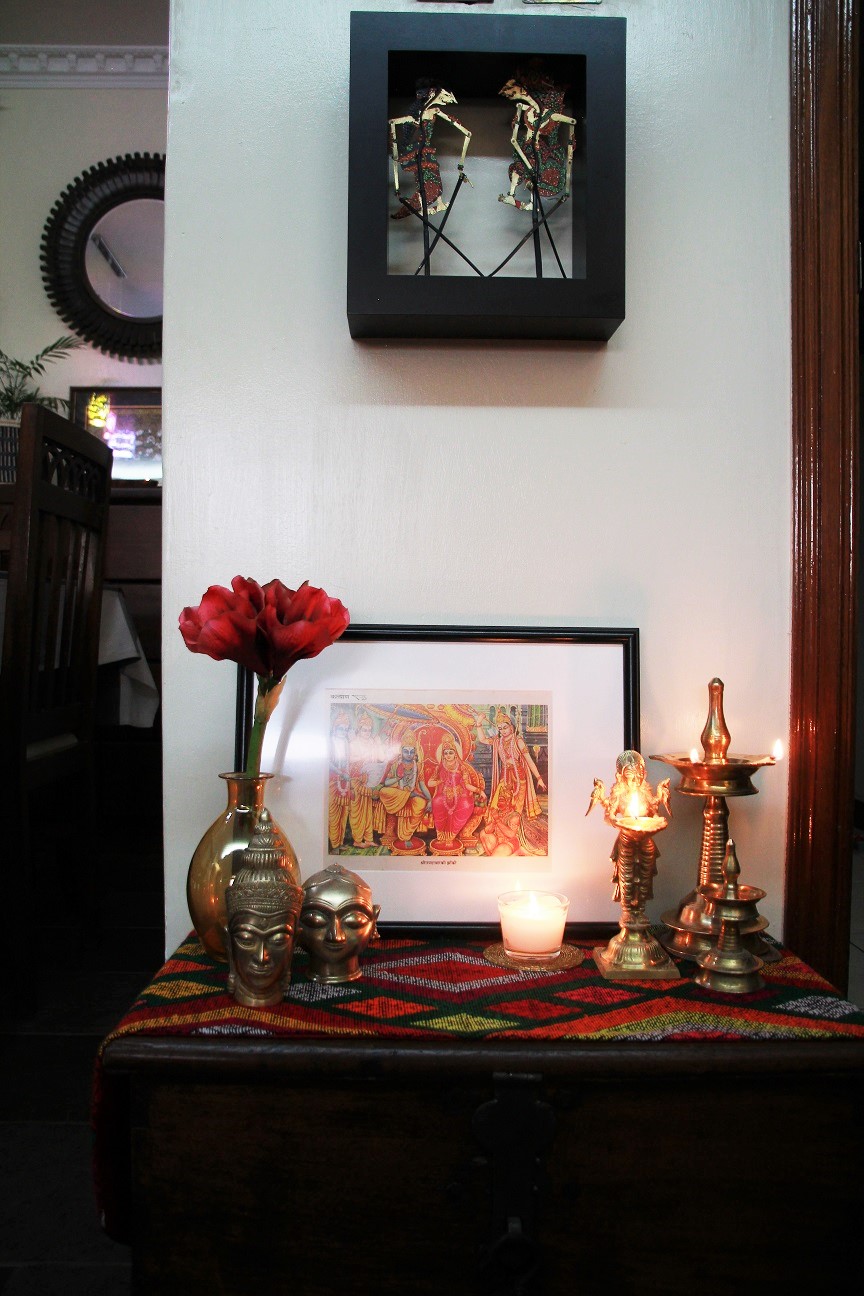 Nothing portrays the festive look better than a rangoli, and Hemal has ensured that her home has a gorgeous one!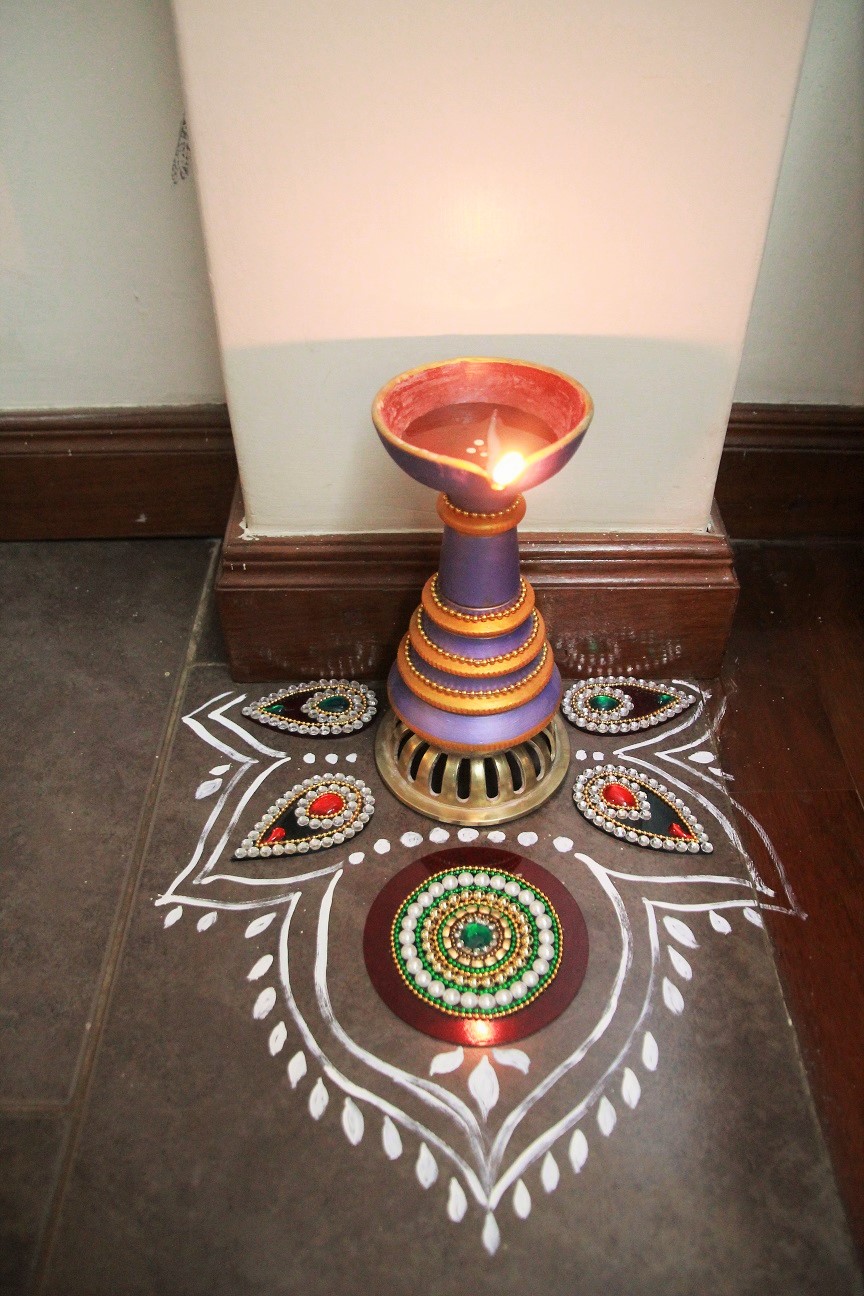 I also asked the question that each of you is dying to know. Where does she shop for decor? She says, "I shop for decor mostly during our travels. when I visit a new country, I try to buy at least one memento to display around the house. The knick knacks gathered over the years bring back memories of happy times. My sisters stay in the US so I am always on the lookout for flea markets when I visit them. Some of my favorite pieces have been flea market finds over the years.
In India, Dilli Haat, Dastakari haat, FabIndia and Goodearth are must visit places during every visit to New Delhi. I love buying cushion covers and mugs online from the brand, India Circus. I would like to explore more stores in Delhi but never seem to have enough time. Weekend chor bazaars are also great places in India to score unique finds. Almost every big City in India has these bazaars.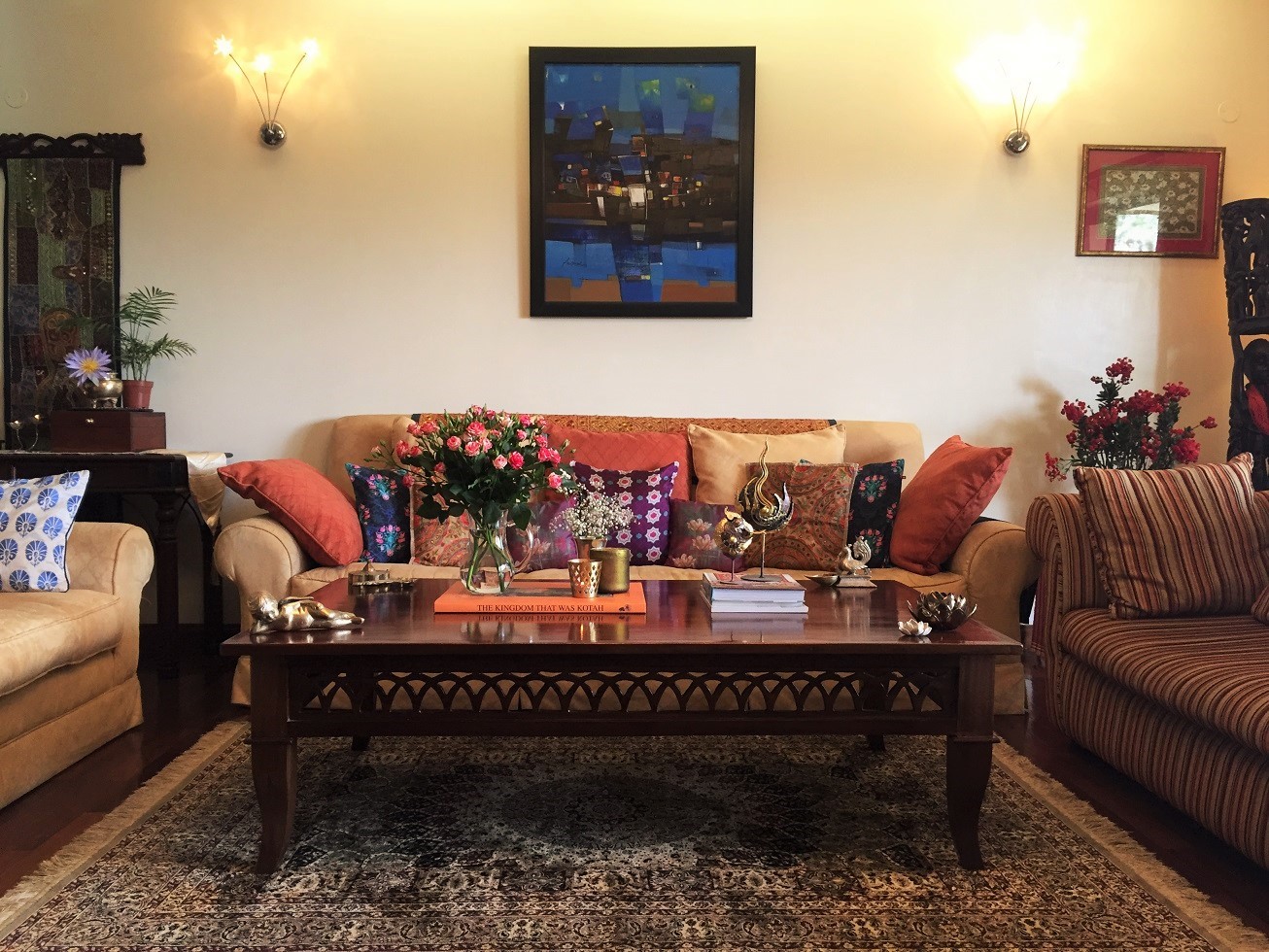 And that brings us to the end of this lovely home tour that we caught just when Hemal was readying her home for Diwali. To see more delightful images of her home, follow Hemal on Instagram.
Have you decked up your home for the festive season? Do you have some amazing recipes and photographs of the festive season? Do connect with me!