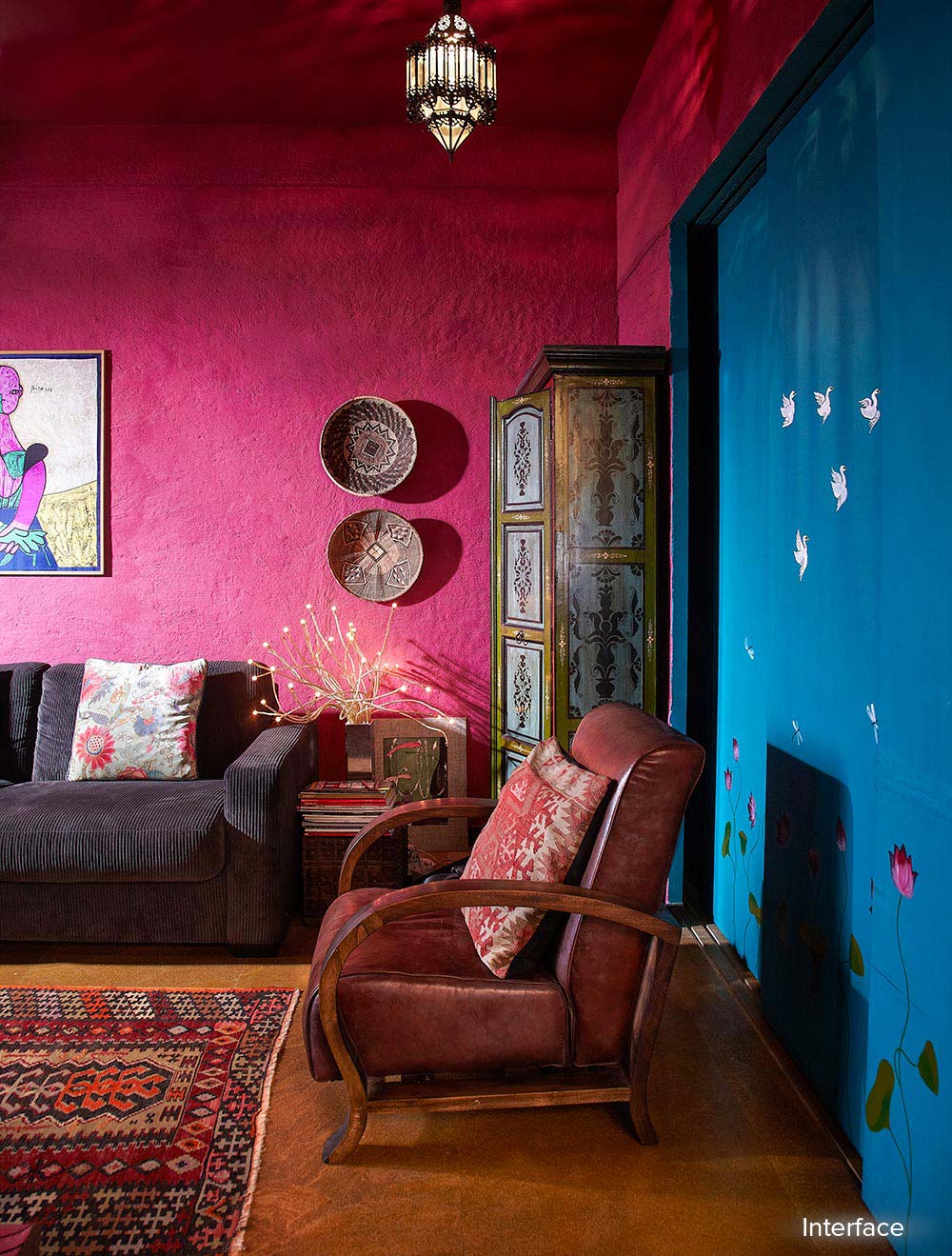 A trip to Turkey inspired a family in Parel, Mumbai to decide that Turkey would be the influence for their 2000 sq ft apartment. Architect Kunal Barve of the design firm Interface, worked on this project, and aptly christened it "Turkish Delight".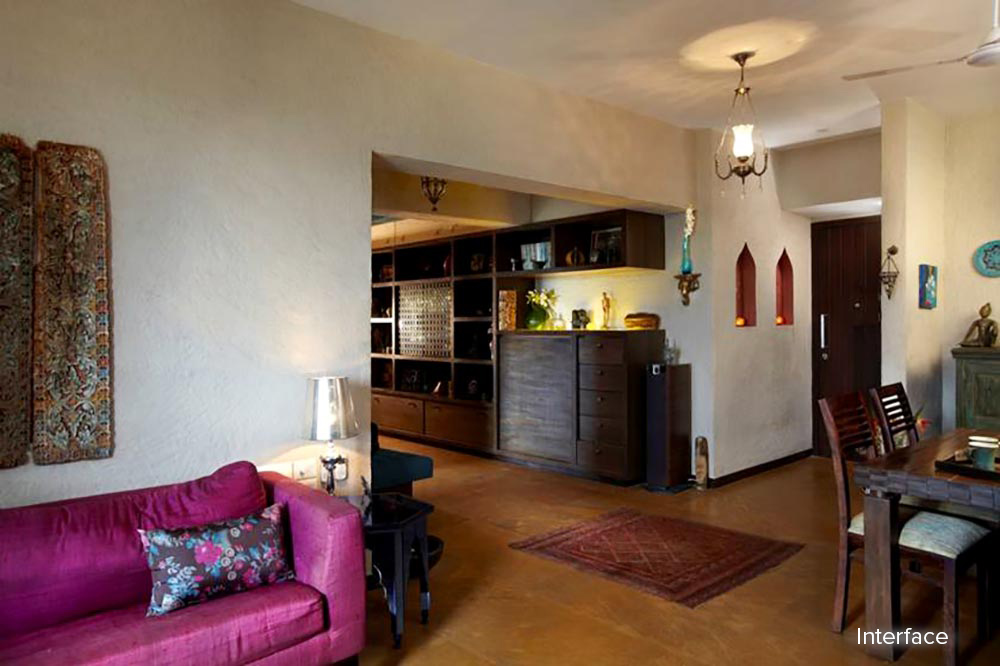 The four bedroom apartment was to be redesigned into an open space for the family and guests. Says Kunal, "The challenge was to create an open space and at the same time incorporate a lot of storage into it." But have a look at this project, and you will agree he has done a brilliant job!
Kunal says the client was very clear that he didn't want a modern, monochrome home. He wanted colour and textured or distressed walls. And of course the Turkish theme accommodated these requirements brilliantly!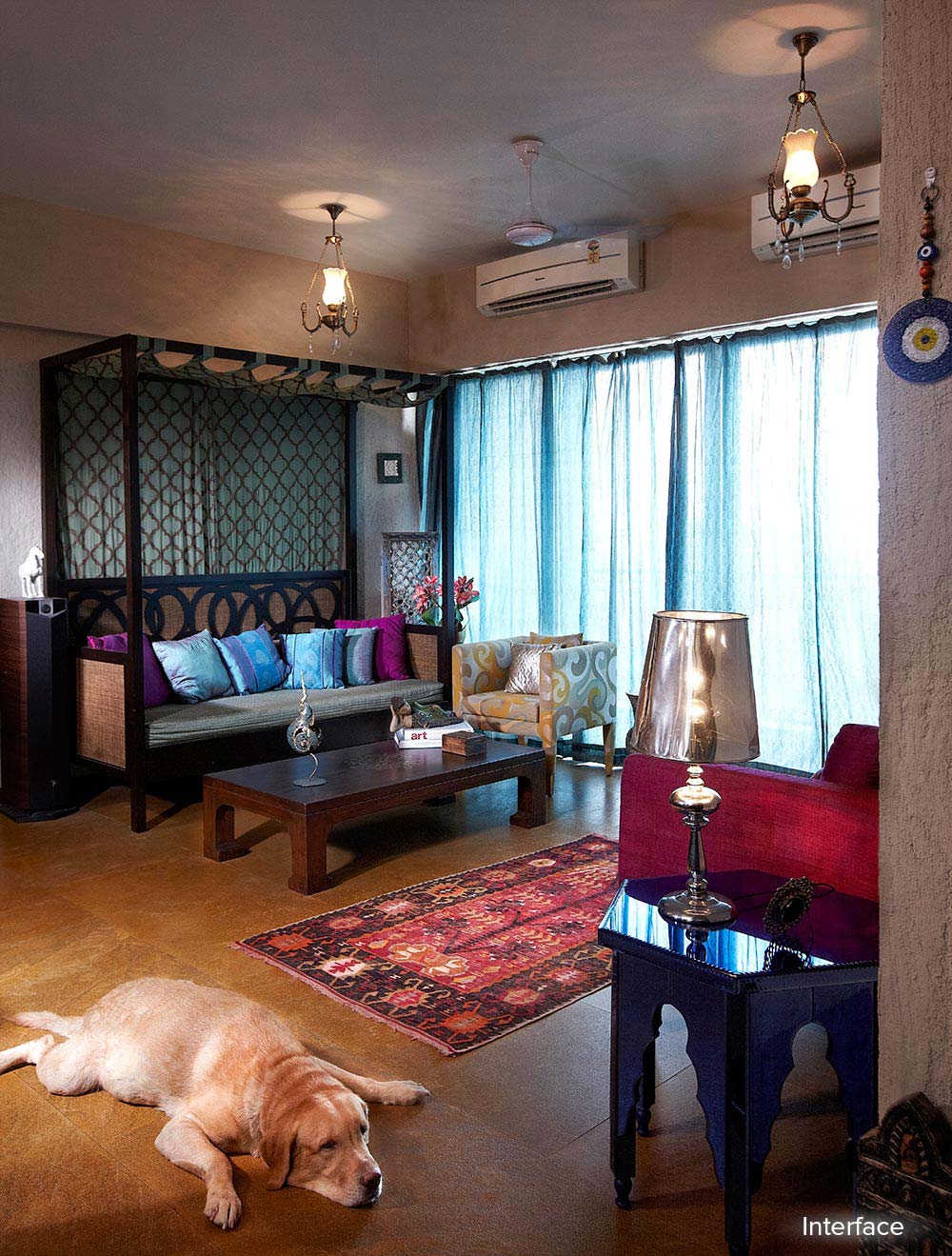 The living room has an incredible white textured plaster reminiscent of the lime washed houses of the Mediterranean. Traditional Turkish lights on the ceiling add the authentic Turkish touch. Lattice work and Moroccan stools add to the Medi-eastern decor. Most of the furniture was created on site by Interface's carpenter. The gorgeous paint finishes were also achieved by the design team's in-house people.
One of the bedrooms was converted into a den with a gorgeous Rani pink wall. The wall sets off the Turkish elements quite well. The family uses this room as a TV room and lounging space. This space was designed in a way that would allow guest to linger on comfortably in privacy in true Turkish fashion.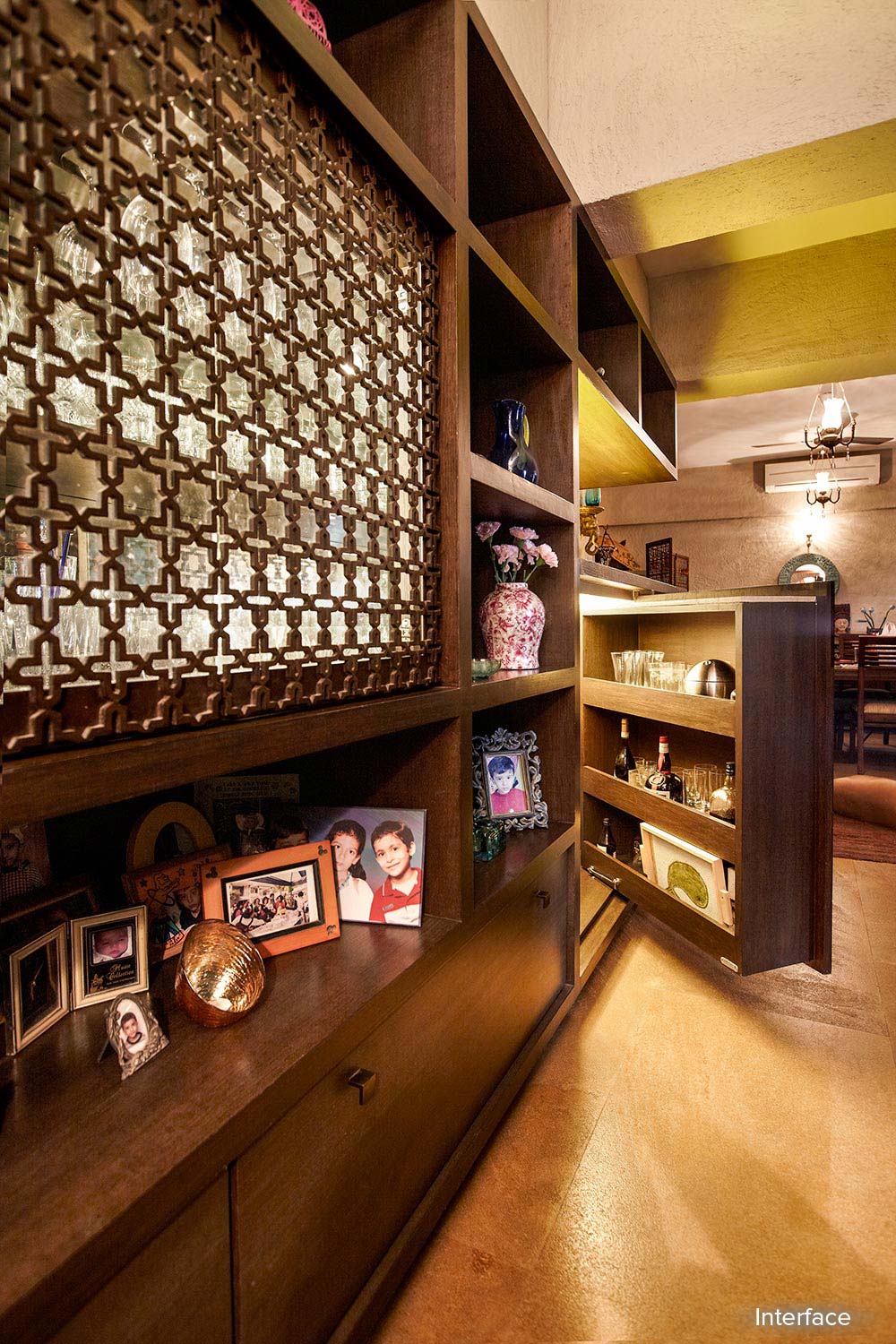 The lattice-work dividers add quite a bit of character even to the neutral areas of the home, as if to remind one about the gorgeous spaces that surround it.
The washrooms once again, pay tribute to the Turkish style, with their lovely references to the Mediterranean – the arches, lights and patterned tiles, not to mention a gorgeous ceramic sink. The combination of Prussian blue and white instantly allures. The ceramics were custom-ordered from a well-known tile company.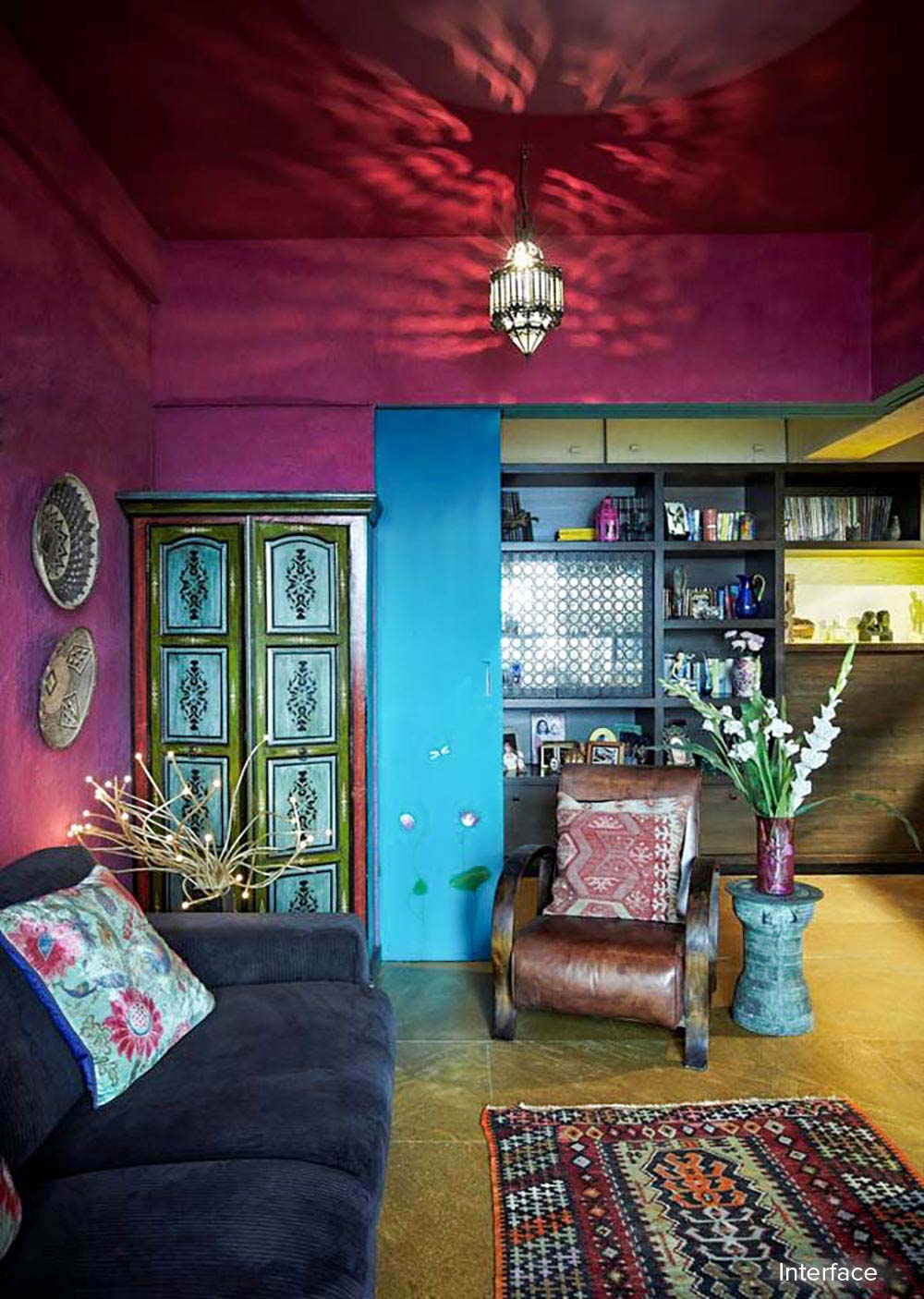 If you are keen on a Turkish theme for your home, here are some takeaways from this project:
Stay away from cheap souvenirs of Turkey. This home is a sophisticated representation of Turkish and Mediterranean decor. Souveniers will only dilute the effect. If you have visited Turkey and brought back something interesting – for instance Buldan cloth, or fabric with very typical Turkish denim, or perhaps a carpet – the real thing!, then by all means incorporate it in your decor.
Pay attention to typical Turkish motifs Motifs are a great way to add subtle hints of the theme, without going overboard.
Work with craftsmen, preferably local. They are incredibly talented and can actually deliver if they are shown a design, or explained the culture! You may source this on your own, or get in touch with a design firm, so that you can take advantage of their experience. In this home, the architect had his own carpenters and painters who could execute it to perfection.
Scour the markets: It's amazing what you will find in flea markets and Jumaa bazaars. Quite a bit of the decor elements for this home were picked up at Chor Bazaar, the gorgeous lighting too!
It's the little details that add to the authenticity. Here, the uneven textured walls, and the distressed paint add an enormous dose of authenticity to the theme.
If you hire a design firm, ensure that they understand your requirement, your family's tastes in decor, and also your lifestyle. In this project, the architect has made a conscious effort to reflect the clients' personality in the home. What did you like best about this home?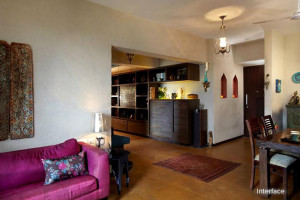 This delightful home is shared in association with homz.in, a website that brings you beautiful interior projects and puts you in touch with amazing architects who can bring your dreams to life!
Interface is an architectural firm based in Mumbai. You can see more images of this home, as well as connect with Kunal Barve's design firm Interface on Homz.in
Images courtesy: Interface