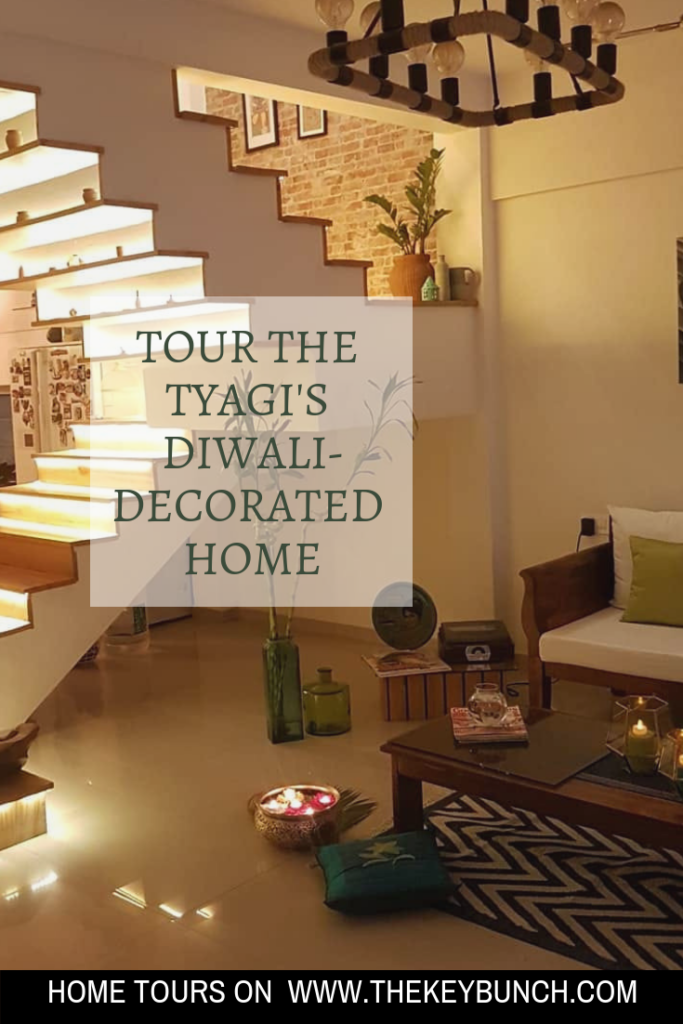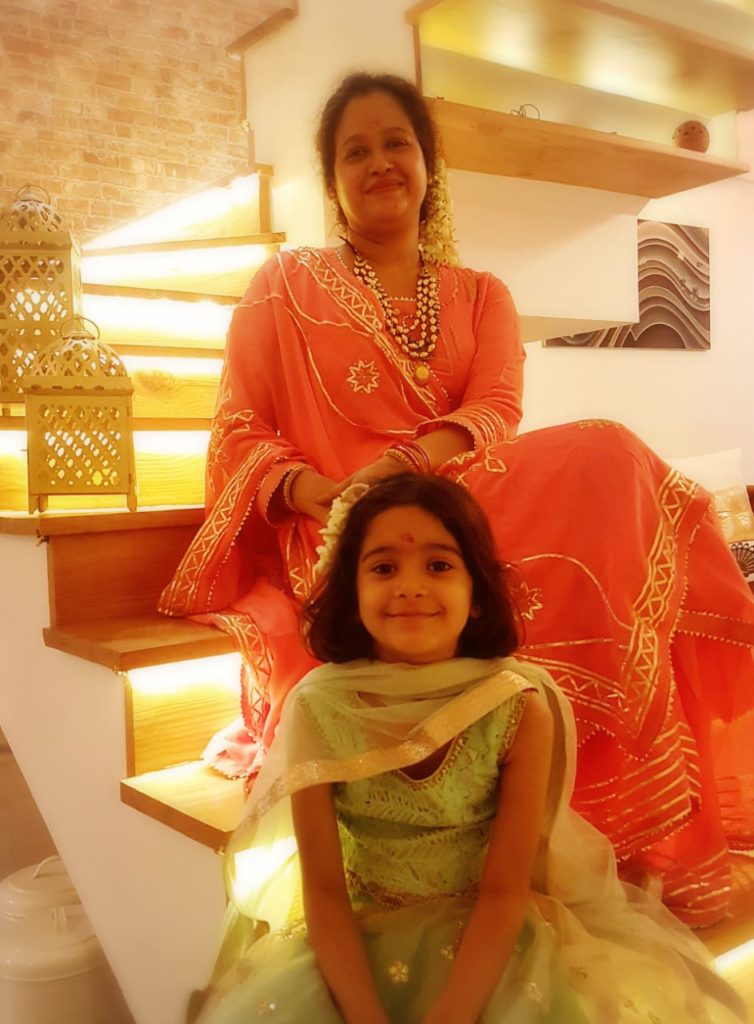 For the past week or so I have been heavily but pleasantly distracted by Kajal's Diwali posts. Her 2400 Sq ft home spread over 2 floors has always been under my radar for a home tour, and it looked even more dazzling with its adornments and embellishments!
And there were beautiful pics of Kajal and her daughter looking very charming indeed in their Diwali finery. Luckily for me, Kajal was quick to acquiesce despite a hectic week, and I am so glad to present her decorated Diwali home!
Kajal and Yadvendra Singh Tyagi have green fingers. Kajal is a keen gardening enthusiast and runs a flourishing garden centre in Thane. They live here with their two kids – Harshwardhan Singh Tyagi and Hrishita Tyagi.
The prolificity of green is immediately visible to the eye, but there's another colour that creeps up and envelopes you in a bear hug! It's blue – a colour that you see in every part of this home, and so tastefully incorporated that it never overpowers!
This is the entrance to her villa – with some gorgeous festive accents!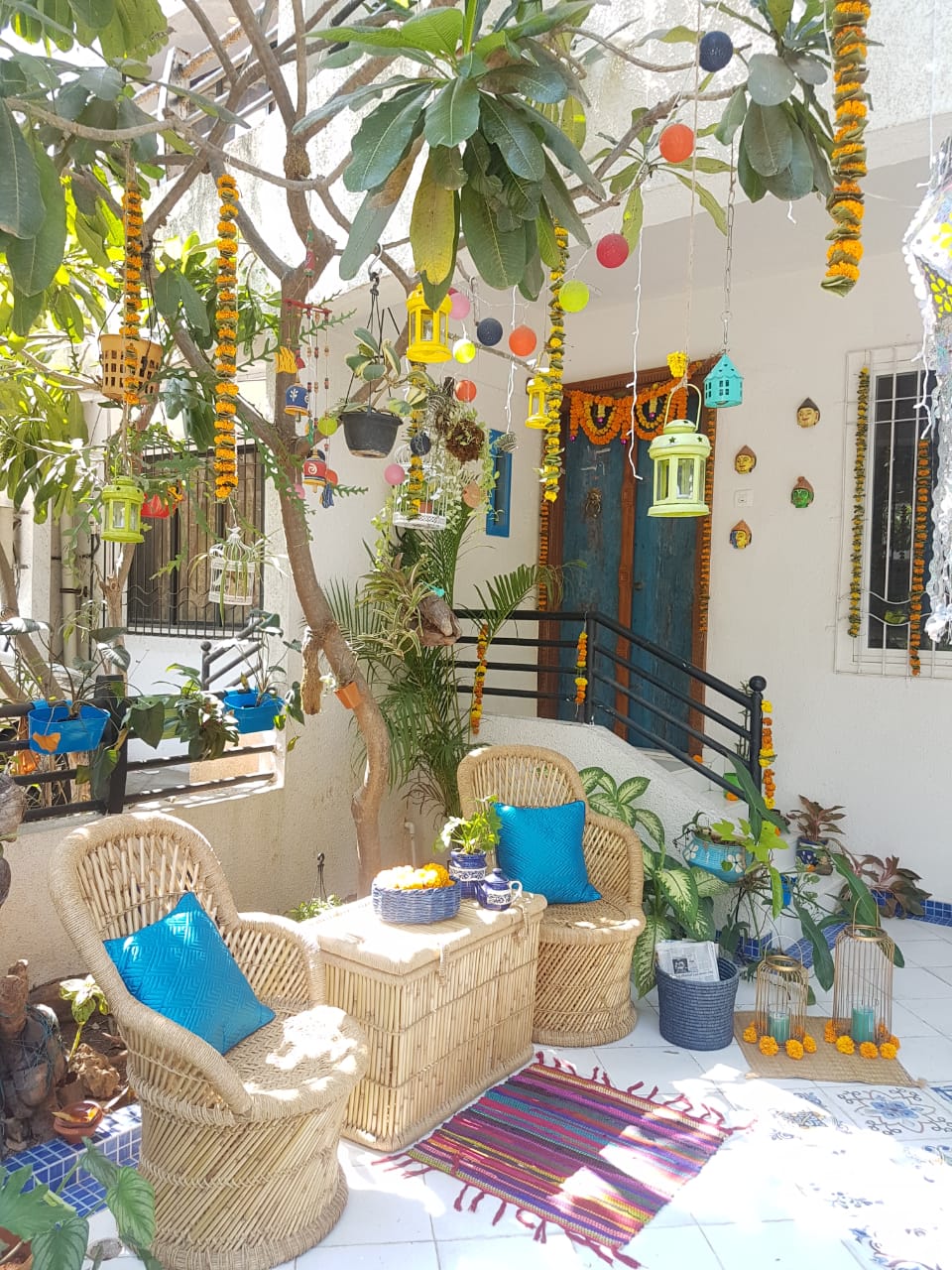 The informal seating and blue touches warm the heart, and I love her little marigold adorned bird cages! But you inch closer, and as Kajal rightly says, the show stopper is definitely this old blue door, aptly set off with a blue mirror frame! She adds, "This space is beautifully decorated with traditional Diwali lights, Muddhas to sit with matching trunk table and floral arrangements all around to bring in the festivities."
Diwali at the Tyagi residence in Mumbai. Decked up Diwali home with lighting and beautiful colours and interesting elements merging together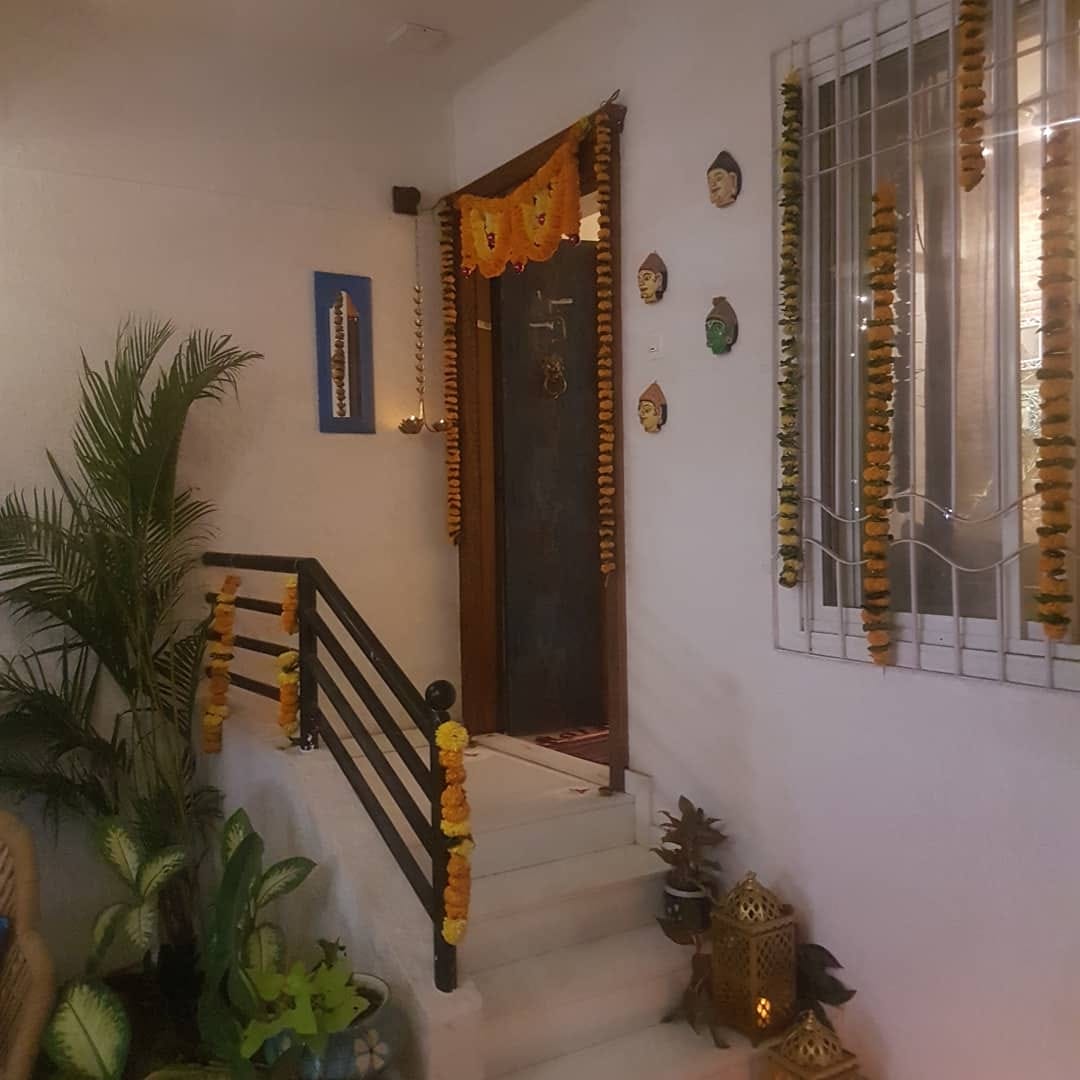 Here is a better look at the entryway. A set of papier mache masks from Orissa create the right amount of visual action, and the expanse of white wall aptly sets it all off!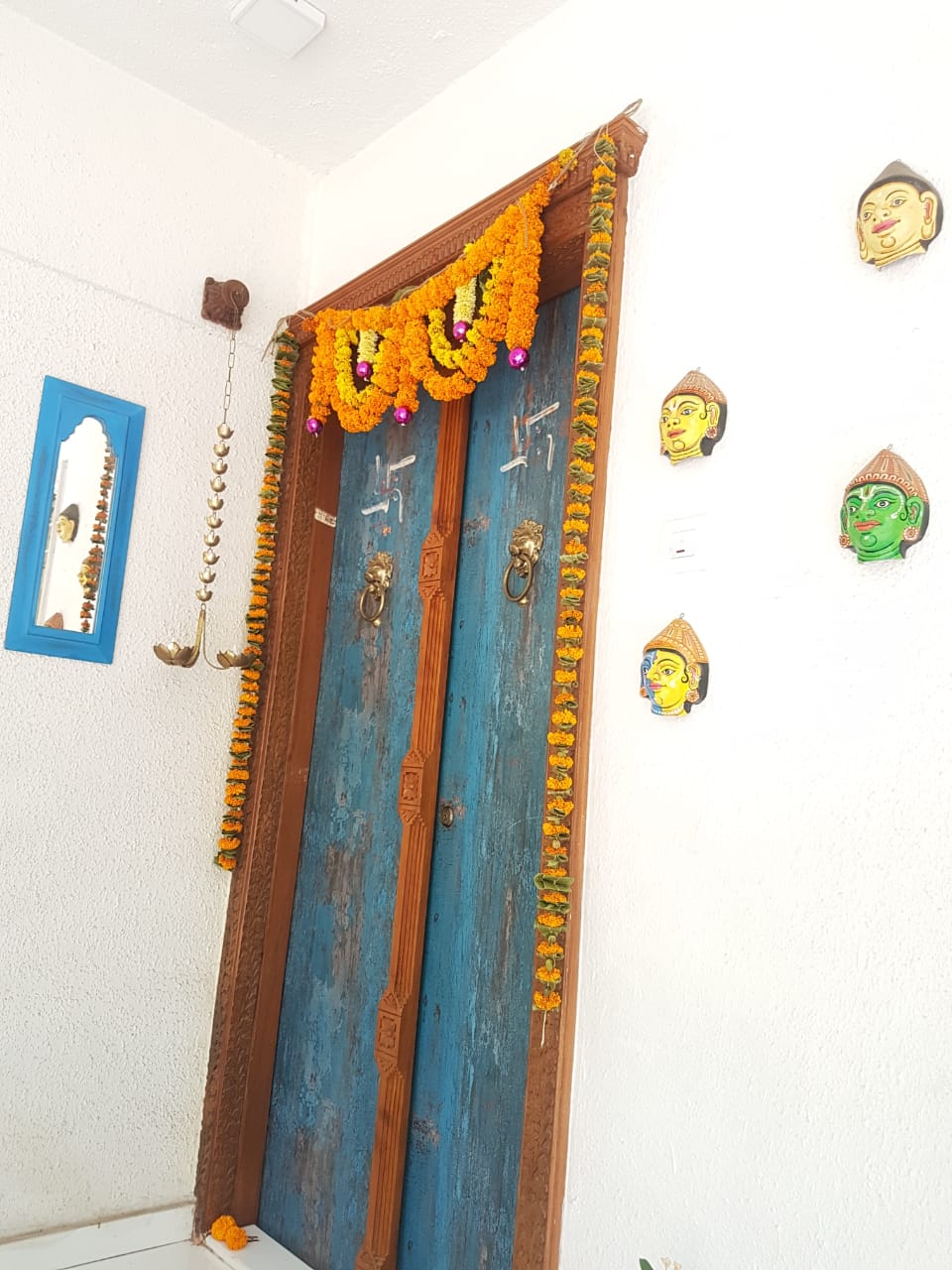 Throughout the festive week, I was glued to Kajal's status updates and this staircase has been in the spotlight, decked up, lit and glowing!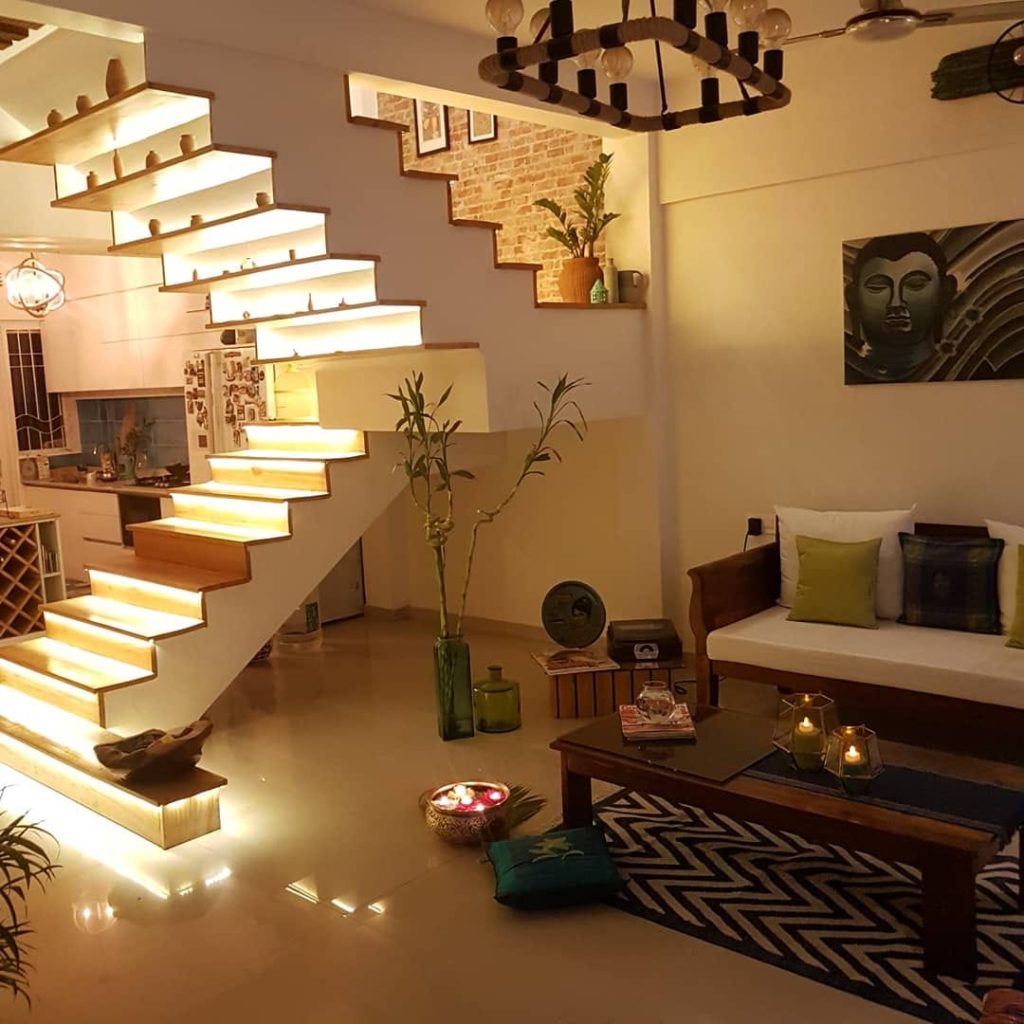 Here's another look at the dramatic stairway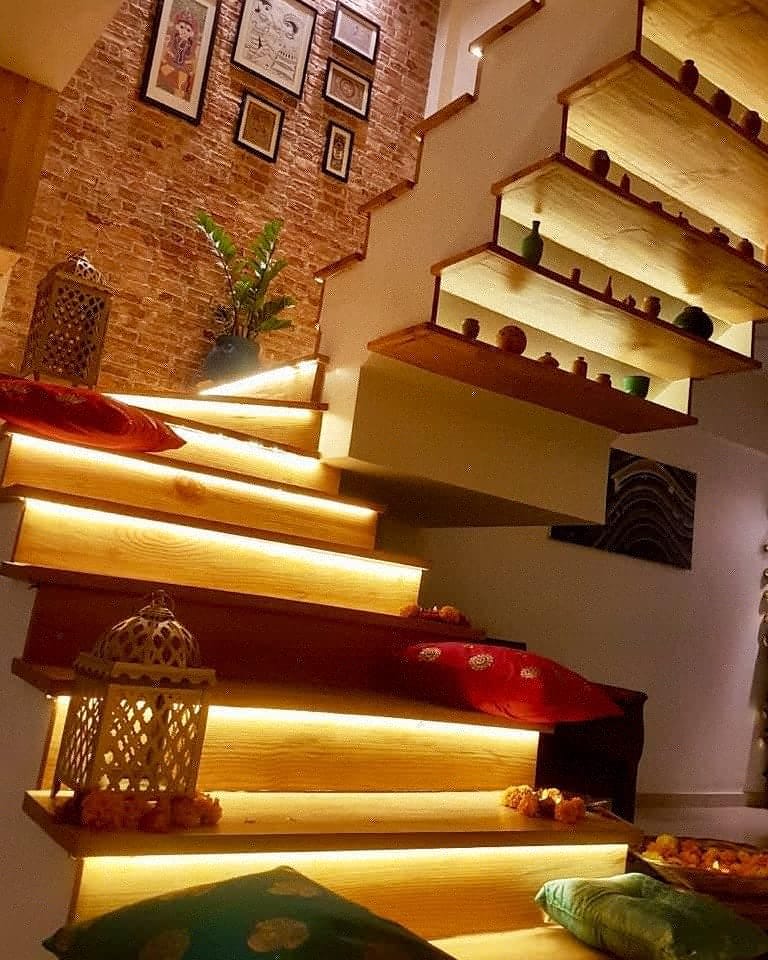 The landing on the staircase has some very interesting artwork, and the blue of the lamp highlights the exposed brick wall brilliantly!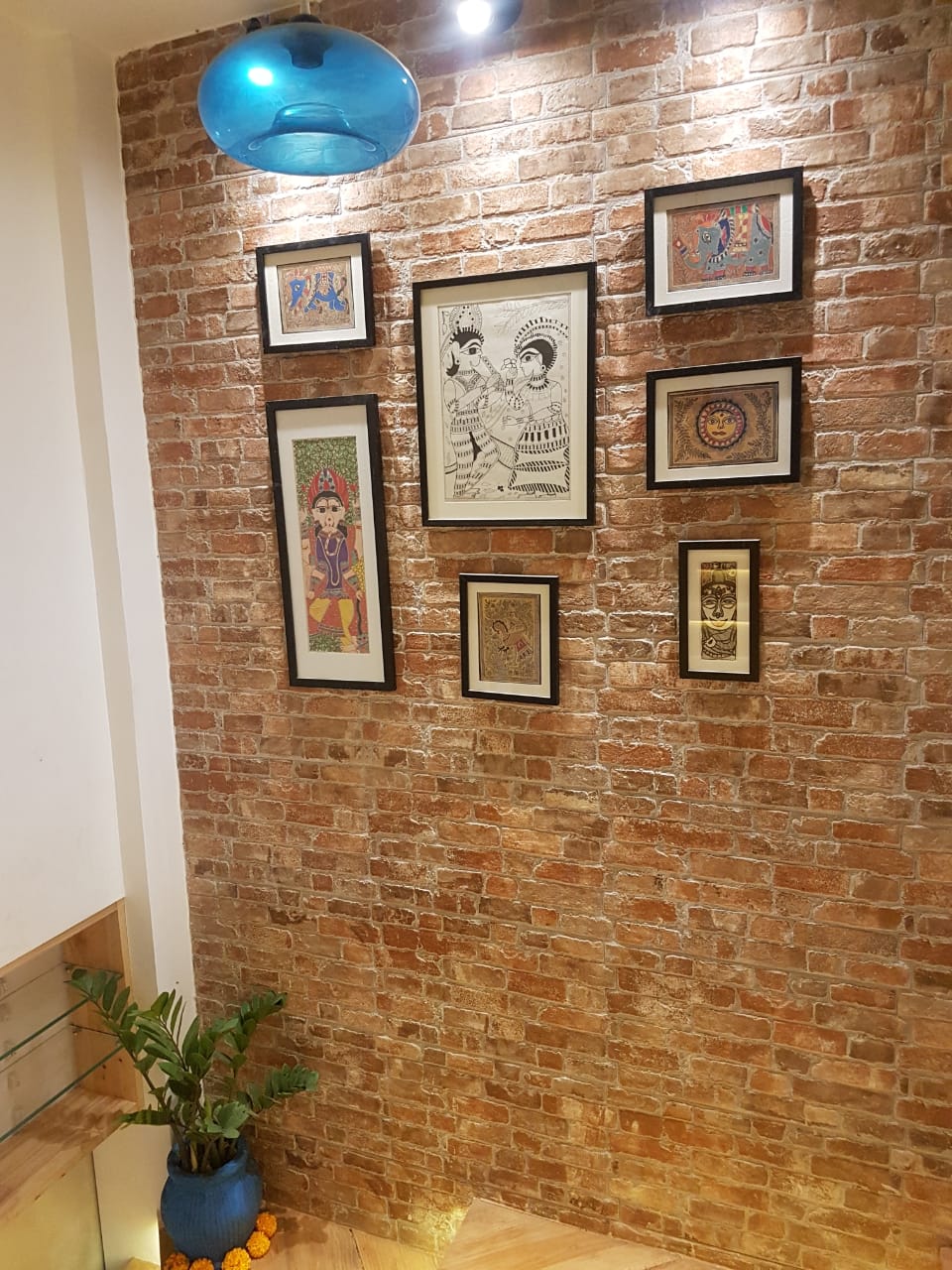 This seating area is simple and traditional, yet eye-catching! Kajal tells me she let go of her wooden seaters especially to accommodate this gorgeous floor seating arrangement for the festive season!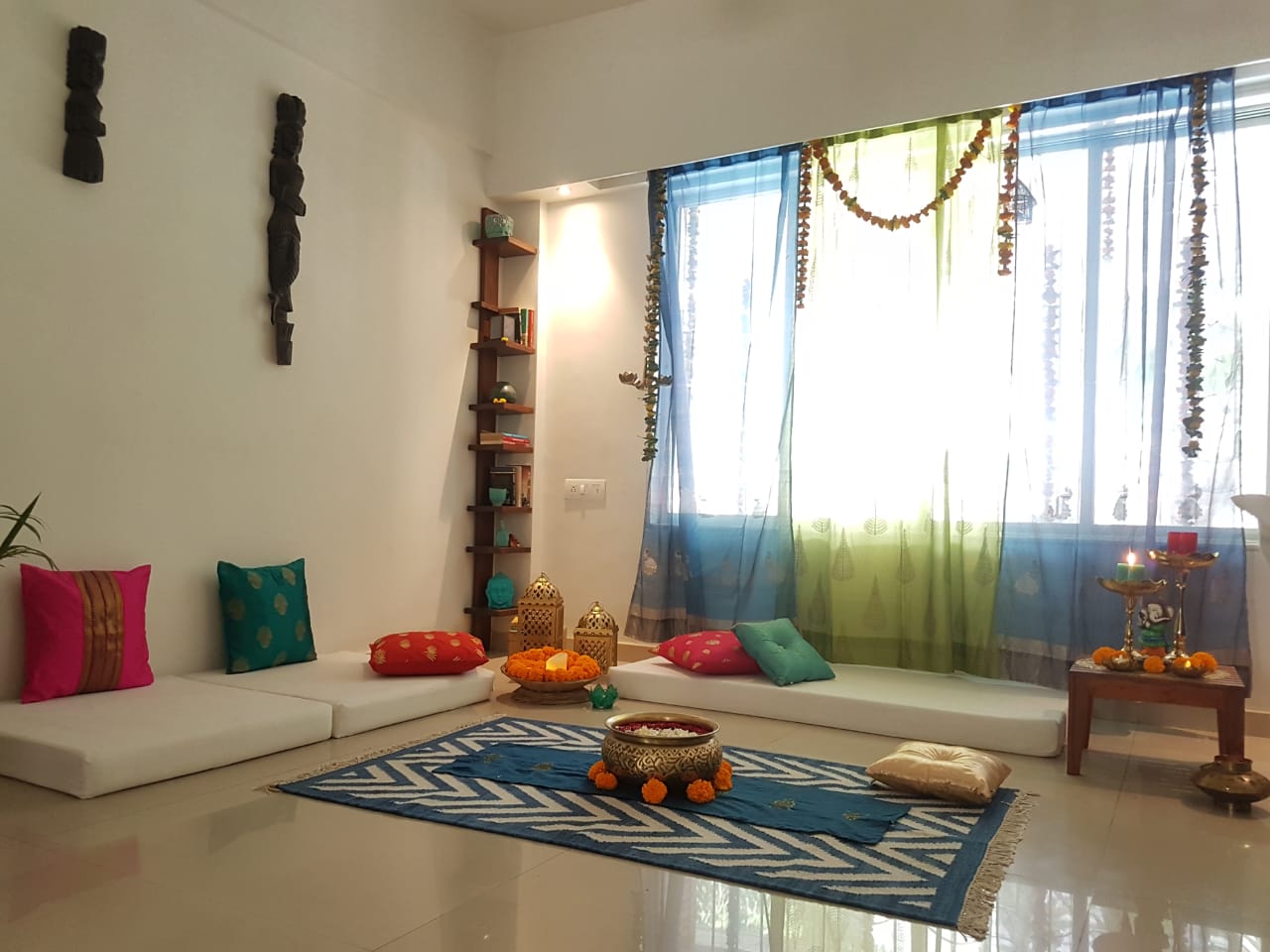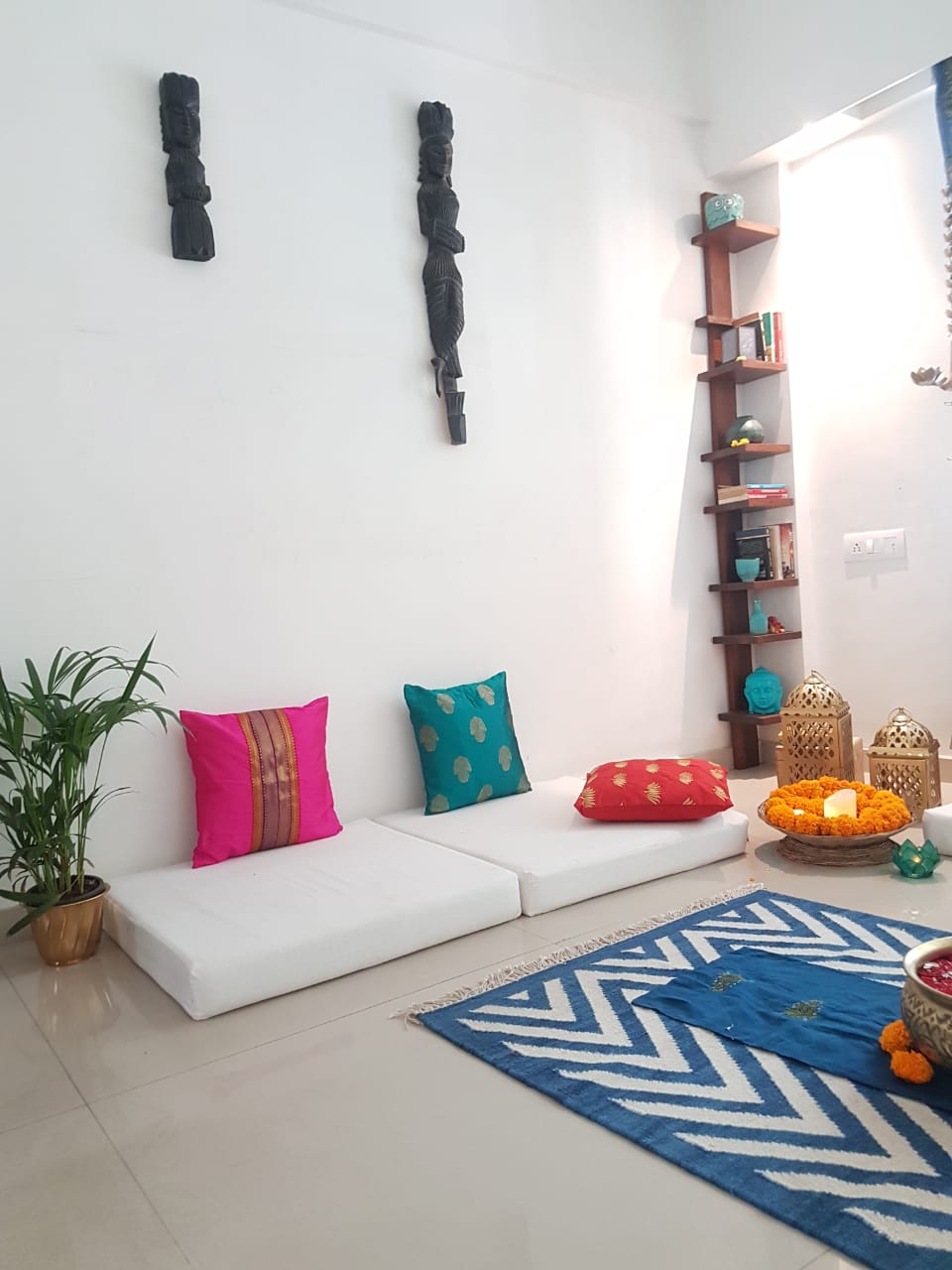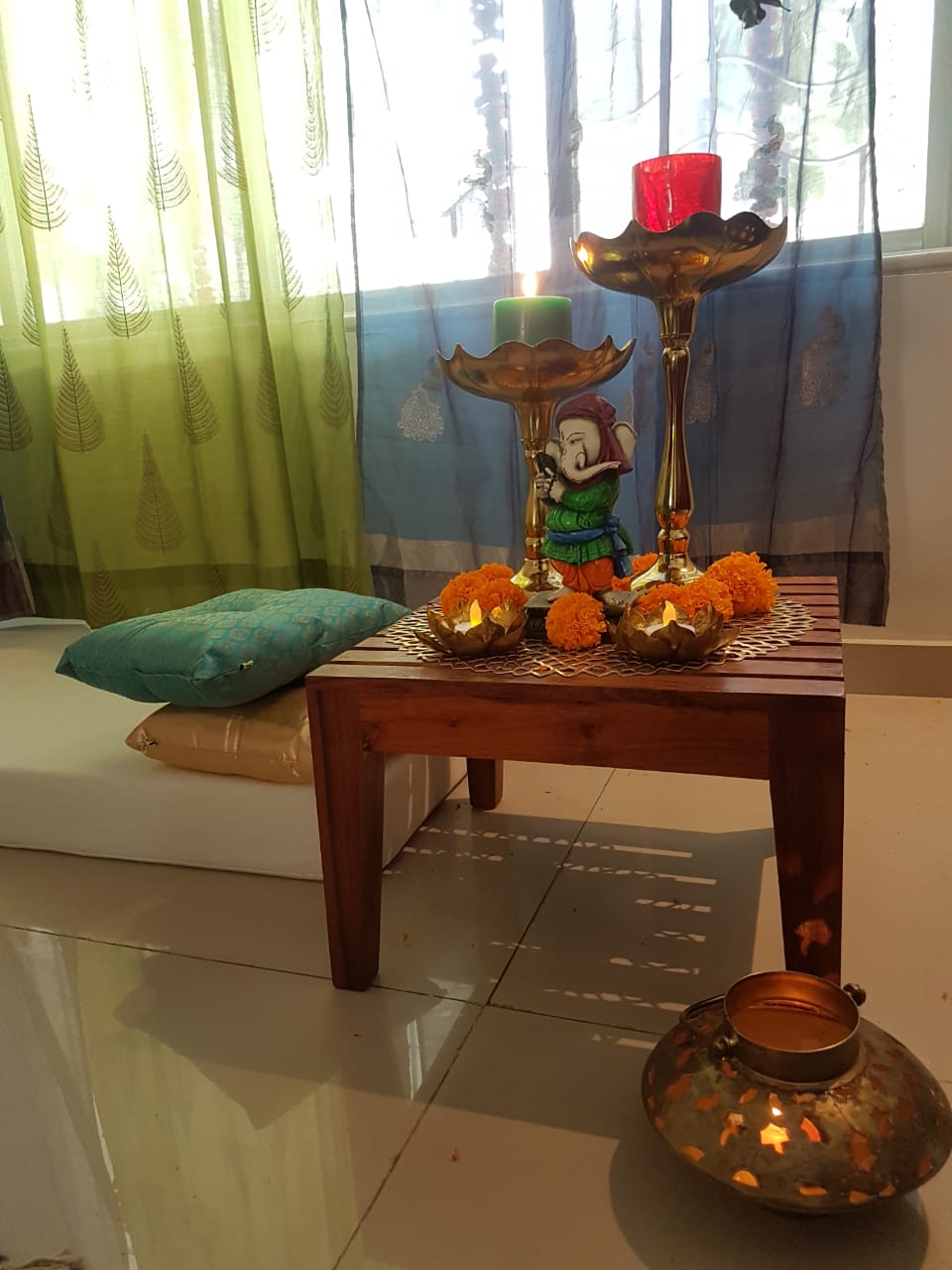 The green blue Fabindia drapes are eye-catching, and the lovely little touches – gold motifs on cushions, a basket of marigolds, candles, lanterns and a pretty cotton rug in a bold chevronesque design are what bring this whole room together so pleasingly!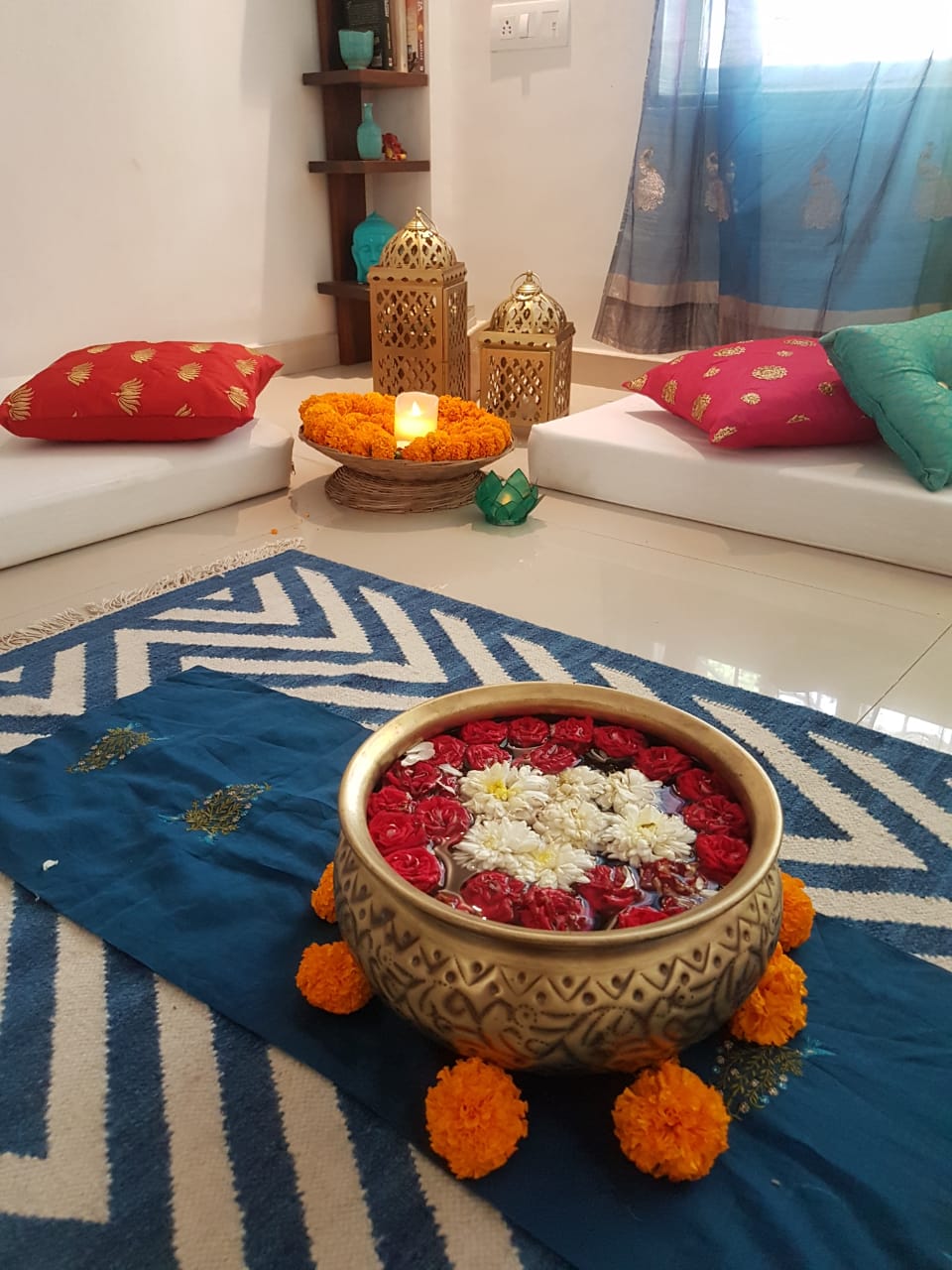 This is the Tyagis' kitchen and where Kajal's flair for decorating is best on display. Indeed, I love this space so much that I am willing to make a special trip to Mumbai just to have a cup of tea here!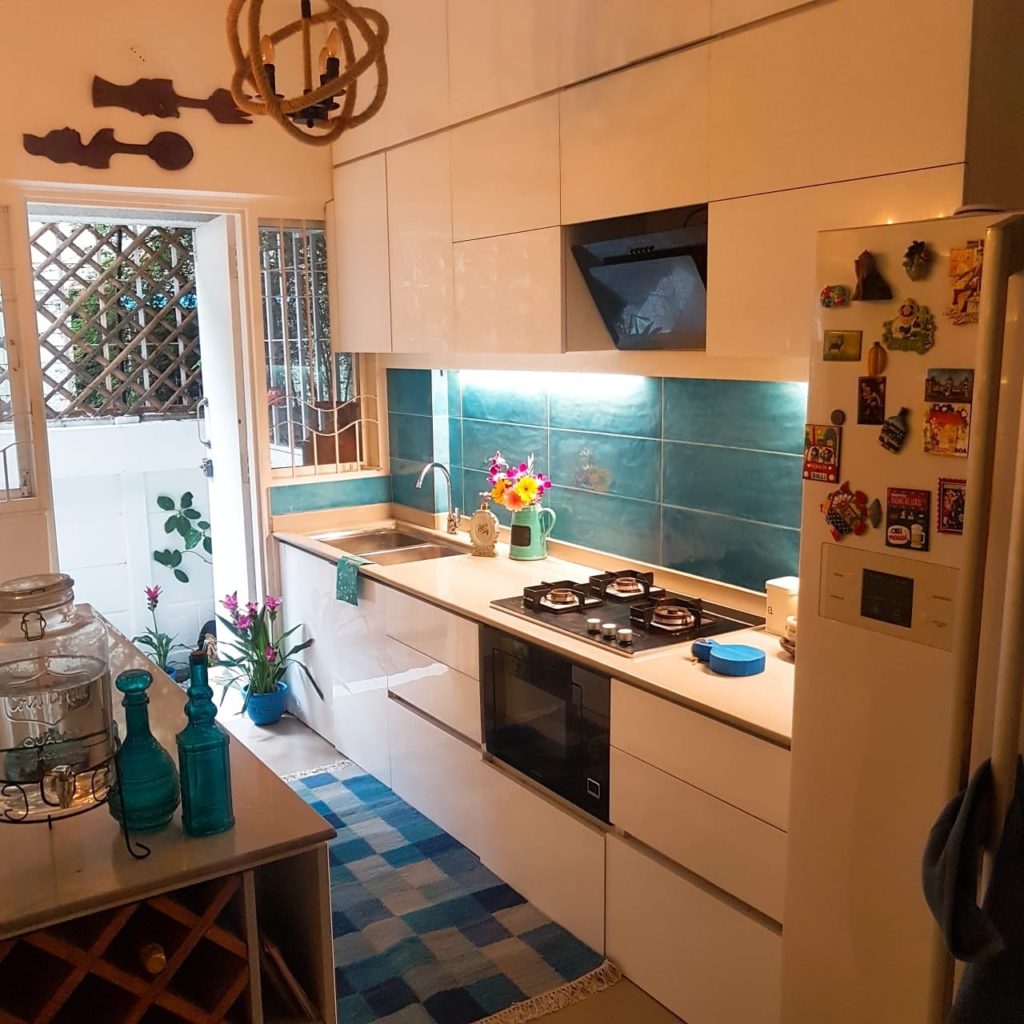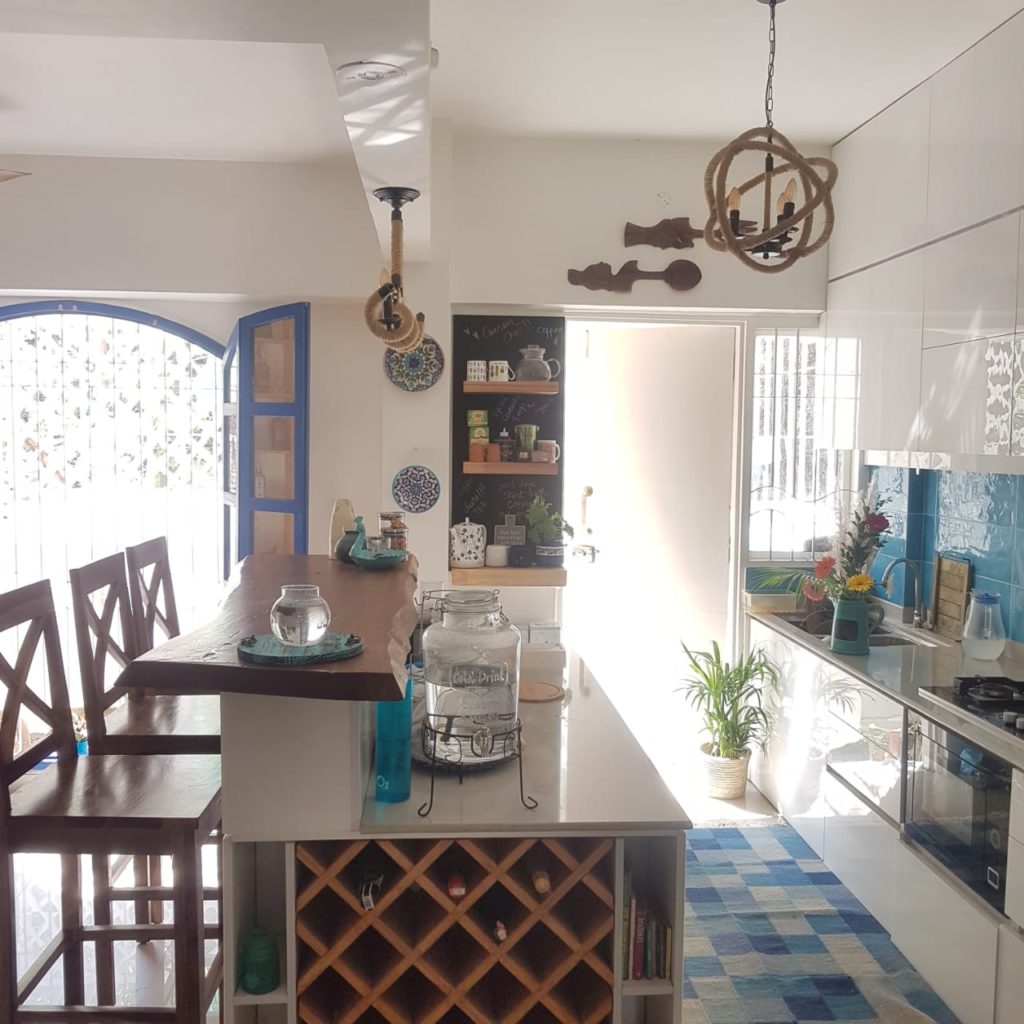 It is time to step into her backyard which charms with its boho feel. Says Kajal, "During the day it has perfect sunlight and lazy atmosphere allowing us to soak in the greenery completely!" Indeed! The basket lamps over a fordable dining table and touches of the blue green theme continue here. Indian boho chic at its best!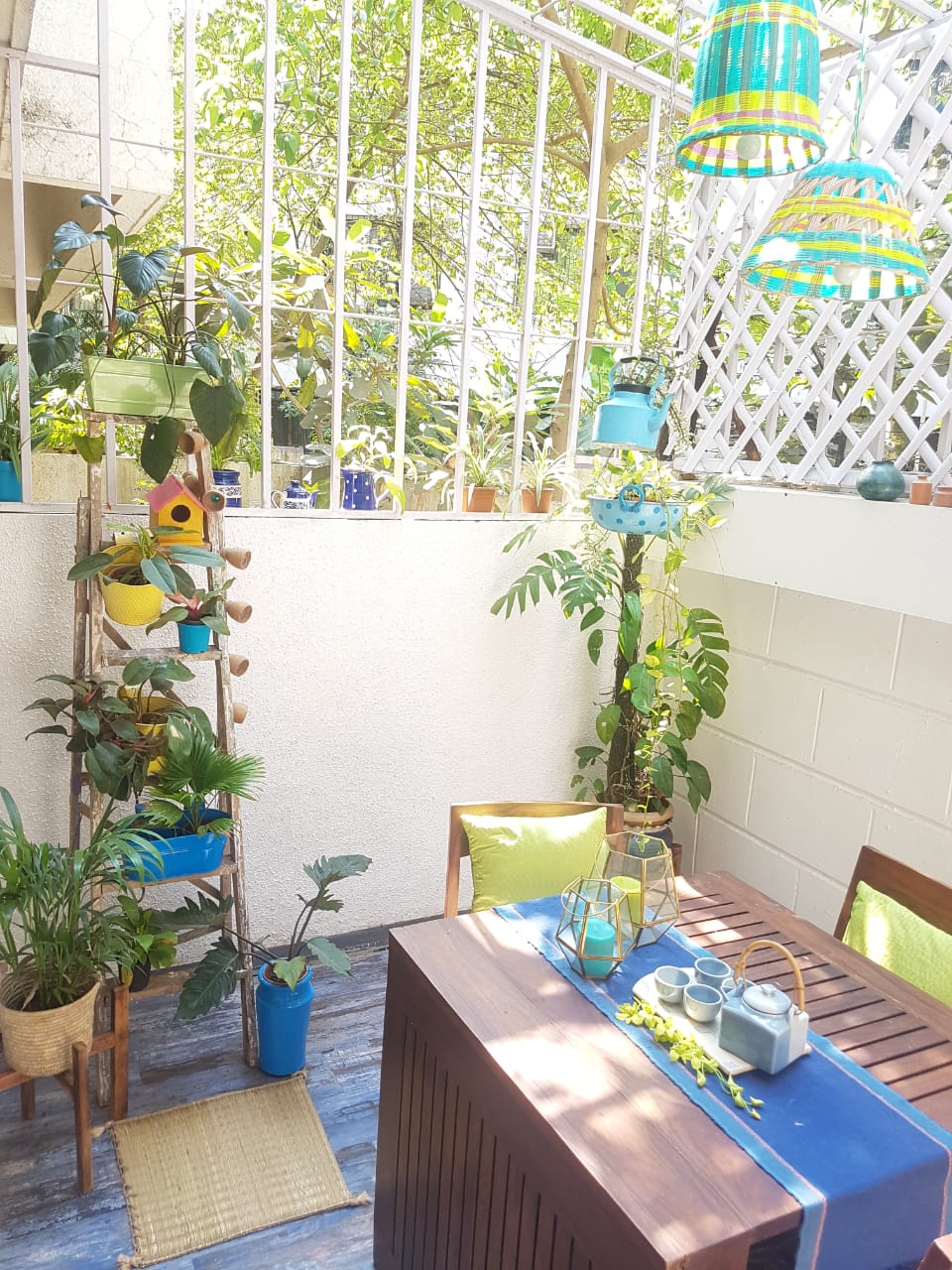 Where do the Tyagis shop for decor? Says Kajal, "At FabIndia, HomeCentre, Pepperfry, DecorKart, Sanskriti Lifestyle – Pune, and collection from roadside stalls and handicraft exhibitions"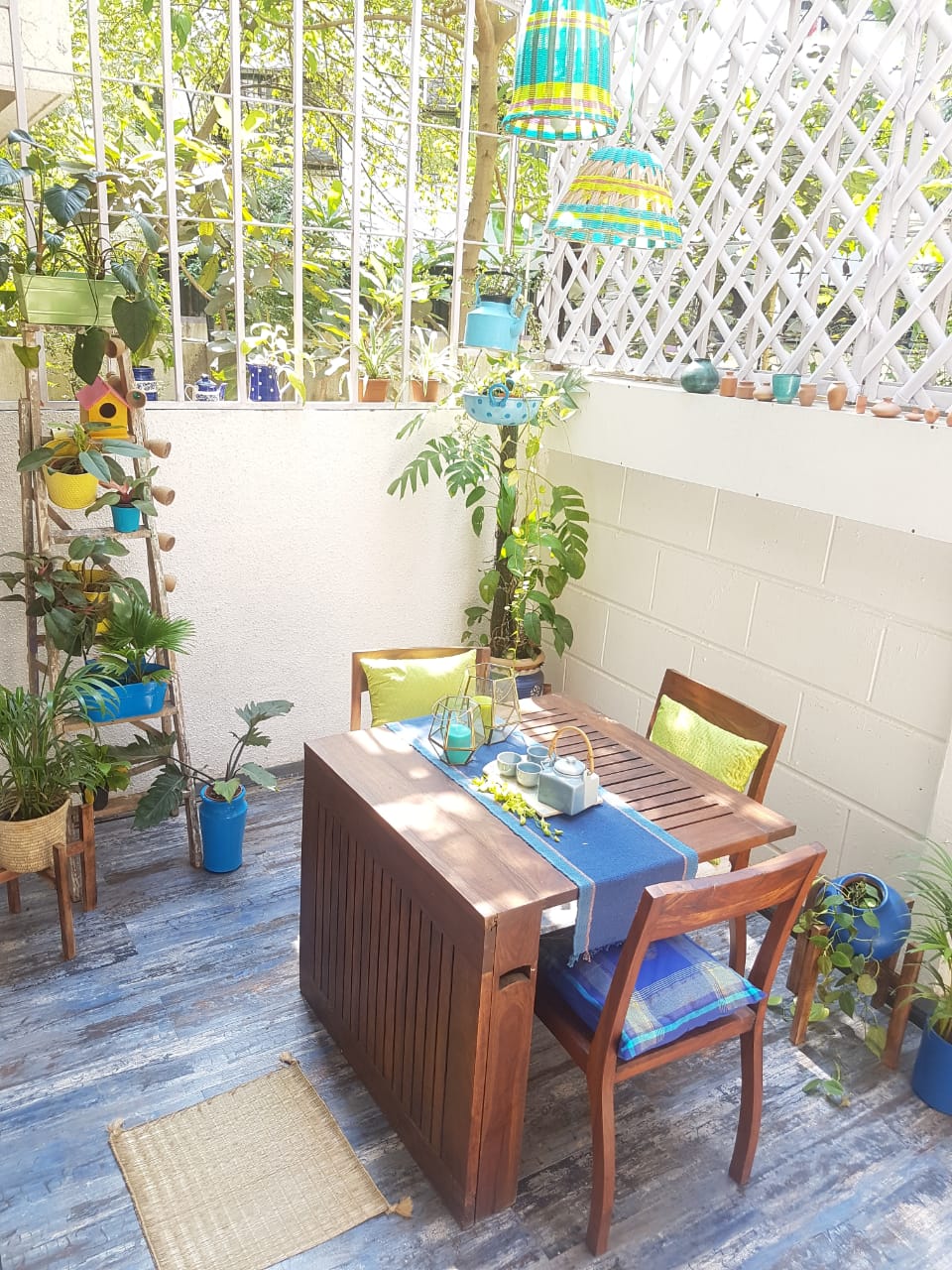 Kajal is heavily inspired by Greenery, the earthiness of their village home and she says that future plans for their home include a Ganesha Idol at the front yard along with a small water fountain.
As the night advances I bid goodbye to the Tyagis and I leave with you with these lovely pictures of Kajal and her daughter in their festivewear, and my favourite image from this tour!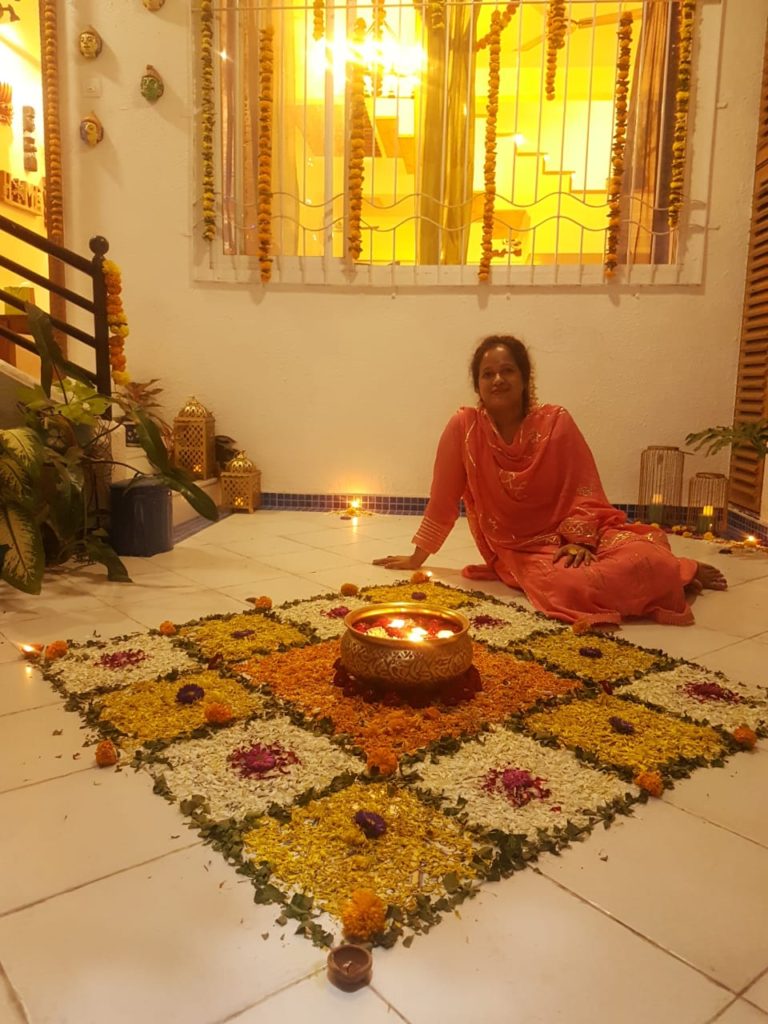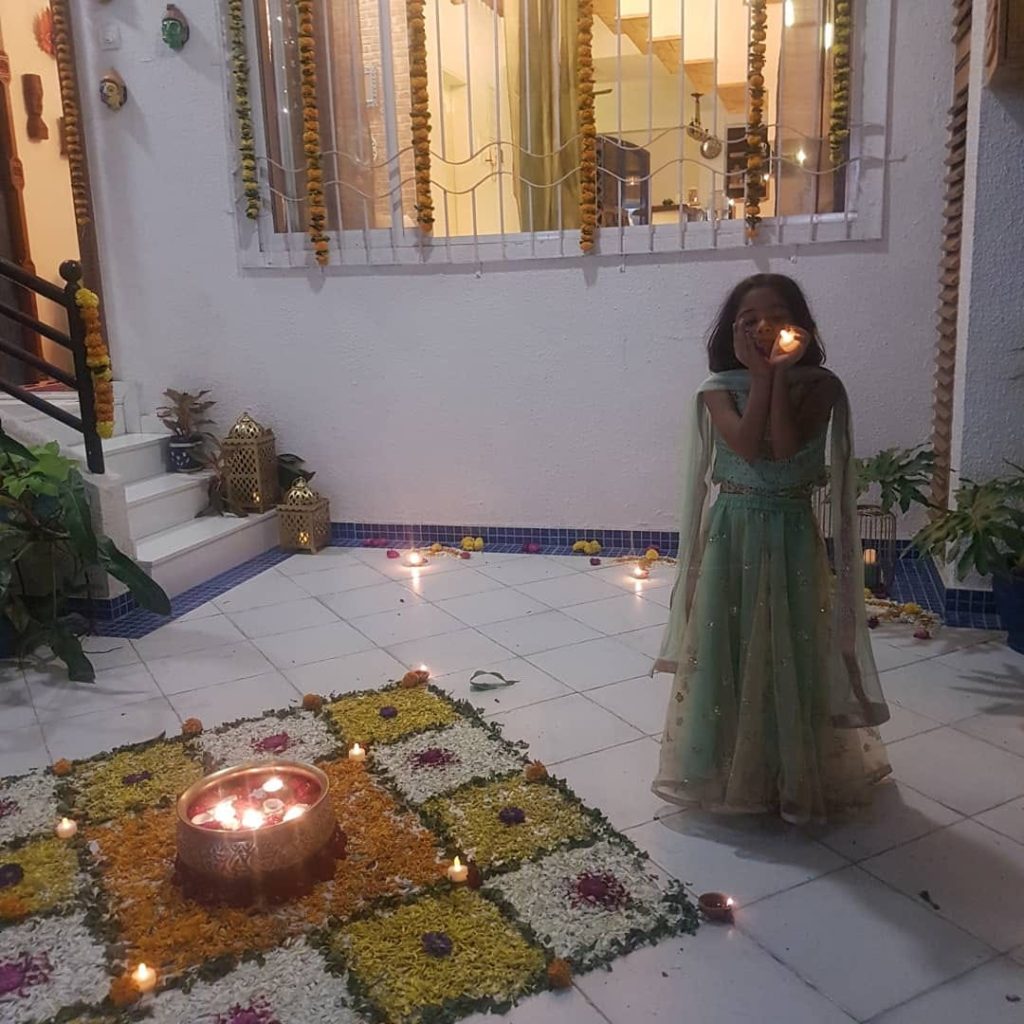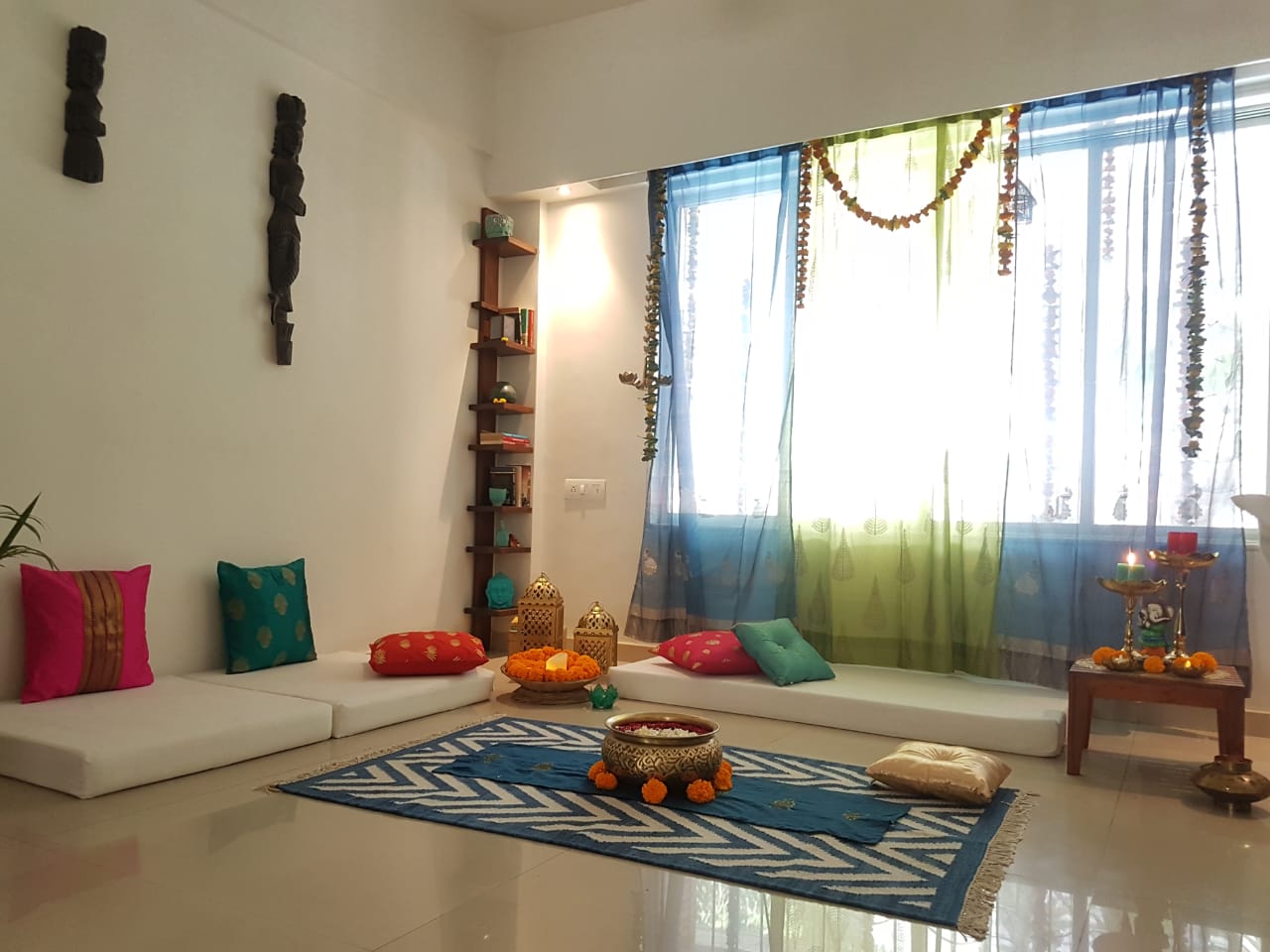 I don't think I know just where to stop with pictures of this gorgeous home. So I leave you with a few more!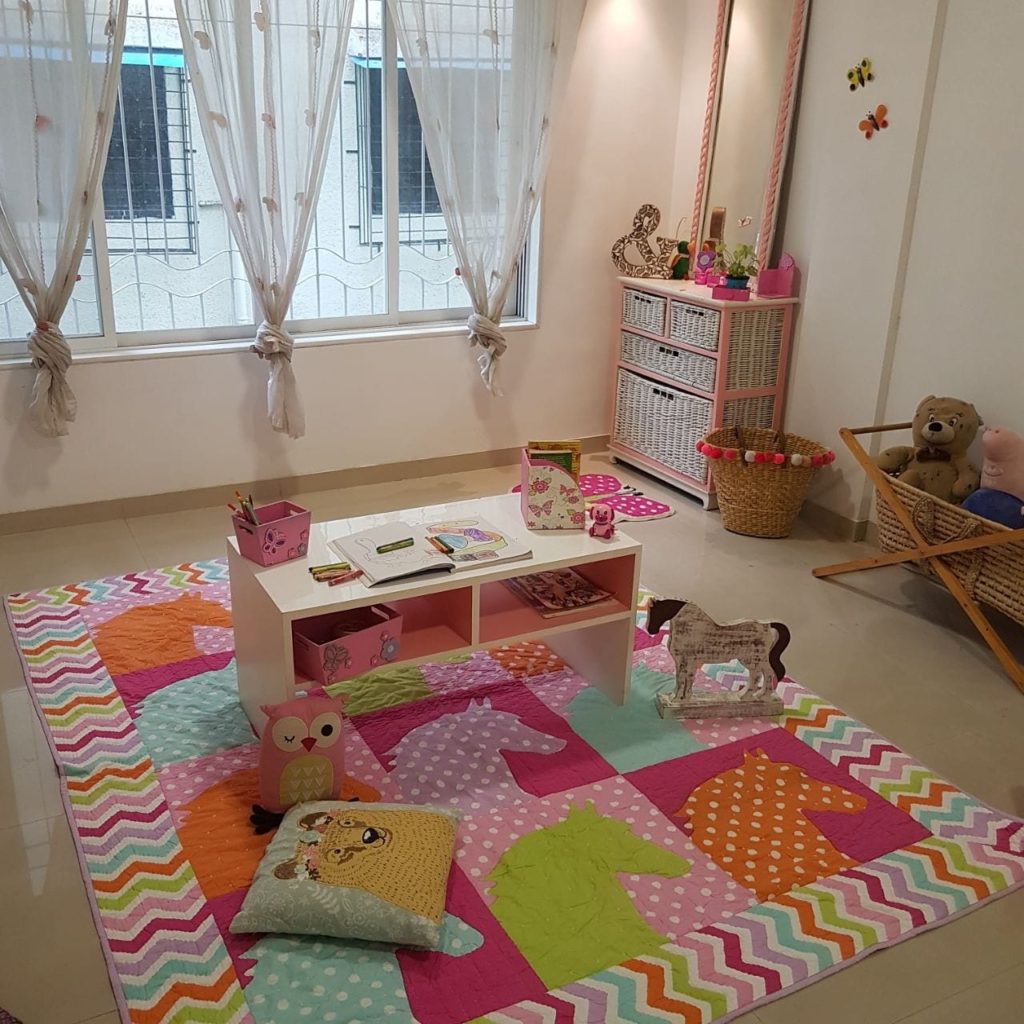 Check out these amazing 
brass diyas
, just so perfect for the festivities.