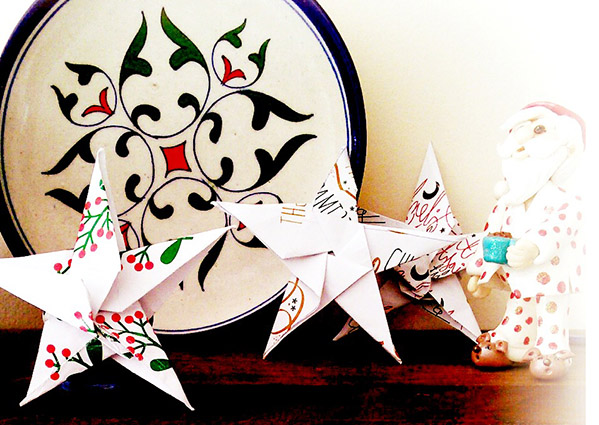 Christmas is around the corner. Have you started decorating?
Here are some tried and tested budget decorating ideas that appealed to the DecorDrama team. Between Cynthia (our very resourceful inhouse intern) and me, we managed to try these with whatever we had handy at home.
Cynthia is doing this lovely wine course at Nashik, and she had this brilliant idea of using wine corks to make angels. They turned out beautiful!
To make these, Cynthia started out with two wine corks, and she quilled the head and halo on. Some fairy wings with incredibly beautiful fabric, and a pearl and satin collar was all it took to complete the project. See how great they look against the Christmas tree!
Have you checked out our little Christmas gift for our readers? We are offering you a free download of Christmas prints that you can use in your own projects – as gift wrapping or in Christmas crafts. So I used this paper to make Origami Christmas stars, and I am so pleased with the way they turned out!
I used an Origami worksheet that my daughter had, but you could check out any tutorial on the Internet to learn to make these unique stars.
If you were short of ideas on how to make your Christmas table more festive, here is a brilliant idea from Cynthia. All you need is a twig (and a dinner napkin) of course. In green. We tried it out with hand towels, but our Christmas table is sure to rock with dark green napkins!
To get the folds right, use a square napkin, and fold it four times. Then turn down all the open corners, so that they cascade in an inverted tree shape. Tuck the outer corners of the napkin in, and rotate it, so that it takes the shape of a tree. Then fold the triangular points at the center one more time. Insert a twig or cinnamon stick at the bottom to make it look like a Christmas tree.
Printout a vintage Christmas music sheet such as this one (I love it because it's a most meaningful Carol), and it pleases me to see it around the house.I tacked it on to an old frame, and tied a green ribbon on for good measure.
This vignette has another doable Christmas ideas – display anything Christmassy around the house. These are my Christmas blocks and I decided to prop them against my trademark chevron box
IRON ON TRANSFER ON A CLOTH BAG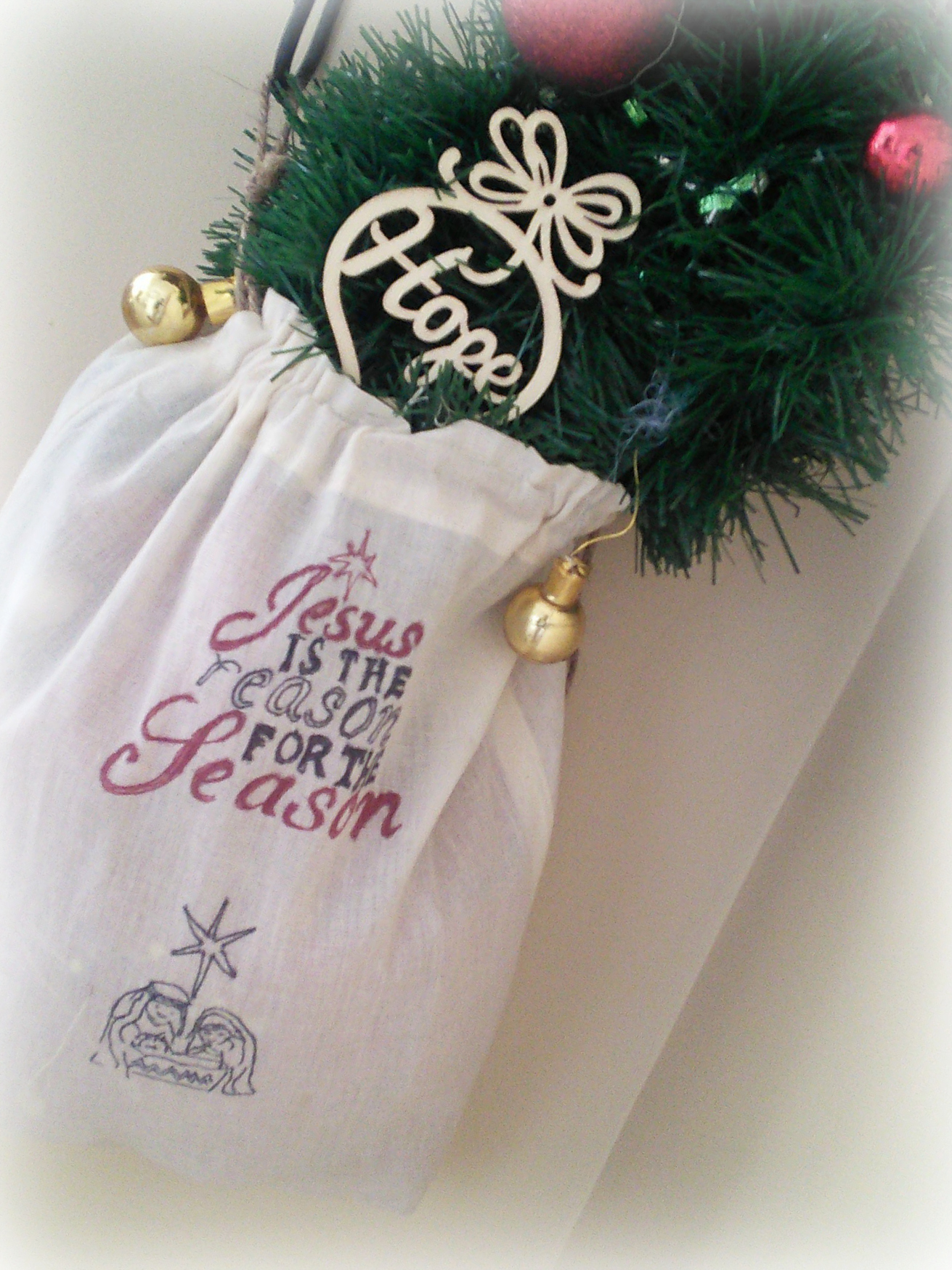 I used a Christmas image I liked, and since I am big on meaningful Christmas celebrations (not unlike The Trump himself), I printed out this nativity scene and text on butter paper. If you are keen on using text too, make sure you print a mirror image of the text.
I brought it home, and I ironed it face down on a cloth bag. The iron has to be at its hottest temperature, and make sure you add a bit of elbow grease to work the image on to the cloth. It's come out lovely, don't you think?
There is a lot you can do with a vintage sari, pine cones and candycanes. I love how Cynthia has brought everything together to create a show stopping table runner and centerpiece. Very high on the doability scale, if you ask me!
Give them a surprise when they go to bed. This is how Cynthia surprised her parents. All it took was a big red bow wrapped around a pillow, and a lovely scattering of after mint candy canes!
Don't forget to download our Christmas gift of decorative paper printables especially designed for our readers!