I have been toying with a few colour combinations. Something different, and my inspiration folder had tons of images in these combinations. However, without professional software, I knew I would not be able to create the right moodboard, especially if I wanted the right paint colours to come through. But help was at hand, and when I was invited to try the Asian Paints' Canvas App, I knew it was these two palettes that I would try out first.
Aqua or Teal, Raspberry Pink and Deep orange or Teraccotta
This is a very flexible combination as you see. If you don't have deep orange, terracotta will do in a heartbeat. Tans, golds and browns can substitute this deep orange, with an equally stunning effect! The key to this combination is to get the right shade of aqua.

So how will I use this combination? Pretty much like the image in the middle, with a deep orange couch, raspberry touches on the cushions and rug. A textured wall paint on an accent wall in raspberry pink, in the middle of an otherwise cream wall, would look swoonworthy. And teal/ aqua you ask? On an accent chair, upholstered with a textured fabric. But this is just my take. You could use these colours in hundreds of arrangements – deep orange on the wall, not an accent wall, but all the walls! You get the drift!

Other than a living room, this pallete will look brilliant on a tablescape. Throw in a bit of dark red for some drop-dead gorgeousness!

Blush Pinks, Shy Orange and Gold
Ombre blush hues and some glimmer and shimmer in gold – can you imagine this combination in a girl's room? An intrinsically feminine palette, I love this for the clever progression of colours in an ombre fashion.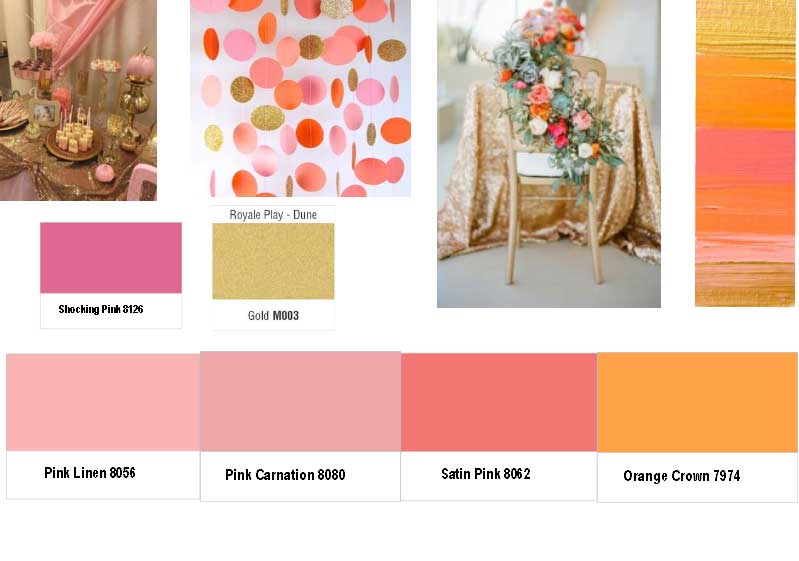 Unlike the fussy pinks we are used to, when combined with orange, this palette brings an elegance to pinks, and the gold seals the deal!
I am guessing that if used right, it can make a stunner of a wedding palette too!
Quick Guide to using the Canvas App
Using the canvas app on the Asian Paints website, is very easy. I would recommend that you register and create a log in before you start using it, so that you can save anything you are working on, and don't have time to complete then and there.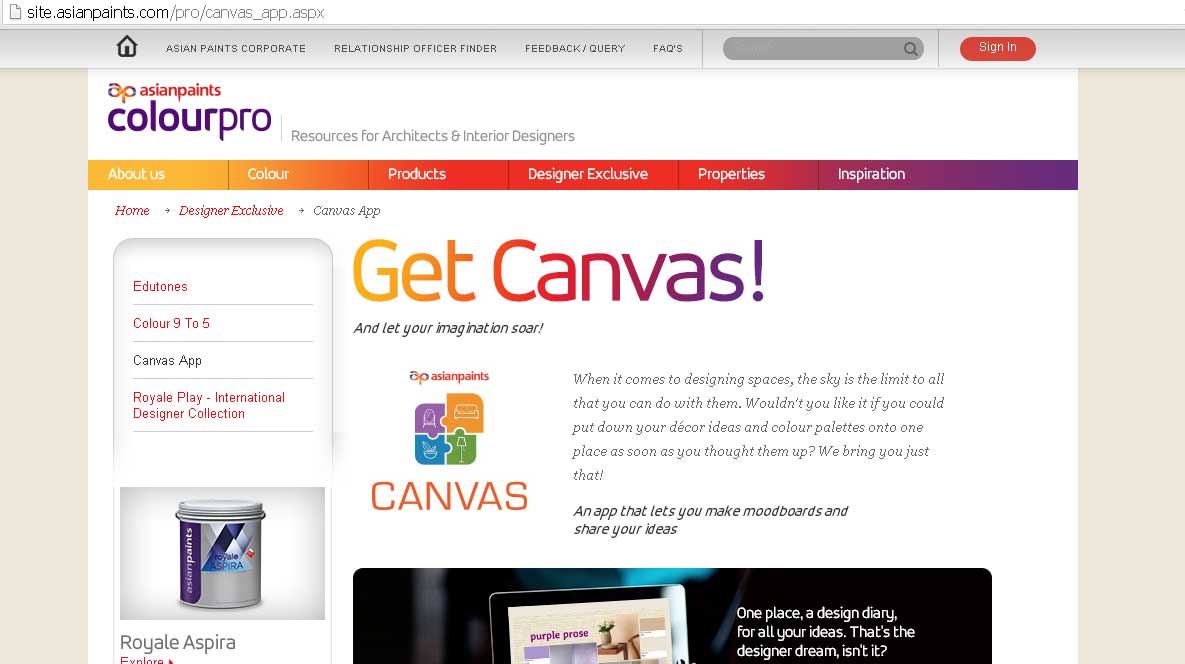 It has a choice of backgrounds that you can work on (which I did not use) because I prefer white as the background. The templates are very helpful and they help you align pictures. There might be the possibility of the grids showing after your design is complete. Here's a quick tip if that happens. Simply click on the Change Theme option, and choose the blank canvas!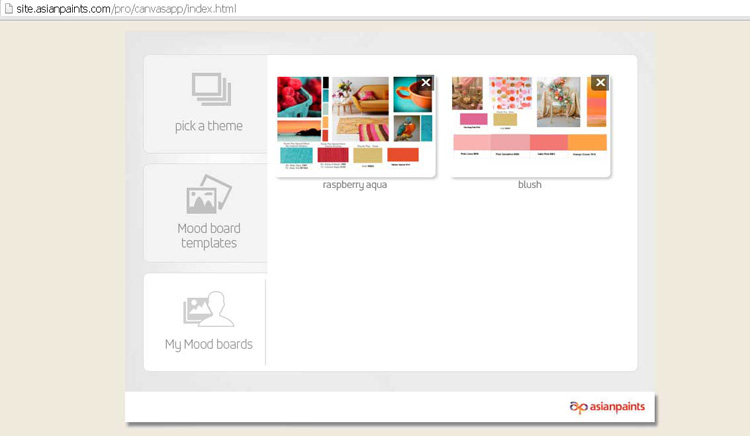 Decorators will benefit the most from this tool. With a built-in catalog of all of Asian Paints' paint colours, ranges and textures, as well as the Nilaya set of wallpapers, choosing paint combinations is a breeze! It has a useful email design option too, so that you can send it your clients or colleagues with minimal fuss!n case you are planning to do up a room, do try this app. It is very easy to use, and can give you a holistic view, with all your colours in one place! Do share your experiences with the Canvas app.
Happy decorating!