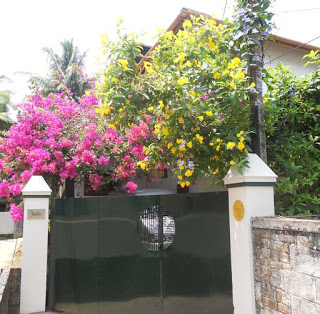 Anoop and Dorrie are pretty well-known in Kochi. Their artistic ventures Kashi Art Cafe, Kashi Art Gallery, and Kashi Art Residency in Fort Kochi which they ran for 15 years, are frequented by the culturati of Kochi. In 2006-07 they built their home Jade Garden in Kochi on eco-friendly principles. Dorrie, although without formal training, did the architectural plans and designed the structure and interiors. Anoop acted as the contractor and oversaw the procurement of all materials. Here they tell the story of how their home was built.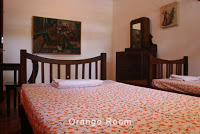 The house is constructed with at least 80% recycled building materials, many collected and stored for years prior to the construction. The walls are built of laterite stones, sourced from locations where old English bungalows were being torn down.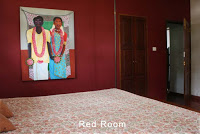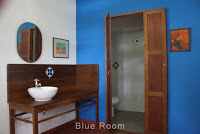 All wood, beams, rafters, window, doors, inner and outer terracotta ceiling tiles, stair cases and railings are all recycled from the district court building during their demolition. The house was designed and fitted incorporating all of
these found items.
The interior is designed to allow natural light in from the roof to make the whole living space bright and cheerful, while saving energy. The double storied living/dining room, encourage hot air to rise and there are old "air release" tiles at the top to keep the area comfortably cool.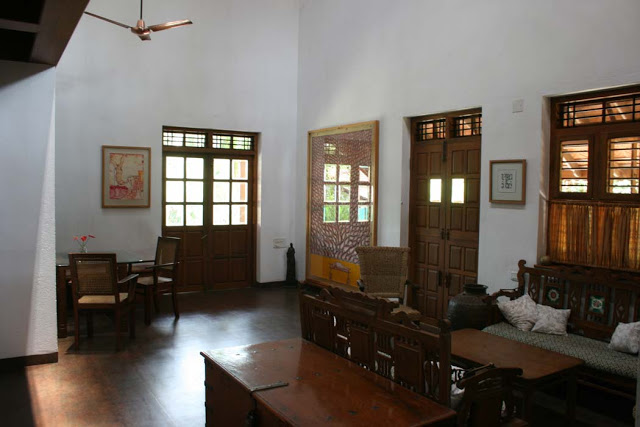 The furniture was collected from resale and second hand shops in our locality that we repaired and refinished as necessary. Our art collection was built slowly over the years that we owned Kashi Art Gallery. The open office area allowed us to keep an eye on what was happening with the children and made us easily accessible while we did our work. The light fixtures in the house are all low consumption LED's and many of the actual fixtures were sourced from Italian lighting companies.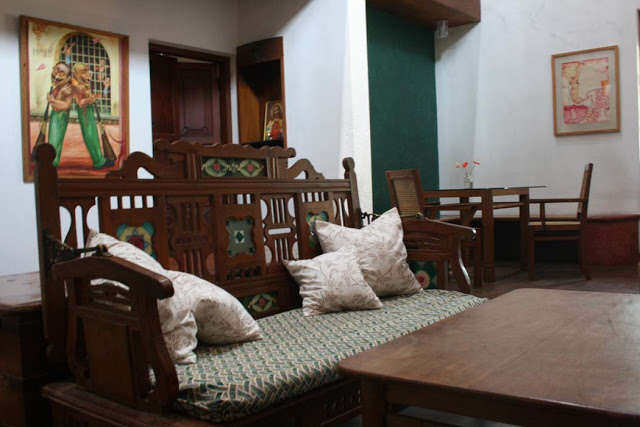 The decor is kept light with an eclectic collection of antique furniture, including sofas that are actually Gujarati swings, second hand re-caned chairs. Other furniture pieces, that were not sourced, were designed by Dorrie and built with the help of many talented craftsmen in the area. Contemporary Indian art is highlighted throughout the home, in every room and hallway. The collection includes works from Anant Joshi, Prajakta Aher, Zakkir Hussain, Gopikrishnan, Siji Krishnan, NN Rimzon, Ratheesh T, KG Subramanian, and more.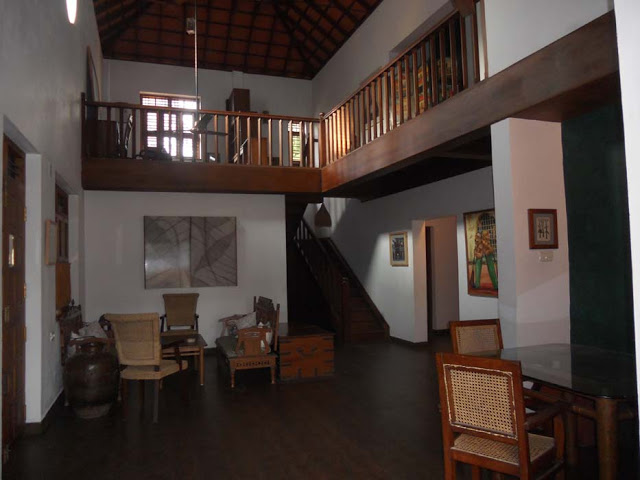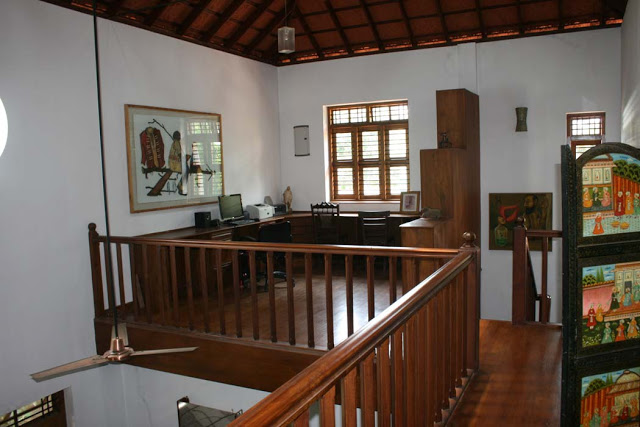 The large verandas and gardens were designed to bring the outside as close to the inside as possible. The garden is laid out with assorted flowering trees and plants. The garden paths were laid with stones, once again- sourced from discarded materials from nearby old bungalows.
Our life style has always incorporated environmental values and considerations and we attempt to tread lightly, leaving only the faintest of footmarks. We are not hard core environmentalists, but we do make our sincere efforts toward sustainability.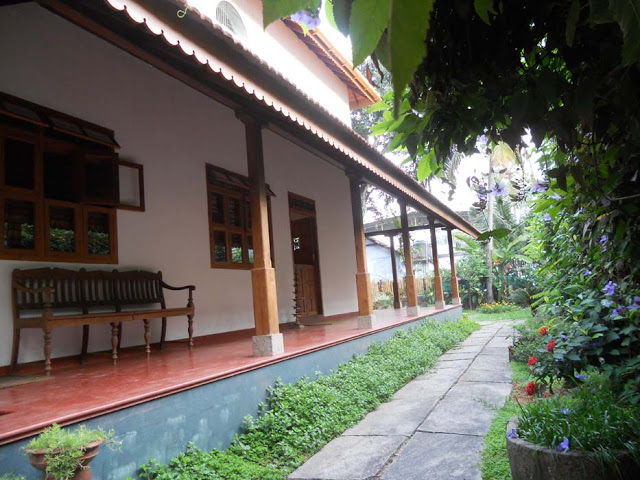 I loved those old-world elements like the bench in the wrap-around verandah, the bhavnagiri jhoola, and of course the profusion of art in their home. Thank you Anoop and Dorrie
Foot note: Recently, Anoop and Dorrie sold their business and moved to Munnar where they live a quiet life and run their home as a homestay Jade Munnar.
Jade Kochi is still with them, and it is being run by a lovely couple.
All photos courtesy Jade Garden Kochi