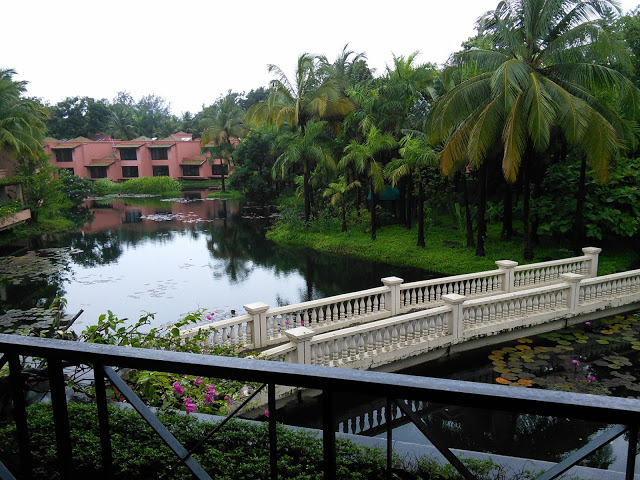 Last weekend was well-spent. On invitation by BlogAdda (the best way to explain BA is that it's a company that is for bloggers, and always has our best interests at heart) and Renault, I joined 30-odd other bloggers for a weekend of fun, food and long drives in the new Renault Lodgy.
We were made to feel special right from the moment our plane tickets arrived in our inbox, with the BA team urging us to tweet, pack and click relevant pics. It was an interactive trip all the way!
At The Leela Palace Hotel Goa, we were accorded a warm welcome by the hotel staff, by the Renault team, especially Kautuk, and of course by the lovely five-some of BlogAdda – Harish Krishnan, Ankita Vadhel, Sushma Parvi and Tridib Karmakar. They went out of their way to ensure that the bloggers were well taken care of, and the event was planned extremely well!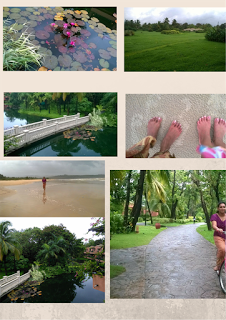 At lunch, I was delighted to finally be able to meet Ayan Banerjee, a blogger I had worked with for the Game of Blogs, and who was instrumental in our winning the contest! It was wonderful catching up with him!
The room at The Leela was certainly something to write home about, and I spent some quiet time enjoying the view. A knock and a hello later, I was great pals with my roomie for the event Madhumita Phukan. Her joie de vivre was quite infectious, and for the rest of the event, we had the best time ever, comparing serious notes about blogging, laughing our heads off at some little thing or the other, and delighting in the fact that we shared similar interests in food and ahem! other stuff 🙂
The evening event saw us intently concentrating on a presentation by Renault's dynamic marketing team, followed by a sumptuous dinner. The Leela Hotel has surpassed all my expectations when it comes to great buffet food. The sheer variety, excellent taste, and of course the lovely presentation, with excellent blogger company thrown in, made every meal memorable!
Day two was all about the Renault Lodgy. We started the day early, and were soon off to Cancona, an hourish drive in drizzly weather and good company, lots of pic and pit stops and best of all, taking turns at the wheel. The Lodgy impressed me, and it was a beautiful drive. At The Lalit Cancona, we spent time on the beach, and then had another tasty buffet lunch. On the way back, our team decided to take it slow and experience the car completely, so we really had fun – a tea break and an impromptu photo shoot were the highlights of the trip back.
That night we were back at The Leela, with a very enlightening panel discussion by 5 bloggers who have made something very special out of their passion for blogging. It helped to hear their points of view, their candid advice and tips! What followed was a party to remember, with Goa's best band The Forefront treating us to beautiful foot tapping music. It was fun to let our hair down and a treat to discover the hidden talents of some of our co-bloggers who entertained us that night with their beautiful voices and dancing! We were also pleasantly surprised when Renault gifted us with a Mario Miranda print on tile. Truly an interesting keepsake of a weekend well spent!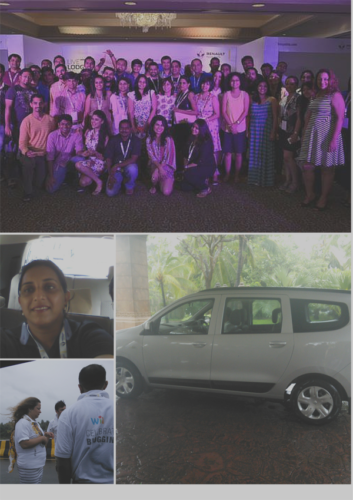 The experience was delightful and I am so glad that I bumped into many interesting bloggers, and it's fun staying in touch with them on social media. The week that followed the event has been busy, connecting and sharing pics over social media and reminiscing about the good times we had!
A few days after the event, the fun was still full on! The winning teams were announced, and they walked away with amazing gifts! There were generous prizes for winners of the best video and photographs, and I must say they were very well deserved! Congrats to all the winners!
A big thank you to the amazing team at BlogAdda, the wonderful Renault team, the hospitable staff at The Leela hotel, and to all my amazing blogger friends for a memorable rendezvous in South Goa!
Pic credits: The Keybunch, Madhumita Phukan, Tridib Karmakar, Saurabh Mukhekar, Nikhil Narkede